Best Places to Take first solo trip
Want to take your first solo trip, but not sure where to go? Are you concerned about safety while traveling solo? If so, keep reading! I have traveled to over 25 countries and most of them have been solo. I absolutely love solo travel. I love the time I'm able to spend alone discovering and unearthing new places and spaces. I love being able to connect with new people, if only for a fleeting moment. There is just something truly magical and empowering about traveling solo that I feel everyone should experience at least once in your lifetime.
But, I get it. Traveling solo can be intimidating. Planting yourself in an unfamiliar place, not knowing anyone or anything, especially if you travel solo internationally — that welcomes an entire new set of challenges like language barriers, safety, and something as simple as getting around the city. However, if you are wanting to travel alone for the first time, but you're not sure where to go, this article will provide a few ideas. These are places that I have personally traveled to and found to be amazing and safe places to travel as solo woman traveler.
Destin, Florida 
Here's the thing about solo travel, you don't have to dive in head first and find yourself flailing like a fish out of water because you decided to take some big grand trip "across the pond" as your first solo travel trip. It's ok to just dip your big toe in the water first and explore somewhere stateside, assuming you are in the U.S. My first solo trip was to Destin, Florida. I'm from Georgia, so it was around a 5-hour drive for me. I had called it quits with my on again off again boy thing, and I needed to get away. They say the best way to get over somebody is to plan a trip. Actually, no one says that hahaa, but in that moment it felt like it would help. So, I hit the road on an impromptu trip to Destin and spent probably three of those hours on the road bawling my eyes out. Once I arrived, it absolutely felt like the right choice. Destin was family friendly and felt safe for a solo traveler. I shopped, treated myself to a fancy spa treatment, and even went jet skiing where I met another older woman who was also traveling solo. We became fast friends during our sea adventure. Destin was the perfect destination for a first-time solo woman traveler. It had beach town vibe, so nothing too busy, but still plenty to do, see, and eat. I didn't have to worry about figuring out transportation or language barriers. It was effortless.
Amsterdam, Netherlands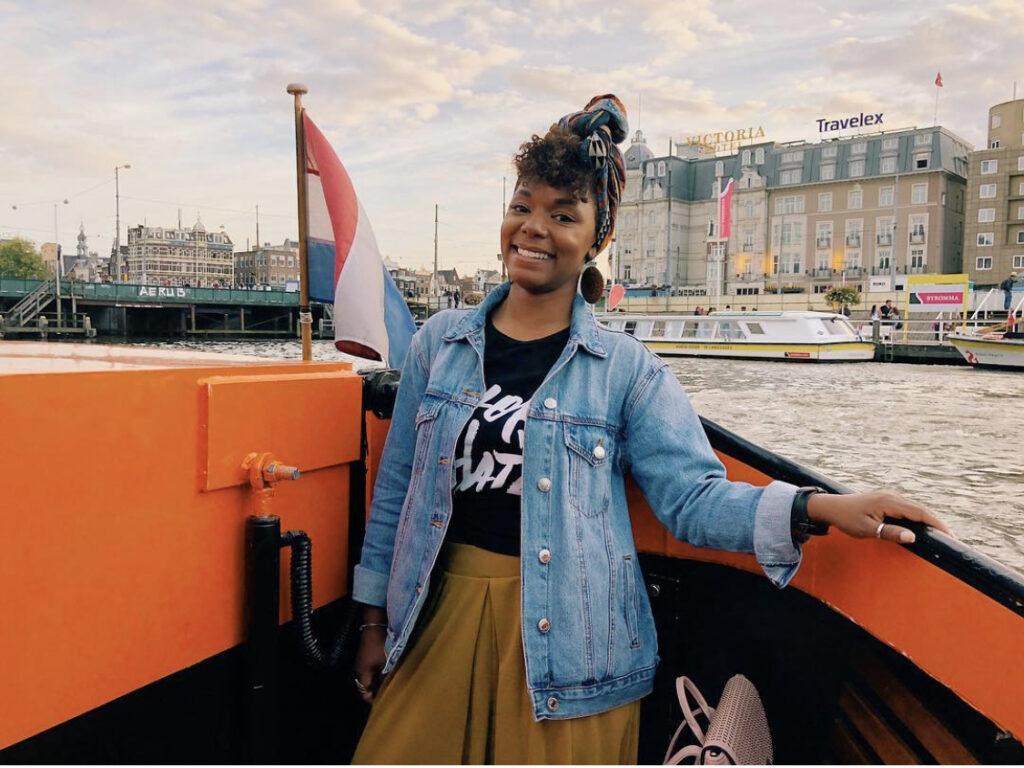 I've visited Amsterdam twice, once solo and once with friends. Both times I had an incredible time and would recommend to anyone looking to traveling internationally for the first time solo. Why is Amsterdam one of the best places to travel alone internationally? Because, in 2019 Safe City Index ranked Amsterdam as the fourth safest city in the world. I personally love Amsterdam because it is a pedestrian city, and is extremely easy to get around on foot, or bicycle. You can spend hours, days even, exploring this beautiful city and still not even scratch the surface. The public transportation system is also super easy to navigate. I recommend getting the I amsterdam City Card which gives you unlimited access to the city-wide public transportation system, free entrance to tons of the museums, and discounts at restaurants. There's tons to see, do, and eat in Amsterdam and there's something for everyone. Another reason I love Amsterdam for a first-time solo traveler is because English is widely spoken there, so again you won't have the challenge of language barriers. And more than anything, Amsterdam is simply fun!
Mérida, Mexico
Though I may be a bit biased because I've lived here for over 3.5 years, Mexico is always a good idea. Sure, there are the hotspots like Tulum and Mexico City, both of which I absolutely love; however, if you are looking for a safer city to travel to in Mexico, Mérida is your place. Mérida is ranked as the safest city in Mexico and the second safest city in North America. This capital of the Yucatan is a beautiful city teeming with things to do and good eats. There are always activities happening in the city and there's a large expat community (check out Facebook groups like Brothas and Sistas of Mérida), so lots of opportunities for meetups. Mérida is also just 40 minutes from Progresso beach, and it's within driving distance of tons of popular sites, like Chichén Itzá, one of the Seven World Wonders. I also especially love Mérida because if you are traveling on a budget, your dollars will go FAR! Check out how much I actually saved by moving to Mérida.
Kyoto, Japan
Kyoto Japan is easily in my top five favorite places in the world, and the people were hands down some of the kindest I've ever met in the world. It is easy to spend endless hours perusing up and down the cobble-stoned, ducking off into quaint alleyways filled with restaurants and shops. It's also fun trying to get that rare and ever-elusive glimpse of a Geisha or Maiko. There are so many incredible sites to see in Kyoto, like the famous Fushimi Inari Shrine and Golden Pavillion. It's also a great jumping off point for day trips to places like Osaka, Nar, and Kobe to name a few. While the train system can be a little tricky, you can easily ask an attendant for help, or a random stranger will jump in to help you as so many did for me, as apparently I looked utterly lost and confused trying to figure out the bus and tram. I felt incredibly safe in Kyoto, even while walking alone at night.
---
Thinking about checking out Southeast Asia? Here is my 4-week itinerary
---
Dubai, UAE
When you find a $187 flight deal to Abu Dhabi/Dubai, you jump on it! Even if your friends can't join you. This happened to me in 2015, and I'm SO glad I didn't wait for my friends, because I surely would have missed out on one of the most epic solo trips of my life. If you happen to come across an error fare or flight deal like the one I found, be sure to read this article on the do's and don'ts. Back to Dubai — I spent one amazing week here, and while I traveled there solo, I met so many people while there, that made the trip unforgettable. Dubai is where I went skydiving. I also went dune bashing in the desert and wandered the souks. It was everything! Even as a solo woman traveler, I felt super safe. I spoke with expats who had been living in Dubai for years and they affirmed that Dubai is one of the safest cities in the world. I will caution, it is a Muslim country with strict laws, so be sure to read up on them. Here are a few common laws in Dubai you should adhere to.
Whether you decide to take your first solo trip nearby, or far, it will be exciting to step outside of your comfort zone and discover something new, and perhaps discover something new about yourself.
By the way…
In other news, I'm excited to be one of Google's paid early testers for their Thank with Google pilot program. Thank with Google is an experimental feature that allows you to purchase a virtual sticker and directly show your appreciation for content on my website. For example, if you found this article helpful, you can purchase a sticker to show your appreciation!
There are a variety of stickers to select from and every time you send a paid sticker, you can add a personal message which I enjoy receiving. For me, these virtual stickers translate into direct revenue to support the work that goes into the content that you are enjoying on my blog.
You can find the Thank with Google feature in multiple places on my site. If you try it out, let me know what you think! Thanks as always for your support.
SAVE FOR LATER!