Love & Adventure – How Kay and I Met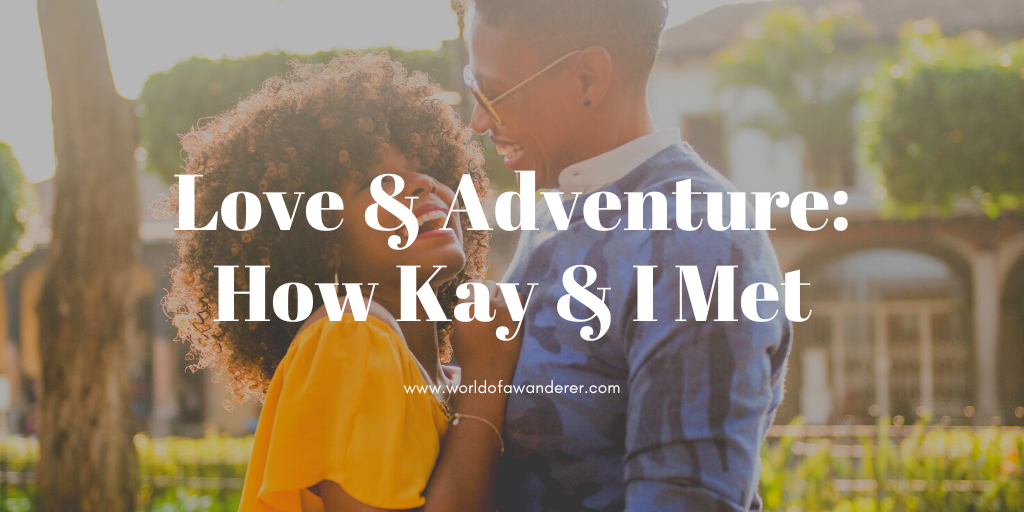 I met her energy before she even had a chance to properly introduce herself. I stood in the small entryway of Trez Bistro & Wine Bar, shuffling myself around to let people pass by because I was clearly in everybody's way. I stood there waiting for my self-proclaimed, pseudo tour guide. The place was packed and we didn't have a reservation, despite this place being her suggestion, so she was going to have to figure that out. In she walks a few minutes later. I was expecting her to walk in and greet me with, "Colby? Hey, I'm Khaliah!", followed by the awkward "should we hug, fist bump, or elbow bump?" song and dance that everybody does these days…because COVID. However, she walked in and seemingly everyone there was met with "Yooooo's!" hugs, and laughter. I stood there and witnessed such an outpouring of love for this big ball of energy that had just entered the building. Her aura was captivating. Her personality infectious. Tonight was going to be a fun night.
Let me back up a bit, though, and fill you in on how I wound up at Trez to begin with. I was invited to Houston on a press trip, and since my main goal was to covered Black-owned businesses in Houston, the PR company had arranged a sort of "meet and greet" for us, because she's the owner of Nap Bar. It was strange though; usually, these meet and greets happen over breakfast, while taking a tour or something of that nature. Never have I had one of these meetings on a Friday night…over drinks. But, here we are.
She'd reached out a few hours before our meetup and said she thought we could do better than the place the PR company had arranged for us to have drinks. A few jokes and laughs later, we settled on doing a bar crawl that night to get the full-on Houston hotspot experience. The starting point…Trez.
Back at the wine bar, I'd met no less than 10 people in the two minutes we'd been acquainted. Who tf is this woman and why does she know EVERYBODY?! We made our way to the bar, and within 5 minutes of our conversation I told her how much I loved Houston and the energy I felt there, despite having only been there for a day up until that point. We talked about the magnitude of energy and synchronicities. Manifestations were at the forefront of the conversation. I liked this girl. Not in a romantic way, but I could definitely see us keeping in contact and being friends beyond Houston; there were just so many commonalities and she was just all-around dope AF.
At the bar, I'd settled on my regular — vodka and pineapple. But, she told me she has a signature drink that's not on the menu that I should try. Again, ma'am…who are you with your super secret signature drink? I obliged, because, why not? I opted for the Naked by KG, an old fashion with a sexy and delicious twist. I should've known then….
The night went on. We crashed her friend and his fiancé's reservation and ended up sharing a table with them. What I thought was going to be a night of talking shop and business, I realized, two and a half Nakeds later, that we had not mentioned work at all. It was nothing but dope vibes and good times. The drinks flowed as much as the laughter. I texted my best friend and told him, "I think I love Houston and I wanna move here." Then, I proceeded to text him telling him I was crushing on my host a little bit. He told me to get my ass outta Houston NOW! 😂 Obviously, I did not heed his advice.
A few moments later, Kay randomly asked if I had an alter ego. I told her about who/what I thought my alter ego was.
…and that's when "the switch" happened. I don't know if it was the topic of conversation, the drinks, or an intoxicating mixture of both, but this professional and platonic night suddenly felt very personal and intimate. As the night went on, flirtations ensued. As the night ended, (in the most magical, Rom Com, standing outside in the rain under an umbrella kind of manner, might I add) we shared a kiss. Or…I kissed her, rather.
In my mind, this moment would remain just a moment. I kissed a girl in Houston. I'd journal about it. Tell my besties about it and that would be the end of it.
Or, so I thought.
The next day, she invited me to lunch. I reluctantly agreed. I was now sober, and again, whatever was moment we had last night was just supposed to be a moment. That lunch outing was pretty tragic. It was awkward AF, because, well…I'm awkward AF. Add in a face-to-face interaction with this girl I was sucking face with last night while I was liquored up, while trying to process I was sucking face…with a girl…aaaand yeah….
It was pretty bad. We still joke about how she ended up talking to some random guy sitting next to us about the Astros game that day, because my vibe was so off.
The next morning, I invited her to breakfast. Partly, because I felt bad for the previous day; mostly because she'd offered to take me to the airport and I didn't want her to lol. I was ready to get the heck out of dodge without any more awkward, intimate moments, like a 30-minute ride to the airport. She agreed to breakfast, and met me at the hotel restaurant with a birthday card in hand, since my birthday was in just a few days. We ate and talked about everything. What stood out the most was our conversations about family, values, and spirituality. We "met" each other's families through a myriad of photos and accompanying stories. As she put it, "Our families are a window, giving a glimpse into who we are". We talked about things that are most important to us and our own personal journeys with spirituality and our relationship with Source. There were so many commonalities and synchronicities it was almost scary.
But, as breakfast went on, I found myself thinking, "I kinda like this girl." We wrapped up and I surprisingly didn't want the moment to end. I invited her to my room as I finished packing up and called my Uber. Being the respectable human that she is, she sat clear across the room, in a little sunroom, on the farthest end of the sofa. I appreciated that. We continued to chat as I packed and I called my Uber. We hugged while I waited, which led to another kiss. I ended up canceling my Uber and taking her up on her offer to take me to the airport after all.
On the way is when things got really trippy. Randomly and completely out of the blue, she asked me if I have a favorite number. I told her 3, and went on to explain my almost OCD behavior when it comes to the number 3. She told me that she had to show me something when we got to a stop light. She pulled out her phone and pulled up a photo.
333 tattooed in big bold letters on her rib cage.
I was utterly speechless. It still renders me speechless thinking about it to this day. I am a firm believer in signs and numerology and this here was one, big ol', blaring sign. I knew it then, even if I didn't want to admit it to myself in that moment. I knew she was the one for me.
It was confirmed as the went week on. I was back in Atlanta, but somewhere between days 4 and 6 of meeting her in Houston, I knew I loved her. Within a couple of weeks, I knew, without a shadow of a doubt, that the person I'd only spent maybe 7 hours with in person, was the person I would spend the rest of my life with. We were connected so deeply, we were convinced we'd known each other in previous lives. She is my divine partner and I am hers, and, as she always says, time is not a qualifier.
It has been a year and a month since we met, and a year, today, since we made it official. It has been a year filled with travel, adventure, healing, and a love so pure that it is beyond anything I could have ever dreamt. It's that soft, half-baked, warm and gooey, chocolate chip cookie kind of love. It's the type of love that radiates and is felt by everyone in its presence. The very first night we met, our Uber driver said, "I love driving couples who are so connected."
Me: Uhhh…we just met 5 hours ago.
Driver: No way! I thought you two were a couple. You seem just so…connected, like you've been together forever.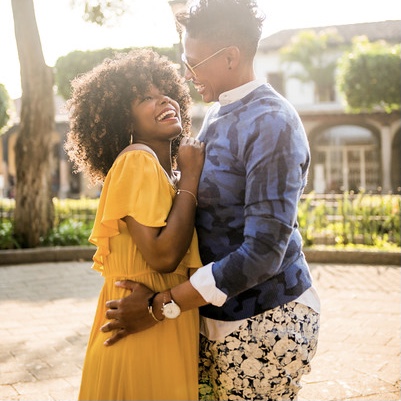 Unbeknownst to us, that would be the recurring theme of our relationship. We've had people stop and roll their windows down while driving just to tell us how beautiful we are together. Countless waitresses have commented on how they love to see this kind of love and how it fills up the room. But, one of the memories that sticks out most is one morning at breakfast, we walked into a restaurant at the same time as a middle-aged white guy. He'd hopped out of something like an F250, donning his cowboy boots. We called him Bubba. He looked like a Bubba. When Bubba finished his breakfast, he stopped by our table. My first thought was, "Oh God, what bone does this man have to pick?" But, to our surprise, he told us how much he loved us and how we made his day because we look so genuinely happy together.
All the feels.
We are truly writing a modern-day love story, and I look forward to filling its pages and doing life with my Boogie.
---
---