Creator Communities that every influencer should use to help determine rates
Whether you are just starting out or you've been in the game for a while, the question of "How much to charge for…" will always arise for influencers and content creators. It can be difficult to set your pricing when campaigns are never cut and dry. There are so many different variables that go into pricing your services and so many things to take into consideration. What makes matters worse is the gatekeeping when it comes to money talk. For so long, societal norms have made talking about money an uncomfortable and taboo topic for many. Even businesses oftentimes prohibit employees from discussing their compensation (hello, inequitable pay gaps).  However, the tides are turning and now, more than ever, compensation is being talked about more transparently.
In the influencer space, when you have questions like, "How much should I charge for a sponsored Instagram post?" there are resources that can help guide you in the right direction, instead of you navigating blindly and possibly undervaluing yourself. Speaking of which, when I first started working with brands, I was charging $150. I was FLOORED when I found out other writers and content creators were charging four and five figures for HALF the deliverables I was offering (I was giving away the kitchen sink).
Over time, I began increasing my rates. There is A LOT of time, work, and money that goes into high-quality content creation. I realized that by the time I added up all my expenses I was coming out either in the negative or barely breaking even when it was all said and done. How much do I charge for sponsored posts now? My rates now generally start at $1,200 (with some exceptions) for an Instagram post and stories. This does not include things like exclusivity (where I can't work with competing brands for a specified amount of time), this is solely the base rate.
How do I determine my rates as a content creator? I utilize creator communities. You'll hear some people suggest tools like Social Bluebook and other online calculators, but I've never found them to be very helpful, as the rates are largely based on follower count and engagement, not taking into consideration everything else that goes into content creation. I've gotten far better feedback from real-life people with real-life insights. Here are some of my favorite creator communities that have provided heaps of information:
The Pitch Life is a Facebook group that I have been a part of since my early years of blogging and content creation. The search function in this group is your best friend. Search for keywords for whatever you are looking for and scroll through posts and comments for incomparable insight. This group has also been great for finding contacts for brands and destinations. While participation has slowed in the group, as of late, this is still a resource I come back to again and again.
Bossfluence is a Facebook community created by Mattie James and is full of bloggers and influencers aka Bossies. This group is designed to help elevate content creators, whether it's through monthly challenges like the Consistency Challenge, where creators post every day for a month, or simply through supporting one another when it comes to campaign engagement. I love this group because people talk openly and honestly about rates and what they charge. It's a safe space to ask questions and get insight into all things brand partnerships and collaborations.
The Freelancer Pay Gap is a document I discovered when I subscribed to Rae Witte's Patreon channel. She provides actual pitches that have been approved (and some that weren't), and she always has a list of resources. The Freelancer Pay Gap is one of those resources. It is a doc "full of writers' identities, their assignments, and their pay in hopes that pay transparency will help diminish discriminatory compensation practices." I use this for writing assignments, as it has a list of various publications, the assignment type, and the rate that writers were paid.
F*** You Pay Me (FYPM) is pure gold! Influencers anonymously post their reviews of what it was like working with a brand. They rate the experience as positive, neutral, or negative, and provide insights on the experience, as well as deliverables and what they were paid. You can search across various niches or use filters to narrow down your search even further. I will say, the travel niche could definitely use some more input, but this is an excellent tool for gauging how much brands are paying and what people are charging. I also use FYPM to get ideas for brands to pitch.
While this page is no longer active, it is still a great reference point to see what other people were paid for campaigns. Also, the comments are incredibly helpful, especially when the content creator is leaving money on the table (see example below).
Clara is known as the "Glassdoor for content creators". The platform is similar to FYPM in the sense that posters are anonymous and you get to see how much other creators are paid to work with brands. Clara was founded by Christen Nino De Guzman, a Latina tech and social guru who has worked for mega companies like Instagram, Pinterest, and TikTok. The platform is designed to "help content creators address pay disparities and access the information they need to get fair pay from the brands they choose to work with".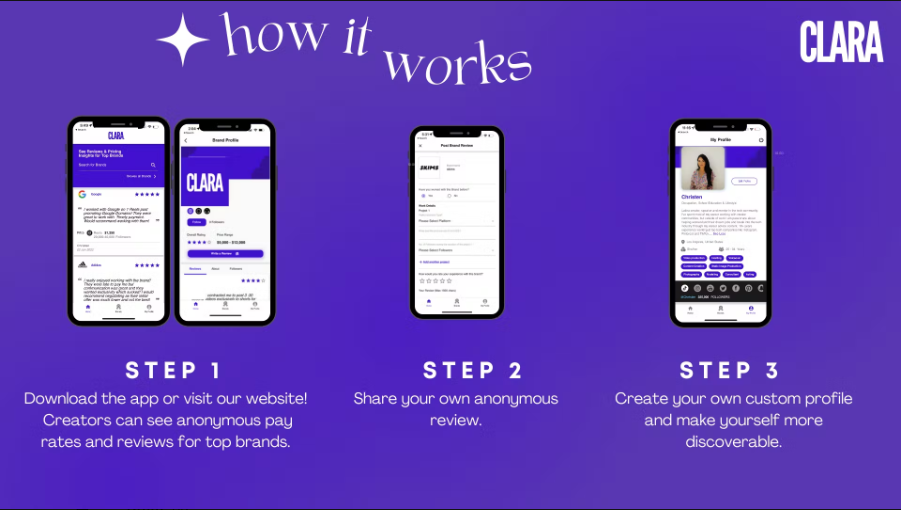 I hope these communities help you, as much as they've helped me, with setting rates as a content creator. And, if you need a little help with what to say when pitching brands, you can check out my Pitch Like a Pro guide.
SAVE FOR LATER!