Where to Stay in Philadelphia: Loews Philadelphia Hotel
Heading to Philadelphia for the Thanksgiving holidays, I knew I wanted to be in a prime location since it was my first time visiting the 'City of Brotherly Love'. Loews Philadelphia Hotel kept coming up in my search. It is a brand I know and love (check out my staycation at the Loews in Atlanta here); so, for me, it was an easy choice! Special thanks to Loews for hosting this stay.
This post may contain affiliate links. Meaning, I will earn a small commission on any purchases you make, at no additional charge to you.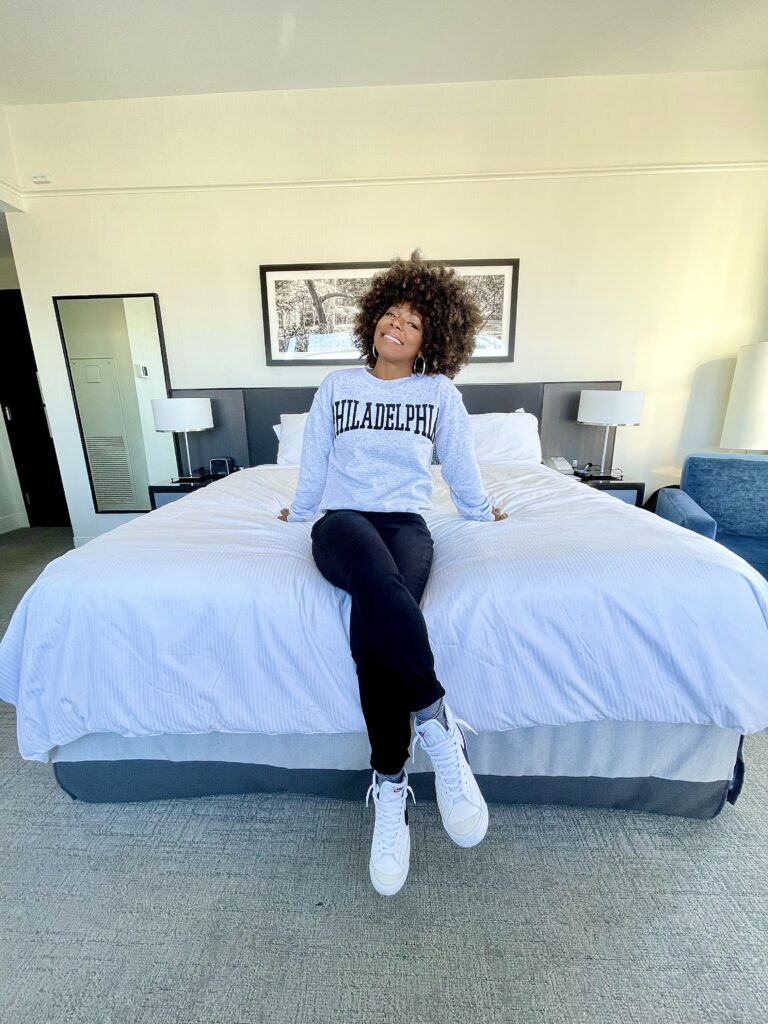 I love staying at hotels with an interesting story to tell, and the Loews Philadelphia Hotel fits the bill. The hotel is located in what is often regarded as the first modern skyscraper in the United States: a former bank building constructed in 1932. The hotel has nearly 47,000 square feet of sophisticated meeting and event space, including a rustic American restaurant, a well-stocked lobby bar, a bright modern gym, and a heated indoor lap pool, all of which have original and restored architectural characteristics. You can see the actual bank vault in the lobby!
The Room
We were located on the highest floor in a King Grand Room room, and those views were priceless! Overlooking downtown Philadelphia, we had a bird's eye view of the buzzing city below. It was almost hypnotizing watching the ebb and flow of traffic and the serene sunsets where the skies were painted hues of pretty pastels. Waking up in the mornings to these picturesque panoramic views made it quite difficult to want to get out of the bed. Speaking of the beds, it was SO comfy! High thread count sheets coupled with the right-amount-of-fluffy pillows Added to the difficulty of getting out the bed and leaving the warm and cozy room. There was also a mini fridge, a desk perfect for working, and a shower with amazing water pressure, all things I love in a great hotel room.
Dining Options at Loews Philadelphia
Since we were there for the holidays, we spent our dinners and dining with family and friends off property. However, my future sister-in-law highly recommended Bank & Bourbon (before she even knew we were staying at Loews), so that's always a great sign. Bank & Bourbon is a rustic restaurant serving up American fare with a modern flair There is also The Lounge with ample comfy seating to grab sips and small bites, or if you're on the go you can grab a snack from POD Market. We actually did grab a wrap from here because the morning we were going to have breakfast at Bank & Bourbon, they were closed and setting up for Thanksgiving dinner later that evening. If you fancy in-room dining instead, that is also an option.
What else i loved
The Location
We could not have been in a better location! Loews Philadelphia is located right in the heart of Downtown and is in walking distance within of tons of shops, dining, and landmarks. And, did I mention there are two train stations within a 7-minute walk as well? This was super convenient and saved us money on having to rent a car (and pay for parking) during our trip.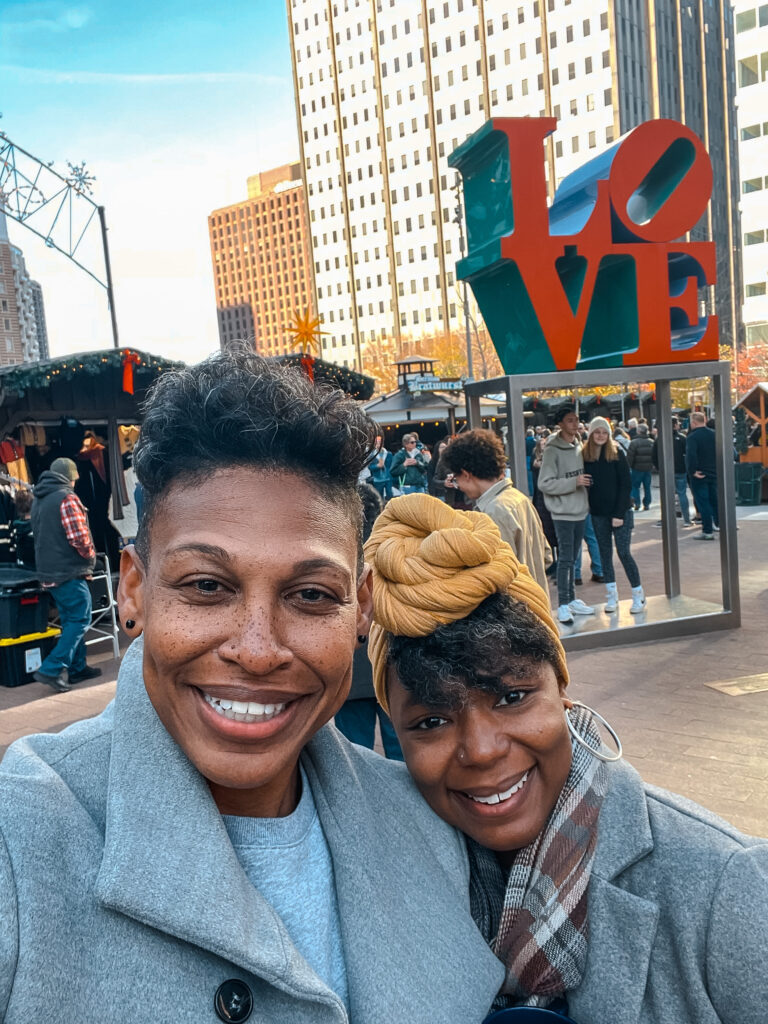 Loews Philadelphia is located in the Market East neighborhood where you will also find nearby the Fashion District (I may or may not have had to ship a box of newly purchased clothes back to Houston), the Avenue of the Arts for all the art lovers, and the historic Philadelphia City Hall. Since we were there for the holidays, we also got to experience the kick-off of the Philadelphia pop-up holiday markets. This is an absolute must while in Philly during the holidays. Pop into the Christmas Village in Love Park for some spiked hot coco and ice skating, and shop local vendors at the Made In Philadelphia Holiday Market. It's a great way to kick off the Christmas holidays!
What else is around?
– SEPTA train station
– Jefferson train station (regional train)
– Macy's Center City
– City Hall
– Libery Bell
– Cathedral Basilica of Saints Peter and Paul
– John F. Kennedy Plaza (aka Love Park)
If you are looking for an iconic place to stay in Philadelphia in the best location, I highly recommend Loews Philadelphia!
Info:
Address: 1200 Market St, Philadelphia, PA 19107, USA
Phone Number: +1 215-627-1200
Check-In: 4:00 PM
Check out: 11:00 AM
Check rates for your dates here
SAVE FOR LATER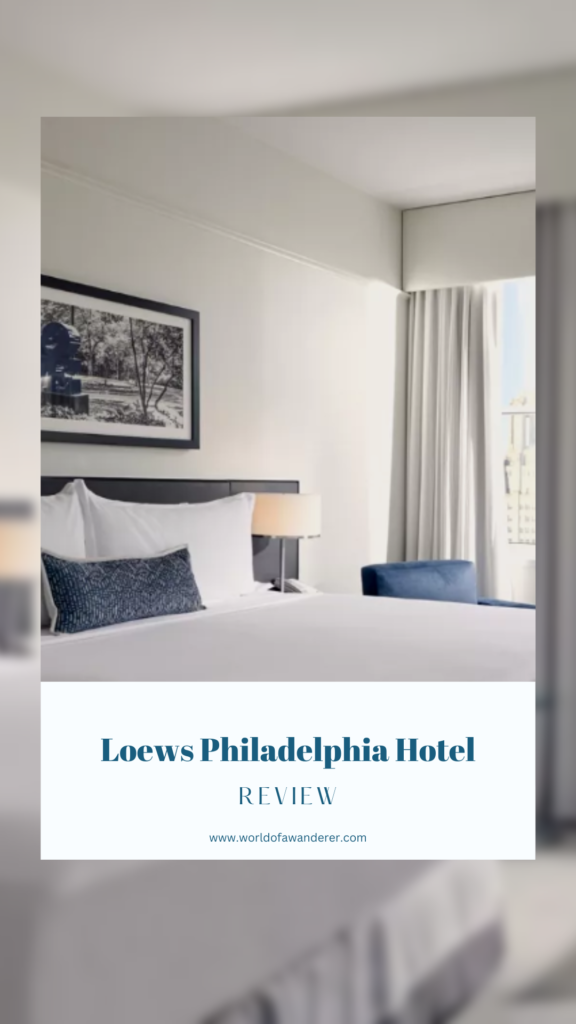 Planning a Trip?