How To Snag an Airline Glitch Fare: Tips & Tidbits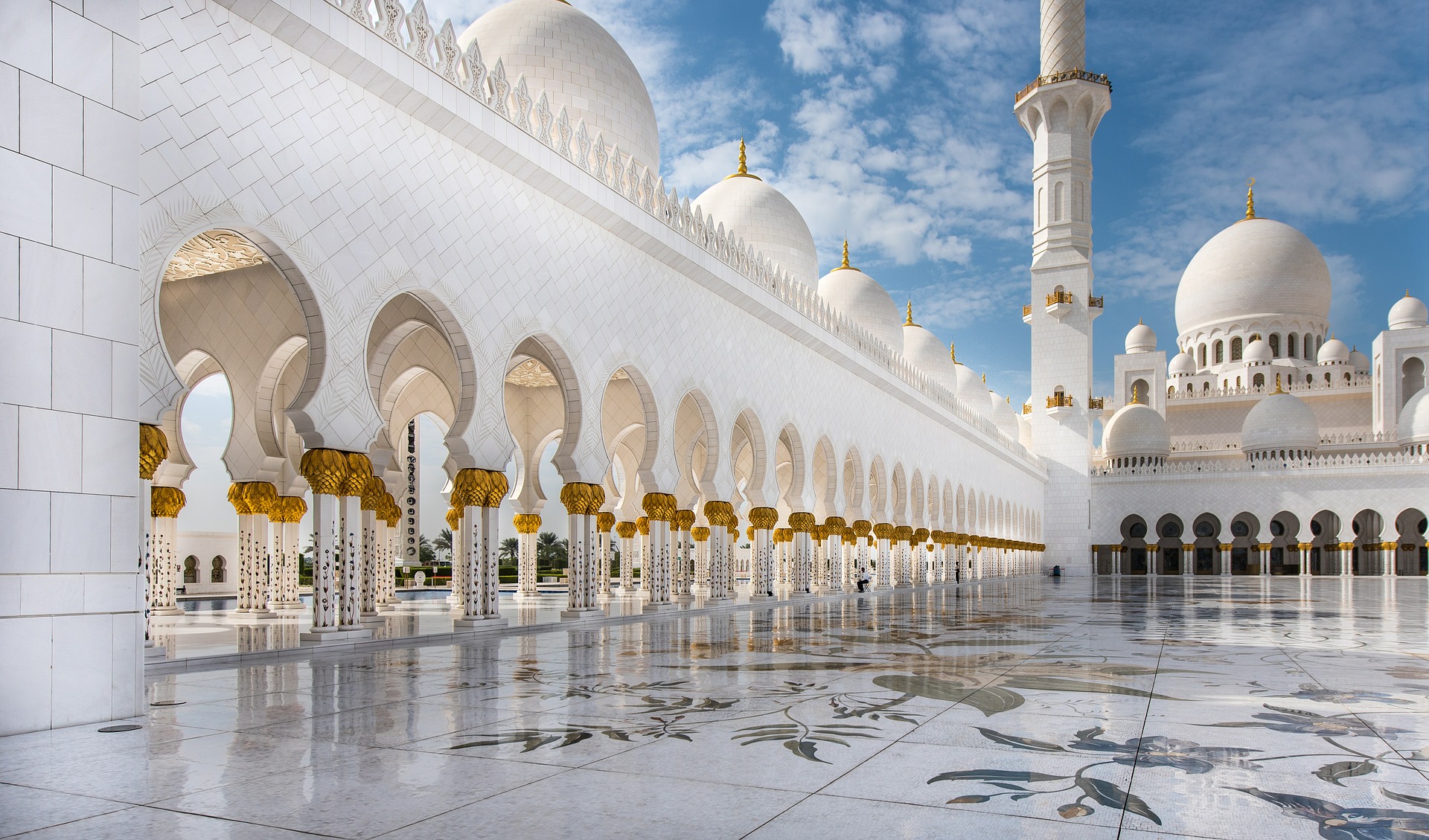 Glitch fares. Error fares. Mistake fares. They go by many names, but what are they exactly? Well, it's exactly what it sounds like, glitches and errors due to human or technical error that ultimately benefits the heck out of travelers, who are able to book flights for a fraction of the cost of normal airfare (like that one time I caught a glitch fare to Abu Dhabi for $187, roundtrip).
Some of you reading this may have actually snagged the most recent glitch fare from the U.S. to parts of Africa, the Middle East, and Thailand. Congrats my friends! Hope to meet some of you in South Africa!
For those of you that didn't and are wondering how you can find and take advantage of glitch fares, don't you worry your pretty little head, I've got you covered. Here are some Tips and Tidbits on How to Snag an Airline Glitch Fare.
Book Now. Plan Later.
My #1 piece of advice and motto when it comes to glitch fares. You don't have time to worry about the details. Where to stay. Things to do. How you're going to get to the departure city (if it's a city that's different than where you currently are). How the airline food is. You've never heard of the airline? Who cares?! Book the flight and worry about the details later!
Be Patient & Persistent
Sometimes getting these glitch fares is no walk in the park. They're not going to be handed to you on a pretty silver platter, tied up in a big red bow. Sometimes you really have to work for them. You're likely going to have to hunt and search for applicable dates, toggle from one airfare search engine to the next, but it is so well worth it. Be patient. Even when sometimes people declare the glitch fare is over, all it takes is a little bit of extra searching. For example, this last deal I nabbed to South Africa, people were saying the deal was dead a few hours after it was discovered, I was still able to find dates the following day. It just took a bit of persistence and a sleepless night to find it, but it was there. You have to play around with the dates. A lot. I mean a whole lot. Which leads to the next point…
Be Flexible
This is probably one of the most important things when booking glitch fares. You have to be flexible. There's just no way around this. You have to be flexible with your dates, flexible with your departure city, heck, even flexible with where you're willing to travel to. You have to be willing to go where the deals are and when they are available. I know we all think the universe revolves around us and our needs, but sorry Charlie…not in the world of glitch fares. You take what you can get, when you can get it.
Also, just because the flight doesn't depart from your city doesn't mean you can't and shouldn't take advantage of the deal. For example a $1000+ flight to New Zealand is now $220, but doesn't depart from your city. Fine. Book a separate ticket to a city that does offer the deal. You still come out hundreds and hundreds of dollars cheaper.
See a glitch fare, but never heard of the place? So, what?! Yolo do people even still say that?! Book that ridiculously cheap international flight, refer back to my first point, and go have you one epic adventure.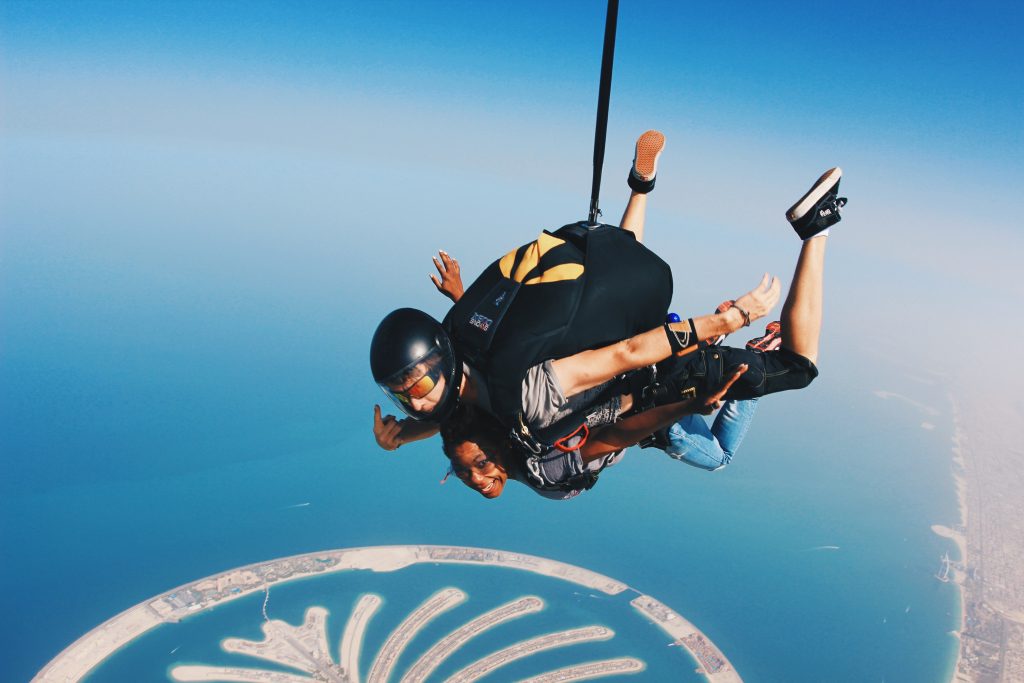 Get On It Doggone It!
Listen Linda, time is of the essence, and while you're sitting around twiddling your thumbs trying to figure out the who, what, whys and hows a kick ass deal will have passed you by. It's not something you think on, it's something you act on…IMMEDIATELY. Taking a couple of days to think it over…no, my dear. You're doing good if the deal even lasts a couple hours. That means, unfortunately, you also cannot wait around for me and you, yo' mama, and yo' cousin too (an ode to the one and only Outkast, in case you didn't know) your friends, family, whomever to get their ish together and decide whether or not they want to come along. Nobody has time for them to think about it, check their work schedule, their bank accounts, their this or their thats. Fend for yourself or you'll find yourself sitting on that same friend's sofa sipping your cheap wine, pining over your shoulda coulda wouldas, instead of sipping Sangria in Santorini. Just sayin'.
Yes, I know, I know…some people don't like to or are afraid of traveling alone. However, don't let the inconvenience of others hinder you from living your life. Had I sat around and waited for my friends I never would have booked that glitch fare to Abu Dhabi (for a whopping $187), I would have missed the opportune time to check skydiving off my Wanderlist, and I never would have met some of the most amazing people that I now call friends. That's the thing about solo travel, you are never really alone, unless you just absolutely want to be. You always meet people along the way.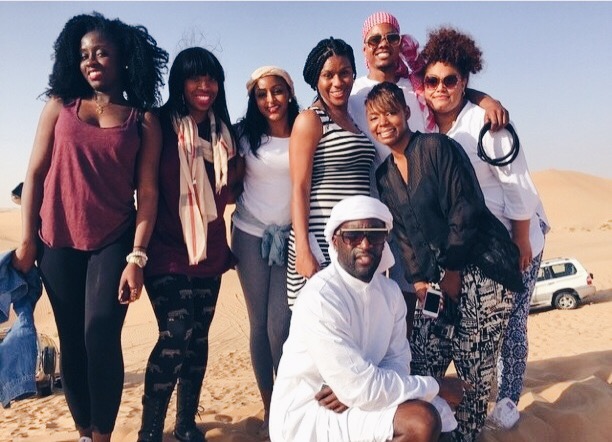 These days, I let my friends know about a glitch fare or great deal, as more as a ¨Hey, FYI…¨, but not so much as an invitation, because I'm booking it regardless, with or without them. Moral of the story, don't wait around for somebody else to make the decision for you. Get on it doggone it! Get yours and let them worry about theirs.
Get Social
The best way to nab a glitch fare is to use social media, hands down. Facebook, Twitter, and Instagram are your BFFs. The best thing you can do is join various travel groups on Facebook. If there is a glitch fare to be had, someone is going to post about it, and it is going to spread like wildfire. Some of my favorite groups are:
Black Travel Movement  
Black Girl Fly 
Bucket List Beasts
Girls Love Travel 
Another great way to stay on top of glitch fares is to follow/like Facebook pages such as Secret Flying, The Flight Deal, and Airfarewatchdog. These sites are AMAZING for being the first to post glitch fares and flight deals. But, don't just stop at following them on Facebook. Set your notifications so that you see their posts first on your feed. This way their posts are not lost in the land of memes and cute baby videos. Any time I log into Facebook the first thing I see are flight deals posted by one or all of the aforementioned.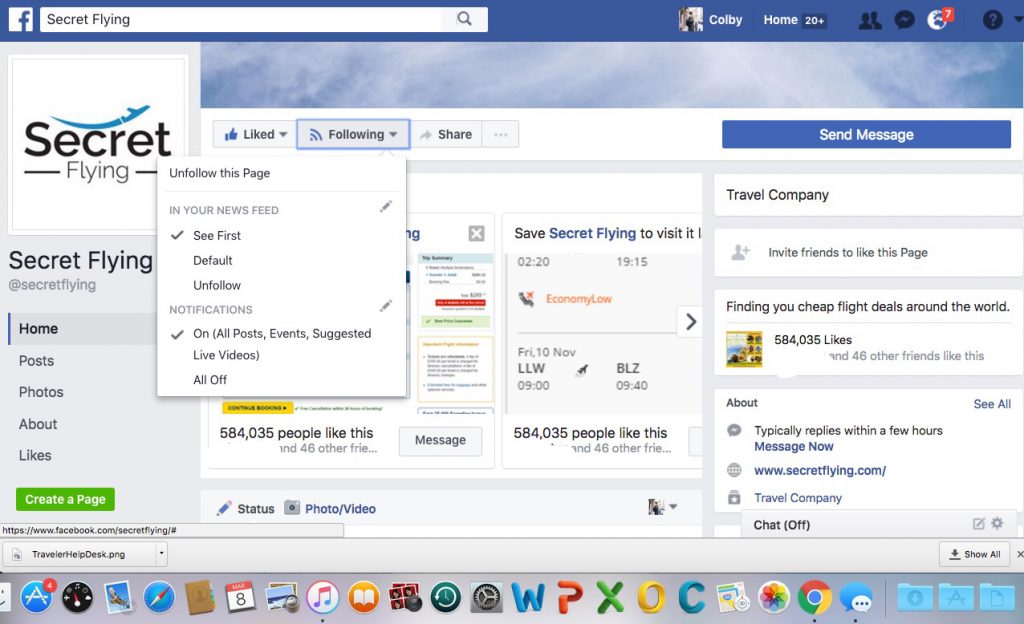 Twitter is also a great source. Add your favorite airlines, booking engines, etc. to a ¨List¨ and check it throughout the day for any great deals.
Another tip for never missing a flight deal, is download the app, IFTTT (If This Then That). This app is amazing for syncing your apps and setting up alerts from travel websites like the ones mentioned above. You simply create what they call applets (formerly known as recipes) saying IF such and such tweets/posts about THIS, THEN I'm notified (through whatever medium you prefer).
I love this app because you can tailor your alerts any way you see fit, for specific airlines, departure cities, destinations, keywords (i.e. Error Fare, Glitch Fare, Mistake Fare, etc.) etc. Check out my post on Must-Have Travel Apps to see what kind of applets I currently have set up that keeps me in the know of travel deals.
---
---
Other Tips & Tidbits
***NEVER EVER CALL THE AIRLINE OR BOOKING SITE DURING A GLITCH FARE!!! EVER!***
Do not call to inquire about the price and whether it's legit or not, or to ask about seating, or to ask about anything. This only tips the airline off that there's a glitch and you can guarantee they'll be scrounging around to get it fixed ASAP! Don't be that guy that messes it up for everybody else, or for yourself even.
Just wait. Almost all U.S. bases airlines, and most booking sites will allow you to cancel within 24 hours, with no penalty, and you'll get a full refund. If the site doesn't offer this for free, they may offer it for a small fee. If this is the case, purchase it just to be on the safe side.
If you need to change something just book another flight and then cancel the other one within the 24 hours. 
– Always always always read the terms and conditions of the booking site as well as the fare terms. As I mentioned before, most sites offer the 24-hour cancellation period, but some don't. Some may only offer 12 hours. Some may offer none on super cheap flights, and you're just SOL if you need to change or cancel anything. Check the rules before booking.
– I've noticed that often times glitch fares typically work best when you book for 7 days.
– Airlines are not required to honor glitch fares, mistake fares, fuel-dumping fares, whatever you want to call them. Nothing is guaranteed.
– If you book through a third-party site and you receive a booking confirmation, that does not mean your flight is confirmed. You must receive your e-ticket from the actual airline to ensure your reservation has been made. Once you've received your ticket reservation number from the airline, go to their website and enter your reservation information just to double check that your flight is confirmed in their system.
– Do not get carried away and start booking hotels, Airbnbs, excursions and all things of the sort right away because again, nothing is guaranteed. Wait at least until you the deal is dead and you have your flight confirmation from the airline. But, again, nothing is guaranteed.
If you do jump the gun and start booking accommodations, I'd recommend booking places with a flexible cancellation policy, or will allow you to cancel the day before arrival. Booking.com is great for offering these kinds of options.
– Get travel insurance! I can't stress this enough! Even if the flight is dirt cheap, it's still money. Anything can happen, and you may need to cancel/change your trip. Even during your trip, the airline could lose your luggage, you could have a medical emergency, so many things could happen. Be protected.
Alright, so there you have it. Tools, tips, and tidbits on how to Snag a Glitch Fare.
---
---
Have you ever booked a glitch fare? What was the deal? Any other tips and tidbits? Leave a comment below.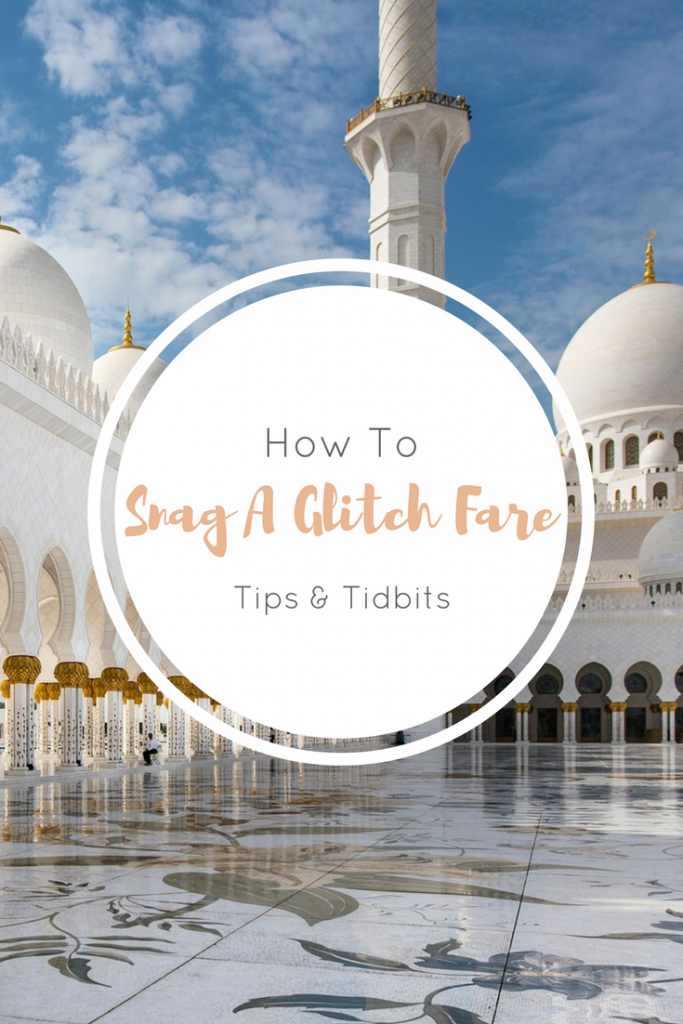 This post contains affiliate links. This is just a fine way of directing you straight to the source instead of a bunch of searching on your part.