Must-Have Travel Apps for 2017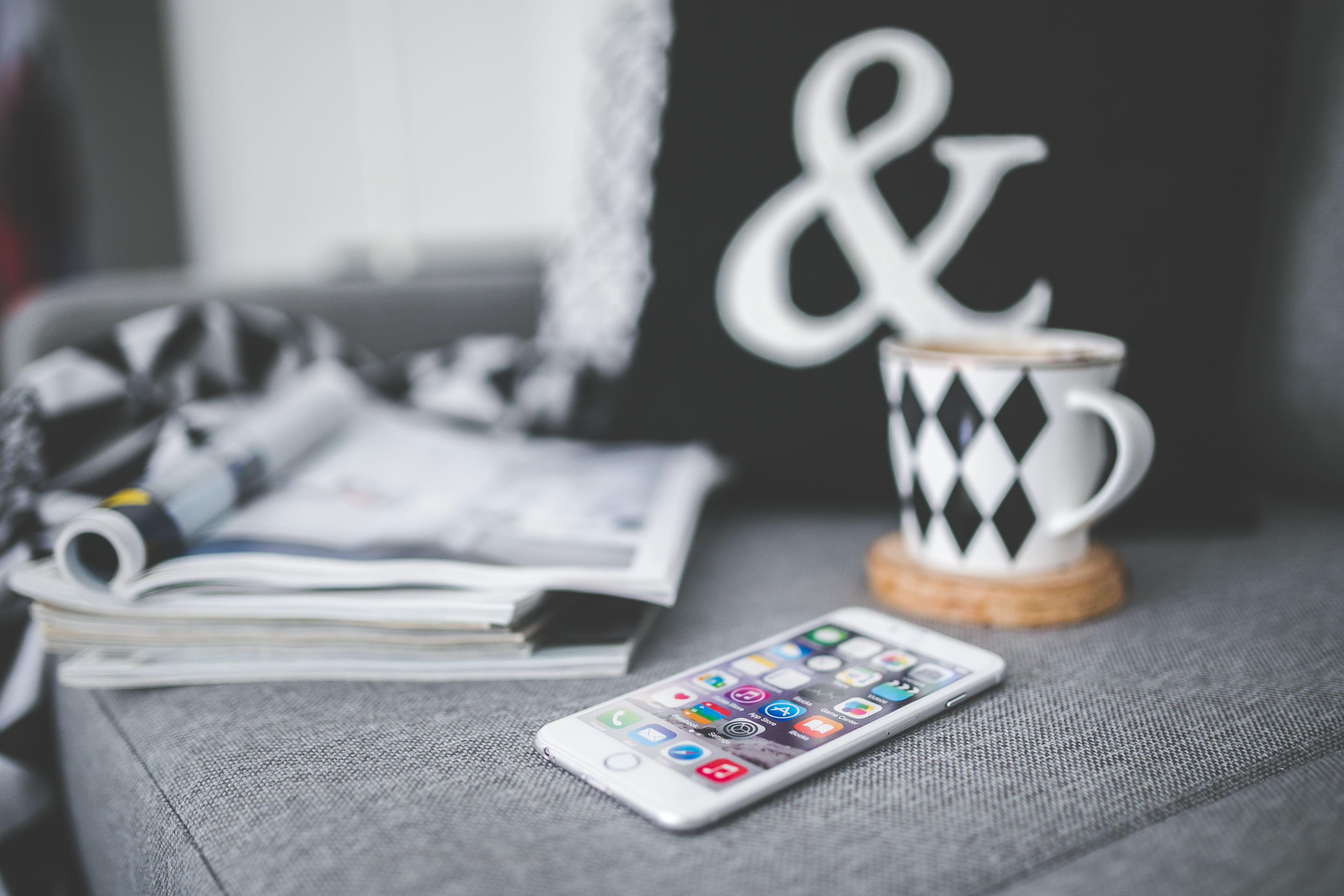 Let's face it. Apps have become an essential part of our everyday lives. They just make life…easier. Not only easier, but more convenient, more entertaining, more productive, more organized, more EVERYTHING. Whatever you need there is likely an app for it.
In the travel world apps are your BFFs. They can communicate for you when you can't communicate for yourself. They'll get you back on track when you've been wandering around lost for 2 hours straight. They'll show you the best places and things to eat, see, and do. They can connect you with other travelers and even locals around town, and the list goes on.
We've all heard of travel apps like Google Maps, Trip Advisor, Currency Converter, and the slew of hotel and flight database apps for the big brands. But, what about some of the lesser known apps? Here is a list of 6 Must-Have Travel Apps for 2017.
If you don't have any other travel app, you need to have this one. This spiffy little app predicts the prices of flights. Whether they're likely to increase or decrease, when, and by how much. It also shows you the cheapest days to purchase your flight, and will send you a notification anytime there is a fluctuation in price for a specific flight that you are eyeing. Hopper is usually pretty spot on with its predictions, so if you see an awesome price and Hopper predicts it won't go any lower, hop on it…pun intended 🙂 Now, let me just say, Hopper does NOT always show the cheapest prices, as many of the budget airlines are not listed on the app. However, if the prices have dropped with major airlines, they will have undoubtedly dropped with budget airlines as well. That's when you head over to another must-have app such as Skyscanner.
Wi-fi. An essential necessity for travelers, or anyone with a smartphone and/or tablet. Wiffinity is an app that allows users to find and easily connect to wi-fi networks worldwide. Now you don't have to stress over roaming charges, and can save yourself some time walking from spot to spot trying to find free wi-fi. With over 300,000 hotspots around the globe, Wiffinity handles all of the passwords for you, so you never have to worry about providing personal details. Perhaps, the greatest thing…well, besides the fact that it provides free wi-fi hotspots, is the fact that you can use it offline!
This is one of my personal favorites. Any time I visit a new city I'm always looking for off-the-beaten path things to do, eat, see. Like A Local provides insight from actual locals. They introduce you to the nooks and the crannies of a city; the places you may not have even considered or known about otherwise. You can check out the suggested lists of things to see & do; as well as, customize your own list from the recommendations. Another great thing about this app is you can use it offline, so wifi is not needed.
Never miss another flight deal or error fare. An acronym for If This Then That, this is the ultimate app for streamlining all of your internet-connected things; social media, email, calendar, photos, you name it. IFTTT is an automation app that can do everything from notifying you when someone tweets a flight deal or error fare that can't be passed up, to automatically saving your photos to Dropbox or iCloud when you snap a pic.
So, how does it work? You create, what they call, applets (formerly called recipes). You can either choose from pre-made applets or create your own. Once you get the hang of it, it´s pretty simple. For example, I have an applet set up to notify me when The Flight Deal or Secret Flying tweets about an Error Fare. They look something like this: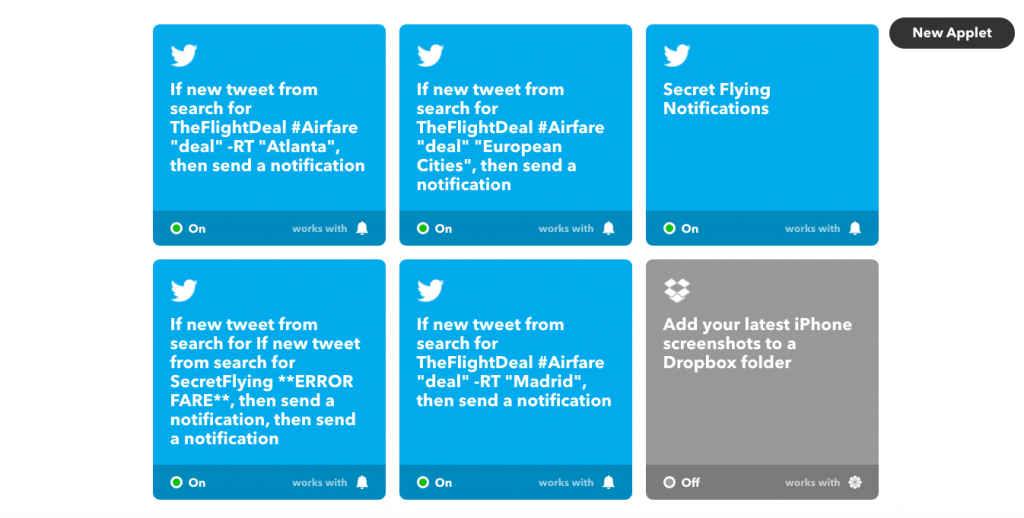 IF they tweet, THEN I am notified, and I can nab amazing deals like the one got for $187 round-trip to Abu Dhabi, and the one I nabbed for $221 to South Africa. See how it works?
Here are some other examples of how IFTTT can be used for practically anything:
Save money without having to think about it. Digit is an automated money-saving app that monitors your income and spending habits, and puts away a few dollars here and there into an FDIC-insured savings account when they think you won't really miss it. Don't worry, if your funds are low Digit won't send you into the negative. The app only puts away money when/if you can afford it, dependent upon things like your balance, cash flow, recurring bills, etc. When you want to withdraw your funds from your savings, simply text Digit and they'll transfer the money back to your account. Easy Peasy. So, if you're trying to save up for a trip you've been wanting to take, let Digit do the thinking and work for you; you'll be on your way in no time!
This fitness app is perfect for those always on the go and don't necessarily have time to hit up the gym. Sworkit (Simply + work it = Sworkit) allows users to customize their own workouts ranging from 5-60 minutes. You can work on strength, cardio, yoga, stretching or whatever suits you. Be ABsolutely awesome, have arms like whoa, or get that Brazilian butt lift you've always wanted without the hefty price tag with their focused toning and strength exercises. These are quick and easy exercises you can knock out in your hotel room before heading out for the day, or whenever you have 5 minutes to spare; because the best part is, these workouts doesn't require any equipment. So, like their motto says, "No Gym. No Excuse."
So there you have it! 6 of the Must-Have Travel Apps for 2017 that will help you have a healthier, more prosperous, and more adventurous year!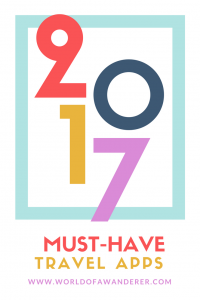 This post contains affiliate links, which is just a fine way of directing you straight to the source without a bunch of searching on your part.