How to Save Hundreds on Flights Using Skyscanner
Airfare can be one of the biggest expenses when traveling. However, I'm here to share a few secrets with you on how to find the cheapest flights using my favorite tool, Skyscanner. I'll show you a few travel hacks, and some of the best ways to use Skyscanner to your advantage.
Search in Incognito/Private Mode
For the longest time I didn't believe booking sites inflated the prices based on your cookies and search history. But, it's true my friends…it really does happen. Booking sites know that if you're constantly checking the prices to a certain destination then you are likely looking to book, given this you are likely to pay whatever amount they charge, so why not inch the price up little by little every time you run a search? It sounds like shady business, but that's economics 101 for you – supply and demand.
To avoid this little nuance, be sure to search in incognito or private mode. Also be sure to clear your search history, cookies, and all that other jazz before searching for a flight.
Use a ¨Fake¨ Country
One of the things I love about Skyscanner is it allows you the ability to change your point of origin. Sometimes when searching for international flights, especially domestic flights within another country, you'll get better prices when you change the location of your point-of-sale (the place where a retail transaction is completed). Basically, flight prices can vary drastically depending on what country you're in, or the country you appear to be in.
I don't know all the why's and how's but I can show you how to save a few bucks. Look at the example below:
Check out the screenshot above. Since I'm located in Spain, if I do a search looking for a flight from Madrid to Atlanta, using Spain as my point of origin you'll see the cheapest flight is $1,057 USD.
Now, if I use a "fake" location and change my point of origin to the US you'll see the cheapest flight now $756; a savings of $301!
Additional Tip:
Using a country's local currency can also play in your favor. Change the currency, along with your destination origin and see if it shaves off even more dollars.
Note: You will have to take into account the exchange rate, and foreign transaction fees for your debit or credit card. In these instances, I would recommend using a travel-friendly credit card that will not tack on extra fees. If that's not an option for you, no worries; you can still possibly save tons.
Search Everywhere
Last minute weekend getaway? Balling on a budget? Feeling adventurous? Skyscanner's "Search Everywhere" feature has got you covered. Because I'm no stranger to letting price dictate where I travel to, this is my absolute favorite function on Skyscanner. Simply put in your departure location in the ¨FROM¨ field, and select "Everywhere" in the "TO" field.
If you're really flexible, when selecting your dates, choose "Whole Month" and then select "Cheapest Month". This will open up a world of possibilities…literally 🙂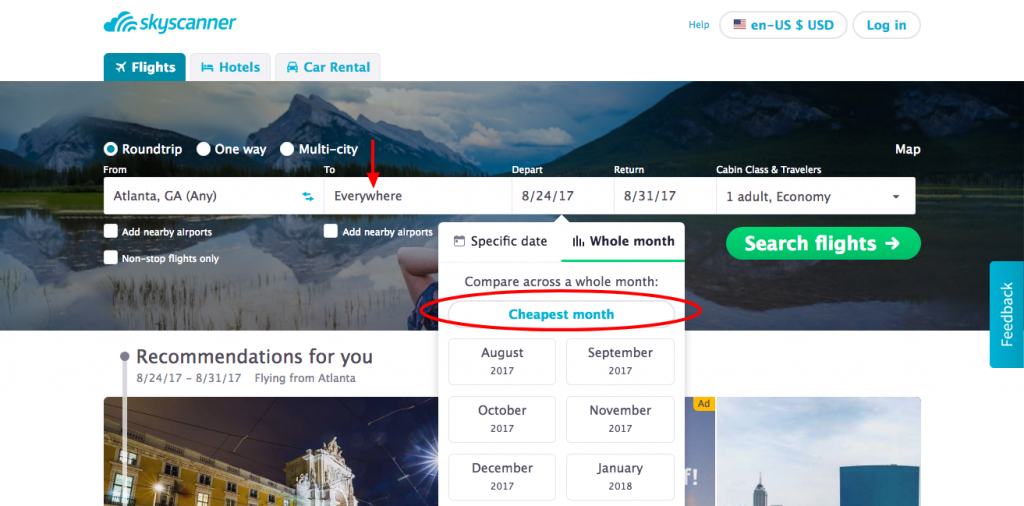 Break it Up
Break what up? Your trip, that's what, especially when flying internationally. This goes back to the previous tip, but let me just elaborate a bit more. Often times booking two separate flights is cheaper than just flying straight through. For example, last year, when I was returning home from South Korea, a one-way flight from South Korea to Atlanta would have cost me almost $1,000 USD AND it was a horrid 30-hour flight with 3 stops that would have put me in Atlanta two days later. Ummm…no thanks!
So, instead I used the ¨Search Everywhere¨ method and purchased a flight to the cheapest U.S. destination, which happened to be San Francisco for $462. I, then, purchase a separate ticket to Atlanta from San Fran for $258. Even with having to pay for baggage for the domestic U.S. flight, I was still able to save around $200 and ton of time!
You can also search for flights with long layovers and kill multiple destinations with one stone. If you have the time, why not choose a flight with a long stop over and get to explore another city? I've explored Kuala Lumpur, Malaysia this way, as well as Milan, Italy. Break up your trip and take advantage of the time.
Set Up Notifications
You have two options here. You can set up email alerts, or you can download the Skyscanner App and receive instant notifications, which is what I recommend. This will save you time from spending hours on end stalking flights on the website.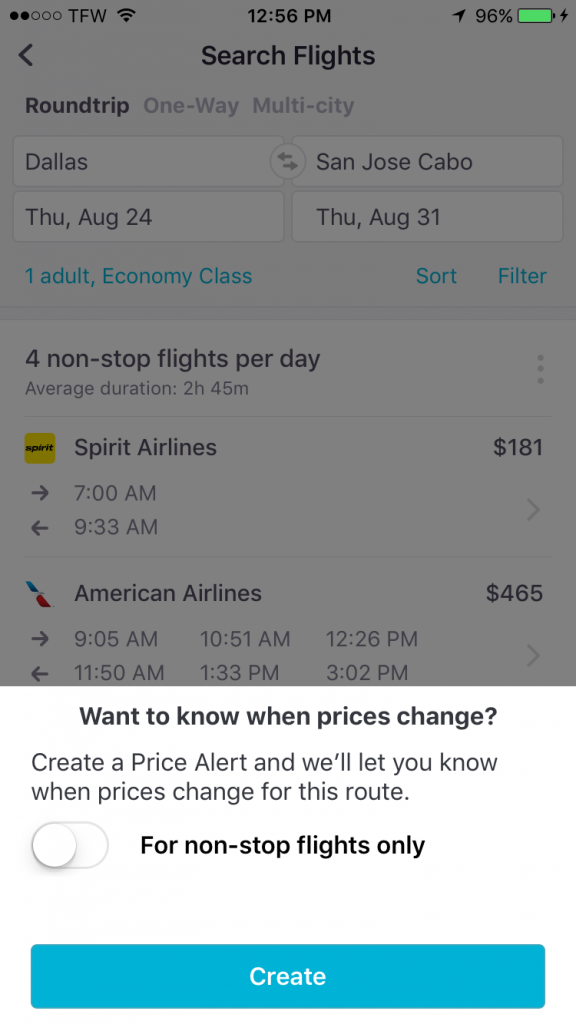 Simply download the app and it will ping you anytime there is an increase or decrease in the flight that you're eyeing. That way if a hard to beat price comes through you can hop on it right away. There's also been a few times when I've seen a cheaper price on the app versus the web version. So, be sure to check both.
---
---
So, the next time you're looking to save a few bucks which should be always, duh, implement these methods and possibly save hundreds on flights.
What are some other travel hacks you use to find the cheapest flights? Share below in the comment section!
Disclaimer: I was NOT paid by Skyscanner for this post, though I wish. They really are the best of the rest, in my opinion.