7 Black-Owned Travel Companies You Should Know About
This is the age of the Black Travel Movement. Despite what mainstream media may depict, there are more African Americans traveling, now more than ever. Also, despite the stereotypes, we're traveling to more than just the Caribbean, Bahamas, Miami, and Vegas. With the rise of social media, online platforms, and travel communities, travel resources have become more readily available. Not only that, but the visibility of black travel has vastly increased as well; showing people of color that "Hey, you could be doing this too!".
In the wake of this new age black-owned start ups have been able to fill in the gaps in the market, providing experiences, products, and services catered specifically to people of color. Here are 7 black-owned travel companies you should know:
When you hear the term "layaway" you probably think of clothes, toys, and big ticket items from Supercenters and places of the like. Where your mind probably doesn't go is to airline tickets. However, it is a real thing and I'm here to tell you all about it. Birthed from the struggle of not being able to go to her native country, Ghana, during school breaks at university, Ama Marfro created Airfordable. This black-owned, travel company has made it easier and more affordable than ever to book flights. How so? Airfordable allows customers to secure their desired flight with an upfront deposit, and then pay in bi-weekly, recurring, installments until their flight is paid off. The best part about the service is no credit check is required. So, no more putting off your travel dreams because you're low on cash or credit. No more dropping buckets of money on a flight at one time when you have other things that may take precedence at that time (you know, like rent/mortgage, lights, water, and gas). No more missing out on group trips because "the way your bank account is set up". No more!
Millennial women of color are dominating the travel scene right now. One of those women on the forefront, leading the pack, is Zim Ugochukwu, the creator and CEO of the online travel community, Travel Noire. I've been a fan and a follower of this community from early on and have witnessed it's immense growth. It's where I learned that glitch fares even existed, and how I nabbed an incredible deal to Abu Dhabi for $187, roundtrip.
---
---
This brand provides tools, resources, and experiences for the unconventional traveler. It offers everything from travel tips and tricks on how to save for travel to how to make travel a part of your lifestyle. Whether you're sauntering through the world solo or gallivanting with a group, TN has built an inclusive community with resources for everyone. With their TN Experiences you can "discover a world you never knew existed". Carefully curated, Travel Noire has cultivated local group trips that allows travelers to journey deeper and have a true authentic experience. Some of their 2017-2018 destinations include, Amalfi Coast, Bali, Cape Town, Cuba, Salvador, Zanzibar, and more.
We all need a tribe – that select group of people who are "family by choice". That's exactly what Evita Robinson set out to create when she created the Nomadness Travel Tribe. Likeminded individuals, with an urban edge, who have a lust for travel is what the Tribe is all about. Nomadness didn't just stop at curated group trips; from their web series to Nomadness apparel to annual travel conferences, it has become an entire lifestyle brand.
This group was founded for women and girls who love travel. It has since turned into a melanin movement and tight-knit sisterhood. What started as a way to share her personal journey, owner's Gabrielle Victoria corner of the interwebs eventually morphed into an entire network of women who enjoy the same interests. Since 2015 BGF has begun offering group trips. However, these ladies take group trips to another level! Glamping in Gatlinburg anyone? Or how about sliding on your fuzzy slippers or a cozy onesie for a weekend Slumber Party in Atlanta? You can also experience the world, and immerse yourself into various cultures with BGF, visiting places like Cartegena, Nairobi, India, etc.
Work hard. Play harder. Enjoy the finer things in life. This is, essentially, the concept of the black-owned, travel company Up in the Air Life (UITAL), founded by Claire Soares. Claire noticed there was a gap in the market for working professionals of color who, not only loved travel, but also enjoyed the finer things in life. This realization lead to the creation of UITAL, a luxury travel company that creates epic experiences.
UITAL curates meetups, trips, and events, all in the name of inspiring, connecting, and growing. They do all the leg work and heavy lifting with the planning, and all the members, known as Lifers, have to do is show up and have fun.
I'm sure by now we've all heard of the unfortunate discrimination issues with Airbnb (remember hashtag #AirbnbWhileBlack?). Though the company made strides to address the issue, those efforts may have came just a little too late. Such was born Innclusive. After experiencing their own fair share of Airbnb grievances, founders Rohan Gilkes and Zakiyyah Myers set out to create an online booking platform where people of all backgrounds can travel the world and stay with respect, dignity, and love. They now have accommodations in over 130+ countries.
---
---
Of course I can't talk about black-owned travel companies without mentioning LMDES. This was my go to guide/source when making my move to Spain, and I have been fortunate enough to now be a contributor to this incredible site. Our founder, Sienna Brown, first launched LMDES as a resource for women of color who lacked resources about life in Spain. Since then, this digital platform has reached greater heights and not only cater to expats in Spain, but travelers and expats worldwide.
LMDES is all about inspiring and building communities, so they often host various events in Spain, such as the LMDES Rooftop Social, Madrid Afternoon Soiree, and Sake & Vibe. One of the biggest events was the Thrive Conference, where people from all over the globe came to learn, share, and network in a day packed with informative workshops and panels. There are so many great things to come with LMDES. Stay tuned!
These are all separate entities who share a common goal: Inspire. Enrich. Build. Connect. Grow. Learn. The Black Travel Movement is taking the world by storm, and it's black-owned travel companies like these that help facilitate and pave the way.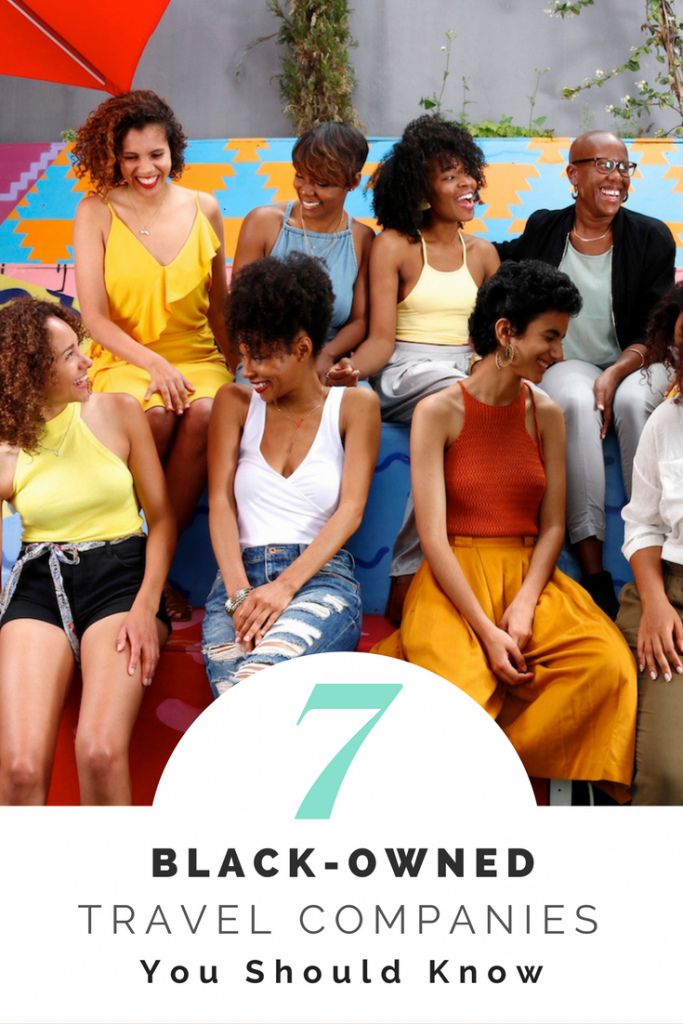 What are some of your favorite black-owned travel companies? I'd love to hear about them in the comments below!