Why Doing Disney as an Adult Rocks!
I'm going to let you in on a little secret. The most magical place on Earth, the place where dreams come true, and Dole Whip is apparently life, the one and only Walt Disney World, is not just a place for tiny tykes and character-crazed kids. Nope, my friends, adults can enjoy it just as much, if not more definitely more, than kids. Last month I got to relive some of my childhood memories, and create new ones at Disney. I'm here to tell ya, doing Disney as a grown person is certainly a bit different than doing Disney as a kid. Here are a few reasons why doing Disney as an adult rocks!
You Make The Rules
Visiting Disney as an adult, with no kids in tow, means you get to make your own rules, and break them if you want. There's no kiddos pulling you in this direction or that direction, wanting to ride this ride and that ride. You get to decide if you reeeeally want to wait in that 3 hour line or say "Eh, forget it. I'll hop in the 15 minute Tea Cup line instead." Your decision-making process is all yours and you don't have to worry about taking tiny tykes into consideration. Even if you're traveling with others, you're a big girl/boy and can be left on your own if it comes down to it.
You Save Money
Doing Disney as an adult means you're a little older and hopefully a little wiser. That means, you may not be as inclined to buy every colorful, sparkly, music-making, magical souvenir and trinket you see. Those cute little souvenir shops, so strategically placed after every ride? You know, the ones that you have to walk through in order to exit the ride; where you see kids begging and bargaining with their parents to buy whatever thing they feel like they can't live without which will be long forgotten about once they get to the next ride/souvenir shop and find a new thing. You'll likely find yourself just casually perusing through them and maybe pick up a thing or two during your entire trip (because let's be honest, if you're like me, you flew budget and crammed everything into a small bag to avoid those exorbitant baggage fees, and you don't have the room or the time for that).
Visiting Disney as an adult means you also may have more flexibility of when you go to Disney. You can visit during off season versus peak season, making the prices cheaper.
Drinking Around the World
This is possibly one of the best things about going to Disney as an adult – drinking around the world in the epic land of Epcot. Hop from one "country" to the next, getting a taste of each, at Epcot's World Showcase that features 11 countries from around the world. Have margaritas in Mexico, chilled plum wine in China, Junmai saki in Japan, or any of the other number of drinks offered around the world. After indulging in libations, be sure to check out the laser and fireworks show at Epcot.
Tip: head to Mexico for the best seats in the house, right on the lake.
People Watching is on a Whole Other Level
When you're young and at Disney anything outside of rides, characters, junk food, and gifts really doesn't matter. There's a whole world going on around you, and you don't even notice. For me, visiting Disney as an adult, people watching was half the fun. You see and hear everything! The temper tantrum throwing toddlers, and the the parents that are trying to tame them. The temper tantrum throwing parents. The exhausted people who literally stretch out on benches, walls, basically wherever they can find to catch a few Zzzz, and the babies in the strollers right next to them (I can't tell you how many times I saw this. Like, how?! It's a thousand degrees and so much going on around them. But hey, they make it happen).
You'll also find that kids really do say the absolute darndest things. They're so adorable and you can't help but to laugh at their innocence. You may also find yourself having conversations with you travel partner about the characters, that may go something like this:
"I wonder how they stay cool in those sweat boxes (aka costumes), because seriously, I'm sweating from every orifice so I'm certain it has to feel like Hades in there for them. Maybe they have built in fans. Oooo or air conditioning. Yeah, that would be nice. I wonder how much they are paid. I wonder who's in there. It's kinda creepy when you think about it. There's some random person in there looking back at you, but you can't see them."
Like I said, people watching is way different and so much more fun as an adult at Disney.
You Have a Greater Appreciation
As an adult, you tend to have a greater appreciation for things, versus when you're an easily distracted kid chasing after the new exciting thing. Visiting Disney as an adult you really get to take it all in – especially the hard work and dedication of the Cast Members, and every single detail that goes into making the World of Disney the most magical place on Earth. Take, for instance, the new park Pandora – World of Avatar; I was so awestricken by the engineering and creativity it took to construct such a magical world, I was honestly picking my jaw up off the floor. As a kid, I wouldn't have given it a second thought. I'd want to just beat on the cool drums and drink colorful slushies.
Nostalgia at its Finest
If you visited Disney as a kid and you're returning as an adult, you can't help but feel a sense of nostalgia. I've been to Disney four times in my life, now. The first two times I was a toddler and remember nothing. The time before this last visit was 18 years ago, when I was 14 years old. The only thing I remember about this visit is Space Mountain and how my brother, my cousin, and I rode it back to back like 3 times and it was AMAZING! That's it. That's all I remembered. However, I have clung on to that one memory all these years and could not wait to relive it! I was like a kid in the candy store and could barely contain my excitement as we made our way through the line for Space Mountain.
I will say, now that I'm older, it wasn't exactly as thrilling as it was 18 years ago. However, getting the chance to relive those childhood memories and create new ones was every bit worth it.
You Get to be a Kid Again
Speaking of nostalgia, I think the best thing about doing Disney as an adult is the fact that just for a moment you don't have to adult. You get to release your inner kid and be insanely excited about simple things such as Dole Whip and Mickey Mouse. I think it's important to tap into our childlike innocence. We get older and forget that. We forget to let our hair down and simply have fun, and be giddy over the most minutiae of details/things.
Forget about the spreadsheets, the emails, the phone calls, the mountain of work waiting for you when you get back home. Forget all of that and just enjoy the magic.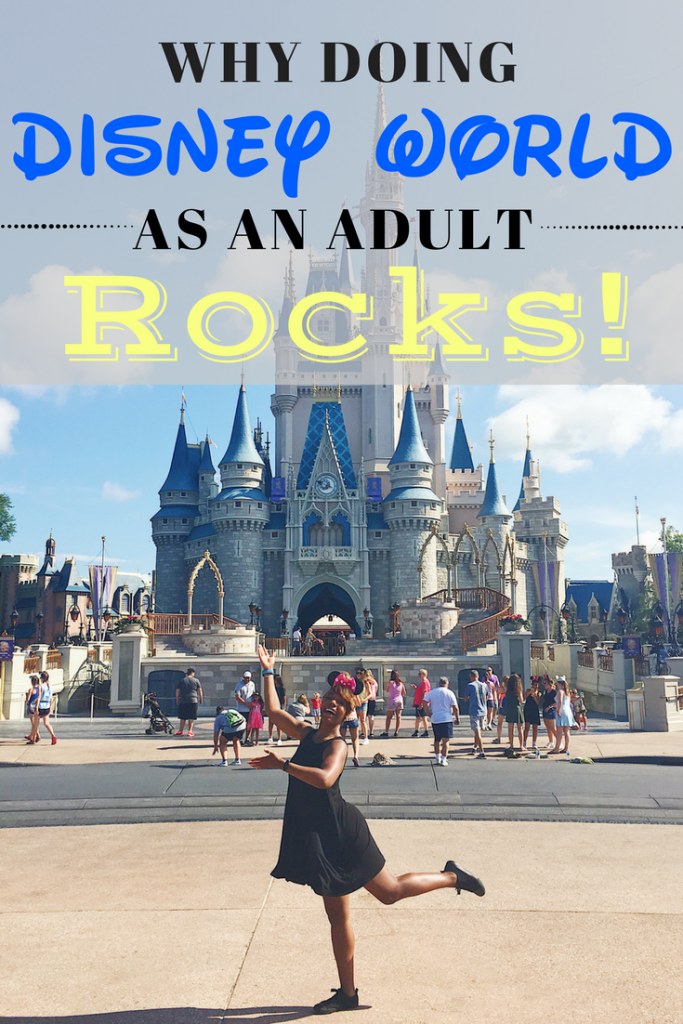 Have you visited Disney as an adult? I'd love to hear about your experience. Leave me a comment below!
Special thanks to Disney for providing complimentary tickets. As always, all opinions are my own.