6 Reasons to Visit Disney's Pandora – The World of Avatar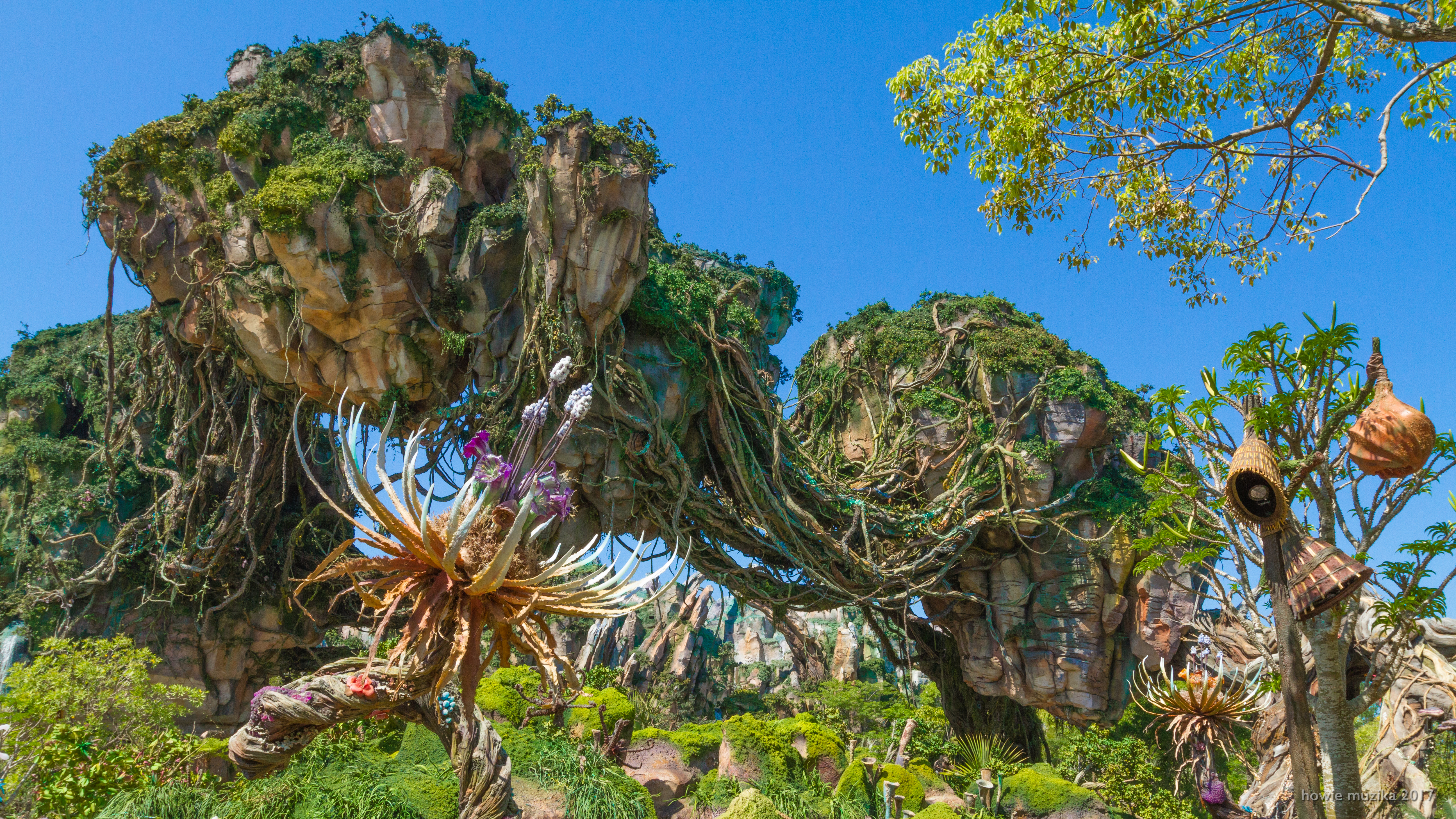 When I found out that my 3-day conference trip to #BlogHer17 had turned into an all out 7-day mini-vacay, all I wanted to to do was visit the brand spanking new Disney park, Pandora – The World of Avatar. I LOVE the movie Avatar. I mean, really REALLY love it. Like, went to the theater to see it twice when it was first released, and watches it every single time it comes on, love it. Before even going to the park, I'd already deemed myself an honorary member of the Na'Vi tribe. Don't judge me.
So yeah, going to Pandora was at the top of my list of things to do. However, the icing on the cake was when I was personally invited by Disney to experience the wonderful world of Pandora! Out of 2,300+ attendees at the BlogHer17 conference, I was 1 out of 15 of the "chosen ones" for this incredible opportunity. I may or may not have jumped out of my seat, did the most ridiculous happy dance (that I'm glad no one was there to witness), lost my entire mind out of pure exhilaration, and shed a tear or two. Not one of my finer moments, but who cares?! I was going to Pandora! Can we say hashtag WINNING?!
Find out how I paid only $23 for this 7-day Orlando trip

here

.
If you're planning a trip to Orlando, Pandora – The World of Avatar, is an absolute MUST! Here's 6 reasons why:
Three Words: FLIGHT OF PASSAGE! 
Although this is the first thing on my list, it is the last thing I actually wrote about, because I don't think I'll ever be able to find any words that will do it any justice. The Flight of Passage is one of the two main attractions at Pandora. It is a journey and experience like no other I've ever had. I won't give too many spoilers, because again words does it no justice, and you seriously just have to experience it for yourself. However, I will say this is the closest thing to flying that you will probably ever experience. I mean, unless of course you jump out of a plane, which I've done before and even that thrill pales in comparison to Flight of Passage. Just sayin'.
This ride is awe-inspiring. It tantalizes your senses, the sights, the sounds, the smells, and especially the feels. I may or may not have gotten a little teary-eyed while on this journey. And take it from someone that rode it FOUR times (3 of them back to back), it gets better every. single. time. This is the ride that is an absolute MUST at Disney. Brave the long lines, or get the Fast Pass+ and take flight!
Good Eats
I have to admit, I was a little worried when I'd heard people weren't loving the food here (mostly parents saying it wasn't kid-friendly enough). I love food, but I'm also a really finicky eater. However, after walking up a massive appetite, they could have served me dirt on a platter and I'm sure I would have found it scrumptious. Luckily, Santu'li Canteen, the fast-casual dining hall located within Pandora, spared me the dirt, and served up some delicious "local" eats instead. The Avatar story/theme resonates throughout the restaurant. From the Na'Vi art that adorns the walls, to the RDA remnants from the old mess hall. Disney makes the Avatar world a true otherworldly experience, even down to the food selections.
On the menu you'll find items such as steamed bao bun "pods" containing cheeseburger or vegetable curry with a side of root vegetable chips and slaw, or indulge in Santu'li Canteen's signature dish, customizable Santuli Bowls. I opted for the latter, with wood-grilled chicken, whole-grain rice, and chimichurri sauce, topped with vegetable slaw and boba balls. Let me just tell you, it was absolutely delicious! It was far more flavorful than I'd anticipated, and the variety of textures made it one delectably, filling meal.
Pongu Pongu
With all great meals you need something refreshing to wash it down with, right? Well, Pandora takes drinks to a whole new level. From the Night Blossom, a florescent-colored, frozen Mockarita, to the fruity Hawkes' Grog Ale, these colorful, cool treats are sure to give you some reprieve from the Orlando heat. These can be found at Pongu Pongu, right outside the Santu'li Canteen. Another favorite specialty drink is the Mo'ara Margarita, which mixes strawberry and blood orange flavors and is topped with boba balls.
Na'Vi River Journey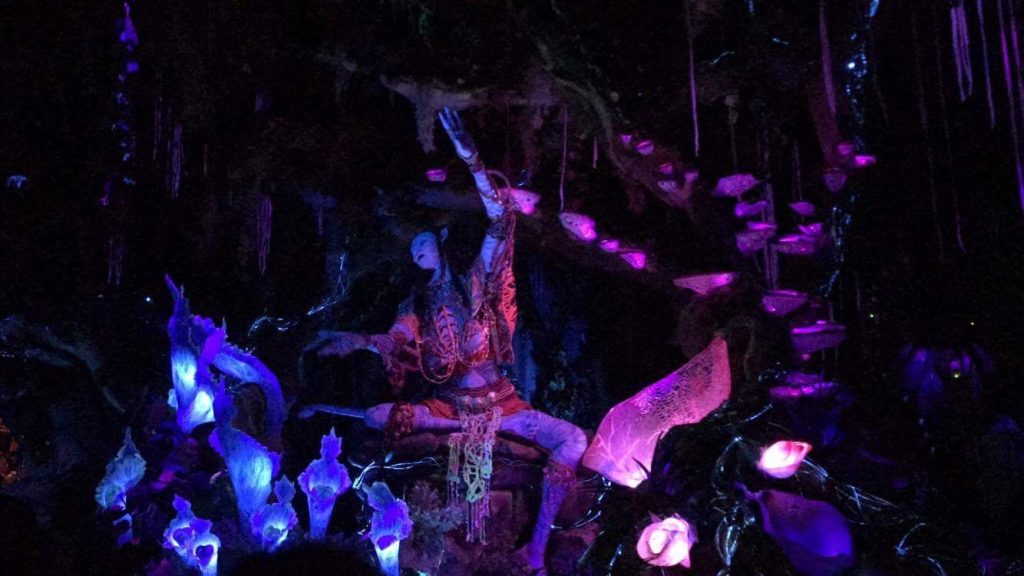 Take a floating journey through the sacred Na'Vi River where you'll be transported into the mystical and magical world of the Na'Vi. Surrounded by bioluminescent plants and the sights and sounds of exotic wildlife, there's so much to take in you likely won't know where to look. It's beautiful,  mesmerizing. The thrums of the drums and rhythm of the music takes you to another place. As you journey deeper into the Na'Vi world you will be greeted by the Shaman of Songs. If you're like me, you'll be fully entranced with this being. She's so life-like. She sings and chants in a language you don't understand but fully connect with. It moves you.
Valley of Mo'ara & The Floating Mountains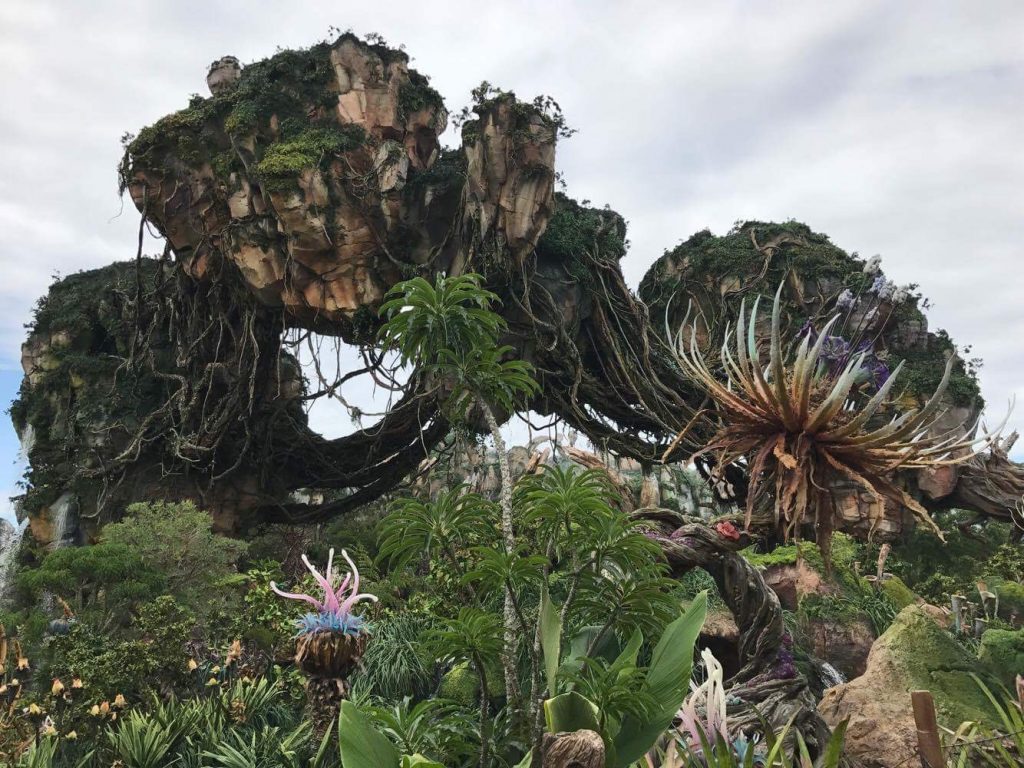 The Imagineering team really outdid themselves with this one. As soon as you cross the bridge into the magical world of Pandora you'll enter the Valley of Mo'ara. Once inside, you can't help but to crane your head towards the skies and take in the grandeur of the iconic wonder known as the Floating Mountains. They are magnificent! Mountains, waterfalls, flora all coming together to appear to be suspended in air. There's so much detail, from the sounds of Pandoran fauna in the "wilderness" to the exotic plants and flowers. Even the benches in Pandora are extensions of the trees. Every aspect immerses you deeper into this alien world.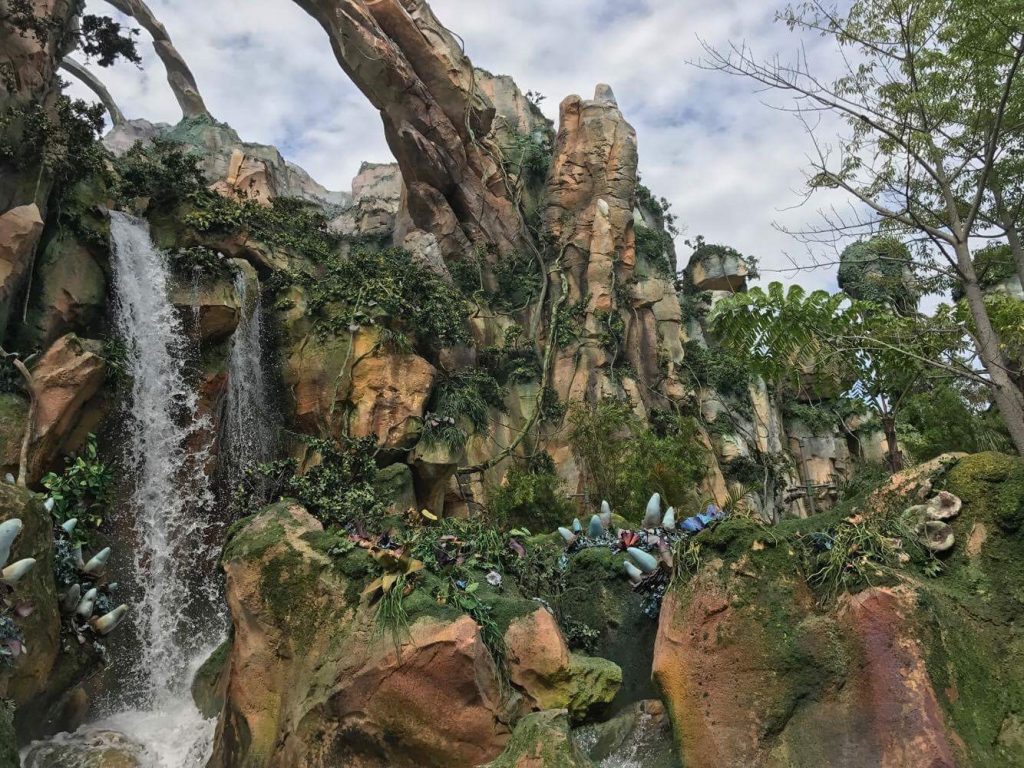 Pandora at Night
Just like the movie, Pandora transforms into a completely different world at night. The alien world truly comes to life and becomes a bioluminescent beauty. Trust me, it's not to be missed. Everything from the ground to the tops of the Floating Mountains light up at night. The glow up is real! I wouldn't suggest visiting during the day OR night. I think the best way to get the full experience of Pandora is to visit both during the day AND at night. There's simply no comparison and a two totally different worlds.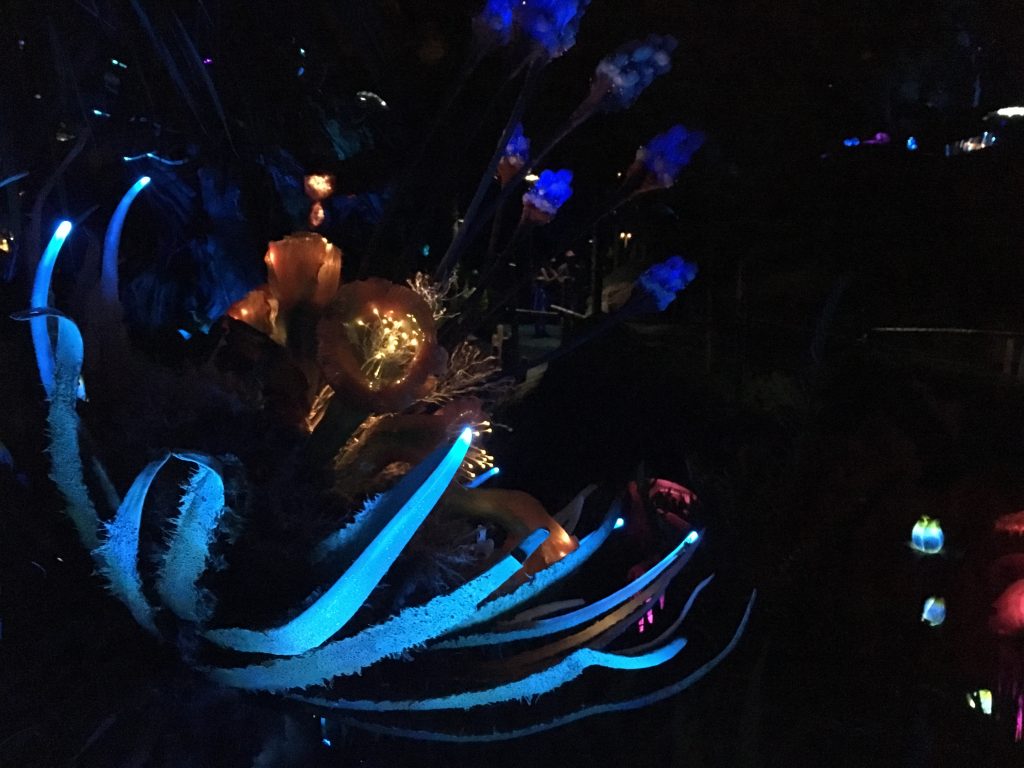 Tips for Visiting Pandora
Get there EARLY! I know, I know…who wants to wake up at ungodly hours while on vacation just to stand in line? The answer is no one. But, trust me, this is the best time to go to Pandora if you want to avoid even longer wait times for the rides. When I arrived at the park at 9 a.m. the wait time for the ride was 110 minutes. By mid-day it was up to 200 minutes. When I returned at night (at park closing hours), the wait time was up to 225 minutes. That's almost four hours of waiting! Get there early!
If you can, get the

Fast Pass+

in advance. I was able to experience Pandora as part of a media day and had complimentary Fast Passes and it was an absolute breeze. When the stand-by line was 110 minutes, the Fast Pass+ line was only 9 minutes (which is how I was able to ride so many times in a day). Be sure to schedule your Fast Pass+ time as soon as the option opens up because one of the Cast Members told me Flight of Passage is already booked out at least 60 days.
If you do the Fast Pass lane you will miss all the cool scenery of the stand-by lane. I hear it's pretty awesome, especially the lab.
If you are a guest at a Disney Resort you are able to enjoy the Extra Magic Hours from 10:00 p.m.- 12:00 a.m. until August 19, 2017.
I said this before but be sure to visit both during the day and at night for the full experience.
Bring a water bottle. There are refill stations throughout the park.
Download the

Disney My Experience app

that allows you to connect your tickets and/or Fast Pass to the app. You can also schedule your Fast Pass rides here, check wait times, and use the interactive map to get you from one location to the next.
I was invited by Disney to experience Pandora. As always, all opinions thrills, and chills, are my own!