How to Ship Luggage Using Send My Bag
I lived in a box-sized room in Madrid, which meant there wasn't a lot of extra room for things…or so I thought. When I started packing up to return home for the summer, I realized I'd accumulated far more things than I initially thought. I mean, after living in another country for nine months, I guess it's to be expected. From school supplies to Moroccan ceramic bowls, I had so much stuff that I had no idea how I was going to transport back home. With the budget airline I flew home, I was only alotted two check bags. Even then I had to pay for $142 additional for those bags. So, bringing any extra bags along on my flight was a no go. On top of that, I had an overnight stopover in Boston, en route to Atlanta, and I did NOT want to have to haul all those bags from the airport to my accommodations and back to the airport. There had to be a better way.
After doing a little research, I discovered Send My Bag. A door to door delivery service for luggage and bags. BINGO! This would be far better than dealing with the hassle of transporting four bags myself, and was the solution to the two-bag max with the airline. Though I was a little worried, as I've never shipped actual luggage, I wanted to give them a try.
How Does It Work?
Send My Bag is perfect for expats shipping internationally, students moving between home and university, or those who simply need to ship something quickly and efficiently with as little hassle as possible. You can ship boxes, luggage, sports equipment, cases, etc. Click here for the full list.
To get started, you can get a quote of about how much your shipment will be. On the home page select Get A Quote. Enter your Collection Country and Destination Country, the zip codes for both, and whether it will be a one-way shipment or a return journey. For me, I only needed one way from Spain to United States. For as little as $75 I could ship my luggage door to door, and it would arrive within 2-3 working days.
After getting your quote, you'll need to input your luggage measurements and weight. It is important to make sure these are accurate, as your price is dependent upon this information. Also, misinformation could result in your shipment being delayed. You will then need to select your shipment type. Are you sending personal items? A gift package? Commercial items? Select the appropriate option, then enter your declaration amount (how much the contents of your bags are worth at resale value).
After entering this information you'll have to go through a few more pages, before providing payment information. You'll have to complete insurance forms, identity checks, and customs questions (itemizing each item in your bag). It all sounds a bit daunting, but I promise it's all quite simple. If shipping internationally to the U.S. you will have to provide a copy of your passport as well.
Once all of your information is entered, and you've selected your pick up date, you will need to print a series of forms. Send My Bags will send you an email with your tracking number; as well as, links where you can download and print your labels. You will need to attach these labels to the outside of your bags. I highly suggest ordering SMB's label protectors which are free of charge. They are designed to ensure your labels stay intact during transit. However, I did not have enough time to order the labels so I used clear sheet protectors and lots (and lots) of zip ties.
My Experience with Send My Bags
As I mentioned before I was quite nervous to send my luggage via post. What if it got lost? Or damaged? Or my labels came off and my bags would just be stuck in limbo somewhere. What if I didn't enter the correct information or I forgot information and my bags are held hostage in customs? So many thoughts and worries. When the delivery guy showed up at my apartment I knew there was no turning back. I sent my bags off and prayed for the best.
I was informed, via email, that I would have to provide the delivery person with my Spanish residency number, but when I asked him about it he said he didn't need it. That sent me into a bit of a panic. I immediately hopped on the live chat just to confirm. The live chat person was awesome. There was no wait time, and they advised me I would receive an email that would request this information and not to worry. Sure enough a few minutes later the email came through. After that, I was kept up to date during the entire shipping process by using the Send My Bags app. It was amazing and totally kept my mind at ease because I got a notification each time my luggage was checked in to another facility or was on the move.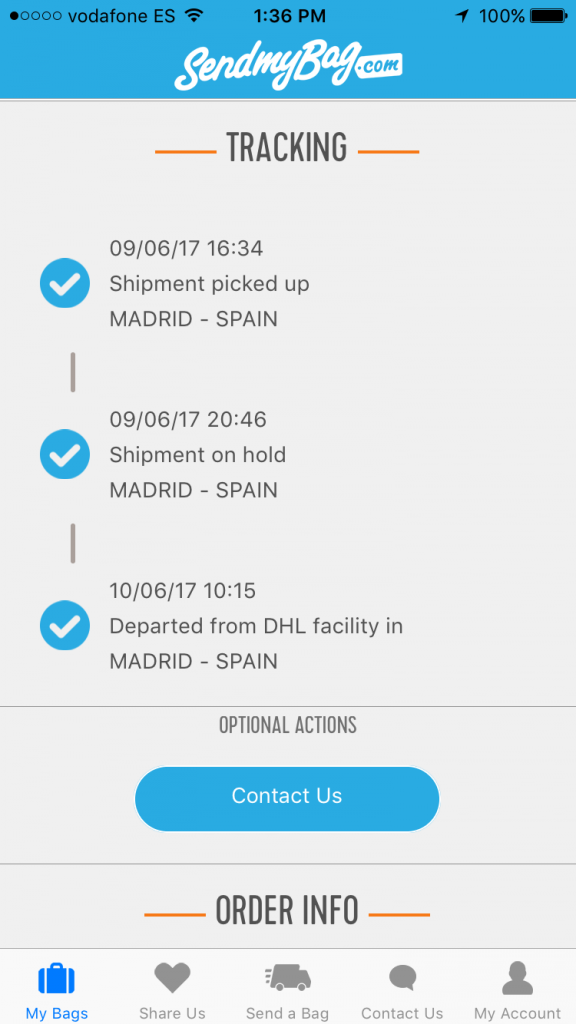 My bags arrived to my hometown, on time and without a hitch or hiccup! Best service ever!
If you are looking to ship your bags or luggage without the hassle of transporting it yourself or the the nickle and diming and limitations of some airlines, then Send My Bags is the way to go.
Tips 
Don't wait until the last minute. Give yourself time to spare in case your luggage does get held up in customs or hits a bump along the way. Also, place your order with enough time to receive the Send My Bag label holders to make sure your labels are completely secure.
If you do not get your label holder in time, you can use clear sheet protectors (half size), tape the open end to seal it, and attach them to your luggage with zip ties. DO NOT tape your labels to your luggage. DO make sure your labels are extra secure.
Download the Send My Bag app. This way you can track your delivery throughout the entire process. You also, get emails, but the app sends push notifications which I found to be more convenient.
Pay close attention to the prohibited items list. Depending where your items are being shipped, you cannot send things like liquids, pates, gels, medications, cash, etc. Check the list

here

.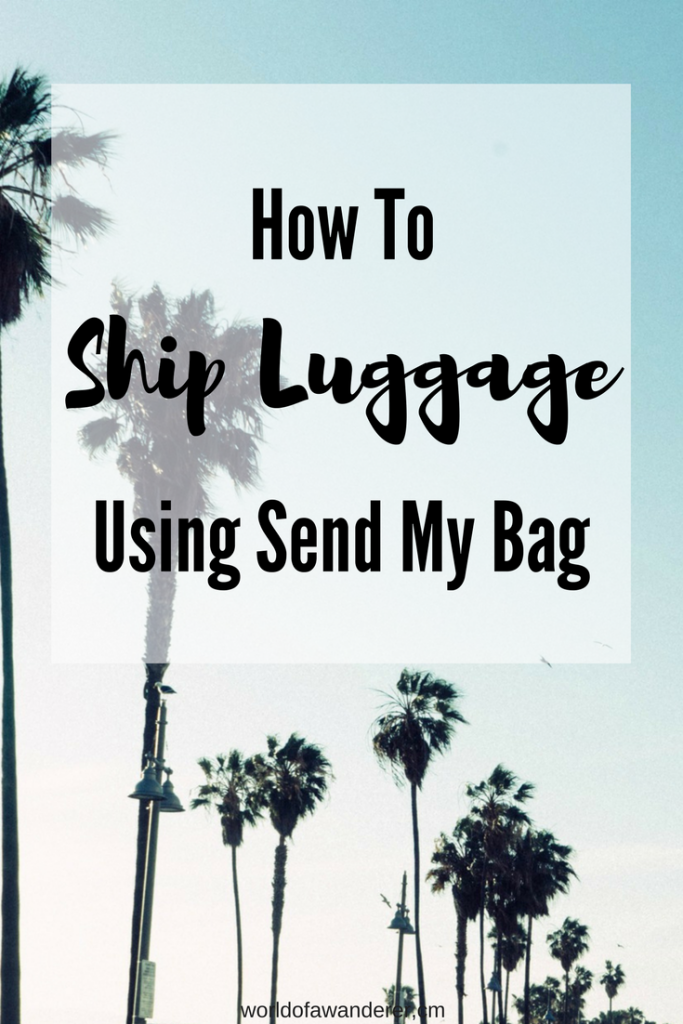 Special thanks to Send My Bag for letting me try their services complimentary in exchange for this review. However, as always, all opinions are my own.