24 Hours in Seattle, Washington
We don't always have an extended amount of time to spend when traveling to different places. Sometimes it's a short weekend getaway, and sometimes it can be as little as 24 hours. Whether you're staying awhile or just passing through, why not make the most of your time in a new city? There is tons of things to do in Seattle, Washington. If you're short on time, here's how to do Seattle in 24 hours.
Peruse Pike Place Market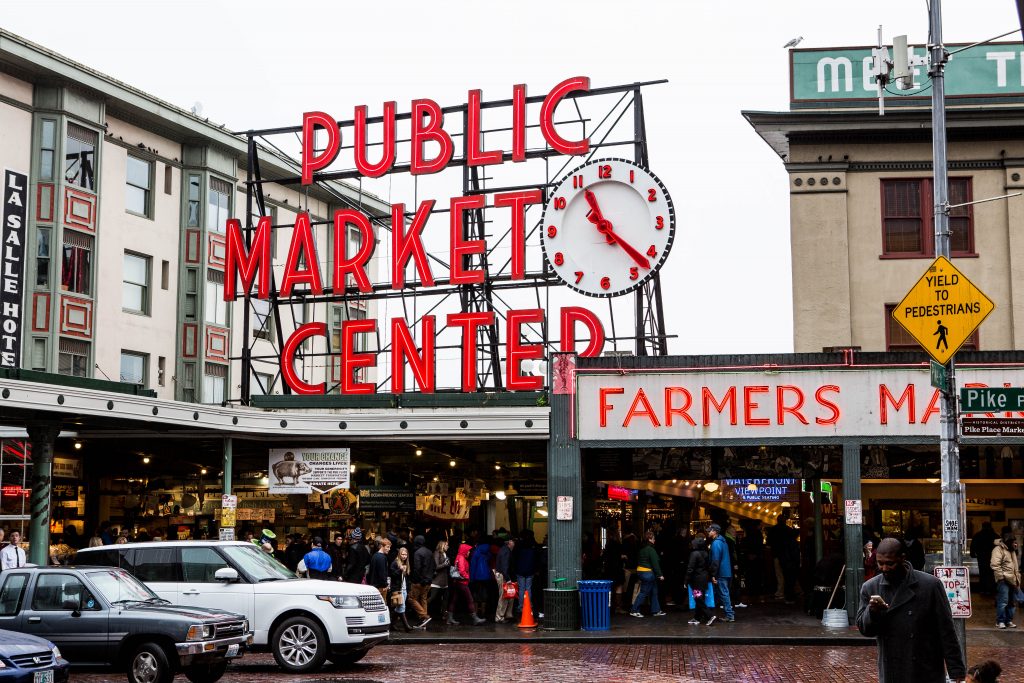 Image via Flickr by Suman Chakrabarti
Start your day at a foodie's paradise and head to Pike Place Market. Often considered a farmer's market, it's actually so much more. From local produce to pastries, meats, and sweets to flying fish antics and artwork, this historic market guarantees a fun time. Peruse Pike Place, take in artwork from local artisans, and be sure to stop and smell the fresh flowers while you're at it.
While at Pike Place, wander across the street to the world's very first Starbucks, launched in 1971. Grab a cup of coffee from the original shop, but be prepared to stand in a lengthy line.
Seattle Waterfront
Once you leave Pike Place Market, meander down to the charming Seattle Waterfront. Here you'll find some of Seattle's kitschiest and quirkiest souvenir shops. While here, check out the free sculpture garden at the Olympic Sculpture Park or take a stroll or a bike ride along the pedestrian path that stretches more than a mile along Elliott Bay. Get a bird's-eye view of the Emerald City from atop Seattle's Great Wheel or hop aboard a ferry boat to see the Puget Sound up close.
Head to the Top of the Space Needle
You can't visit Seattle without seeing the city's iconic Space Needle. As once the tallest structure west of the Mississippi River, this observation deck towers at 605 feet and is one of the world's most recognizable structures. Get whisked to the top on a 41-second elevator ride and take in breathtaking views of Seattle's skyline, the Olympic and Cascade mountains, Elliot Bay, and surrounding islands.
Feeling a little lunchy? Grab a bite to eat at the rotating Sky City Restaurant, where at 500 feet from the ground, there isn't a bad seat in the house. Every 47 minutes the restaurant makes one full rotation, giving you magnificent views of Seattle and all its glory. Also nearby, in the Seattle Center, you can take a stroll through Chihuly Garden and Glass, where you'll find unique glass sculptures and garden exhibits.
Kerry Park
Image via Flickr by Maciek Lulko
If you want to save money, forgo going to the top of the Space Needle. Instead, head over to West Seattle and take in the iconic views from Kerry Park. Have a picnic in the park or indulge in some sweet treats at Molly Moon's ice creamery, which is just a short walk from the park. The perfect time to head to the park is at sunset, as daylight fades and the city lights begin to glow.
Have a Nightcap
Wind down your night at the intimate cocktail bar Bathtub Gin & Co. Once a boiler room and now a lounge, this low-lit bar serves up all kinds of lush libations. Choose from local gin and tonics, classic cocktails, or if you're feeling brave, let the mixologist make you a signature concoction.
There's so much more to explore in this city. If you're short on time, this will give you a taste of Seattle and will surely leave you wanting to return for more.
Have you been to Seattle? What were some of your favorite things to do, see, and eat? Leave me a comment below!
This article is part of the GoDoTrip campaign.