A Guide to Ljubljana, Slovenia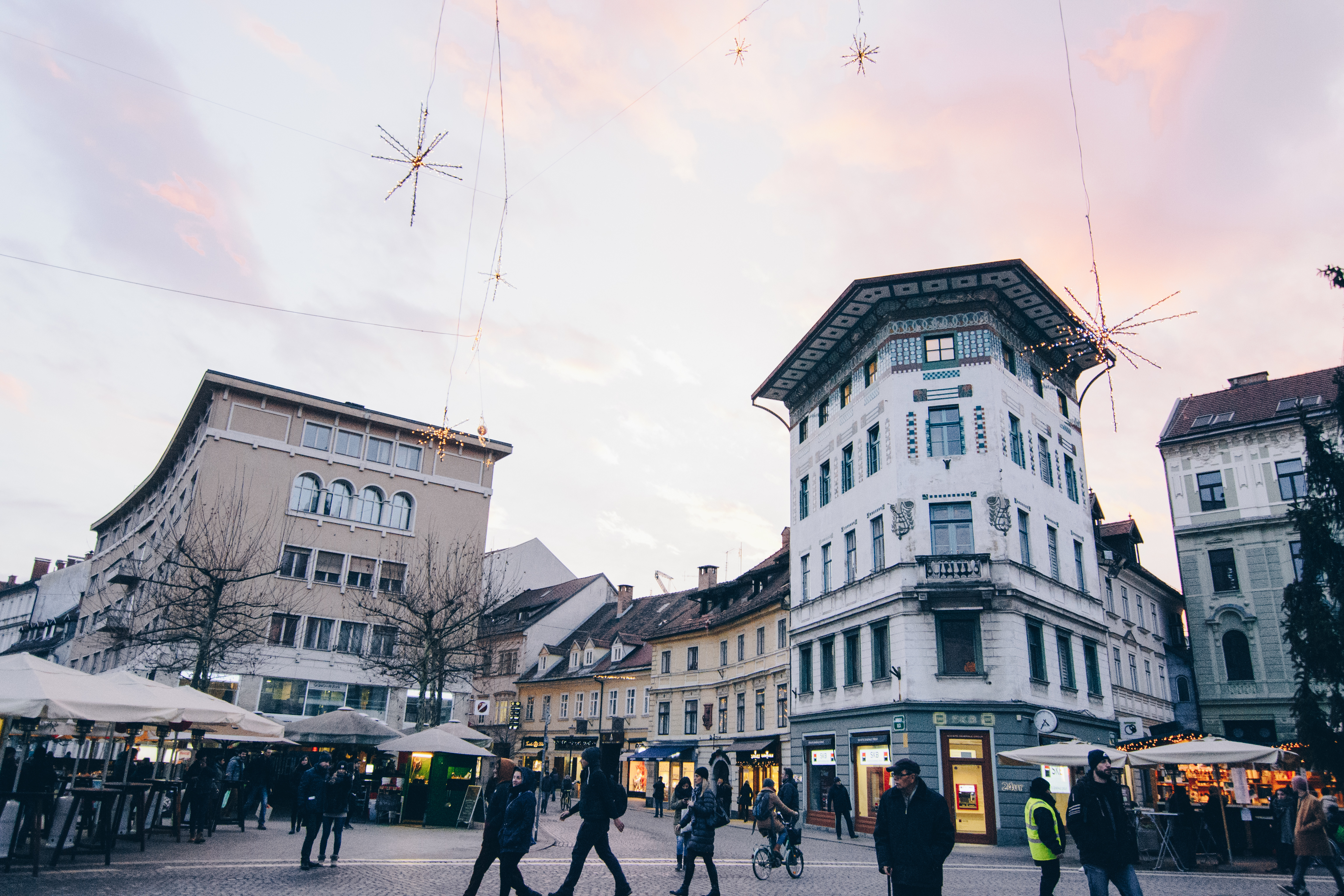 Two years ago I'd never even heard of Ljubljana (pronounced Lyoo-blee-ahna). It was nowhere on my radar of places to go, but this past holiday season I decided to go off the beaten path of "typical" Europe, and explore some of the lesser frequented countries. The charming capital of Slovenia was the last stop on my 2-week Eurotrip, and I absolutely fell in love with with the small little city that looks like it's straight out of a postcard. Planning a trip to Slovenia? Here's a guide on things to See, Do, and Eat in Ljubljana.
See
Triple Bridge
If you're in the city center of  Ljubljana you will undoubtedly see/cross over the Triple Bridge. However, you should stop for a moment and simply admire the architectural beauty. It originally began as one bridge, but it needed to be expanded. Instead of tearing down the one, the architect simply built two more around it.
Ljubljana Castle
Perched in the hillside, the Ljubljana Castle is one of the main sites in the city. Take a stroll to the top, or hop on the Funicular and enjoy the aerial views of the city on your way up. The castle itself is a medieval beaut. Meander through the museums and exhibits and take in some history, get a bird's eye view from the viewing tower, and stop by the Cathedral and have your name hand-drawn by a calligraphy master.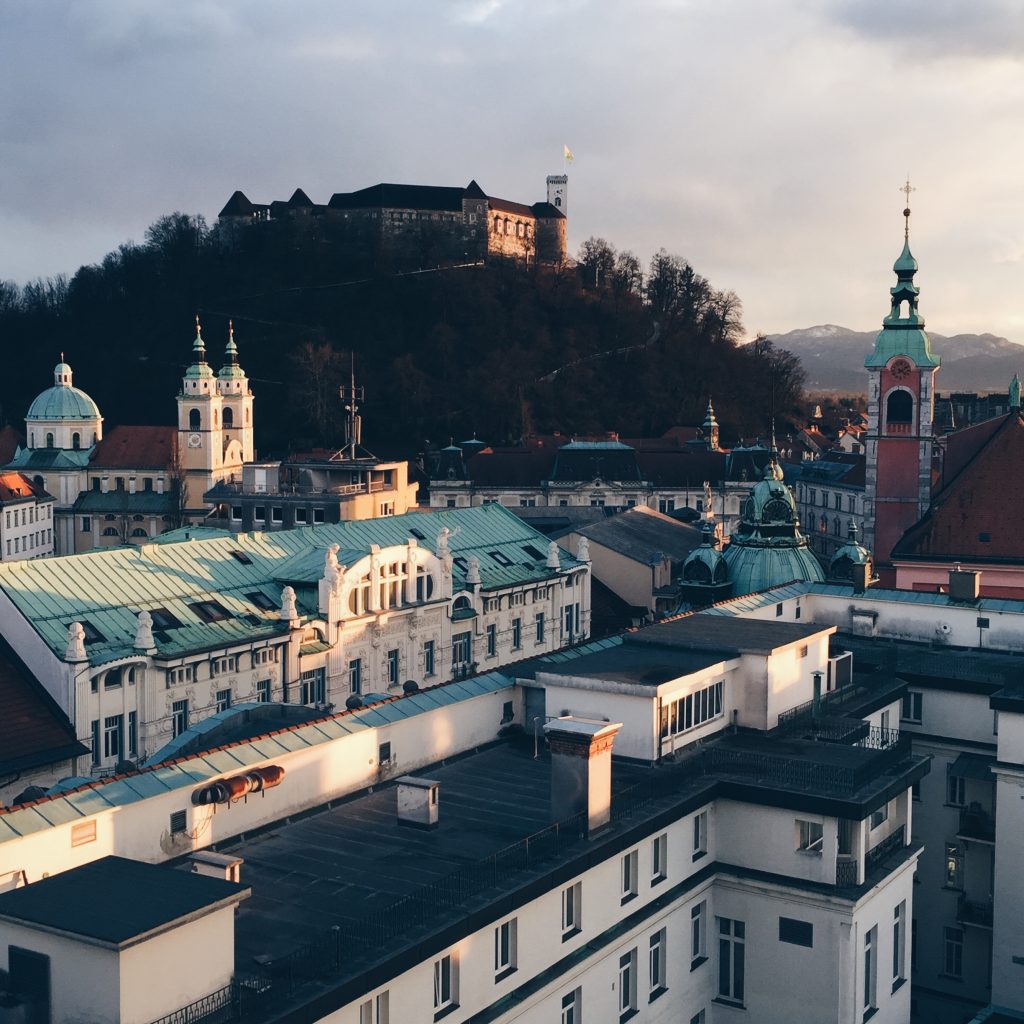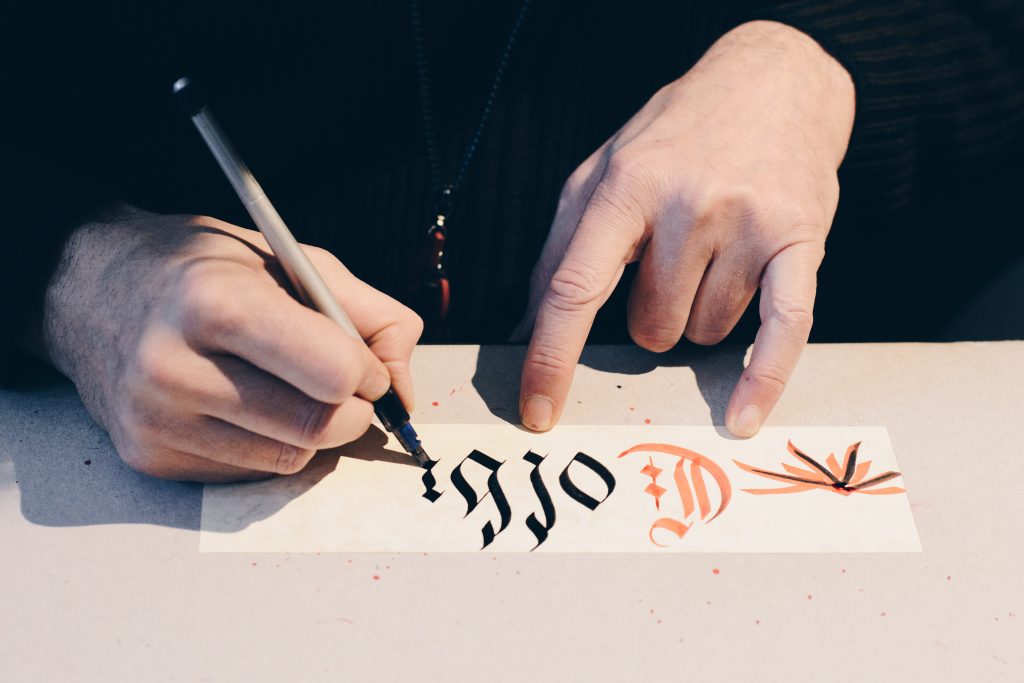 Dragon Bridge
While in Ljubljana I couldn't help but to feel like Daenerys Stromborn of House Targaryn, First of Her Name, Mother of Dragons (Game of Thrones reference for those not familiar). Ljubljana is a city surrounded by myths of dragons and heroes. Dragons are everywhere! You´ll find statues of them dotting the city, murals, mugs, postcards, any and everything. But, the most famous ones are found adorning the Dragon Bridge that crosses the Ljubljanica River.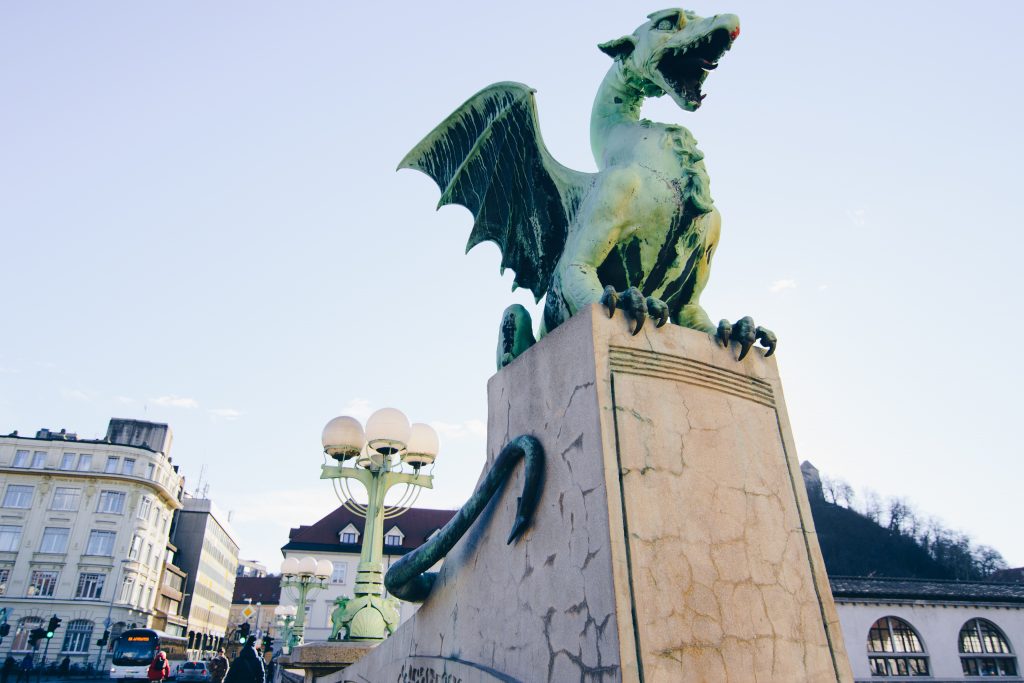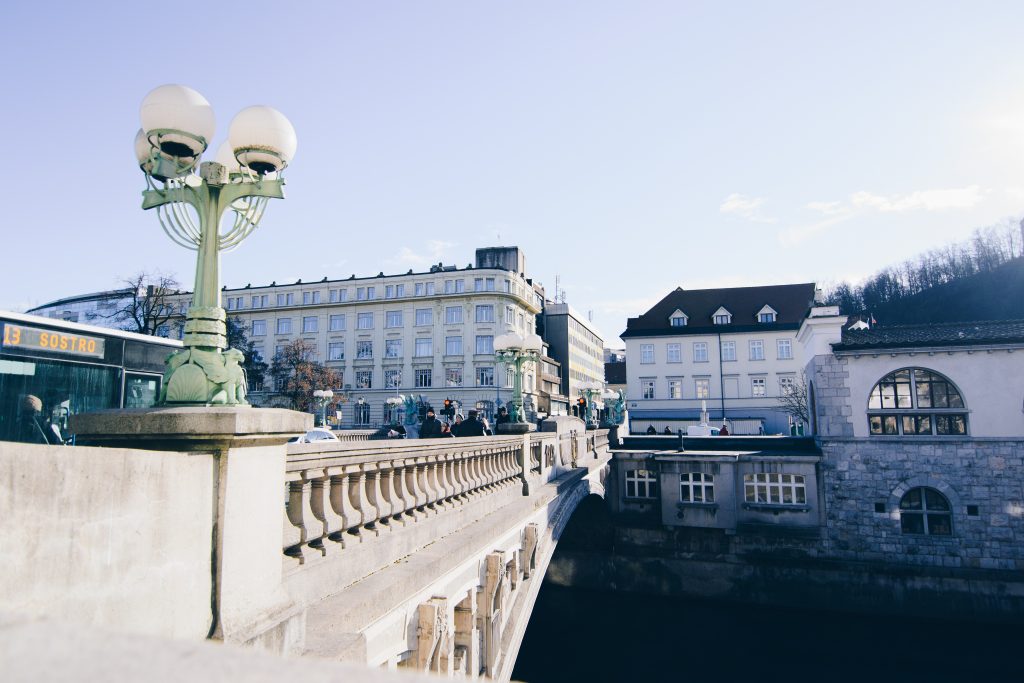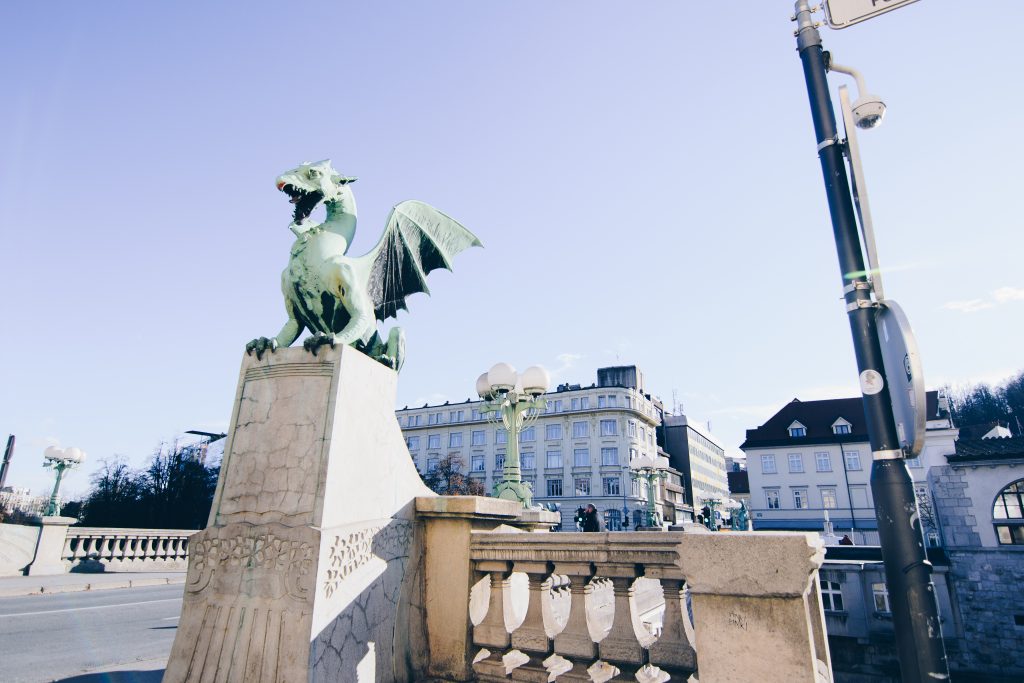 Metelkova District
This quirky off-beat neighborhood is a must, especially if you're in to art…even if you're not. Take about a 10 minute stroll outside the city center and you'll stumble upon this hodgepodge of colorful randomness, that all seems to just work. You'll find the local hipsters and squatters hanging out, and the occasional tourist roaming about snapping photos, but mostly you'll find grafitti-ridden walls, urban art installations, mosaics, ghouls, that make up this former military barrack.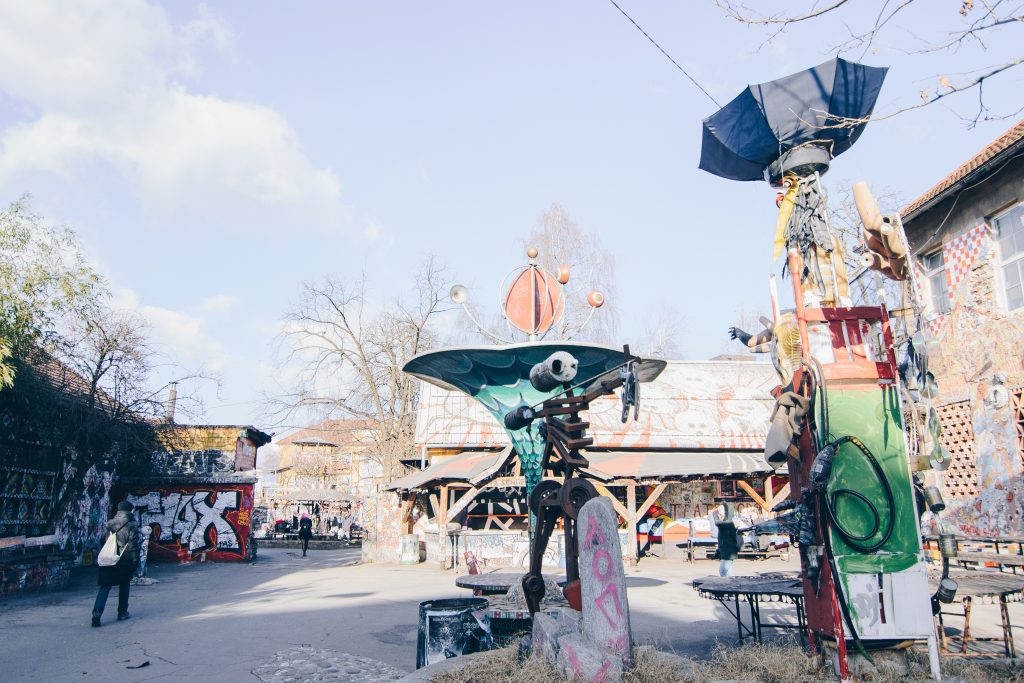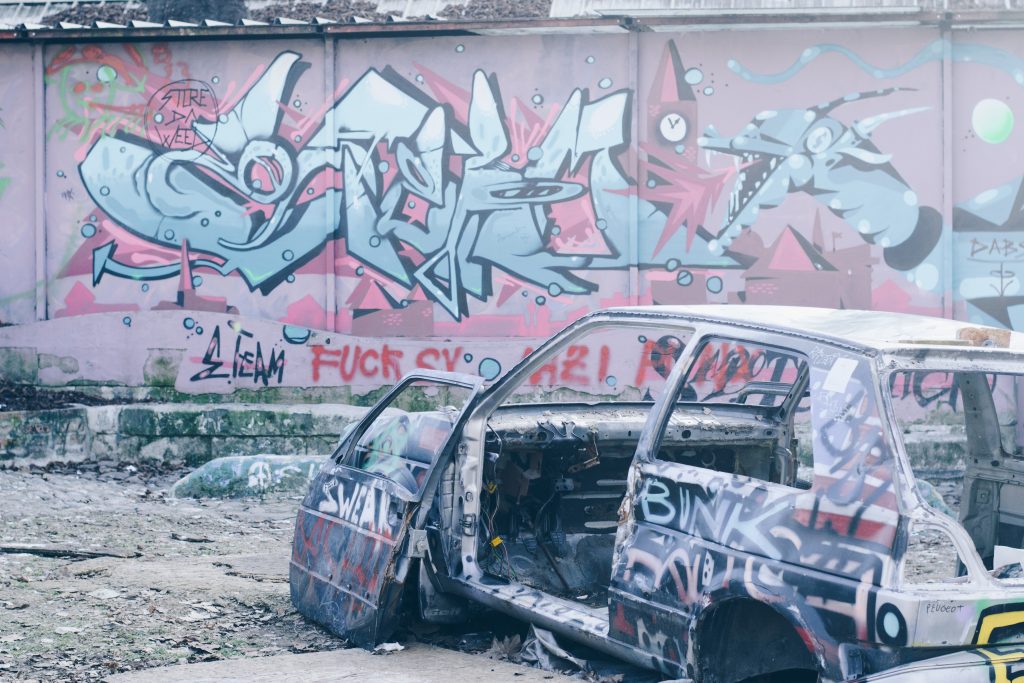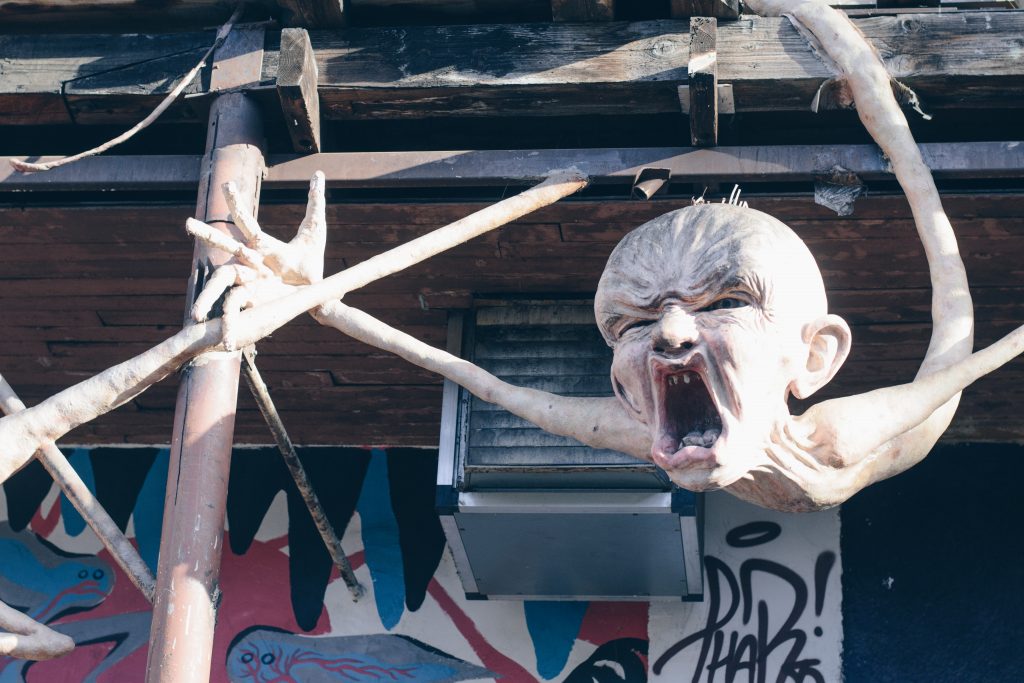 St. Nicholas Church
This magnificent cathedral is not to be missed. The intricate details and the grandeur of the cathedral will leave you in complete awe. Even the door itself is a piece of art that tells the history of Ljubljana. There´s also a little secret about this door, but I won´t spoil it. Be sure to get the Ljubjana Card and do the walking tour. Your guide will let you in on the secret 🙂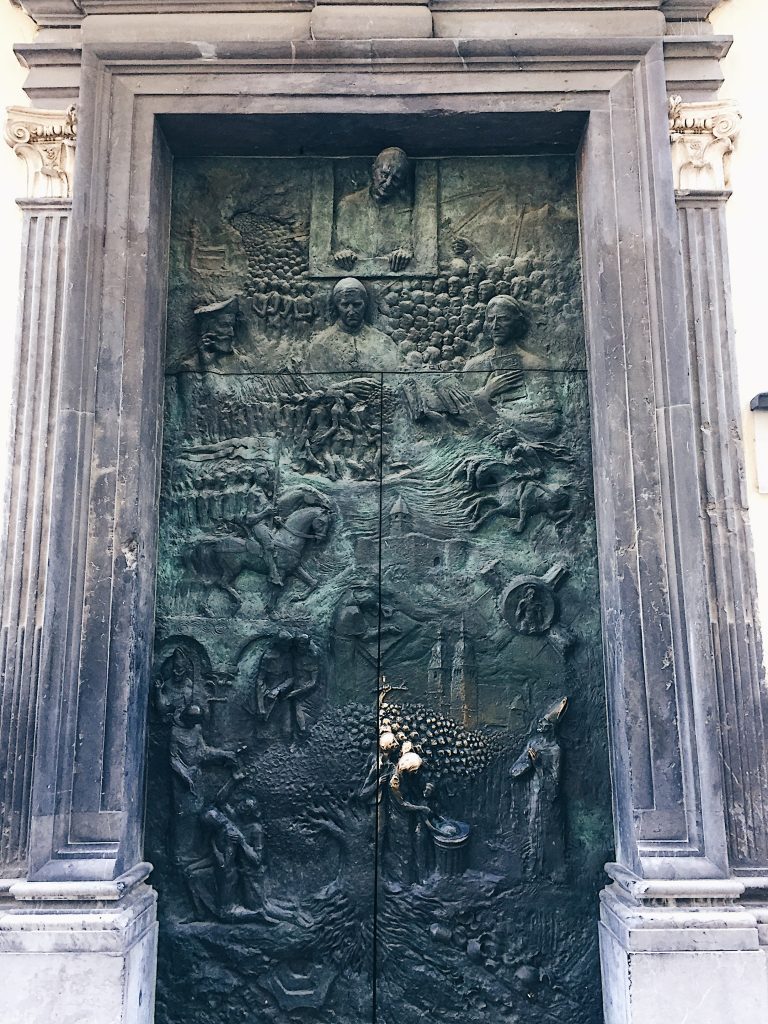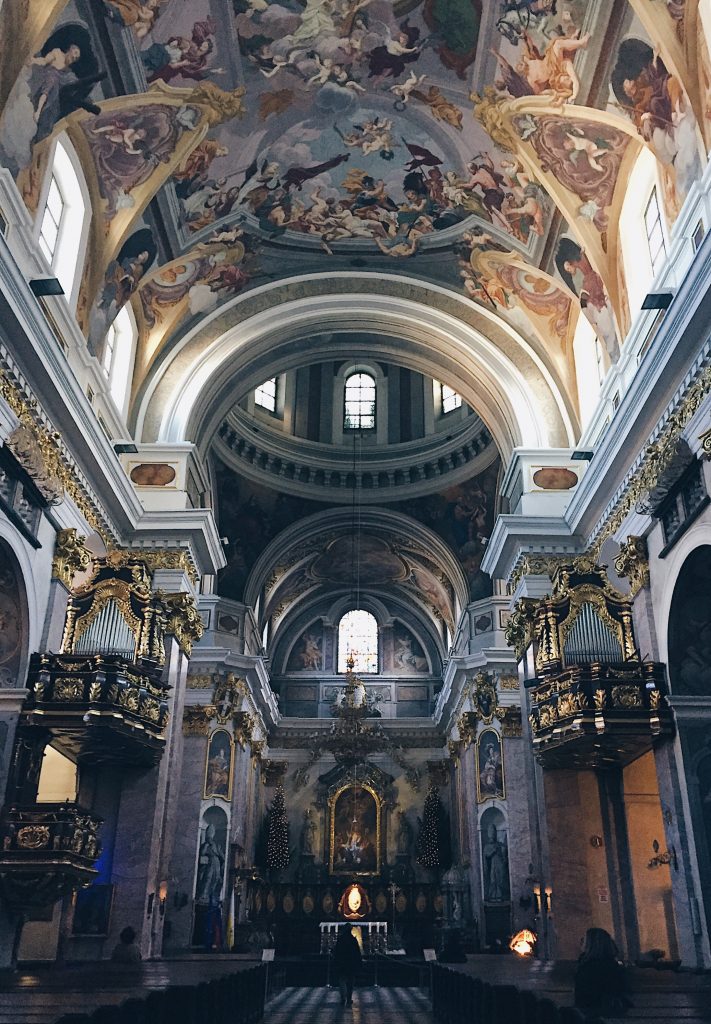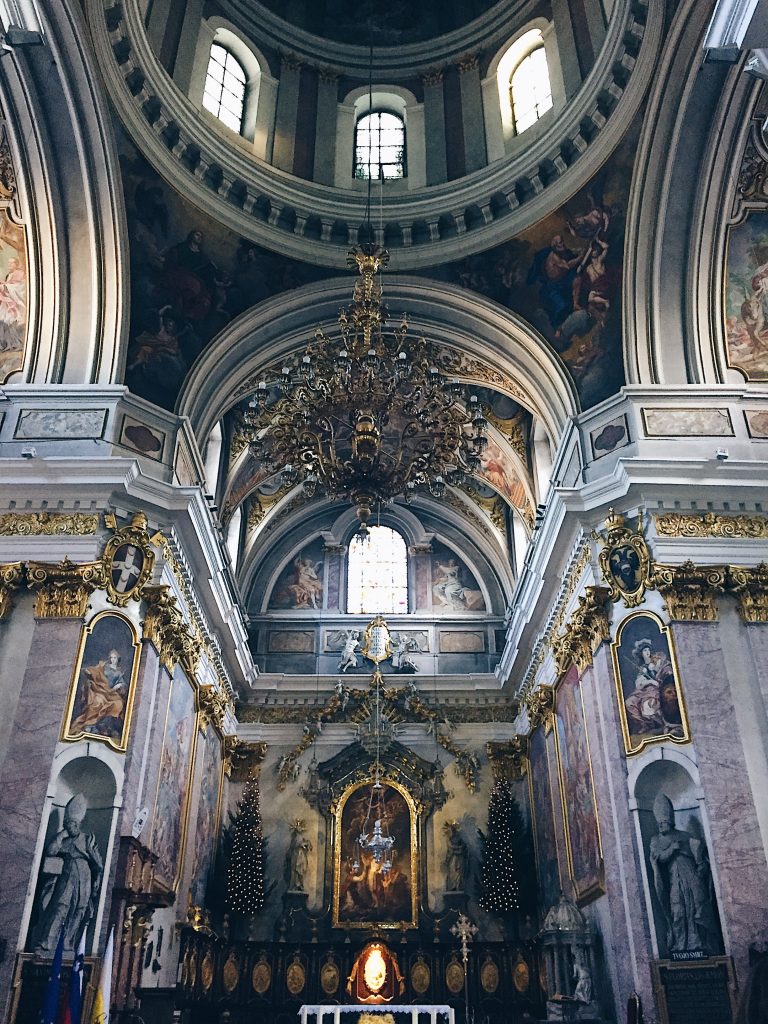 Do
Boat Tour
With the Ljubljana Card you can hop on one of the river boats and take a cruise down the Ljubljanica River. We opted to have a guide so we paid a couple euro extra. Sit back, relax, and learn the history of this charming city. Also, in the winter the boat is heated which was much a much appreciated escape from the cold.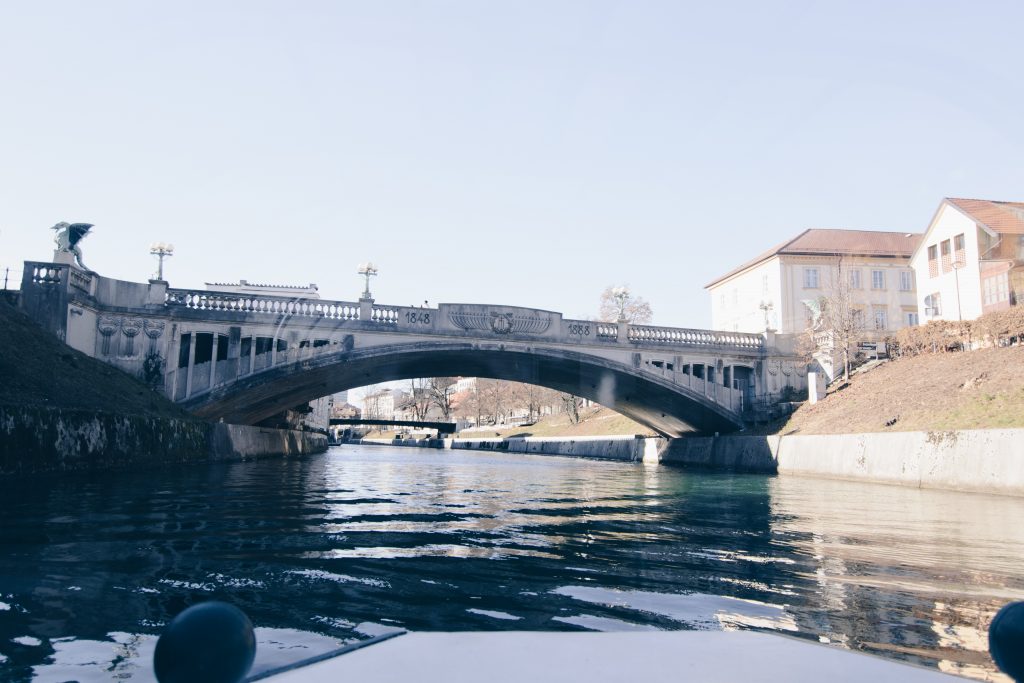 Walking Tour
No matter what city I'm in I always try to squeeze in a walking tour just to get a little bit more background about a place. It´s also a great introduction to places I wouldn't have known about or considered otherwise. Our guide was amazing and humorous. He certainly kept us entertained all while schooling us on the fact and fictions of the city. The tour lasts about 2 hours and is also included with the Ljubljana Card.
Peruse the Idyllic Streets
I don't know how many times I've said it in this post already (probably too many), but Ljubljana is simply charming. There's just no other way to put it. There's nothing overly spectacular about it. There aren't tons of tourist sites, yet the city draws you in. It's something about the cobble-stoned streets and pastel-colored façades that makes this girl swoon.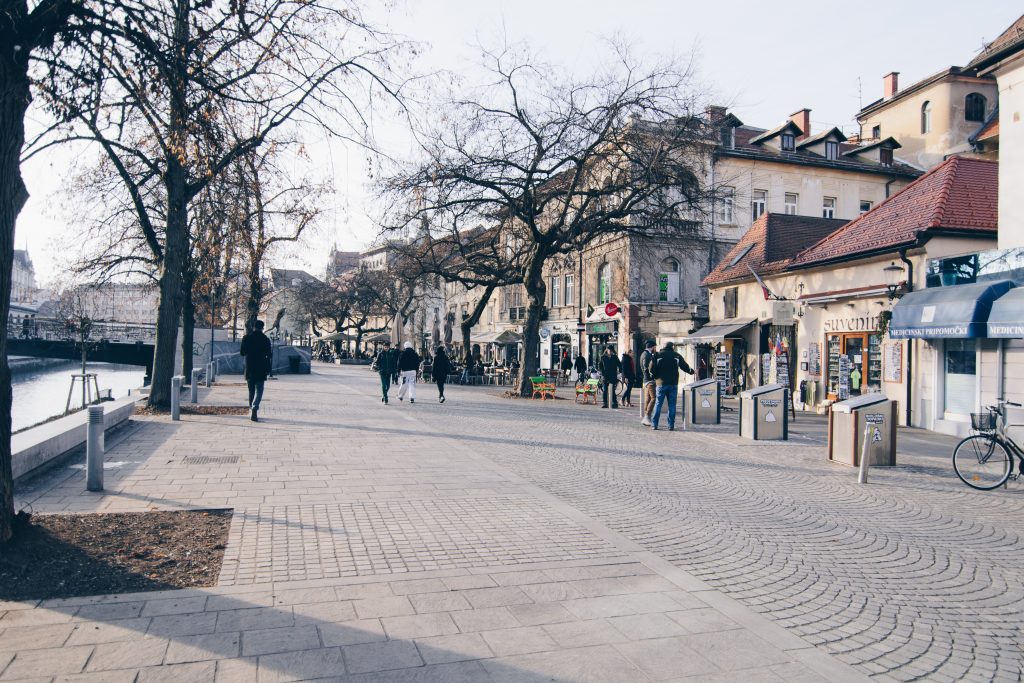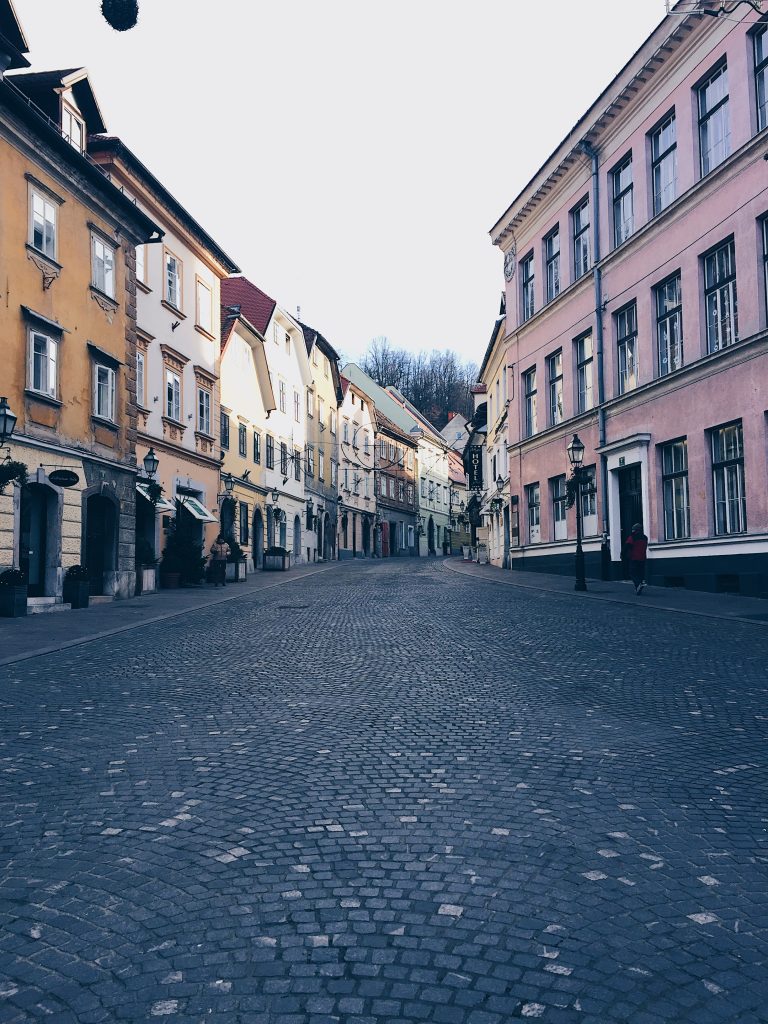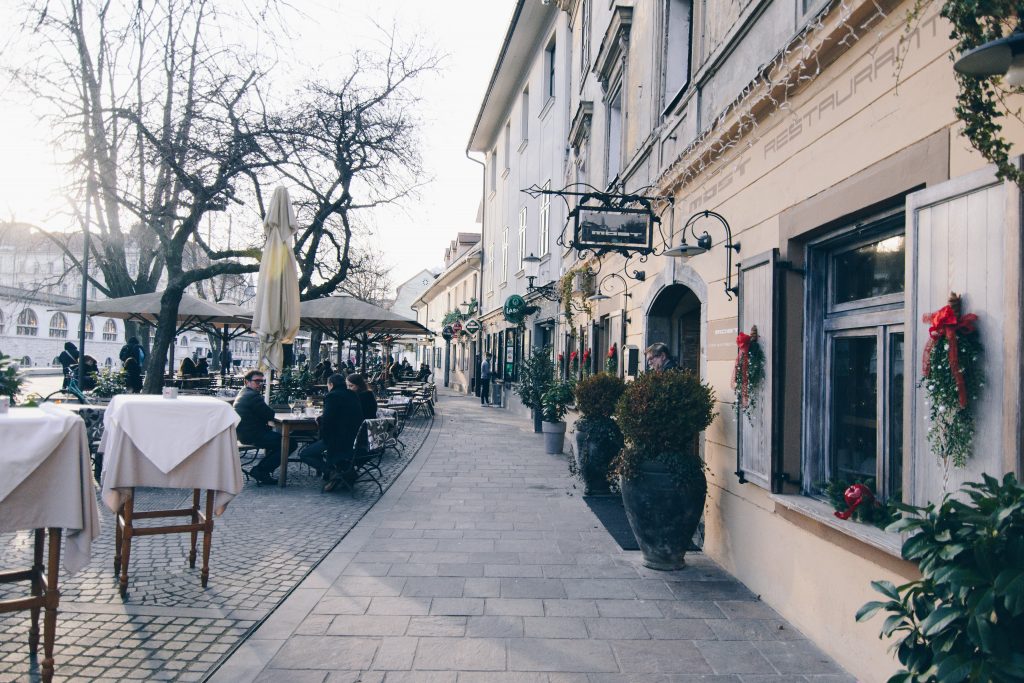 Hop 'N Shop
Ljubljana is like the mecca of boutique shops. All things cute, all things uniquely made, all things you likely won't find anywhere else. It's certainly not like your regular tourist shopping district where all the shops and stalls essentially sell the same thing, just a slight differential in prices. Here, I felt like no two stores were the same. Hop from one shop to the next checking out everything from high fashion, to handmade goods, and specialty items.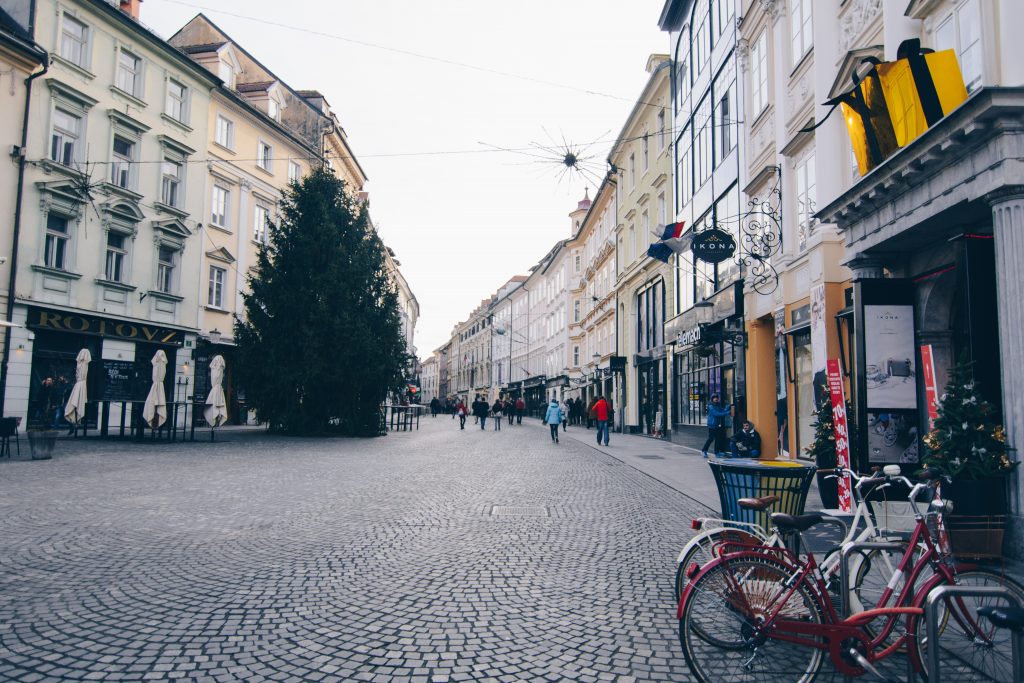 Speaking of shopping, no trip is complete without a visit to the local outdoor market. This is always one of my favorite things to do when visiting a new city. Ljubljana's Central Market is located just along the promenade on the banks of the Ljubljanica River. Stop and chat with the locals while you're picking up some fresh fruit or perhaps some new wares.
Eat
If you don't go to any other restaurant in Ljubljana, be sure to go to this one. Not only is the food amazing, but it´s a restaurant with a cause. Serving up traditional Slovenian dishes, Druga Violina uses locally grown foods and also provides opportunities for people with disabilities to work, whether it´s on a nearby farm where they produce much of the food, or part of the waiting staff.
Drugo Violina (which translates to Second Violin) is located across the street from the Academy of Music. The idea behind the restaurant is that the Academy of Music is the master and the restaurant is the supporting role; not the main attraction, but still an integral part of the orchestra. Often times, those with special needs are looked over by society, but they are still people, still a part of society. Druga Violina provides them opportunitities to be the supporting role. To still be seen. To still be an integral part of society.
Inside the restaurant, you'll find the walls adorned with photos of violins and violins themselves, all donated by a famous Slovenian violinist, who's now  90 years old and still makes violins and frequents the restaurant from time to time.
This restaurant gets packed! Definitely make a reservation before going. My friend and I barely got in. They had one two-seater table left when we arrived, and we were able to nab it. Literally 30 seconds later people were coming in every few minutes and had to be turned away because there was no space. So, make a reservation!
Walking down the quiet streets of Ljubljana and the sound of Ray Charles bellows from a place unknown. I was on a mission to find this place and was utterly surprised to find the sounds escaping an atelier. A seamstress shop? Surely this isn't coming from here. However, I peeped in and noticed this seamstress shop was also a jazz bar.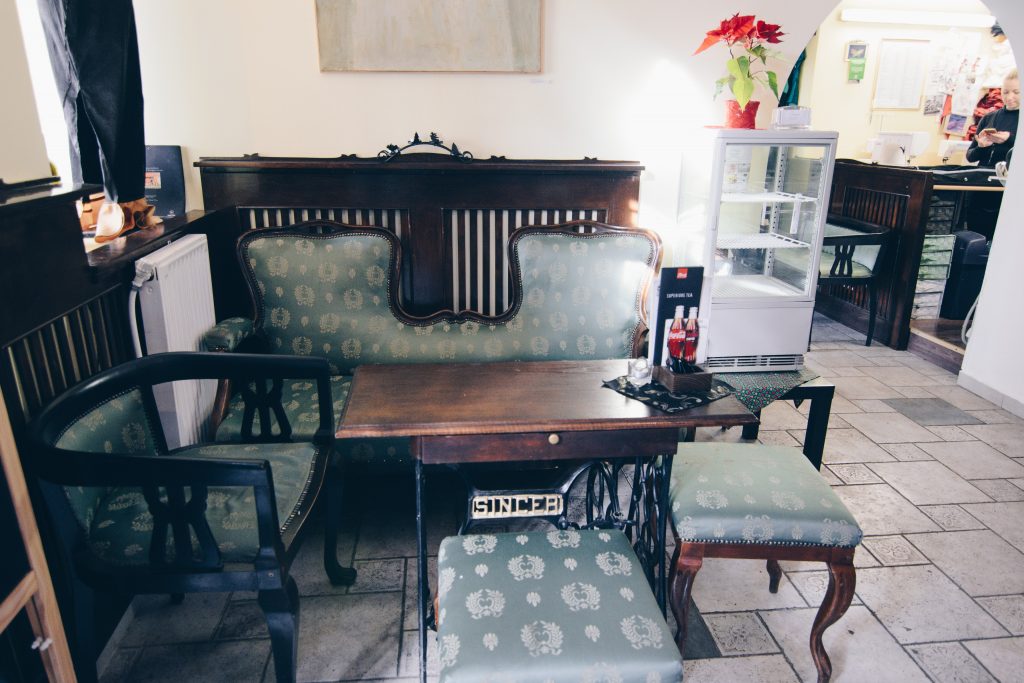 Stuffed from having just ate dinner and a hefty helping of dessert, I was determined to make room for whatever Jessie, the owner, was serving up. We waltzed in, doing a jig to the beat, enthralled by the uniqueness of this place — a legit atelier/cafe/bar. I was in absolute love. I settled for a chamomile honey tea and swooned the night away.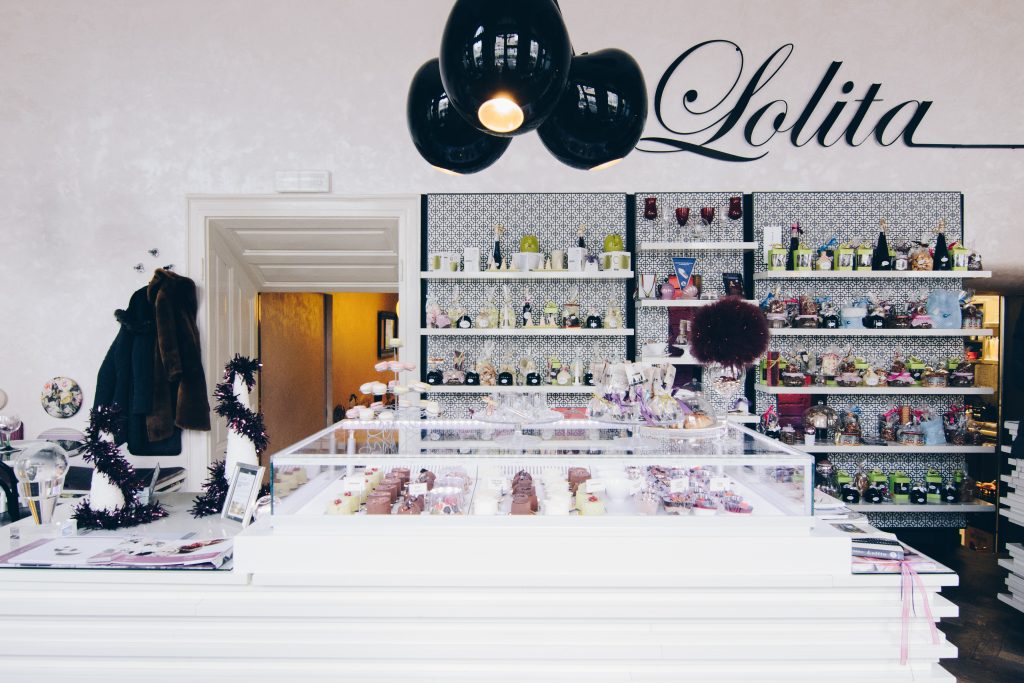 Yet another cafe that is an absolute must in Ljubljana. Craving sweet treats and caffeine kick? This is your place. It's chic and stylish and has a display of so many delicious cakes, pastries, candies, and desserts, you won´t even know where to begin. Enjoy the views from the sidewalk seating or get cozy on one of the comfy sofas, you can't go wrong either way.
This is a fantastic restaurant for international dishes. It has a great vibe, great music, and great ambiance. Gin and tonics are their specialties so if you're a fan of gin be sure to try one of their signature cocktails. This is another place that you should make reservations for, as it also fills up quickly. Also, be careful, there are two AS Aspiertivo restaurants. They are adjoining restaurants; however, one is a more fancy establishment (think white table cloths, elevator music, things of the sort) and the other, as I mentioned, is more of a cocktail bar.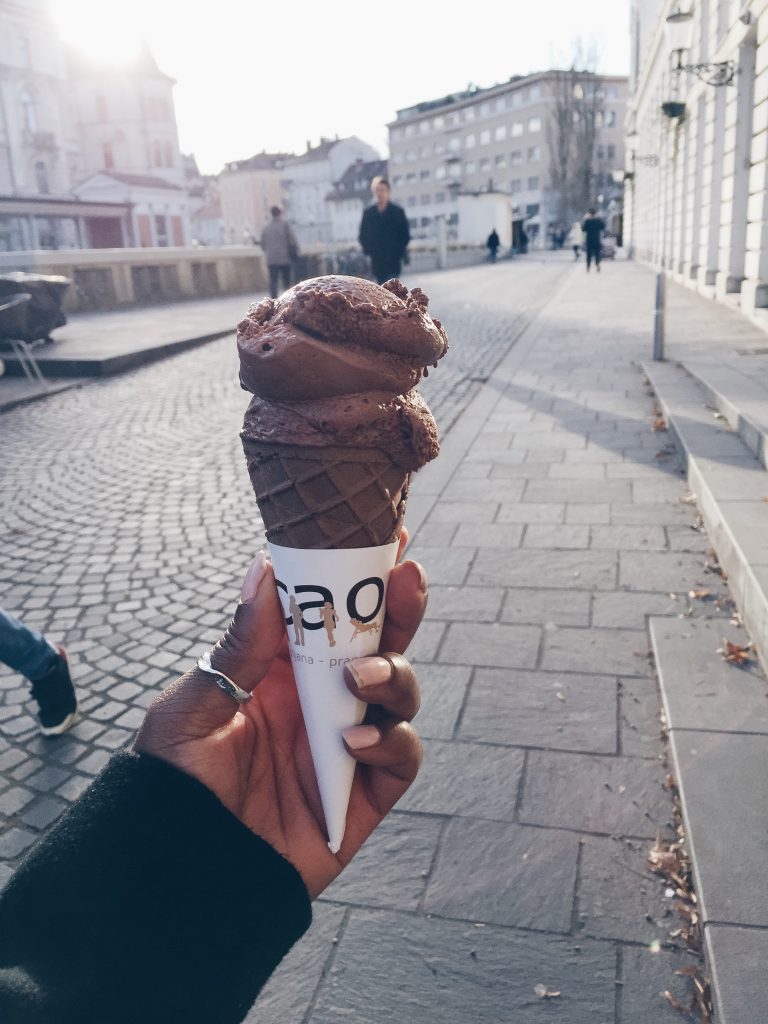 Situated along the Ljubljanica River, this creamery is the perfect place to take in the views and to satiate your ice cream cravings. It gets my vote for best ice cream in the city, and I may or may not have had it for breakfast one morning.
Spajza was recommended by the concierge service at our hotel. Serving up both Slovenian and international dishes, this rustic restaurant is a bit hit in Ljubljana. I recommend the lunch set menu. For 12 euro you can enjoy a delicious three-course meal. You can't beat that.
Food Stalls
If you´re in Ljubljana during the holidays then you must pick up some good eats from the food stalls. My favorite were the sausages that came in a nice mustard-filled bread pocket. So delish!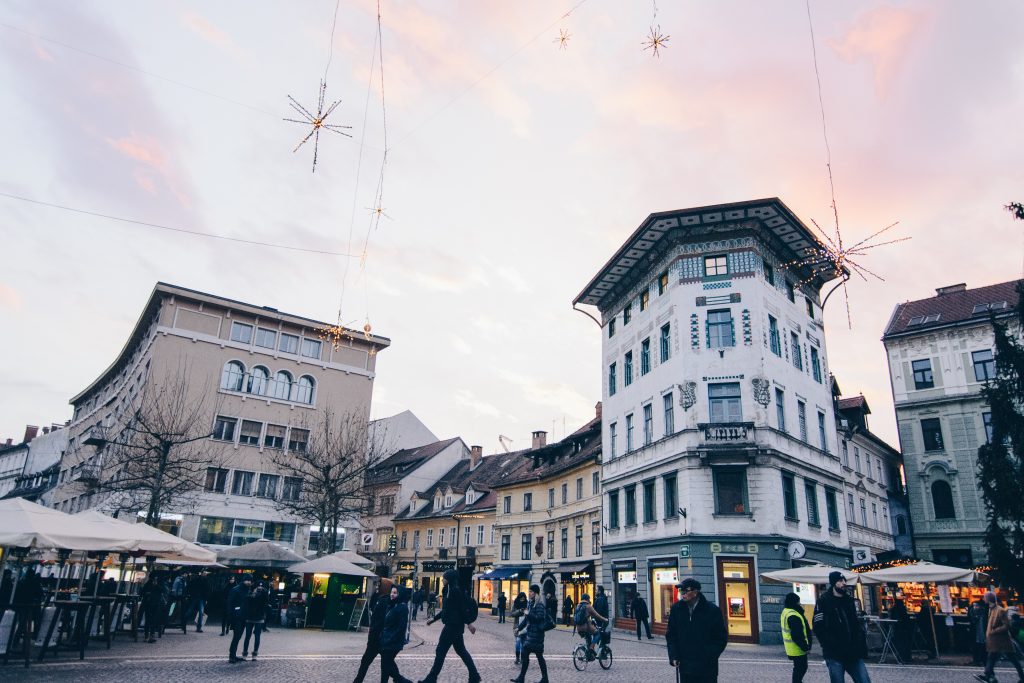 Other Tips & Tidbits
Language(s): Slovenian
Currency: Euro
Electricity: 230 V/50 Hz. Power Sockets are Type F, and works with plugs C & E. Americans will need an adapter. Here's one I recommend from Amazon.
Getting Around: Ljubljana is a small city; therefore, very walkable. If Ljubljana is just a stop on your Balkans itinerary, there is a train station with both domestic and international routes.
Stay Connected:
Don't stress about roaming charges or SIM cards, stay connected with the WiFi global hotspot device from Skyroam. For as little as $8 per day you can have unlimited WiFi during your trip.
When to Go
I visited Ljubljana in the middle of winter, and still had an incredible time, despite the cold temps. This is a city that is great to visit no matter the time of year. If you want to avoid the cold the best times to visit are April to May, when the locals are still around and before the tourists flood the city during the summer, OR October to November after the summer peak season when the weather is still pretty nice.
Where to Stay:
Grand Hotel Union Treat yourself and stay in the best hotel in the city. Located in the heart of Ljubljana the location couldn't be any better. The staff is amazing, the rooms are comfy, and breakfast is included.
Other suggestions
Get the Ljubljana Card! Choose a 24, 48, or 72-hour pass and gain access to Ljubljana's main attractions. You'll also receive tours, such as a guided walking tour, as well as a boat cruise. You'll have 24-hour access to the city's Wifi network and unlimited free travel on the city buses.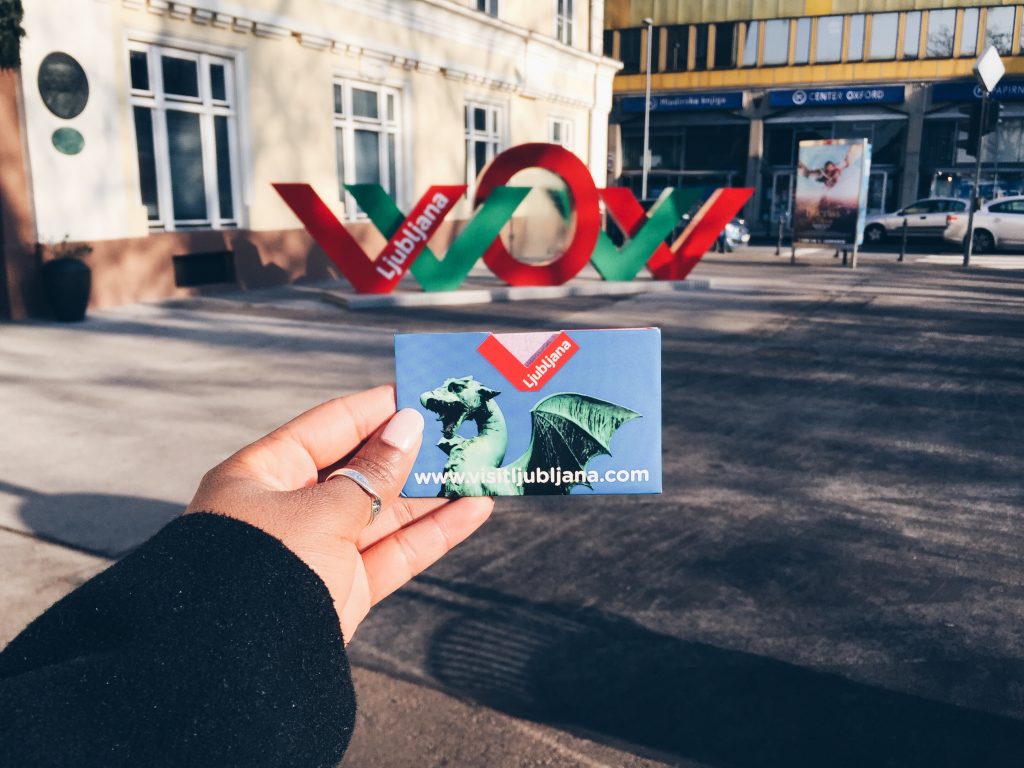 Be sure to get travel insurance. Anything could happen (cancelled flights, accidents, lost luggage) and you should be covered. World Nomads offers some great and affordable plans.
Make sure you have everything in order for your international trip with my 13 Things To Do Before Taking an International Trip Free Checklist.
Have you been to Ljubljana? Anything you would add to the list of things to Do, See, & Eat? Leave me a comment below.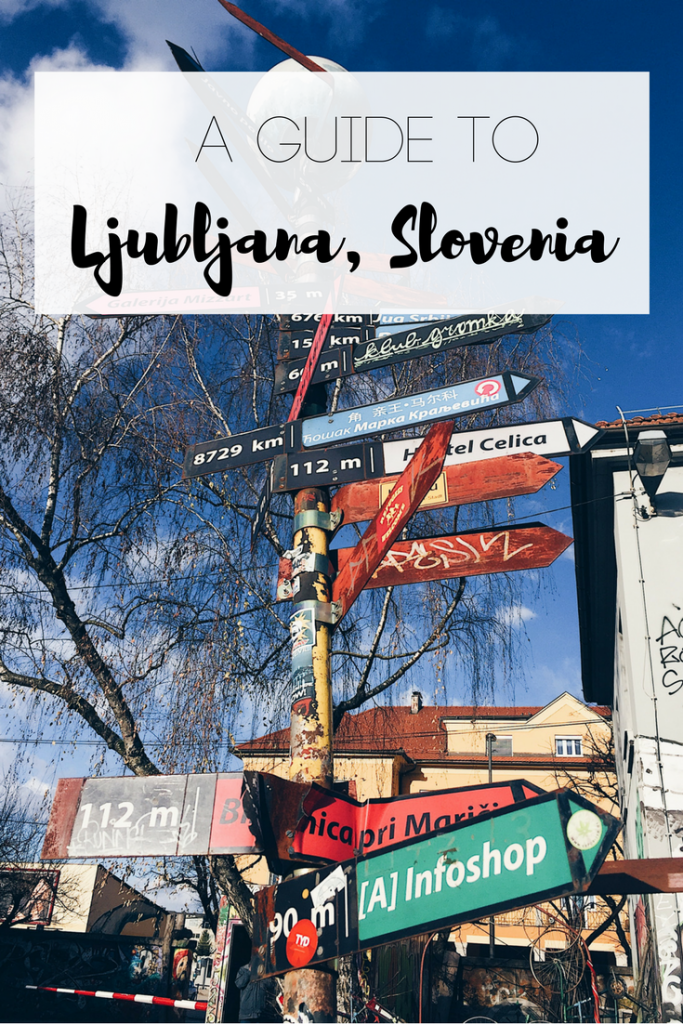 THIS POST CONTAINS AFFILIATE LINKS. ALSO, SPECIAL THANKS TO LJUBLJANA TOURISM FOR MY COMPLIMENTARY 72-HOUR LJUBLJANA CARD. AS ALWAYS, ALL OPINIONS ARE MY OWN.