Amsterdam: Where to Stay, Eat & Explore
I'm finally getting around to posting this neighborhood guide to Amsterdam that has been sitting in my drafts for months. For shame. But, we're here now and I have a boat load of info to share about this gorgeous city. So, bookmark this post, Pin it, save it – it will definitely come in handy for your trip to Amsterdam.
Where to Stay in Amsterdam
Location is always my number one determinant when choosing a place to stay when traveling. This trip I went against my own rules, and actually stayed with a friend, in Utrecht. This had both its perks and its pits. It was awesome because I got to hang out with my friend, get home-cooked meals, and of course save money. However, if I were to do it again, I'd definitely stay in Amsterdam if that is where I'm going to be spending most of my time, and I'd suggest you do the same. Why? Because transportation fees add up, quickly! It's almost €10 one-way to travel from Utrecht, by train, to Amsterdam. I was making the trip to Amsterdam sometimes twice a day. That's € 40 a day, just in transportation alone. On top of that, the trip was about an hour, one-way. So, you're losing time and money going back and forth each day. Then, somedays I found myself being out and about for 14 hours straight, simply because I didn't want to make the long journey to Utrecht and have to turn around and make the journey back to Amsterdam. Those were some very long and exhausting days. Moral of the story, stay in Amsterdam if that is where you will be majority of the time.
So, where should you stay? Since I didn't actually try out any hotels in Amsterdam, I'll leave this to my fellow travel blogger, Sarah, at From Lust Till Dawn to share some awesome places to stay. Check out her post on where to stay in Amsterdam that details the best accommodations for every type of traveler, from a local's perspective.
If you really want to get a local feel, you can always book an Airbnb, which is often times my preferred choice. Airbnbs are often much cheaper than hotels and make you feel like you're in a home away from home.
---
---
Getting Around Amsterdam
The thing I love about Amsterdam is that nothing is ever too far away. There's tons of options to get around the city, from bicycles, to public transportation and even free ferries.
Walking: Amsterdam is a very walkable city, perfect for my wandering spirit. Peruse down the cobblestone streets and take in all the gorgeous views of the canals at your own pace. I can't tell you how many hours I spent walking around doing just this. Make sure you pack you a good pair of walking shoes. Leave the heels at home, these streets are not your friend.
Bicycles: …because when in Rome. The Dutch are known for cycling literally everywhere. It's quicker than walking and easier than the hassle of finding parking with a car, after all this city is made up mostly of water. There are literally more bicycles in Amsterdam than people. Bikes are a big deal. Rent a bicycle and ride like the locals. Amsterdam is extremely pedestrian friendly and cyclists always have the right away, so just follow the lead of other cyclists around you and you'll be just fine.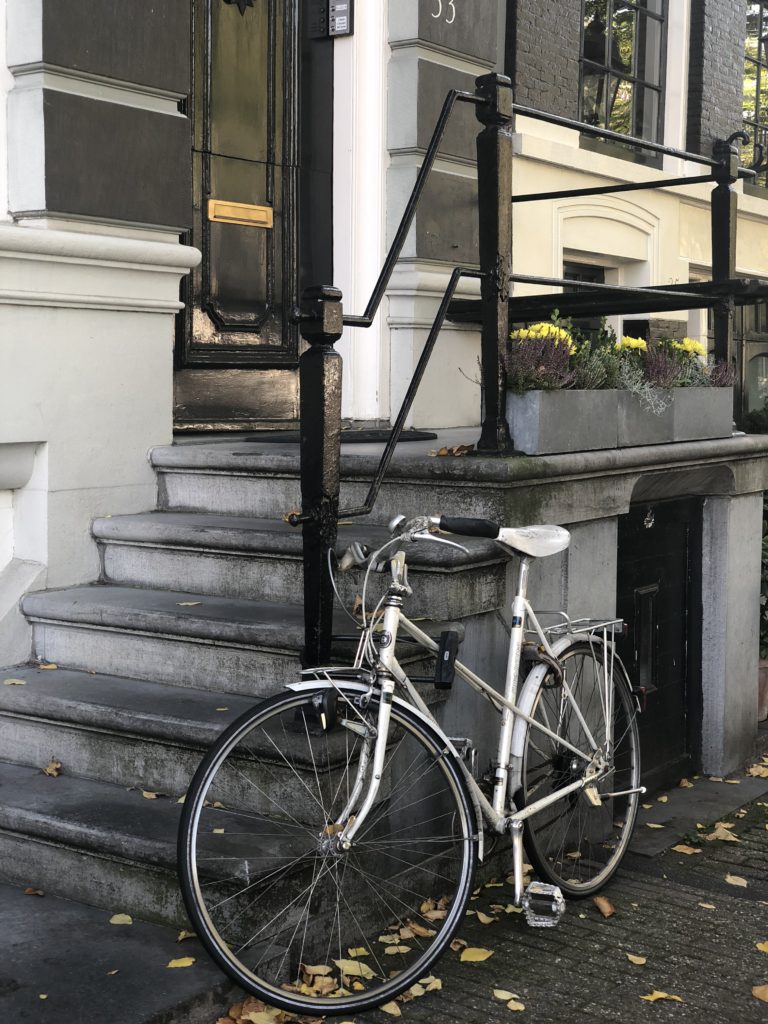 Public Transportation: Amsterdam has an impressive public transportation system, one of the best I've seen. I highly suggest getting the I amsterdam City Card. The card allows you free unlimited access to all GVB public transportation, such as buses, trams and metros. This card is EVERYTHING!! I would hop on and hop off trams and buses all day and never had to worry about reloading my card, or if I had enough funds on it.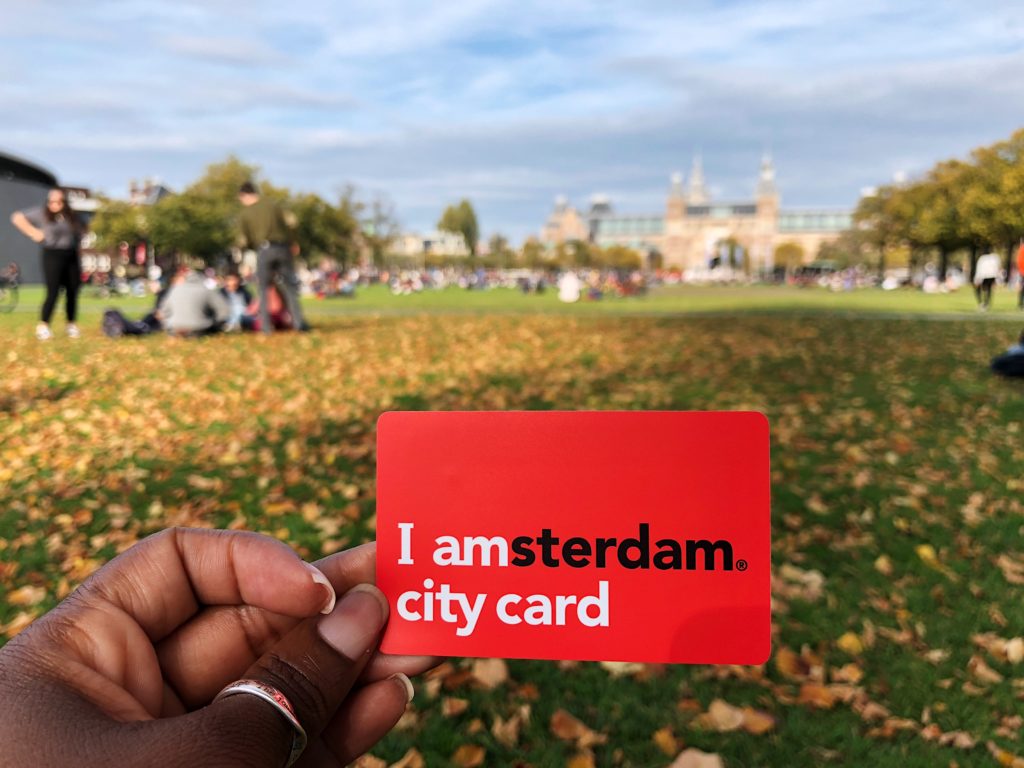 Things to Do in Amsterdam
Explore the Neighborhoods of Amsterdam
This was one of my favorite things to do while in Amsterdam, walk around, discovering all the gems this city has to offer. Each neighborhood has their own unique characteristics and vibes. Here are a few of my faves:
Jordaan
Jordaan is one of the most popular districts in Amsterdam. Located just west of the city center, this infamous quarter oozes charm and character. What once was the neighborhood of Amsterdam's working class an immigrants in the 17th century, has since been transformed into the home of trendy boutiques, cafes, and art galleries.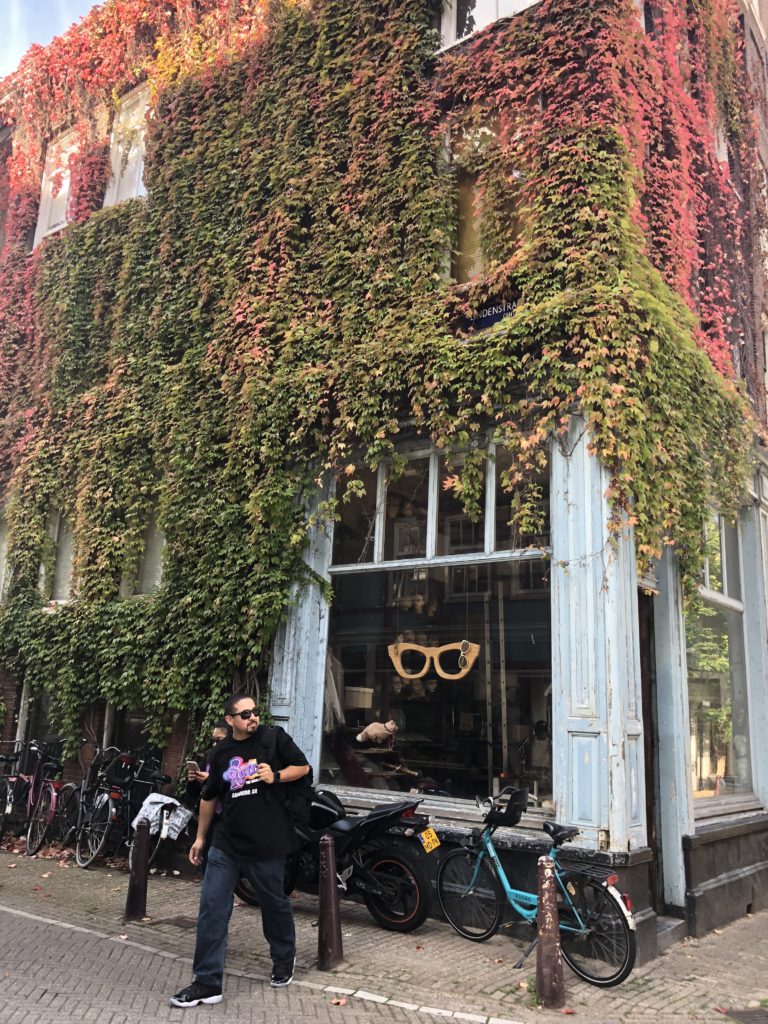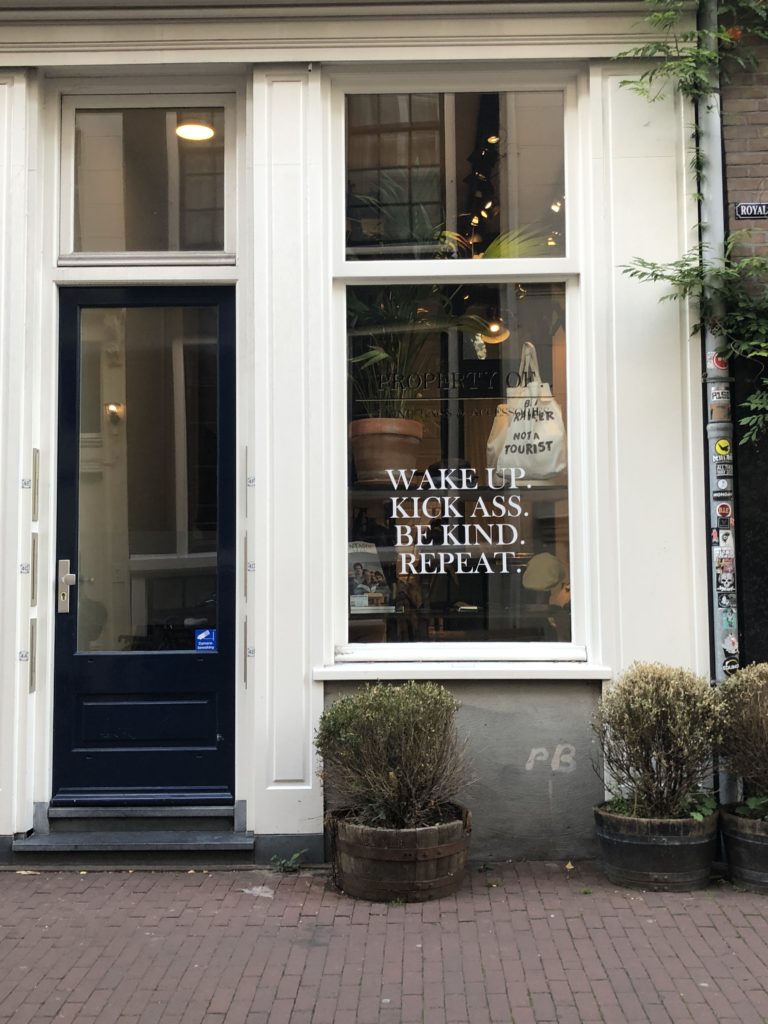 NDSM
Hop aboard the free ferry and be transcended to one of the quirkiest districts of Amsterdam, known as NDSM. Here you can find breathtaking views of the city, from across the water, and an old abandoned shipyard turned hipster, art scene. NDSM is a nice break from all the crowds and hustle and bustle in central Amsterdam. Rent a bike or walk through this quirky district taking in all the street art, galleries, or perhaps catch a strangely interesting Barbie peep show. If you're the adventurous type, head to the top of A'dam tower and take a ride on the Extreme Swing, the highest swing in Europe. For a more mellow vibe, just head to the top and take in the panoramic views.
De Pijp
Head west of River Amstel and you'll stumble upon De Pijp (pronounced de pipe), located in Oud Zuid. De Pijp is another personal favorite where you'll find an infinite number of cute cafes, trendy boutiques, and delectable eateries. This cosmopolitan neighborhood is perfecting for grabbing a bite to eat with friends, and perusing around the famous Albert Cuyp market, the largest market in Europe, where you can delight in freshly made stroopwafels. After getting your fill of sweet treats, head over to the Heineken Experience for a boozy good time. Here you'll get a behind-the-scenes look at the brewing process and get to taste the finish product as well. If you've picked up your I amsterdam City Card, the Heineken Experience is FREE!!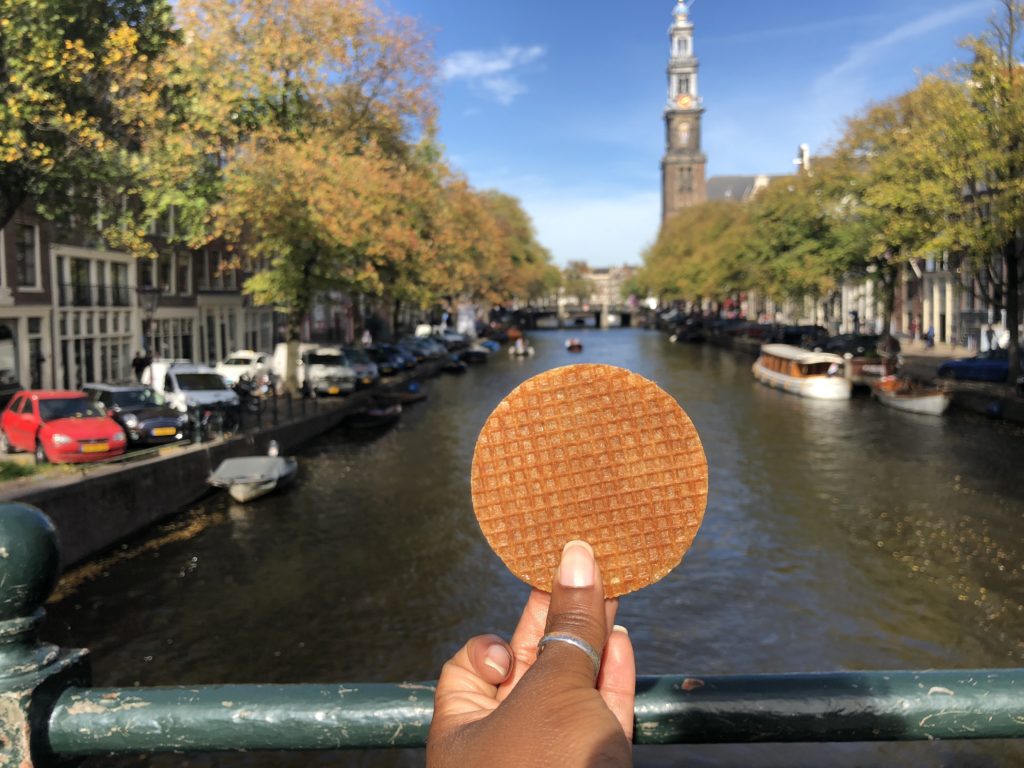 Oud Zuid
Ouid Zuid is the neighborhood most famously known for its world-class museums. Here in the Museum Quarter you'll find the Van Gogh Museum, Rijksmuseum, and Stedelijk Museum all within walking distance. Even if museums aren't your thing, pay the area a visit, as this is where you'll find the infamous I AMSTERDAM sign and all its touristic splendor. Once you've snapped your 101 selfies in front of the sign, head over to Vondelpark and lie out, people watch, crack open a good book, catch a few Zzzzs, or all of the above. The park is gorgeous and perfect for taking break from all the exploring to relax and simply take it all in.
 Oud West
Oud West is a local hotspot, dotted with all sorts of gems. Check out trendy vegan restaurants and wine bars around Ten Katemarkt or Overtoom street for fine furnishings. I'm pretty sure you can't check an armoire on your flight, but it's still fun to window shop. Oud West is also where you'll find De Hallen, an old tram depot turned market that locals and travelers, alike, enjoy. Be sure to check out Foodhallen, located in the depot, where there are so many local and international food options it's hard to choose just one. But, the great thing about it is you don't have to!
Visit the Anne Frank House
This is kind of a given. You can't visit Amsterdam without visiting the Anne Frank House. You just can't. This is an experience that can't even be put into words and something you have to experience for yourself. If it's been a while since you've read the book or have never read it, I recommend reading it before going, here's why.
Take a Canal Tour
A city built on water, it would be remiss not to explore them. The iAmsterdam City Card includes a free canal tour that takes you around the city on a boat tour giving you all the interesting deets about the history of the multifaceted city. I'd recommend going early in the morning or even best, at sunset. Going at or around noon, means the sun is highest in the sky and makes for harsh shadows and not so great photos. Sunset is the best! Watch as the sun begin to fades, painting the sky beautiful shades of oranges and blues, and as the city lights begin to light up the night skies. I went around 6pm, which was perfect! Make sure you get a seat at the back of the boat, where it's open, so you don't have any obstructed views with those rickety scratched up windows on the inside.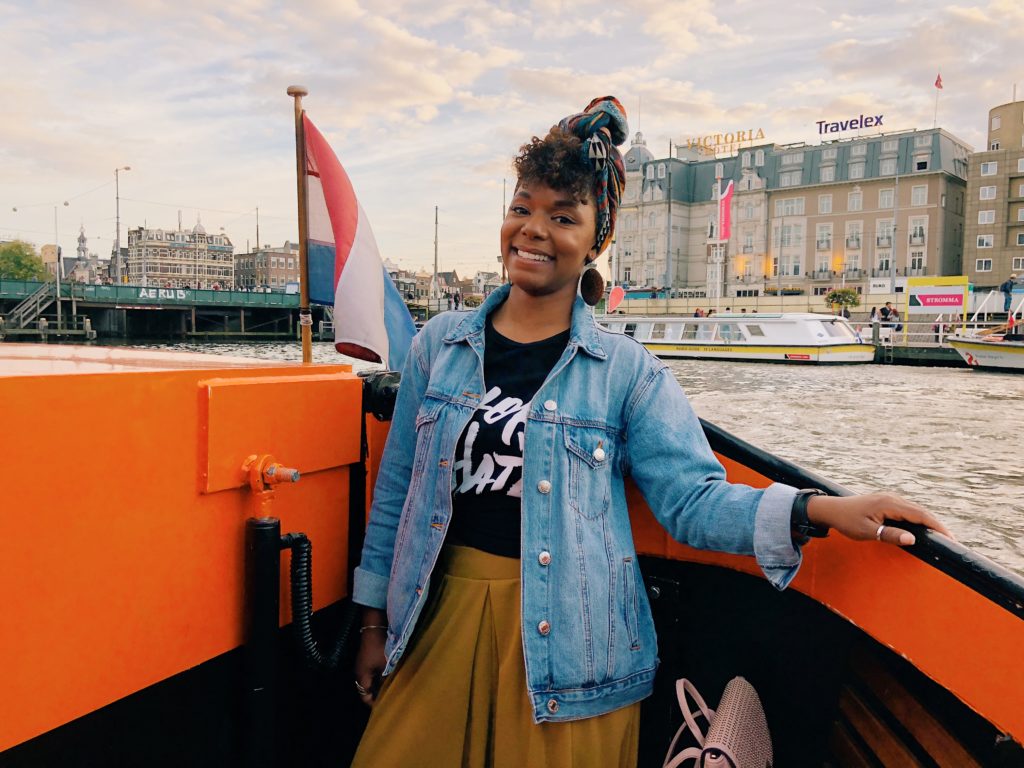 Museum Hop
One thing you will not find a shortage of in Amsterdam are museums. There are tons, literally TONS of museums that that will make art enthusiasts and curiouists heart go pitter patter. From the Van Gogh Museum with the world's largest collection of works by Vincent Van Gogh, himself, to the Stedelijk Museum, known as the "bathtub" with its modern art and design, there's something for everyone. Oh! And we can't forget the infamous Rijksmuseum with the ever-popular I AMSTERDAM sign perched in front. The awesome thing is, most of these museums are included with your I amsterdam Card. See the theme here? Get the card! It's worth it!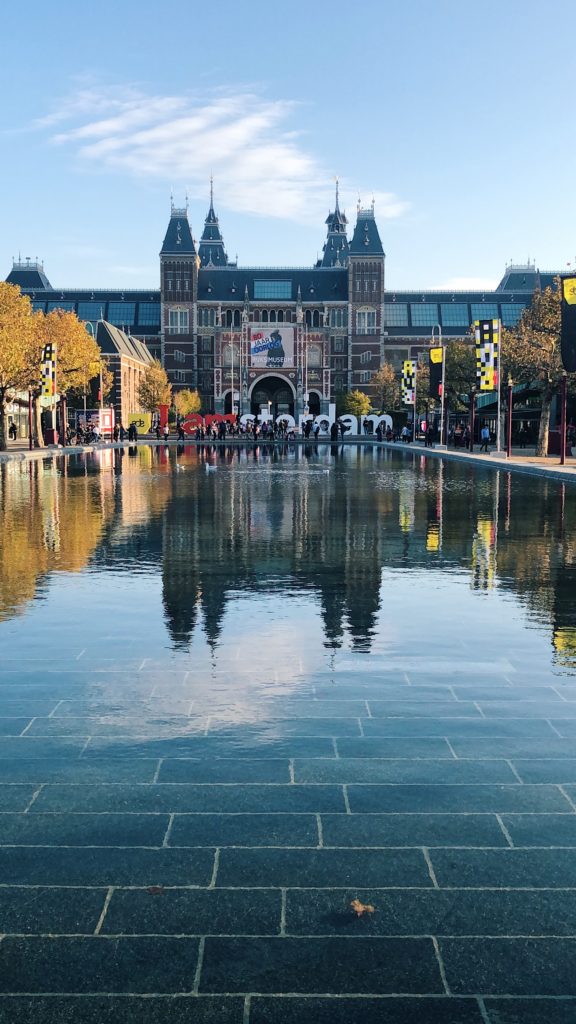 Take a Day Trip
There are so many cute towns and cities outside of Amsterdam that you should definitely take a day to explore. I highly recommend Utrecht. You get the beautiful architecture, amazing canals, and Amsterdam-ish vibe without all the Amsterdam tourists. The city center is AMAZING! So many cute shops, boutiques, and eateries; as well, as an outside market with the most gorgeous flowers. The city is also going through a bit of a revamp, giving this cute college town a modern upgrade, still with old town charm.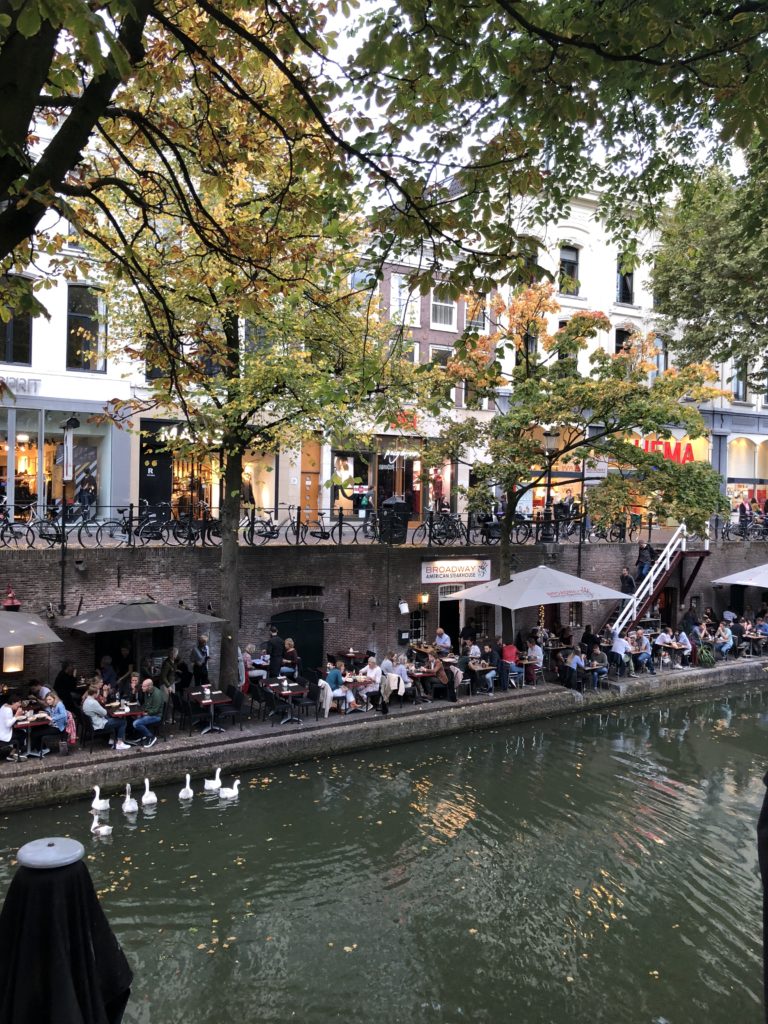 While there, rent a bicycle and ride out to the country side where you'll find a couple of windmills run by an old farmer named Arty. He doesn't speak much English, but if you go with a local who can translate for you, you'll hear that he's a chatty something and find him incredibly kind, even with the language barrier.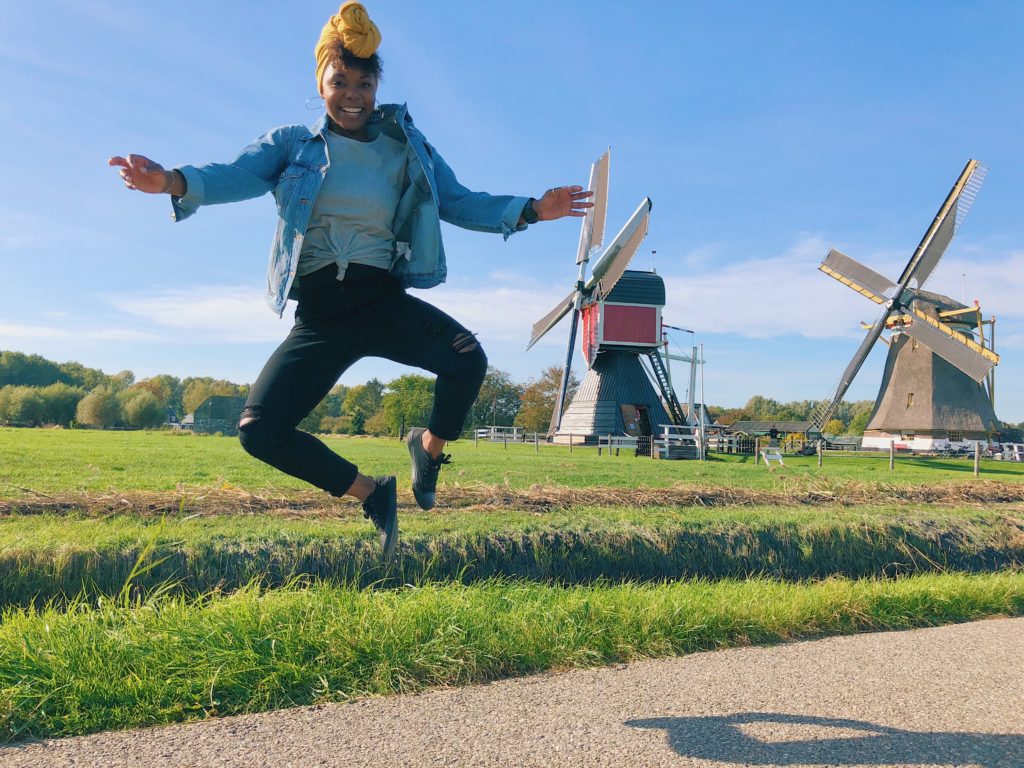 Olivier Beer Cafe is also an absolute must! This is a local favorite. My friend and I stopped here one evening simply for dessert, but it's also perfect for a fun night out with friends. It's a old church converted into a bar, with high ceilings, out-of-this-world ambiance, and the original organ still in place.
I LOVE Airbnb. Love it!! And now that they offer Airbnb experiences, even better. I am wholeheartedly an advocate of connecting with locals who knows the ins and outs of a city and the gems that you won't find in a guide book. Now that Airbnb offers Airbnb Experiences, you can immerse yourself in your hosts' unique world. Whether you're turning up with a night of cocktails and karaoke, or indulging in avant-garde dessert dining, or even taking art lessons in a cozy apartment, there's something for everyone. Since I always try to find a walking tour for any city I visit and I love photography, I opted to combine the two and went on a photo walk with an amazing host! She took us around the city, off the beaten path as we snapped until our little hearts were content. No worries, you don't have to have a big fancy camera to do these tours, your smart phone works just fine.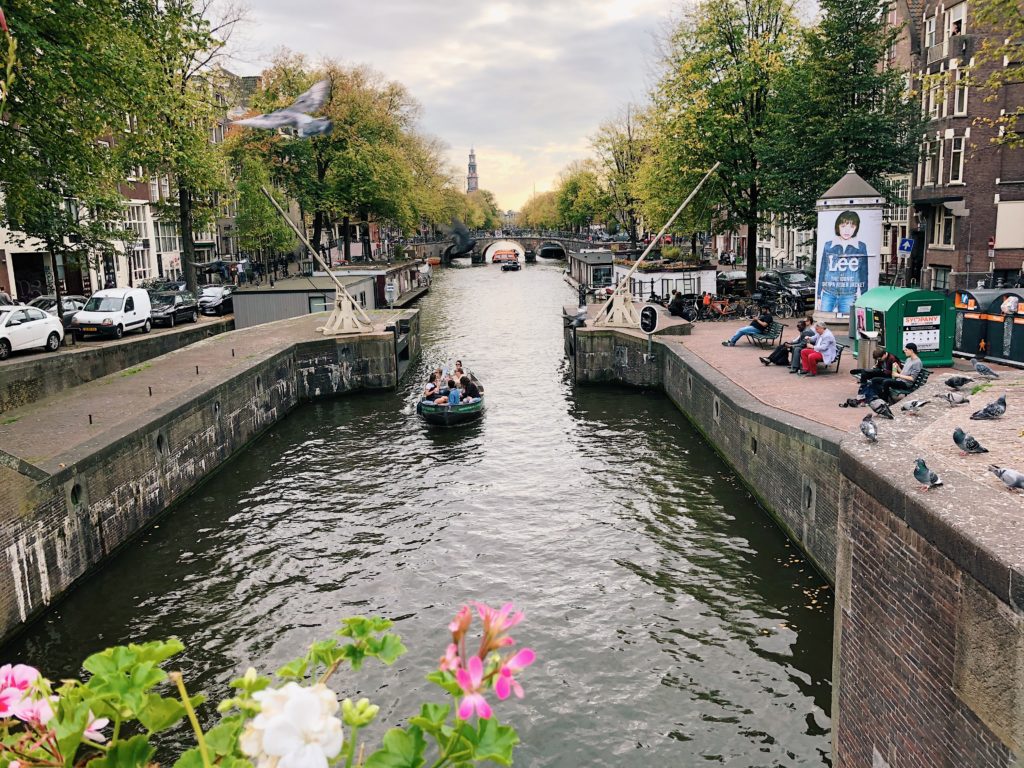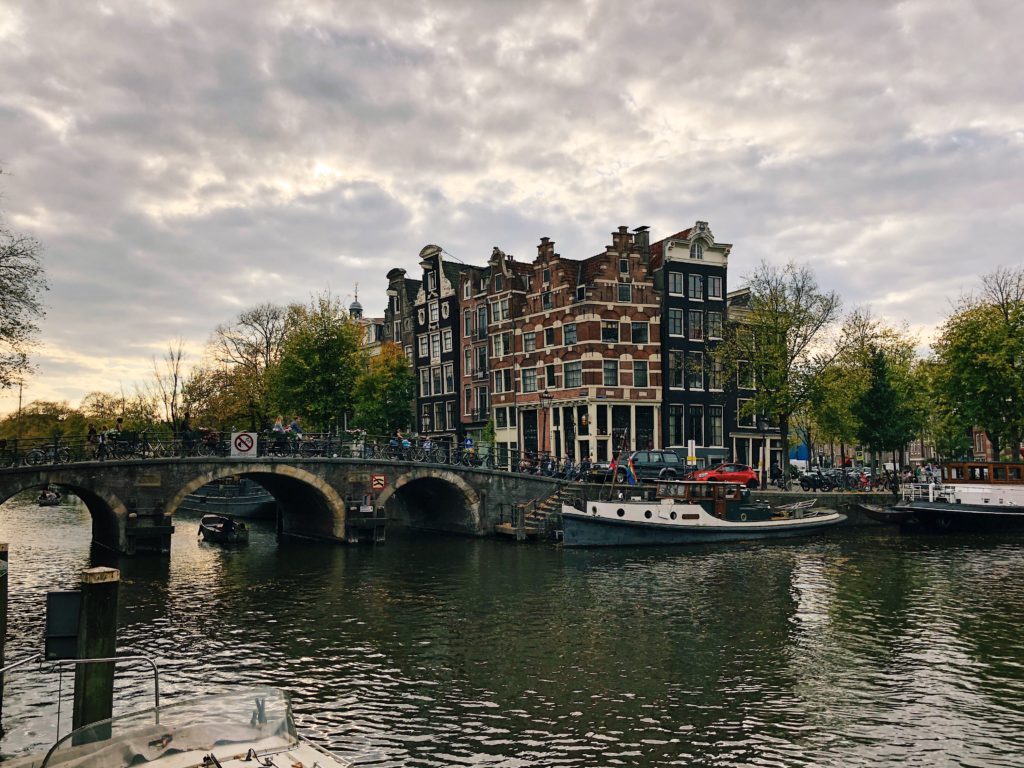 Where to Eat in Amsterdam
Foodhallen
Foodhallen is located in the former train depot turned cultural complex in the hipster neighborhood of Oud-West. It's like the Ponce City Market and Krog Street Market of Amsterdam. You'll find everything from tapas to dim sum and everything in between. If you're like me and love a ton of variety, then this foodie heaven is the place for you. I'll be honest, I initially thought this would be another typical touristy, overpriced, subpar food restaurant, but the food was actually delicious and the prices not half bad. I opted for De Ballen Bar, which served up traditional bitterballen. And because again, options, I also helped myself to Bao Wowow, and their bao buns. The name alone piqued my interest, but the food completely blew me away. The buns were so pillowy soft, and the mixture of flavors and textures were simply incredible! Definitely try them out.
Bellamyplein 51
1053 AT Amsterdam, Netherlands
Pancake Bakery
You can't visit Holland without eating Dutch pancakes.Ya just can't! These aren't the American-style fluffy, sopped up with Mrs. Butterworth syrup kind of pancakes. These are more like crepes. One of the most infamous places in Amsterdam for Dutch pancakes is the Pancake Bakery. This cozy little restaurant is where you can get your fill of the sweet or savory treat. The menu is extensive and because I couldn't make a choice, or decide on how I wanted to build my own, I simply opted for a ham and cheese crepe. It was MASSIVE! I definitely couldn't finish the whole thing. So, be sure to bring your appetite or at least someone to share it with.
Prinsengracht 191
1015 DS Amsterdam, Netherlands
Pllek
Located across the river in NDSM, this was probably my favorite place that I dined at in Amsterdam. Not because of the food, although my salad was phenomenal, but because of the atmosphere. Made out of old shipping containers, this place is a whole vibe! It's a beach-bar eatery on the water with incredible views of the Amsterdam skyline. I went around 2pm and there was ample seating, but started to fill up quickly. I'd definitely recommend going around sunset as well, as the views are bound to be incredible, but I'd imagine that it will also be very crowed. Pllek makes you feel like you're in a different world, totally different than that of old Amsterdam. You'll find people working on laptops, having coffee and drinks, lunch with family, or the solo traveler eating her salad, simply taking it all in. I really is a place for any and all.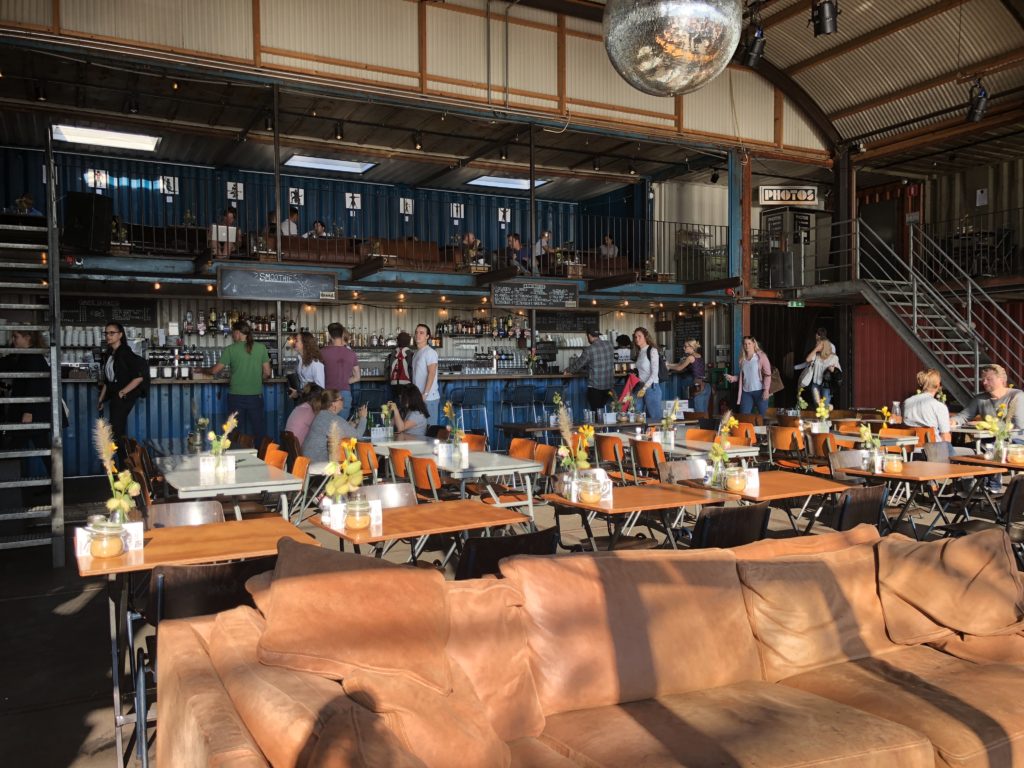 T.T. Neveritaweg 59
1033 WB Amsterdam, Netherlands
Cafe Papeneiland
Another Dutch staple is Dutch Apple pie. Though I didn't get to try any during my trip, my Airbnb Experience guide informed us to skip Winkel and head to Cafe Papeneiland instead for the best Dutch apple pie in Amsterdam. It's far less touristy and much better according to her. I don't know about you, but I think I'd rather go by the opinion of the local. But, while in Amsterdam, try them both out and let me know which you think is better!
Prinsengracht 2
1015 DV Amsterdam, Netherlands
For a more comprehensive list of places to eat in Amsterdam, check out Lust 'Till Dawn's amazing list!
Amsterdam is truly one of those cities where you can spend your entire day wandering endlessly through it's cute, cobble-stoned streets. There's so much to see and do, it's hard to cram it all in to just a few days. But, this guide will give you a starting point of what to do, see, and eat while in Amsterdam.
Have you ever been to Amsterdam? What were some of your favorite things to do? Leave me a comment below!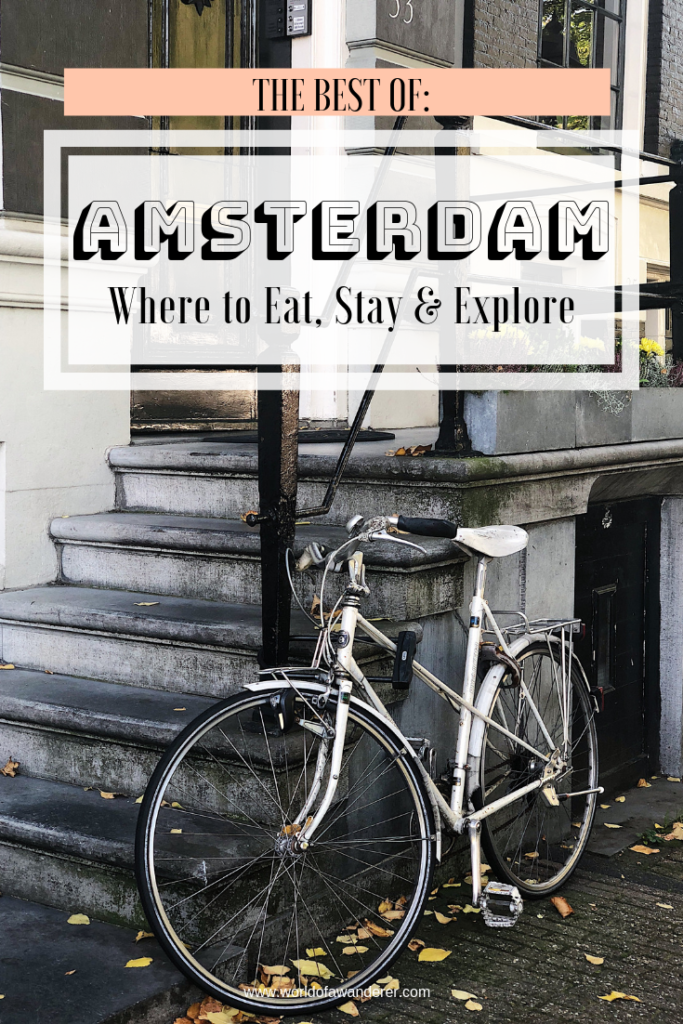 Special thanks to I amsterdam for proving the iamsterdam card for this trip. As always, all opinions are my own.