9 Reasons You'll Love Fresh Sheets Kathedral in Dubrovnik
If you're planning a trip to Dubrovnik and you're searching for the perfect place to stay, Fresh* Sheets Kathedral is your place. Recently, I rang in the New Year in Dubrovnik, Croatia and had the wonderful pleasure of spending three nights at this incredible boutique accommodation. I absolutely fell in love with this place and here are 9 reasons you will too:
Location. Location. Location.
Right in the heart of Old Town Dubrovnik (aka King's Landing) the location of Fresh* Sheets honestly could not get any better. The Old Cathedral is literally right outside the doorsteps, a few more steps and you're at the harbor gate, turn to your right and you'll stumble upon the open air market that sets up shop every morning, and in every direction you turn you will find a host of restaurants, shops, and bars, such as the infamous Trubadur Jazz Cafe that's located right below the accommodations.  Like I said, it doesn't get any better. Fresh* Sheets is within walking distance of all of Dubrovnik's main attractions. Even if you want to wander outside the Old Town walls you won't have to walk very far.
It's a UNESCO World Heritage Building
Ok. How often do you get to say you've actually stayed in a UNESCO World Heritage Building? My guess, not often. Fresh* Sheets is located inside a UNESCO-protected building that once hosted nuns, royalty, and aristocracy. So, although Fresh* Sheets has been revamped and now boasts of chic modernity, you'll still find original elements and relics from the old cathedral itself, making this place all the more charming.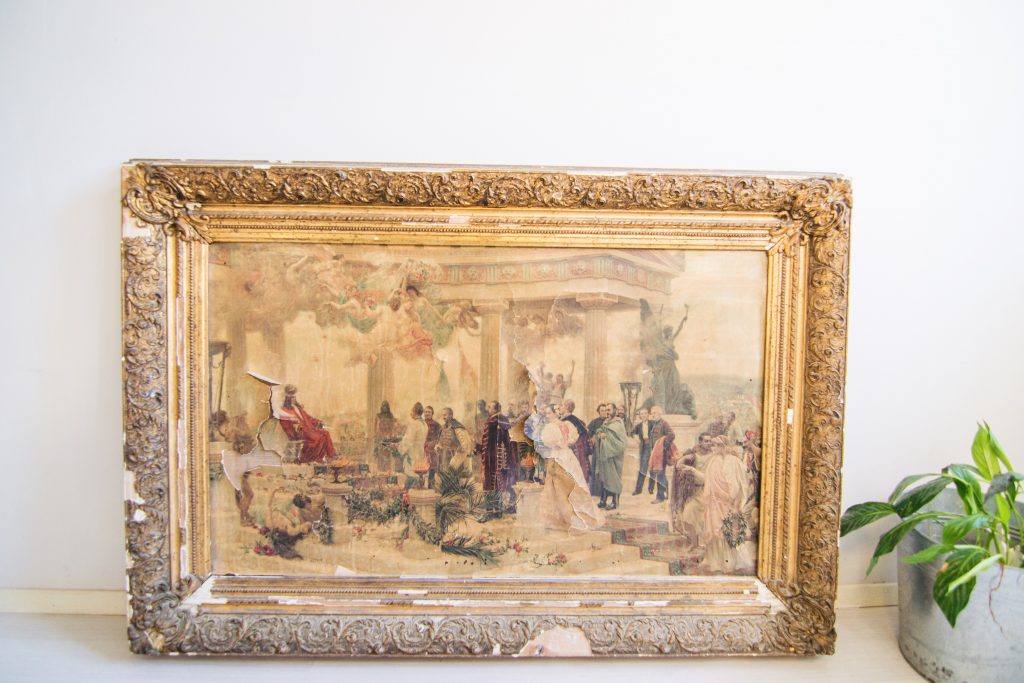 The Hosts Are Incredible (and so is their family)
Funny. Kind. Gracious. Welcoming. Nurturing. Knowledgable. The list goes on and on. I can't sing enough high praises about the owners, Jon and Sanja. As soon as we stepped through the doors Sanja's vivacious personality made me instantly feel like I was visiting a long-time friend that I hadn't seen in a while and not like I was just another random guest. We sat and chatted over wine and an amazing spread of snacks she'd prepared. She recounted her personal Game of Throne tales (since a lot of the series is filmed right in Dubrovnik), and her amazing father-in-law even joined us wowing us with a few adventure travel tales of his own.
They both offered a ton of suggestions and recommendations of places to eat and things to do. We later met Jon who was just as kind and accommodating as Sanja, and their son is as just as adorable and full of personality as they come.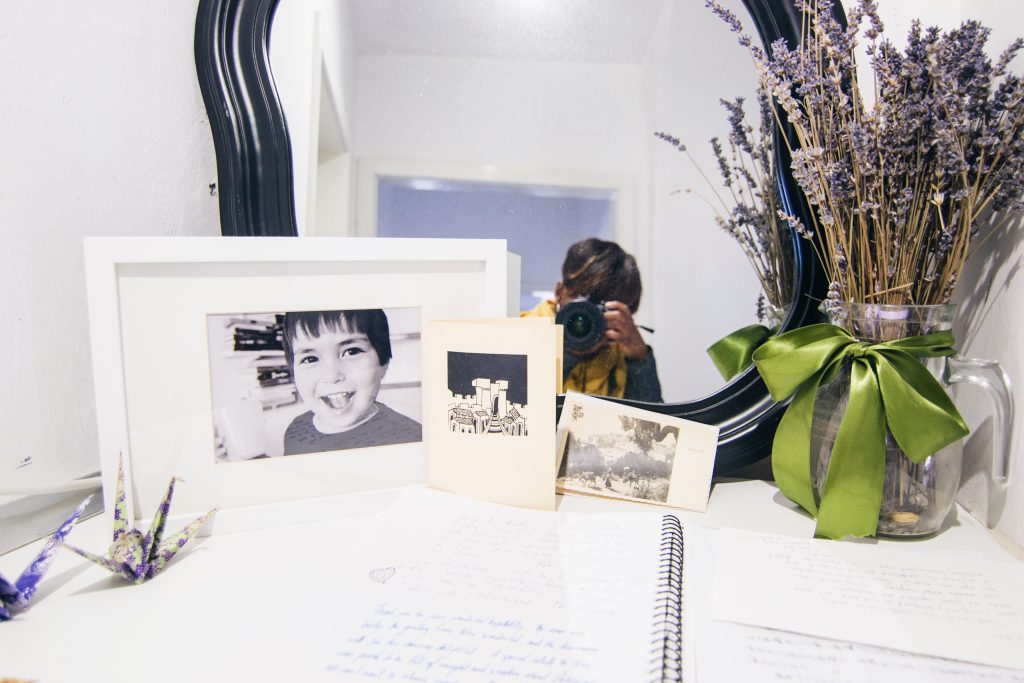 During our stay the only other guests were the parents of Jon and Sanja. It felt like a family affair, and we were part of the family. It was an incredible feeling especially with it being around the holidays and being so far away from our own families.
It's Your Home Away From Home
Fresh* Sheets goes above and beyond to make you feel right at home from the moment you step through the door. Someone will be there to greet you upon arrival, give you the tour, and welcome you with snacks and wine. However, the real treat are the rooms themselves. They are modern and stylish with all the comforts of home. We had the pleasure of staying in the Dubrava room which was a huge and spacious studio with a kitchenette fully-equipped with two stove-top burners, a sink, pots, pans, cooking utensils, glassware, percolator, and fridge. We were also treated to some goodies in our room such as chocolates, wine, craft beer, and slippers. All special touches that made us feel even more at home.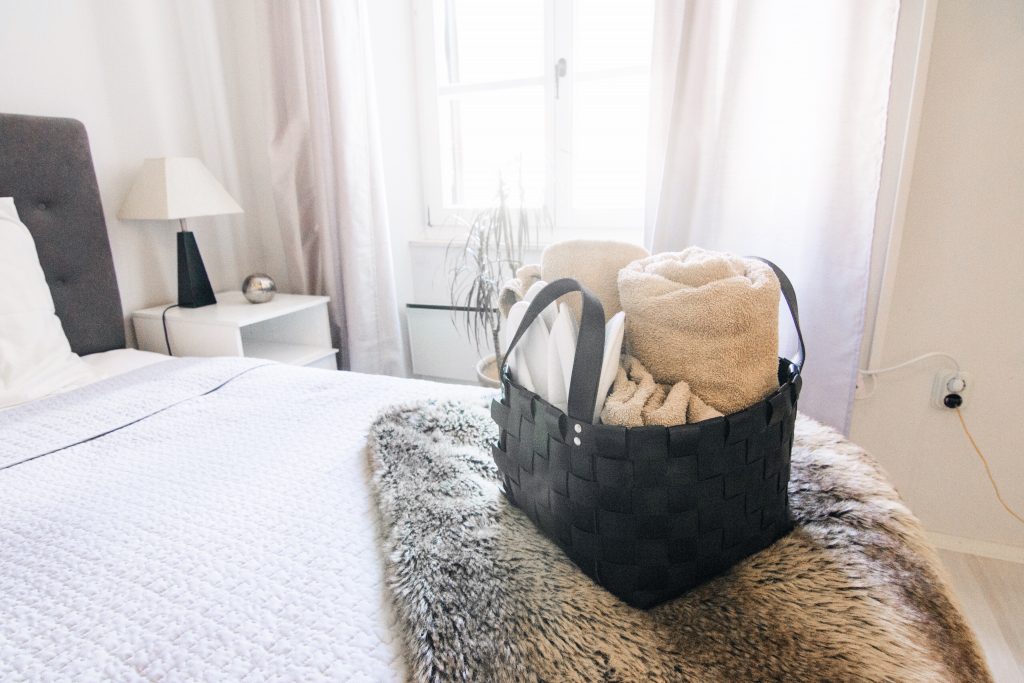 There was a separate sitting area with an ottoman perfect for kicking back to relax with a good read. The huge windows overlooking the city allows for some amazing natural light, giving the room a bright and airy feel.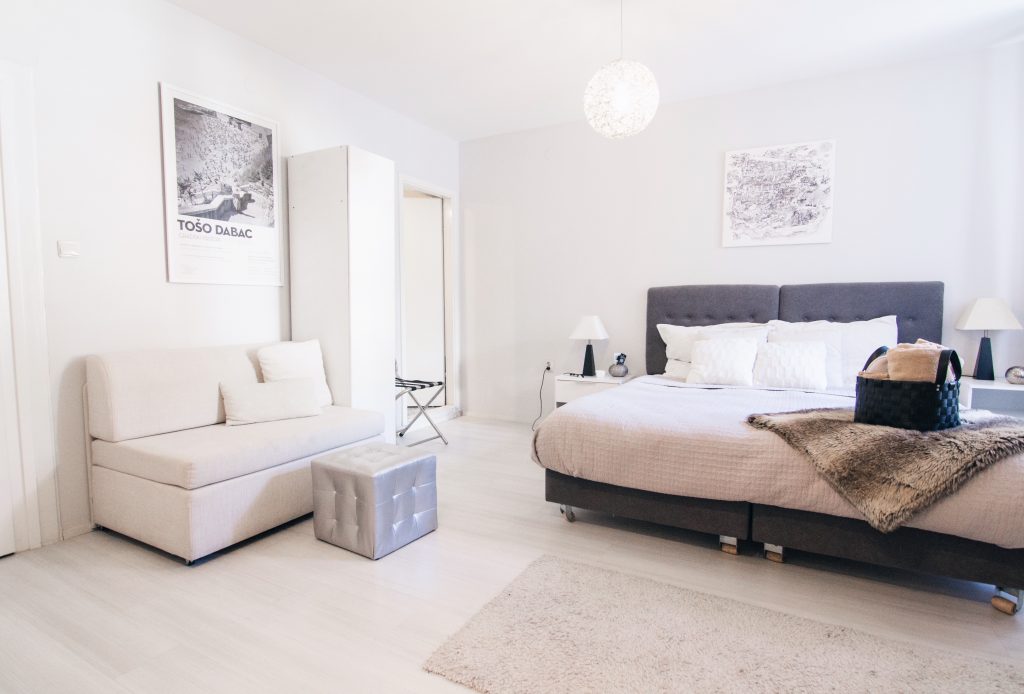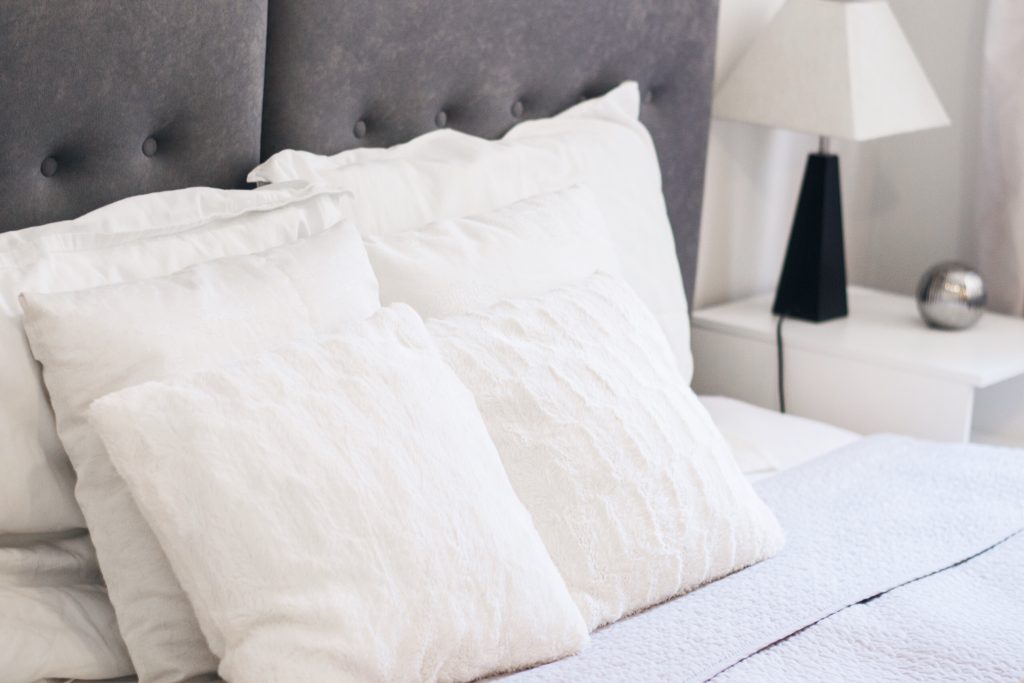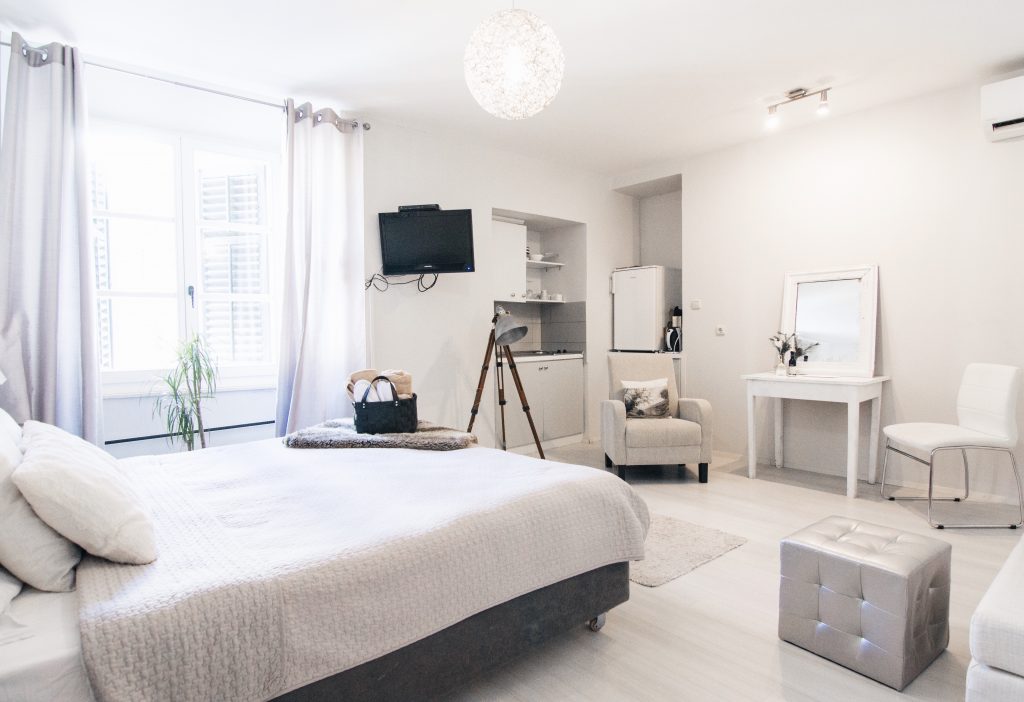 Also, the main kitchen is open for you to use at your leisure, and you're welcome to help yourself to its contents. They truly make you feel at home at Fresh* Sheets.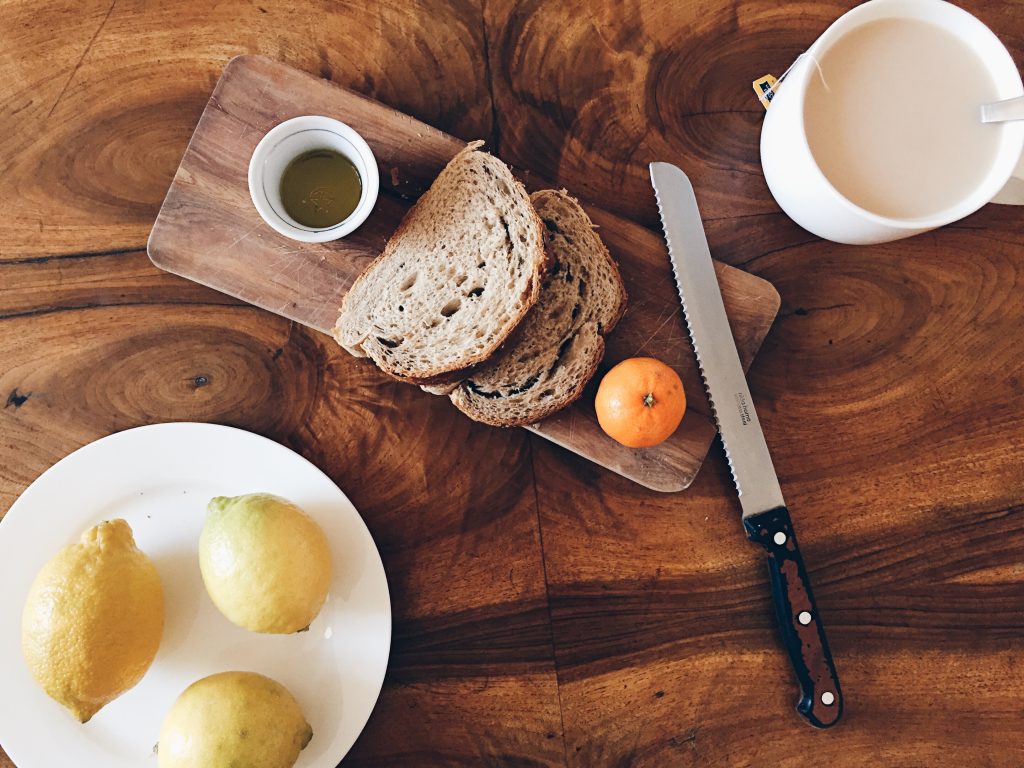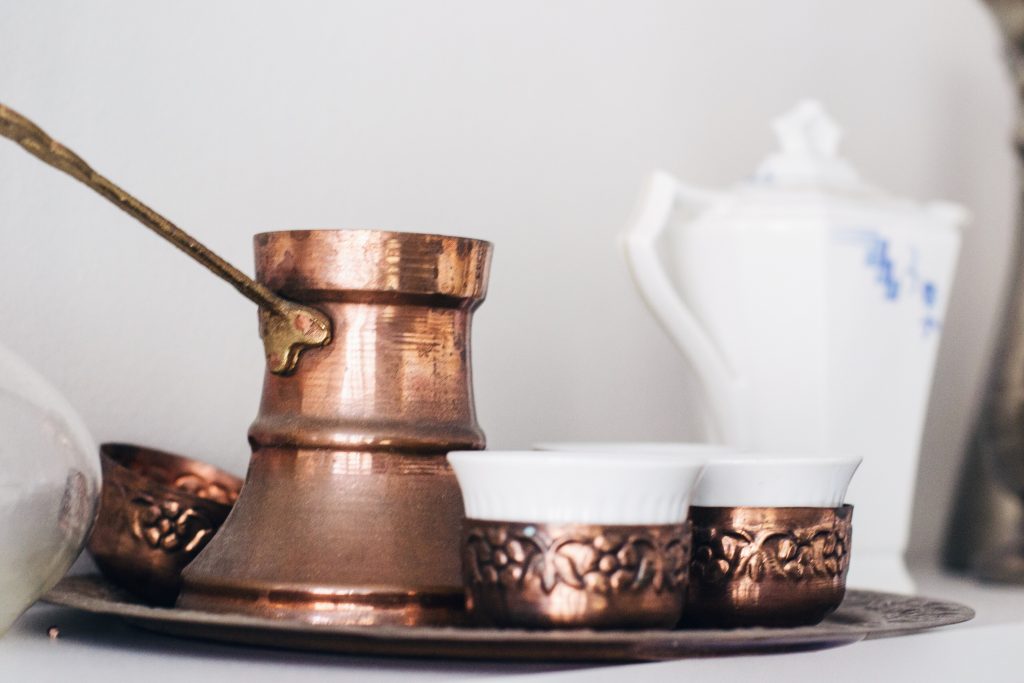 The Views
No matter what room you book, you'll be able to peek out the windows of your room and have an unobstructed view of the Old Town below. Our room, the Dubrava Room, had views of Gundulic Square, and each morning we'd open our windows and admire the views below.
There's No Disturbing the Peace
Since Fresh* Sheets is in the heart of Old Town, right off the main street, and right above a jazz cafe, you may assume that you'll have sleepless nights due to the noise. Au contraire, my friend. I am an extremely light sleeper, and never once was I woken from my sleep due to noise, nor was I ever bothered. The Jazz cafe below will stop serenading you with their melodic tunes around midnight; however, even prior to, the sounds emanating from downstairs wasn't a bother for us. Fresh* Sheets does an excellent job filtering out the noise.
The Book Nook
It's not even really a nook. It's more like books randomly placed on the sill of a magnificent window with a couple of chairs in a hallway. Yet, it still entices you to sit for a while and thumb through the pages of some literature or simply sit and be a spectator of the busy streets below.
They've Got You Covered
Fresh Sheets* is like a one stop shop…kinda, sorta. Let me explain. Besides the boutique accommodation Jon and Sanja also own the absolute cutest retro laundry mat, called Sanja & Rosie's Launderette; as well as, an artisanal shop, Kawa. So, whether your laundry needs to be laundered or you need to pick up souvenirs, or want to try tasty locally-made treats, Fresh* Sheets has got you covered. Though the Launderette and Kawa are not located inside Fresh* Sheets they are both only about a 5 minute walk away, right outside the city walls.
Even if you don't need to do laundry I recommend just stopping by the Launderette and enjoy the retro-vibe and old-school music, even if it's just for a moment. My friend and I stumbled upon this place en route to Kawa (which is right across from the Launderette). The soulful music drew us in and we couldn't help but have our own little dance party of two. Also, be sure to add your sticky note message to the ever-growing collection that adorn the walls.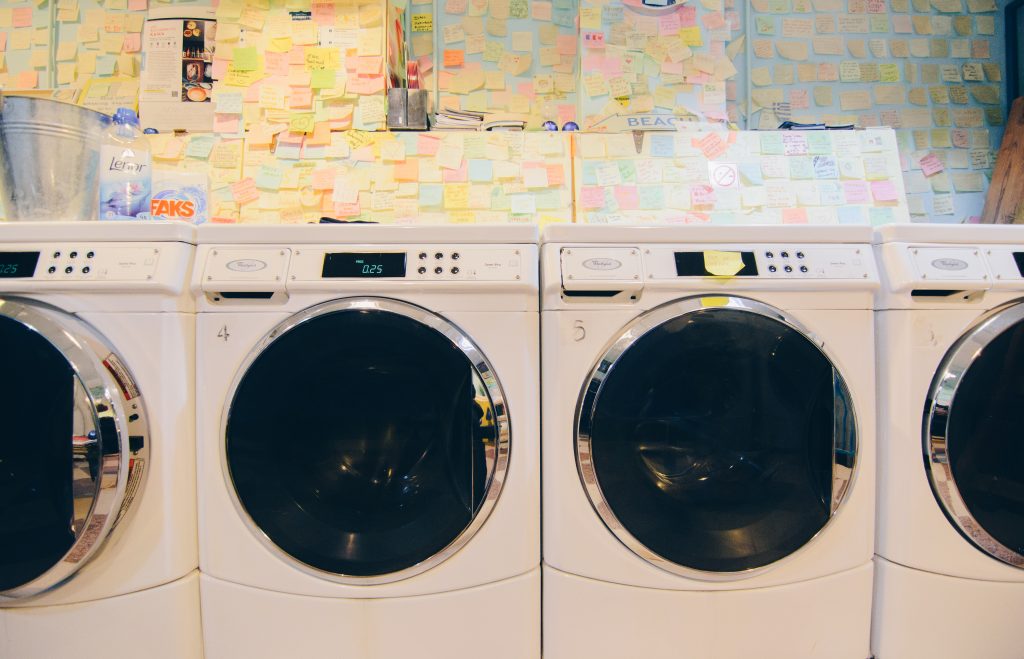 When you finish your dance party, mosey over to Kawa and get ready to blow whatever budget you thought you had pick up for a few local items for yourself and/or loved ones. You'll find everything from handbags to homemade sauces, bowties to beauty products, craft beers to ceramics, coffees, teas, tees, and everything in between. All items handcrafted, created, and sourced from Croatia; this perfectly curated shop is a artisanal lover's haven.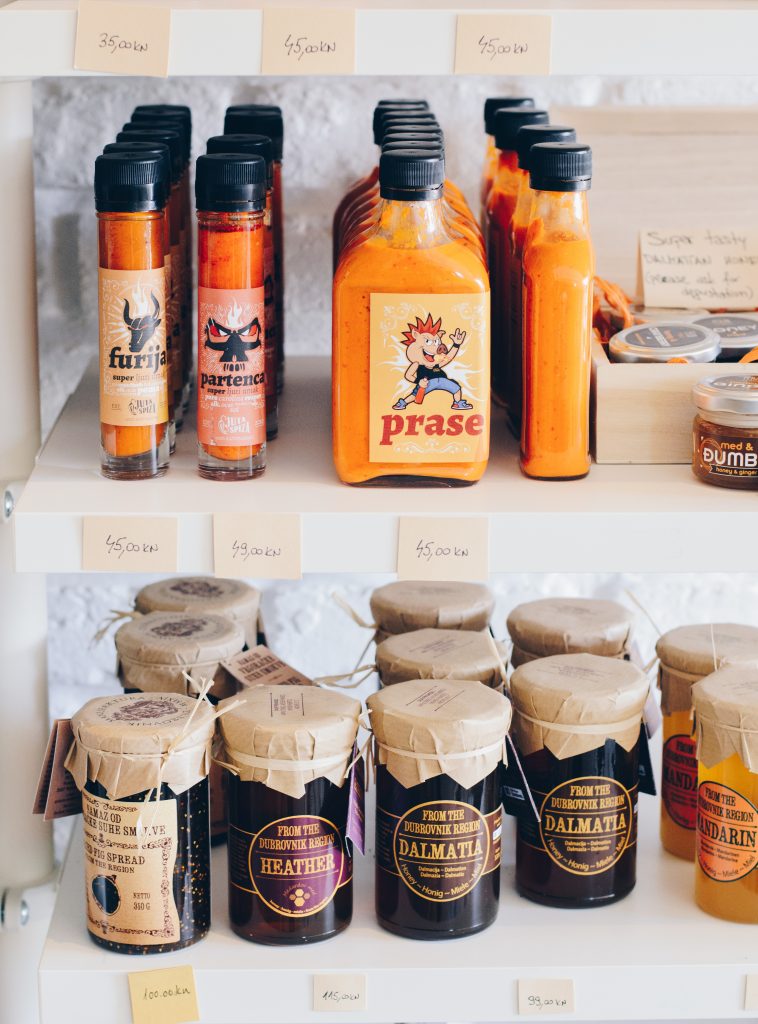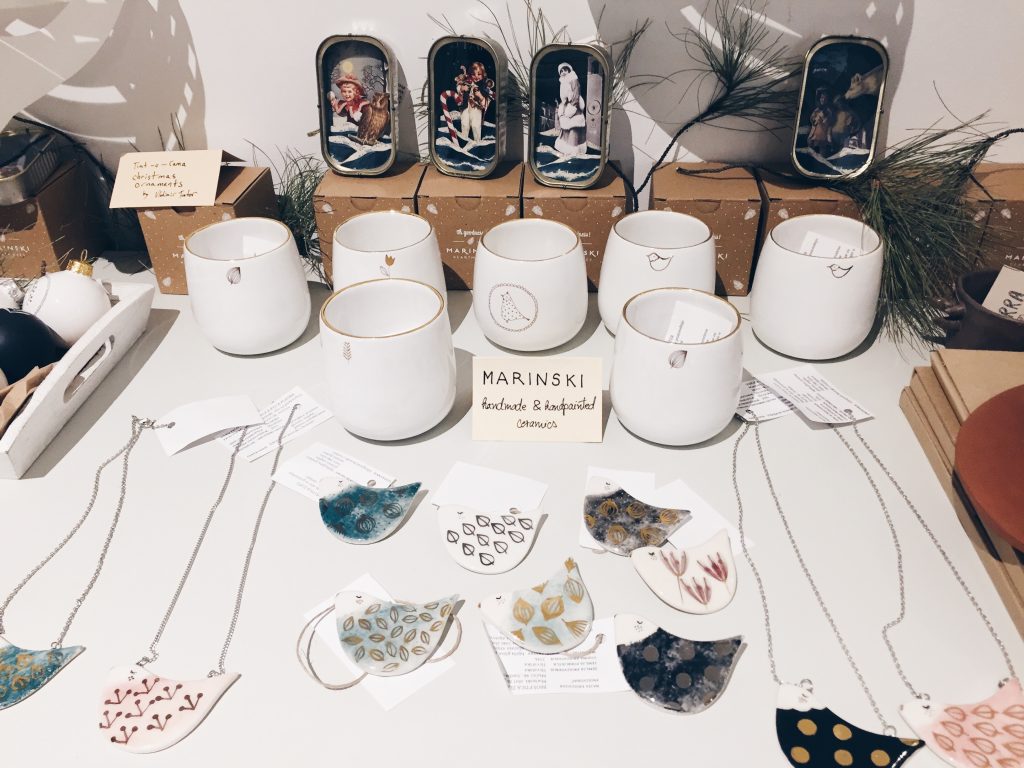 The Philosophy
It's one thing to write a bunch of pretty words on an ¨About Us¨ page, it's another thing to live up to those words. One of the main things that attracted me to this particular accommodation was their philosophy:
The philosophy behind our businesses is to create something or someplace that we would enjoy discovering ourselves. The type of business or service that offers that special moment of comfort, adventure, and community. We believe that a bed is just a bed. The greatest bar is just a bar. A restaurant is just a restaurant. It's the experience that accompanies a place that makes the place. It's that moment in time when everything comes together and you realize that you are so lucky, because what you are feeling will never happen again. Those are the moments of life that you remember.
I mean, doesn't this just make you want to pack your bags and hop on the first flight to Dubrovnik to experience this incredible place?
Well, it should!
Fresh* Sheets is not just a place to lie your head during your trip. It is truly an experience…one you won't soon forget.
Info
Website: https://freshsheetsbedandbreakfast.com/
Address: Bunićeva poljana 6, Dubrovnik, Croatia 20000
Phone: +385.91.896.7509
Email: stay@freshsheetskathedral.com
Classification: 5 Stars
Check In: 2:00 p.m-12:00 a.m.
Check Out: 7:00 a.m.-10 a.m.
Check Rates for your dates here.
Have you ever stayed at Fresh* Sheets Kathedral? What was your experience? Or drop me a comment below about your most memorable stay at an accommodation.
PIN IT!


I WAS WELCOMED AS A GUEST AT FRESH* SHEETS KATHEDRAL. AS ALWAYS, ALL OPINIONS ARE MY OWN. THIS POST ALSO CONTAINS AFFILIATE LINKS, WHICH IS JUST A FINE WAY OF DIRECTING YOU STRAIGHT TO THE SOURCE WITHOUT A BUNCH OF SEARCHING ON YOUR PART.