Exploring Sarajevo: The Ultimate Guide of Things to Do, See, and Eat
Sarajevo, the "Jerusalem of Europe", where East meets West, and where the coffee is strong enough to put hair on your chest. This underrated city has easily become one of my top favorites, and if I had to give Sarajevo a title it would be, the country the has left the deepest impression on my heart.
I went into this city blindfolded, with the highlights of a quick Google search in mind, and famous
Bosnian book
in tow. I knew there was a war, I knew the Olympics were held there in 1984, and I knew there was skiing (again, thanks to Google). That was it. I essentially knew nothing, and in hindsight I am somewhat thankful for that. Often times we (or at least I) will research something to no end, going into a situation with the highest of expectations only to be underwhelmed and/or disappointed, or perhaps the complete opposite, falling in love with a place tarnished by so many naysayers.
However, I think you should be a just a little bit more prepared than I was, so here's The Ultimate Guide of Things to Do, See, and Eat in Sarajevo. Let me just warn you, it's a bit of a read. Bookmark it. Pin it. Come back to it for reference.
Get A Guide
Some places you can just wing it. Go out and explore on your own. Hit all the ¨Must-Sees¨ in your guide. Get a general idea of the history. Sarajevo, is not one of those places. At least not to me. Reading about the history versus having an actual person recount their personal story and triumphs elicits a much deeper appreciation for this incredible place.
Our first guide (from the Tourism Board), Raza, is one of the most amazing human beings I've had the pleasure of meeting. The passion she has for her country and for people are impalpable. She accompanied us on our ski adventure at the
Jahorina Ski Center
, and went above and beyond by driving us around to some of the other well known, and not so well known spots in Sarajevo, which I'll mention later in this post. She recounted tales that you won't find in the history books, and divulged truths that most people probably won't admit about their beloved country. There was no sugar coating. It was real and it was raw. I can appreciate that.
Another tour I'd highly recommend is the
Neno and Friends free walking tour
. They have a few options to choose from; however, we opted for the East Meets West Tour which covers much of the city center and all its historical relics. It's a 2.5 hour tour starting at the National Theater, and we were led by Neno himself. Neno did an incredible job of recounting Sarajevo's history in a well-planned route, while weaving in his own personal accounts and tales of life during and after the war.
Remember, although the tour is free it is always a kind gesture to tip, as many of the guides earn their wages through these tips.
Visit the Tunnel of Hope
Though it may be known by several different names, i.e. Tunnel of Hope, Tunnel of Salvation, Tunnel of Sarajevo, one thing that is undisputed, this passage way was the lifeline of Sarajevans during the siege almost 22 years ago. With the city surrounded by Serbs, no electricity, no running water, no gas, minimal to no food in homes, this 800 meter tunnel, dug by hand, brought a glimmer of hope to the people of Sarajevo. Food rations, medical supplies and assistance, weaponry were all transported through this tunnel. It was the only connection to the outside world that the inhabitants of Sarajevo had.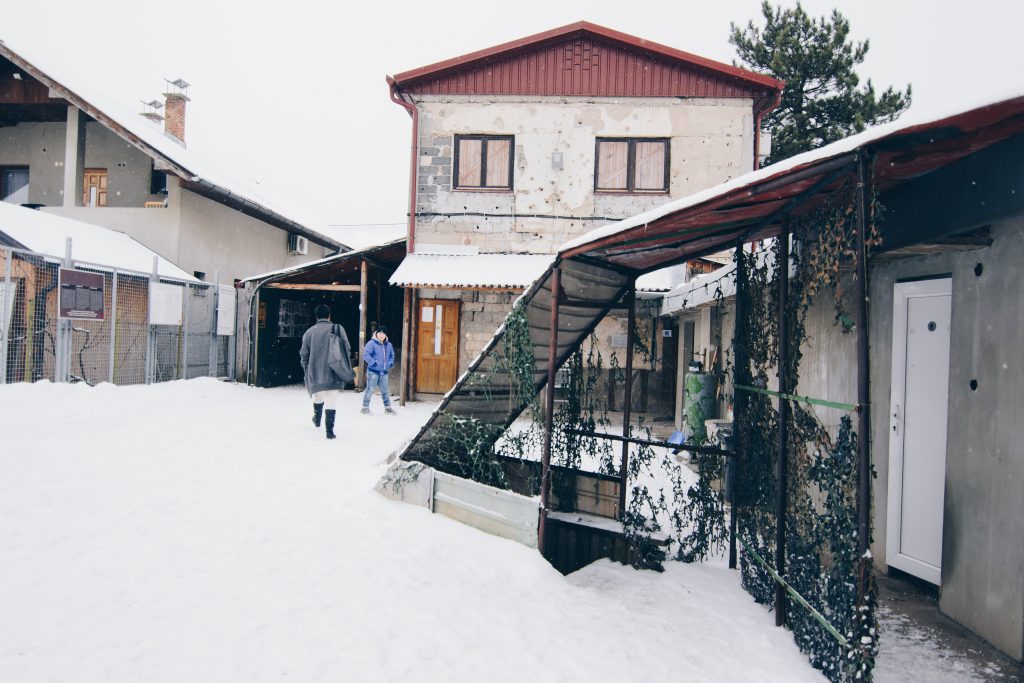 One of the intangible beauties of this tunnel is the camaraderie and unification of the people that rallied together to dig and literally find the light at the end of the tunnel. It's an amazing thing when people can come together for the greater good.
Today, only about 25 meters of the original tunnel still exists. Also, be sure to watch the brief video with actual footage from the Siege, to give you a more in depth look at how harrowing these times really were.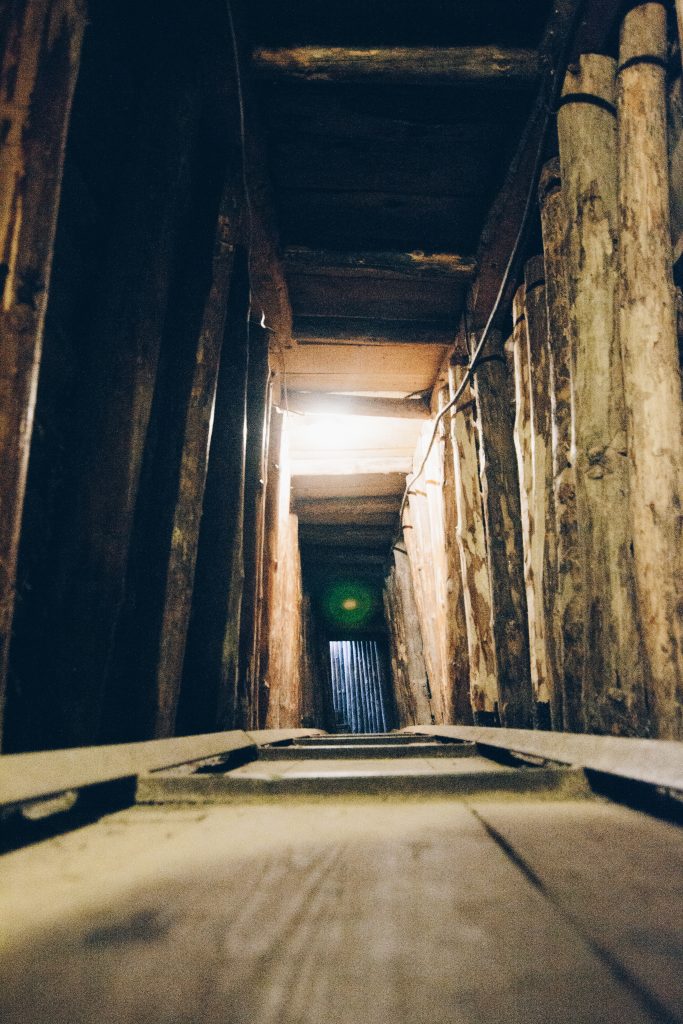 The tunnel is a bit outside of the city; however, you can find tours that include a visit to the tunnel. Our wonderful guide, Raza, was kind enough to take us as she felt it is something every visitor must see and experience. I totally agree.
Elevate Yourself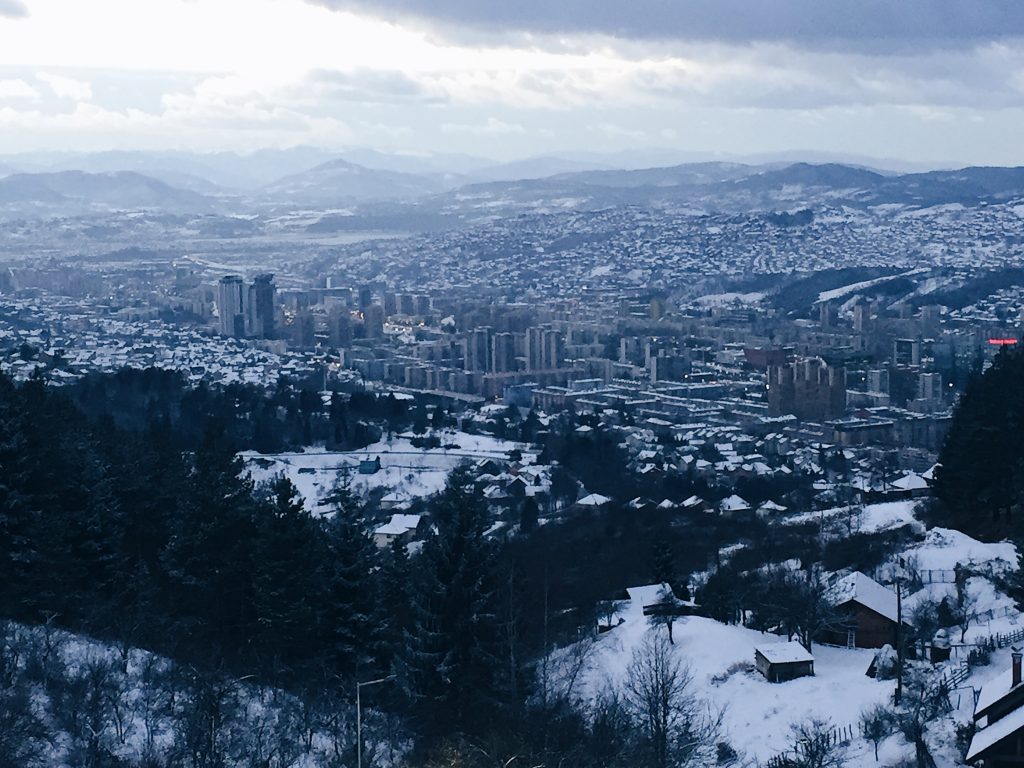 Sarajevo is a city surrounded by mountains. Though the city in the valley is magical, go higher. Get a different perspective. See the city from up top. These mountains tell a story. Listen to it. Feel it. How do you feel it?
I don't know. You just do.
When you're up in the hills, possibly standing in the same spot that a Serbian sniper once stood or crouched, and you're looking down at the city below you get a sense of just how vulnerable the entire city was for almost four long years. Your heart breaks. Some 11,500 people murdered, 1,500 of those children; a death toll of some 100,000 people in total due to the atrocities of the war. You will feel something, probably lots of things. But, there is reprieve in knowing that even after all tragedies Sarajevo was and still is resilient, and they've bounced back from something that was meant to completely destroy them.
Zuta Tabija (also known as The Yellow Fortress) and the Bistrik old neighborhood are both great places to take in the panoramic views of the city.
Hit the Slopes
Home of the 1984 Winter Olympics, Sarajevo is amazing for outdoor winter sports and activities. Whether you're an expert or complete newbie (like me) the Jahorina Ski Center has slopes for all levels. The ski resort is located in the Dinaric Alps in Republika Srpska, about 30 minutes from the city center. The drive up the mountain will truly leave you feeling as if you are in a Winter Wonderland. Snow-covered fur trees, the roads blanketed in snow, it is absolutely breathtaking.
Since we were first timers our wonderful hosts at Jahorina Ski Center set us up with an instructor for about 10 euro a piece. She was incredibly patient and kind, and even let my ill-prepared self borrow her nice, warm gloves during our lesson. The equipment rental (skis and boots) will set you back only about 15 euro. Here is a complete list of prices for ski passes. Jahorina is one of the most budget-friendly ski resorts in Europe. Check out my full post about Jahorina here.
During the warmer months, Jahorina is excellent for hiking.
Visit the Abandoned Olympic Bobsled Tracks
"Feel the rhythm. Feel the rhyme." If you grew up in the 90's then you've undoubtedly seen, heard about, and/or sat in your bathtub and imitated the cheesy, yet classic movie Cool Runnings. If not, after you finish reading this blog post, please take a moment to check it out. The movie is about the Jamaican bobsled team and their debut in the 1988 Winter Olympics. Just four years prior, Sarajevo hosted the Winter Olympics and the old bobsled track still remains. When I learned of this, I was determine to get to the tracks and reenact some of my favorite scenes. Too bad I didn't take into account cold weather and tons of snow. However, whether you go in the dead of winter or in warmer months, I still recommend making your way up Trebević Mountain and enjoying this little piece of history. These days, it's not much more than a dilapidated track used as a canvas for graffiti artists, but it's still worth the trip.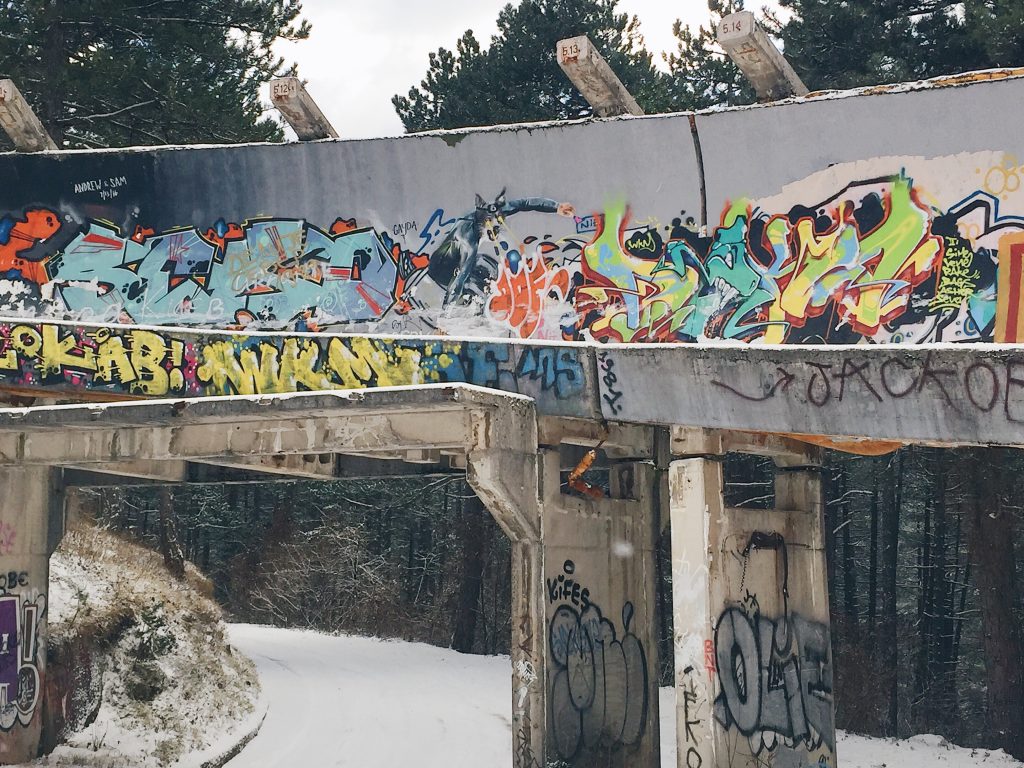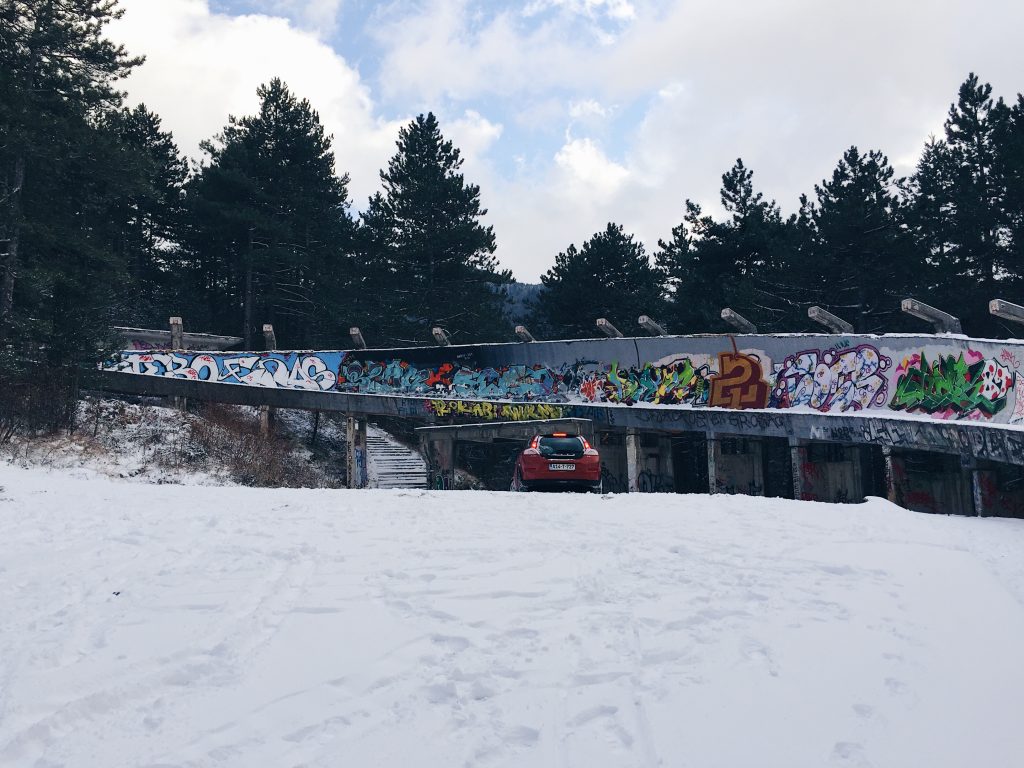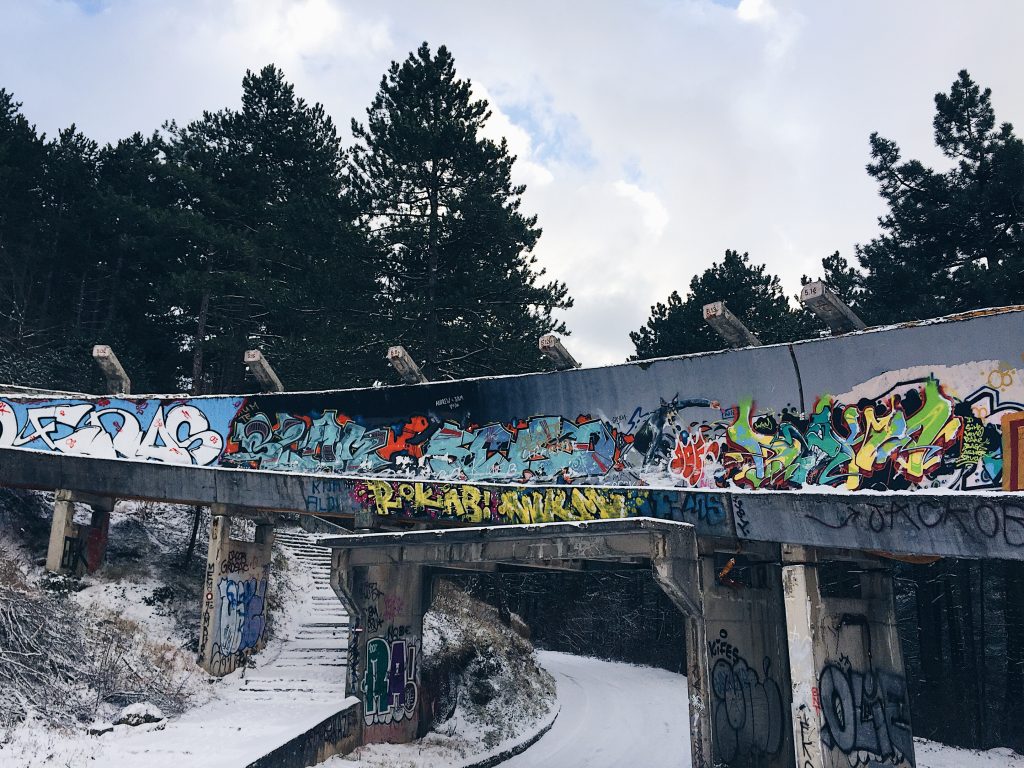 Our guide drove us to the site after our ski adventure. It's about a 20 minute drive from Jahorina. You can also get there by bus (though, it only takes you part of the way), taxi, or hiking the mountain. However, I must caution you, the bobsled track is in quite a remote area and not the safest of locations. Our guide warned us that people, especially tourists, are often robbed and/or hijacked around these parts. She warned us that if any moment she felt we may be in danger, we were going to hightail it out of there. She cautioned us that often times it will be a group of guys who will approach you (likely in a car) and ask what you're up to, or ask if you need any help. That's a sure sign to get the heck out of dodge, and make sure they are not following you.
On our way down the mountain we made a stop to check out the views on an overlook. Sure enough, a group of guys stopped their car and asked what we were up to. Our guide immediately told us to get back in the car and we took off. She was visibly shook and so were we.
My advice…use discernment. Do not carry valuable items with you. Be aware of your surroundings at all times. Travel with a local or with a tour group. Definitely do not go alone. It sounds a little scary, but I wouldn't be doing my due diligence if I didn't give you the full run down. Even still, I think it's a must-see when visiting Sarajevo; just do so with caution.
Dine Like A Local
The quickest way to this wanderer's heart is FOOD! For me, half the fun in traveling is getting to try local dishes and eateries. Sarajevo did not disappoint. However, I must forewarn you, Bosnia is not the most vegetarian or vegan-friendly country (although you will be able to find a few restaurants…or so we were told on our tour). They love their meat! I am probably the most carnivorous person of them all, but even I was craving a fresh salad and veggies by the end of our trip.
The food in Bosnia is heavy. Lots of meats. Lots of bread. Huge portions that leave you in a state of miserable euphoria after eating. Yeah, that kind of heavy. But, it's sooo good and incredibly cheap!
Here are some of my recommendations: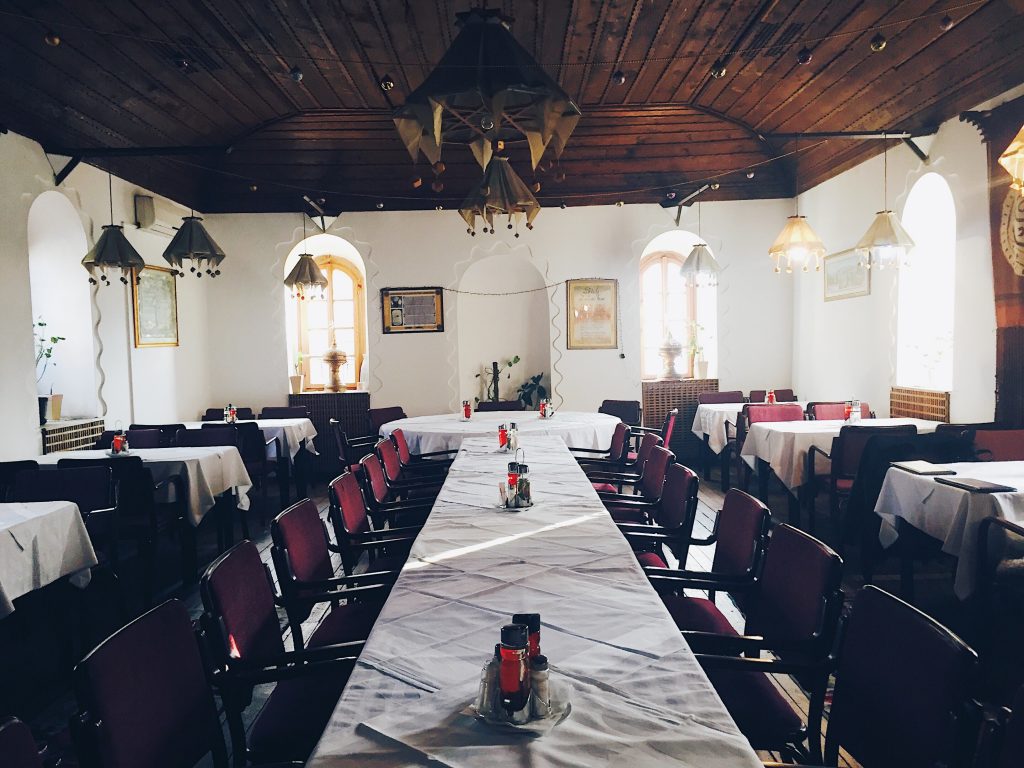 We stumbled upon this place while strolling through Baščaršija on the hunt for some good eats. Serving up traditional Bosnian food, they did not disappoint. I enjoyed the grilled beef steak, while M.M. tried the Sarajevki sahan (assorted vegetables stuffed with minced meat and rice). Both were equally delicious. The service was great and so were the prices. My meal only set me back about 17,000 BM (about $9.25 USD), and M.M. only about 7,000 BM ($3.80 USD).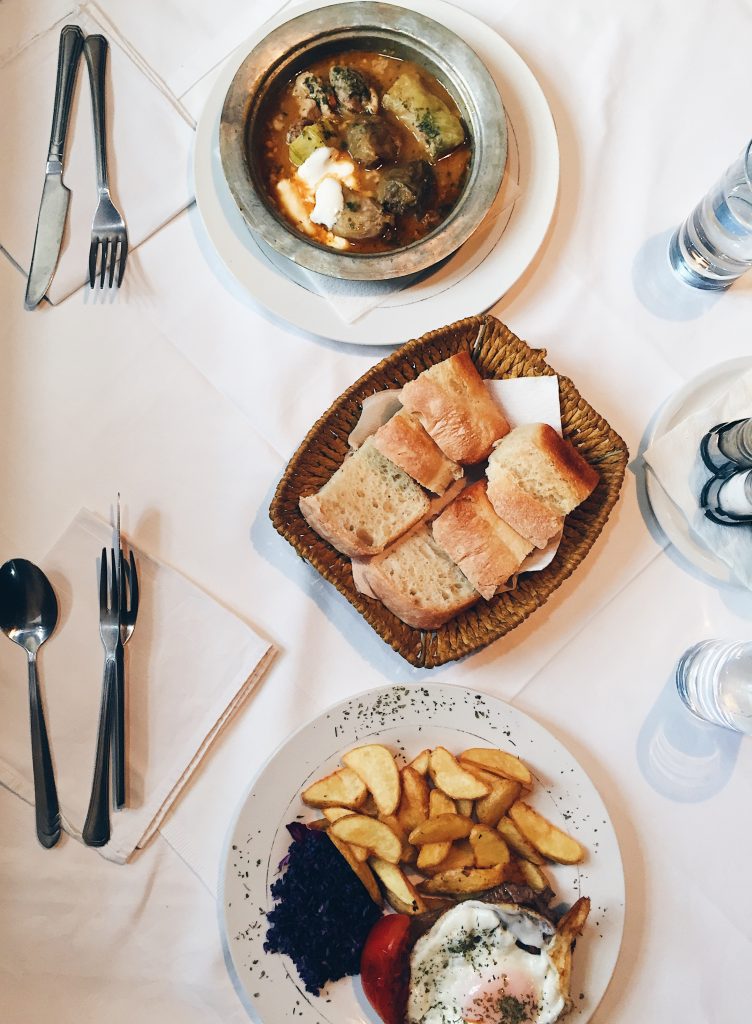 Saraci 6. Old Town
Sarajevo, Bosnia and Herzegovina
+387 33 535-690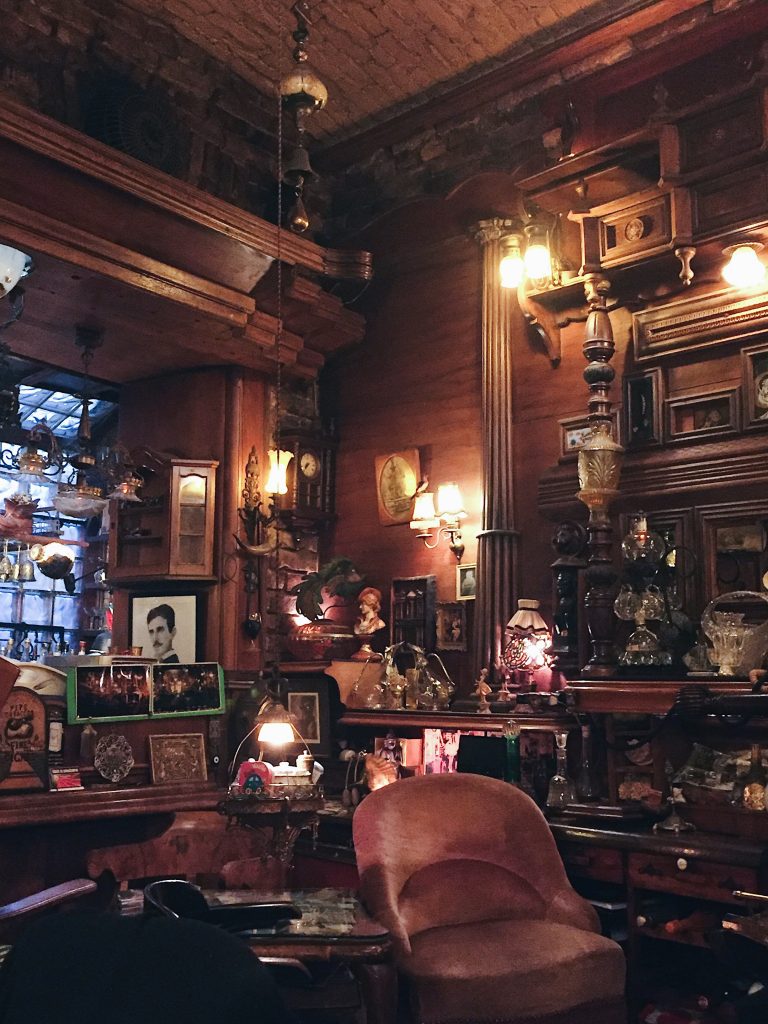 Stop at this unusal cafe/bar to get your caffeine or cocktail fix, or to simply take in the ambiance. It is like no other place I've ever visited and is definitely a must-try in Sarajevo. The best way to describe this cafe oozing with character is, picture your hoarder of a grandmother's antique living room. Now picture your hoarder of a grandmother's living room times TEN. There There is so much stuff filling this place that it is virtually impossible to take it all in, but you can certainly try.
Kaptol 5
Sarajevo 71000, Bosnia and Herzegovina
+387 33 836-348
This amazing restaurant in Old Town was recommended by our guide, Raza. It feels like you are engulfed in a secret garden. It reminds me of an old country kitchen and even serves up country dishes like corn bread, butter beans, and potato salad.
Look around and find jars of pickled this and thats, hanging woven baskets of plants, and tendrils of ivy cascading from the ceilings, light fixtures, and everywhere else. In the winter they even provide blankets to keep you nice and toasty. In the summer the roof is retracted making it a perfect terrace for an afternoon lunch or quaint evening dinner. Oh, and the food is AMAZING as well.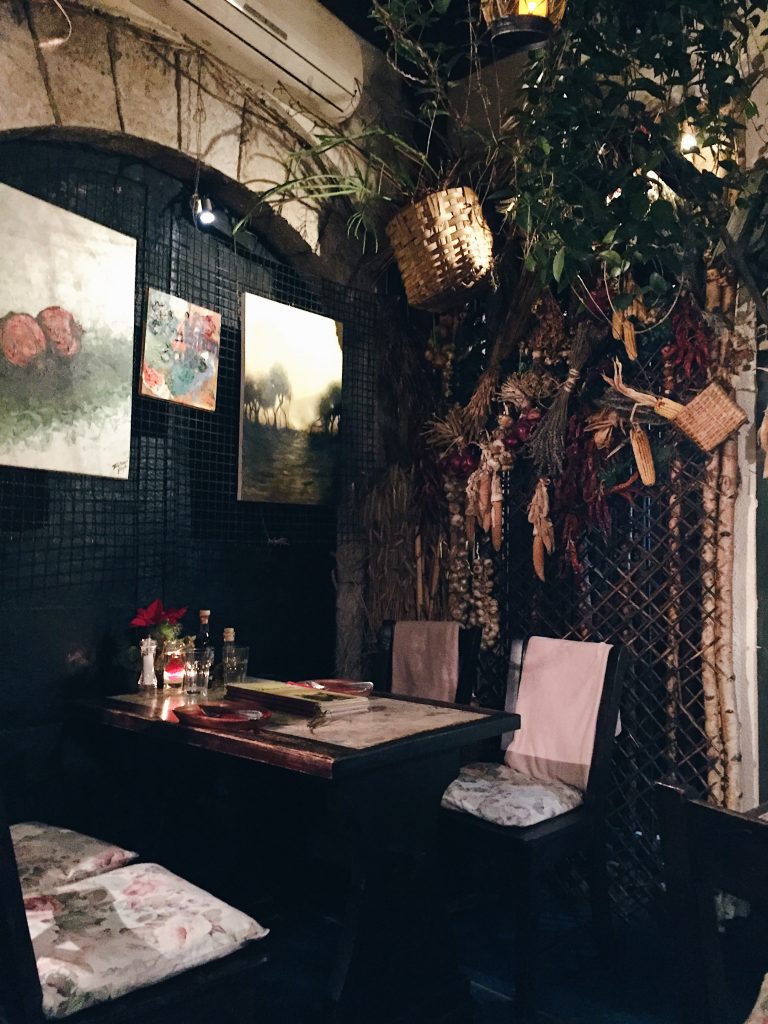 Prote Bakovića 12
Sarajevo 71000, Bosnia and Herzegovina
+387 33 537-020
This quaint little restaurant, also in Old Town, is THE place to try the delicious traditional dish ćevapči (little sausages of minced meat, with chopped onions, packed in warm and delicious pita bread). Don't be surprised if you're sharing a table with strangers, because this place is usually packed and you have to get in where you can fit in. Try the ćevapči with spicy mustard, cream cheese, or just plane Jane. Also, the traditional way to eat ćevapči is to pair it with a Coca Cola or drinkable yogurt. I had it with Coca Cola and 'twas amazing!
Bravadžiluk 29
Sarajevo 71000, Bosnia and Herzegovina
+387 33 537-555
We stumbled upon this cute little cafe and cake shop when wandering through, you guessed it…Old Town. Here you can try traditional Bosnian coffee and yummy desserts. We opted to split a slice of chocolate cake, which was heavenly! I had my first and likely last traditional Bosnian coffee here, and let's just say it was different. Very very strong and very…different. I'm not a huge coffee drinker so take my opinion with a grain of salt. Nonetheless, it was a nice place to sit and people watch and enjoy some wonderful desserts.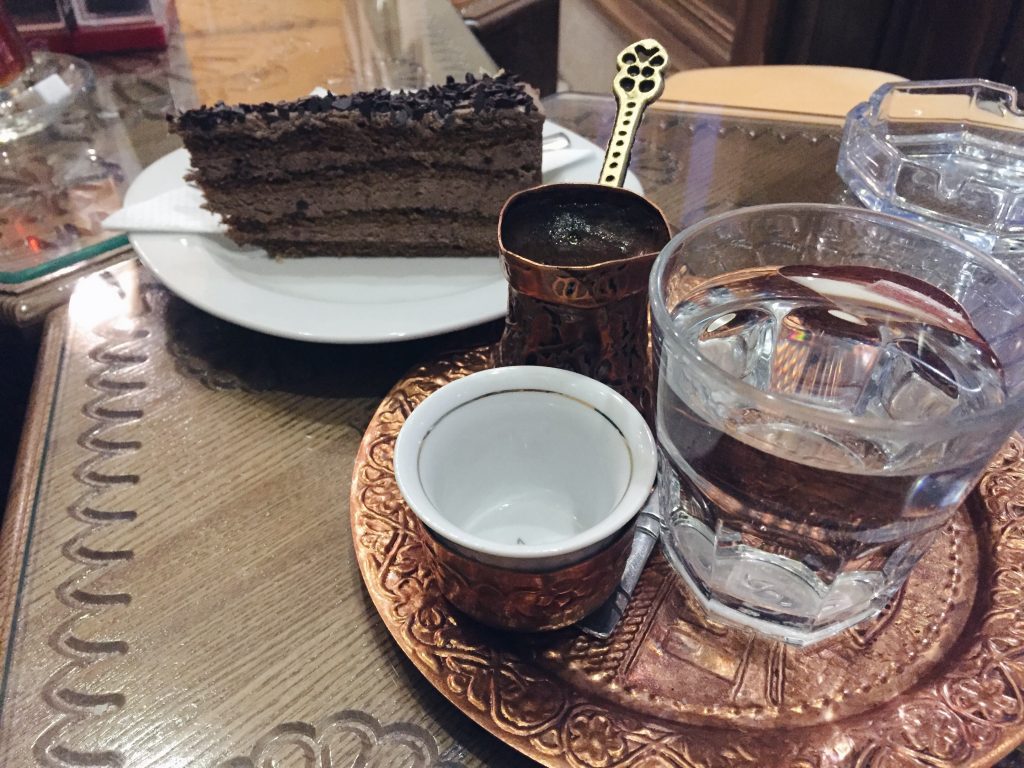 Bascarsija 1

Sarajevo 71000,
Bosnia and Herzegovina
+387 61 534 121
Why am I listing a hotel here? Because, said hotel has an amazing lounge/restaurant that is a must-try. If you visit the old Bobsled Tracks then you'll pass this place on the way there and back. You can't miss it. It's ultra modern and smack dab in the middle of nothing and nowhere. It's the only hotel on Trebevic, and is the perfect weekend getaway for Sarajevans. Now, about the food. We tried a couple of different meat and cheese platters that came with a variety of all sorts of deliciousness. And the bread? Sweet Mother of Pearl! I'm pretty sure I ate an entire basket by myself. So good! So SO good!
Also, be sure to try the Sipurak tea. It's a tea made with local berries only found in the mountain regions, that's packed full of vitamins and is great for stomach and digestive issues.
Choose a Bakery, Any Bakery
I can't remember the name of the particular bakery we stopped in, because we were simply walking around and just happened to drop in. However, another traditional dish you must try is Burek. It's a meat, cheese, and/or veggie filled pastry. Incredibly delicious. Incredibly filling. Incredibly cheap.
Try the Best Brew in Town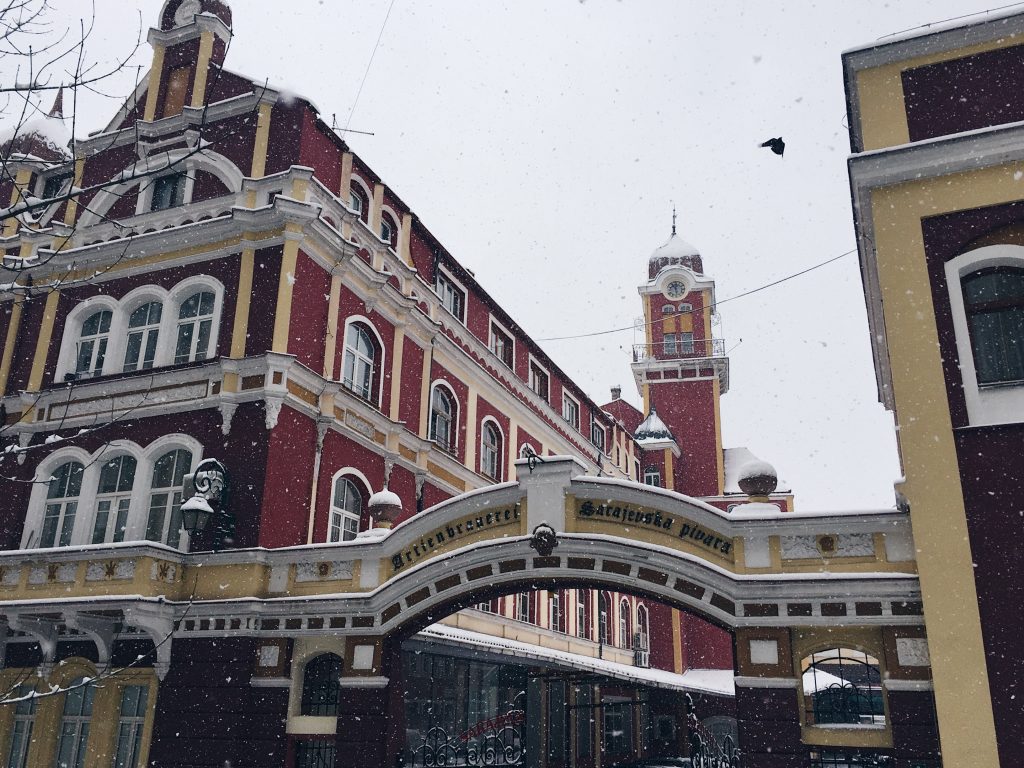 Stop by the Sarajevo Brewery Museum, also known as Sarajevska Pivara and try the best local beer in town. This is the oldest brewery in Sarajevo and holds some rich history. During the Siege of Sarajevo it did not cease production, and was the location where locales would retrieve fresh water.
Unfortunately, we didn't have time to stop here, but per the suggestion of both of our guides it's the best place to have a beer in the city. Other places in town have tried to emulate the brews crafted here, but as the saying goes, "Often imitated, never duplicated."
Peruse Through Old Town
You can't visit Sarajevo without perusing through Old Town and Baščaršija Square (aka Pigeon Square). You just can't. I mean, it's where most of my food recommendations are so you will end up here at some point or another. Stroll up and down the cobble-stoned streets, stop in a cafe, wander in and out of the Coppersmith shops picking up a souvenir or two, and simply take in the beauty and old-world feel of this incredible place that has largely remained the same since the 15th century.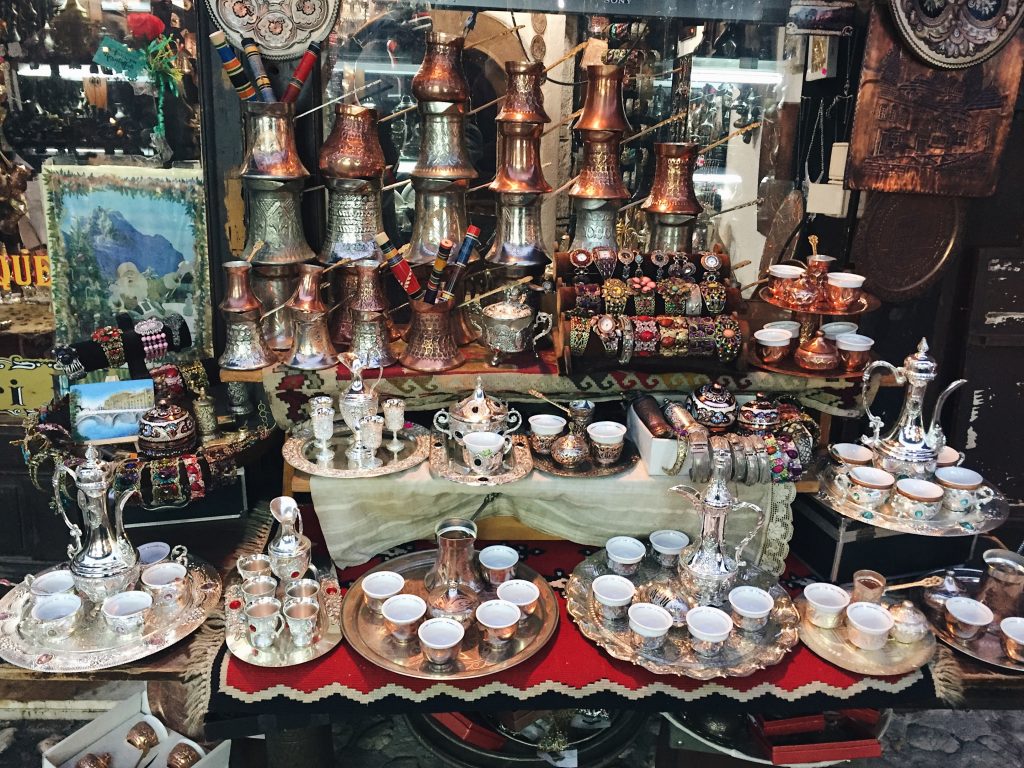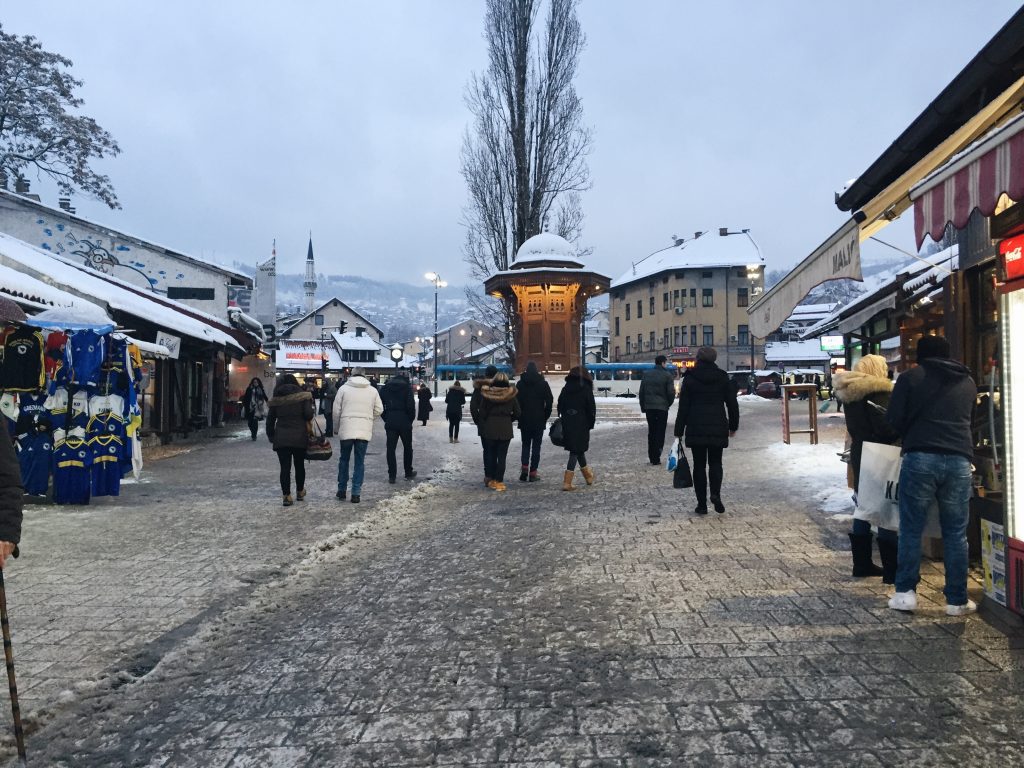 Visit the Spot That Started WWI
Ok, I'll admit I never took much of an interest in history class. I did just enough to make the grades. I'm kicking myself for it now, because I was unaware that WWI started in Sarajevo, Bosnia and Herzegovina. Just over the Latin Bridge is where the assassination of Archduke Ferdinand Franz, the heir to the Austro-Hungarian Empire, and his wife, Sofia, took place on June 28, 1914. It is actually quite an interesting story, but I won't spoil it for you. Neno, tells it way better than I ever could, so be sure to check out the free walking tour.
Though there were many things that led up to the war, this assassination was what "broke the camel's back", so to speak. It was this action that triggered a war that would claim the lives of 17 million people worldwide. Cross over Latin Bridge and visit the corner where it all took place, and if you have time, pop into the museum and have a look around.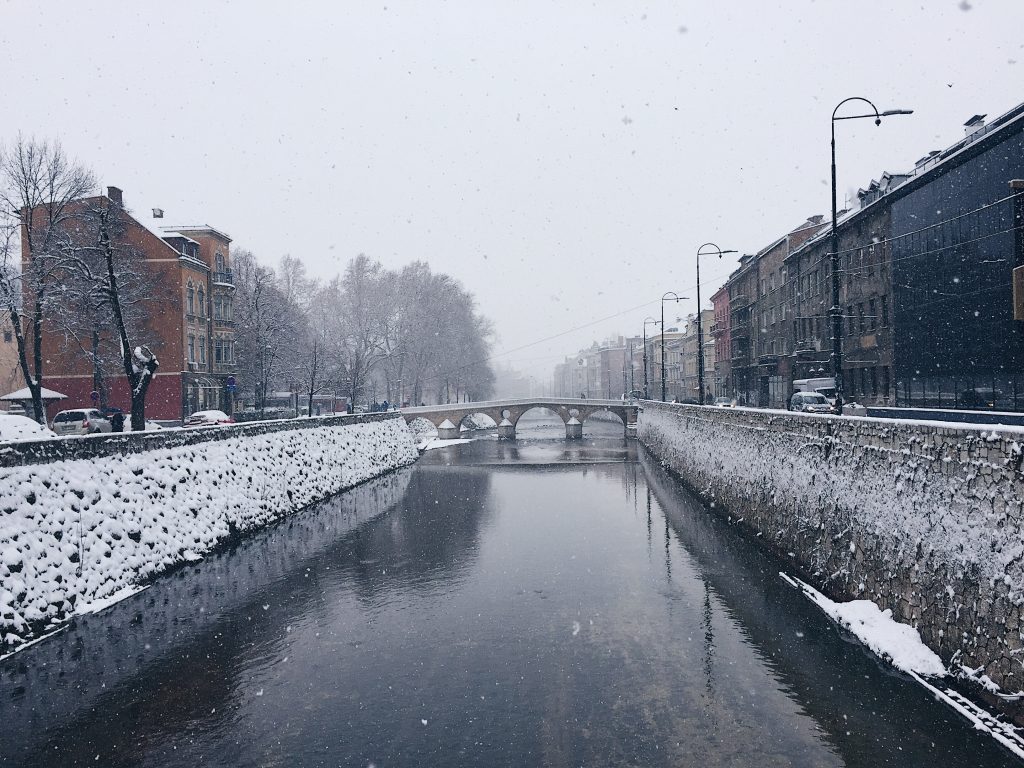 Admire the Places of Worship
You don't have to be religious to appreciate the grandeur of the places of worship that dot this diverse city. You'll find Christian Churches, Mosques, Synagogues all in close proximity of one another, sometimes right next door. You'll here the church bells chiming and moments later a minaret signaling the call to prayer, as if it is a call and response tango. Christians, Muslims, Jews, and others have all coexisted in harmony for centuries in Sarajevo. It's such a beautiful thing to see a city embrace so many multicultural and religious diversities. It's not wonder Sarajevo is dubbed the "Jerusalem of Europe".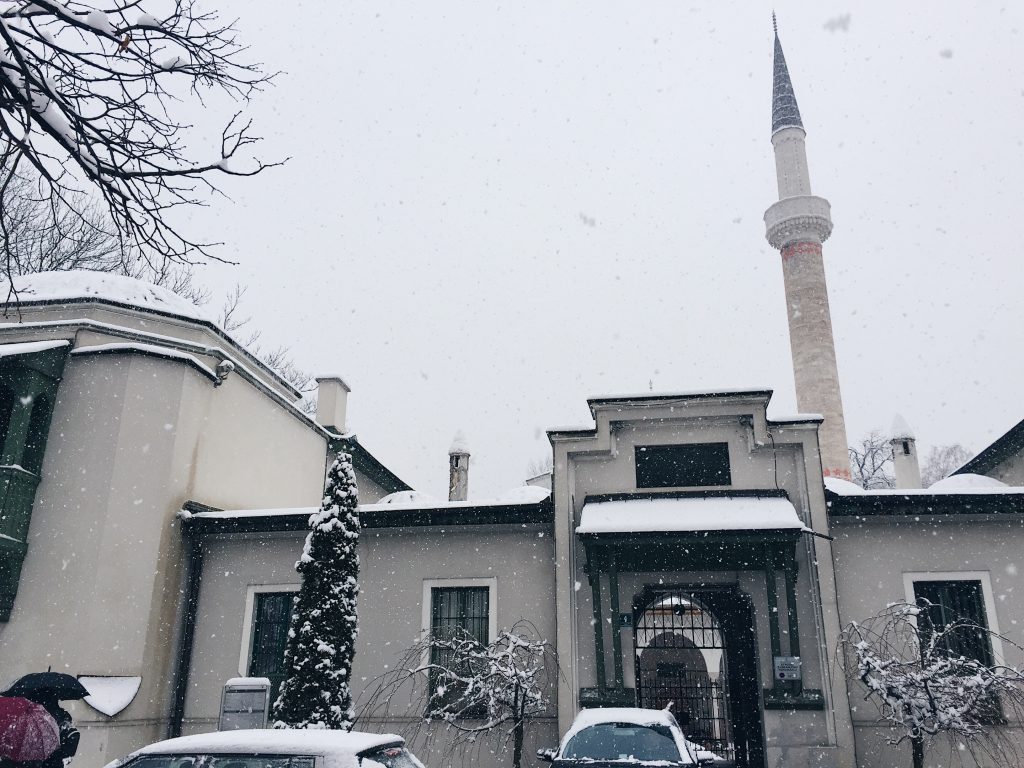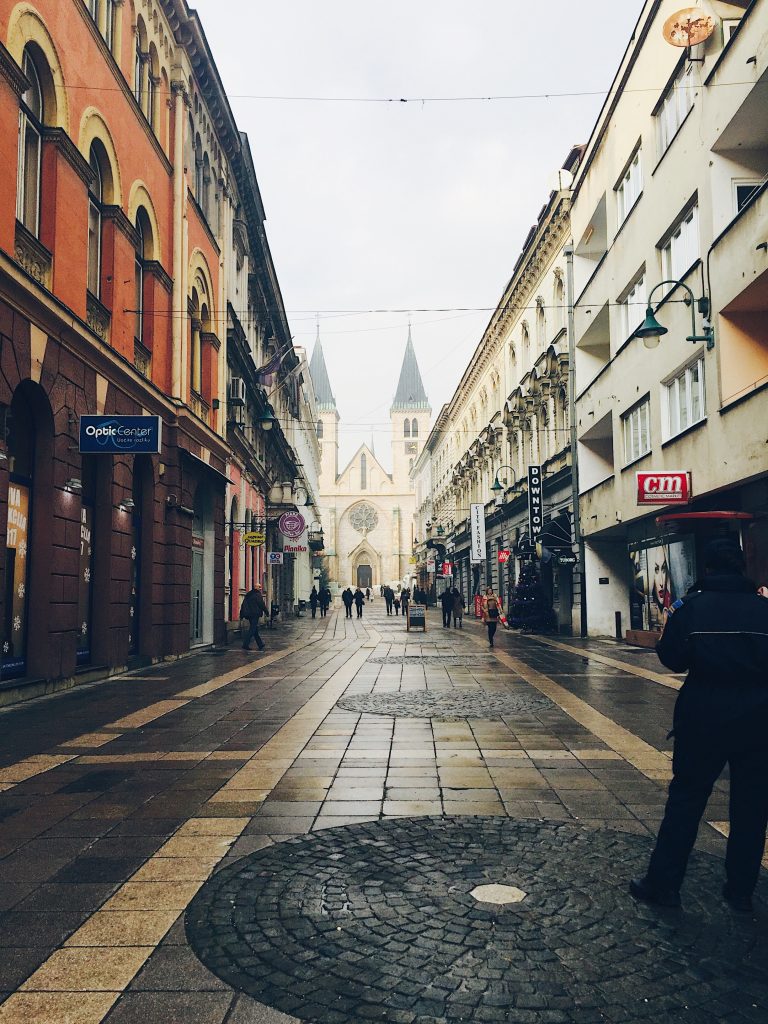 Check Out the Museums
Though I didn´t get the chance to visit other museums, besides the Tunnel of Hope, I´d recommend checking out at least one other museum. One of the more highly recommended museums is Gallery 11/07/95, which is an exhibition of photographs and short films in memorial of the lives lost during the Siege of Sarajevo.
BONUS ACTIVITY
Enjoy A Cable Car Ride
Ok so, this isn't actually up and running yet, but it will be sometime this year. The cable car will run from Old Town to the top of Mt. Trebević. I can't even imagine how spectacular those views are going to be. If they're anything like the views I've seen thus far, then I know it's going to be a sight to see.
Know Before You Go
Sarajevo possesses a beauty that goes beyond surface level. On the surface it is a city that still, physically, bares the scars of its not so distant past. Bullet-hole riddled buildings, crater remnants of mortar bombings, dilapidated buildings this is what you will see in Sarajevo. However, if you look beyond the physical there is something truly special about this place.
I asked our guide Raza what is something she would like visitors to know about Sarajevo. These were her words:
It is the atmosphere, the hospitality, the friendliness of the locals Sarajevo is best known and loved for. It is the feeling you have once you visit, and stroll the streets. Our welcoming spirit intertwines with delicious meals, rich cultural and historical heritage, spectacular natural sites and overwhelms the visitor. That is, by far, the best Sarajevo has to offer. The place your soul feels at home.
I couldn't agree more.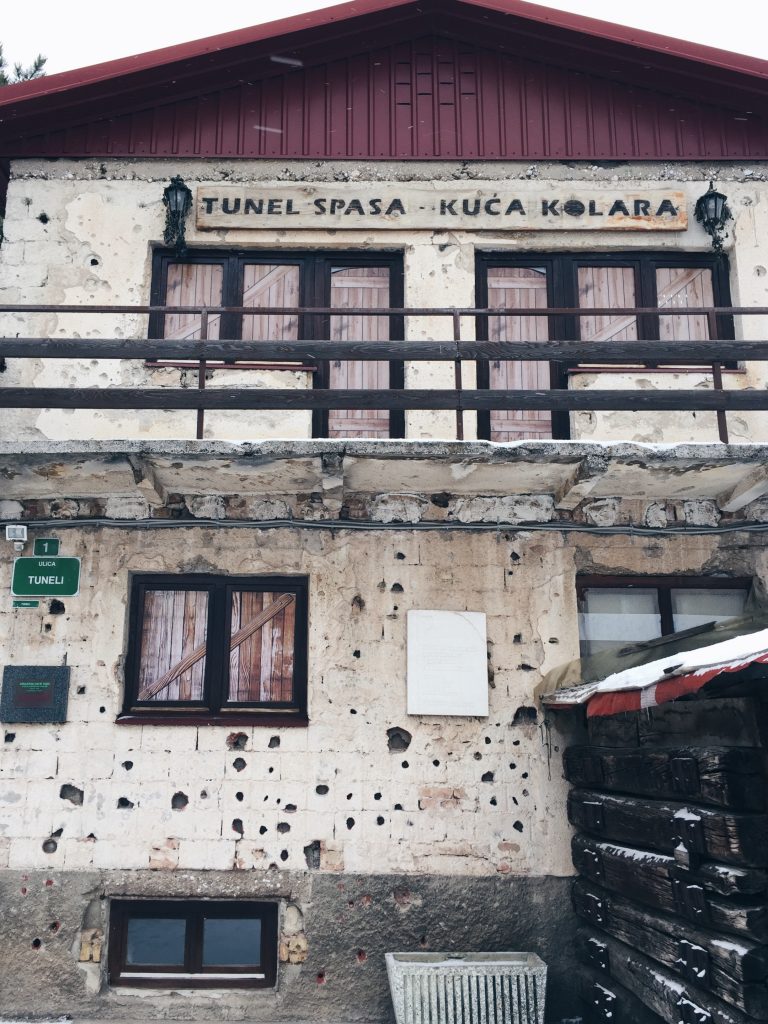 Other Tips & Tidbits
Language(s): Bosnian, Croatian, Serbian (all very similar)
Currency: Bosnian Mark (BAM)
Electricity: 230 V/50 Hz. Power Sockets are Type F, and works with plugs C & E. Americans will need an adapter. Here's one I recommend from Amazon.
Getting Around: Sarajevo is a very walkable city. We didn't bother with taking the tram, although it is available. If you're planning to go to another city, whether domestic or international, buses will be your best bet.
When to Go
Sarajevo is great to visit no matter the time of year. As you can see, I went in the dead of winter and had an incredible time. Here's a breakdown of the months December-March: Ski season. April-June: Beat the heat and visit in the Spring. July-August: Festival season. September-October: Low season. November: Rainiest month.
Other Suggestions:
Read up on the history of Sarajevo before going. I highly recommend Goodbye Sarajevo, by Atka Reid & Hana Schoefield. This memoir is the story of two sisters who tell their story of survival during the Siege of Sarajevo. It outlines the atrocities Sarajevans faced, how they each coped during the war, and life after the war.
If you decide to hit the slopes, which you absolutely should, be sure to get travel insurance. Anything could happen and you should be covered. World Nomads offers some great and affordable plans.
Make sure you have everything in order for your international trip with my 13 Things To Do Before Taking an International Trip Free Checklist.
Have you ever been to Sarajevo? How was your experience? Any other amazing activities to add to the list? Comment below.
THIS POST CONTAINS AFFILIATE LINKS. ALSO, SPECIAL THANKS TO THE TOURISM ASSOCIATION OF SARAJEVO CANTON & JAHORINA OLYMPIC CENTER FOR SPONSORING OUR COMPLIMENTARY GUIDE AND DAY PASSES. AS ALWAYS, ALL OPINIONS ARE MY OWN.