Where to Eat in Canggu, Bali: A Finicky Foodie's Guide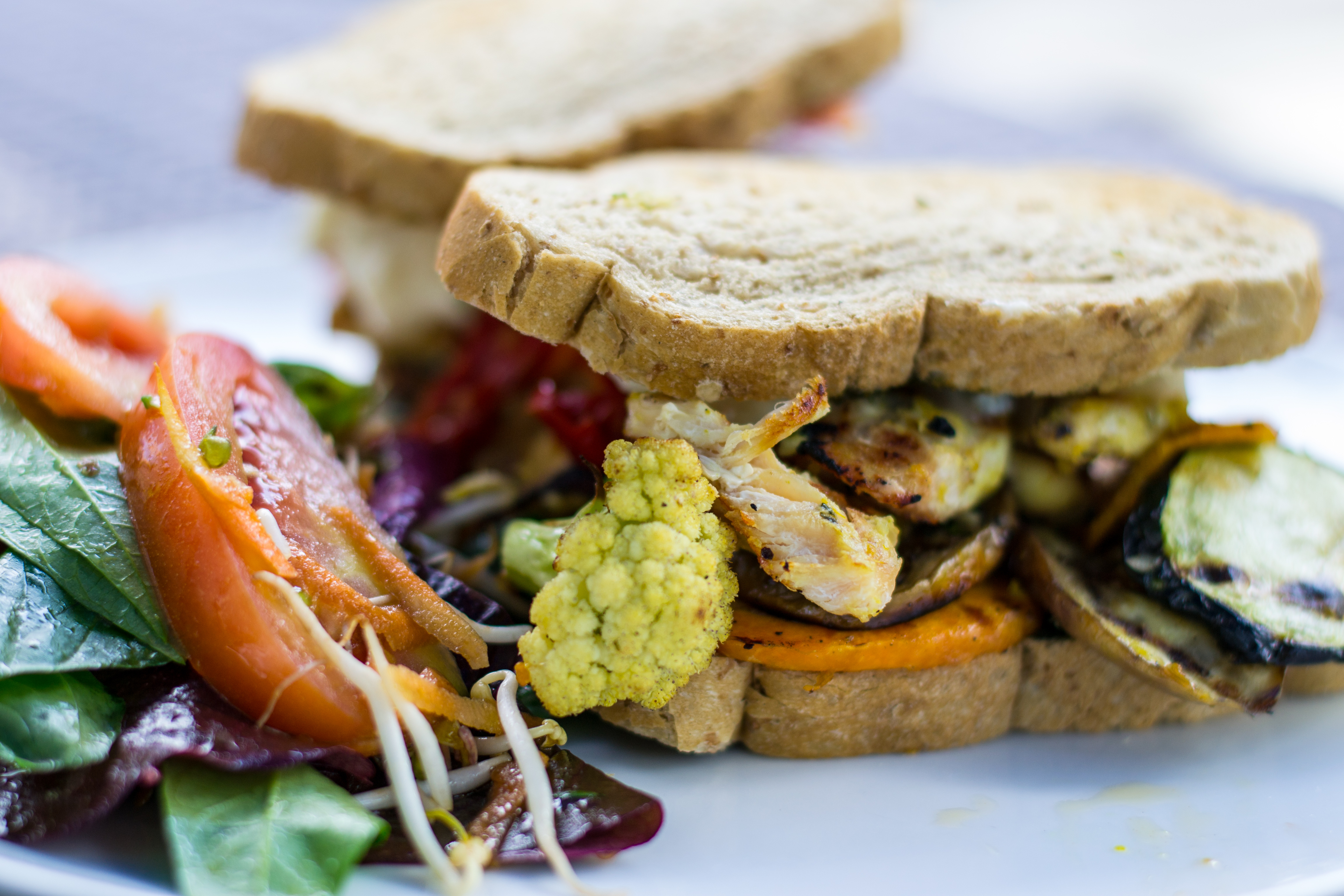 I love food. No, I mean, I reeeallly LOVE food. BUT, I'm a very finicky eater, I have texture issues, and some would say my eating habits are a bit er um…strange. Given this, it sometimes makes me a bit apprehensive when visiting other countries because my first thought is always, what am I going to eat? My recent trip to Canggu, Bali had me even more apprehensive because Bali belly is real and ain't nobody got time for that I know the vegetarian and vegan lifestyle is widely popular, and I am the absolute furthest thing from either of those. However, to my surprise, Canggu is a foodie's haven, even the most finicky foodies, such as myself. Here you'll find warungs (small family-owned business) serving up cheap, traditional, Indonesian eats; vegetarian, vegan, and gluten-friendly restaurants by the dozens; as well as chic and swanky eateries with Hawaiian and Australian influences. This place has something to satiate all palates. Here is my finicky foodie's guide on where to eat in Canggu, Bali.

BREAKFAST
Whether Desa Seni is your chosen accommodation for your stay, or you're just dropping in for a Sunrise Hatha Yoga session, be sure to stop by their restaurant for a healthy and organic meal to start your day. The restaurant grows 80% of their own produce, and also works with local farmers to provide the freshest ingredients and an amazing farm to table experience.  My favorite breakfast item was the Banjar Breakfast, which included fresh fruit, tangerine juice, coffee or tea, and an a la carte choice. I usually stuck with the blueberry smoothie bowl or the mango and blueberry pancakes. Both were exquisite!
Desa Seni
Jl. Subak Sari #13 Pantai Berawa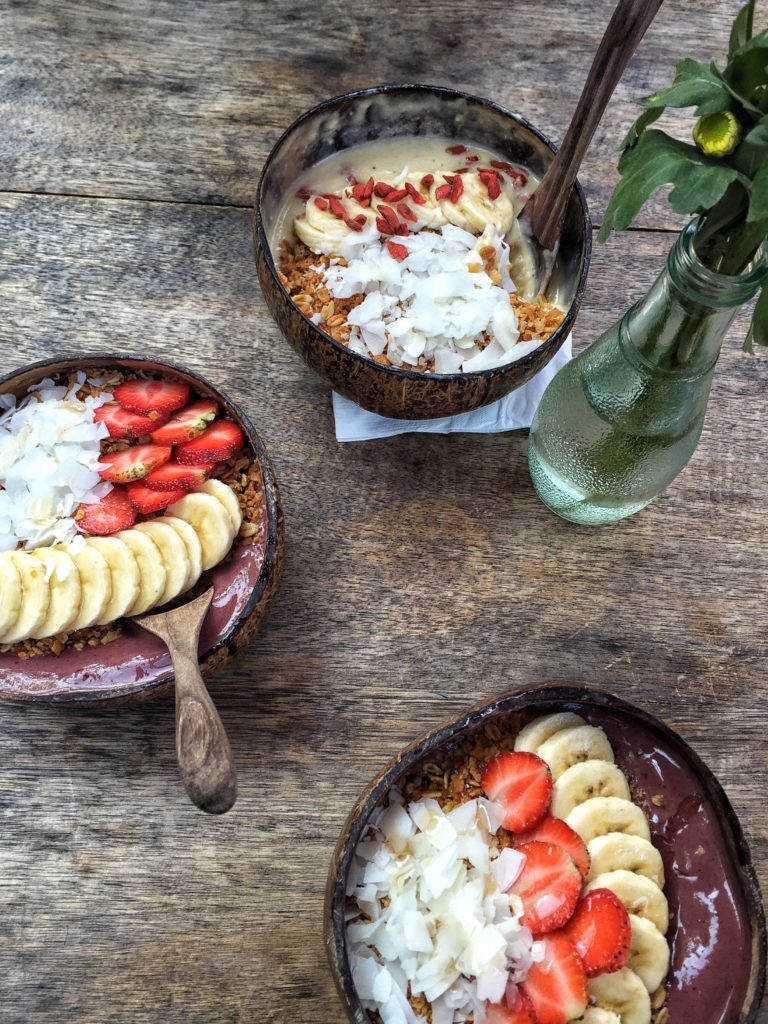 You can't come to Bali without having an infamous smoothie bowl. Bali and smoothie bowls are essentially synonymous, despite smoothie bowls not necessarily being a traditional Balinese food. None the less Bali does smoothie bowls well, and Nalu Bowls may very well do them best. These nutritious-packed Nalu bowls are made with locally sourced ingredients and homemade granola. I tried the Maverick bowl made with acai and topped with granola, bananas, strawberries, shaved coconut, and honey. It was absolutely DIVINE!!
Nalu Bowls
52 Jl Pantai Berawa (Attached to Milk & Madu)
---
LUNCH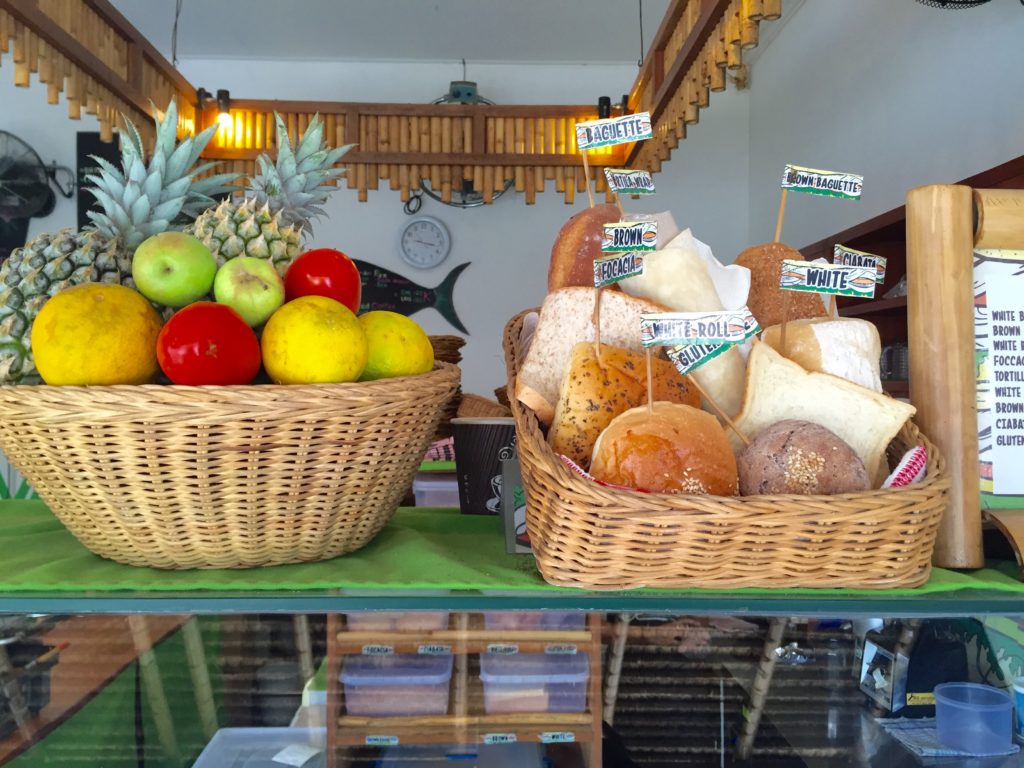 We were treated to these sandwiches the night I arrived in Bali. It was so good I virtually inhaled it. I had to try the sandwich again just to make sure it was really that good or if I was just famished after 24+ hours of travel. Let me tell you, it was really just that good! I had the Chooken sandwich with roasted chicken, cheese, lettuce, and Swich Mayo on a baguette. Usually I would NEVER eat mayo on a sandwich because gross, but their mayo was not half bad and the sandwich wasn't slathered in it. If meat isn't your thing, they also have sandwiches that caters to vegetarians.
Swich Sandwiches
Jl. Pantai Brawa No. 49B,
Banjar Tegal, Brawa-Canggu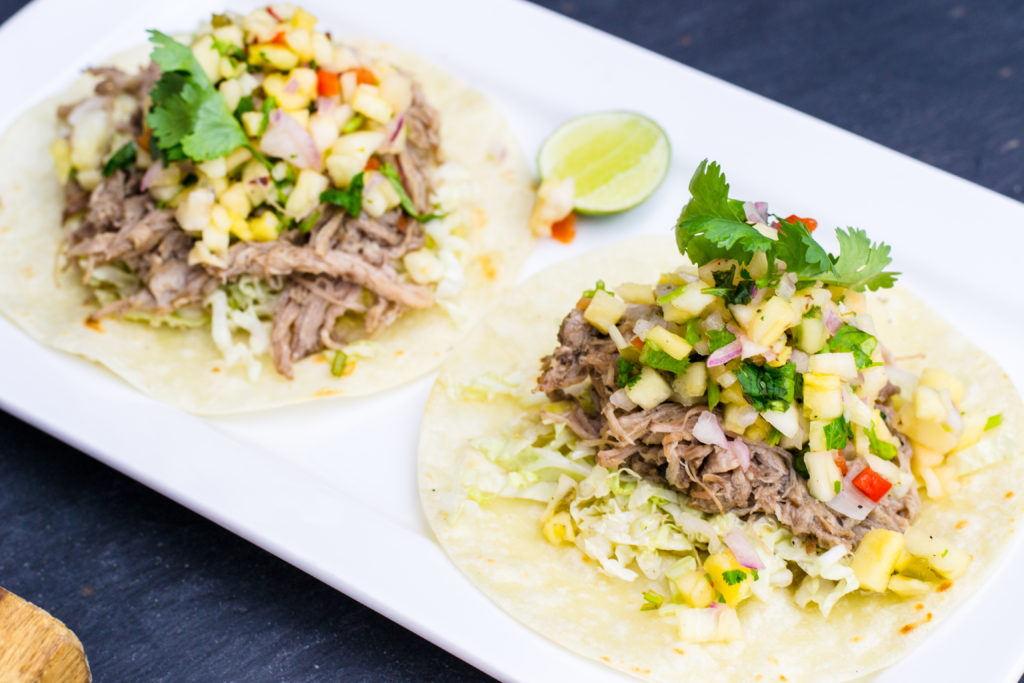 This place was hands down my favorite restaurant in Canggu. I have a love affair with tacos, margaritas, and aesthetically appealing places; so when all three come together it's just like one big nomgasm. This cute and colorful cantina is in a perfect location, just a few minutes walking from Echo Beach. There was so much yummy-looking goodness on the menu it was hard to decide on just a thing or two, so my friends and I had a mini feast betwixt the 3 of us.
We had the grilled corn, tortillas and salsa, the infamous beef quesadillas (deluxe), carnitas tacos, pescado tacos, and we may or may not have ordered another full-sized beef quesadilla. I can't really vouch for the pescado tacos because there were way too many tomatoes to pick off, and I didn't want to be wasteful, but everything else ways AMAZEBALLS! This place is a must try! Oh, and don't forget to try one of their signature margaritas to wash it all down. My recommendation, the Margarita of Love 'N' Joy. I mean c'mon…the name alone is pretty darn awesome, and describes my sentiments for Lacalita perfectly!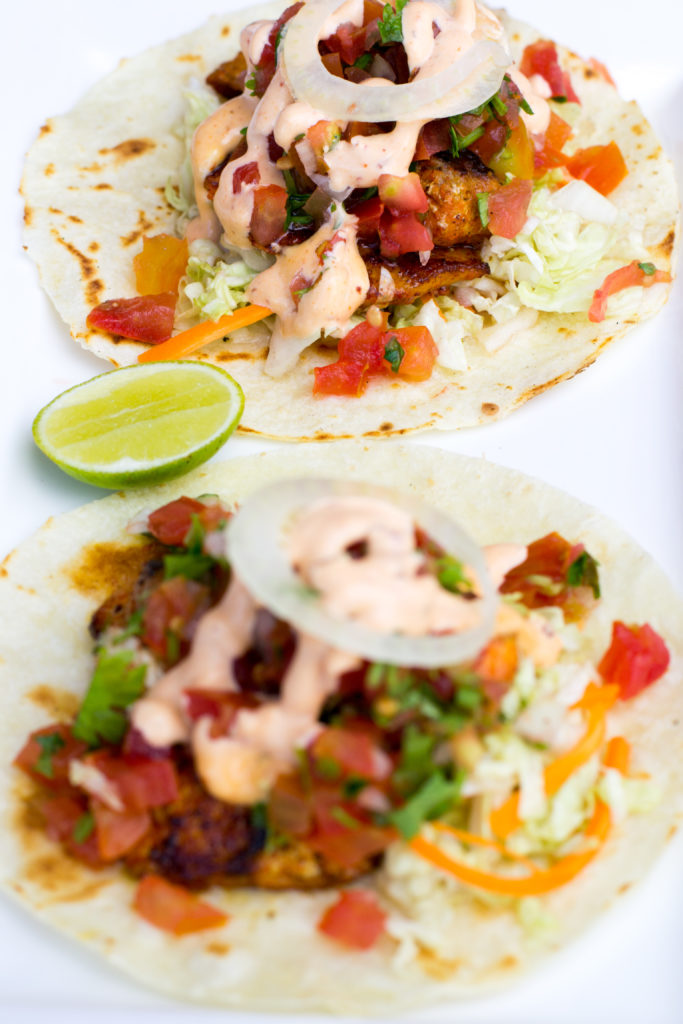 Lacalita
Jl. Batu Bolong No. 68, Beach Road, Canggu, Bali.
This place is a little off the beaten path, but it is a true gem. It's a small cafe with a huge view of the adjacent rice fields. I discovered this place while having manis and pedis at Maria Curaua's nail salon. The Kinoa staff was ever so gracious to deliver our meals next door while at the salon. I had the chicken satay and it was absolutely delish! Kinoa is a clean eating bar/cafe, meaning they only use local, organic produce, no palm oil, no refined sugar, only free-range eggs, and gluten free options.
Kinoa
Jl. Munduk Kedungu, Pererenan, Canggu
If you're looking for some authentic Balinese eats, this is your place! It is buffet-styled, and you serve yourself. One of the girls from our retreat, who's been living in Canggu for the last 6 months, took us to this quaint little eatery. I will admit it was a bit off-putting as everything is in the window and there were flies buzzing around, but it was a situation where I either ate then or starved for the next several hours. After my friend assured us that this was her go-to restaurant, and that she literally ate here everyday, sometimes twice a day when she first arrived, it put my mind at ease just a bit. So, I ate. I made a tiny plate to begin with, mostly of pastas and noodles, and a tiny bit of chicken. But, the food was AMAZING! I actually ended up going back and getting seconds. They have tons of vegetarian options  as well. I loved the tempeh. The best part about this restaurant has to be the price! It was incredibly cheap. I'm talking around $2.00 USD kinda cheap…for 2 plates of food and a bottled water.
*** For the record, I didn't get sick at all from the food (nor did any of the other girls). BUT,  I did take an antidiarrheal pill after eating, just to be on the safe side…because the way my stomach is set up…..
---
DINNER
Named after a species of passion fruit, this French cafe is an absolute MUST! No questions asked. The name is so fitting. Passion seeps from every breadth of this restaurant, from the delectable dishes to the palatable pastries; all stemming from the artisanship of a passionate owner, Katrine. Let me just say, Katrine is like no other. She has a boisterous personality, a giving spirit, and an energy that sticks with you long after you have left her restaurant. Speaking of the restaurant, the warm and inviting ambiance and atmosphere here will draw you in, but it's the food that steals the show. It's the kind of place where you go to meet up with friends and the next thing you know you've been sitting chit chatting for hours, and you've tried every desert on display. The first time I visited this restaurant (I went here 3 times) was on a food tour with the Hello Adventure group. It was a feast! Katrine, served us every salad and savory pie in the case. However, my favorite dishes were hands down the garlicky pita bread with an assortment of dips such as a tumeric and ginger, beetroot, and my favorite edamame and avocado; as well as the most buttery and garlicky, most delicious garlic bread I have ever had the joy of eating.
Our next visit was a dessert fest. We ordered one of each dessert in the case and let me tell you, each dessert, each bite was better than the last. I'm not a huge sweets person, but I can't even put into words how good these decadent desserts were. For our final visit to Marakuja's I ordered the Jerk Chicken Wrap, and not surprisingly it was amazing! This place can do no wrong in my book. I hear the breakfast is also great, and they have the best croissants. Unfortunately, I never made it here for breakfast, only dinner.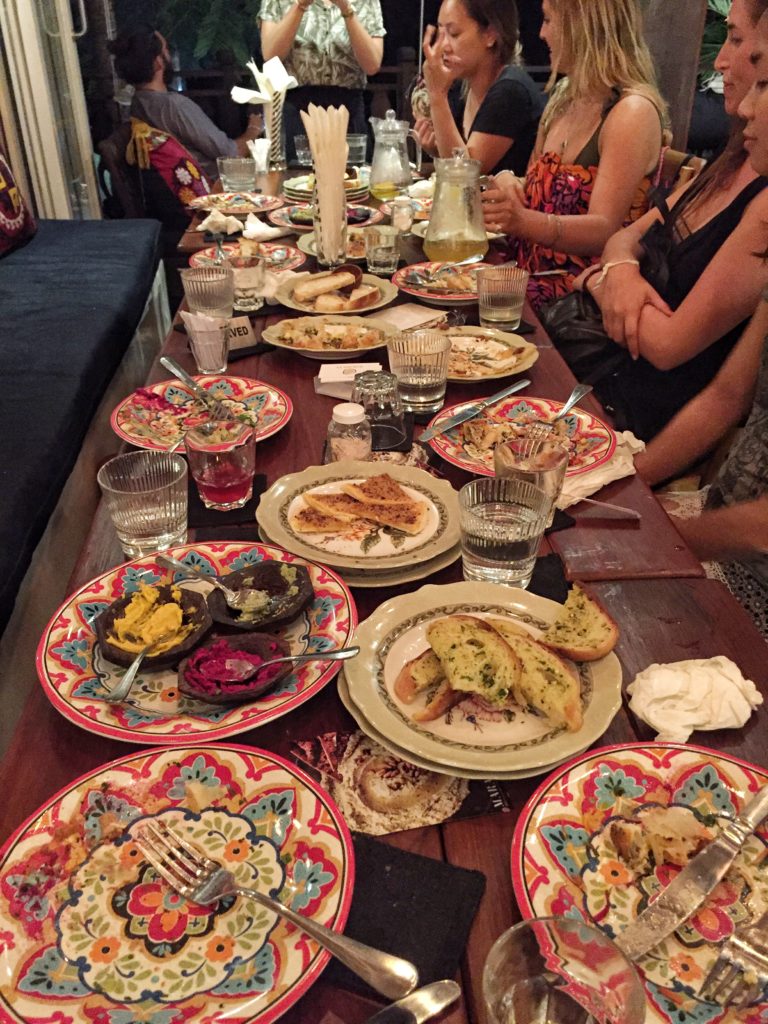 A wild food concept restaurant using all fresh and organic ingredients. I absolutely love the vibe of this place. It has a nice, open space concept with an amazing courtyard in the back. This was the first stop of our food tour. We sampled the coconut chicken and some amazing fish balls. I'm not big on fish, but these were pretty good. This restaurant caters to all foodies, whether vegan, vegetarian, or meatatarian (I'm pretty sure I just made that up).
Canggu Plaza, Jalan Canggu Club
Denpasar 80361
First, I have to say how much I love love loved the outdoor eating/sitting area. It was absolutely beautiful. I later found out the owner, Don, is an architect and designed the place himself. This was the 3rd stop of our food tour, and understandably so. We got to kill two birds with one stone, dinner AND a movie! The restaurant set up a huge screen and projector and showed a double feature (we only stayed for one film). This place is perfect for a date night. Now, about the food. OH EM GEE! The food was incredible. Both vegan and vegetarian friendly, we were delighted with tuna pepes, a traditional tuna fillet and Balinese spices, steamed in a banana leaf; as well as peanut and tempeh salad, an eggplant dish, some sort of noodles (unfortunately, I can't recall what they were now), and my favorite a spicy papaya salad. NOMS!
300 Jalan Nelayan, Desa Canggu
Though this restaurant is small, and its menu is limited, the food here is through the roof. This cozy little restaurant is a health-focused, Asian fusion restaurant not far from Echo beach. I thoroughly enjoyed the Parilla Chicken.
Jalan Batubolong no. 32
Denpasar 80361
I didn't get a chance to actually eat at the physical restaurant. After a long and exhausting day my friends and I decided to order delivery through the convenient delivery service Go Jek. I ordered the Pad Thai, and honestly speaking it wasn't my favorite. This was a vegetarian Pad Thai, made with tofu and, you guessed it, I don't like tofu. Personally, I found the dish to be quite bland and did not live up to my expectations. So why am I mentioning this restaurant? Because one of my friends was gracious enough to share her Laksa, a spicy coconut type soup, and it was absolutely delicious! It is a must try!
Jl Raya Pantai Berawa
Pelambingan
This is another restaurant I didn't get to eat at physically. While some of my friends were a few doors down at Poke Poke, a sashimi bowl restaurant, I meandered down to Betelnut's because sashimi? Yeah…no. Betelnut's had a ton of menu options, everything from buffalo wings, to burritos, burgers, and vegetarian options. I opted for the Baja Burrito, a wholewheat tortilla filled with chicken, red rice, cheese, Mexican beans and guacamole. It also came with a side of chips and salsa, and I loved the salsa because it had no tomato chunks (I LOATHE tomatoes).
Betelnut Cafe
Jalan Batu Bolong 60
Denpasar 80361
---
LATE NIGHTS
When you're stumbling walking from Old Man's in a $3 Margarita Wednesday, drunken stuper, and you're looking for some late night eats, this is your place. A small little shack not far from Old Man's serving up some damn good Cubano sandwiches. I can't tell you exactly what's in said sandwich because too many said $3 Margaritas, but I had the pork sandwich and it was absolutely divine! I like options so I got both the BBQ sauce and the spicy sauce on the side and both were finger licking good! You won't be disappointed with this place.
El Jefe Jose Cubanos
Jl. Pantai Batu Bolong, Canggu, Bali
---
HONORABLE MENTION
I'm giving this place an honorable mention because it's not actually in Canggu. It's in Ubud. So if you make a trip there, and/or hike the Camphuan Ridge Walk be sure to check this place out.  Have lunch in an open air hut overlooking Ubud's idyllic rice fields, and choose from a wide selection of menu options.
Karsa Kafe
Jl. Bangkiang Sidem, Keliki, Tegallalang Gianyar, Kabupaten Gianyar, Bali 80571, Indonesia
There you have it. A finicky foodie's guide on where to eat in Canggu, Bali.
Have you been to Canggu, Bali? What are some of your favorite restaurants? Drop some suggestions in the comment section below!