Food, Fun, & Facts: Ultimate Spanish Cuisine Tour with Devour Madrid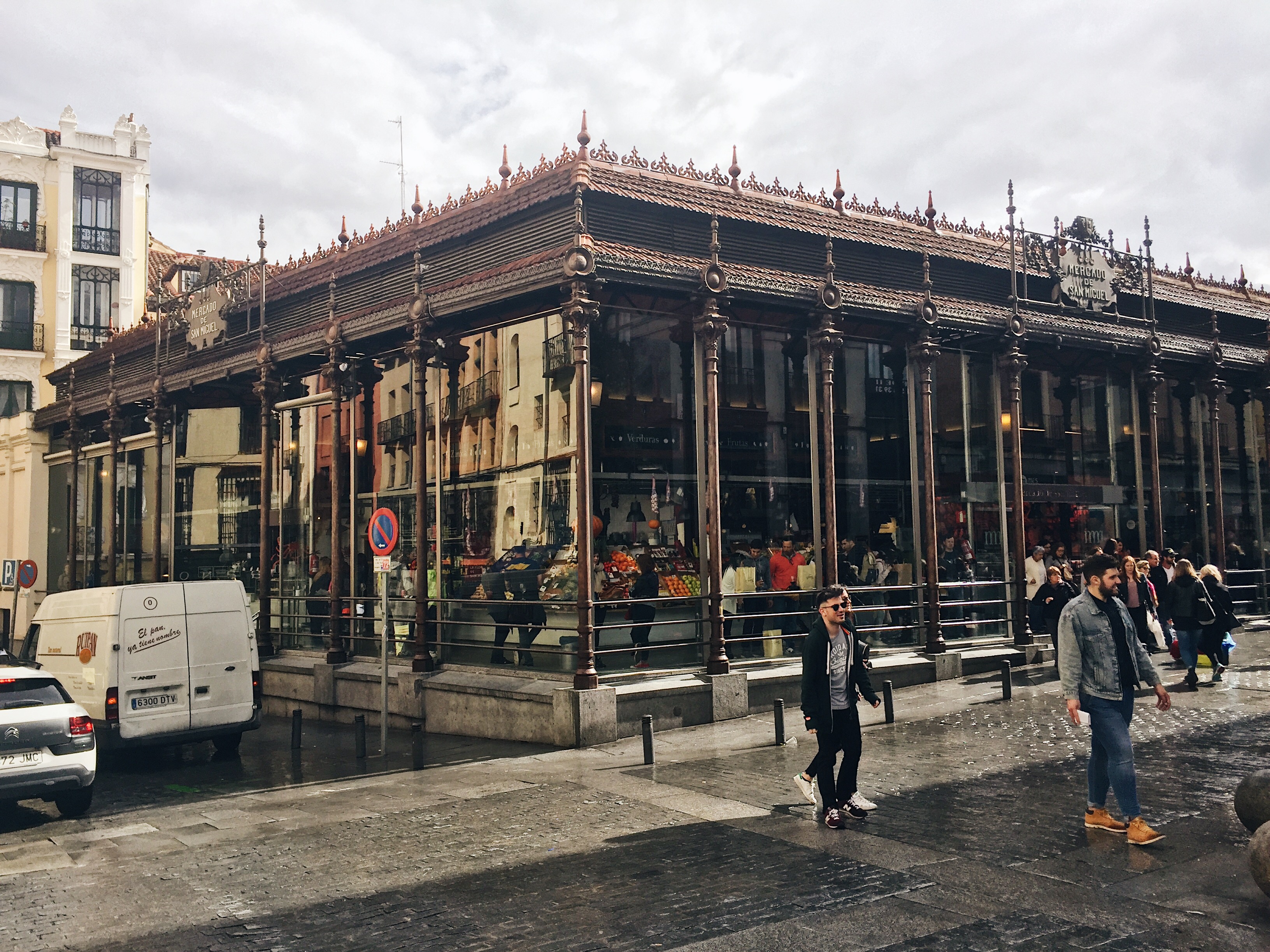 There's a word to describe the love I have for food, but I'm not sure what it is. I don't quite consider myself a foodie, because I'm far too finicky, but I LOVE food! Every time I sit down to eat it is an experience. I actually have a "happy dance" that I do when a plate of delectableness is set before me. I'm like a little kid who can't contain their excitement. Also, getting to try new and different foods is probably my favorite part of traveling (besides meeting incredible people along the way). So, when I got the opportunity to collaborate with Devour Madrid on their Ultimate Spanish Cuisine I was ecstatic! You mean I get to restaurant hop all around Madrid, my favorite city on Earth? Combine two of my most favorite things?! Sign me up!
We met our guide, Joy, in Plaza Mayor, Madrid's main square. We chatted a bit and introduced ourselves. I love that the group sizes are small; as there were only 10 people (including the guide). After our intros we made our way to our first stop:
This shop has been around since the 1800s, and was originally designed by a queen and built for her own private baker. When you walk through the door of this confectionary you will feel like royalty yourself. Deep and detailed mahogany woodwork, trimmed in gold, cases of decadent deserts and sweet treats – it's a lot to take in. Luckily, we weren't burdened with the task of selecting our own eats, because I might have been there all day trying to decide. Instead, we were ushered to the back tea room and was served with the coffee of our choice. That was an easy choice for me, cafe con leche…my go to. Next, we were treated to home-baked soletilla (ladyfinger biscuit/cookie) and a warm cup of spiced chocolate. The soletilla literally melts in your mouth, and paired with the warm and rich goodness of chocolate. It was like heaven! Cookies and chocolate for breakfast? I know…seems a bit odd, but it is very much typical in Spain.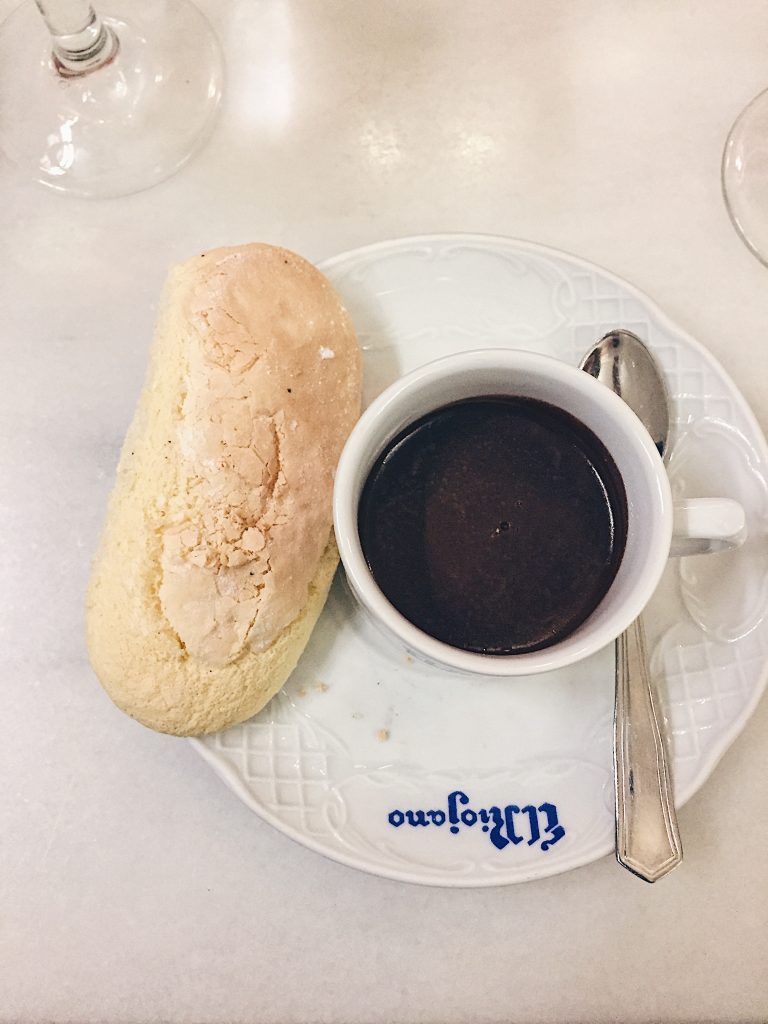 I know to some this may seem like a tourist trap. I can't say I completely disagree as prices at this market are far more expensive than what you will find elsewhere. However, it is still a must-try in Madrid, where locals and visitors alike convene for drinks and nibbles.
This market was originally built in 1916 and served as a shopping market. However, in the 70s and 80s business drastically declined, and in the 90s it closed down. The, now gourmet, market was eventually reopened in 2009 and still bares its original wrought-iron structure.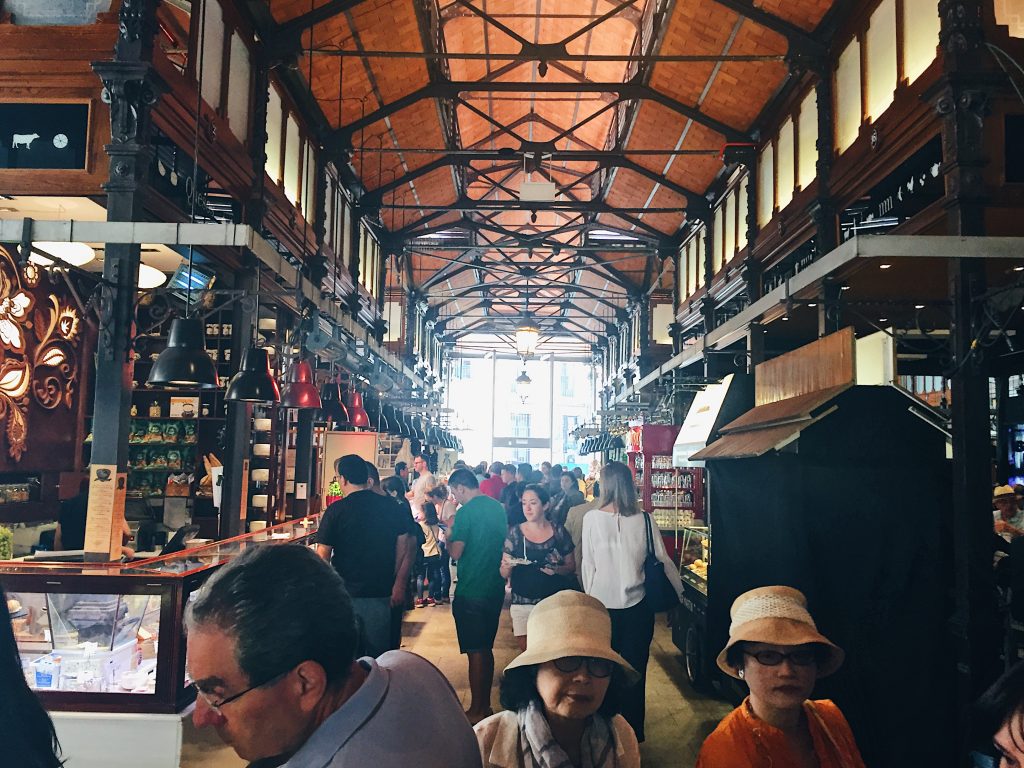 Here, we first enjoyed a glass of Vermouth. Made with fortified white wine, caramelized sugars, and botanicals (herbs, spices, orange peel, etc.), this potent potion, along with other small dishes, serves as an aperitif to get your stomach ready for a big meal. Drinking vermouth has become a Spanish tradition – they even call it "la hora de vermut".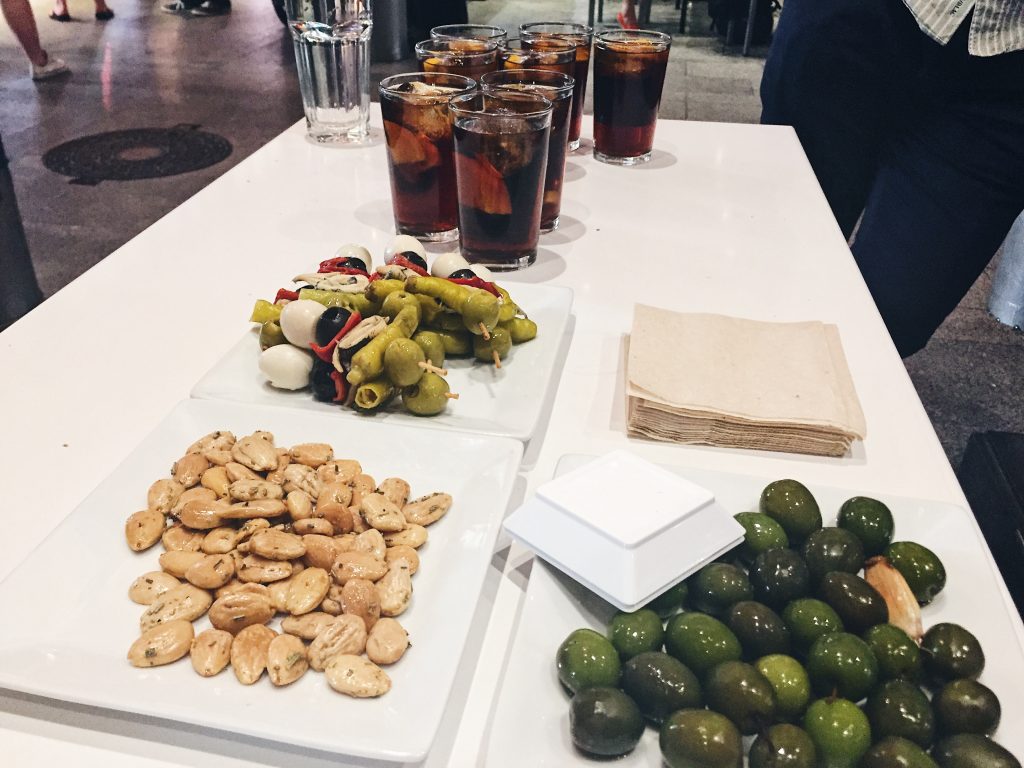 Paired with our vermouth we had Campo Real olives, Marcona almonds, and a quail egg, anchovy, olive, & pickled pepper skewer. I was quite leery of the anchovy, but it actually turned out to be pretty good.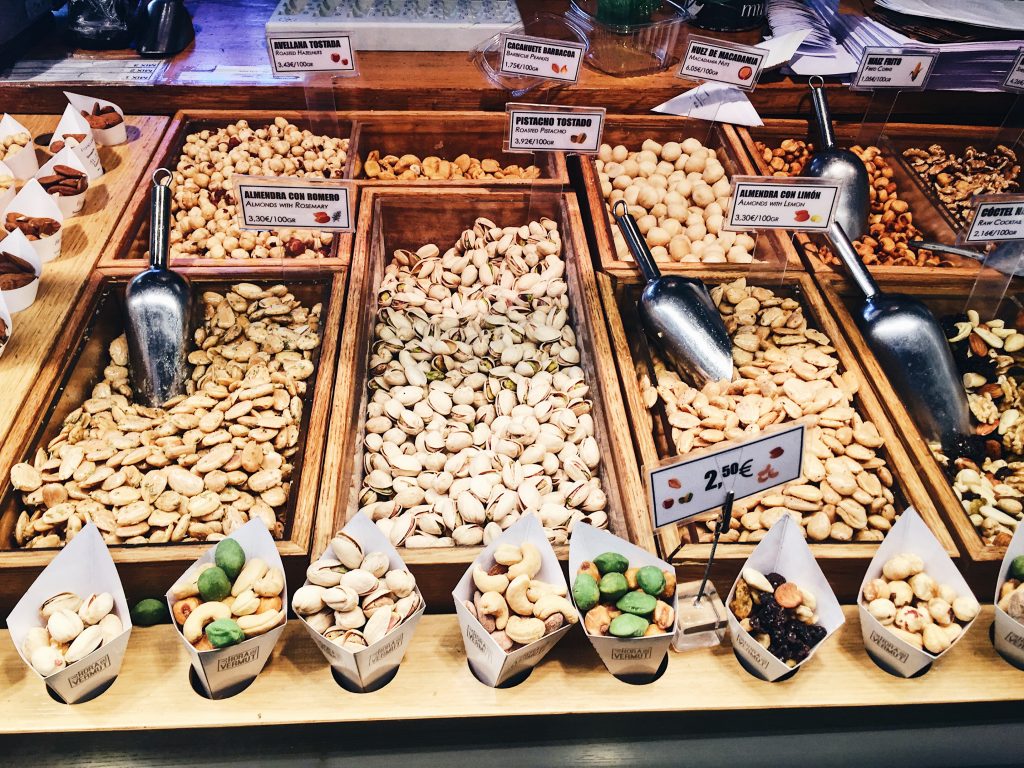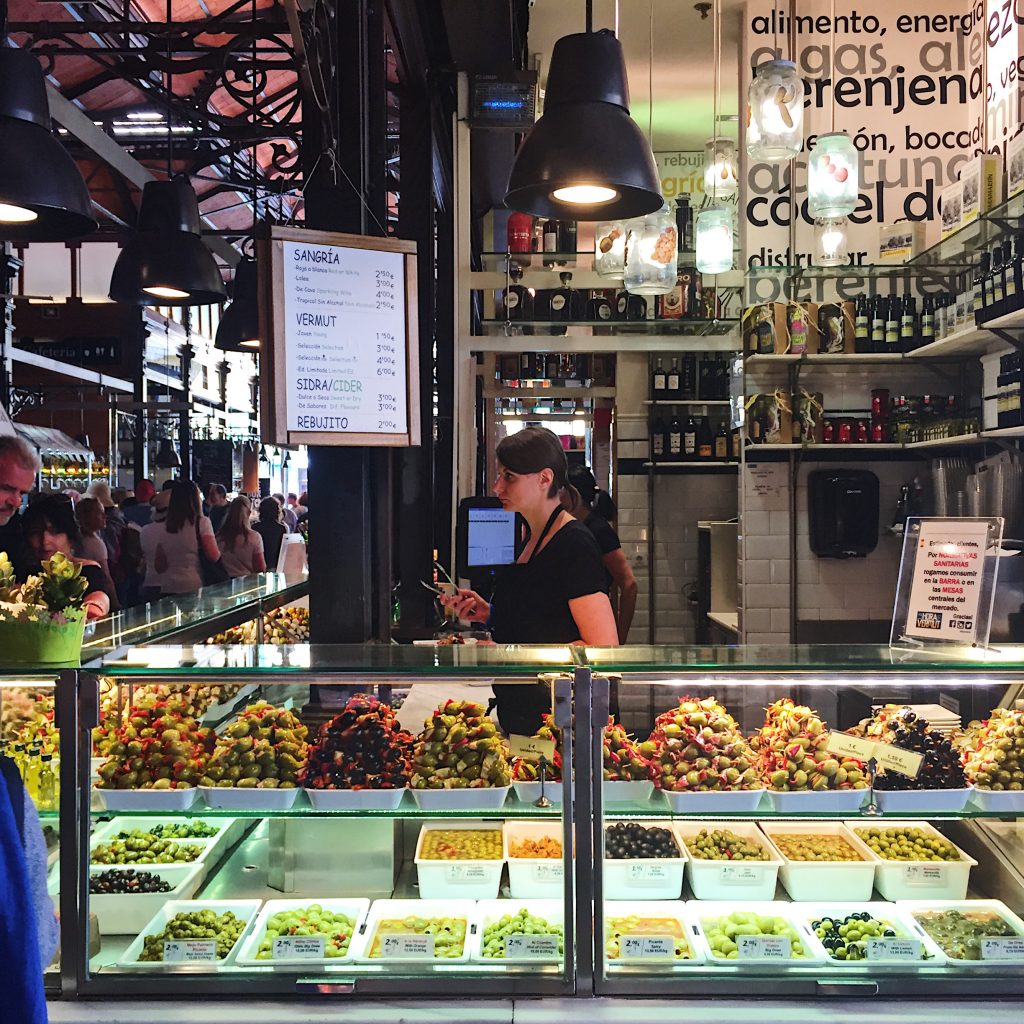 If the big lettering on El Anciano Rey de los Vinos doesn´t give it away that they sell wine, the wine colored store front surely does.
Fun fact: lots of cafe and restaurant storefronts in Madrid are painted red as an indication they serve wine. 
At this stop our taste buds were tantalized with a Rioja red wine, followed by Bull tail regalito. Bull's tail is very similar to oxtails and brisket, incredibly tender and savory. The dish was served with a crispy, flakey-type pastry on the outside and soft warm tender goodness on the inside. It was topped with a roasted red pepper with sesame seeds, which gave it a punch of flavor and a balance of textures. Drizzled with delicious au jus, this was hands down my favorite dish on the tour. I will certainly be back for more.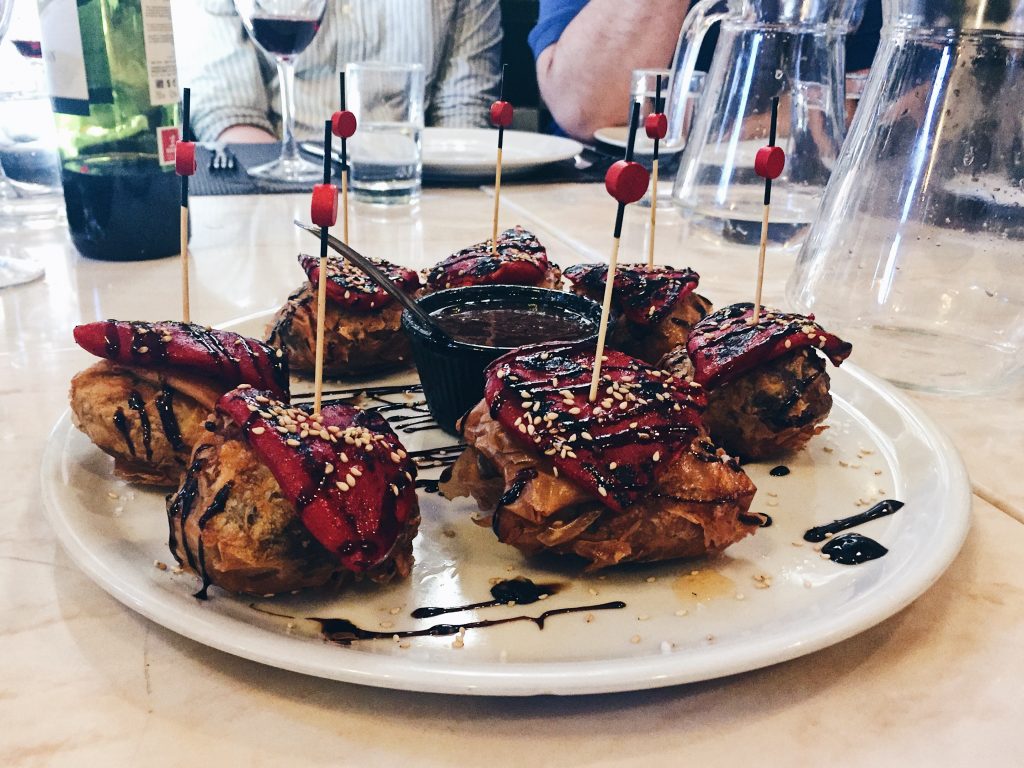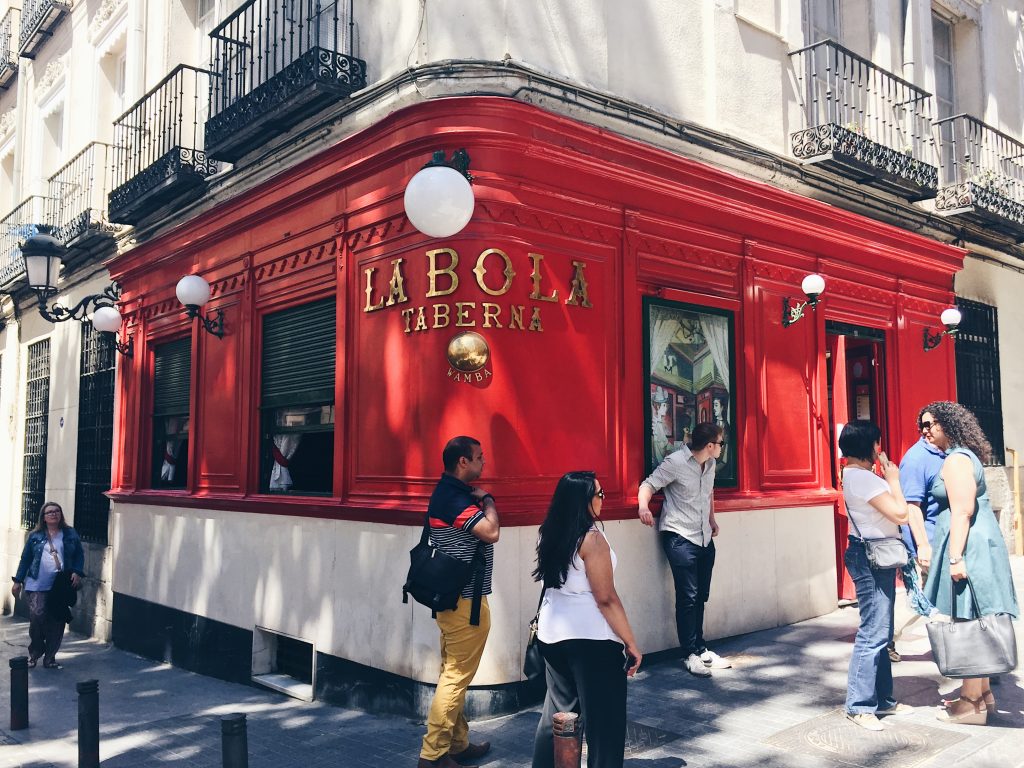 Like many of the other restaurants on our tour, this restaurant is also family owned and has been passed down from generation to generation. But, what's special about this particular restaurant is it has been passed down from woman to woman for over 100 years. You'll see a plaque outside its building indicating such.
Taberna La Bola is famous for it's Cocido Madrileño, a traditional Madrid stew made with chickpeas, meats, and vegetables. It's typically served in several courses; however, we only had the first course, which consisted of the broth and noodles. We even got to go into the kitchen and watch how this delicious stew is made.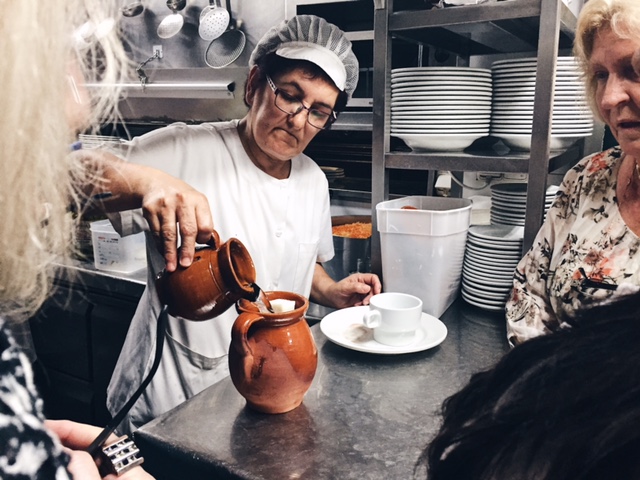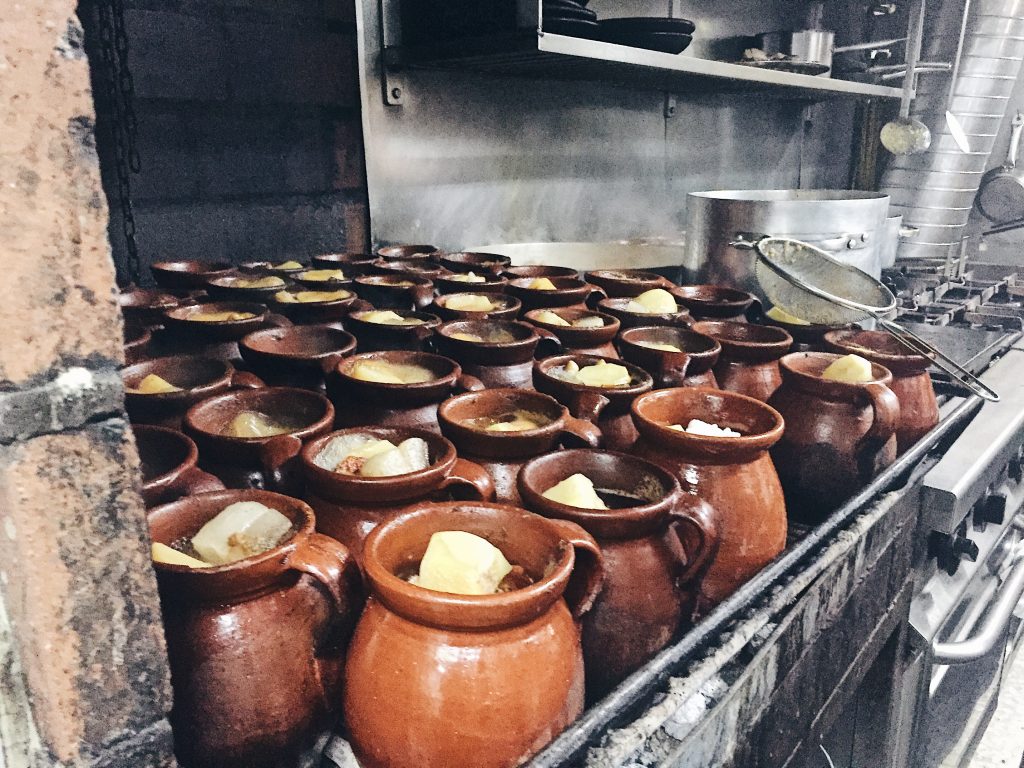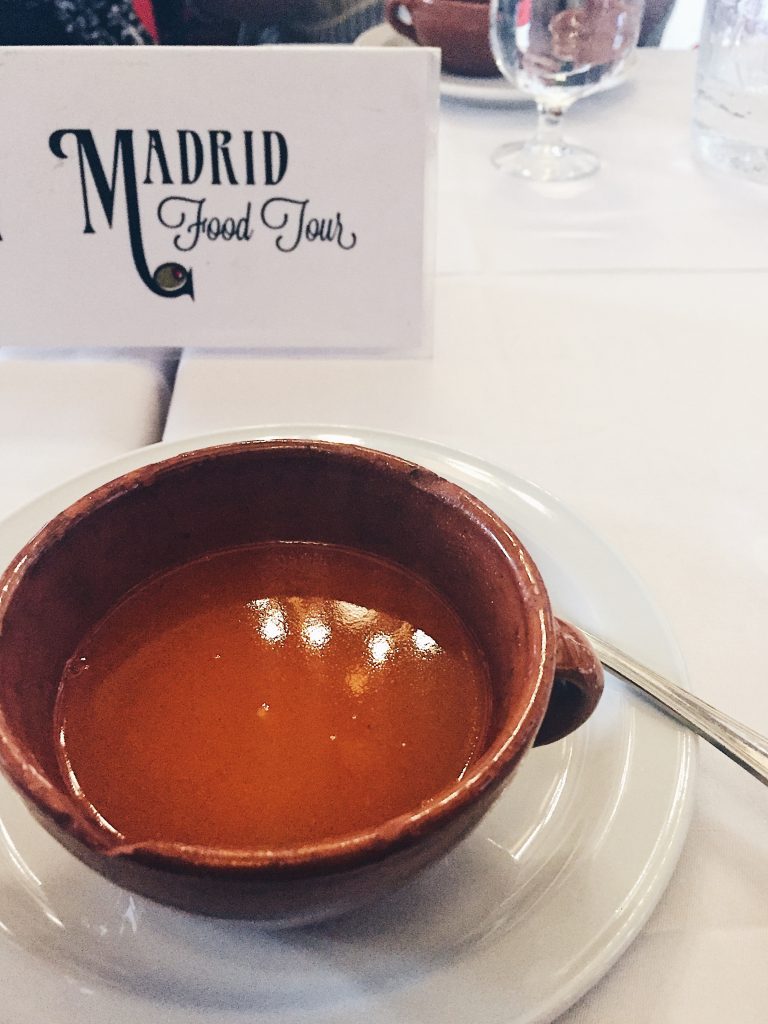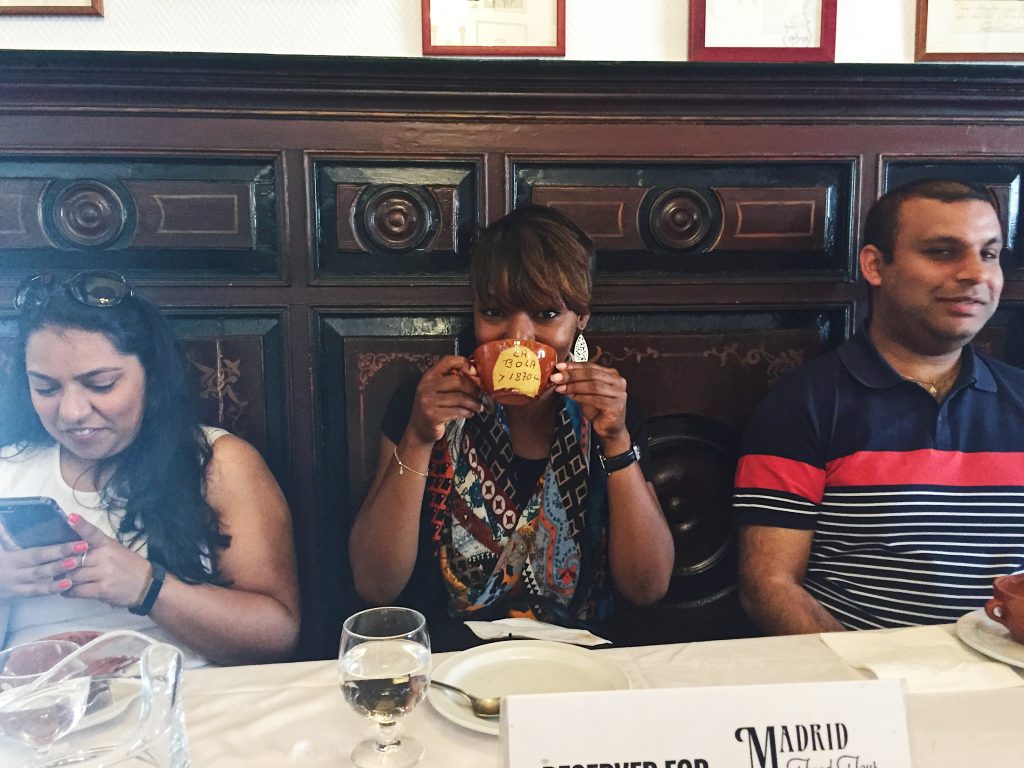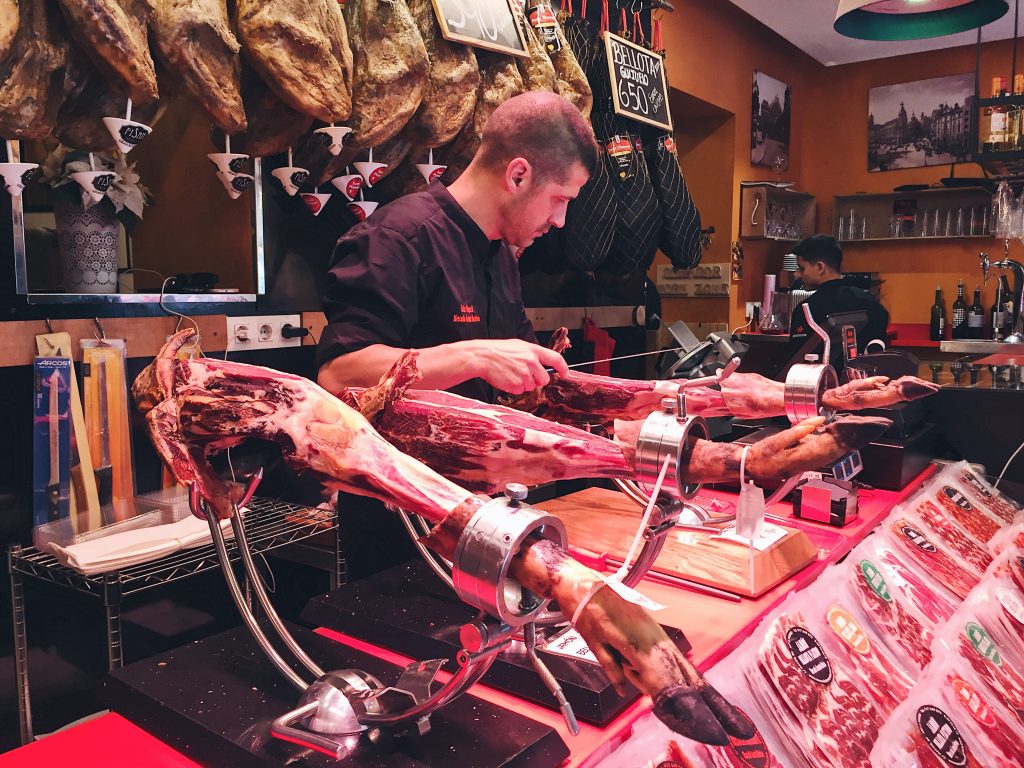 You cannot come to Spain and not taste it's staple, jamón (unless of course you don't eat pork or meat). Here we learned about the different types of ham, and how to tell the difference when ordering it. We were able to taste 3 different variations of the delicous meat:
Jamón Serrano is the most popular of the three. We learned that it comes from a regular pig that eat regular foods (cereal, grains, etc.). It is also cured the shortest amount of time, for 10-12 months.
Jamón ibérico de recebo comes from a special type of pig. This pig can never leave Spain,and although it feeds on the same types of foods as jamón serrano, this ham is cured anywhere from 18-24 months.
Jamón ibérico de bellota is the the cream of the crop, the best of the best. These free range, Ibérico, pigs, feast on acorns and are aged for at least 3 years. However, the jamón we ate was cured for 5 years. This was my favorite of the 3. It was silky smooth, like butter, and had the best flavor of them all. They say this jamón is heart healthier, but the cardiologist in our tour group wasn't convinced that there's a such thing.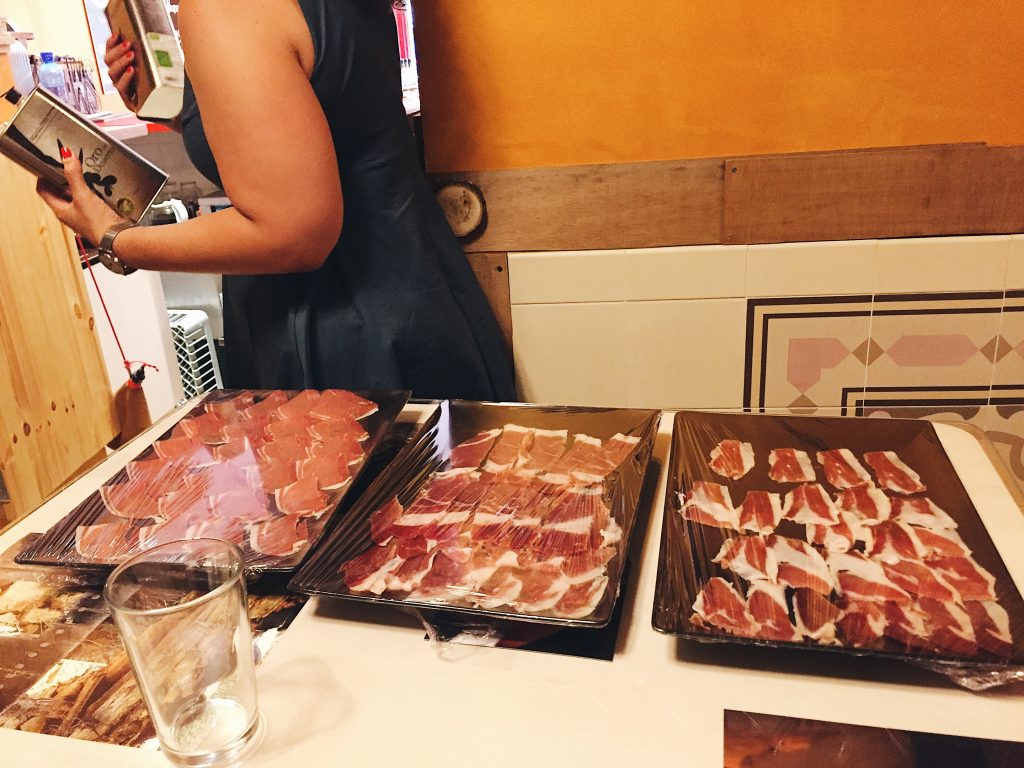 These legendary ham legs can range anywhere from 24€-600€.
I love a good love story. So, when Joy told us how the owner of this bar, Mari Angeles, was swept off her feet by co-owner, once customer, Carlos, I couldn't help but to swoon. This tiny, hole-in-the-wall place is easy to miss, as it sits directly across from Mercado de San Miguel, the star of the show. Even I have walked past this place countless times and never even noticed it. It´s so tiny there are only 5 bar stools at the bar and 3 small, high-top tables. It may be small in size but it is big in reputation, and is considered by some to have the best tortilla de patata in the city.
I LOVE tortilla. When we received our plates it was a little more runnier than I prefer. However, it was absolutely delicious! Slightly crispy on the outside and then soft and gooey on the inside. It was perfection. Aside from tortilla we also tried manchego cheese, which is sheep's milk cheese and thyme with a bit of a kick to it.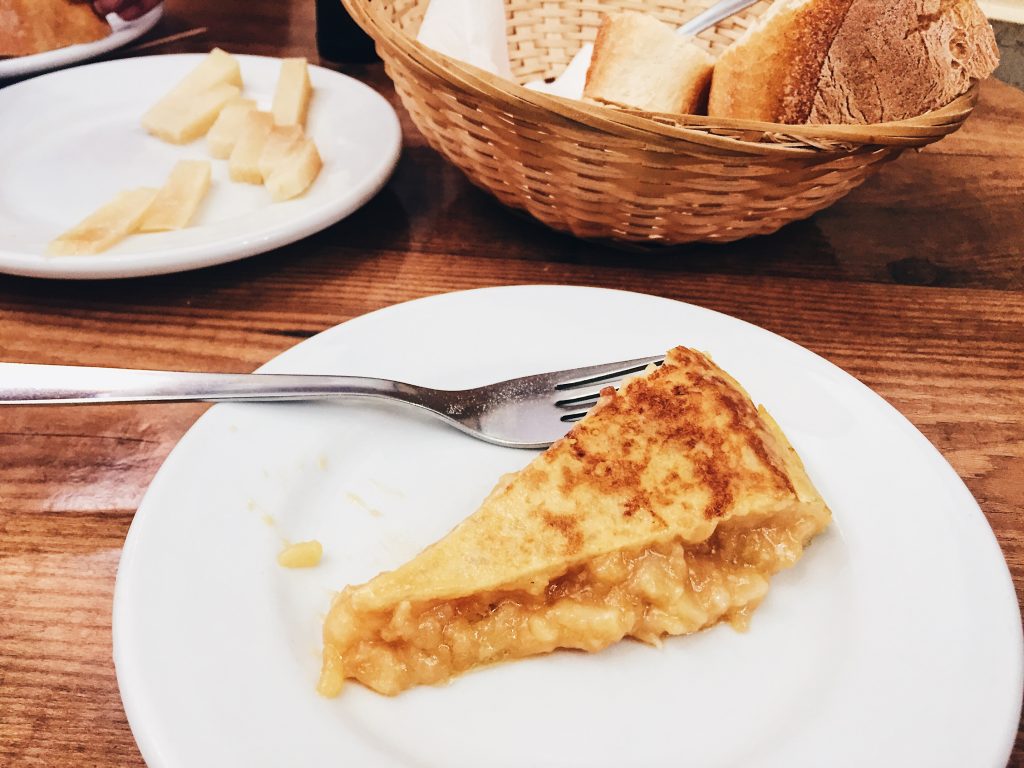 We also tried Spanish cider which is much different than the ciders I'm used to back at home. This cider is made with only fermented apples and is meant to be drank immediately, not sipped slowly, or it loses it's fizz. In my opinion it tasted like fizzy apple cider vinegar, not the best of tastes. However, we did get to learn how to pour cider the Spanish way.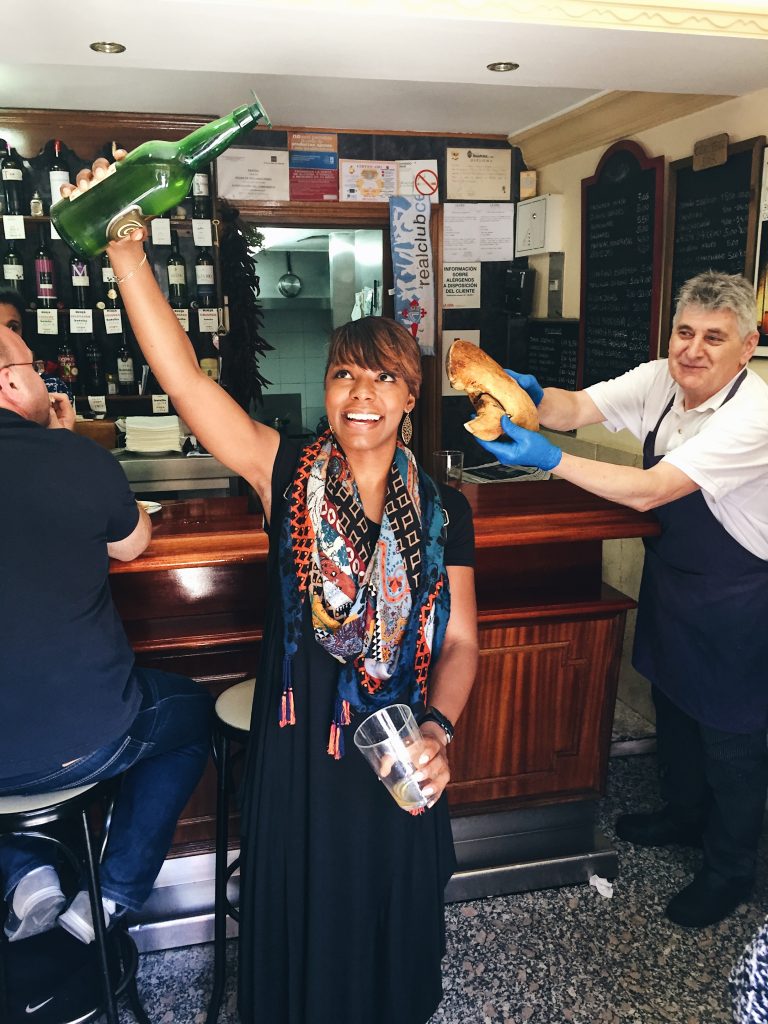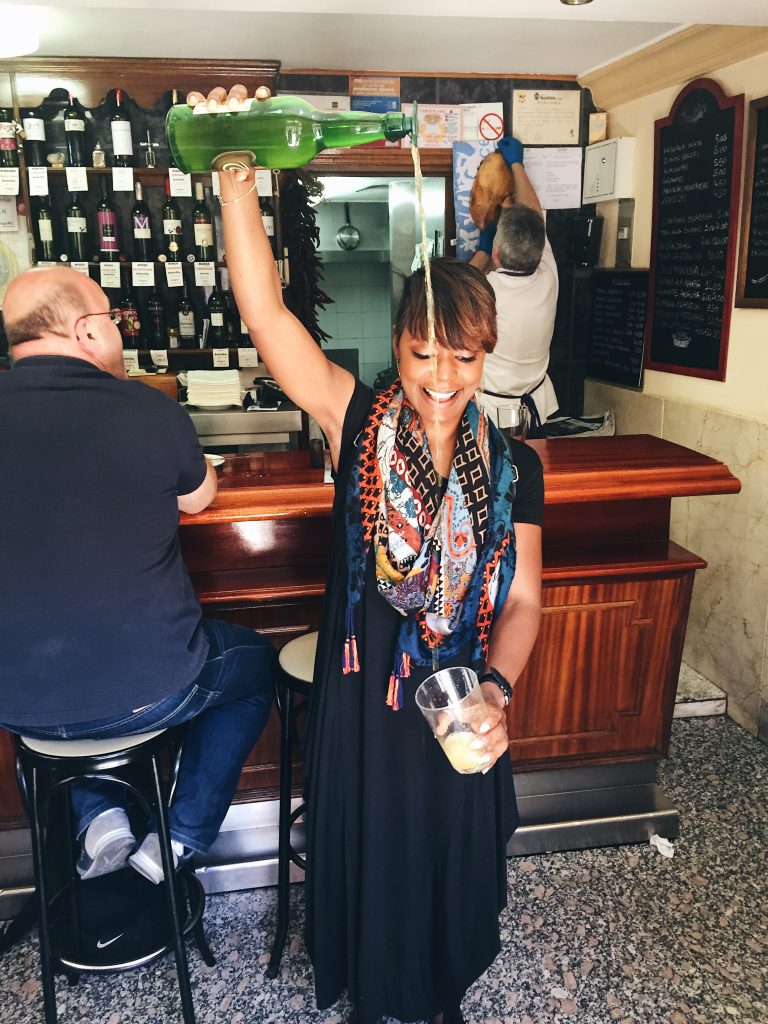 Here I am nailing it 🙂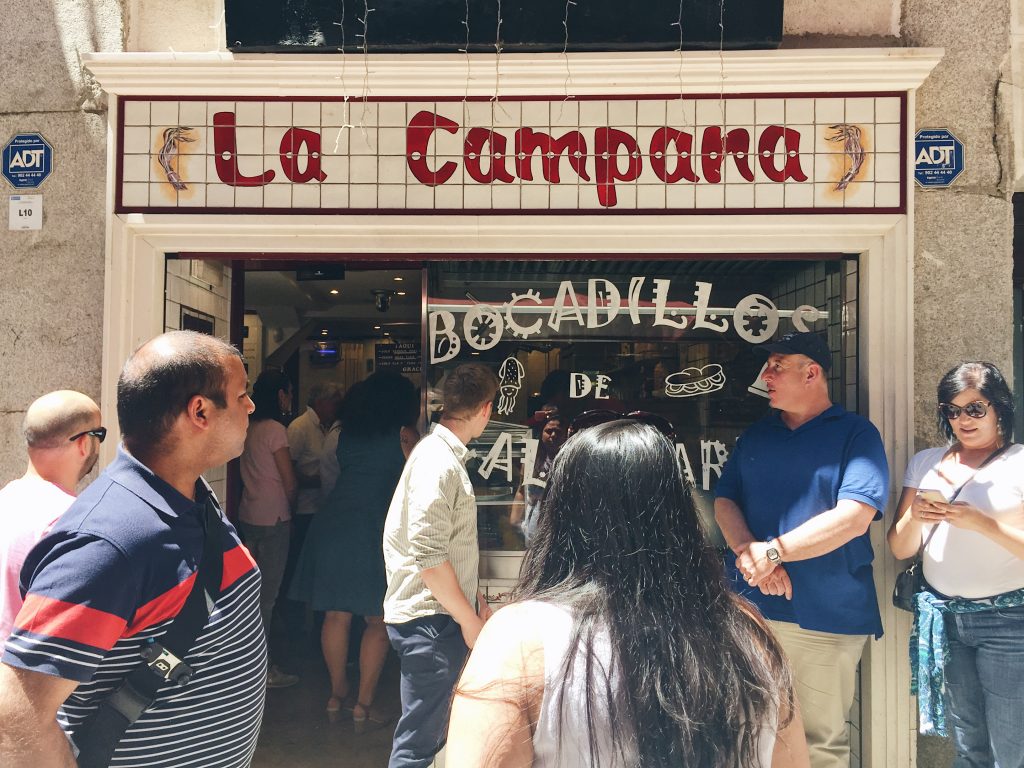 Despite being landlocked, Madrid has the second largest fish market in the world. So, when it's famed street food is a fried calamari sandwich sandwich it's not much of a surprise. I'm not a fan of calamari so I, along with another tour goer, opted for tortilla sandwich instead (it absolutely paled in comparison to the one at Bar Cerveriz). However, everyone else seemed to thoroughly enjoy their sandwiches.
We couldn't end this day without dessert, so Joy took us to Torrons Vicens. Serving up over 150 variations of nougat, from traditional to innovative, this place is like nougat heaven. We sampled 3 different types: hard nougat, soft nougat, and an egg yolk and marzipan nougat. As a final treat we were given a liqueur which helps aid in digestion. We certainly needed it after stuffing our stomachs to the brim today.
Joy was kind enough to write down any recommendations that we were interested in, and afterwards the tour was concluded. It was an incredible tour and we couldn't have asked for a better guide. Joy was helpful funny, and knowledgable about all things food. Whether you're just stopping through the city or you're currently living here, check out the best food tour in Madrid. It is so worth it!
Do you like to go on food tours when you travel? Where was your favorite? I'd love to hear from you.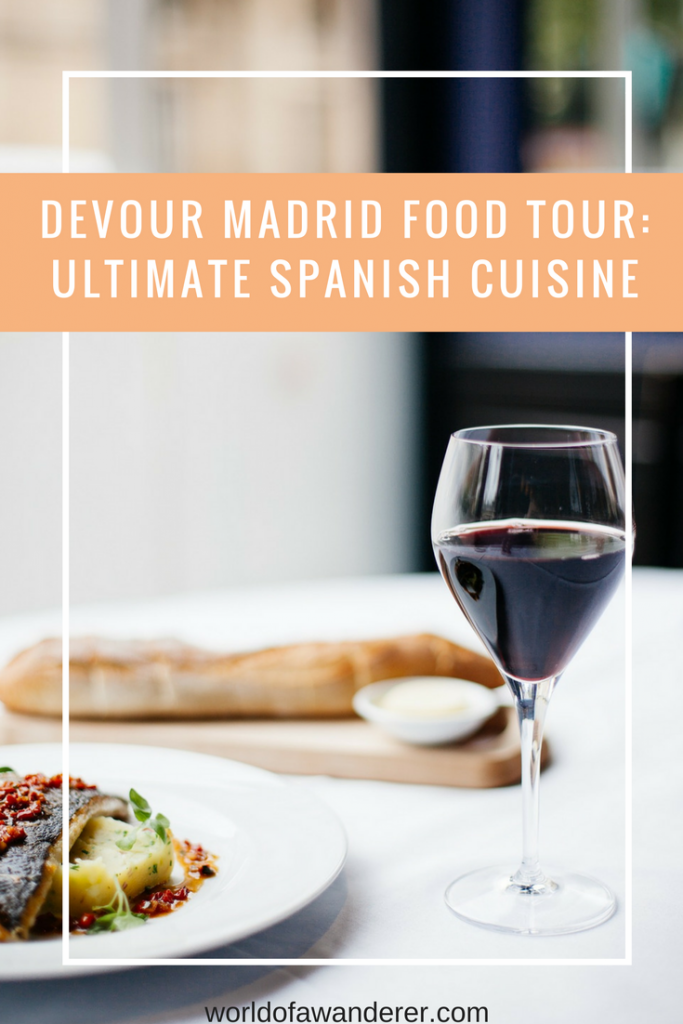 Special thanks to Devour Madrid for providing me with a complimentary tour. As always, all opinions are my own.