Touring Atlanta in Style with the Mazda MX-5 Miata
This post is in collaboration with Mazda & DriveShop
I'm pretty sure we've all had that ONE thing that we wanted more than anything else in the world as a kid. That thing that may have been a little ostentatious; yet, we begged and pleaded with our parents and would almost give life and limb for it, if that's what it required. Maybe for you it was a treehouse, or pony, or the entire Mighty Morphing Power Rangers collection (because let's be honest, who didn't want to be a Power Ranger?). For me, it was a show stopping, candy apple red, convertible, and I'm not talking about the Hot Wheels kind either. I was 5 years old and could barely ride a bicycle, but who cared?! I was fine being a passenger until I was of age to drive. I was relentless when it came to this car. I propositioned and pleaded. Anytime anyone asked what I wanted for my birthday or upcoming holiday the answer was always the same…a red convertible. At one point, my dentist, who was also a close family friend, told me for my 16th birthday he would buy me that little red convertible. I reminded him every time I saw him, to be sure he didn't forget. Needless to say, my 16th birthday came and went, and no red convertible.
After my 16th birthday, high school graduation, and college graduation (you know the BIG days when cars are sometimes gifted), and still no convertible, I pretty much gave up hope in mankind on the idea of my little candy apple red roadster topped with a big red bow. I'd just have to buy it for myself someday. Fast forward to 2 weeks ago, I landed the opportunity to collaborate with DriveShop and Mazda. Initially, I thought I would be testing out one of their crossover vehicles; however, the rep came back and asked if I were ok with something a little smaller, like the 2017 Mazda MX-5 Miata.
Ummm…YEAH!
The day of delivery I walked out to meet the rep and sweet baby Jesus! It was a CANDY APPLE RED CONVERTIBLE!!
I could barely contain my excitement, and I heard none of what the rep was explaining about the car. All I knew is that my childhood dream had come to fruition, granted 27 years later, and I could not wait to hit the road and live up to every bit of my nickname, Fireball, that my grandmother dubbed me after I got my first set of wheels many moons ago.
Around Town in the Mazda MX-5 Miata
I figured with this new snazzy set of wheels I should see my city like I'd never seen it before, cruise around in style, and do all the things I typically wouldn't do in Atlanta. Basically, I decided to do all the touristy things that I, shamefully, never got around to doing since moving here 9 years ago. Everything from the new Braves Stadium, to the World of Coke, the Center for Human & Civil Rights, the Aquarium, and even an ATL fave the Varsity (I've actually eaten here several times, but since I was being a total tourist, I stopped by for novelty sake).
---
---
What I Loved 
I loved that this Miata roadster had a hard top. Usually when I think of Miatas I assume it has a soft top. The hard top gives it more of a luxury look and feel. It was so easy to let up and down, just a simple press of a button. Riding around at night in Atlanta was the BEST! I can't tell you how many nights I simply went out joyriding – summer breezes, good tunes, and the Atlanta skyline lighting up the nights skies, what's not to love? And then the Bose sound system in the headrest…yep ALL the concerts in the car.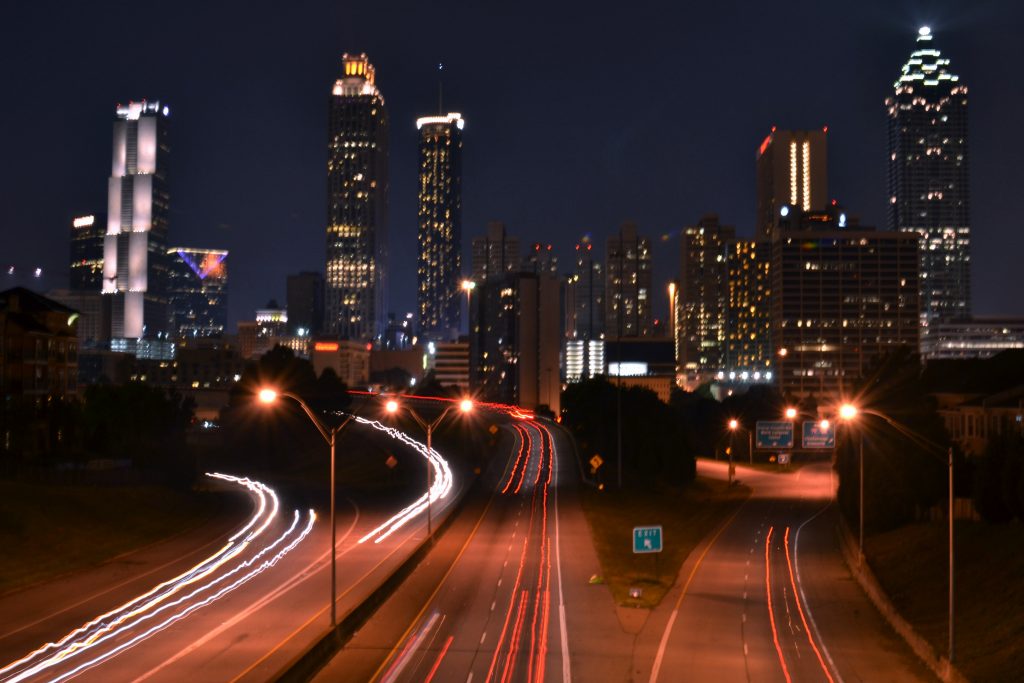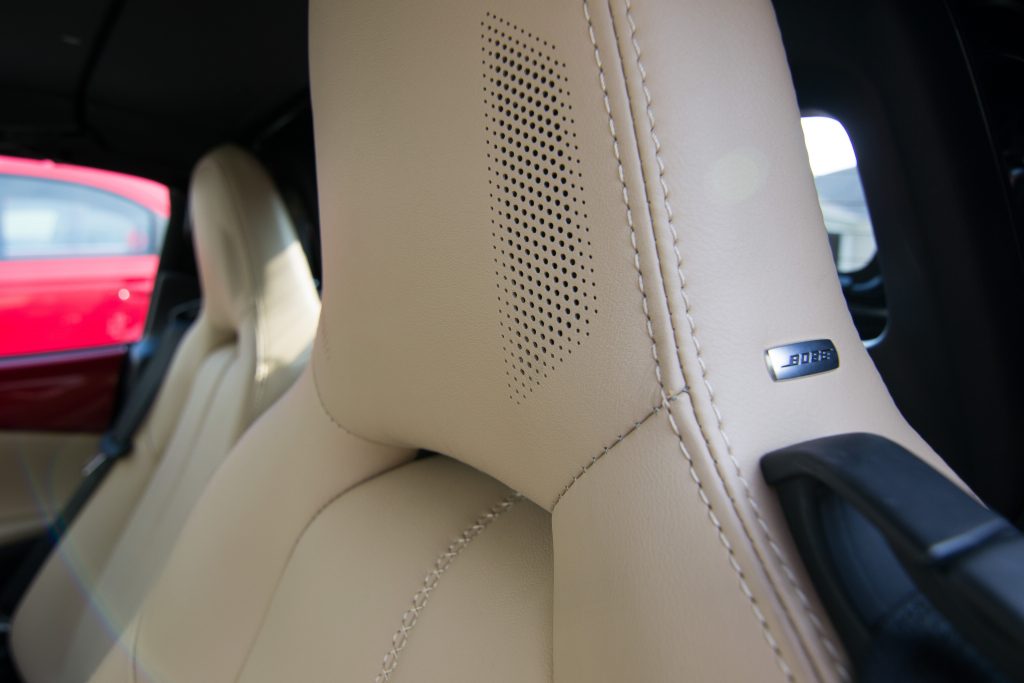 I also loved that this car was simple. It didn't have a ton of functions or features, and that was fine by me. This is more of a weekend vehicle, a fun car so to speak. It's definitely not made for shuffling the kids to and fro soccer practice. However, some of the features I did love were the Remote Keyless Entry and Push to Start features. Also, the Blind Spot Monitoring and Rear Cross Traffic Alerts are incredible safety features that alert you when you are veering into a lane without signaling and helps you to be aware of the traffic around you.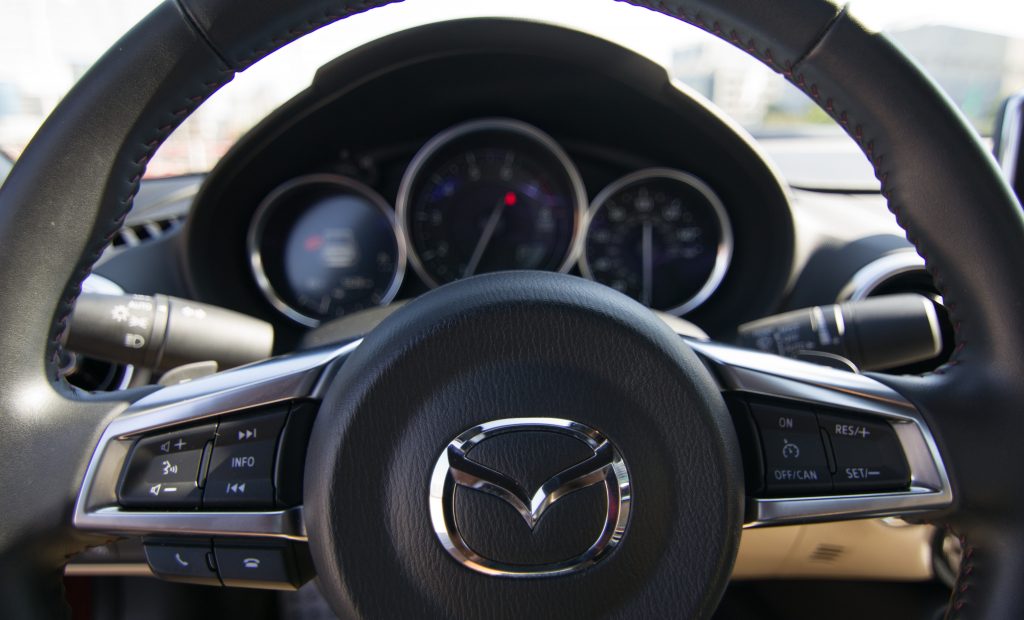 I also really liked the control dials in the center console. It was so much more convenient and less distracting than having to reach all the way up to the front dash to change the stations and such. The navigational system also came in handy more than once.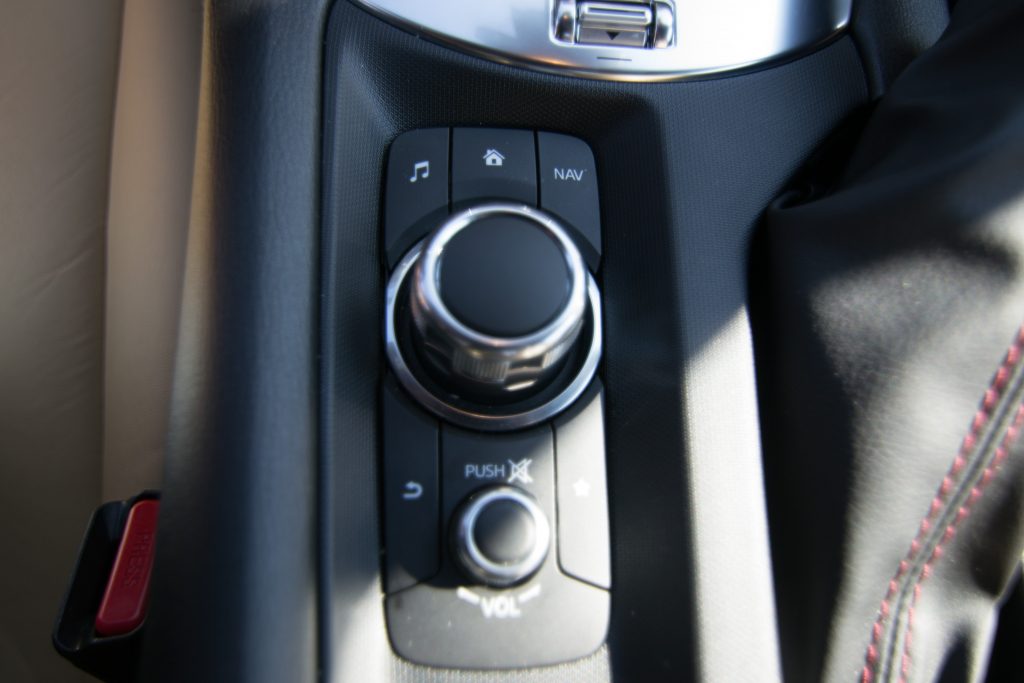 Let me tell you, this car is a head turner. Wherever I went people would be checking out the car or perhaps just the hot driver behind the wheel…I kid 🙂. One guy at a security check point was so impressed by the new Miata MX-5 he said he was definitely going to check it out for himself.
The one thing that I loved absolute most about this sports car is that it satiated my need for speed. Grandma doesn't call me Fireball for nothing. I'm still waiting for my call from the producers of the Fast & Furious series, but in the meantime, in between time, this Miata scratched my itch. Hearing that engine rev, feeling that thunder of horsepower beneath me, talk about a rush! I didn't get too carried away or push the limits too much, though, because I'm not about that Super Speedy Ticket life.
Final Thoughts
Overall, I loved testing this car. Seriously, a childhood dream come true! It's not a car I'd drive everyday, but I sure as heck would whip it out on the weekends, or for a nighttime joy ride. It's a tiny car, even for my 5'2, 118 lb frame. I felt like a giant in and next to this car. My friend, who's 6'2, sat in it, just to get a feel for it. His knees were in his chest and could barely get in and out, but he agreed, the car itself was pretty awesome.
If you're looking for a stylish way to explore your city definitely give the 2017 Mazda MX-5 Miata a whirl. You won't be disappointed.
Have you ever driven a sports car? What was your experience? Leave me a comment below.

Special thanks to Mazda & DriveShop for bringing my childhood dream to fruition. As always, all opinions are my own.