Date Night Cooking Class at Big Green Egg
As the weather begins to change, the temps begin to drop, and the days become shorter, it's so easy to fall into that routine of languid listlessness, where all you want to do is curl up on the sofa, with a comfy blanket, a box of pizza, and have a good Netflix and chill sesh with bae. Right? Right. But, that does not have to be your life for the next how many ever weeks until warm weather blesses us again. Atlanta is too much of a vibrant city for you to spend your nights watching reruns of Grey's Anatomy or those D-list movies where you would rather step on Legos barefoot, because it has to be less painful than sitting through another 2 hours of whatever that was.
I'm going to curate an entire list of fun date night ideas in Atlanta to spice up your date nights, so stay tuned. But, in the meantime, let me tell you guys about one date night idea that is a MUST! A cooking class at Big Green Egg!
As an ambassador for Culinary Local, I was invited to put on my chef's hat for a pizza making class at BGE. What is this Big Green Egg I speak of? Well, it's only the best grill you never knew you needed, until today. It's a high-quality "ceramic kamado-style charcoal grill". If you're not a grill master like me, that probably means nothing to you also like me. Let me put it into simpler terms – It's big. It's green. It's shaped like an egg. And, it's a bada** grill/smoker that can cook literally EVERYTHING!!! Seriously, anything you can cook in the oven, you can cook on the EGG.
This particular night, we whipped up a variety of pizzas, ranging from sweet to savory. Scrumdiddilyumptious! This was my first ever cooking class so I had no idea what to expect, but it was a lot of fun. You should definitely give it a try as well; and, if I haven't already convinced you that life is best well spent not vegging out on the sofa watching cringe-worthy flicks, here's a few more reasons why Big Green Egg should be on your date night list.
It's Interactive and Fun
I hate dating, or rather the discovery period of dating. Just gonna go ahead and throw that out there. The whole, "getting to know you" over dinner and drinks? Eh, spare me. If I'm going to date I'd rather it be something fun and interactive. So, a cooking class at BGE is perfect for just that. It's a great way to bond over food, and see if he/she actually knows their way around the kitchen. No worries if they don't, BGE cooking classes has awesome instructors that will help you along the way. I actually butchered my first dough (they make it look so easy on TV) and had to be brought another; but, Big Mike, our instructor, assured me that my lopsided pie was a labor of love and perfect just the way it was.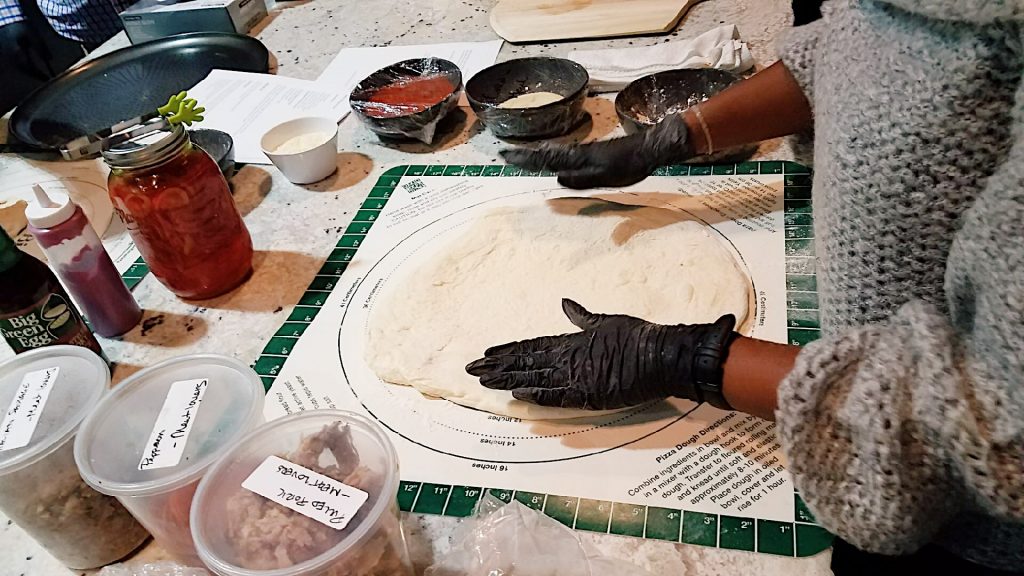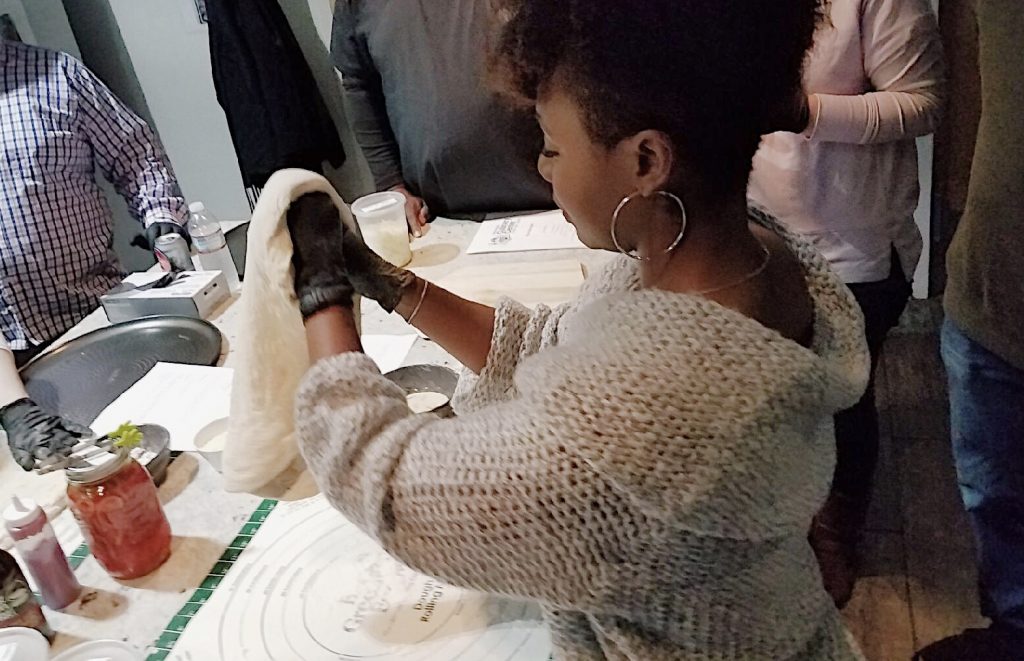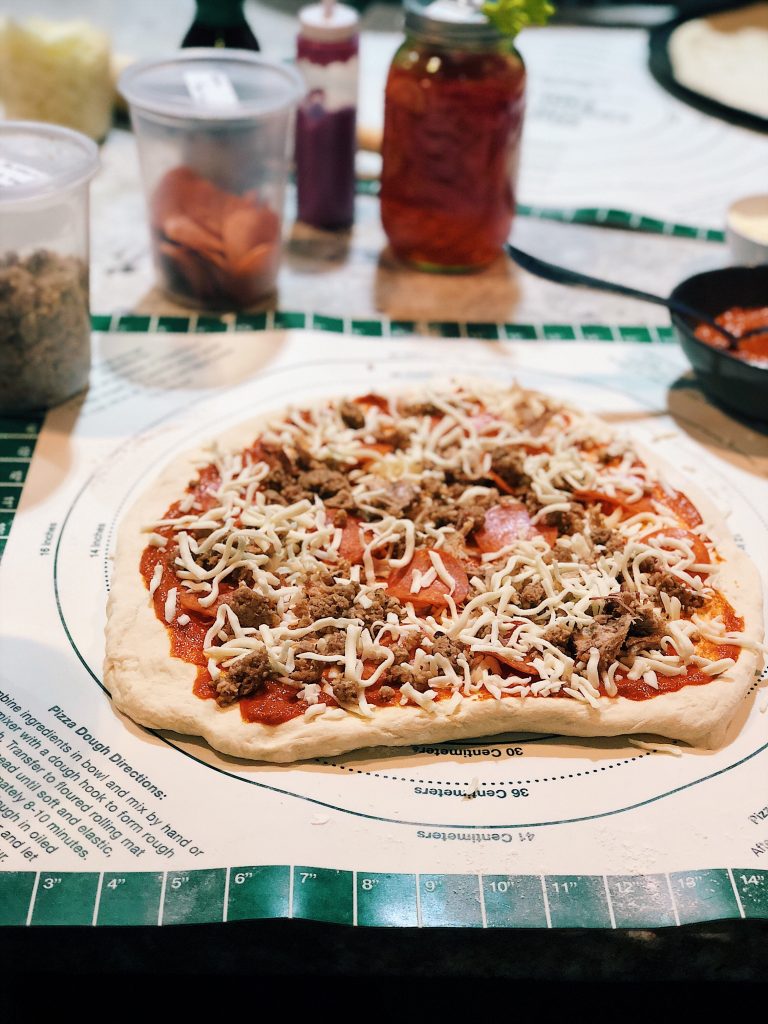 Team Work Makes the Dream Work
Whether the relationship is brand spankin' new or you've been at this for a while, relationships are a collaborative effort. It's a partnership that takes team work to make the dream work. The dream, for a particular moment, can simply be to make a delicious dinner together.
It requires communication, "Hey gorgeous, your dough is looking a little oblong. I think it needs to be a little more round."
Trust, "Hey handsome, I'm trusting you to not drop the pizza in the fire and watch the timer and not burn our dinner tonight, mmm k?"
See. Teamwork 🙂
For this class, we actually worked in groups, so it was my date and myself, along with another couple. We each took turns doing our part in creating our culinary masterpiece.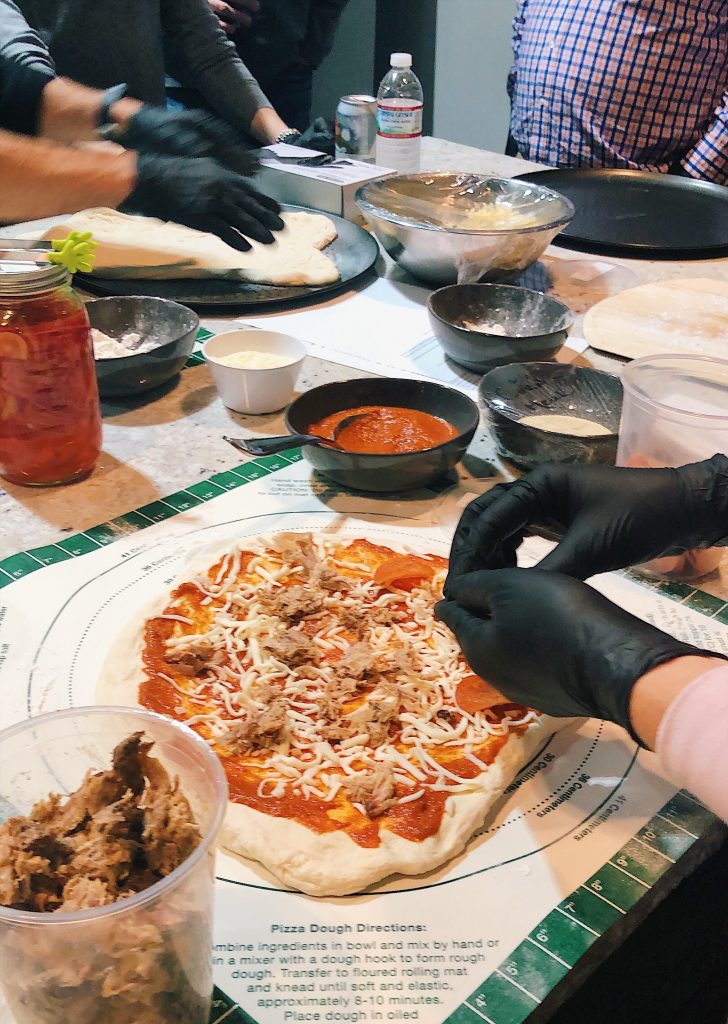 It's a Learning Experience
You learn so much in these classes! We're not even EGG owners, but there was a wealth of knowledge, techniques, and recipes shared during the class. I had no idea how versatile this grill is until people started talking about all the things they've cooked on it, and I'm not just talking grilled meats and veggies. No siree Bob. I'm talking pies, quiches, cornbread, mac and cheese, and the list goes on. What took the cake is when Big Mike told us he's fried chicken – on the EGG! It was in that moment I knew I was in love.
A Chance to Meet New People
A cooking class at BGE is a great opportunity to get out and meet other couples. We met people from all over. I even met an older couple who happened to be from my small hometown, and I went to high school with their son. Small world! People traveled from other states and made an entire weekend out of their date night. Granted we were probably the youngest of the bunch, and there wasn't a lot of diversity among us, it was still nice to meet new people. Besides, I enjoy being around couples that have "been in the game" for a while. There's always something to learn.
The Food is Delish! 
We had a variety of pizzas. Everything from fig, prosciutto and arugula pizza, to meat lovers, BBQ chicken, Margherita, and my new favorite, the "Bee Sting" made with mozzarella, sopressata, chile and honey. There was even a dessert pizza made with mixed berries and amaretto soaked biscotti and mascarpone.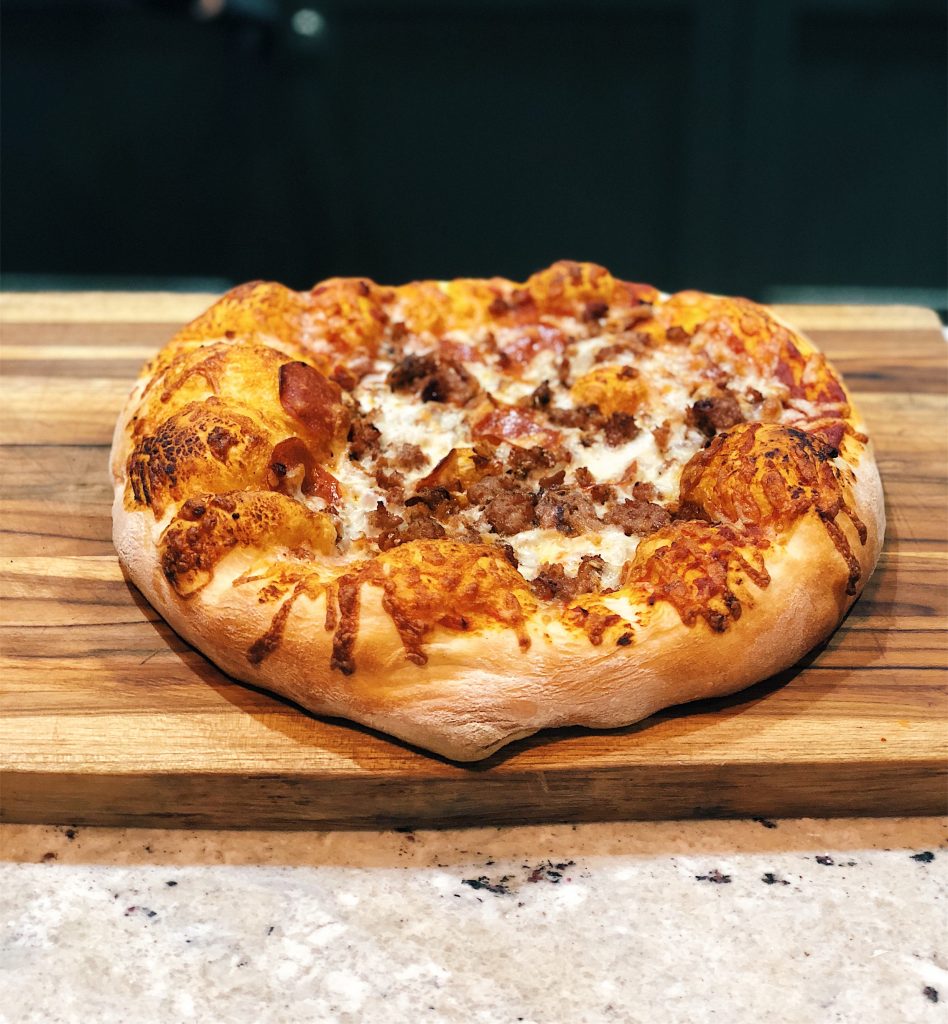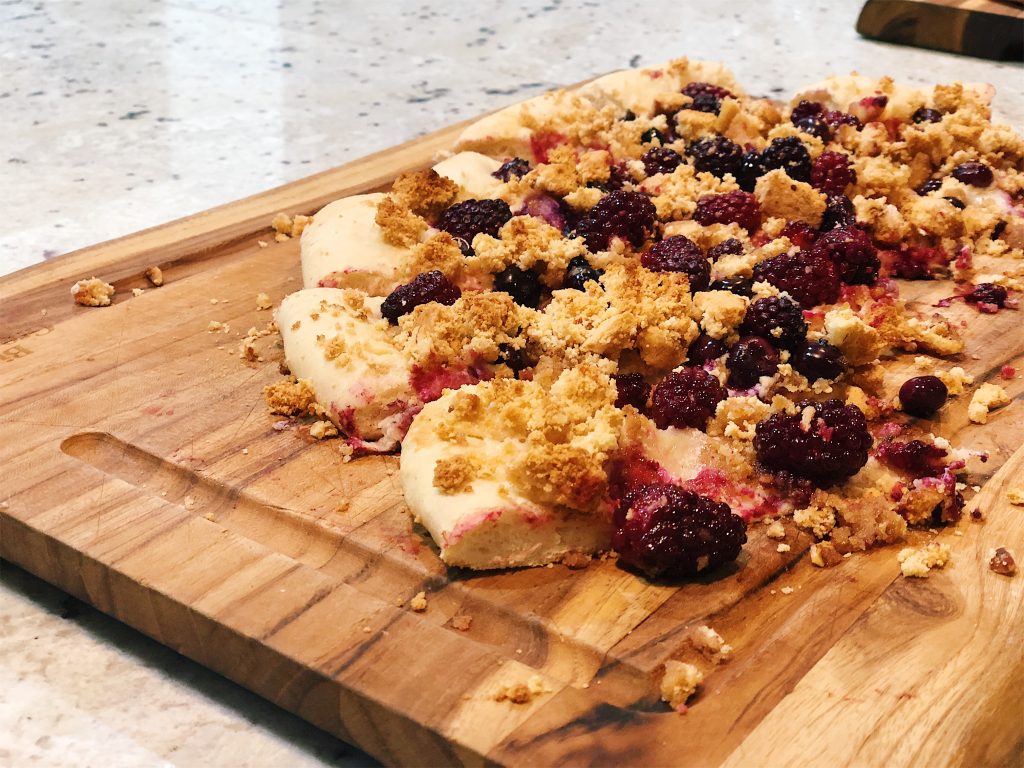 Convinced yet? Well, you should be! Do something different for your date night. Rekindle the fire pun intended. Try a cooking class at BGE. It won't disappoint. Here are a few of the classes they have coming up. Now, go forth and be great.
Many thanks to Big Green Egg for hosting us for this fun date night. All opinions are my own.