Red Phone Booth: The Speakeasy that Should be on Your Atlanta Bucketlist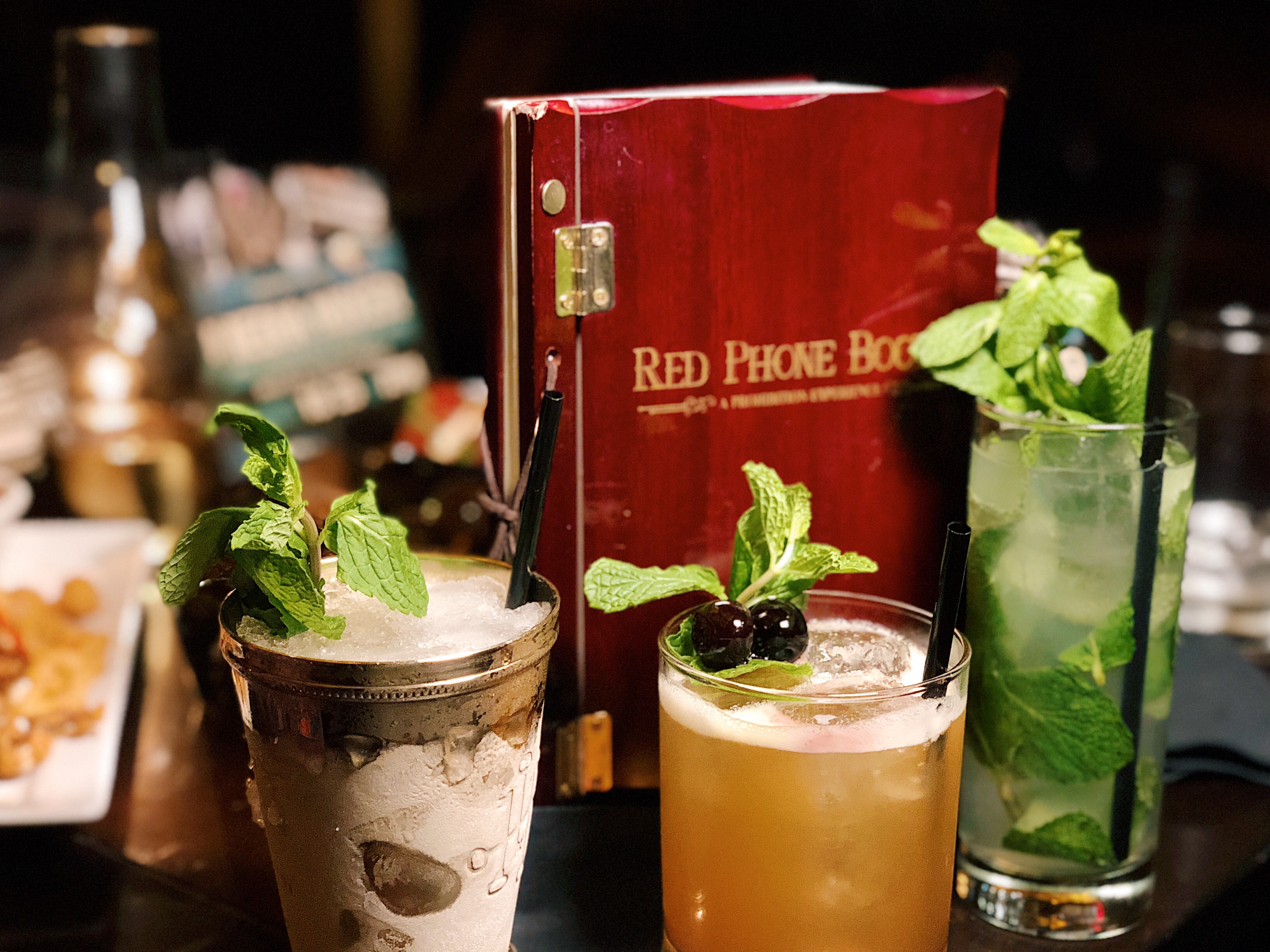 Ask me my favorite era and, without hesitation, I'll tell you the Roaring 20s; followed by the 70s at a close second – because who doesn't love 'fros and discos *breaks out into my infamous, painfully bad, robot dance; as I boogie down my one-woman Sooooul Train line*.
Ok, I'm getting side tracked. Roaring 20s – ahhh yes, the age of flappers and jazz, the birth of the Harlem Renaissance, the boom of black art and culture, and let's not forget, Prohibition – the ban on the sale of alcohol. Now, that part of the era I can do without. You mean to tell me I can't have a hot date night and a few sips at a bar, or meet up with my girlfriends for Sunday brunch and bottomless mimosas? The nerve!
As a result of prohibition, illicit and ultra-exclusive, secretive, bars and establishments began to pop up all over the U.S., known as speakeasies. These hush-hush establishments would require a secret passcode to get into and could range any where from a snazzy, upscale, jazz bar to a sketchy basement in an alley, where you very well could get a bad batch of bathtub gin and meet your Maker sooner than anticipated.
Fast forward, almost a century later, prohibition has since long been abolished. However, if you're lucky, you'll still find a covert "speakeasy" here and there. Recently, I was invited by Nikka Shae, from Drink.Dine.Do, for a meetup with some other blogger gal pals for an evening at Atlanta's own speakeasy, Red Phone Booth, formerly known as Prohibition. RPB is definitely one of Atlanta's best kept secrets, and should be on your Atlanta Bucketlist. Located in the heart of Downtown Atlanta, RPB is so discreet, you will likely look past the unassuming red phone booth. However, that booth is the secret entryway to a a clandestine cocktail and cigar lounge that will make you feel like you're a world away.
Keeping true to its origins, RPB requires a secret passcode in order to be able to enter. The secret code changes, so you'll have to know somebody that knows somebody in order to get the code; or, I've read you can sometimes make pals with the bartenders at the adjoining restaurant, Amalfi Pizza, and possibly get the code from them with a nice tip, I'm sure , but that's hearsay.
Once you have code in hand, step into the phone booth and use the rotary phone to dial the code. Don't worry, you might have to dial it twice if you're not used to dialing on a rotary phone (or if you don't even know what a rotary phone is and how to use it I'm looking at you 90s babies). Once you've entered the correct code, the door will open, where you'll be greeted with the smooth sounds of jazz and the aroma of delicate spices emitting from burning cigars.
Find you a seat, get comfy, and enjoy the vibe. RPB creates a cozy, intimate, space with its dim lighting, plush leather sofas, and fireplace feature. I'm definitely adding it to my list of Atlanta date night places, but it's also the perfect place for a night out with the girls or guys.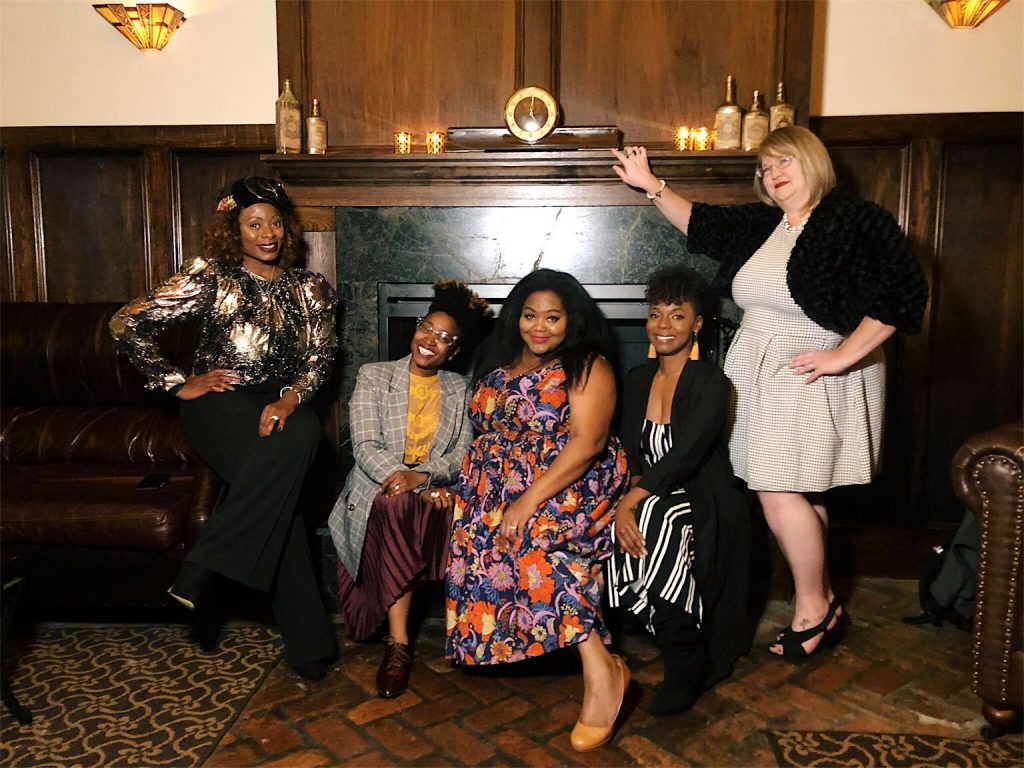 RPB has an extensive list of libations to choose from. These elixirs, referred to as "prescriptions", "vaccines", and "remedies",  can be found in a book where you can find the antidote to all your ails. Overwhelmed with options, I asked for a recommendation from our server, something sweet and dainty of course just like me, and she suggested A Postcard from Italy. This was absolutely fitting, considering I'd just returned from Europe a few days earlier, and ya know, the whole travel blog thing. It was the right touch of sweet, and definitely had a bite to it. But, I'd expect nothing less at $13 a pop. Aside from their craft cocktails you can also find over 180 different types of whiskeys, including rare bourbon, whiskey, and scotch selections. Yamazaki on the rocks, anyone? Carter fans will get the reference 😉
We delighted in small shareable dishes, such as calamari, lamb meatballs, and stuffed peppers. Let me just tell you, it was all absolutely delish! If you need something a bit more filling, you can order a brick-oven pizza from Amalfi Pizza, the neighboring restaurant.
Whether you're a cigar aficionado, or a first timer, step into RPBs humidor and take your pick of 100+ labels. Complement your stogy with a glass of whiskey and you're in for a good night.
Information
17 Andrew Young International Blvd NE
Atlanta, GA 30303
(404)228-7528
Special thanks to Drink.Dine.Do for hosting this amazing event, and Red Phone Booth for providing the complimentary nibbles and sips. All opinions are my own.