Fall Day Trip from Atlanta with Toyota
You know, sometimes things just don't go as planned. Like, when you have a whole day trip planned and you end up doing everything and going everywhere besides where you were originally supposed to go. But, as my favorite Spanish saying goes, "no pasa nada", which essentially means "no worries". Sometimes you just have to live and let live, take a few detours, enjoy the journey. That's exactly what I did a couple of weekends ago. I set out for a day trip to Amicalola Falls in North Georgia, courtesy of Toyota, but on my way I got a bit sidetracked. Ahhh…the joys of solo travel. Do what you want. Go where you want. Answer to no one. So, if you're looking for the perfectly imperfect fall day trip from Atlanta, here are some suggestions of where to go, what to do, and how to get around.
Getting Around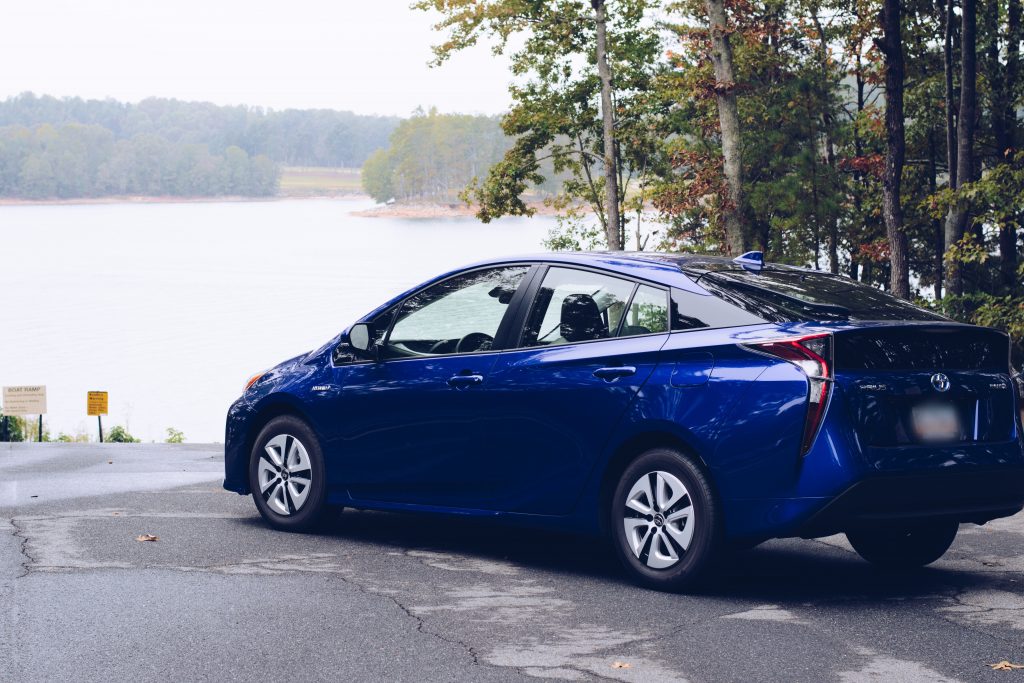 First things first, getting around. I got to test out the
Toyota Prius Three Touring
, which was the perfect car for a solo mini road trip. It was small and compact, yet big and spacious enough for me. However, the thing I loved most about this car is its fuel efficiency. You get a whopping 56 mpg combined. Yes, you read correctly…FIFTY SIX miles per gallon! That's a whole lotta driving without having to refuel. It's a hybrid, but it doesn't have to be plugged in. The battery is actually charged by pressing and releasing the brake while driving. I'm sure there's a more "technical" term for this, but this is the best way I understood it. I also love that you can see the energy being distributed on your dash.
Also, what's a good road trip without awesome navigation. One of these days I'm going to hit the open road with nothing but a map and Atlas, old school style, but until built-in navigation systems are everything! I have ZERO sense of direction so when I decided to go off course and visit Lake Lanier, I simply added a stop on the navigation system and was on my way. I LOVED the fact that this futuristic car projected my turns on the windshield, which made it super convenient and easy not to get distracted looking on the dash for where to go and what to do next.
Another lifesaver was the Qi wireless charging pad. No muss and fuss with cords, just connect the card to your phone and sit in on the charging pad and you're good to go.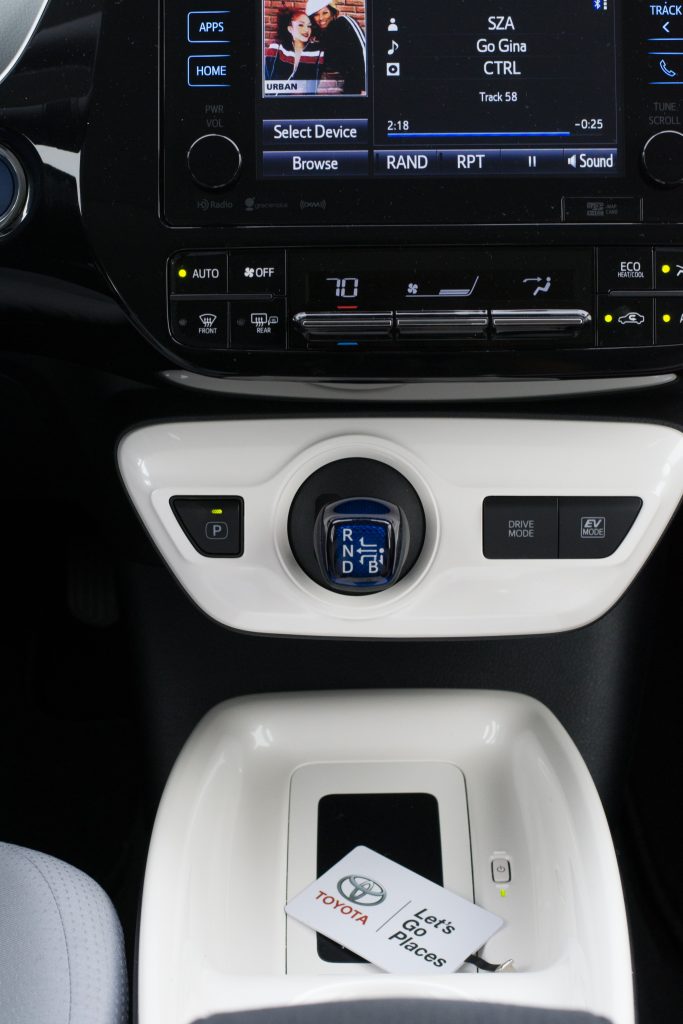 See & Do
Escape the city and head up North for a little less hectic and a little more become- one-with-nature-ness. The Blue Ridge Mountains are everything that fall is made of – crisp autumn air, colorful fall foliage, side-of-the-road stands selling pumpkins, spice, and everything nice. It is the perfect getaway, whether for a few days, a weekend, or just a day. For this mini road trip you'll only need to drive about 70 miles outside of Atlanta.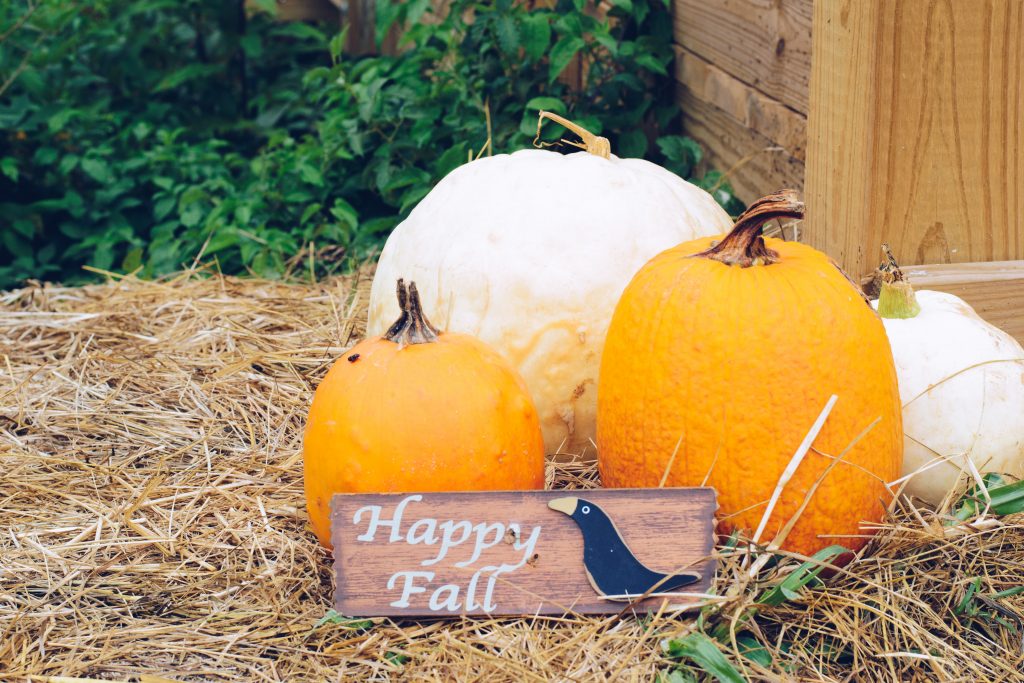 If you want to follow my wayward itinerary, en route to Amicalola Falls, make a slight detour and check out Lake Lanier. I know I know, Lake Lanier seems more like a summer destination – boating, swimming, fishing, water sports, and all things of the sort. However, if you're like me and have never been to Lake Lanier, it's still a site to see no matter the time of year. If you're planning a weekend trip you can enjoy activities such as hiking, horseback riding, oh and wine cruise anyone?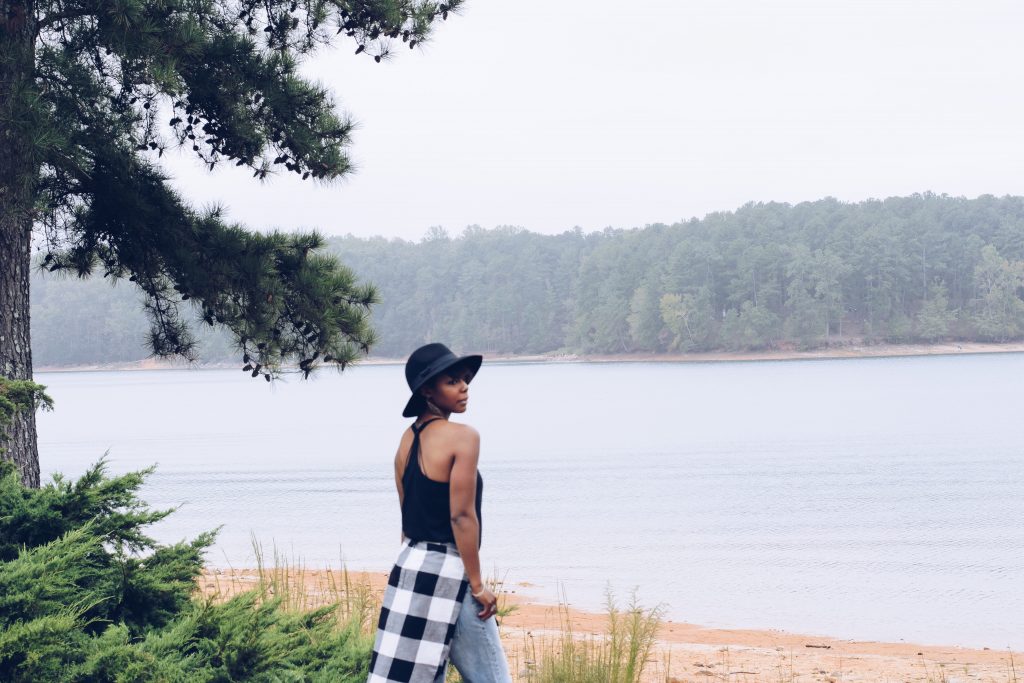 After checking out Lake Lanier, make your way further North to Dawsonville, Georgia. Just before Amicalola Falls you'll stumble upon
Fausett Farms Sunflowers
. I absolutely could not resist stopping. After all, sunflowers are one of my favorite flowers, and it's something about wandering through fields of perpetual sunshine that simply sets your heart aglow. Also, talk about some Insta-worthy photos! This sunflower farm is the perfect backdrop for some awesome photos.
The Prius even got in on a little bit of the action. I was so surprised this little car was able to handle all the humps and bumps as I drove through the rough open fields. I was certain I was going to get stuck in a mud hole or something, but nope! It held its own.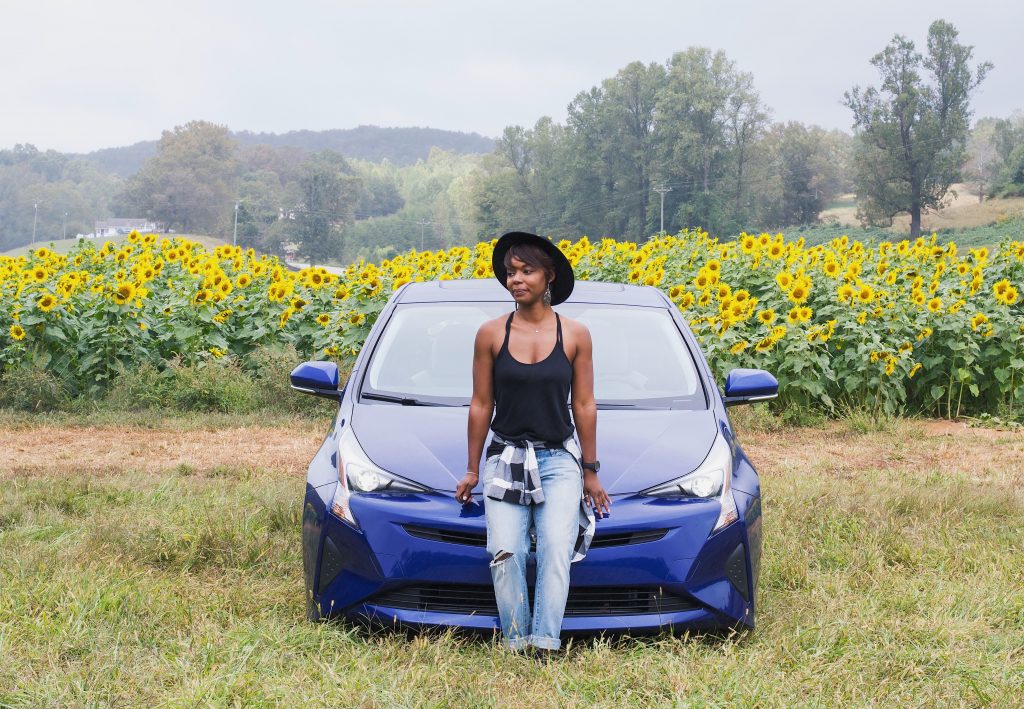 Right down the street from the sunflower farm you'll also find
Burt's Pumpkin Farm
. I didn't stop here, but from the looks of it in passing, it's a fun family-friendly place to stop at and explore.
Finally, if you still have some daylight left in the day then lace up your hiking shoes and head up to Amicalola Falls, the tallest waterfall in the Southeast. I wish I could describe the falls in all its, apparent, glory and splendor, but once I made it to the park, I realized I'd explored myself into a hangry stupor and the idea of hiking in the misty rain simply was no longer appealing to me. All that was on my mind was FOOD! There was a restaurant on site, but by that time I was ready to call it a day. So, I did just that. If you visit Amicalola Falls, I would suggest packing a nice lunch and have a picnic in the park, because who doesn't love a picnic in the park, right?!
As far as getting to the actual waterfall, you can start from the beginning, middle, or end of several different trails, all that will give you amazing views of the falls. The trail distances can range anywhere from 0.3 miles to 8.5 miles, varying in level of difficulty. Click
here
for a list of the different trails; as well as other fun activities you can enjoy at the falls.
If you're looking for a quick and fun, fall, day trip from Atlanta, and the best way to get around, there you have it.
Have you visited Atlanta? What are some of your favorite day trips from the city? Share in the comments below. 
Special thanks to Toyota for letting me test out the Prius Three for a week. As always, all opinions are my own.