The Best Airbnbs in Atlanta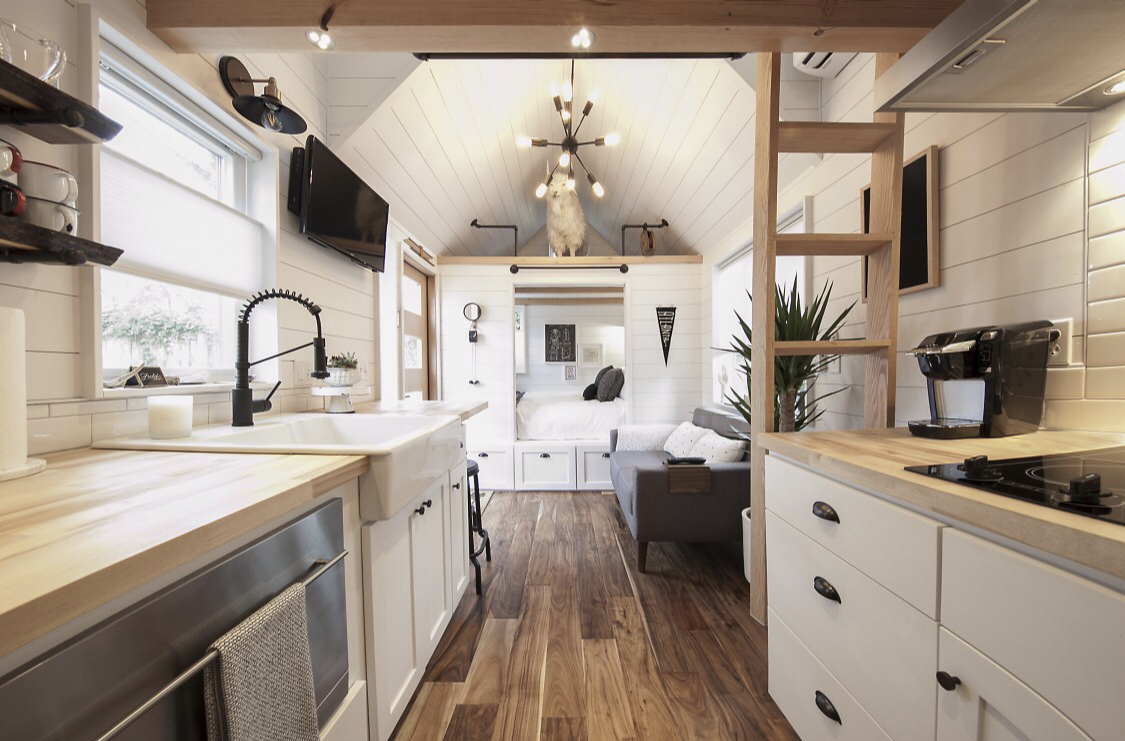 Renting an Airbnb is a great alternative to staying in a hotel. They are often times far cheaper and you get the added luxury of having a full kitchen and other amenities that give you all the comforts of home. Having lived in Atlanta for the last 11 years, I'm no stranger to enjoying a nice staycation and Airbnb is always my first go to. So, I know a thing or two about the best Airbnbs in Atlanta and I'm going to share a few of my faves and some on my wishlist. Whether you are planning a trip to Atlanta and looking for the best places to stay or you are a local simply wanting a change of scenery or staycation getaway, check out these amazing Atlanta Airbnbs.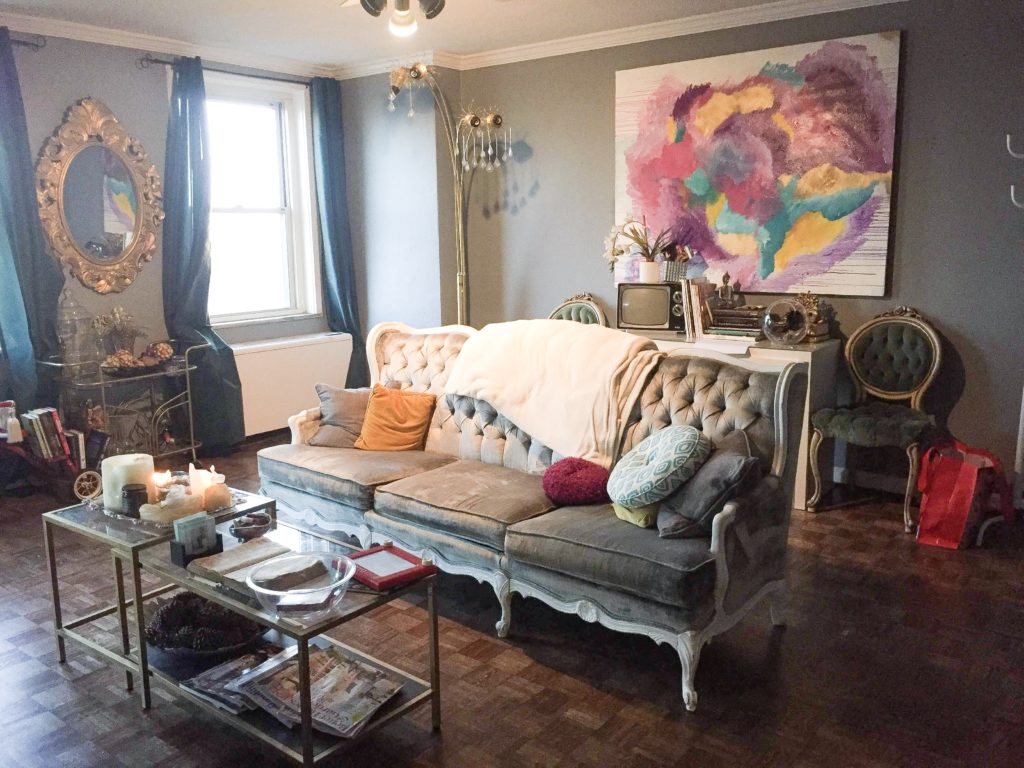 Owned by a designer, this downtown condo is perfect for anyone who has an appreciation for the arts and design. This Atlanta Airbnb is an eclectic mix of vintage vibes and modern elements. It's where you'll find everything from an old record player with Prince vinyls to a Victorian sofa and abstract art. It's a hodgepodge of decor and random relics, but it all comes together effortlessly. This is one of the coolest Airbnbs I've ever stayed in.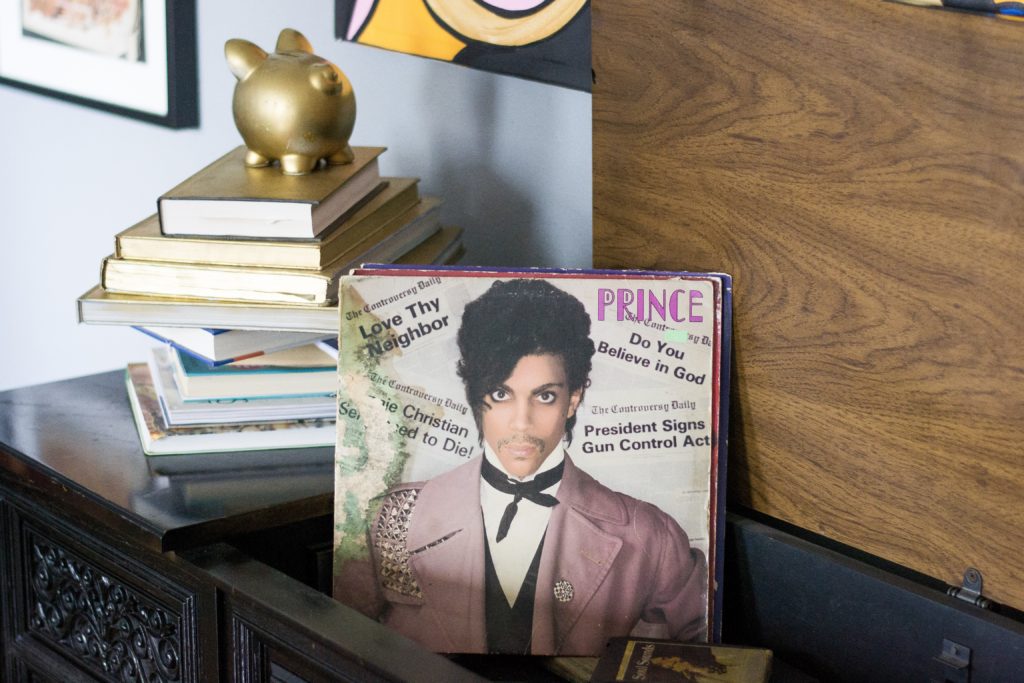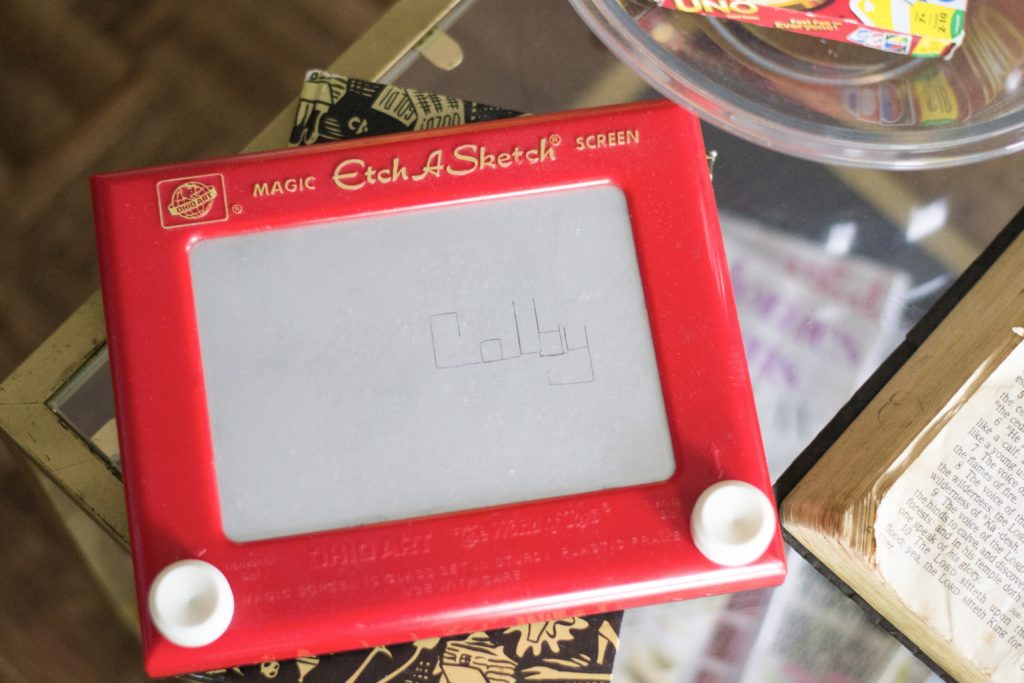 Don't even get me started on the location. If you want to be in the heart of the action, this is your place! You walk out the building and Downtown Atlanta greets you at the steps. If you've ever visited or live in Atlanta, you know every other street is named Peachtree St. Well, this is THE Peachtree St. that is the vein running through the heart of the city. Basically, it's where you want to be. If you're just on a short trip and don't plan to venture far, you won't need a car if you're staying at this posh place. You're within walking distance to everything, plus parking is a bee sting. This is one of the best areas for an Airbnb in Atlanta.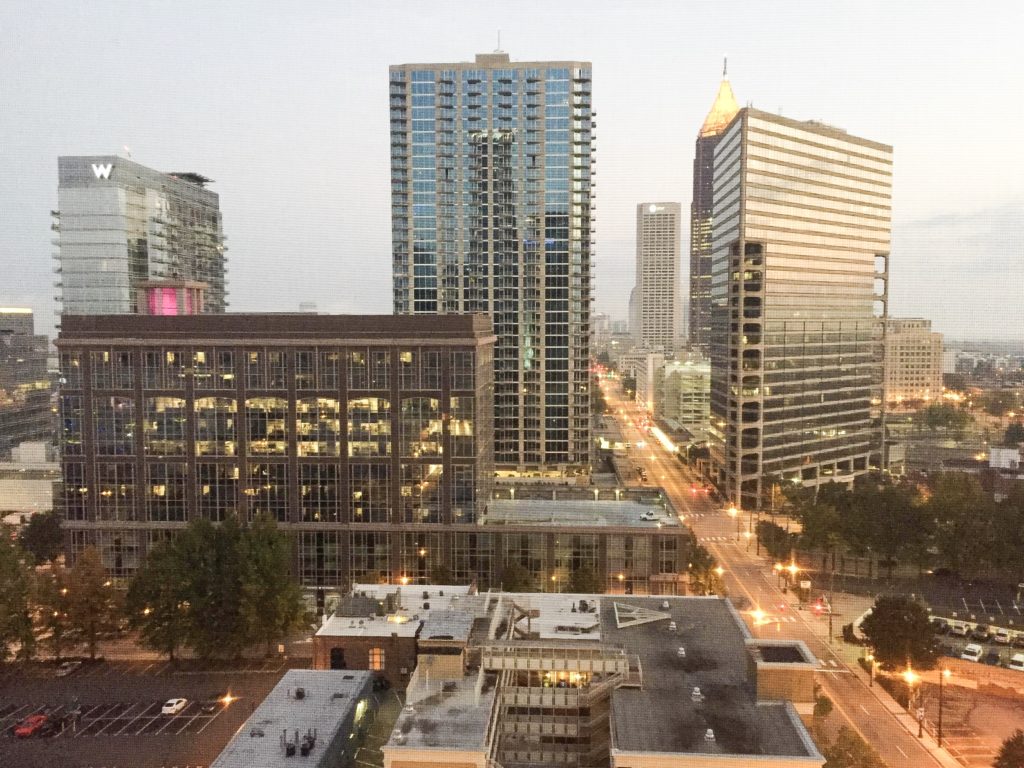 Now, the downside (for some)…there is no TV. I was perfectly fine with this, as I don't even own a TV myself. But, the "access" to Wi-fi that's on the listing means, you have access to purchase Wi-fi. That was a major downside for me. But, all in all, I loved this place and would stay again if I'm looking for a city break staycation. The price is not too bad either, at $106/night.
---
---
I stayed in this private guesthouse on a brief stint home, while moving between countries. I LOVED this place. It was quaint and cute and perfect for the solo traveler or a couple. It was completely separate from the main house, had its own entrance and private driveway. It was cozy and truly felt like a home away from home. I almost didn't want to leave! The studio apartment was equipped with a mini fridge, microwave, AC, tv and desk. There's also a washer and dryer available for guests to use as well.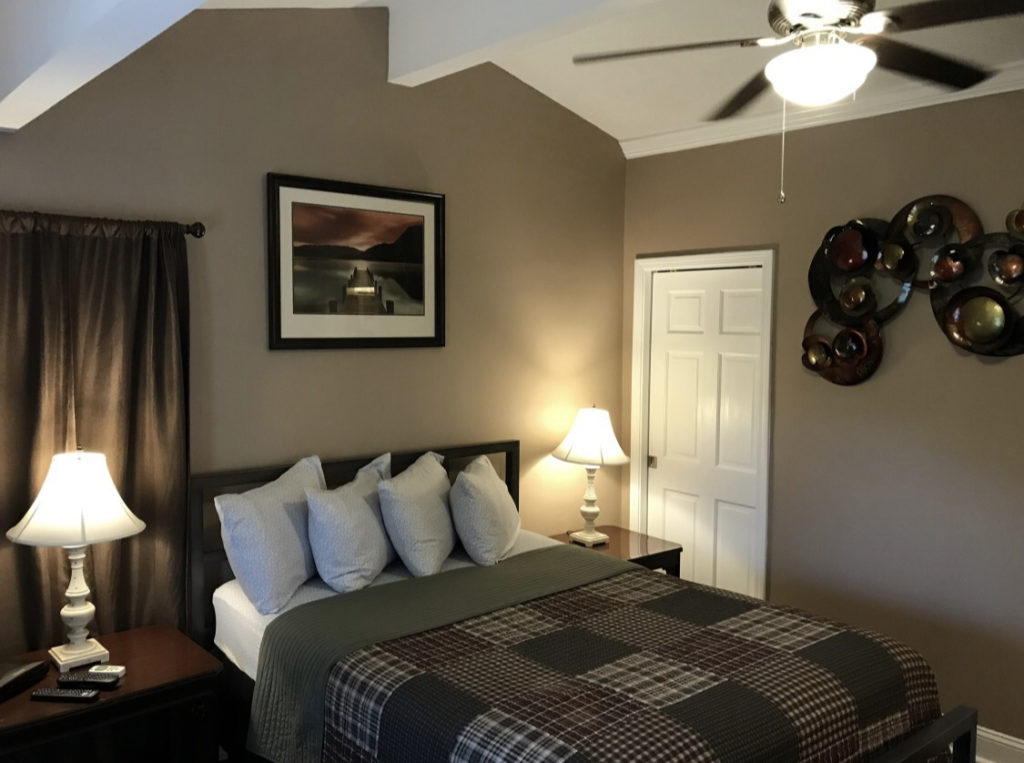 The best part, the location was AMAZING! It's only 4 miles from Downtown Atlanta, so it's close enough to the thick of the action without all the downtown madness. You'll be close to the Mercedes Benz Stadium, State Farm Arena, Georgia Aquarium, World of Coke and tons of other attractions. You're also super close to the hip and funky neighborhood, East Atlanta Village.
The hosts couldn't have been any more kind and gracious. When my car wouldn't start the next morning, due to a dead battery, they came to the rescue and gave me a jump off without hesitation. They were so incredibly kind.
At only $79/night, this place is an absolute steal!
---
---
Looking for the best Airbnb in Downtown Atlanta for attending a sporting event? Check out this place. This stylish two-level loft boasts over a 1000 sq. ft of modern glam and industrial-chic flare. Located in Atlanta's famed Castleberry Hill, you are within walking distance of tons of restaurants, shops art galleries and bars. If you're in town on the second Friday of the month, be sure to check out the Castleberry Hill Art stroll. But, the best part, you're also within walking distance to the Mercedes-Benz Stadium. So, if you're in town to catch a Falcon's game or Atlanta United match, this is the perfect place to avoid those parking fees and Uber costs. The Georgia World Congress Center, State Farm Arena and CNN Center are also all within walking distance.
---
---
If you are an HGTV fanatic, like myself, you will love this two bedroom tiny house, located in Chandler Park, one of the hottest neighborhoods in Atlanta. The bright and airy space is decked out in beautiful shiplap that would make even Joanna and Chip Gaines proud. The house itself may be tiny, but it's equipped with all the comforts of home. You'll find two queen-sized beds, a full kitchen and full bath. There's even a huge backyard with a ping pong table, a large farm table and a stove fire pit.
Whether you simply want to have a Netflix and chill sesh, a private romantic dinner in backyard or check out some of Atlanta's nearby hotspots, like Ponce City Market, Krog Street Market or the Beltline, this is the perfect place for it all. Make it an intimate getaway with your love or perhaps a special Mother/Daughter retreat, no matter the occasion a stay at this romantic Atlanta Airbnb is a must!
---
---
Traveling with a large family or group? This spacious Atlanta abode should be at the top of your list. This family-friendly Airbnb has five bedrooms and sleeps 12. There are five beds and 3.5 baths, so you will never feel on top of each other. It's also perfect for the kiddos with a massive backyard and outdoor play area. Older kids can enjoy the ping pong table and table football in the designated game room.
Located in Atlanta's upscale Buckhead neighborhood, you will be within walking distance to Chastain Park and only a short distance from tons of restaurants and shops. If you don't feel like eating out, fire up the Green Egg grill and have a feast at your home away from home.
Planning a trip to Atlanta?
PIN ME!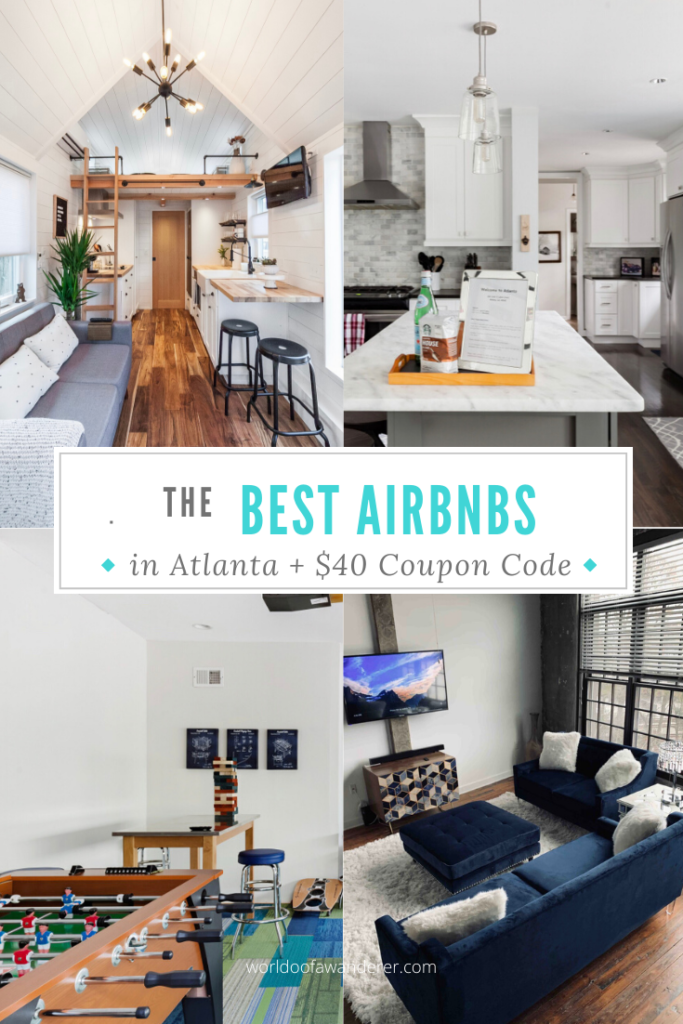 There are some affiliate links in this post, which is just a fine way of pointing you in the right direction without a bunch of searching on your part.