Where to Eat in Atlanta: An Epicurean Adventure with Mitsubishi Outlander
The constant construction work, the hours of idle sitting in seemingly never-ending traffic, pulling up my GPS and seeing it riddled with red…ahhh, yes, the things I definitely do NOT miss about Atlanta since moving to Mexico. However, there is nothing like being home. Being back in my bustling city gives me all the feels and, though I don't miss the traffic, I couldn't wait to hit the streets of Atlanta and indulge in some of my favorite restaurants and some new foodie finds. For this trip, I collaborated with Mitsubishi, who set me up in this stylish 2019 Outlander Sport to take you guys on an epicurean adventure around the city. Whether you're a city dweller or just visiting for a few days, Atlanta is a gastronomic getaway beckoning to be explored. So, buckle up as I take you on a mouth-watering journey of good eats and sweet treats and give you some tips on how to navigate these frenetic streets of my adored Atlanta.
Breakfast
First stop, Home Grown. Go ahead and key the address in the navigation system to make sure you're taking the quickest route to get there. This cute little eatery is located in midtown Atlanta so take backroads and shortcuts to avoid that midtown traffic. There's no better way to fuel your day than with a Southern homestyle breakfast that tastes like it's straight out of grandmas's kitchen. No seriously, my grandma has the same exact wood paneling in her house that you'll find in Home Grown. This no-frills, retro, restaurant preps all its dishes using only locally-sourced ingredients and won't break the bank. Win win! My favorite is the Comfy Chicken Biscuit with home fries; but, you also can't go wrong with the Breakfast Basic or the Chef's Omelette.
View this post on Instagram
Barbeque for breakfast?! I personally can eat some good ol' BBQ any time of day. However, Lovies is not just serving up finger licking good, fall-off-the-bone ribs, they are now offering delicious grab-and-go breakfast biscuits as well! Brisket on a biscuit anyone? Doesn't that have a nice ring to it? Or spice up your mornings with my favorite, The Lil' Kay Chicken Biscuit. This fluffy biscuit is filled with juicy chicken tenders and dripping with the right touch of a sweet and spicy sauce. Oh so good!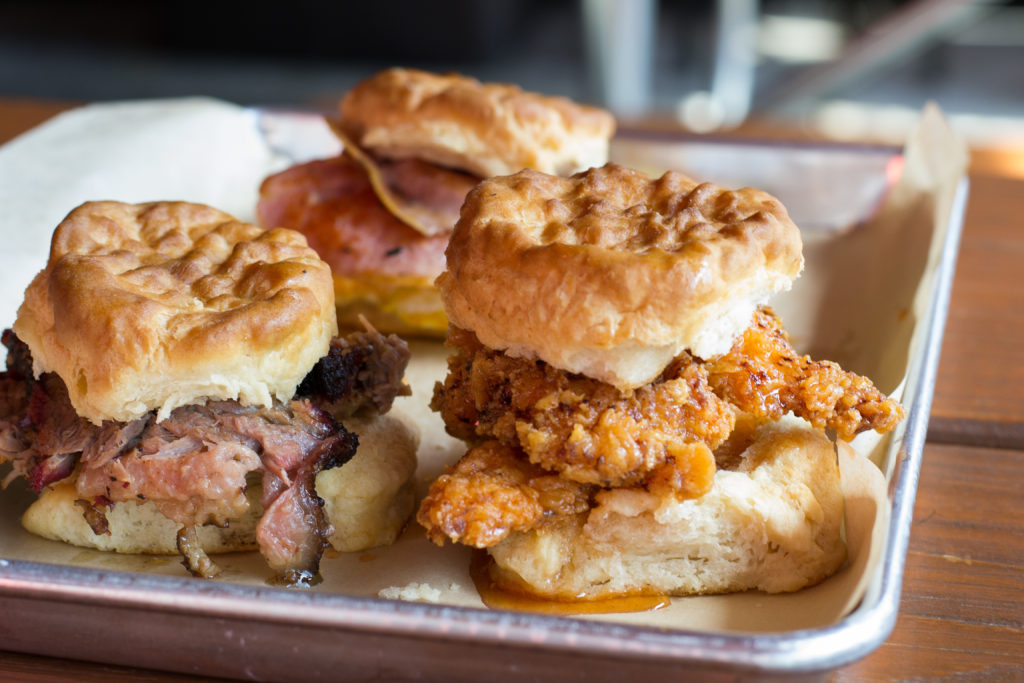 I am a sucker for cute spaces and Full Commission absolutely makes me swoon! This coffee shop-meets-Southern gastropub is nestled in the heart of Grant Park and is the perfect place for a grab-and-go breakfast or light bites. I mean, they have homemade poptarts filled with ooey-gooey goodness and topped with sprinkles. Let's be honest, every morning is better started with sprinkles, right?! Their breakfast and lunch menu last until 3 pm, so plenty of time for you late risers to go and enjoy. Swing by on the weekends for their brunch menu and enjoy sumptuous sips, like the 'Pecan Sour' or 'When Doves Cry', or pop in for dinner enticing entrees, shareable plates, along with beer and wine on tap.
View this post on Instagram
Navigation Tip #1:
The Outlander Sport has all the bells and whistles. Use them to your advantage! Even if you know your way around the city, it is always best to key in the address to these restaurants in the GPS system to check to see if there is any traffic, construction or potential delays. The thing I love about this system is that it uses Apple Play (and also Android Auto), so I can utilize my favorite navigation apps from my iPhone.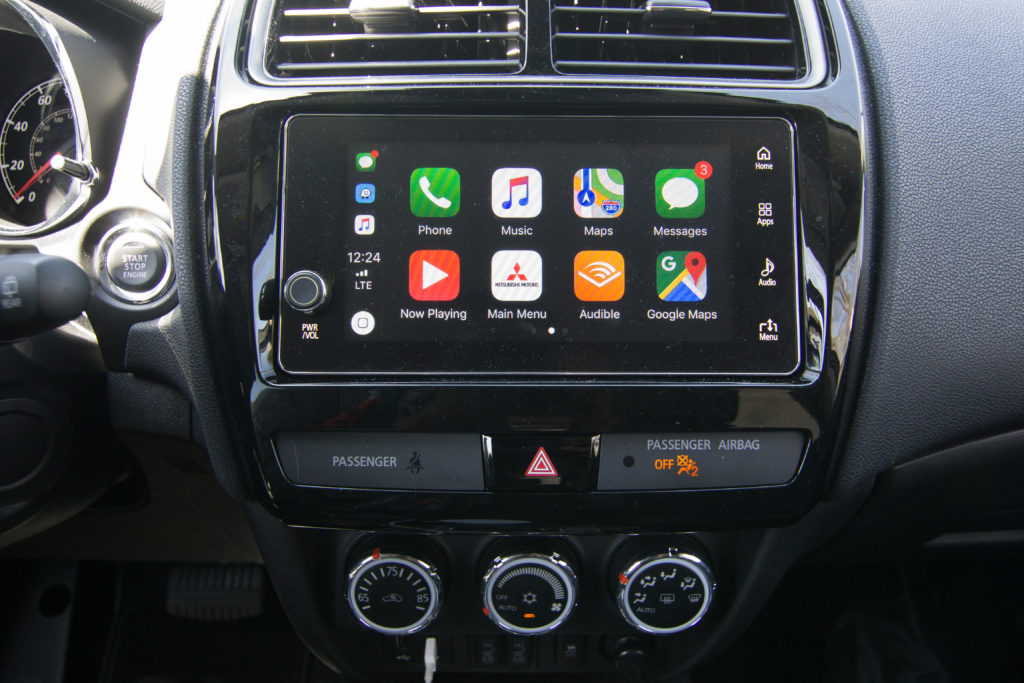 Brunch/Lunch
There's seemingly a theme with this post, eh? All things Southern. But whaddaya expect when you're in the South? Southern Gentleman is a go-to for weekend brunches and lunches with your girlfriends. I love their outdoor space on the patio during warmer weather, but the inside space is just as alluring. You can't go wrong with Southern staples like Buttermilk Fried Chicken and Skillet Pancakes or Shrimp and Grits. But, whatever you do, try their Special Seasonal Mimosas. This changes every Sunday, but they have yet to disappoint! Even as the waiter is rambling off whatever the concoction is and it doesn't sound all that appealing, try it anyway! Some of the best mimosas I've ever had, hands down! And I'm not even a huge mimosa fan, because I'm not a huge orange juice fan, so you can take my word for it.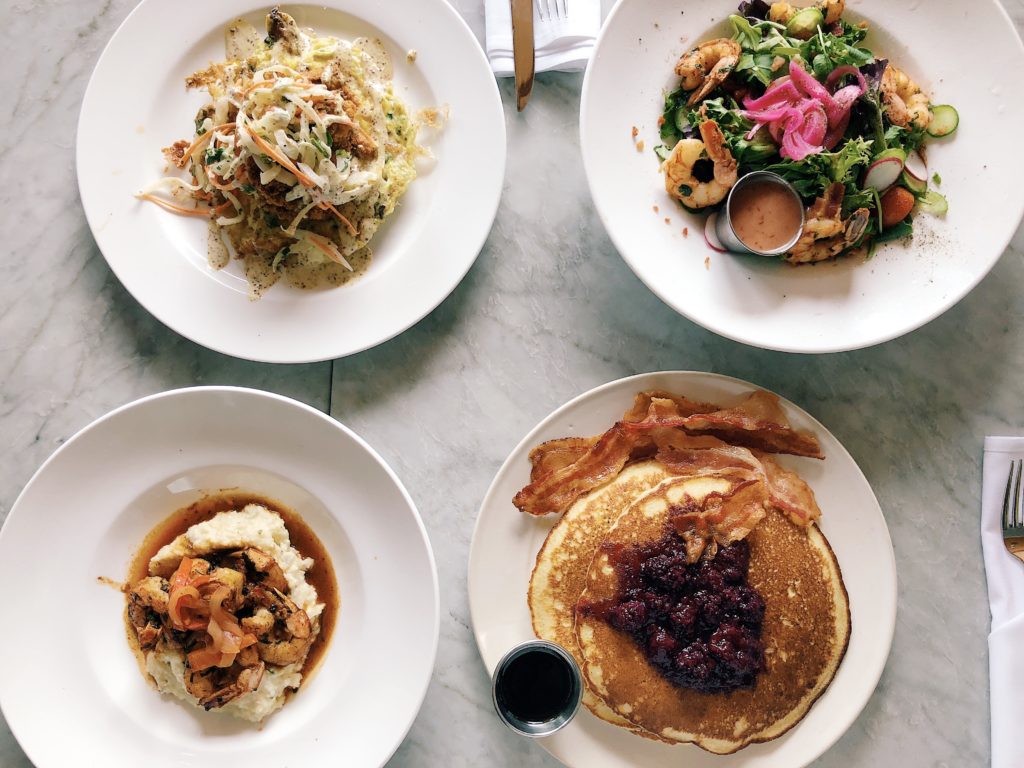 What's better than bottomless mimosas? An accompanying bottomless brunch, that's what. Gluttonous much? Perhaps; however, the Mercury serves up one of the best brunch buffets and it's not to be missed. From the omelet station to the carving station, assortments of meats, and roasted veggies you'll be going back for seconds and thirds. Load up your plate with shrimp and grits or bagels and lox. Choose from an array of cereals and delectable desserts, and do not leave without trying their crispy fried chicken paired with a fluffy waffle topped with fresh fruits! Best waffles EVER!
View this post on Instagram
Inman Park in the Highlands is one of my all-time favorite neighborhoods in Atlanta. There are so many cute boutiques and eateries, and best of all, you can hop right onto the Beltline for a nice walk or bike ride. One of my favorite Highland eateries is Fritti. I love their outdoor/indoor sitting space and their pizzas are absolutely divine! Try their crispy calamari, that even I, the most finicky foodie of them all, like or another favorite the Manzo. A perfectly cooked and seasoned flank steak skewer with fresh rosemary, arugula, and parmigiano.
View this post on Instagram
Navigation Tip #2
Georgia has a new hands-free law, which means you cannot have a phone in hand or have it touching any part of your body while driving. The Outlander Sport makes it easy for you to obey the law with it's top-notch technology at your fingertips. Use the advanced voice recognition system to play songs from your favorite playlist, call a contact, or my absolute favorite, dictate and send an text messages.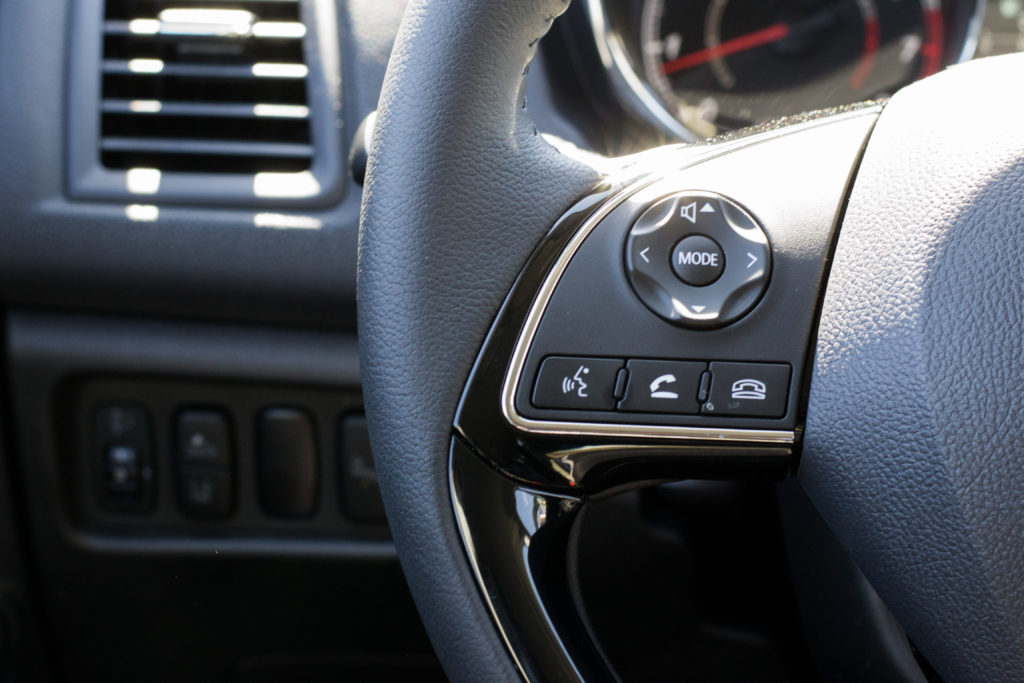 Dinner
Even though I now live in the land of tacos and everyday is Taco Tuesday, one of my favorite past times is still meeting up with friends over tacos and margaritas. So, when I come home to visit, it's a must! TUZA is brand spankin' new and they serve up authentic Mexican eats and street food. Everything is made fresh and in house, so you're getting the best of the best. Whether you opt for fresh salsa, tasty tacos or taco bowls, you simply cannot go wrong. Some of my faves are the Big Fish taco served with pickled slaw and chipotle cream, the Steak Taco, that is marinated to perfection, and the Shrimp Bowl with savory, seasoned shrimp on a bed of lettuce or rice. Wash it all down with a refreshing beer or margarita.
The South is synonymous with barbecue so swing on by City Barbecue for your fill of savory smoked goodness. If you're like me and like variety, go for one of the Sample the City options. We opted for the Judge's Sampler which was plenty for two people and possibly even three! Enjoy a 1/4 chicken, 1/2 slab of ribs, pulled pork, beef brisket, 2 sides, 2 cornbreads, and Texas toast. We even added a couple of fix'ns (better known as side dishes for you non-southerns) because there was just so much to choose from and we wanted to try it all! It was so much food we had plenty of leftovers for later. If the southern charm and rustic decor of this place doesn't win you over, perhaps a healthy helping of banana pudding or peach cobbler will do the trick.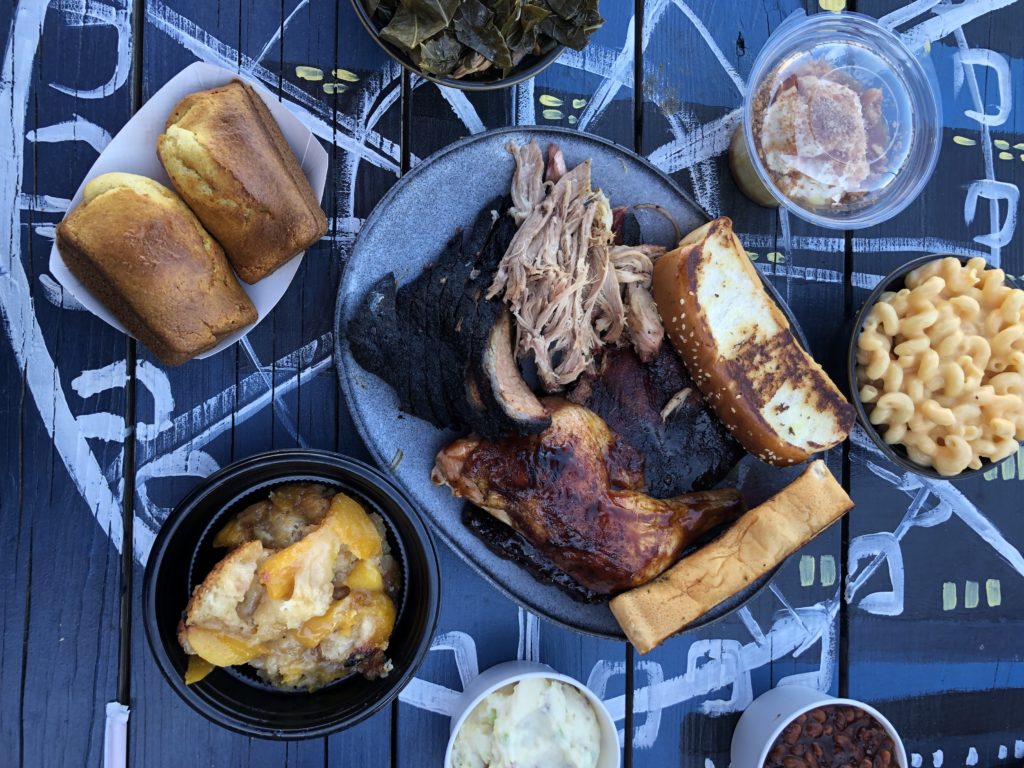 You don't have to travel to the "Boot" to get a taste of Louisiana. Just mosey on over to Alpharetta to one of the cutest down home dining establishments in the city. When the restaurant is located inside an actual house, you know you're in for a treat. You honestly can't go wrong with anything on the menu. Start off with some alligator bites, fried with a creole honey mustard and sriracha drizzle swamp sauce. For your main, I can't recommend the Louisiana Cajun Fried Chicken enough. Hands down, this is probably the best fried chicken I've ever had. Another great option is the Cajun Shrimp Pasta (you can also substitute the shrimp for chicken and it's just as delicious). Pair your dinner with a drink of your choice from their extensive menu or Bourbons and Whiskeys.
View this post on Instagram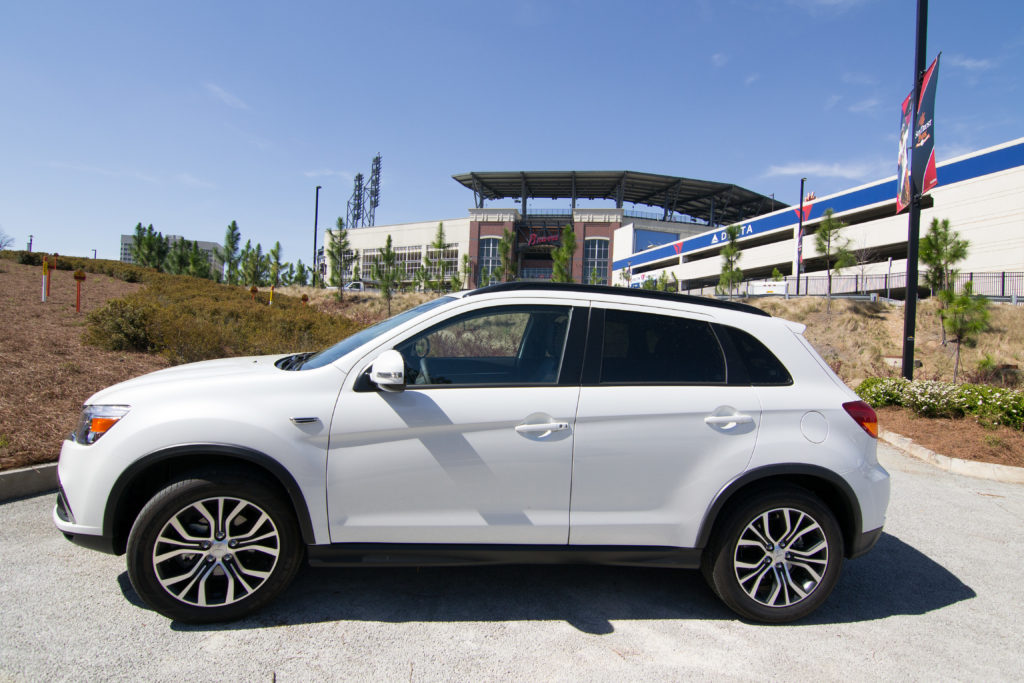 The new Braves stadium is not just a place for baseball games and brews. It's a whole dine, play, shop, stay community with options galore! If ever you're at a loss on where to eat, just peruse around The Battery and something will surely catch your eye. Head over to the Punch Bowl Social for a sports bar meets game room vibe, where you can even bowl a game or two. Or try one of my favorites, Yard House. I love their menu because they have a wide variety to choose from and everything is always delicious! From burgers to fine dining, you'll find it all at the Battery.
View this post on Instagram
Navigation Tip #3
The Blind Spot Warning and Lane Change Assist systems in the Outlander Sport are an absolute game changer for navigating these Atlanta streets! Keep them on and active. The systems work together to alert you when a vehicle is in your blind spot, so that you will not switch lanes and potentially collide with another vehicle. There will be a display on your side mirror as well as a beeping alert to notify you that it is unsafe to change lanes.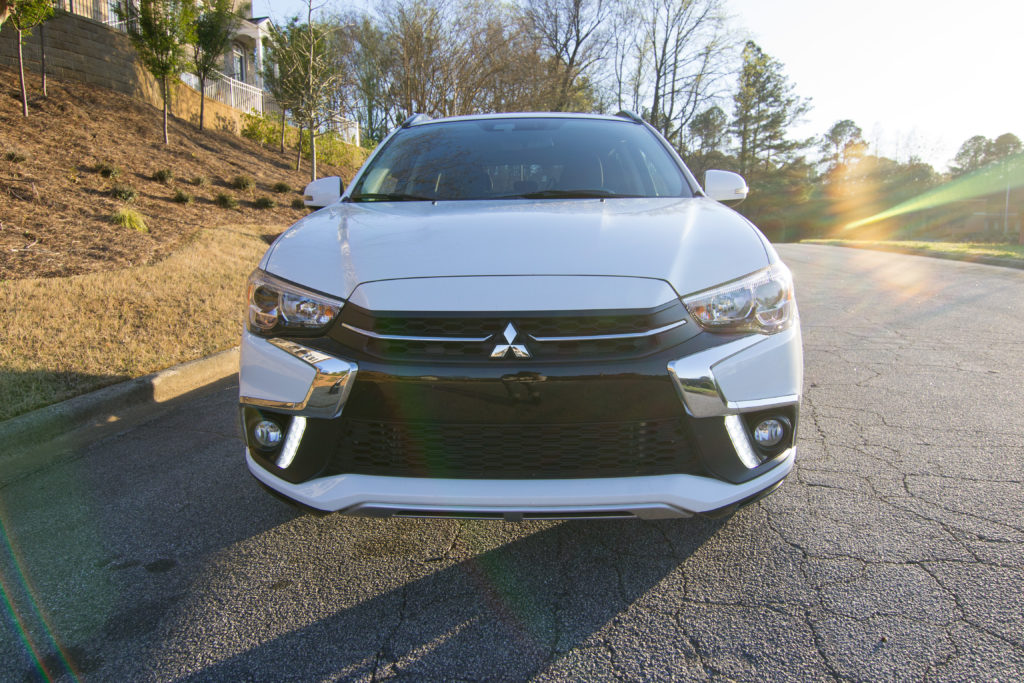 Sweets & Sundowners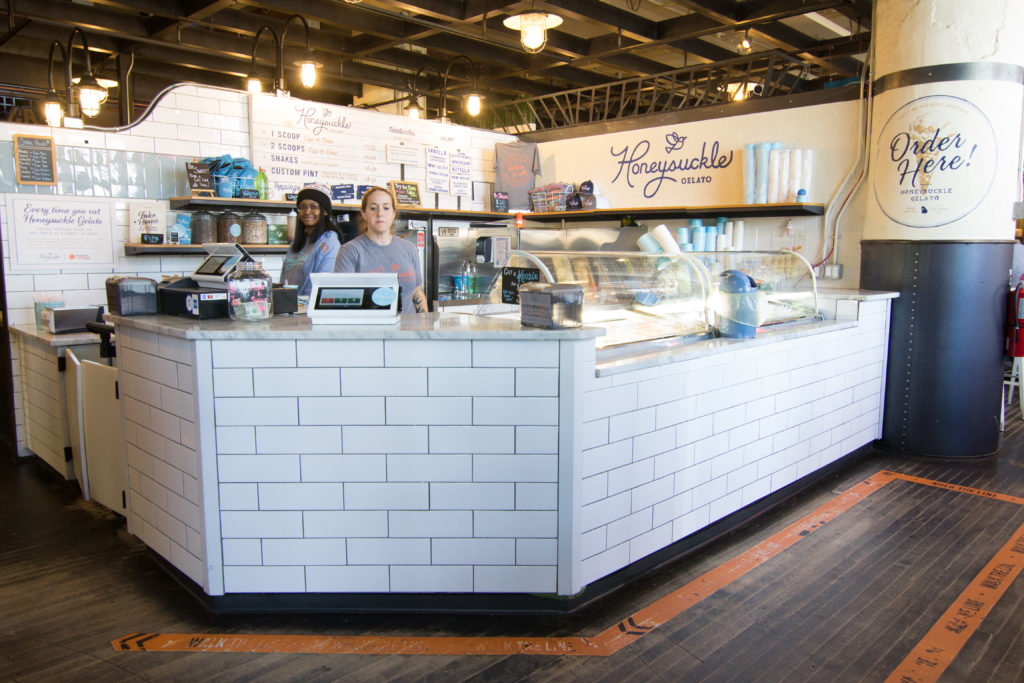 You know the gelato is good when I'm willing drive clear 'cross town, brave the Atlanta traffic and spend all eternity searching for a parking spot at Ponce City market, just for a scoop or two of this heaven on a cone. They have deliciously unique hand-crafted flavors like Blueberry Cornflake Crunch and Honey Lavender. Of course you can find your typical favorites like Chocolate and Vanilla. My personal favorites are Salted Caramel Crunch, Brown Butter Crunch, and Strawberry Shortcake. Oh and the milkshakes are not to be missed! It even comes in a souvenir mason jar that you get to keep, and who doesn't love a cute mason jar?
The rooftop bar of Hotel Clermont is one of the best places in Atlanta to sip sundowners and take in skyline views. The newly renovated hotel is a hotspot for locals and travelers alike, so there may be a bit of a wait to get up to the rooftop. However, it's absolutely worth the wait. Vintages vibes, delicious cocktails and jumbo Jenga, you're certain to make a new friend or two.
View this post on Instagram
This place doesn't open until 6 pm, but get there early because parking is a bee sting! You can grab dinner here, I've heard the food is amazing; however, I've only stopped through for drinks. They serve up an assortment of Vermouths, something I acquired a taste for while living in Spain, and hand-crafted cocktails that can change daily. If you don't see anything on the menu that tickles your fancy, have the bartender whip you up something special.
What Else You Should Know
I've already giving you a few navigational tips on navigating the streets of Atlanta, but here are a few other things I absolutely loved about the Outlander Sport:
Rearview Camera: this is one of my favorite features. For somebody that is not the best backer-upper, it comes in handy and helps me see what's behind me and what's coming my way.
FAST-Key Passive Entry: This will have you SPOILED! Lock and unlock your doors with a touch of a button on the door handle, as long as the key is somewhere on your person. So, no more digging through your bag and/or pockets rummaging for the key.
Lane Departure Warning: if you start to merge into another lane without using a signal, the Outlander Sport will visibly and audibly alert you
Forward Collision Mitigation & Brake Assist: with Atlanta's stop and go traffic, it's easy to find yourself in a fender bender. This awesome feature detects if you're getting too close to a vehicle in front of you and will automatically break to prevent collision.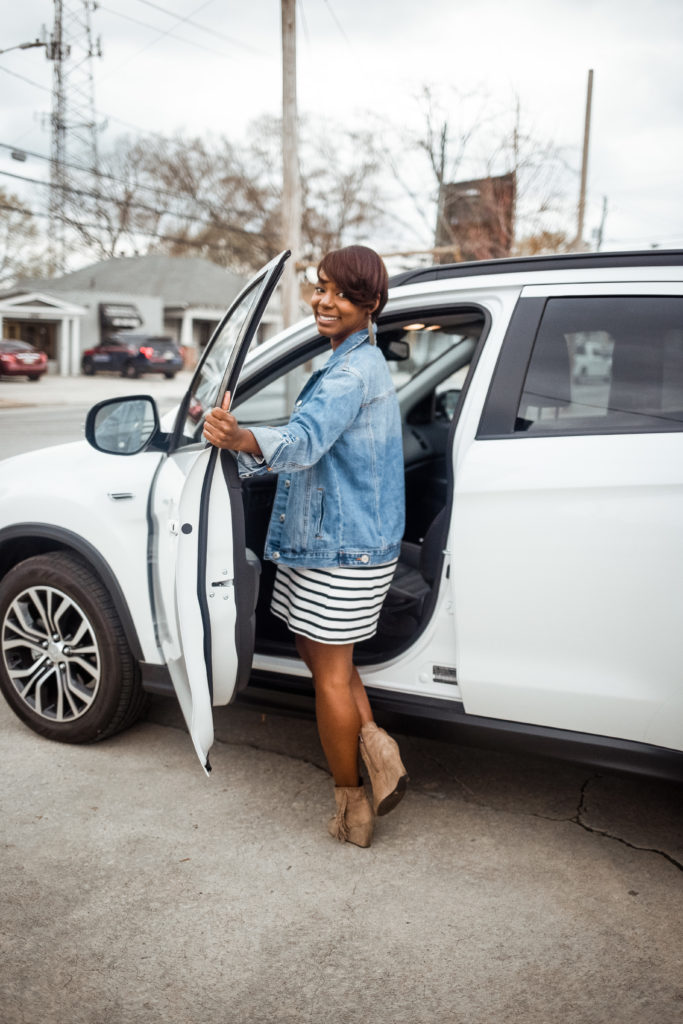 Now, that I've given you the rundown on navigating these Atlanta streets and some of the best places for tantalizing eats, I'll leave you with a few other funny tips from a fellow ATLien on How to Drive in Atlanta:
Do you have any additional tips or restaurant recommendations for Atlanta? I'd love to hear them! Leave me a comment below! 


SPECIAL THANKS TO MITSUBISHI FOR PROVIDING ME WITH THE OUTLANDER SPORT FOR MY DRIVING PLEASURE. AS ALWAYS, ALL OPINIONS ARE MY OWN.