Boutique Hotels in Missouri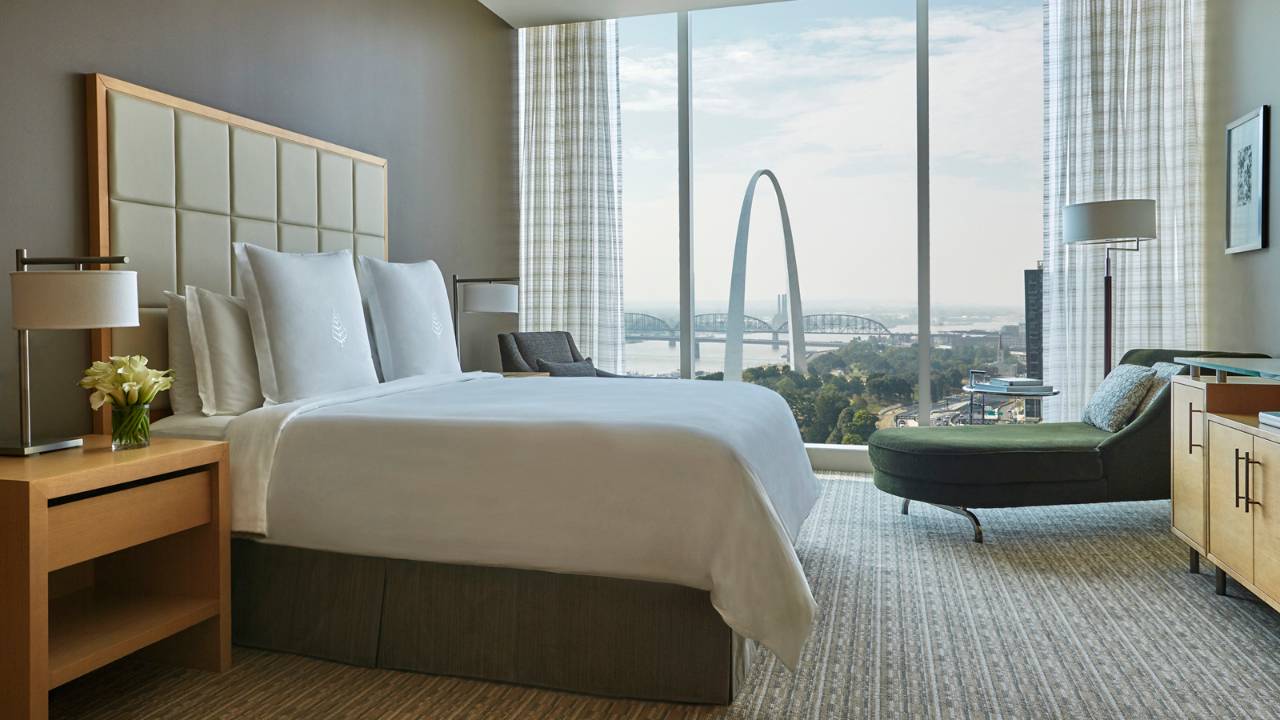 This article is part of the Hipmunk Hotels Campaign
Known as the Gateway to the West, Missouri is the ideal destination for all types of vacations. Whether it's a weekend road trip or a romantic getaway, Missouri offers something for everyone. Check out this list of things to do and cheap places to stay during your trip to Missouri.
Enjoy the Arts in Kansas City
If you're a lover of the arts and you find yourself in Missouri, you may want to consider staying at the Holiday Inn Country Club Plaza. Located near the Kemper Museum of Contemporary Art, the Nelson-Atkins Museum of Art, and Donald J. Hall Sculpture Park, this is the ideal location for an art lover.
As the name suggests, the hotel is conveniently located a couple of blocks from the Country Club Plaza. Here, you can take a stroll and enjoy the beautiful fountains and artwork, as well as peruse the array of shops. Take your pick from the exceptional restaurants, and don't leave the city without trying Kansas City barbecue.
Plan a Romantic Getaway in St. Louis
Looking for a romantic getaway for you and your special someone? The Four Seasons Hotel St. Louis has you covered. This luxury hotel has taken romance to a whole new level, offering packages specifically designed for couples. Go on a foodie excursion, enjoy the local tastes of St. Louis, or if you're more adventurous, indulge in a helicopter tour taking in the city from a bird's-eye view.
Want something a little more intimate and relaxing? The Four Seasons offers a romantic spa package that includes a bottle of bubbly and a couple's massage. Concierge service is also available to accommodate your every wish to ensure your romantic retreat is an unforgettable one.
Discover the History of St. Louis
You can't visit St. Louis without visiting the historical Gateway Arch. To date, it is the tallest manmade national monument in the United States. Take a four-minute ride up the 630-foot arch, and enjoy breathtaking views of the city, up to 30 miles each way.
Take a stroll just two blocks from the Arch, and explore the Old Courthouse, built between 1839 and 1862. Here, you can take a step even further back in time  and see the place where historical civil and women's rights battles were fought. Wander through other exhibits and discover how St. Louis played a pivotal role in early settlers moving out West. Don't forget to stop by the Missouri History Museum and enjoy exhibitions and events such as family festivals, concerts, theatrical performances, and more.
After a day of exploration, retire to the Marriott St. Louis Grand Hotel. Enjoy a meal at Zenia Bar and Grill and kick back and relax in your luxurious guest room, where you can take in the city views.
Have Some Family Fun
St. Louis offers a plethora of family-friendly and fun attractions, and nothing screams fun like a plummeting from a 21-story drop while going backwards, right?! Don't worry, if that's not your idea of fun, Six Flags St. Louis has a nice carousel with your name on it. Spend the day at the theme park or head over to the Magic House Children's Museum where the kids can enjoy interactive and hands on exhibits. You can also spend a day wandering through the magical Botanical Gardens, or its other property, the Butterfly House.
Want a hotel close to it all? The Parkway Hotel is your place. It provides comfort, convenience, and first-class guest services to ensure you have an unforgettable stay.