The Best Place to Stay in Denver: The Ramble Hotel
Kay and I live two very busy entrepreneurial lives. She's a renowned speaker, philanthropist, and founder of Nap Bar (coming to an airport near you!), and I travel for a living as a travel writer and content creator. However, every now and then, me and Kay's travel worlds aligns and we get to join each other on work trips. Most recently, we traveled to the Mile High City, aka, Denver. Kay was there on business, attending a multi-day conference, and I was there for strictly pleasure and relaxation. There was no better place to do just this than The Ramble Hotel. Nestled in Denver's charming RiNo (River North) Arts District, the Ramble Hotel is an industrial-chic hotel capturing the city's adventurous and creative spirit. With its impeccable design, top-notch amenities, and unparalleled location, the Ramble Hotel stands out as the best place to stay in Denver.
The Hotel ~ Best Hotel in Denver, Colorado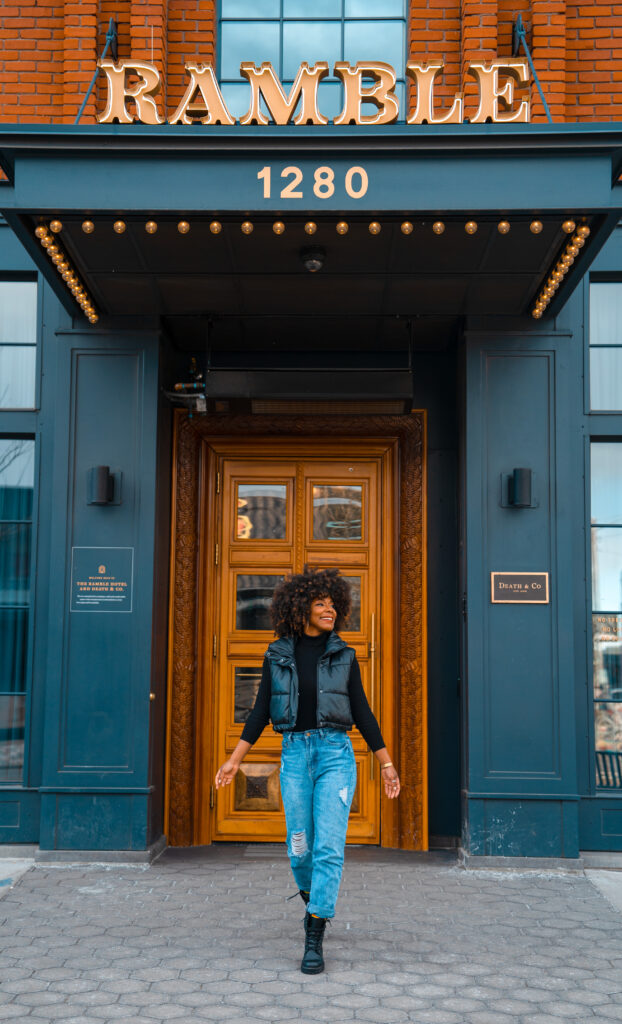 From the moment you step into the hotel's stylish lobby, you're greeted by refined charm with buttery-lit chandeliers that counter exposed brick and velvety blue furniture. The Ramble's stunning decor, with its mix of industrial-chic and vintage glamour, is a testament to the hotel's dedication to unique design. The lobby's custom-made furnishings, elegant chandeliers, and curated artwork create a warm and inviting atmosphere that sets the tone for the rest of your stay in Denver.
Food & Drinks at The Ramble Hotel
The Ramble Hotel isn't just for your eyes – all your senses are at play here. The hotel's Death & Co. bar, which originated in New York City, serves up some of the best cocktails in town. Its cozy atmosphere and expertly crafted libations are perfect for a nightcap or a pre-dinner drink. Try the Cryptogram. It is absolutely delicious — you'll thank me later!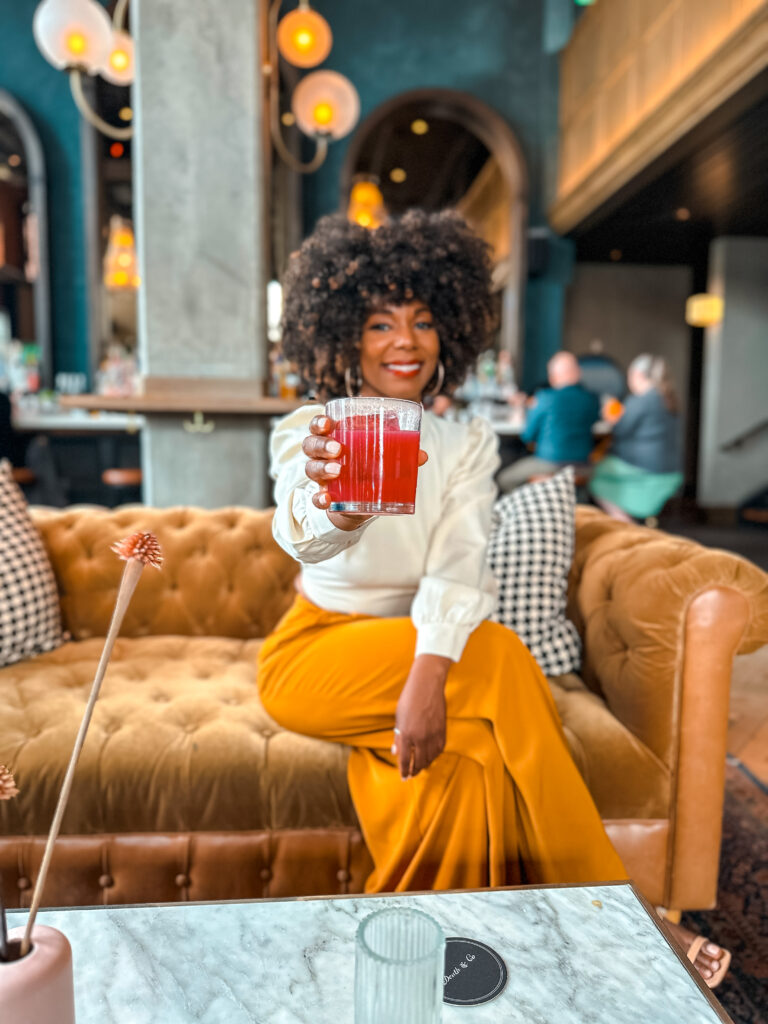 There's also Super Mega Bien, a lively and eclectic restaurant serving Pan-Latin cuisine, much of which is served dim-sum style. Coffee lovers haven't been forgotten either. If the freshly roasted French press coffee in your room wasn't enough, head over to DC/AM for specialty coffee, teas, fresh pressed juices, and light breakfast bites. The avocado tartine, breakfast potatoes, and cappuccino (with their in-house made caramel syrup) were my go to's.  Finally, The Garden is the spot to feel laidback in the sun with cocktails, cold drinks, and a full dinner menu. The best hotel in Denver has a little something for everyone.
The Best Hotel Rooms in Denver
Its 50 rooms and suites offer superb comfort and luxury in Denver, with wide plank hickory flooring and antique Persian rugs. Each room features ultra-soft bedding, floor-to-ceiling windows, a large flat-screen TV, and a private bathroom with upscale toiletries. We can't forget the French press coffee machines and chic makeup vanities either. One thing I feel never gets enough attention in hotel reviews is the unexpected noises inside the room, such as the AC/heat unit. I am a very light sleeper and Kay needs total silence to sleep (she usually travels with ear plugs for this reason), and our room at the Ramble delivered! The AC/heat unit was so quiet we couldn't even tell when/if it was on, aside from feeling it.
Suites offer even more space and luxurious amenities, including a separate sitting area and a claw-foot soaking tub. No matter which room you choose, you'll be treated to the ultimate in comfort and style.
The Location ~ Denver's RiNo Arts District
You'll find the hotel perfectly situated in Denver's RiNo Arts District, noted as one of Lonely Planet's "Top 10 neighborhoods to visit in the U.S." This bustling neighborhood is known for its vibrant street art, artisanal coffee shops, craft breweries, and industrial style. This trendy area attracts a young and creative crowd, making it the perfect location for travelers who want to immerse themselves in the city's local culture.
The hotel is near some of Denver's top attractions, including Union Station, the Museum of Contemporary Art, and Coors Field, home of the Colorado Rockies baseball team. Whether you're in for a night out on the town or a day exploring the city's rich history and natural beauty, the Ramble Hotel's prime location offers easy access to everything Denver has to offer.
If you're looking for an independently owned, boutique hotel, look no further than The Ramble Hotel. Easily, this is the best place to stay in Denver.
Info
Address: 1280 25th St, Denver, CO 80205
Phone: (720) 996-6300
Classification: 4 Stars
Check In: 3:00 p.m.
Check Out: 11 a.m.
Check Rates for your dates here.
What's Nearby
Coors Field: 9 min walk
16th Street Mall: 18 min walk
Union Station: 20 min walk
Denver Intl. Airport: 29 min drive
Save for Later
Planning a Trip?
Disclosure: I received two complimentary nights and two nights at a media rate for my stay at The Ramble Hotel. However, as always, all opinions are my own.