Snowmobiling as a first-timer with Uncharted Society
There's something about those arctic temps that seep into the depths of your bones, the brisk winds that turn your tears into mini icicles, and the tingle in your toes that makes you question if your little piggies are still intact or is that just hypothermia setting in that makes you second guess any and everything about venturing into the world of outdoor winter sports. However, as a recent "summer vibes only" convert, let me tell you, outdoor winter adventures are absolutely worth it!
I recently spent some time in Park City, Utah during the holiday season, ventured over to Vail, Colorado for the National Brotherhood of Skiers Black Ski Summit, and tried my hand at snowmobiling with Uncharted Society in Ketchum, Idaho. I think I've fallen in love! Actually, I know I have, because whereas before I would dodge the cold like the plague, I'm now itching to get to my next winter sports destination, making holiday plans that are (10 months away), and declaring that my family will have an annual winter sports getaway, with Uncharted Society experiences being at the top of my list.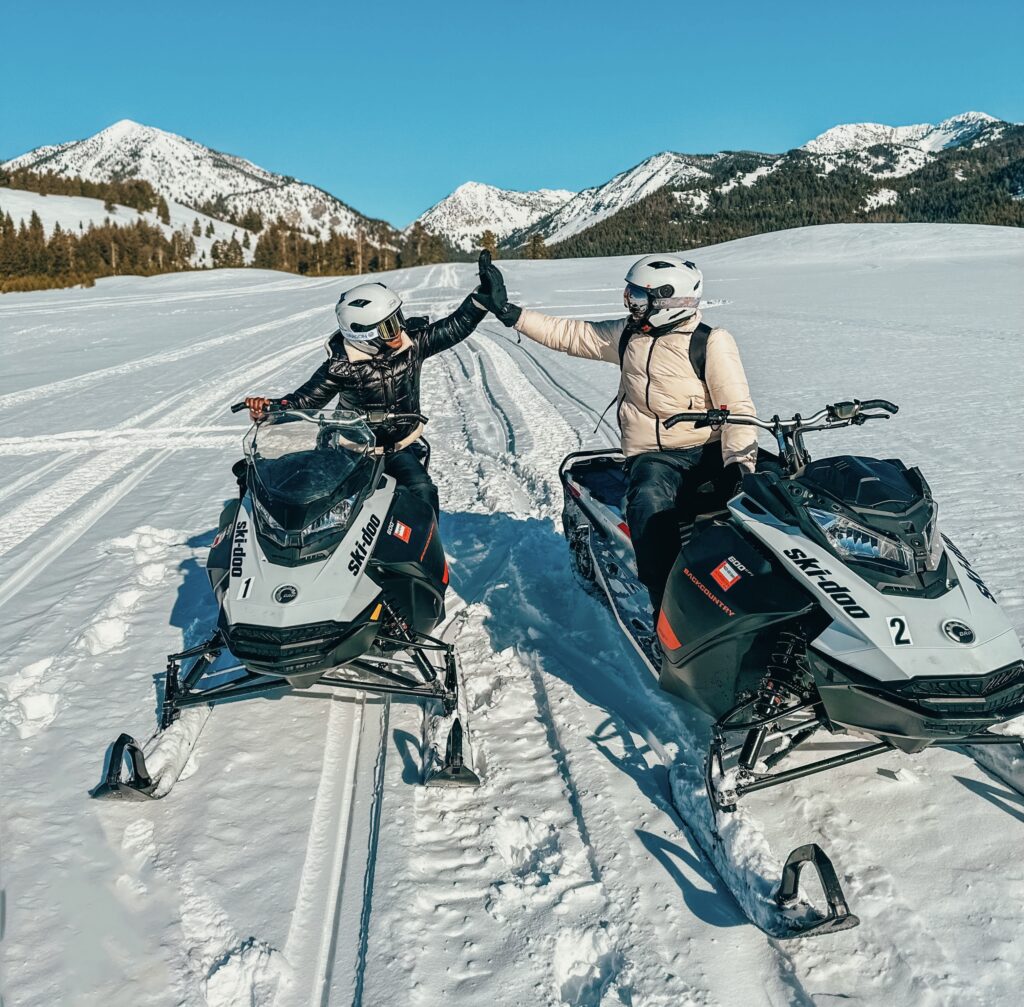 Part of this fire has been ignited because it's just SO MUCH FUN! The other part is, being the representation I would like to see in this space, encouraging diversity in winter sports, and blazing these snowy trails to create a path for positive change in this industry, making it a place where all feel welcome.
Snowmobiling is a thrilling winter sport that allows you to explore the great outdoors in a unique and exciting way. If you're a first-time snowmobiler, there are some essential things to keep in mind to make the most of your experience. Here's what you need to know about booking a tour through Uncharted Society, tips for first-timers, safety precautions to take, and what to wear when snowmobiling.
Why Book a Snowmobiling tour with Uncharted Society?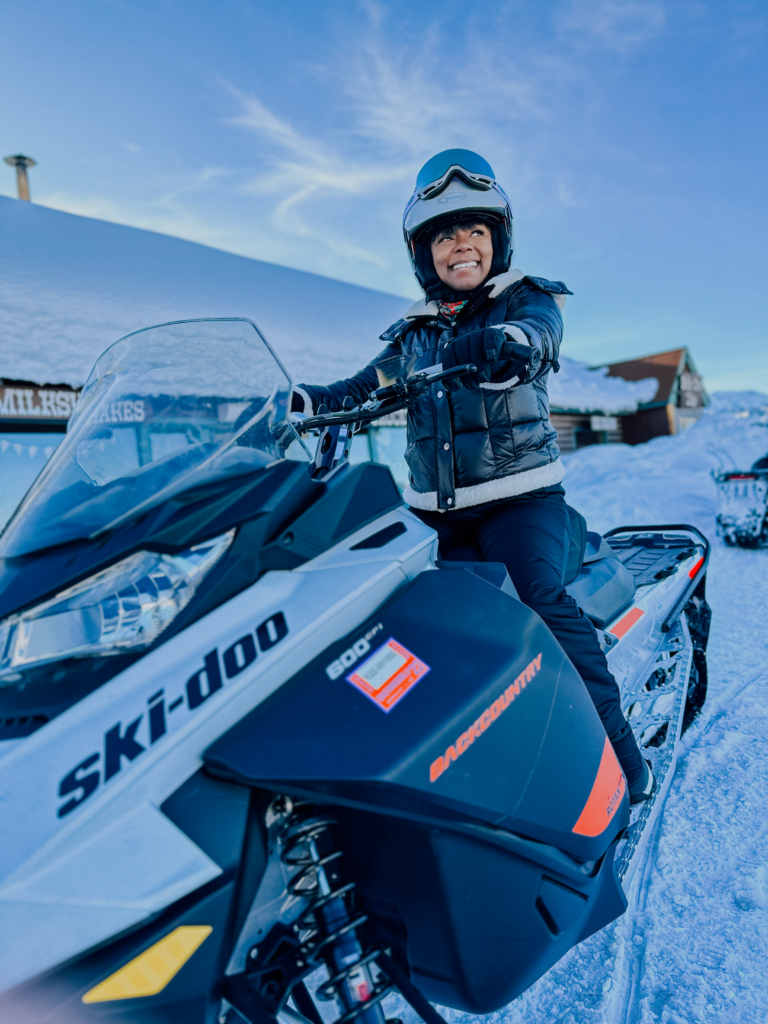 Uncharted Society is a one-stop-shop for powersport experiences. You will find everything from off-roading in Yosemite to ATVing in the Norwegian arctic, cave exploring in Alaska, and so much more. They partner with local outfitters with fleets of BRP brand products like Ski-Doo, Sea-Doo, and Can-Am to offer exhilarating outdoor adventures. Personally, when I'm trying something for the first time, I want simplicity and ease. That's what Uncharted Society provided. I also love that they offer women-led experiences, like the Sled Sisters Ski-Doo clinics at Smiley Creek Lodge, where we did our snowmobiling adventure.
Do I need experience to go snowmobiling?
If you're considering going snowmobiling for the first time, you may be wondering if previous experience is required. The good news is that you don't need any prior snowmobiling experience to enjoy this exciting winter activity. Most snowmobiling companies offer guided tours with experienced instructors who can teach you the basics and ensure your safety on the trails. During the tour, you'll receive instructions on how to operate the snowmobile, as well as tips on how to navigate different terrains and snow conditions. With a little guidance, you'll be cruising through the snow and having a blast in no time. So, whether you're an experienced rider or a complete beginner, like myself, there's no reason why you can't enjoy the thrill of snowmobiling.
View this post on Instagram
Is Snowmobiling Safe?
Like any outdoor activity, there are risks involved with snowmobiling. However, by taking proper safety precautions and following the trail rules, you can minimize these risks. It's important to always wear a helmet and other protective gear, stay on designated trails, and take a safety course (which is included in the Sled Sisters Ski-Doo clinics at Smiley Creek Lodge) before snowmobiling for the first time. Being on unfamiliar terrain, in a likely remote area, I say it is highly imperative that you go out with a guide as a first-timer. Snowmobiles can get stuck, which actually happened in our case, and I could not imagine being out there alone with no assistance from an expert. So yes, snowmobiling can be an exhilarating and rewarding experience for first-time riders, but always be sure to follow safety precautions and respect the environment.
What to expect on a snowmobiling tour with Smiley Creek Lodge
We decided to stay and play at Smiley Creek Lodge, which worked out perfectly! The lodge is about an hour's drive from Friedman Memorial Airport, so we rented a car and made the beautiful scenic drive. If you plan on driving, be sure to have a vehicle with all-wheel drive because the road conditions can be a little snowy and icy in the winter. If you decide to stay at Smiley Creek Lodge, you'll have a few different lodging options to choose from — tiny houses, tents, yurts, and cabins are all available. We stayed in the Orchid tiny house and it was comfy, cozy, and super cute! It was actually more spacious than I thought it would be, and perfectly accommodating for two people.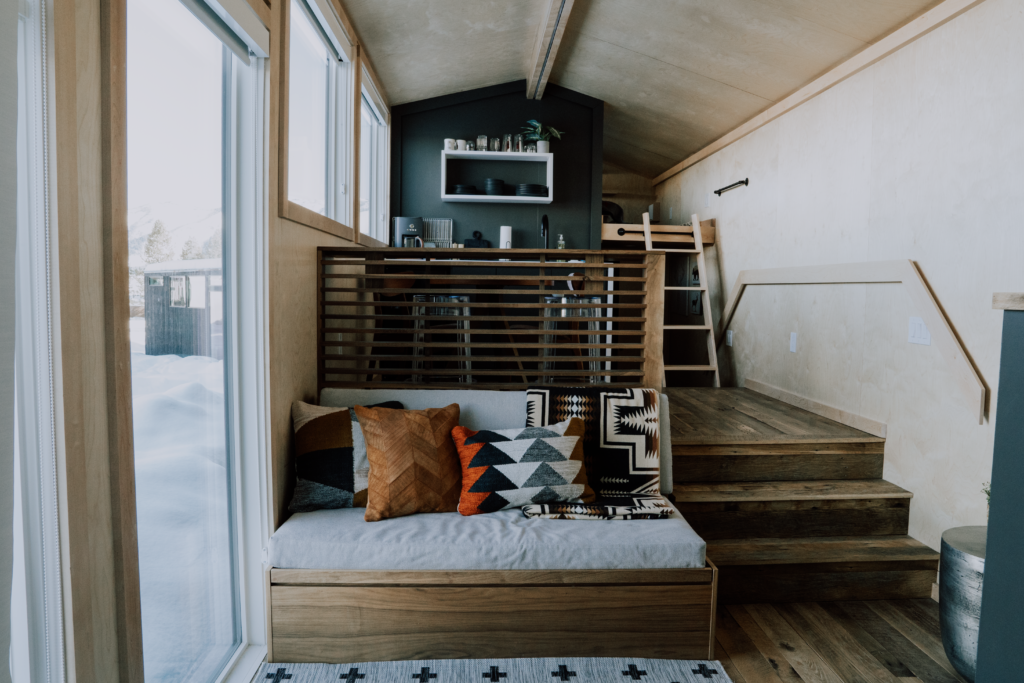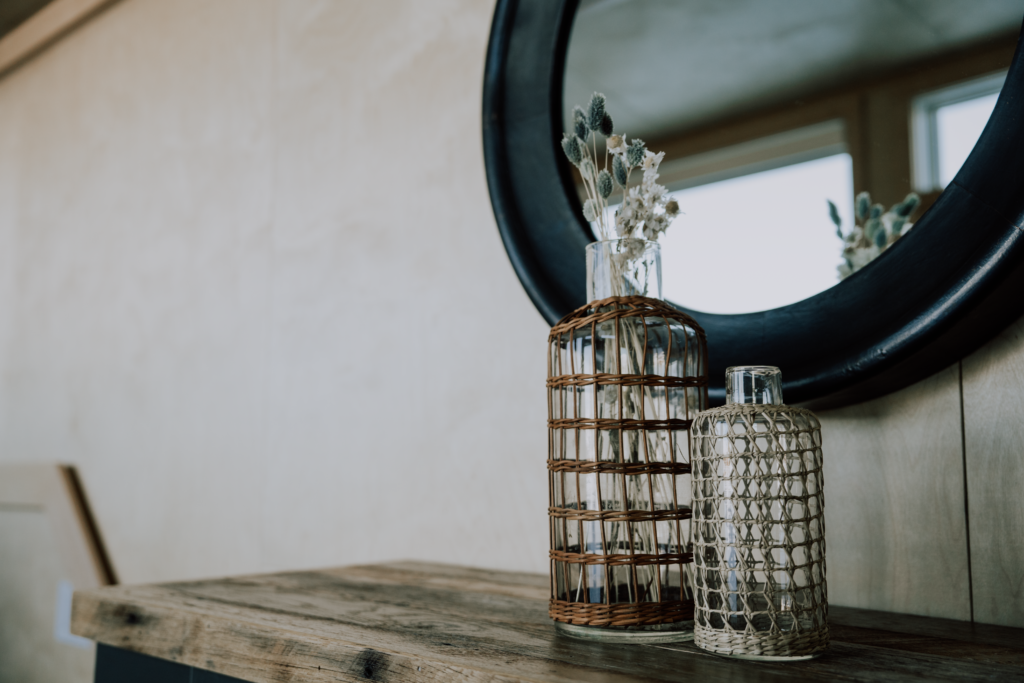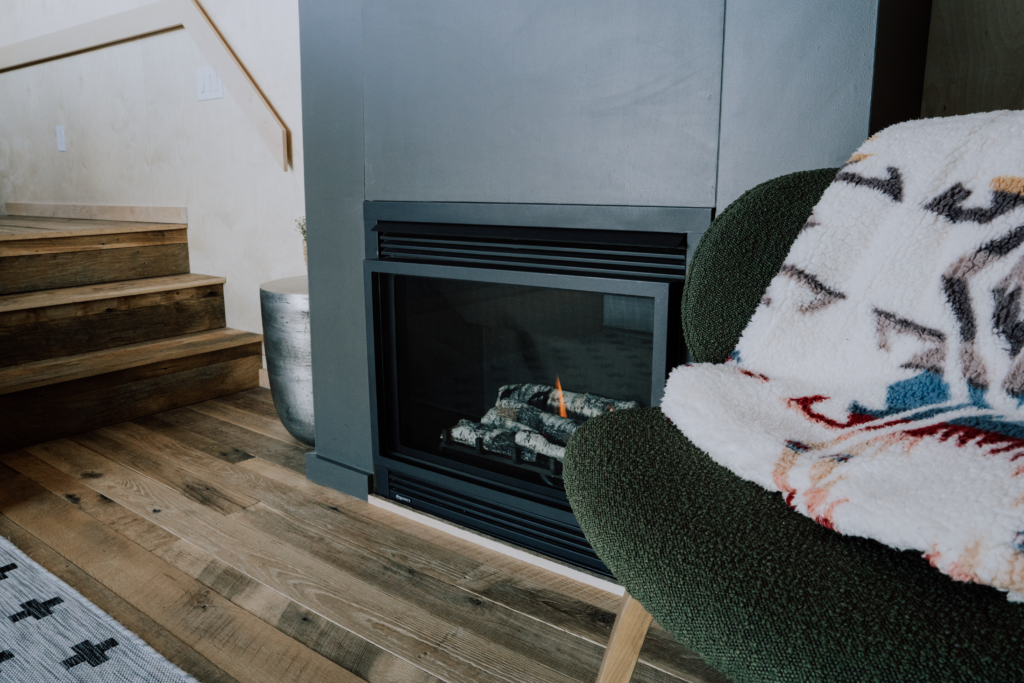 What I loved is we didn't have to travel far for our snowmobile tour. We simply checked in at the front desk/restaurant/gift shop and we were on our way! Speaking of restaurants, be sure to fuel your day with some of Smiley Creek's delicious eats! Kay had the Kale salad with grilled chicken, and I had a bratwurst and fries. Don't forget to ask for the fry sauce! YUM!!
After lunch, we headed out with our instructor who went over all the safety measures and the plan for the day. The instructor was super knowledgeable and totally made us feel at ease as first-timers. We spent about three hours on the trails, and to say we had fun would be an understatement! The views, the adrenaline, the sheer joy, and the excitement were everything!! We're already planning our next adventure!
What to Wear Snowmobiling
The right clothing is essential when you're going snowmobiling. Here are some key items to include in your outfit:
Helmet: A snowmobile helmet is essential for safety. Make sure it fits well and is properly secured. Smiley Creek Lodge provided these for us.
Goggles: Snowmobile goggles will protect your eyes from the wind and flying debris. My recommendation: Dragon Alliance Snow Goggles
Layers: Dress in layers to stay warm and comfortable. A base layer of thermal underwear will help regulate your body temperature.
Snow pants and jacket: These should be waterproof and insulated to protect you from the cold and snow. Our instructor also told us, having pants with zipper vents also helps with air circulation.
Gloves: Warm, waterproof gloves are important for keeping your hands dry and comfortable.
Boots: Waterproof boots are super important for keeping your feet warm and dry.
Wool Socks: Stay away from cotton socks, as they retain moisture easily and do not provide as much warmth as wool socks.
Balaclava/neck gator: Protect your face from cold exposure and debris with a neck gator.
Here is everything I wore that kept me super warm!
Tips for First-Time Snowmobilers
Here are some tips to keep in mind as a first-time snowmobiler:
Take a safety course and go with a guide: Before you hit the trails, take a snowmobile safety course. This will teach you the basics of snowmobiling, including how to operate the machine and how to stay safe.
Start slow: It's important to take things slow as you get used to the snowmobile. Start by riding on flat, open terrain to get a feel for the machine.
Follow the rules: Always follow the rules of the trail and obey posted signs. This will help keep you and others safe while you're snowmobiling.
Stay on the trail: Don't venture off the trail, as this can be dangerous and may cause damage to the environment.
Respect the environment: Snowmobiling is a fun activity, but it's important to respect the environment. Don't litter or disturb wildlife, and stay on designated trails.
Our snowmobiling adventure with Uncharted Society and Smiley Creek Lodge was beyond amazing! If you're a first-timer, I highly recommend booking an experience with them!
Save for later!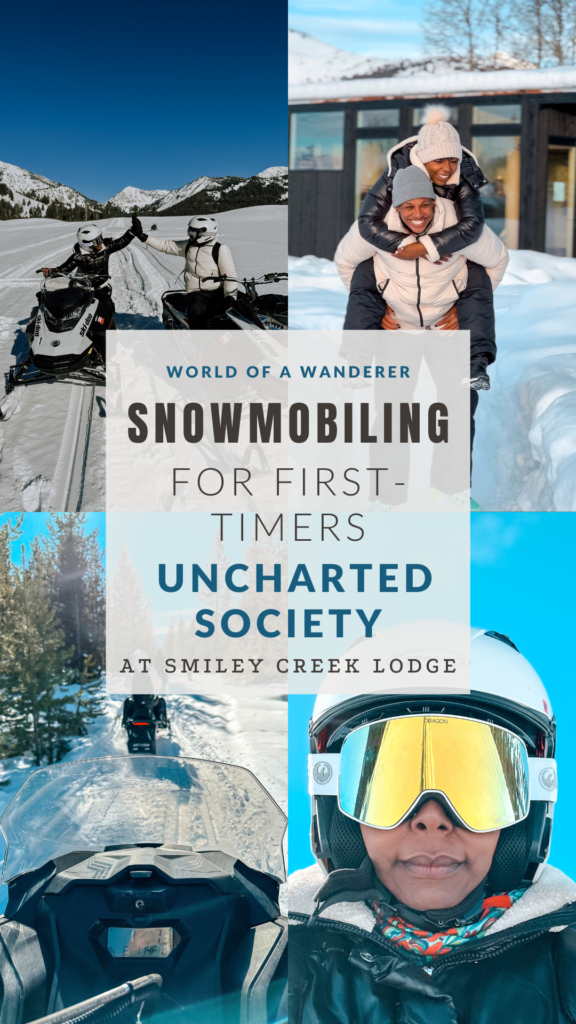 Planning a Trip?