The Best Co-Working Spaces in Mérida, Mexico
Arriving to Mérida in January of 2019, co-working spaces were unheard of here. There were essentially none. However, more and more are popping up and, not only that, the young expat community in Mérida has grown as well (which was also none existent when I arrived). I've found my tribe of young, Black (M)expats who all either work for themselves or are working remotely, like myself, so we often get together for co-working sessions, bouncing ideas off each other and offering up ideas and suggestions on how to elevate our businesses. If you're in Mérida and looking for co-working spaces, here's a list of some of the ones I've tried out.
Since cafés have been shut down due to the pandemic, this has been my go to for co-working in Mérida. This is a brand new, three-story space, where you can rent out private offices, conference rooms or just utilize the space for working. It's located at Paseo 60, so you have restaurants and shops just downstairs. There's even a wine bar that my friends and I frequent after a long day of co-working.
Conexión 60 offers free coffee and water, and there's a lunch rooms with refrigerators and microwaves for you to heat up food. The staff is INCREDIBLE! Seriously, Arya, the manager, is the sweetest, most accommodating lady ever. There are different prices/packages you can purchase for co-working. A day pass is $200 pesos. Or you can purchase 12 visits (which is what I typically buy) for $2000 pesos. You can also purchase an unlimited monthly pass for around $2700 pesos. This co-working space is 24 hours, so if you're a night owl or burning the midnight oil, this is your place.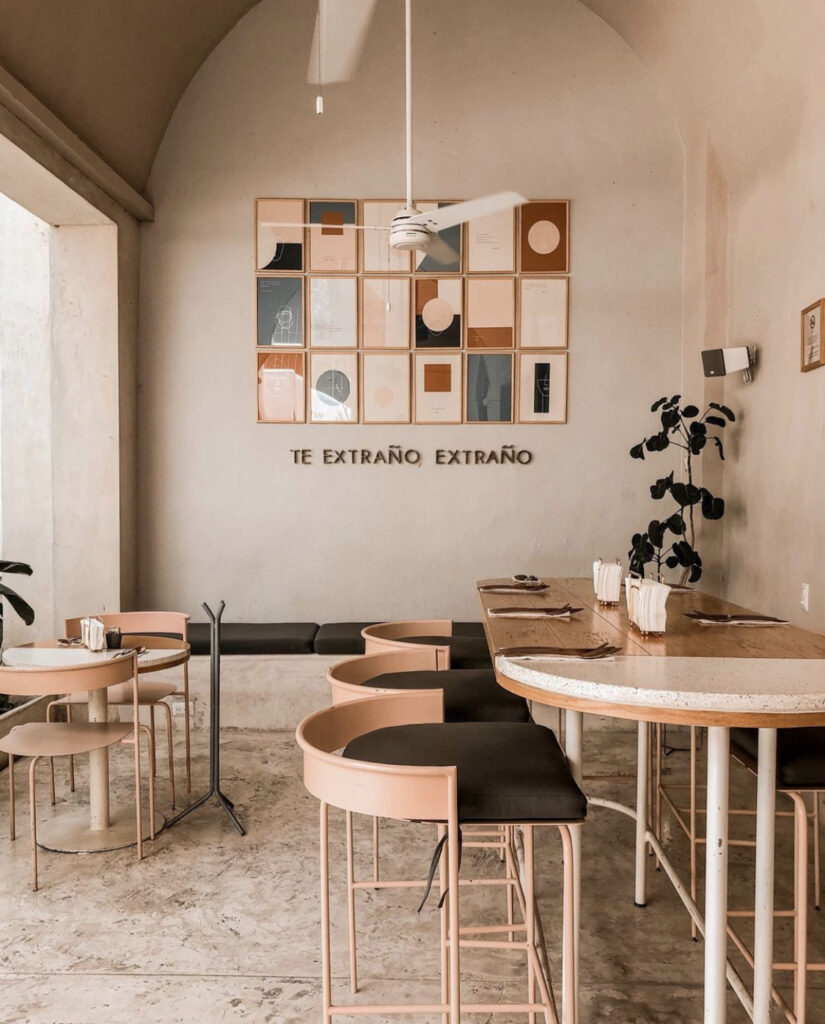 This is another one of my faves for the aesthetics alone. Lagala is a co-working space/gallery/concept store/cafe. I don't use their co-working space much as it is just a room with no windows, and I need windows and lots of sunlight, so I typically sit in one of the other smaller rooms or outside if it isn't blazing hot. What I love most about this space is just how freakin' cute it is! Aesthetics are EVERYTHING for me and Lagala nails it! It's super artsy with a minimalistic design. My only gripe about Lagala is the wifi is sometimes hit or miss and that's kind of a big deal when you're trying to work remotely.
This is my new favorite hot spot for co-working. It's located in my neighborhood, it's super cute, it has outdoor seating with outlets, the caramel cappuccinos are on point and so are their cocktails and mezcal (2 for 1 drink special anyone?), and they are located in Plaza Carmesi, which also houses an English bookstore and some other super cute artisanal shops. What's not to love about this place?! It's relatively new, the Plaza opened March 1, but then had to shut down March 15 due to covid. They just recently reopened a few weeks ago. My girlfriends and I met up for a co-working date where we worked, chatted, ate, drank and learned random facts and heard incredible tales from our amazing waiter Fernando, for about 9 hours. We shut the place down we enjoyed it so much. It's now my favorite go-to spot for co-working in Mérida.
Good coffee, good food, cool co-working vibes…sign me up! El Orden is a great space for co-working for small groups. The space is pretty small so it's not ideal for larger groups, though they do have outdoor seating. But, in the dead of summer (which is essentially 9 months out of the year), no one is really sitting outside. They do have a small upstairs space that you can rent out for small groups and can utilize the windows as your white board. Some friends and I used to have our Spanish classes up there, but you can't be too loud, because they will shush you.
You can also print at El Orden, which is a plus! And if you don't order anything else, definitely order a slice of cake! They have chocolate and carrot cake. The chocolate is superb! I don't like carrot cake, but many say it's the best in Mérida, so give it a try!
Though technically not a co-working space, lots of remote workers and digital nomads work out of this coffee shop in Centro Mérida. There's a good bit of seating and outlets for you to plug up your devices. The people are super kind, the coffee and smoothies are also really good and I love arrachera sandwich – YUM!
This co-working space in Mérida is located near the Santiago neighborhood in Centro. I only visited once, but the people were kind and offered free coffee and water. I liked the colorful decor and that there were separate conference and meeting rooms. The actual co-working setup wasn't one of my faves as the desks and chairs are mostly facing the wall, and the chairs are not ideal for hours of sitting. I felt like I was in detention or something, but if you don't mind the lack of windows or scenery this place may work for you. The daily rate is $90 PESOS or you can purchase a 10-day pack for $500 PESOS, 20-day pack for $1,200 pesos or a 30-day full pass for $2,320 pesos.
Have you discovered any other co-working spaces in Mérida? Drop them in the comments below!
PIN ME!

---
Thinking about Moving to Mexico?