How to Pack For 1 Month in Southeast Asia: Carry-on Only
Ok…I will be the first to admit that light packing has NEVER been my thing. I am THAT girl. You know, the one that has 3 bags for a weekend trip. Or the who shows up at someone's door and they ask, "Ummm…are you moving in?". Yeah…THAT girl. I mean, what can I say? I need options. But, since my move to Korea, I have been forced to adapt a minimalist lifestyle. Life no longer consists of walk-in closets, cute no longer trumps comfort, and lots of options are no longer an option. Plus with frick and frack (my two feet) being my only mode of transportation these days (besides my beloved bicycle, Appolonia) carrying around bags that are half my weight is just, no. So, like I said I've been forced to change my first world ways.
For this particular trip I knew I would be several flights and there was no way I was going to check a bag for every flight. So to save myself a lot of bucks I was determined to fit everything into one carryon bag, AND keep it at or under 7 kg (15 lbs) which is the weight limit for several Asian budget Airlines.
Here is my packing list for Southeast Asia: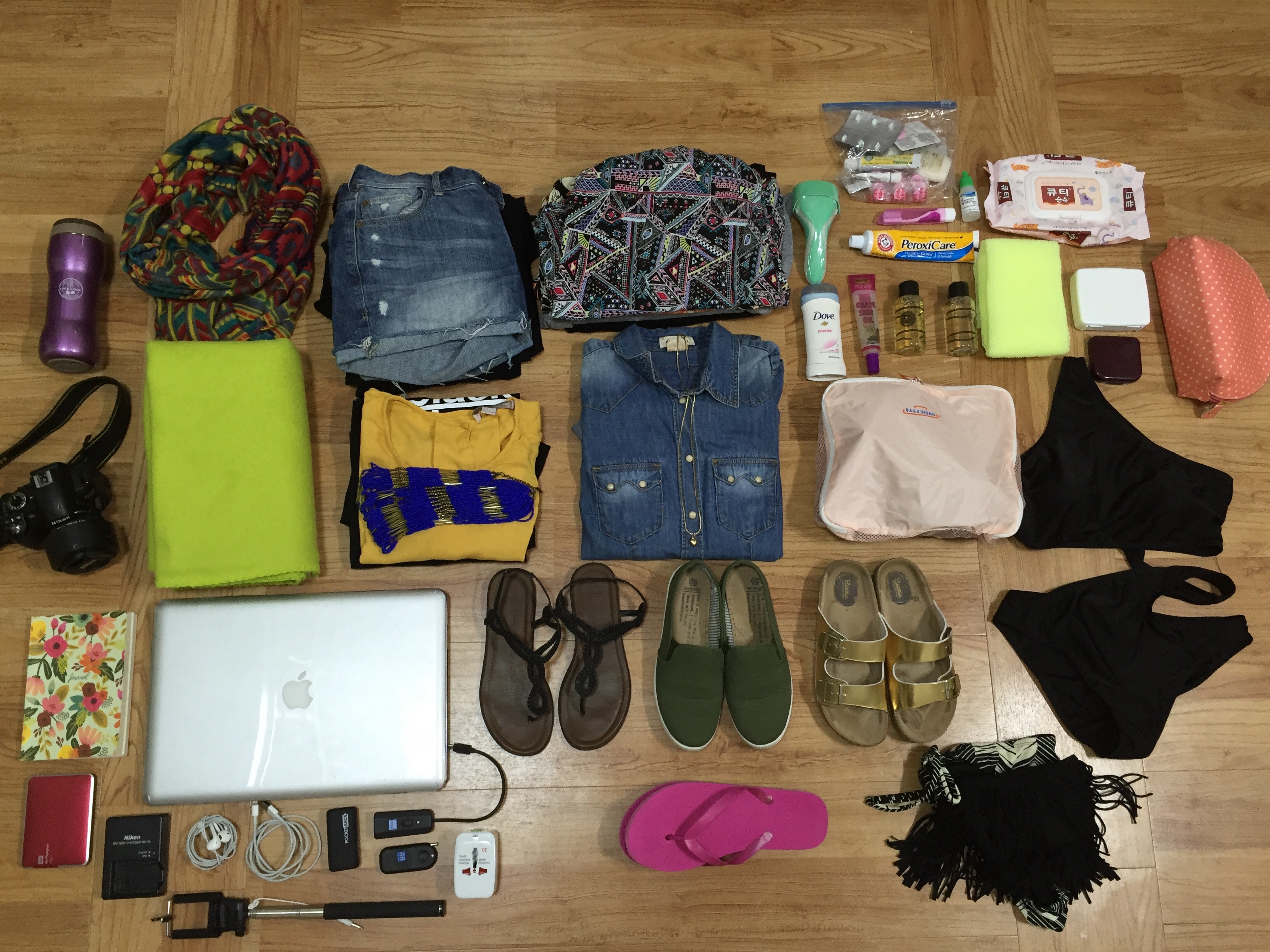 Backpack
Coleman Adventure Backpack: I scooped up this little diddy on a last-minute, Walmart, midnight run before coming to Korea. It's nothing fancy but it has gotten the job done for a couple of big trips. I like it because it has wheels so I can avoid having to carry it around on my back.
Clothes 
5 dresses
2 tees
2 tanks
1 long-sleeve Chambray shirt
1 pair of denim shorts
1 pair of cotton shorts
1 long maxi skirt (great for temples)
1 pair of thin harem pants
2 swimsuits
Not shown (in the pink packing cube):
5 pair undies
2 bras
3 pairs of socks
***update: I could've left the Chambray shirt at home. It was HOT in SEA. The only time I wore it was on a 9 hour layover in Kuala Lumpur (only to be respectful of the culture), but it proved to be way too hot there too, so I ditched it. Also, I could've made do with 1 or 2 pair of undies. After a week I ditched them altogether. Who needs undies?! Be breezy! 🙂
Accessories
1 Scarf used for fashion and function (cover shoulders in temples, head wrap, etc)
2 necklaces
3 pair of earrings
***update: I didn't wear either of the necklaces I brought, but I did buy one in Vietnam that I wore every day.
Footwear
$10 Korean knock off Birkenstocks
Comfy slide ons
Cheap flip flops (used as shower shoes)
1 pair of sandals
Toiletries
Fast-drying washcloth
Mini first aid kit
Sewing kit
Makeup bag
Baby wipes
Toothbrush
Toothpaste
Travel-size body wash
Shampoo (conditioner not shown…needed to buy a travel-size bottle at the time of the photo)
Hair moisturizer
Deodorant
Schick Intuition Razer
Lotion
Electronics 
15' Macbook Pro
Laptop charger
Universal adapter
Nikon D3100 DSLR Camera
Camera charger
External hard drive
Iphone 6 (not shown, because I used it to take the photo :))
2 iPhone USB cords (one of them not shown)
Earphones
Backup phone charger
Wireless Shutter Remote for DSLR
Gorillapod
Extra SD cards (not shown)
***update: I ended up bringing a smaller backpack, as my one personal item, that I packed my laptop, camera, and chargers in. I also used the smaller backpack to carry around on a daily basis.
Other Odds and Ends
Blanket (if I don't carry anything else with me I ALWAYS have a blanket)
Packing cubes (where have these been all my life?!?!)
Thermos (for cold water)
Baggie of meds (anti-diarrheal, antibiotic creams, Pepto Bismol tablets, etc)
Eye drops
Selfie stick
Journal
Small notebook (not shown)
So, there you have it. How to pack one month of travel around Southeast Asia into a carry on bag, like a BOSS!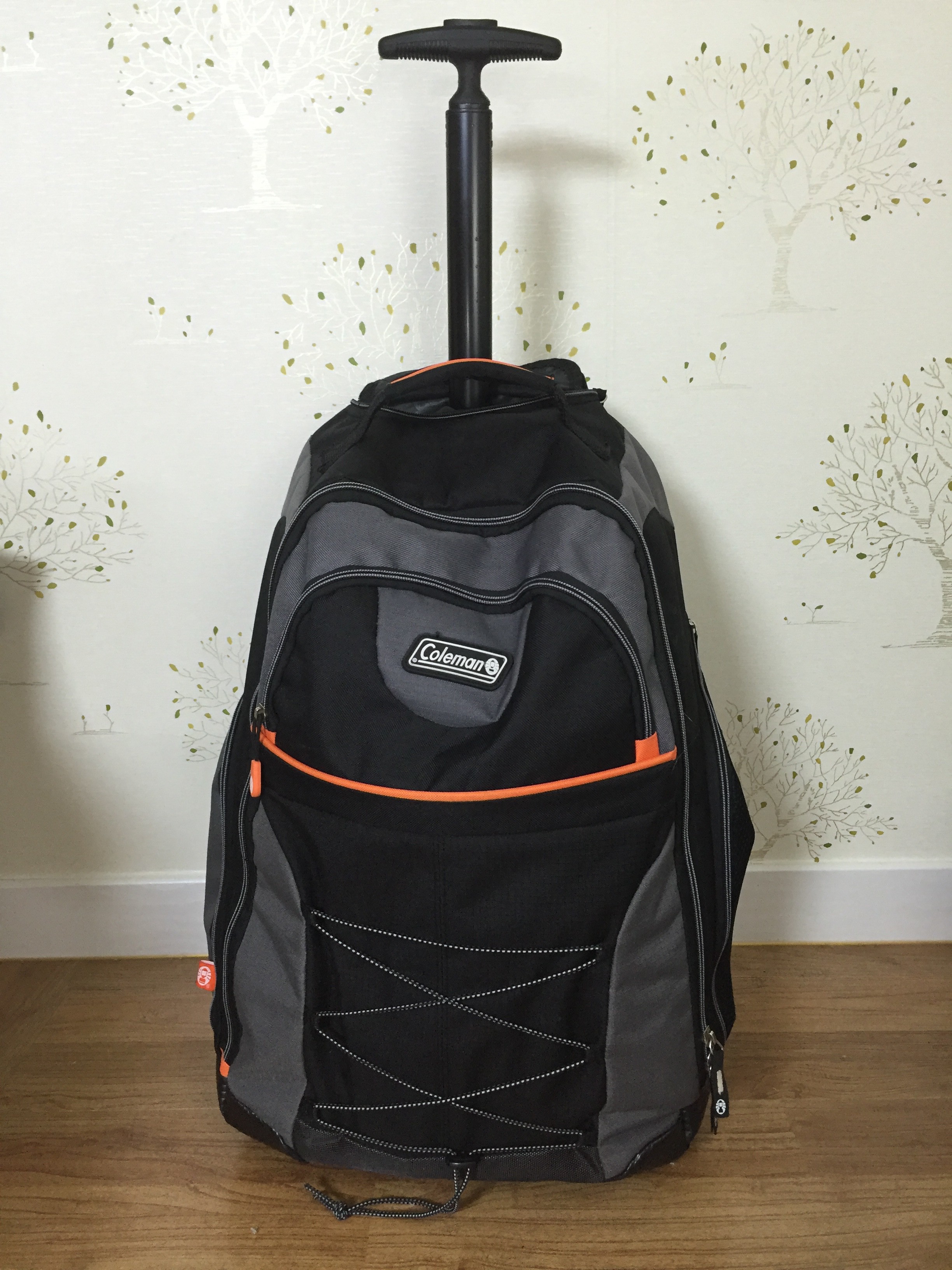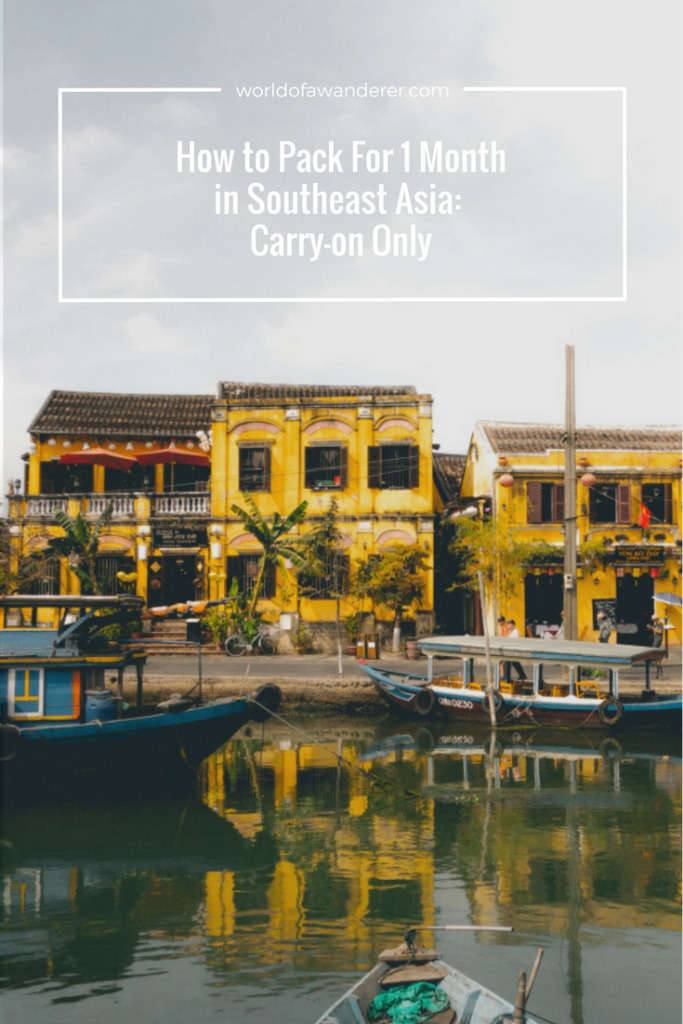 This post contains affiliate links, which is just a fine way of directing you straight to the source without a bunch of searching on your part.