2021 Epic Black Friday & Cyber Monday Deals For Bloggers and Content Creators
It's the most wonderful time of the year! Ah yes, my favorite time of year. Not because I get to stuff myself with all sorts of delicious food and spend time with my family. I mean, that's just an added bonus. It's my favorite time of year because that means BLACK FRIDAY and CYBER MONDAY are coming! You won't catch me standing in any lines or fighting over a 60 inch TV, but you will find me loading up on business essentials for the low. If you are a blogger, creative, business owner, etc this is the best time of year to get deep discounts on blogging essentials. From web hosting, to course creations, email marketing and everything in between, now is the time to invest in the tools that will help scale your brand and business. You are able to grab premium products at unfathomable low prices! If it's not an urgent or dire need, I purposefully wait until Black Friday and Cyber Monday to buy the best blogging tools and courses.
This year, I've made it easy for you. I've compiled a list of some essentials that you should have in your blogger toolkit. So, forgo those insanely long lines; instead, roll out of bed, grab you a mug of something deliciously warm, cozy up behind your computer and check out these amazing Black Friday Deals for Bloggers.
Note: Some discounts are tentative and are subject to change. I will be updating this post with more deals so bookmark it and check back regularly. Also, this post contains affiliate links, which means I will receive a small percentage of each sale, at no additional cost to you. 
Black Friday Web Hosting Deals

If you are a beginner blogger looking for a budget-friendly hosting site, Bluehost is the way to go. I used them when I initially started World of a Wanderer and had zero issues. I never experienced my site being down, like some other hosting companies I have used.
I have an in-depth step-by-step blog post on how to set up your Bluehost site in just a few easy steps. Check it out, here.
What's the Deal?
Get up to 60% off Bluehost's most popular plans
Plans starting at $2.65/month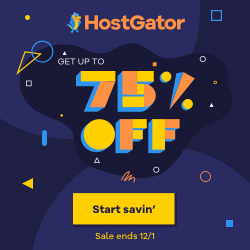 For a more premium hosting service Hostgator is an excellent option. They have a 99.9% uptime, meaning it's very unlikely your site will be down, and they have 24/7/365 tech support. I currently use Hostgator and have never experienced any problems. They were absolutely amazing with migrating my site over. No complaints here!
What's the Deal?
75% off all plans Hostgator plans on Black Friday and Cyber Monday from Monday, November 22nd at 12:00 AM CST through Wednesday, December 1st at 11:59 PM CST
Plans starting at $2.75/month
This deal will not be displayed on Hostgator's homepage. Must click link below!
Black Friday Domain Deals
Before firing up that brand spankin' new website, you will want to get you a domain name to go along with it. Sure you can purchase your domain and hosting all with one company. Me, personally, I like to keep them separate so that in the event I want to leave my hosting company, there are no issues with trying to take the domain name with me. A great place to find cheap domains is Namecheap. I recently purchased a domain for a new site coming soon through them and they offered the same domain significantly cheaper than other domain sites. So, check them out!
What's the Deal?
Get up to 98% off domains on Black Friday and Cyber Monday

I've used GoDaddy to purchase several of my domains. They are tried and true and offer great discounts, especially for first time users. Right now, you can save 30% off your new purchase. Not too shabby.
What's the Deal?
You will likely see GoDaddy's $1.00 Black Friday and Cyber Monday deal for all domains. 
Black Friday SEO Deals 
Keysearch is the go-to keyword search tool for lots of bloggers and SEO buffs. Not only does it give you all the tools to research optimal keywords to boost your Google rankings, but it also provides features such as SEO competition analysis, rank tracking, brainstorm niche ideas, YouTube competition research, backlink checker and a whole slew of other features to help beat out your competition.
What's the Deal?
Get 40% off all KeySearch plans
Use coupon code BLACKFRIDAY at checkout

Longtail Pro is another tried and true keyword search tool, big in the blogger industry. Though a little more pricier than Keysearch, it offers some awesome tools such as being able to search competitor keywords and dissecting their strategy so that you're able to get to the keywords that are proven to work.
What's the Deal?
Start Date: Friday, November 27 at 7am ET
End Date: Monday, November 30 (Cyber Monday) at midnight ET
Discount: 50% off all annual plans; 30% off all monthly plans
Black Friday Social Media Deals

Pinterest is my second biggest driver of traffic, right after organic search (i.e. Google search) and Tailwind plays a huge part in that success. What is Tailwind exactly? It is a scheduling tool that allows you to batch schedule Pinterest and Instagram content. It saves you tons of time and maximizes your reach by automatically posting at times when your audience is most active.
What's the Deal?
Although Tailwind doesn't have a specific Black Friday Deal, you can still get one month free!
Black Friday WordPress Themes Deals
Themeforest is one of the largest marketplaces for themes. It's actually where I purchased my own theme. They offer themes for a wide variety of platforms, with prices ranging from $13 to $199, or some are even free. Why choose Themeforest? Most themes are Search Engine Optimized, responsive and are created by trusted developers worldwide. You also get instant lifetime updates.
What's the Deal?
50% off various themes in their marketplace from November 27-November 30, 2020
Studiopress offers tons of themes that you can choose from, or you can build your own. Whether you are a new or returning customer, Studiopress is offering discounts for all.
What's the Deal?
New customers will receive 20% off premium WordPress theme packages, and existing customers will receive a flat $100 off Pro Plus Packages (normally $499)
Elementor is one of the best drag and drop page builders for WordPress. You can use it to customize blog posts, landing pages or even your e-commerce shop. There are two versions of Elemento – the free version, which has limited features, or Elementor Pro that gives you access to all the features and 50+ Pro widgets to completely customize your site or page.
What's the Deal?
Get 25% off all Elementor plans.
Black Friday Email Marketing Deals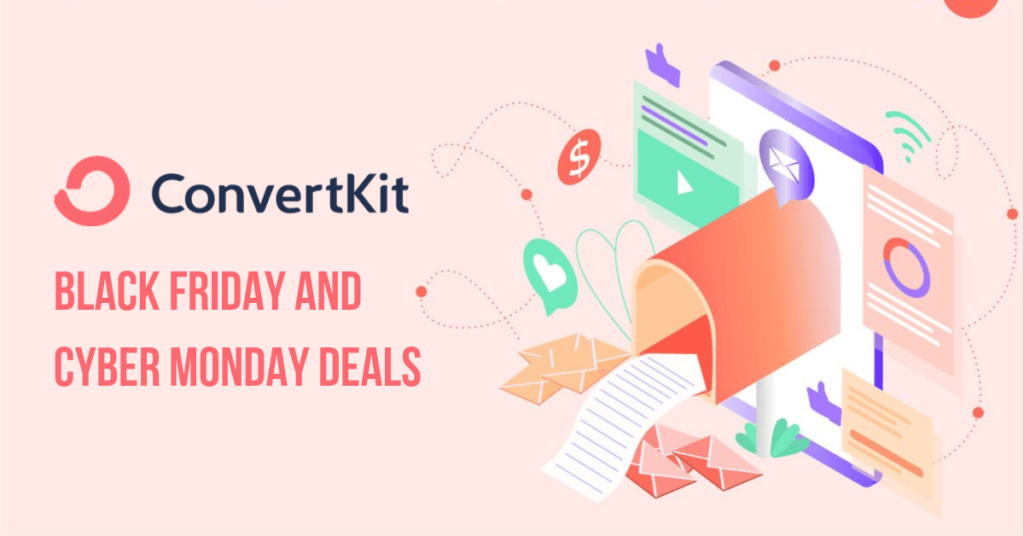 If you didn't already know, email marketing is where it's at! Kickstart your business with this amazing feature-rich email marketing software. If all social media platforms suddenly disappeared, what would you be left with? So, it's imperative to start building your email lists. You can try ConvertKit free for 30 days.
What's the Deal?
Get the ConvertKit Start Kit, valued at $1400 for $289
OptinMonster is an email marketing tool that helps you grow your email list with their amazing pre-built templates and landing pages. It's an awesome lead generating and conversion software that helps turn subscribers to consumers.
What's the Deal?
Get 35% off all plans for Black Friday and Cyber Monday. Plans starting at $9/month
Black Friday Deals for Online Courses
If you've never heard of Udemy, it is the world's largest selection of online courses. You can learn about any and everything on Udemy. You will find over 100,000 online courses on this platform, with more being added every month. This is one of my Black Friday favorites! $200 courses you can get for next to nothing!
What's the Deal?
Get all courses for $9.99 on Black Friday
Thinking about creating your own course? Check out teachable. It's user friendly and you do not have to be tech savvy to use this platform. With its drag and drop features you can easily customize and set up your own course.
What's the Deal? 
Teachable is offering ​a 20% discount on annual plans and a bundle of business-building bonuses worth $5,513 in value, for free
Black Friday Deals for VPNs
Want to tune in to the final season of your favorite show, but you're in another country that has restrictions on some apps flashbacks of me trying to watch Game of Thrones in Mexico? Get you a VPN. VPN stands for Virtual Private Network and essentially it lets you browse the interwebs from a different IP address than where you are currently located. For example, I was in Mexico and could not watch Game of Thrones because the HBO Now app is only available in the U.S. So, I activated my TunnelBear VPN, which changed my IP address and made it appear that I am in the U.S. and wham bam thank you ma'am, I could watch the full final season of GoT without a hitch.
What's the Deal?
Get 58% off TunnelBear's two-year plan, which is only $4.16/month!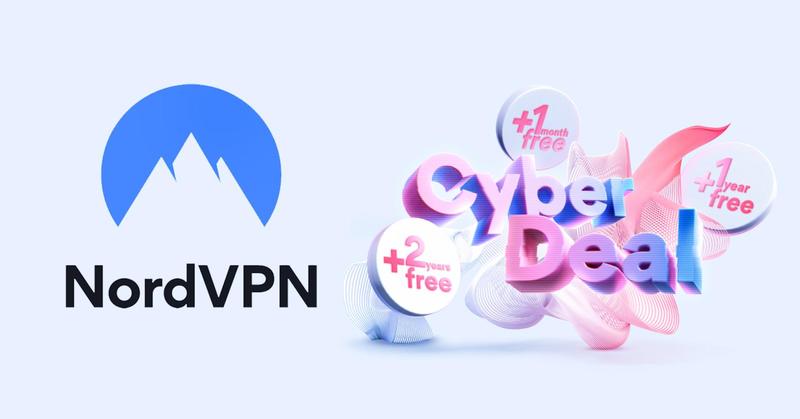 Nord is another VPN service that I highly recommend. Unlike TunnelBear, which I recently switched from, you can select specific locations vs only specific countries. For example, I can select an IP address out of Atlanta, versus only having the option to select an IP address from the United States.
What's the Deal?
Get 68% off Nord's two-year plan PLUS a bonus gift. When you purchase the two-year plan, you will be randomly gifted a free bonus extension. You could be given 2 years for free, 1 year for free or 1 month for free, on top of the two-year plan you purchased. So, you can potentially get up to 4 years free!
Nord's Cyber Deal is live now!
But, here's an even bigger bonus!
Sign up now on Rakuten and get $40 cash back! Then you can do like I did and purchase your NordVPN through Rakuten and get up to an additional $60% cash back! I earned over $77 cash back just from this one purchase! A two-year plan costs about $89, so essentially I only paid $12 for a 2-year VPN plan. Talk about WINNING!
Black Friday Deals for Miscellaneous Items
If grammar isn't your thing, get Grammarly. Even if it is your thing, it never hurts to have a second set of "eyes" to make sure are your I's are dotted and T's are crossed. Grammarly is basically spellcheck 2.0- the bigger, better and badder (talk about improper grammar haha) version of your regular, red squiggly line spell check in WordPress or Word. It catches all the things!
What's the Deal?
Grammarly has two versions, a free version and paid subscription. Get up to 60% off the paid subscription on Black Friday
If you have a business, you need a business card. Ditch those flimsy, low-quality cards and invest in Moo business cards. These cards are the crème de la crème of business cards, with thick sturdy paper with a silky finish. I live by these cards! You can use their templates, which are pretty frickin' awesome! Or you can create your own. You can even have each card with a different photo! A-MAZING!
What's the Deal?
It looks like Moo is not offering a Black Friday deal at this time; however, you can get 25% off your first order with this link
If you're a newbie considering starting a blog, check out this series on How to Start a Blog, where I spill all the deets on getting your blog set up and work with brands. 
PIN ME!