15 Reasons Why Biltmore Should be Your Next Girlfriend Getaway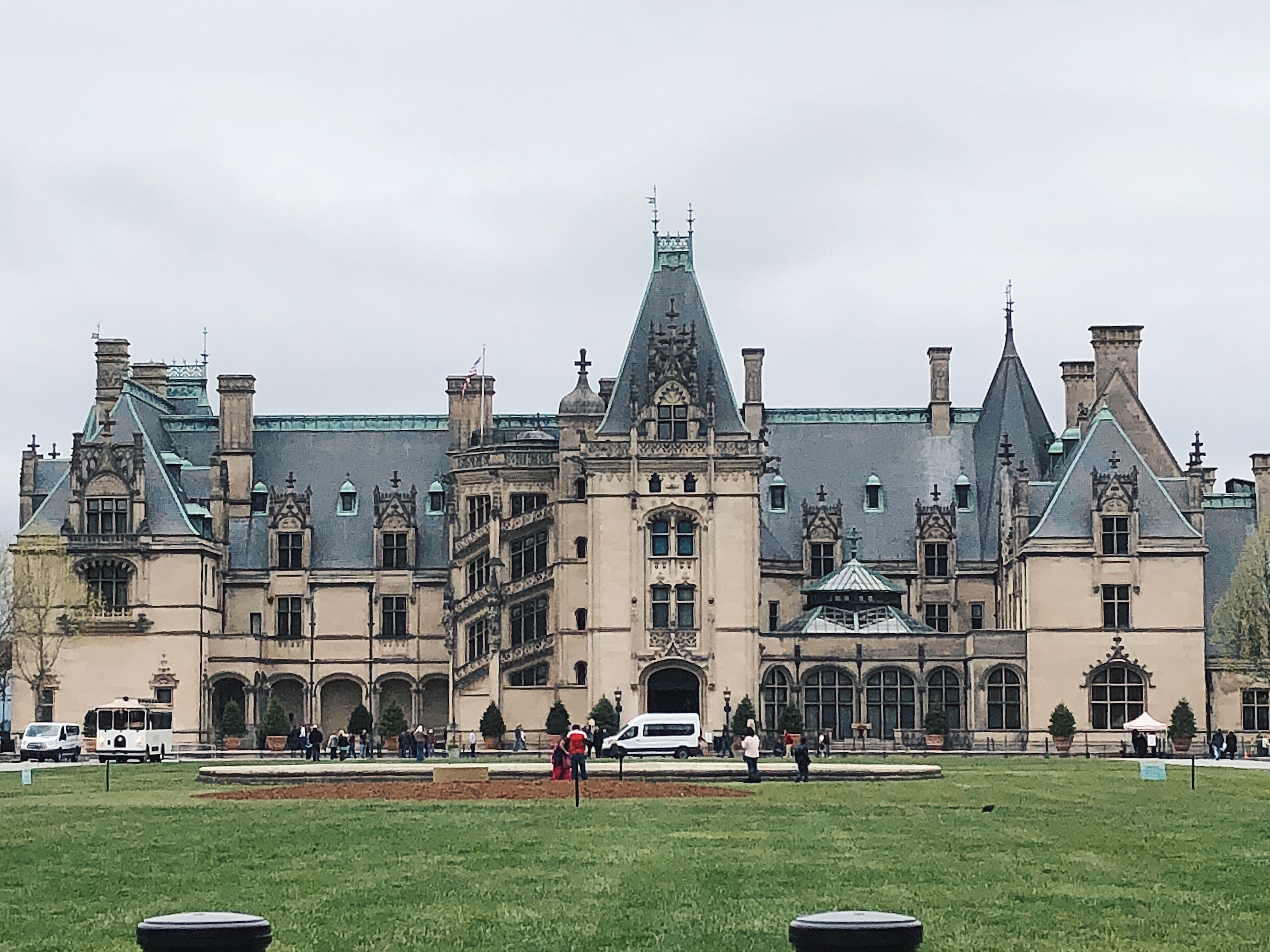 Planning a girlfriends' getaway and need some ideas? Look no further wanderers, I've got you covered. A couple of weekends ago I was invited for a stay at Biltmore, and fellow travel blogger Loren, from Dating with Passports, and I packed our bags and hit the road for a fun weekend getaway. Just a short 3.5 hour drive from Atlanta, Biltmore is steeped in history and imbued in luxury. Whether you're looking to satiate the outdoor adventurist in you, be a glutton for local gastronomy, or simply be pampered like the princesses you are, Biltmore makes it easy to do all of the above. Here are 15 reasons why Biltmore should be your next girlfriends' getaway:
Biltmore House
You can't visit Biltmore without visiting Biltmore House, at least once, or twice. You just can't. As the largest privately-owned home in the entire country, Biltmore House is bucketlist worthy, and it's not to be missed. With 250 rooms, each with it's own character and charm and just as glamorous as the last, you can't help but amble from room to room in wonderment.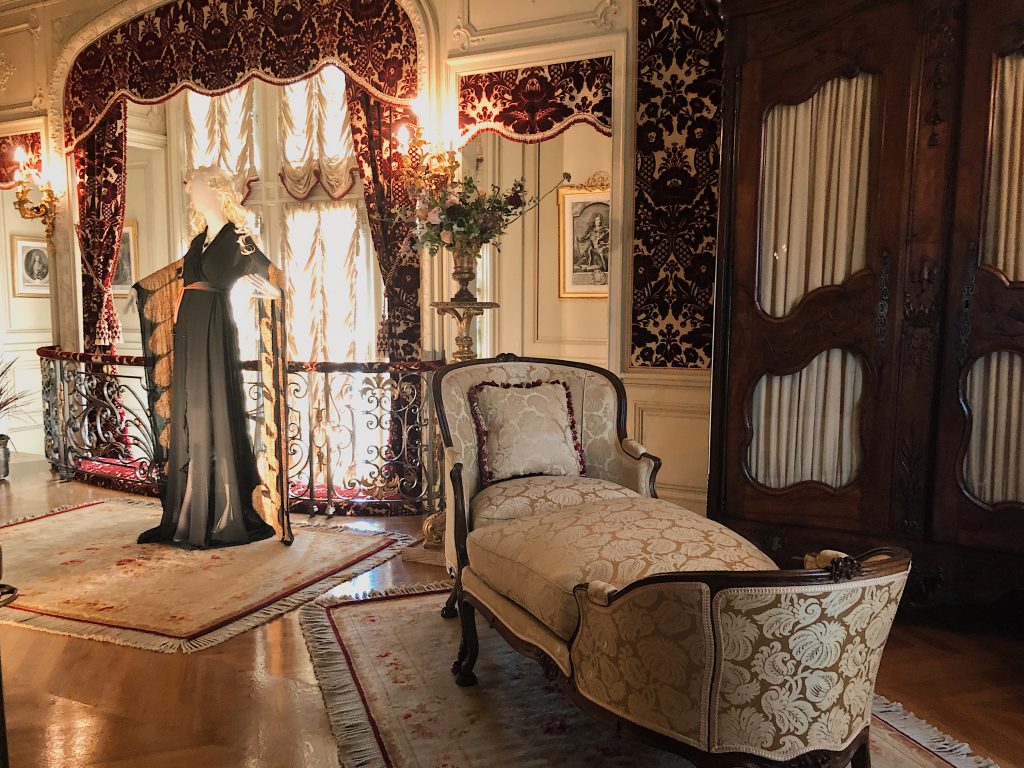 The grounds surrounding the House are almost just as spectacular. From the massive, perfectly manicured lawn, to the beautiful gardens, and the incredible views of the Blue Ridge Mountains, there are plenty of Instagrammable spots for you and the besties (i.e. the The South Terrace and Library Terrace at Biltmore House that offers spectacular Blue Ridge Mountain views, and the Conservatory in the formal gardens).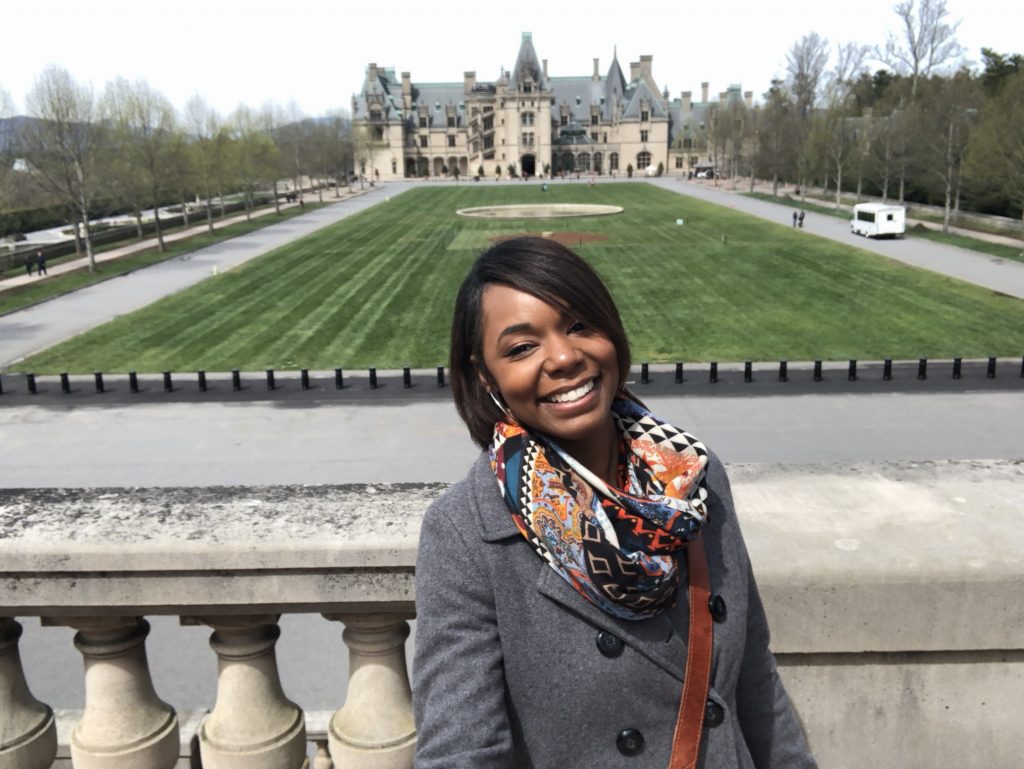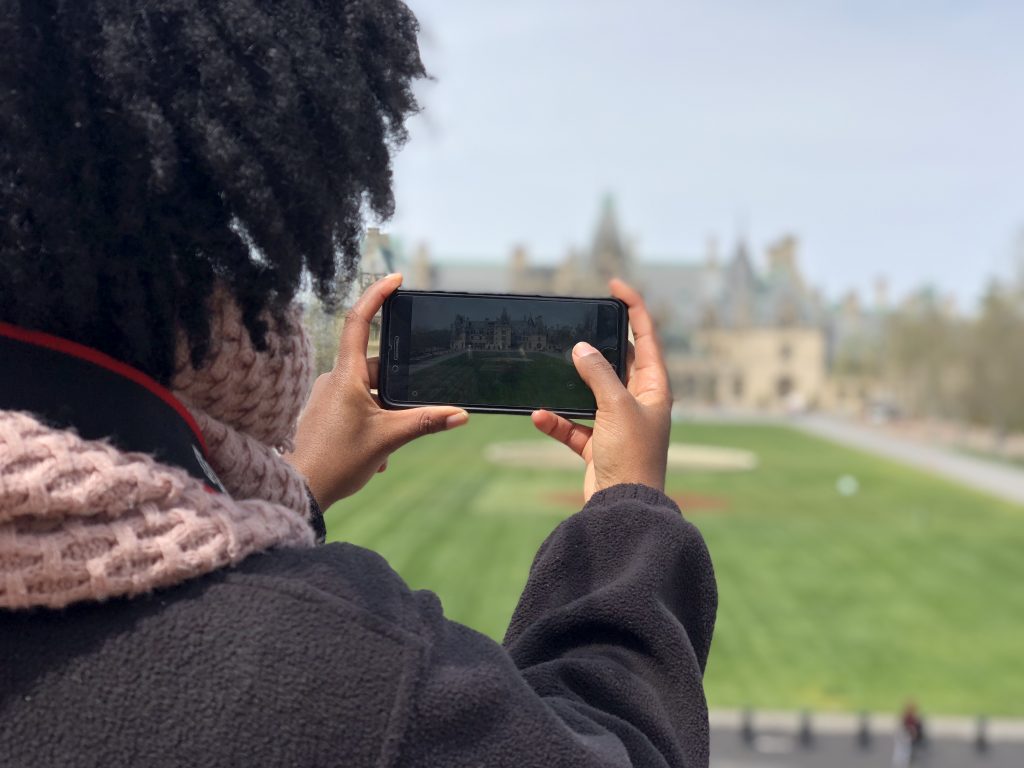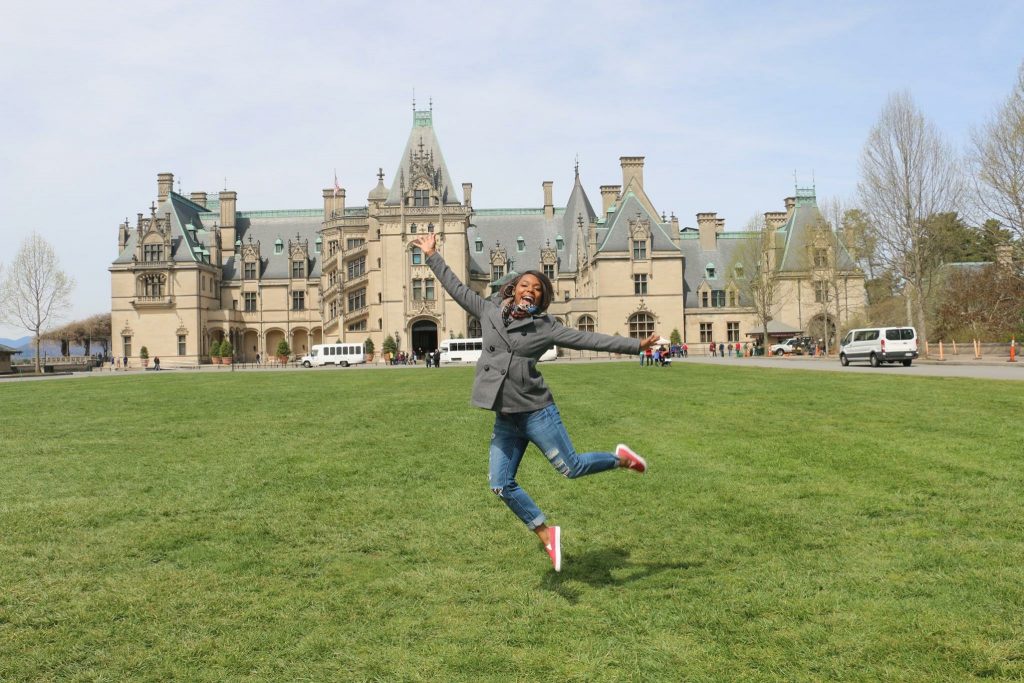 Tips and Tidbits
– Self-guided tour admissions $65/adult; $32.50/child (10-16 years old)
– Buy tickets 7 days in advance and save $10
– Pay the extra ($10.98) for the audio tour. It is 100% worth it!
– The best time to visit Biltmore House on the weekend is Sunday before noon
– Allow yourself 1.5-2 hours to get through the entire house
Friends Don't Let Friends Wine Alone
What girlfriend's getaway is complete without copious amounts of vino and convo? And what better place to indulge than the most visited winery in the country? That's right, not only is Biltmore the largest home in the country, but people flock from all over the country to taste the legacy of Biltmore. There are several tours and tastings available, but we delighted in the Red Wine & Chocolate Tasting. This 45 minute tour and tasting was just as decadent as it sounds. If I'm being honest, I LOVE wine tastings, but I'm usually bored to tears on winery tours – red grapes, white grapes, oak barrels, fermentation, same spiel, different winery. However, our guide was amazing and I actually learned a thing or two about wine tannins and other fun facts on our tour. It was short, sweet, and to the point, which left more time for the good stuff – chocolate and wine!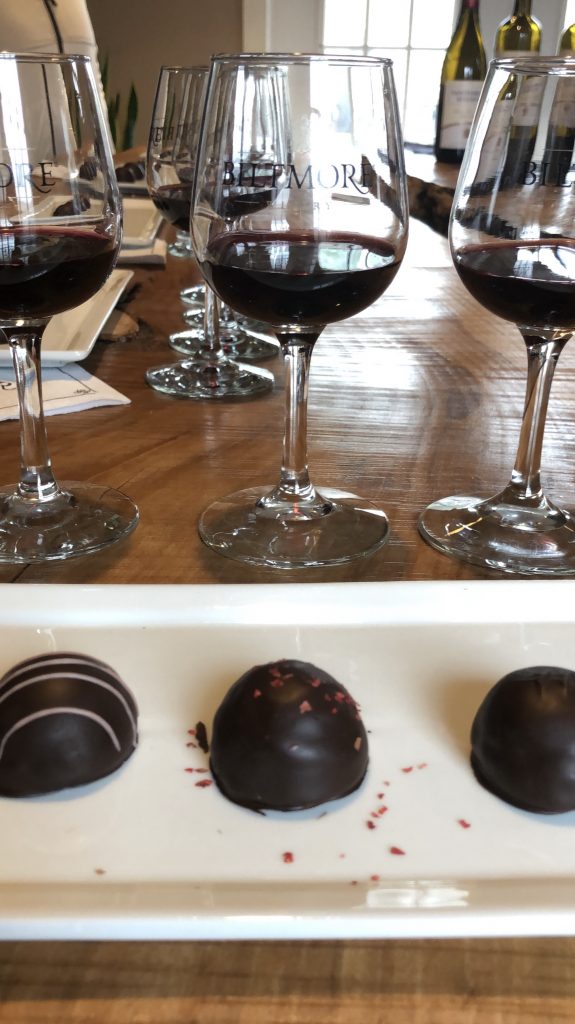 We tasted four different bodies of red wines, that were paired with a four different local, artisanal, chocolate truffles from the famed French Broad Chocolates. We sipped and mixed and matched, finding our own personal sweet spots of wine and chocolate pairings.
With a belly full of wine and chocolate, we still made room for a few more complimentary tastings in the illustrious Biltmore tasting room. This place is something to call home about. From the design to the endless options of wines, to the knowledgeable and helpful staff, it's no wonder it's the most visited in the country.
Tips & Tidbits
– Admissions for the Red Wine & Chocolate Tasting are $25/person
– Drink more wine!
You Can Do A Little or A Lot
What I love about Biltmore is, it can be any kind of getaway you want it to be; whether it's a fun girlfriend's getaway, a romantic getaway, an adventurous getaway, or a relaxing one. You can do everything under the sun, or you can bask in bed all day in a plush and comfy robe, order room service, and do absolutely nothing at all. It's up to you.
If you opt for the former there is so much to do on the estate. So much so, we spent an entire three days here, didn't leave the property once, and still didn't even scratch the surface of all there is to do and see. My best advice is definitely take advantage of the complimentary activities if you're an overnight guest. There are guided hikes, biking along the French Broad River, mountain biking, river floating, and my favorite yoga! Held on the The Grand Terrace of The Inn on Saturdays, or on the Village Green in Antler Hill Village on Sundays, the  yoga class is a perfect way to start the morning. Overlooking the incredible grounds I couldn't help but to feel a sense of gratitude.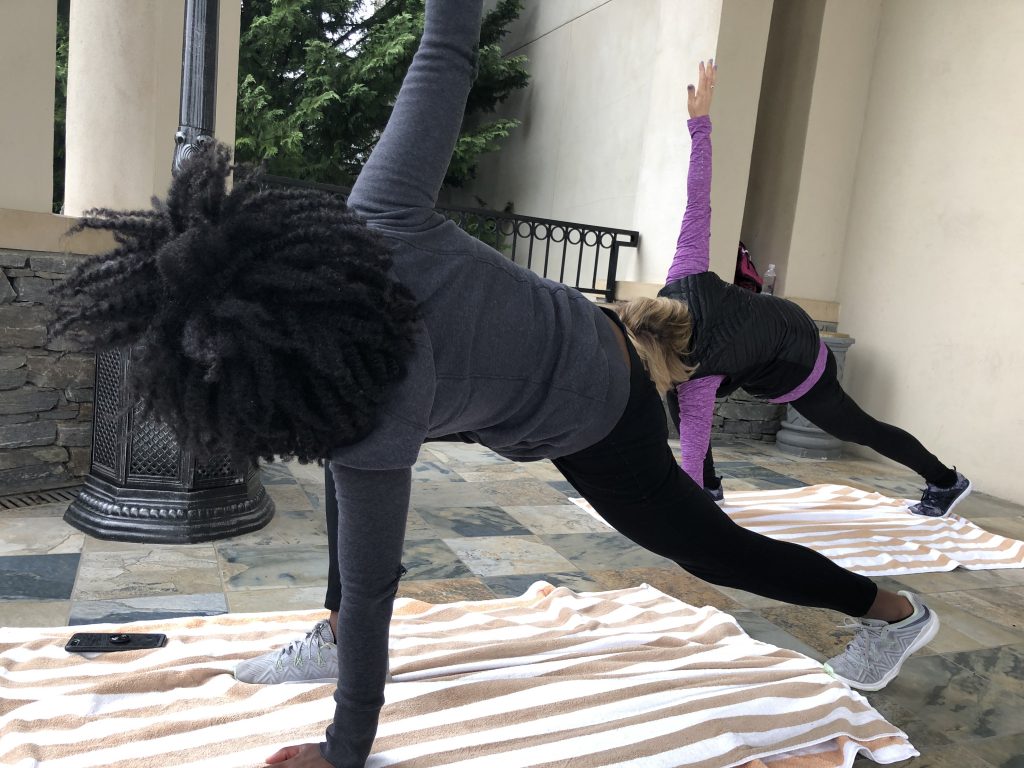 Saddle up for an equestrian adventure! My favorite activity while at Biltmore was horseback riding, even if it was cold and rainy. Loren had gone horseback riding a few times before, but I was a first timer. I think I did pretty well for myself given that fact. I didn't lose a limb or have a horse go haywire, so yep, winning!
What's a girl's trip without a little shopping? Stop by Antler Hill Village, where you'll find the cutest little shops with American-made crafts, home accents, and of course wine from the Winery.
You can also enjoy activities such shooting sporting clays and Land Rover experiences.
Titanic Fashion Exhibition
Enough said, right? I mean, if you don't watch Titanic every time it comes on, quote all the quotables, and bawl like a baby as if you didn't know Jack would be swimming with Nemo and friends at the end of the movie, can we really be friends? Mmm…I don't think so. But, I digress.
Even if you're not a Titanic fanatic, like myself, it's still a sight to see all the actual fashion wears worn in the movie; which, by the way, is quite indicative of the fashion worn by the Vanderbilts and guests of Biltmore during that era.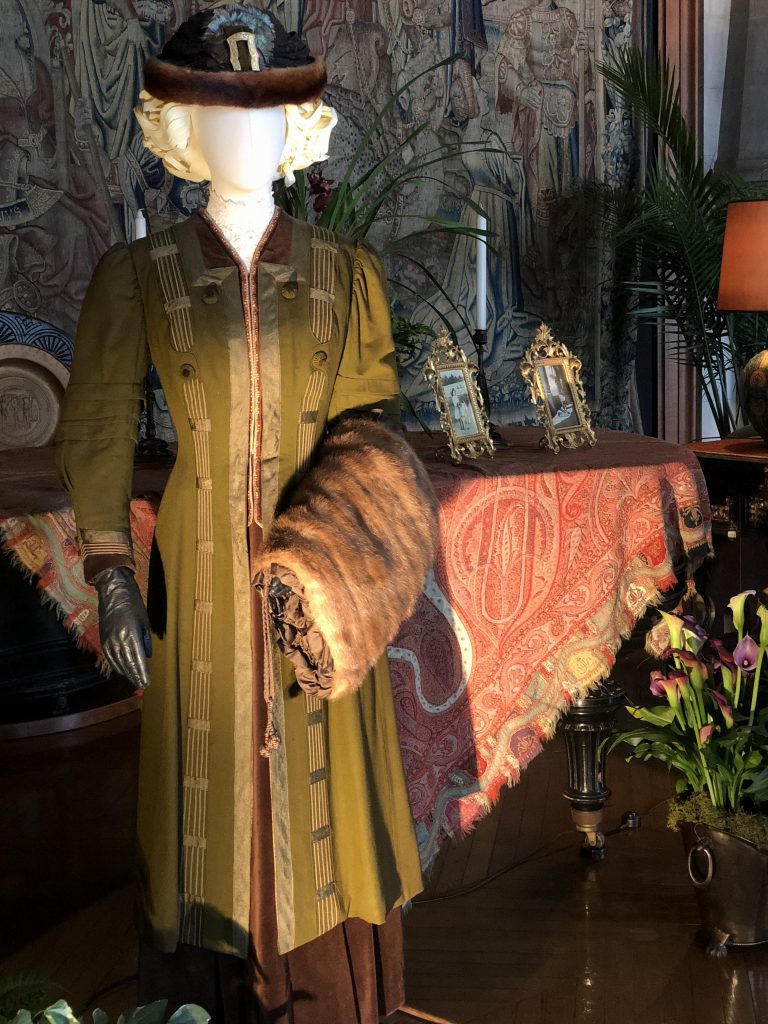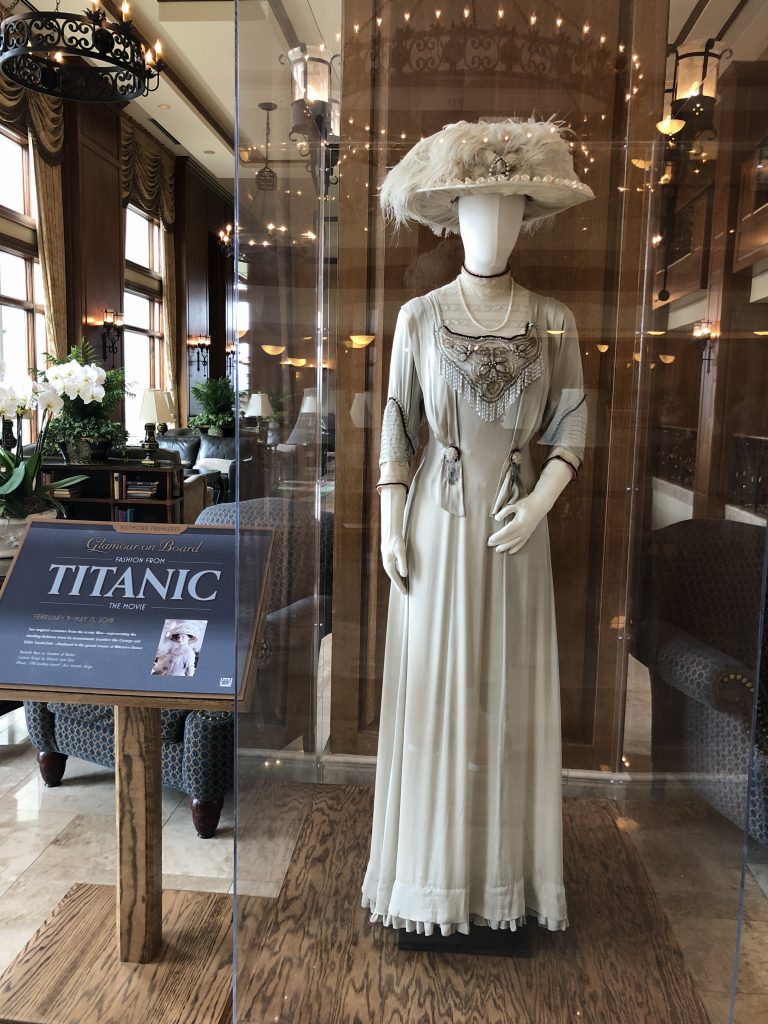 Fun fact: The Vanderbilts were actually supposed to be on board the Titanic's maiden voyage. However, a bout of homesickness swayed their decision to take an earlier trip home. 
Tips & Tidbits
– Save $10 when you book 7 days or more in advance
– A guided tour of the exhibition is available until May 13, 2018 for an additional $45
#BiltmoreBlooms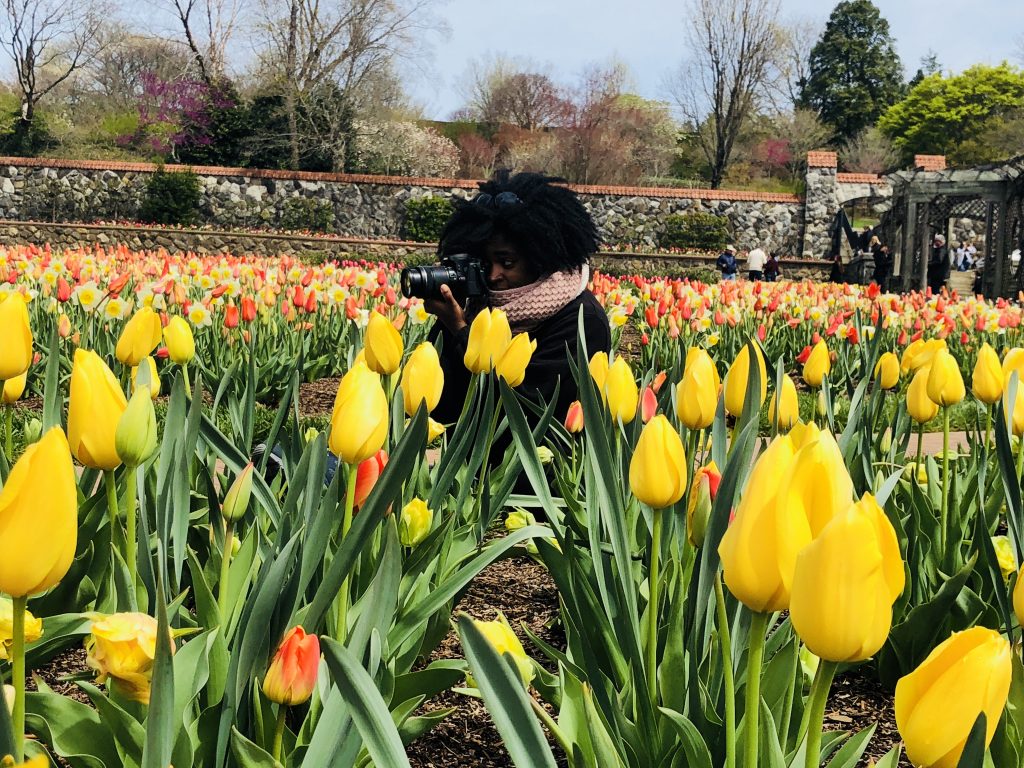 Because nothing screams girlfriends' getaway like photo opps amid a sea of tulips. Ok, not really. But, it's still fun 🙂
Take a stroll through the gardens, meander through the green house, and simply take in all the beauty that surrounds you.
The Library Lounge
A library lounge?
Well, that doesn't sound too appealing.
Trust me. It is! This was my favorite space at Biltmore. Located in The Inn, this two-part area is worth spending time in. There's the dining area, and the lounge area, and we had our fair share of both. The food left us a bit underwhelmed, but I highly recommend the cocktails. The Winter Sangria was delicious, but my favorite was the Pomegranate Ginger Gimlet. I am not a fan of ginger, at all, but it was not overpowering in this drink, and was the right touch of sweet. Loren, also had the Cranberry Winter Mule, which she raved about.
The lounge area was hands down my favorite area. The space was elegant, yet cozy and intimate. Since the weather was still a bit cold during our visit, they had the massive fireplace lit, which made it even cozier.  You'd find people kicked back with a good book, enjoying a nice glass of wine, or chatting with friends. It is the perfect place to wind down at the end of the day and enjoy a nightcap and dessert or two; because, why not?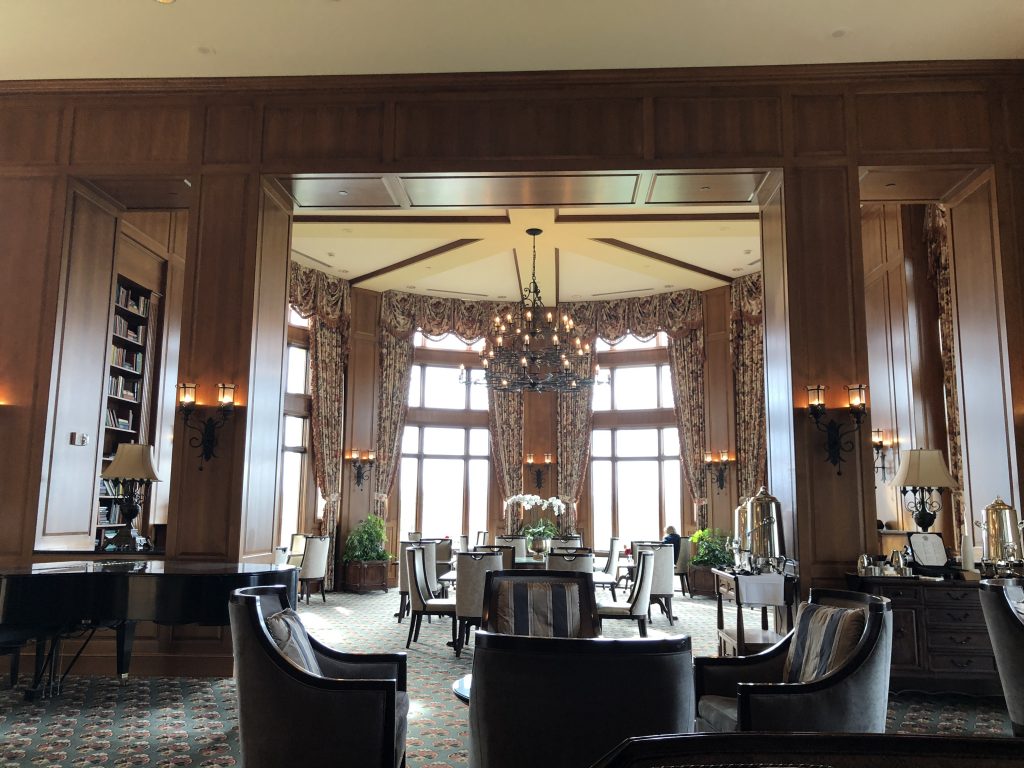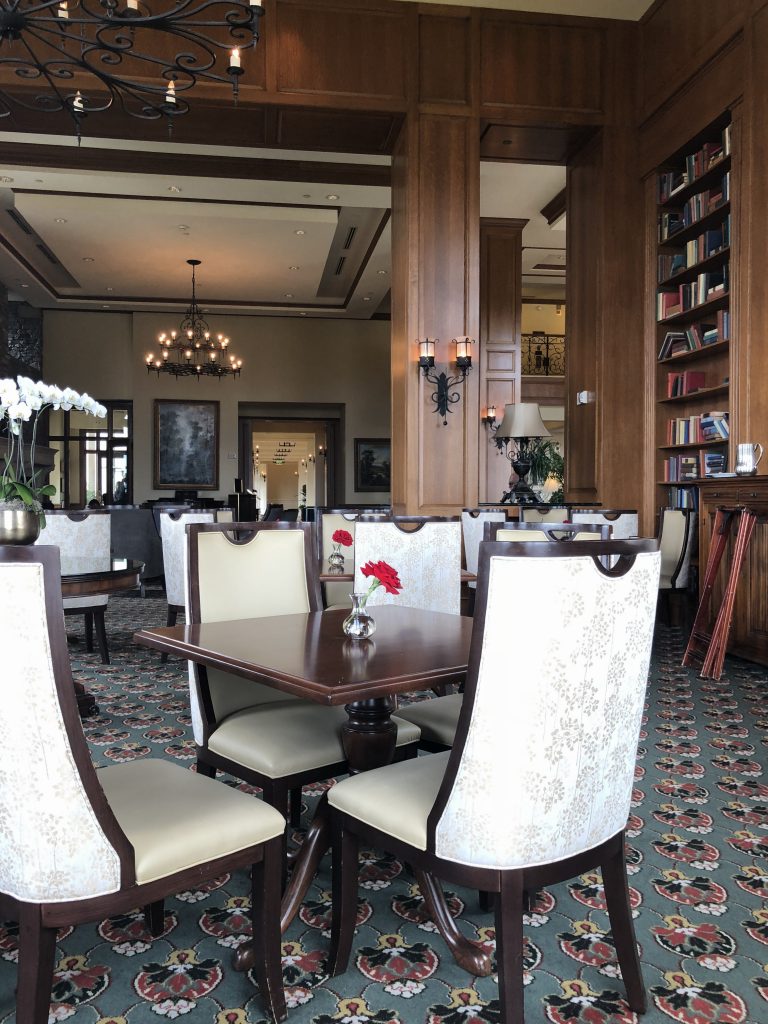 Tips & Tidbits
– When dining, ask for a seat on the balcony, against the railing. The views are STUNNING!
– The two adjacent sofas in front of the fireplace are the best seats in the house
– Try the shrimp cocktail, it's amazing with the cocktail sauce
– The Crème Brûlée Flight is absolutely heavenly!
Foodie Adventure  
Asheville is a foodie town. It's the kind of place where you really can eat, drink, and be merry. So, it's only natural that food is a big part of the Biltmore experience. George Vanderbilt built the estate with the idea of it being self sustaining. Therefore, much of the food served is field-to-table, from the livestock, vegetables, and even honey. If you and your girlfriends love a good foodie adventure, there are tons of options at Biltmore and you can certainly eat your way around the estate.
I wish we were able to try them all, but there just wasn't enough time or room in our bellies. However, we had a nice variety of meals. Here's the rundown:
Breakfast
The Dining Room at The Inn
Here you can select from the full breakfast menu, or delight in the breakfast buffet. Because I love options, I opted for the latter, and was not disappointed. The hashbrown casserole and waffles were my faves!
If you want to grab something on the go, the The Bake Shop, located next to Biltmore House, is perfect for pastries and coffee.
Village Social 
I LOVED this place! It has a very homey, and familial atmosphere. But, it's the food that will knock your socks off. I enjoyed a full stack of fluffy blueberry pancakes and the most perfectly cooked and delicious bacon I think I've ever had. My mouth is watering just writing about it.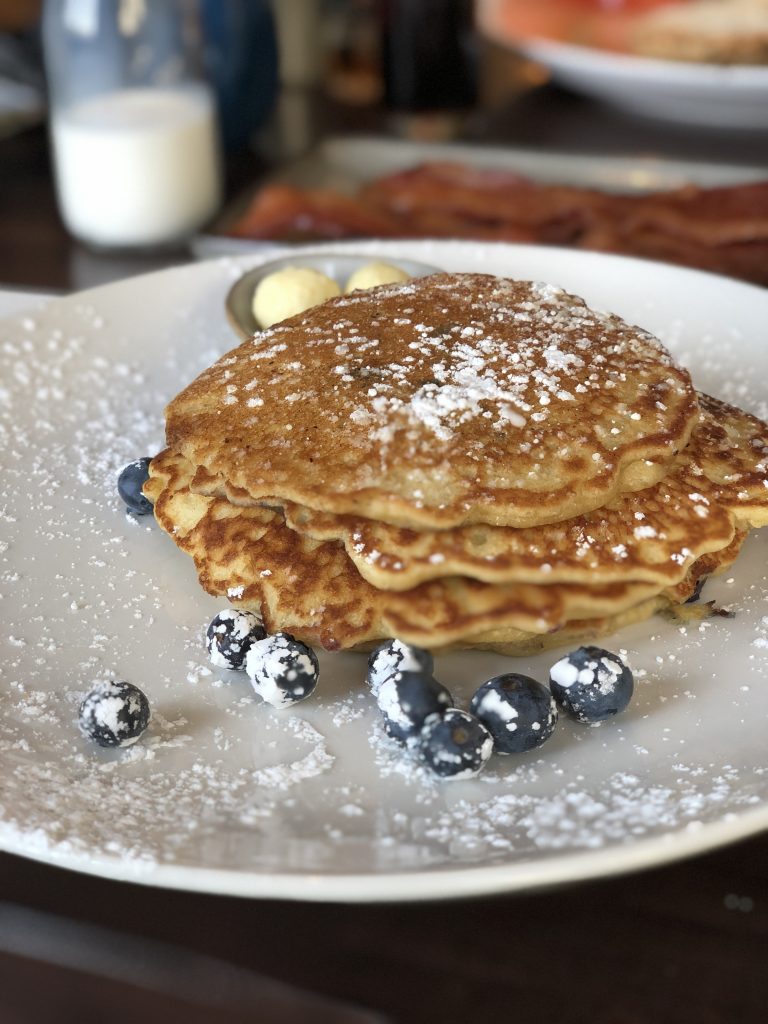 Loren went with a lighter option and opted for the Lox & Bagel with smoked salmon, dill and mascarpone, and pickled onions. We both loved of meals.
Another grab and go option is the The Kitchen Cafe, if you want something on the run.
Lunch
The Library Lounge
The food here wasn't my favorite, but the atmosphere alone is worth the visit. We ordered the charcuterie board and shrimp cocktail as appetizers. The shrimp cocktail was delish! The charcuterie plate (it wasn't served on a board) left a little to be desired, but the roasted cherries that adorned the plate – oh my days! I could've eaten an entire jar of them. As an entree we opted for the Prime Burger with hand-cut truffle fries, and Crab Cake Sandwich. Neither of us were particularly loved our choices, but we were famished, so it did the job.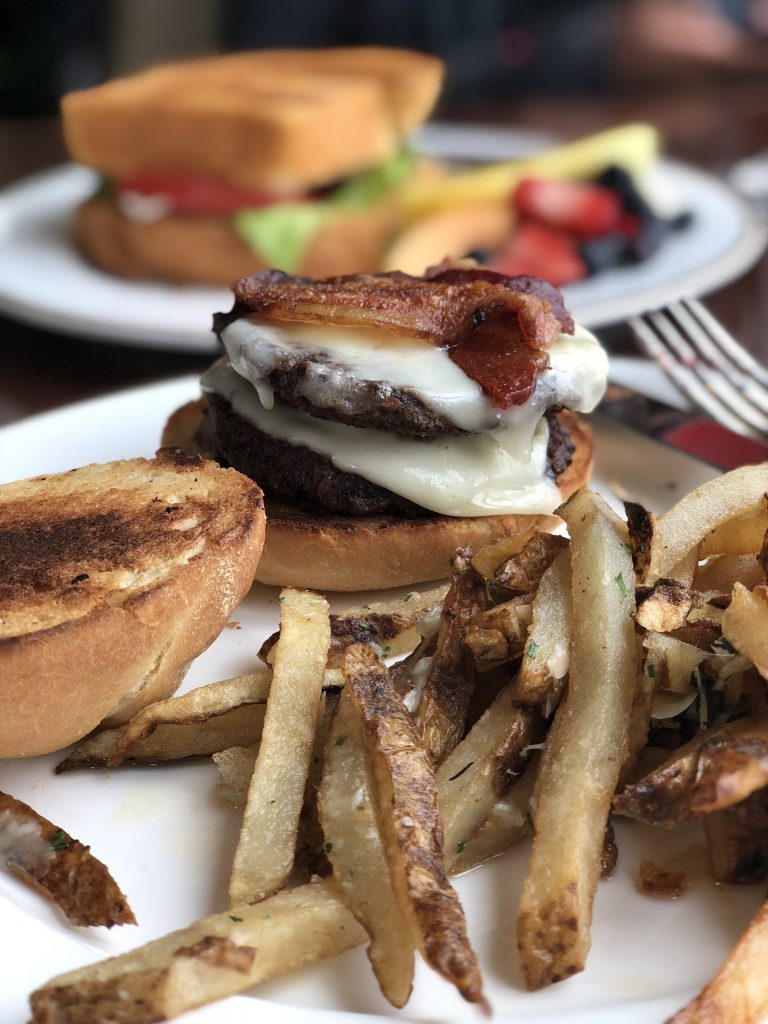 Bistro
This place is a must! It's not quite as fancy as the Dining Room at The Inn, and not as laid back and pub-like as Cedric's Tavern, it's a nice in-between, full-service restaurant. Not only is the food absolutely incredible, but the service was impeccable. We were running low on time and had to rush to make it to our wine tasting, they put in a rush order and had our food out to us in 15 minutes. Talk about impressive! Our suggestions, the Estate-Raised Beef Tenderloin Sandwich, the Estate-Raised Pork Belly, and the Sorrell's Creek Mountain Trout. You can't go wrong with any of them.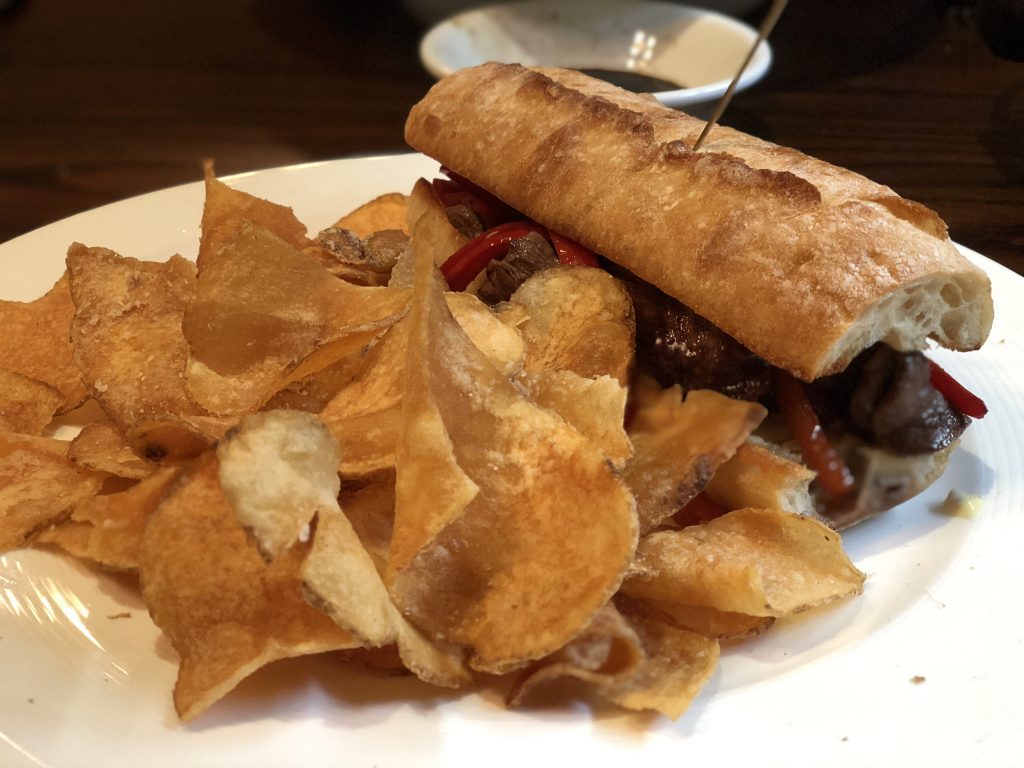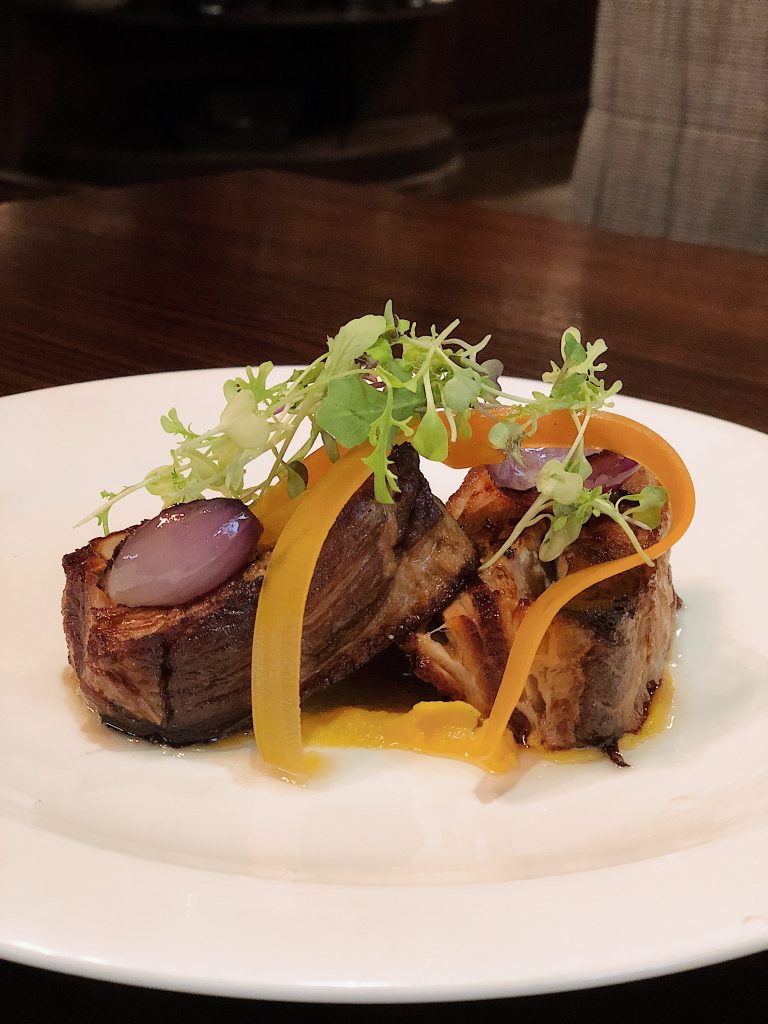 Dinner
Cedric's Tavern
If you're looking for a traditional pub vibe, with staples such as Fish and Chips, and Shepherd's Pie this is your place. We ordered the Seasonal Selection of Oysters, Kitchen Garden Deviled Eggs, and my absolute favorite, Beer and Bacon Almonds. The almonds were so good, I went back for more, as we were heading out to head back to Atlanta.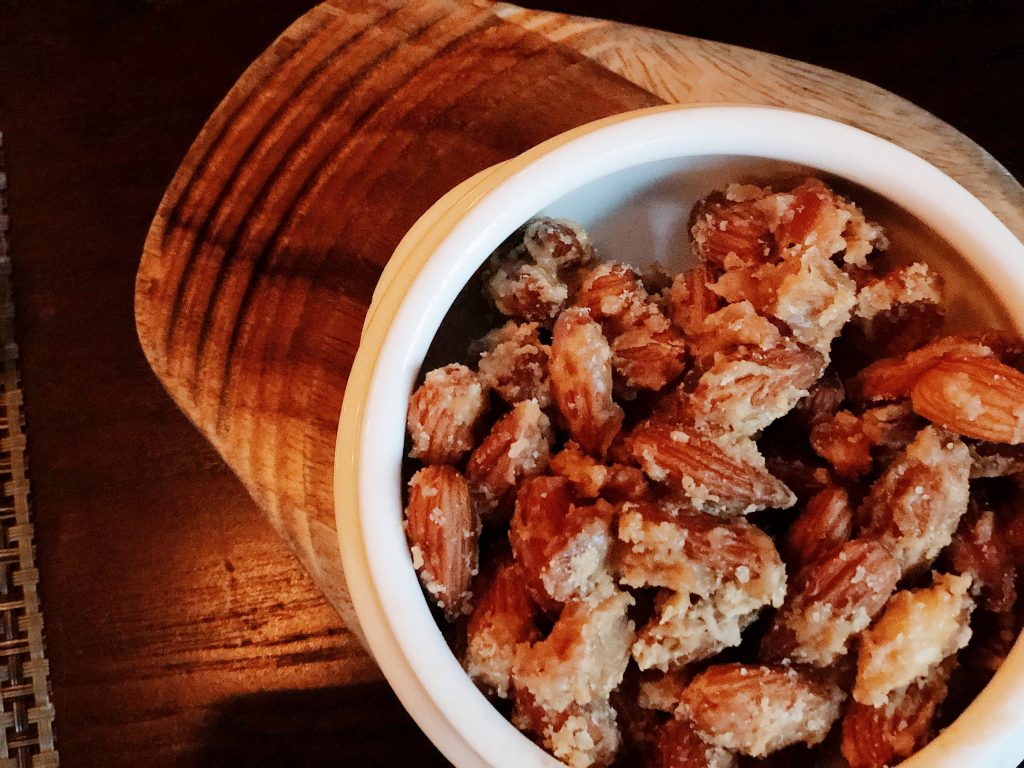 As entrées, I had the Steak and Mac, which I loved, and Loren had the NY Strip Steak, which was massive and had amazing flavor. We also ordered Grilled Halibut, which was thoroughly enjoyed.
I'd recommend trying their selection of craft beers, as Asheville is known for their breweries and cideries; we weren't totally pleased with the cocktails.
The Dining Room at The Inn
A girlfriend's getaway should always include a fine dining experience. Get all dolled up, throw caution calories to the wind, and splurge on all the expensive things you would likely never order. Dinner at The Dining Room is the place for just that. Here you'll find two menus, one catering to traditional and classic cuisines, and the other with a more global influence and grand style. The service is incredible, and you may even receive a few extra surprises from the chef.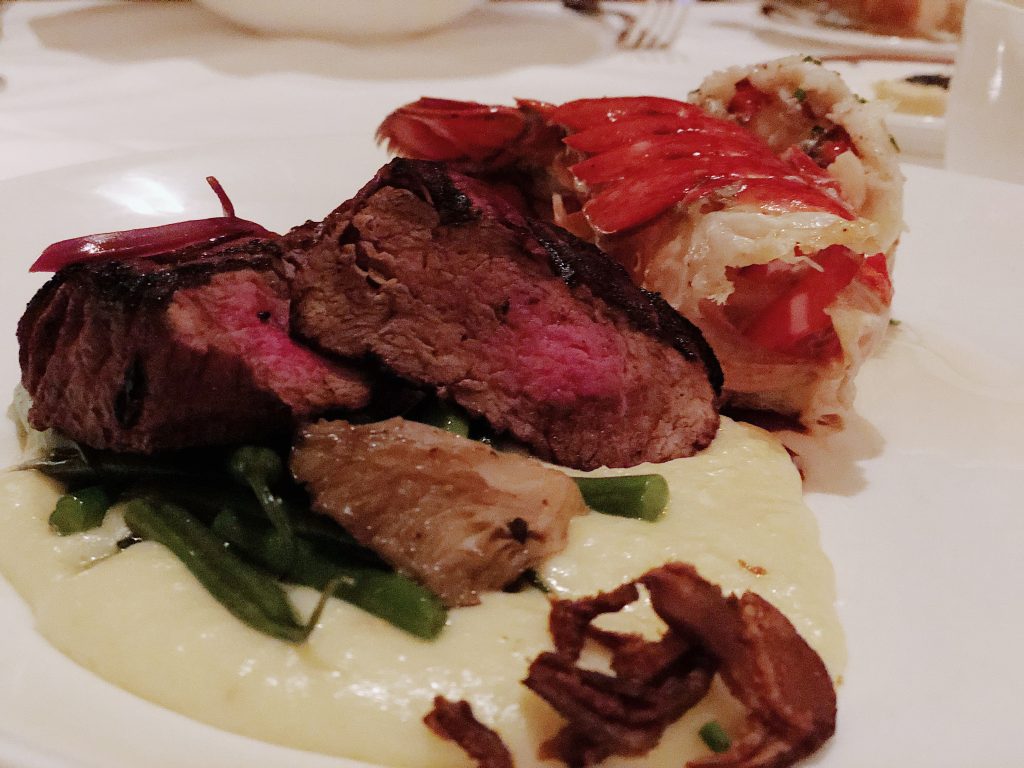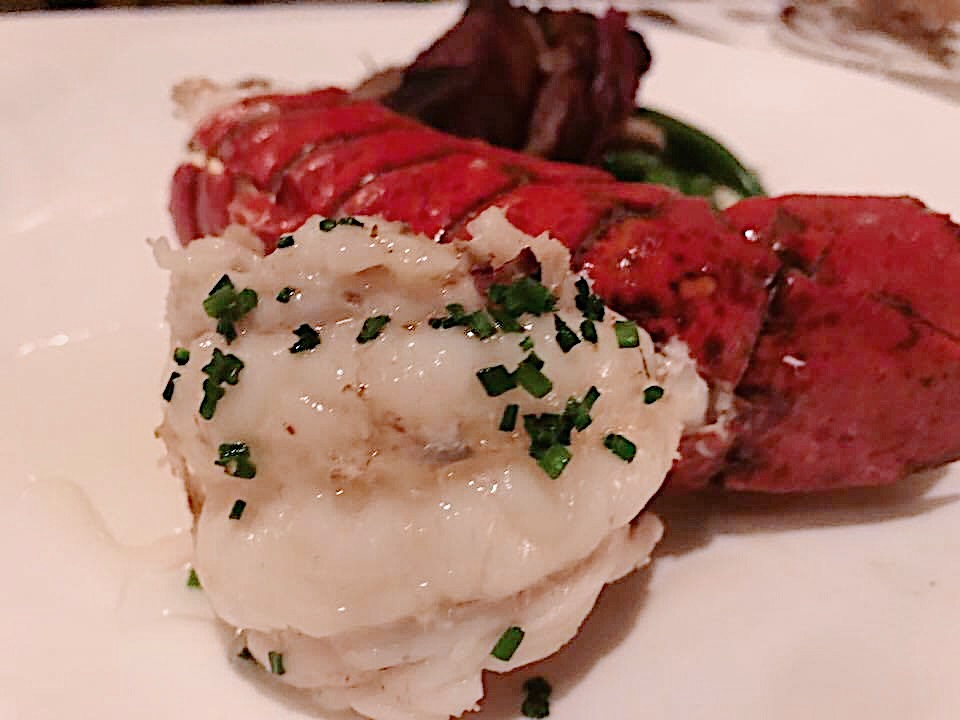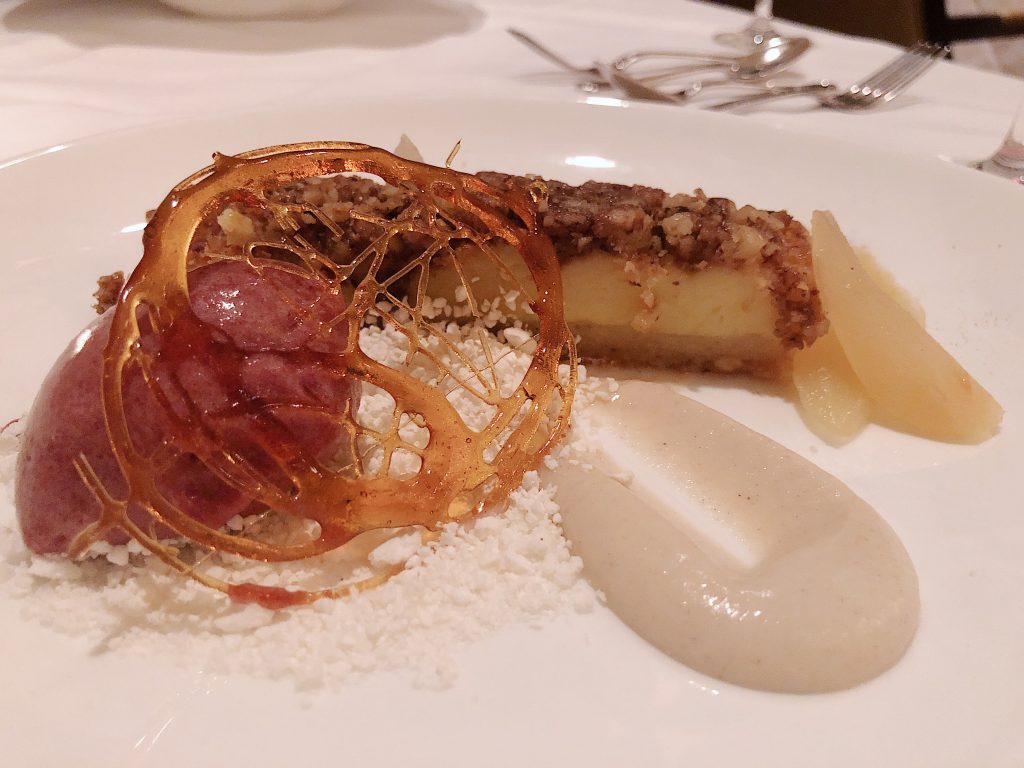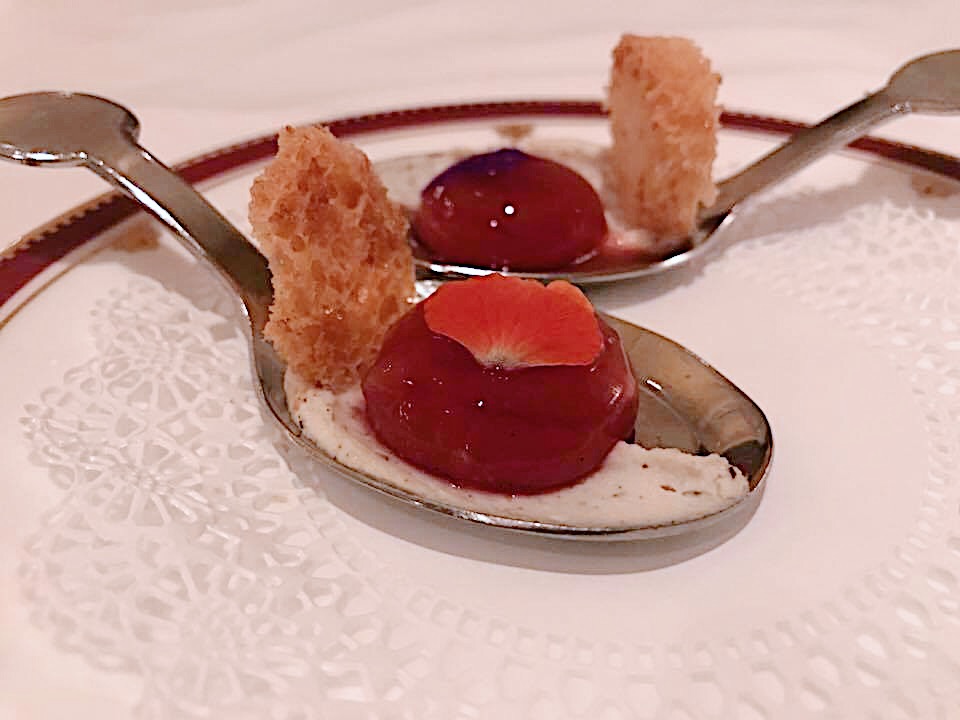 Tips & Tidbits
– Dining at Biltmore is pricey. For appetizers, entree, dessert, and drinks for two, be prepared to pay $100+
– Make a reservation for dinner at The Dining Room
The Inn at Biltmore Estate
After a long day of wandering and adventuring, there's nothing like coming back to a room where you can kick back and relax. The Inn exudes classic luxury. It has a regal feel without feeling old and dated. The beds and pillows were perfection, and the shower – sweet Mother of Pearl! I may or may not have taken multiple showers a day just for the sake of taking a shower, because it was just that amazing. Besides the shower, my favorite part of the room was the picturesque window that blessed us with amazing views of the Blue Ridge Mountains.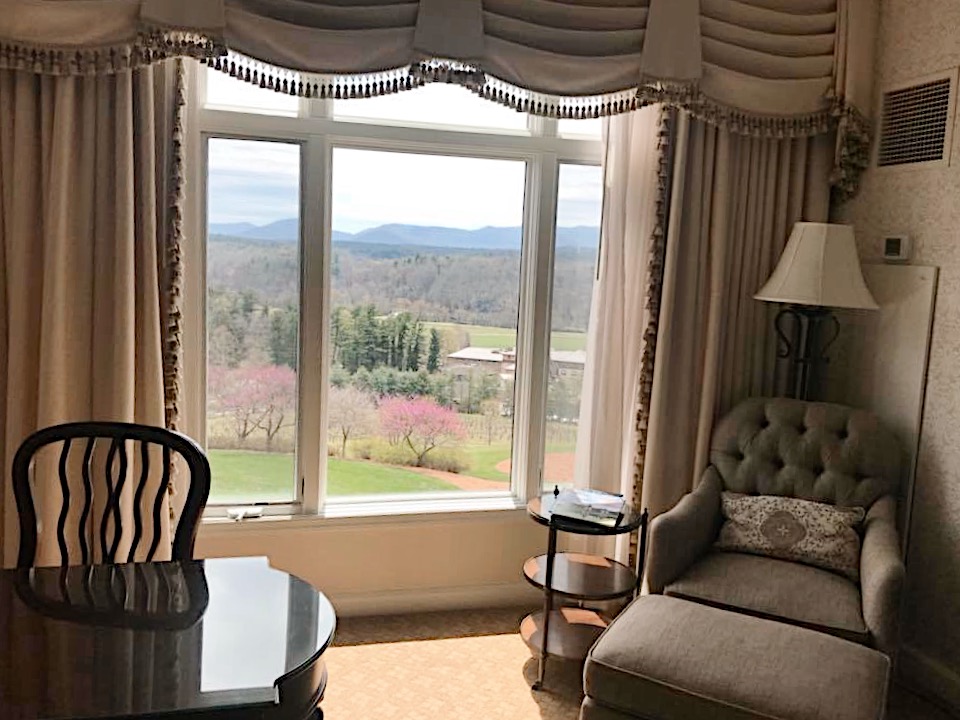 Tips & Tidbits
– Room service is offered 24/7
– Free self-parking
– Valet parking available for an additional charge
– Complimentary estate shuttle service available
– Keep your white tickets given to you at check in on you at all times. You will not be able to utilize the shuttles without them
The Inn Info
Website: https://www.biltmore.com/stay
Address: One Lodge Street, Asheville, NC 28803
Phone: 1 800-411-3812
Classification: 4 Stars
Check In: 4:00 p.m.
Check Out: 11:00 a.m.
Check Rates for your dates here.
The Spa
The only thing that would have been the cherry on top of this amazing girlfriend's getaway was a spa date. We simply did not have the time. However, when you take your trip to Biltmore, make time. Release, relax, revitalize, and rejuvenate.
I could go on and on about Biltmore, but don't just take my word for it; round up your girls and go see for yourself why Biltmore is the perfect place for a girlfriend's getaway.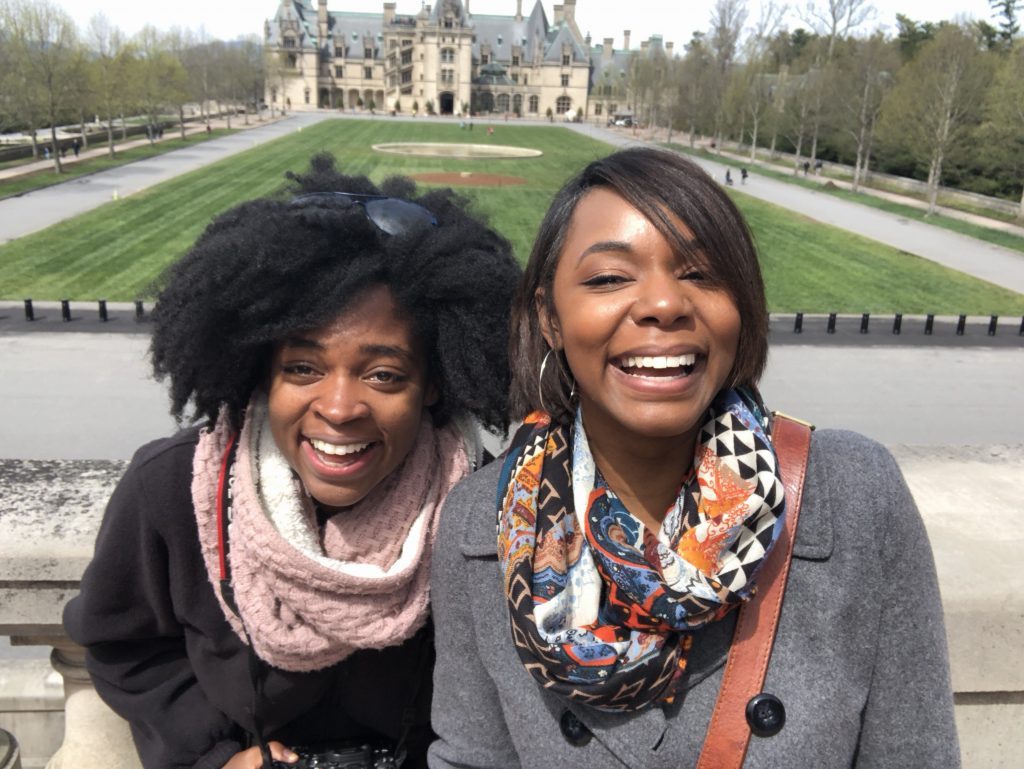 Special thanks to Biltmore for sponsoring my stay. As always, all opinions are my own.