4 Reasons Why AG Restaurant at the Ritz Carlton, Atlanta Should be on Your Faves List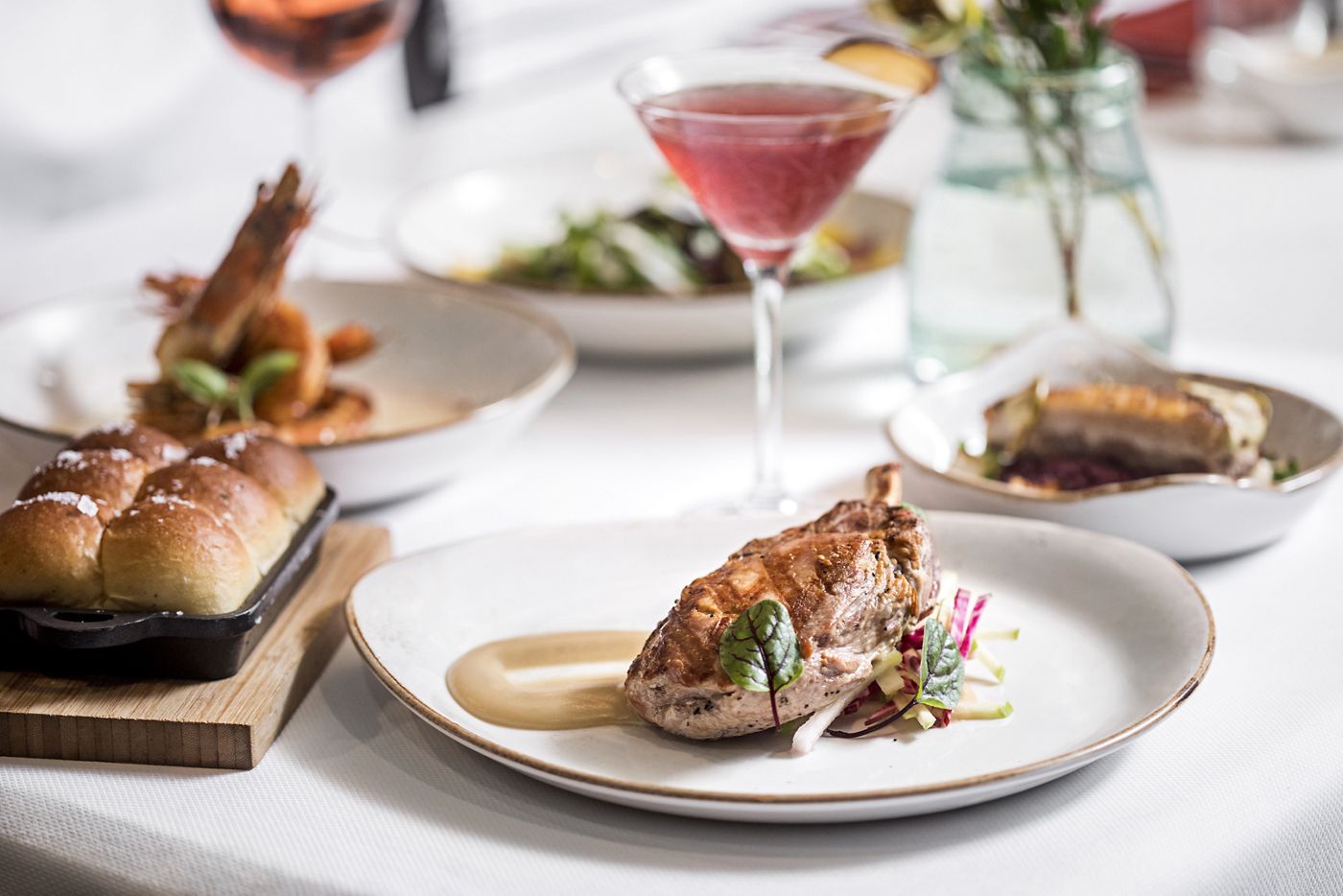 Often times, we overlook gems right in our own cities. We've passed by them countless times and have never given these places a second thought, or we completely miss them altogether, or we pass by them and declare we're going to check it out someday and never do. This was my experience with the AG Restaurant at the Ritz Carlton, Atlanta. I've driven by this place numerous times and always made a mental note to dine there, but never quite followed through. I guess the universe was tired of seeing this place on my ever-growing checklist of Atlanta Restaurants to try out, and conspired to make it happen, because I was invited by the Ritz to dine at their upscale eatery. This restaurant exceeded all of my expectations, and has definitely been added to my faves list.
Though the name may have recently changed and the interiors may have gotten a modern facelift, the Ritz experience was just as present and palatable as ever. Here are 4 reasons AG at the Ritz Carlton, Atlanta should also be on your faves list:
The Vibes & Views
Located in the heart of the melting pot city of Atlanta, the AG at the Ritz-Carlton Atlanta is a modern steakhouse serving up locally sourced dishes with a side of good ol' Southern hospitality. Often times hotel restaurants are overlooked for dining options, but I must attest that AG is definitely one that should be added to the repertoire. It has a classy and swanky ambiance made for the perfect date night, or even Sunday brunch with your girlfriends.
There are also two private dining rooms – the Kitchen, a communal chef's table with seating for 10, and the Distillery which offers a mixologist experience, seating 12. However, my favorite is the veranda, an outside terrace overlooking the streets of Downtown Atlanta. Here, you can experience the energy of the city, yet still be far enough removed from the hustle and bustle. My suggestion, opt for a dinner around sunset. Watch as the sun begins to fade and the city starts to illuminate, and if you're lucky you'll even be entertained by live music bellowing from an adjacent restaurant.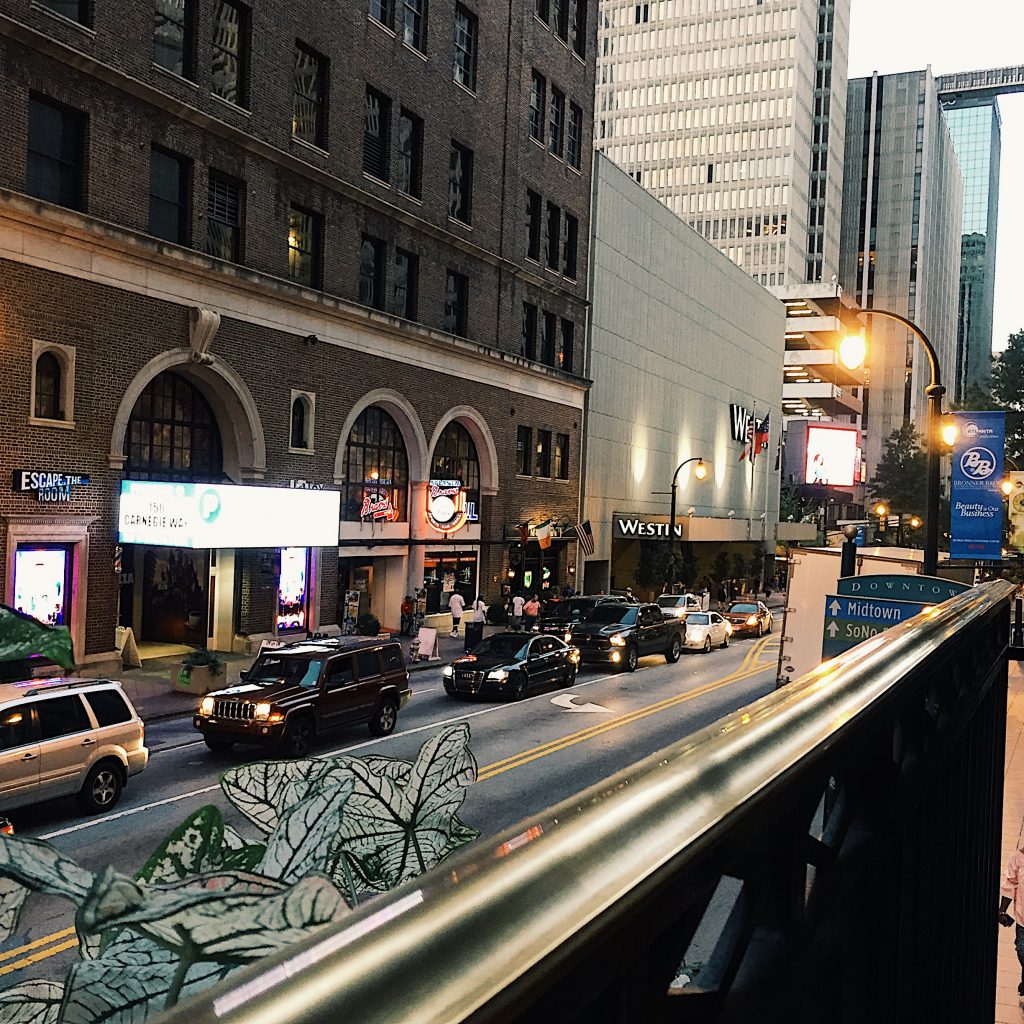 The Service
The service at the AG was unprecedented. From the time I walked through the door and was greeted and sat by the wonderful hostess, to the time my friend and I departed, the entire staff was kind, generous, and accommodating. In fact, as I was being seated, I overheard a gentleman behind me asking to speak with the manager. I thought, "Oh, gosh. What happened? What went wrong?" However, when the manager arrived the gentleman went on and on about how impeccable the service was he'd just experienced. I felt this was a telltale sign of the good evening to come, and I was not wrong.
Throughout the evening, we were welcomed by the sommelier, the manager, and even the incredible chef, Joshua, and pastry chef, Faith, greeted us and offered their recommendations. Even the Jennifer, the hostess, came back around to check on us. How often does that happen? However, the star of the evening was our waiter, Borhan. He was absolutely amazing. He was patient (which is much appreciated from an indecisive, finicky eater, such as myself), knowledgeable, and had great recommendations. What I appreciated most was that he was attentive, but not in an overbearing, come by every two minutes, fill up my already full water glass a hundred times, type of way. It's like he could sense when we needed him and would magically appear, but otherwise he let us carry on with our evening, uninterrupted. It was quality service at its finest. Be sure to ask for him when you visit.
The Food
As if the ambiance and service isn't reason enough, the food is the ultimate reason why AG should be on your fave's list. AG serves breakfast, lunch and dinner, and supports regional and local farms, using only the best and freshest ingredients. If you're looking for some Southern classics with a twist, then this is your place.
The menu is somewhat small; however, for someone like me (super indecisive) it's perfect. Too many options tend to overwhelm me, and next thing I know, I've asked the waiter to come back 3 times because I've yet to make a decision. But, I digress. Point being, less is definitely more, and where AG may lack in options they more than make up for it with the excellence that goes into every dish.
What We Ate
Starters
For starters, we were given Rosemary Brioche rolls with a pimento cheese spread. Let me tell you, this bread was life! So incredibly flavorful, even without the pimento cheese spread…that was just the icing on the cake.
My friend ordered the Baked Oysters. They were served on a half shell, and topped with parmesan, spinach, and béarnaise. He recently became a pescatarian so he forwent the bacon. He loved them and said they were quite flavorful. I can only take his word for it, as oysters aren't exactly my thing.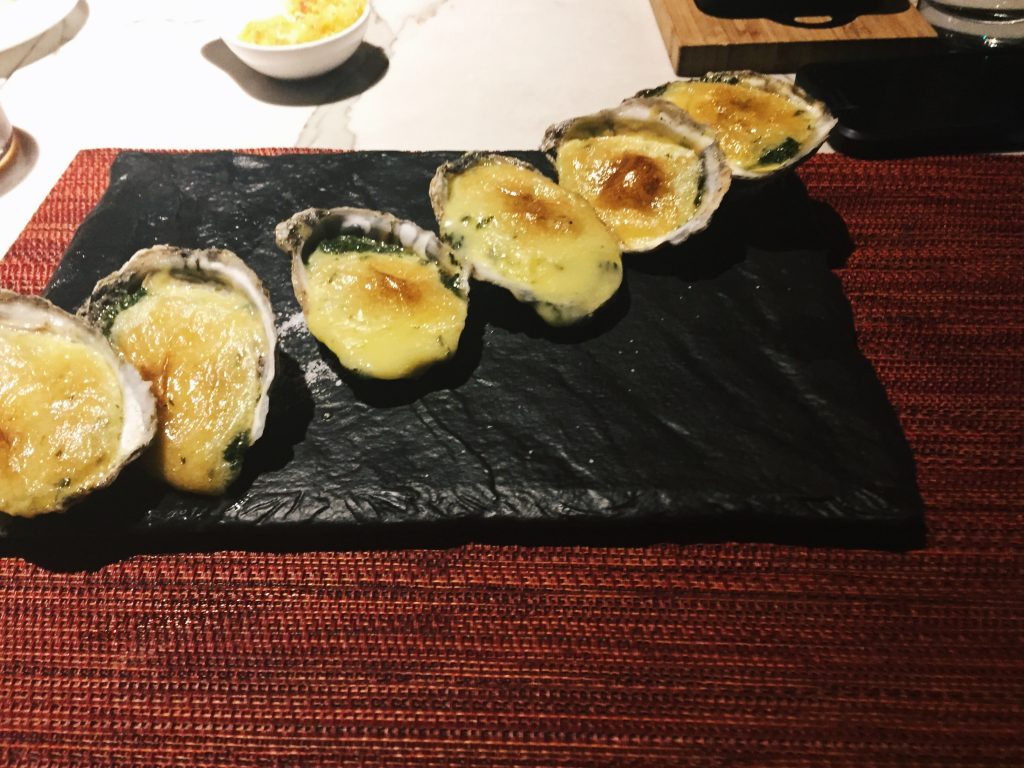 I opted for the Buffalo Cauliflower. I'm not exactly sure what I was thinking. I'm not a fan of cauliflower or blue cheese, but I love all things buffalo. Unfortunately, this was one buffalo dish I could do without. It wasn't terrible, but it also wasn't great. After sprucing it up a bit with ranch dressing, it was tolerable, but I don't think I would order it again.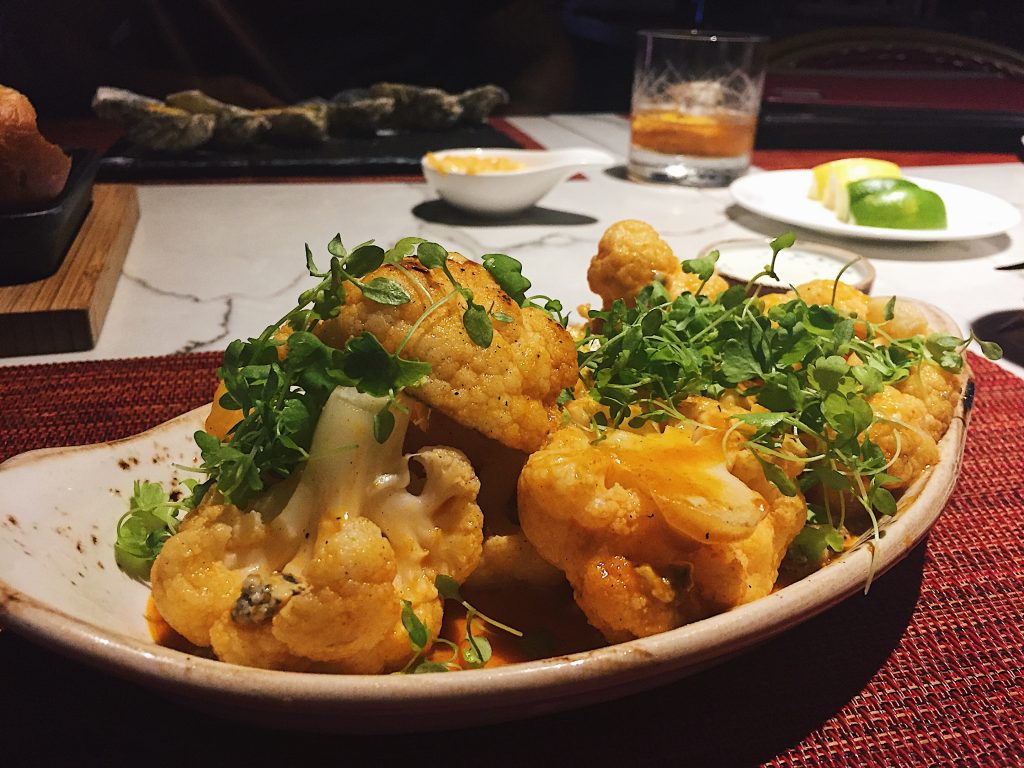 Entrees
I couldn't go to a steakhouse without ordering a steak. Per the recommendation of both Borhan and Chef Joshua, I ordered the Linz Beef Ribeye; 12 ounces of tender, savory, perfection. It was cooked to perfect temperature (my preference is medium well), and sliced like butter. However, my favorite part of this dish had to be the accompanying Poblano Chimichurri sauce. It was absolutely delicious, and complemented the steak incredibly well. It was so good I even dipped my potatoes in it. Try it. It's good stuff.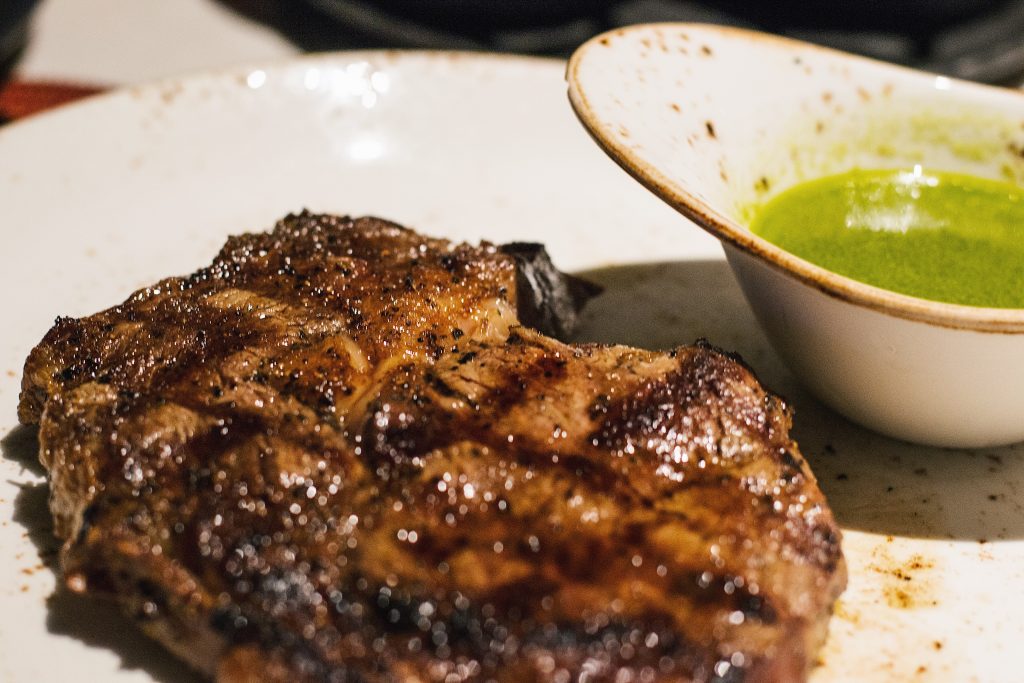 My friend ordered the Fish of the Day, which was a Wild Alaskan Salmon. He said he enjoyed it, but has had better.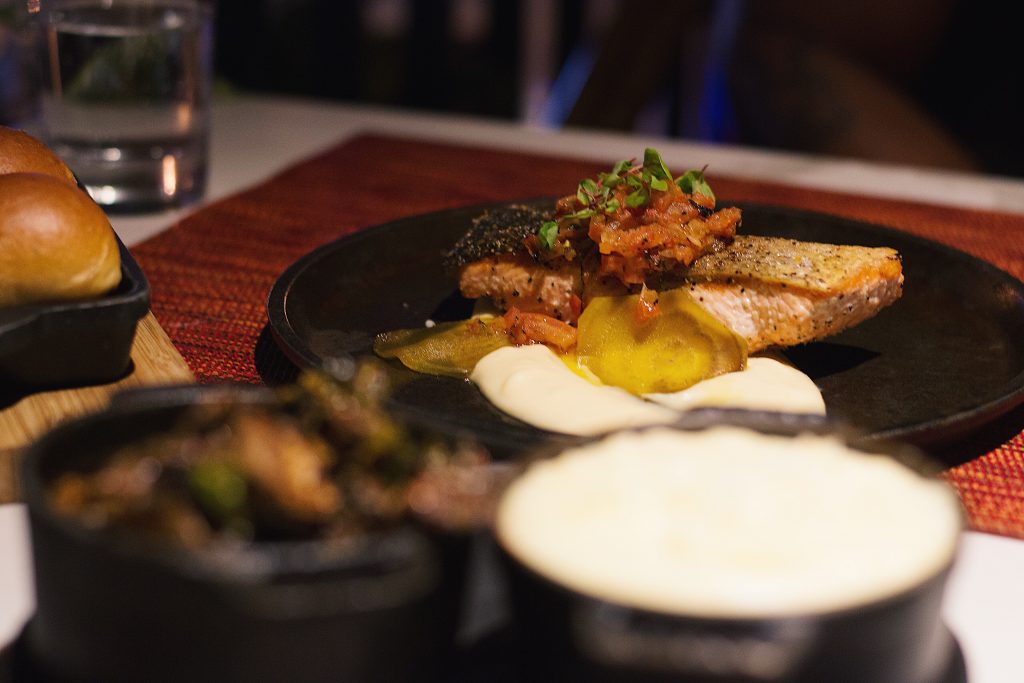 Sides
We tried a gamut of sides. My fave was the Cotswold Mac & Cheese. Mac & Cheese is easily in my top 5 favorite foods; therefore, I'm very picky when it comes to it. AG nailed it! Nice, crusted top and ooey gooey center, with an incredible smokey flavor. If you order nothing else, you should order this.
Next up was the Whipped Potatoes. Another one of my favorites, and another dish that gets an A+ from AG. The potatoes were whipped to perfection with a delicious garlicky flavor.
Admittedly, I'm one of those people that have never tried brussels sprouts, but have contested them all my life. This evening I decided to give the Roasted Brussels Sprouts a go, thanks to the persuasion of Borhan. They were surprising really good! They were roasted with a slightly crispy outside and soft center, and again, like everything else, quite flavorful (see the trend here?).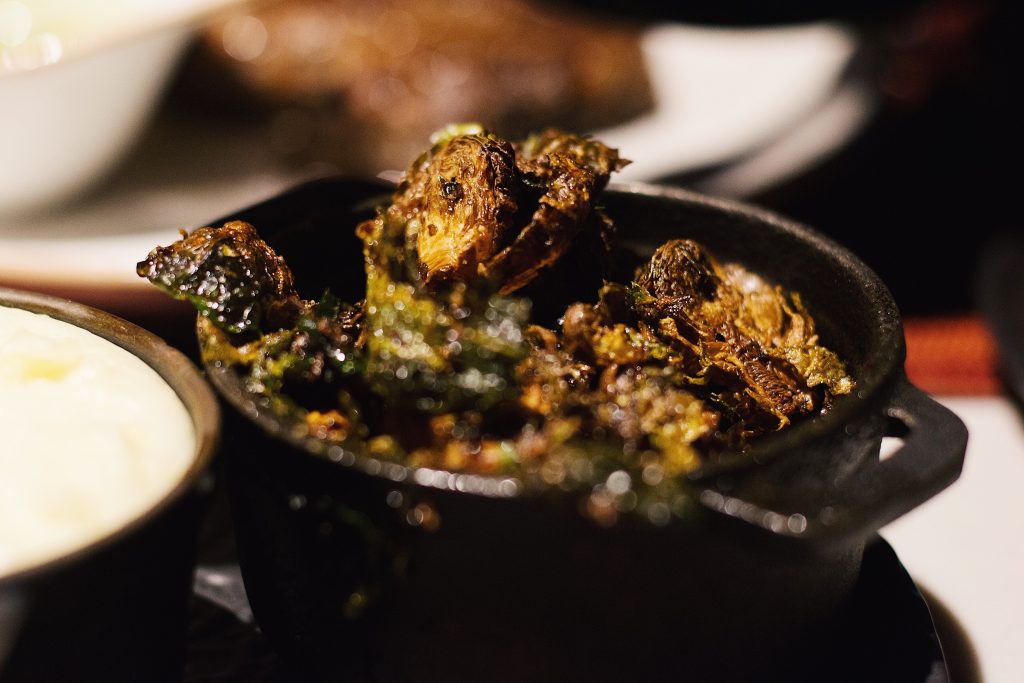 Last, we had Creamed Kale. My friend quite enjoyed them. Me, not so much. If you're a fan of creamed spinach you will likely enjoy this dish as well.
Dessert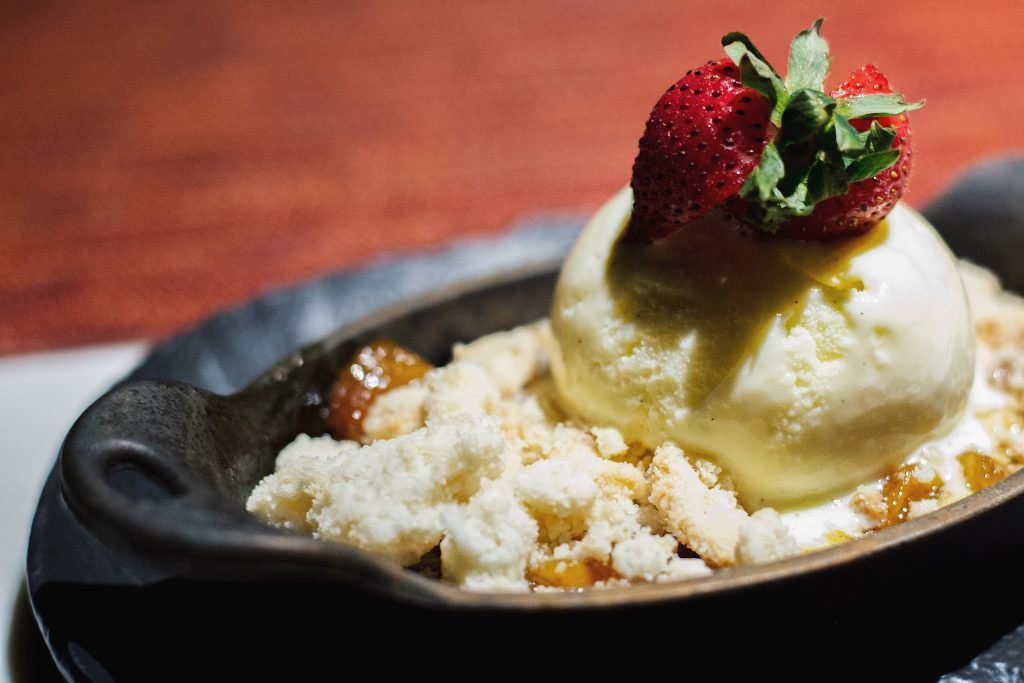 Although I was stuffed to the brim, Borhan insisted on us having dessert. As a Georgia native, I love and live for Peach Cobbler, so that's what I opted for. Made with Georgia peaches and topped with a crumbly streusel, and vanilla ice cream, it was a delicious ending to an already incredible meal.
The Drinks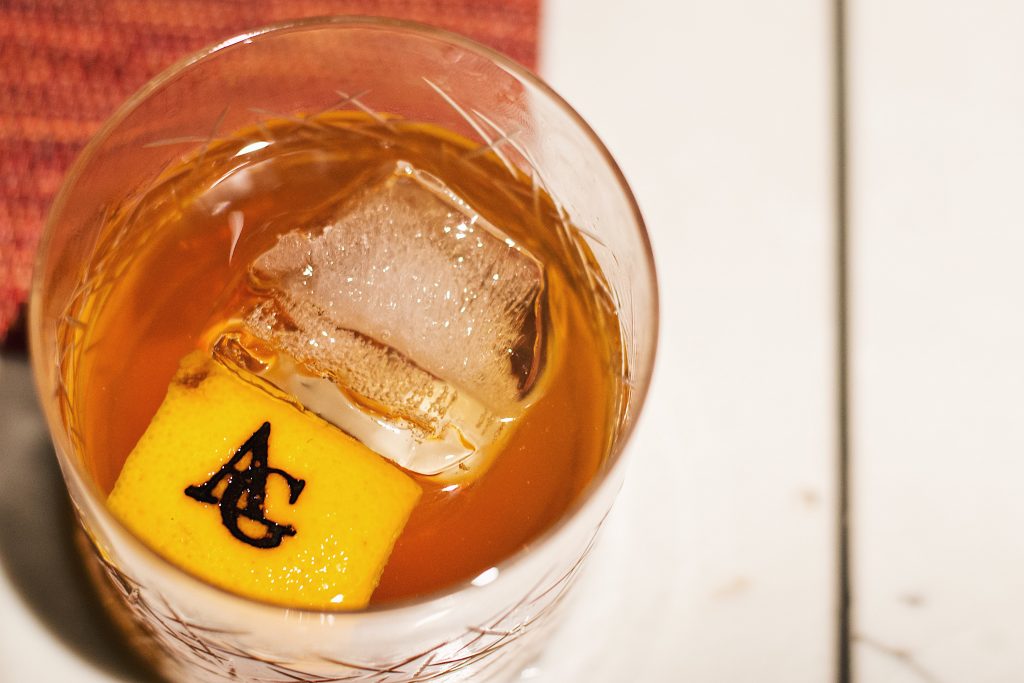 What's a fabulous meal without libations? Serving everything from classics to hand-crafted signature cocktails, AG does not disappoint. My recommendation, the Smokey Old-Fashioned. This is a classic bourbon, with a twist. It's served in a hickory-smoked glass and made with a Whistle Pig Old Fashioned recipe crafted just for AG. Get the full experience and ask your waiter to prep your drink table side. Blow torches, wood, ice…trust me, you want to see this.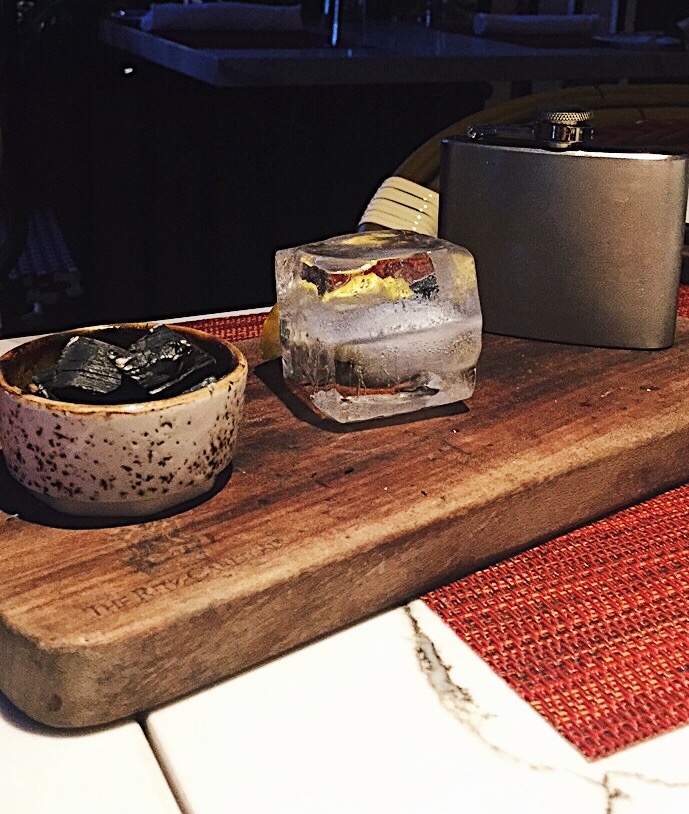 If you want something a little more on the light side definitely go for the Pineapple Mojito. Made with grilled pineapple, fresh mint, lime Bacardi, and a splash of Moët and Chandon – it is NOT your average mojito. It's served up in a copper pineapple that will make you feel like you are on a tropical getaway in the heart of the city.
Of course this steakhouse has an extensive wine menu and an incredibly knowledgeable sommelier, Brian, who can recommend the perfect pairing for whatever you suits your tastes.
Convinced yet? If not, don't just take my word for it. Go try AG out for yourself, and I'm certain it will be added to your faves list, just as it was mine.
Have you ever dined at AG Ritz Carlton, Atlanta? If so, what was your experience? What would you recommend?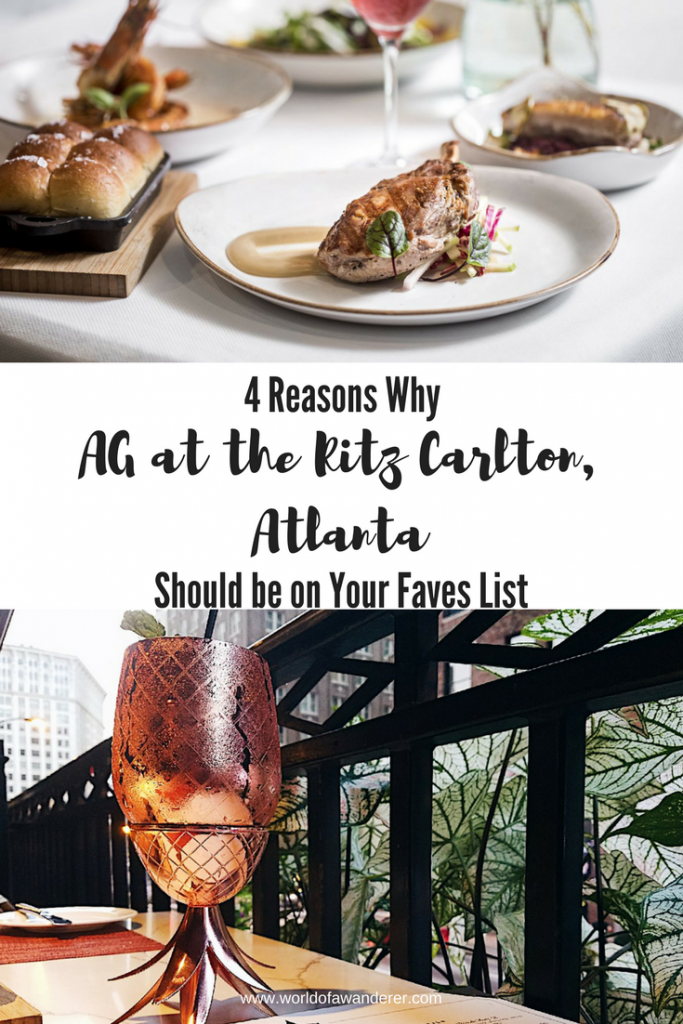 I received this meal complimentary of the

Ritz Carlton

; however, as always, all opinions are my own.