How to Spend a Long Weekend in Brooklyn
Any Brooklynite is likely to tell you that Brooklyn is the best of the boroughs, and a long weekend isn't nearly enough time to explore all the culture, vibrancy, and incredible food that this area has to offer. However, if a long weekend is all you have, then that's certainly enough time to get a taste. Here are my suggestions on how to spend a long weekend in Brooklyn, including things to do and where to stay.
Brooklyn Bridge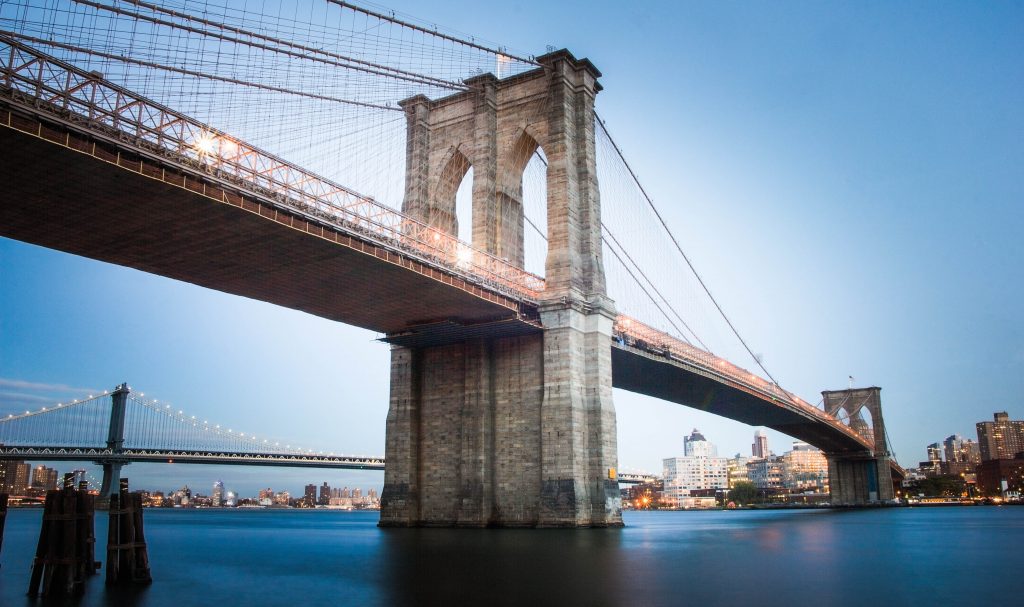 Image via Unsplash by Alexander Rotker
Whether you're taking a leisurely stroll across the Brooklyn Bridge or you just want to find a great spot to take that perfect photo, making this iconic bridge a part of your itinerary is a must. It is the world's first suspension bridge, after all. This 1.3-mile bridge connects Manhattan and Brooklyn, and it offers unprecedented views of the Manhattan skyline. For the best views, start your walk from the Brooklyn side of the bridge and make your way into Manhattan.
Dine in Dumbo
Dumbo, short for Down Under the Manhattan Bridge Overpass, is the first neighborhood you'll stumble upon after crossing the Brooklyn Bridge. This charming yet industrial neighborhood is now known for its thriving art scene, delicious eateries, and hip hotels. It's easily walkable and offers spectacular views of the waterfront. Don't forget your walking shoes, as many of the roads are made of cobblestone.
As you're wandering through this trendy neighborhood, you'll undoubtedly find tons of incredible restaurants, with Brooklyn's famous pizzeria, Grimaldi's, at the forefront. Satisfy your sweet tooth at the Brooklyn Ice Cream Factory or take your pick from any of the delicious food trucks near Brooklyn Bridge Park.
Stroll Through Crown Heights
Image via Flickr by Maxim34374
Crown Heights is full of culture and historic architecture, which makes a mundane walk through the city so much more enjoyable and entertaining. Start your walk at the northern point of Prospect Park, where you'll find Eastern Parkway, a 2-mile tree-lined path for pedestrians and bicyclists. Along the trail, you can take a detour and check out the Brooklyn Botanic Garden and the Brooklyn Museum.
With all the walking and gawking, you deserve a break. Though the Crown Inn sounds more like a place you'd stay the night instead of a bar, it's the perfect place to pull up a chair and enjoy some libations. Take your pick from any of the 16 taps serving up four wines and a rotation of 12 different beers, or select from any of the 40 bourbons on deck. Perhaps a classic cocktail, like the Perfect Manhattan is more your style. Either way, you won't have a shortage of options, nor will you be disappointed.
Relax at an Oasis in the City
Brooklyn has an undeniable energy, and while your long weekend may be packed full of things to do, you can still take a moment to escape the hustle and bustle of it all and enjoy an oasis in the city. The brand new "ecoluxury" 1 Hotel Brooklyn Bridge recently opened a rooftop oasis, which is open to the public.
Kick back, relax, and take in the spectacular views of the waterfront and landmarks such as the Brooklyn Bridge, the Statue of Liberty, and the World Trade Center from this urban oasis. Don't just stop by as a guest. Instead, let this be your home for the long weekend. It's in a prime location, and you'll also get access to the wraparound relaxation pool along with all the other hotel amenities.
Hang Out at Brooklyn Bridge Park
With amazing views, lush greenery, and riverfront promenades, the Brooklyn Bridge Park has it all. Once a dilapidated industrial space, this park has transformed into a space that both locals and visitors can appreciate. You'll find everything from Ballet Barre classes to fishing stations, sports fields, kayaking, concerts, and beaches here. If you want to be near all the action, check out the New York Marriott at the Brooklyn Bridge. You'll be within walking distance to Brooklyn Bridge Park, Dumbo, the Brooklyn Heights Promenade, and so much more.
I'd love to hear what other suggestions you have for a long weekend in Brooklyn. Leave me a comment below!
This article is part of the HotelPlanner campaign.