Exploring Atlanta: A 2017 Kia Optima Hybrid Review
Thanks to Kia Motors and DriveShop for letting me test out the Kia Optima Hybrid for two weeks. As always, all opinions are my own.
I've owned two cars in my lifetime. A 1999 Ford Contour, and a 2004 Toyota Camry, both given and gifted to me, respectively (thanks Grandad :)); therefore, I didn't really have a say in the matter. Needless to say, neither of these vehicles had any bells or whistles. They were as basic as they came. I mean, when I finally got a new radio installed that had a remote, I thought the Cam (my beloved Camry) was the hottest thing on the block. Oh, how times have changed! I learned this a couple weeks ago when I got the opportunity to test drive a new 2017 Kia Optima Hybrid for two weeks, courtesy of DriveShop.
After returning home from living abroad for 2 years, this chica is on the market for some new wheels, so this opportunity came just at the right time. Not only that, I had a staycation lined up and it was the perfect chance to cruise around, explore, and escape within my own city.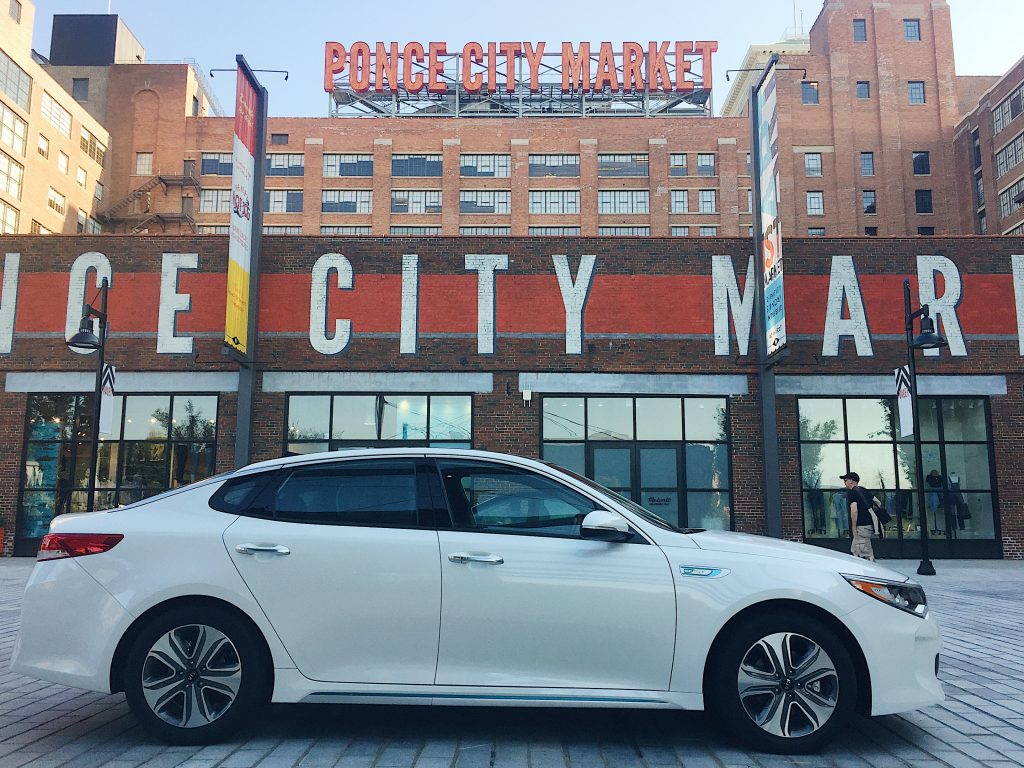 The Kia Optima Hybrid made me realize every single thing I never knew I wanted in a vehicle. Furthermore, it dispelled any preconceived notions I had about Kia automobiles. This car was sexy, sleek, and smart kinda like the car version of me…haha. I kid, but not really. It seemed like everyday I was discovering a new feature or something that made me fall even more in love with this car. Here are some of my favorite highlights and features of the Kia Optima Hybrid:
The Gas Mileage is INSANE!
With 42 combined miles to the gallon, the gas mileage is, hands down, my absolute favorite thing about this car. Just to sort of give you an idea of how remarkable it is, in the first week and a half I drove up, down, and around town, exploring the city I've missed so much, went to visit family an hour and a half South of Atlanta, drove another hour and a half Northeast of Atlanta to visit more family, and during that time the gas hand fell just below half a tank. It only took me $20 to refill the tank. Is that not the best thing ever in the history of everdom?!
I could have gone much longer and further, without having to refill the tank, if I was able to charge the car more consistently; which is also what makes this car so badass. It's a hybrid, meaning it runs on both fuel and electricity. Plug it up, let it charge, and you're good to go for 29 miles all electrically powered. After those 29 miles the car automatically switches to fuel. What's even cooler is that you can't even tell the difference between when it's running on power and when it's running on fuel. It doesn't beep, skip a beat, or make a big to do about it, it's all seamless and hardly noticeable.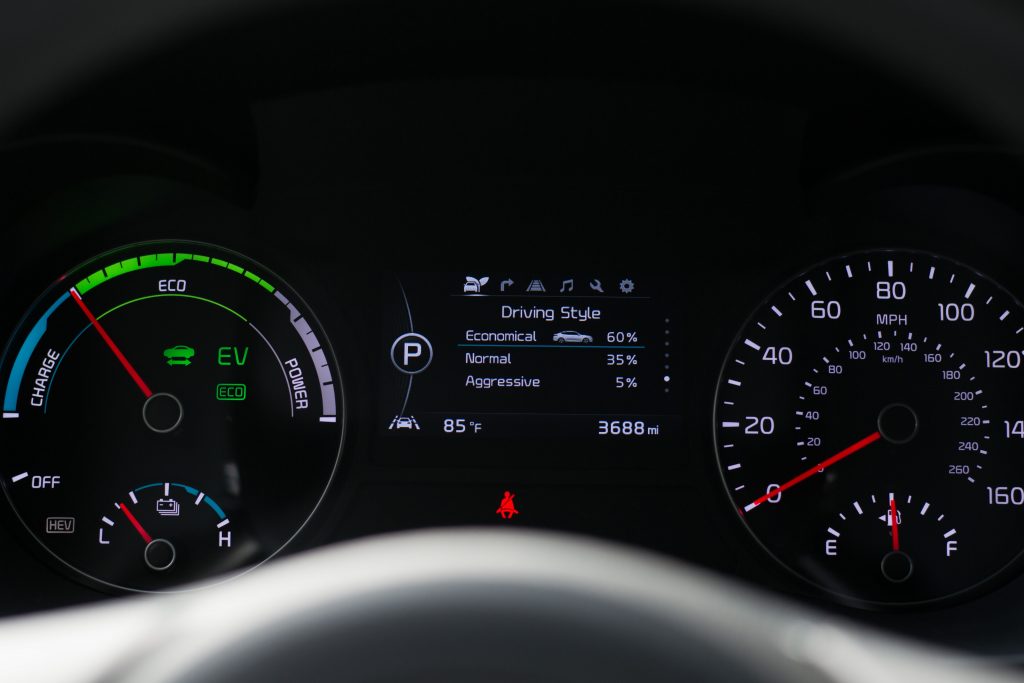 With this energy-efficient vehicle, drivers annual fuel cost is typically around $750 per year. On average, I was spending about $40 per week on gas with my Camry. That's a total of $2,080 annually. Listen, I'm sold!
The Backup Cam
These days it seems like all cars are equipped with backup cameras, and as someone who, in their younger years, may or may not have backed into a non-moving object a time or three, this is everything! Often times, when I first got the car, I would forget all about this feature, and would check my closeness the old-school way, good ol' rearview and side mirrors, or even opening my door to do a quick check. It took a little getting used to, but once I did I feel like it's something that is a must in my next vehicle.
Covered on All Sides with Alert Systems
The Kia Optima Hybrid has ALL the safety accoutrements. Front, back, side to side, they've got you covered. The Lane Departure System alerts you when you've veered too far into the other lane without a turn signal. The Forward Collision Warning System alerts you when you're close to colliding with another vehicle. One of the features I found most helpful is the Blind-Spot Detection System, which uses visual and auditory signals to alert you when an object is not in your field of view. Another feature I, unfortunately, found out about is the Break Assist System when a car in front of me suddenly slammed on their breaks. The BAS instantly applied an additional break source which prevented what could have been an ugly fender bender.
Hands-Free Connectivity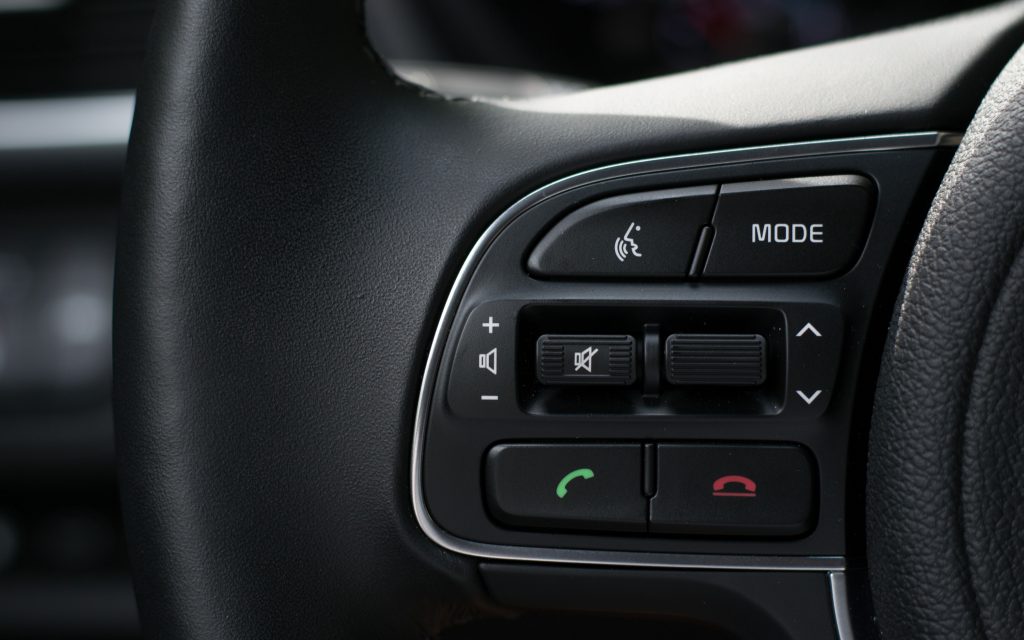 I know bluetooth capability isn't exactly a new, ground-breaking, invention and it's been around for awhile. But, again, I had the basic of all basic cars, so this was a newfound luxury to me. It was super convenient, no muss and fuss with trying to hold the phone and drive, or people not being able to hear you on speaker phone, and don't even get me started on the pain in the arse task of detangling headphones. Hands free is the way to be! (That sounds like a campaign slogan haha).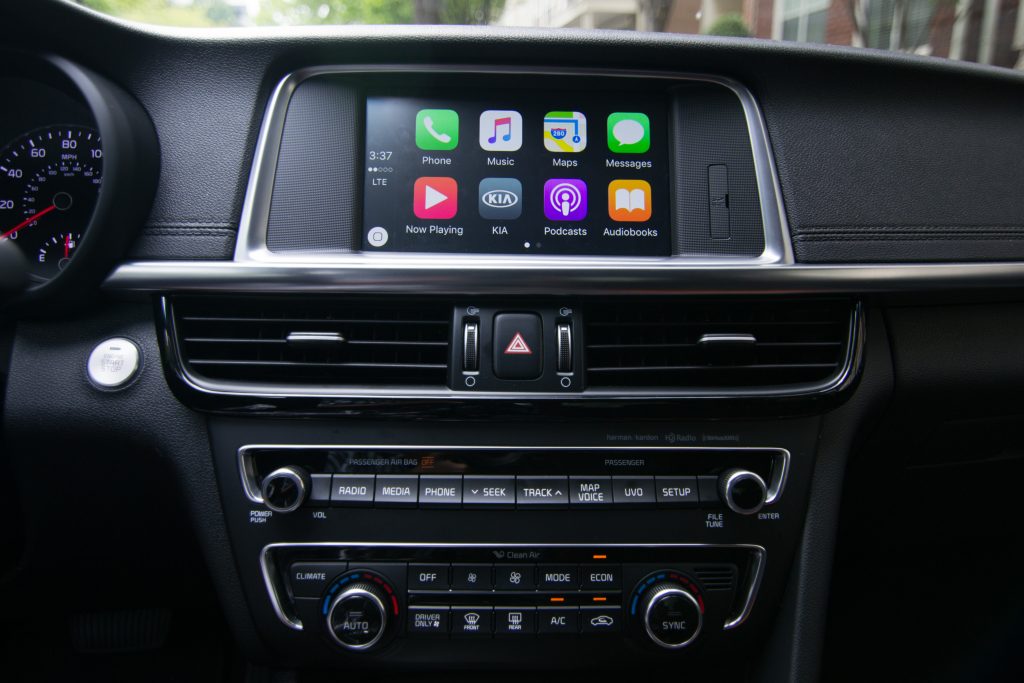 Heated & Cooling Seats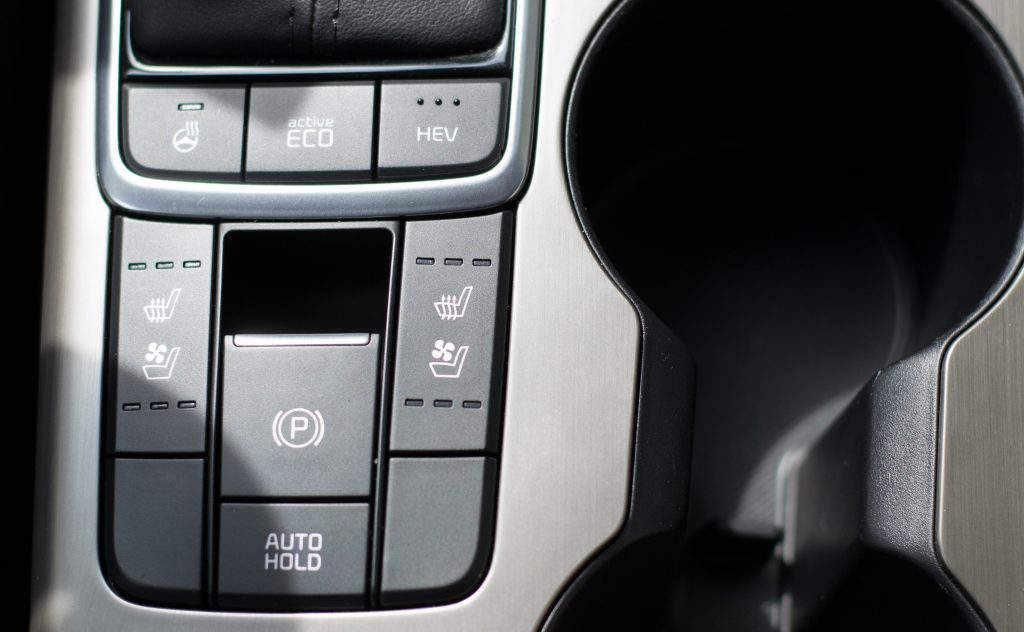 I've heard of vehicles having heated seats which is perfect in the winter, but what about combating that Georgia summer heat? You ever sat on leather seats in the summer and almost burnt the entire epidermis off the back of your legs? Not a good feeling, right? Well, the Kia Optima Hybrid has cooling seats to help you beat the heat.
Unlike most vehicles I've seen with heated seats only in the front, this car also has heated seats in the back! And it has a heated steering wheel. I swear, they've thought of everything.
It's So Quiet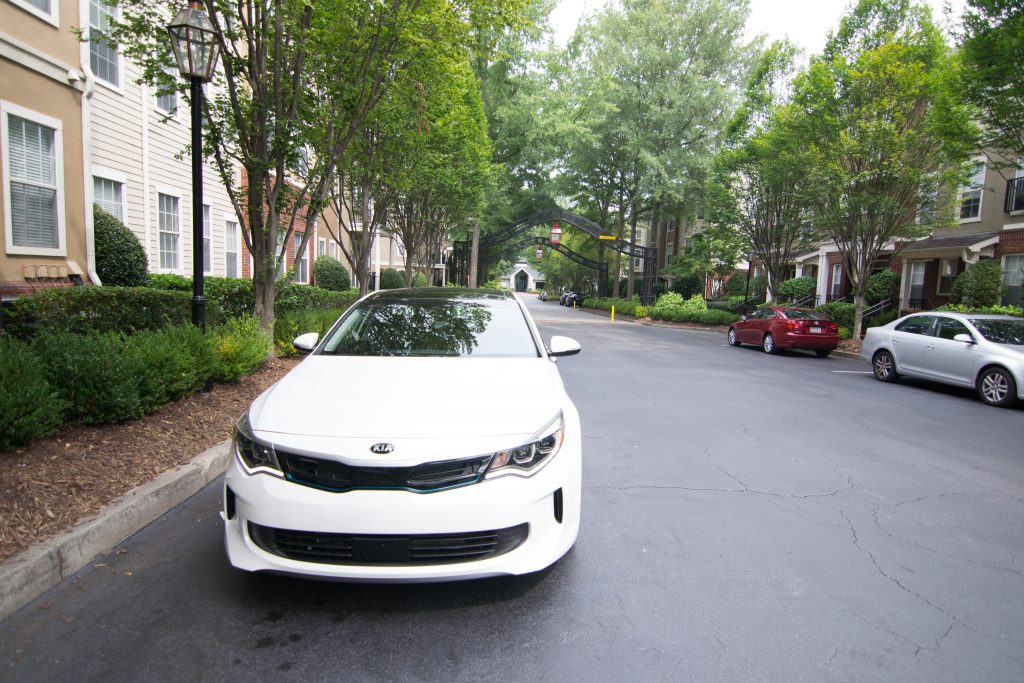 Ok, this may seem a little odd, but I was so amazed at how virtually silent this car is. Sometimes I would have to double check and make sure the car was even on, it's just that quiet. Even more so it glides while on the road. It has such a smooth ride and easy steering capabilities. I love it!
Luxury on a Budget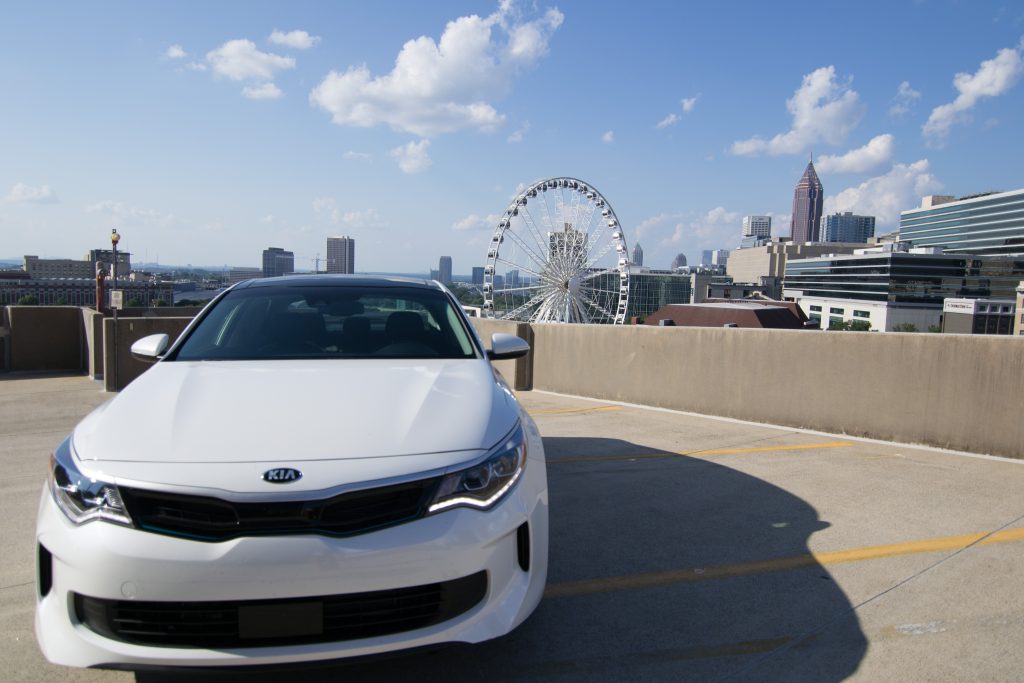 When you hear "luxury vehicle", Kia is probably not the first brand that comes to mind. However, they have certainly made a name for themselves, as they were voted #1 Brand for the last two years. That has to say something, right? With the Optima Hybrid you can get all the luxury features, without the luxury price tag. The Optima Hybrid EX starts at $30,990.
Some of my other favorite features in the Kia Optima Hybrid are:
– Panoramic Sunroof great for letting in some fresh air
– Power-Folding Mirrors perfect for tight parking situations
– Driver's Seat Integrated Memory System with preset positions for the driver's seat and mirrors.
– Highbeam Assist which will automatically dim your highbeams. No more blinding other motorists
– Touch-Screen Display and voice-command navigation
– Proximity Key that allows you to unlock the door even if your keys are in your bag or pocket
– USB outlets, making it so much more convenient than having to plug in a car charger adapter
– Push button start
All in all, the Kia Optima Hybrid is everything I want in a car and more. It far exceeded  my expectations and is definitely a front-runner when I begin car shopping.
Visit Kia's website to learn more about the Kia Optima Hybrid; as well as their other Hybrids and EVs.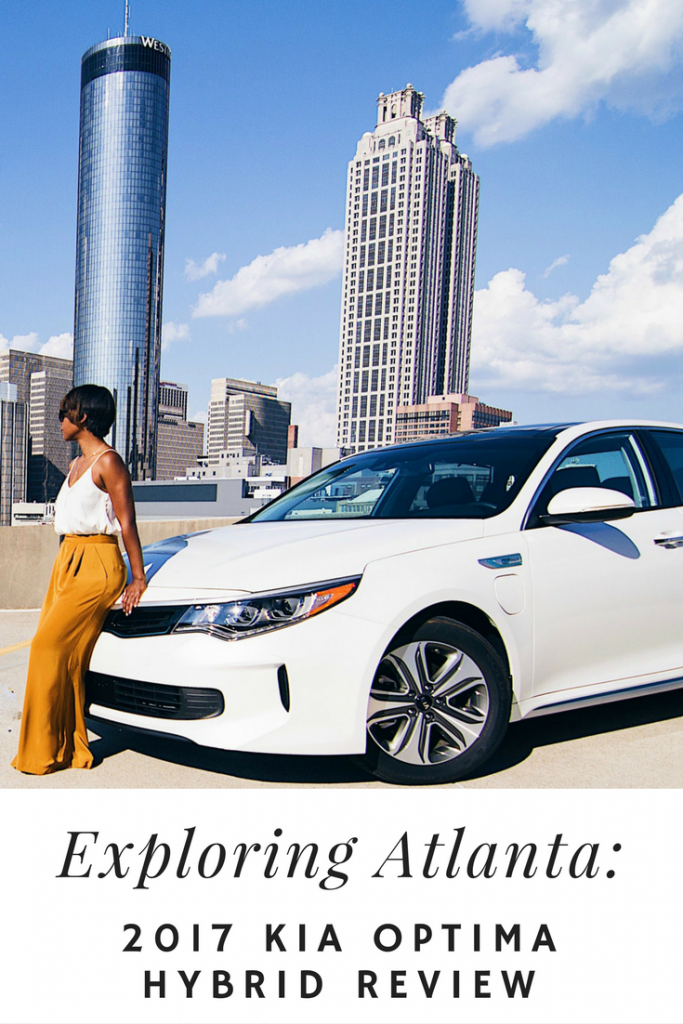 Vehicle pictured in this post is the 2017 Kia Optima Hybrid PHEV, in Snow White Pearl