36 Hours in Ho Chi Minh City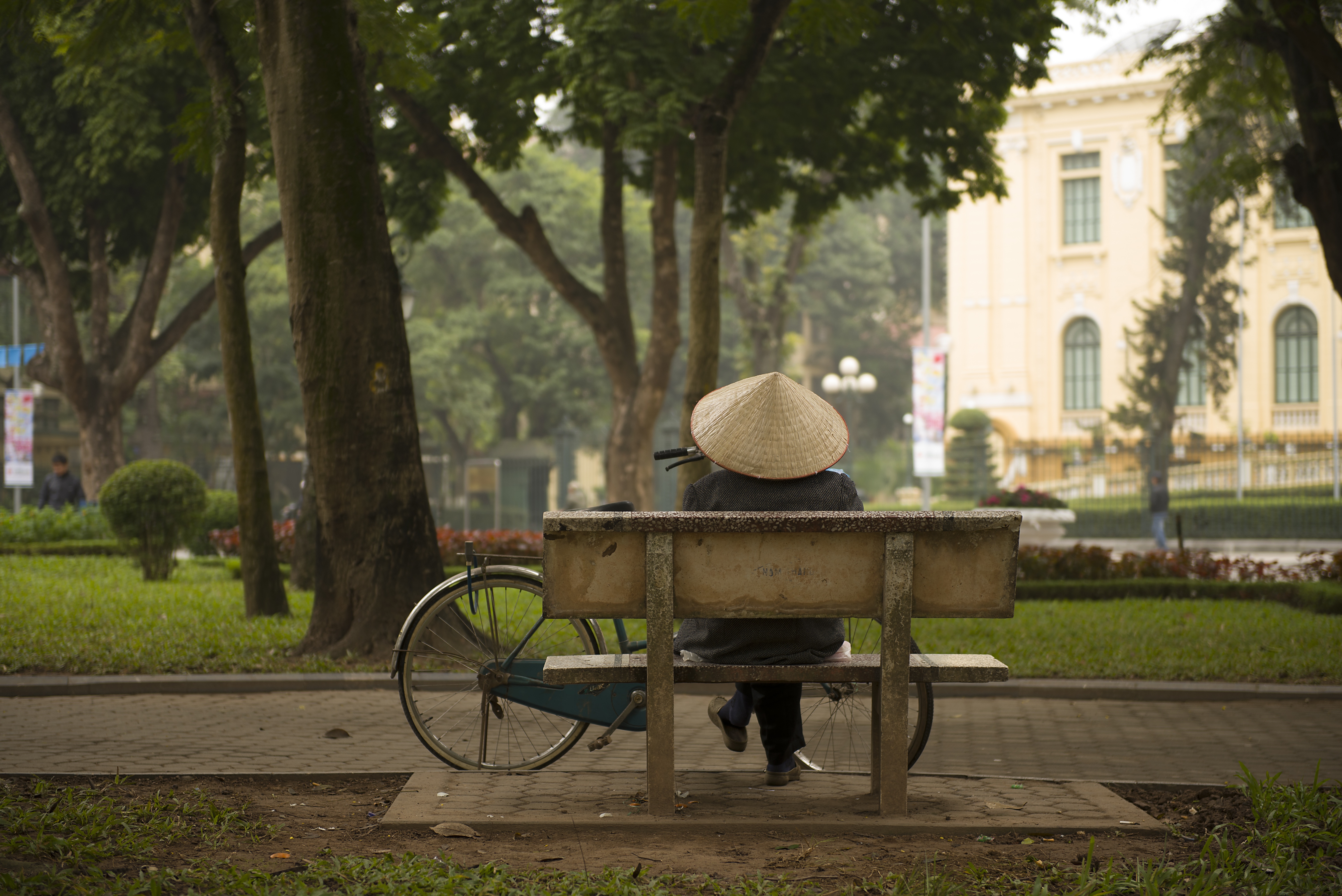 Ho Chi Minh City (HCM), also known as Saigon, is a whirlwind of a city, and a vibrant mix of old and new. You can easily be engulfed by the city's modern skyscrapers, and walk a few blocks over and be taken aback by its awe-inspiring, well-preserved, colonial buildings. Despite it's gripping past of being at the heart of the Vietnam War (known as the American War in Vietnam), it is evident just how resilient this city is and its will to overcome even the worst adversities. Forty years, post war, and HCM has become one of Southeast Asia's most vibrant metropolises.
Though my time here was short, I wanted to ensure I got the most out of my visit; taking in the old with the new. So, if you are also short on time, here is my guide for making the most out of 36 hours in Ho Chi Minh.
Day 1
Morning:
Get an early start on your day (assuming you arrived the night before). This ensures you beat the crowds and the heat. Be sure to stop for a little morning pick me up, and grab a Cap phe su da, the infamous Vietnamese coffee, made with condensed milk instead of your typical cream and sugar. Coffee is a culture, all of its own here, and though I'm not a big coffee drinker, I figured "when in 'Nam…".
Let me tell you, this coffee was AMAZING! So much so, I regrettably had 2 of them in one morning my tummy paid for it later. Talk about a caffeine rush! You can find cafés serving this liquid goodness on just about every block, and it will only set you back about 30,000 dong (a whopping $1.34 USD).
After getting your morning jolt, head over to the War Remnants Museum. It opens at 7:30 a.m. so the earlier you get there the better. You avoid the big tourist crowds and the hoards of children from school field trips. Though the museum clearly offers a skewed point of view, it provides the harsh reality of war, specifically, a war that plays an integral part of American history. Personally, I spent over a couple of hours here, assimilating each photo and accompanying info graphic. This museum provided a visual depiction of the words I read on the pages of the harrowing memoir, When Heaven and Earth Changed Places, by Vietnamese author Le Ly Hayslip. It painted an incredulous picture that my mind couldn't even begin to fathom on its own.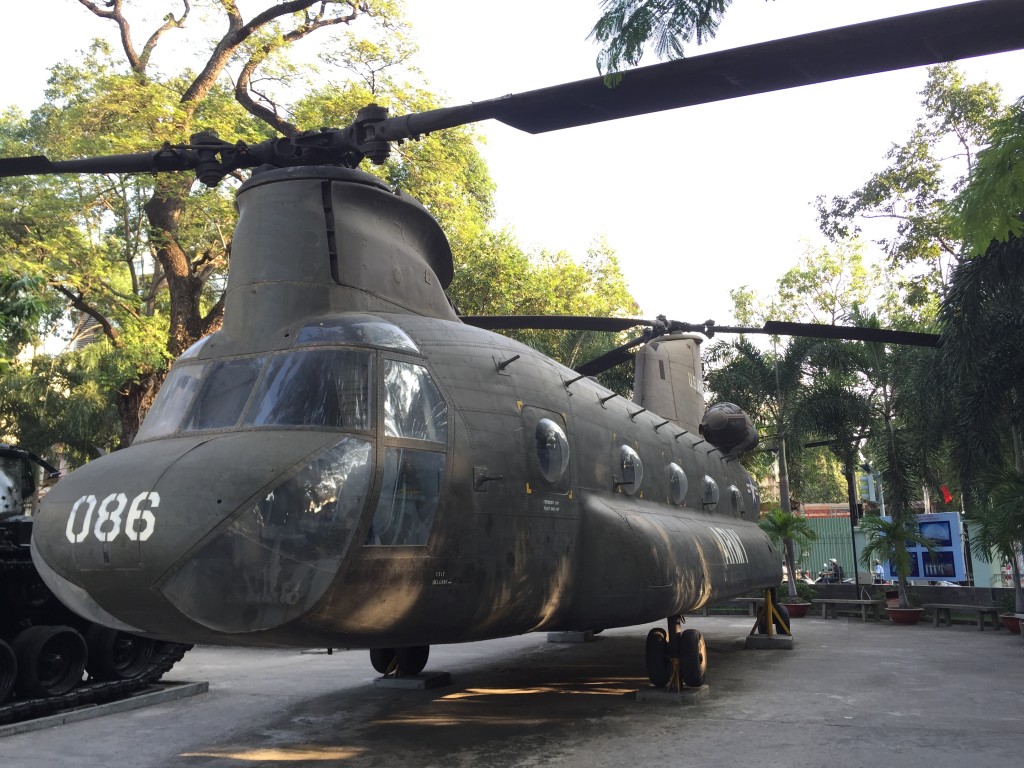 Though a bit solemn, the Remnants Museum, is definitely a must see. Take a walk through history and see the war from the perspective of the other side.
After the Remnants Museum, take a slow stroll to the Reunification Palace. It is only about an 8-minute walk, so no need for a taxi or motorbike. The iconic site was the home and headquarters of the former South Vietnamese President during the Vietnam War. It is a historical relic that is etched in history as the site that marked the "Fall of Saigon" when North Vietnamese tanks crashed through the main gates, forcing the South to surrender; thus, ending the Vietnam War.
From my understanding the Reunification Palace has been virtually untouched for the last 40 years, still with all its original furniture and décor, and even the infamous tanks still sitting on the front lawn. Unfortunately, I wasn't able to bare witness to the interiors, as after standing in line I realized I was short on cash, and they did not accept cards. So, it was either hunt down an ATM or satiate my hunger pangs. This day, I opted for the latter.
***Note: The Reunification Palace closes everyday between 11 a.m. and 1 p.m.
Afternoon
Take a short stroll to nearby restaurant, Propaganda Bistro, whose interiors are every bit indicative of its name. Sitting across from 30/4 Park (named after Vietnam's Liberation Day), this artsy little bistro offers a lively atmosphere, with sounds of funk from the likes of Al Green, The Three Tops, and of course Mr. James Brown himself, pulsating from the speakers. I honestly could have sat there all day for just for the atmosphere alone. But, on top of an amazing ambiance, Propaganda offers a non-traditional take on traditional dishes and a kick-ass iced coffee to boot.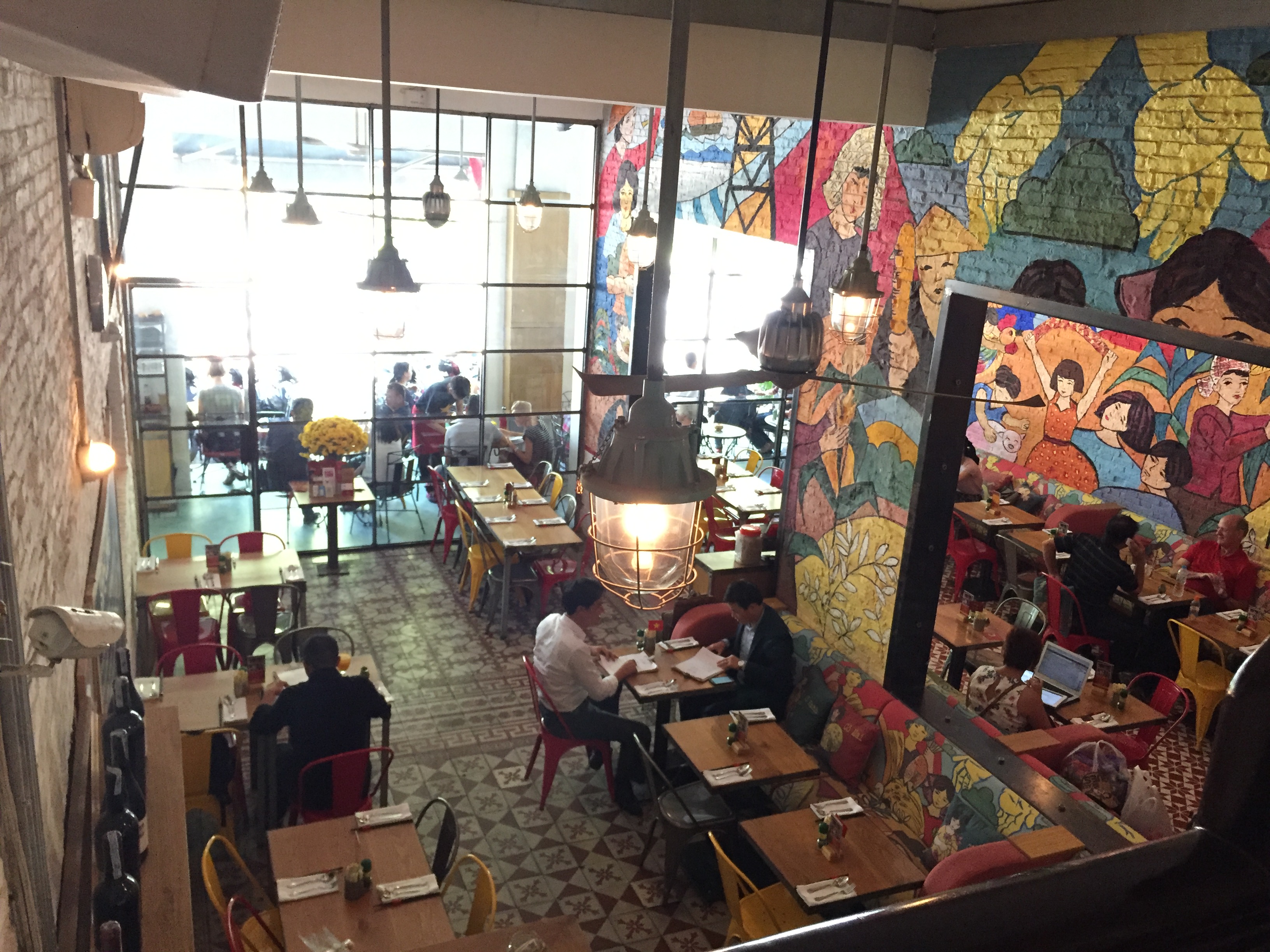 I settled for the Set Breakfast, which included BBQ pork with rice noodles, bean sprouts, fried spring rolls, and a coffee of my choice. This was a bowl of pure deliciousness! I highly recommend it.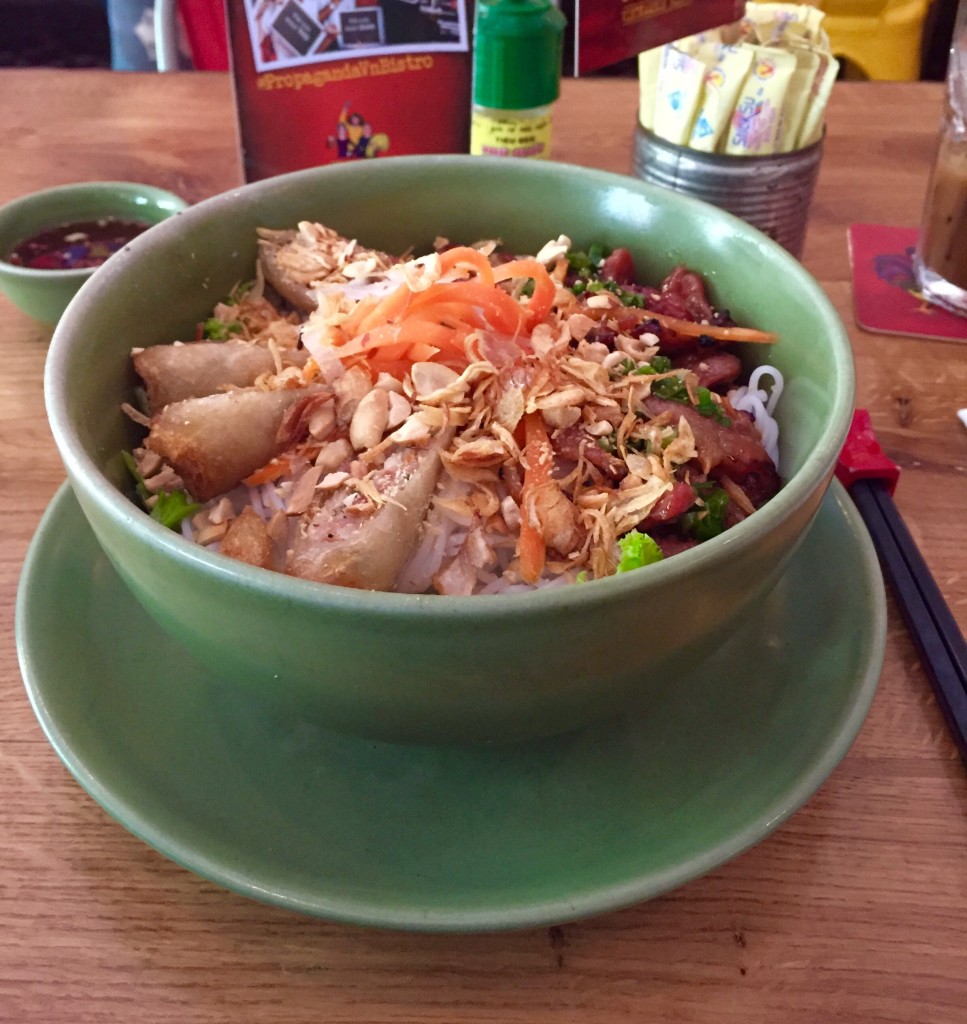 After lunch, walk off a few of those calories, by wandering through the 30/4 Park, or head over to the Notre Dame Cathedral and Saigon Central Post Office to take in some of the architectural grandeur. Both landmarks are located just across the street from Propaganda.
Evening
Get a taste of Saigon by taking a free walking tour. Saigon Free Walking Tours offers a Street Food Tour starting at 6 p.m. This is a non-profit organization where university students offer free tours (excluding meals and entrance fees) around Saigon, and in exchange they get to practice their English. This is an amazing way to get to know the locals and to eat like a local.
Unfortunately, there was a mix up with the dates I selected (my error), so I wasn't able to go on my tour. But, I will say the people at SFWT were extremely kind during our brief interaction, and they have rave reviews, so I will definitely be using them the next time I visit HCM. They offer several different tours so you can choose one, or many of your likings.
***Note, if you go on the Street Food Tour, part of the tour includes stops at the Notre Dame Cathedral and Central Post Office.
Day 2
Morning
Hop on the back of a motorbike, or take a taxi, to one of the many parks for some morning recreation, or simply to people watch. Here you will see an assortment of people, young and old, exercising and getting their
tai chi on.
Late Morning/Afternoon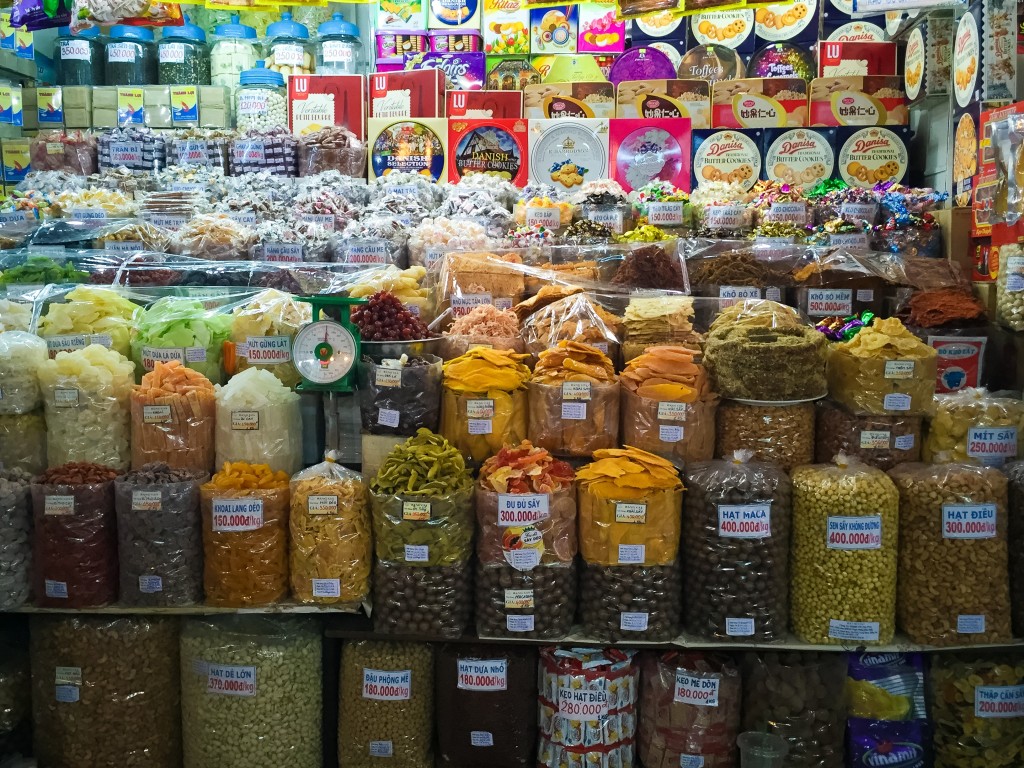 Head to the Ben Thanh Market for some local shopping and authentic eats. This place is massive and it is easy to get turned around in the mountains of…stuff. You'll find everything from every herb and spice, to art, electronics, textiles, and souvenirs. Be sure to put your negotiating skills to use. This is the perfect place for any last minute finds and treats before your departure.
Where to Stay
Bizu Hotel District 1. This place lived up to the 4 Cs: clean, comfortable, convenient, and CHEAP! Everything I look for, for budget travel. Though the room was small (and didn't have a window), it had all the basic necessities (even a mini fridge), and it was conveniently located in the center of the backpacker area. For 2 nights, it only set me back about $37.35 USD. Not bad.
Other Tips
HCM is notorious for pickpockets and thieves, so be careful! I was constantly being reminded to "Keep my phone safe", anytime I was on the back of a motorbike or perusing through a shopping area and had it out. So again, just be aware of your surroundings.
Have you visited Ho Chi Minh? What was your favorite thing about this vibrant city?