The Best Weekend Guide to Myrtle Beach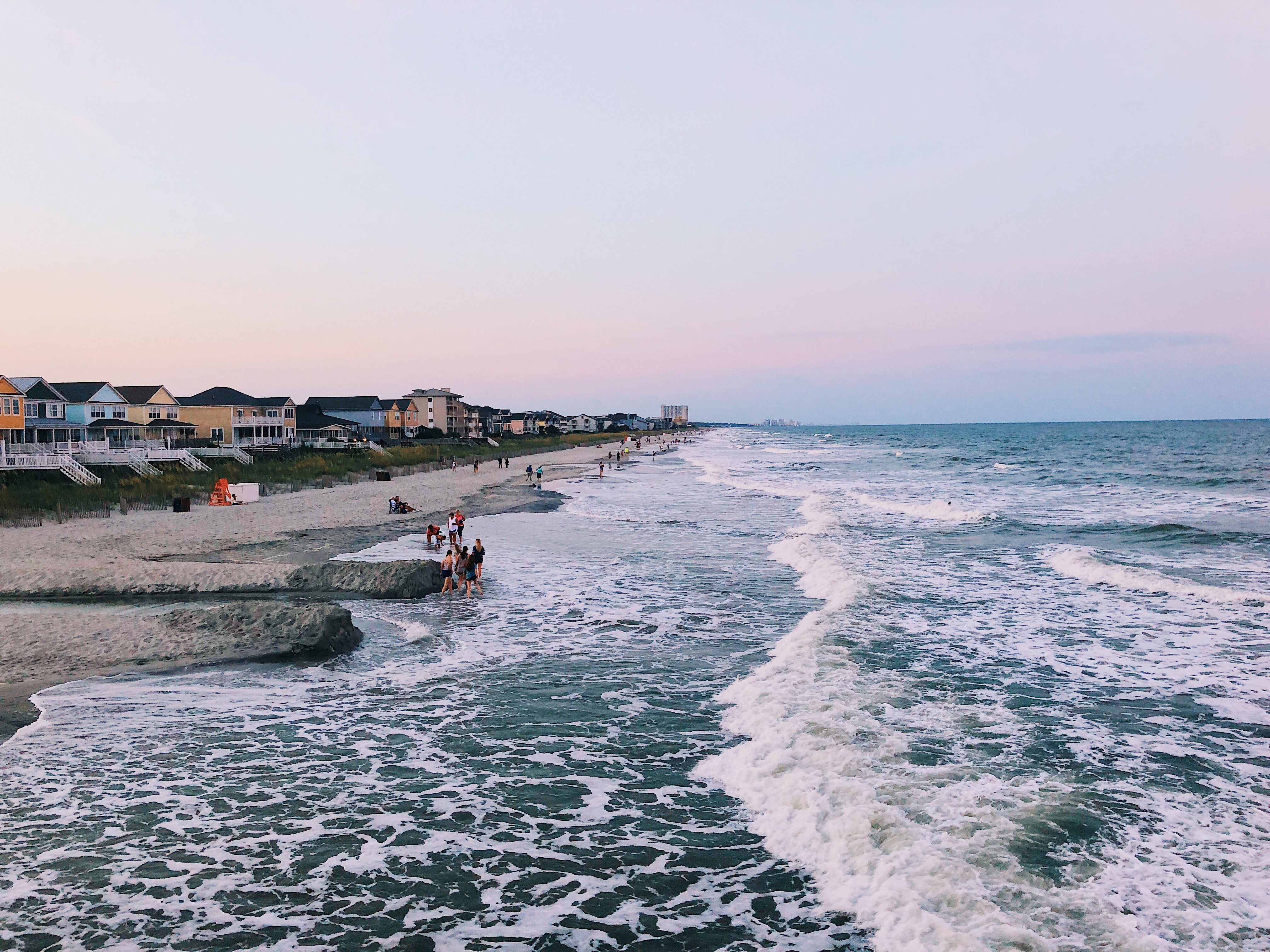 I've been to Myrtle Beach a few times, but we typically stayed in a condo and cooked all our meals, and never went too far beyond the boardwalk. Recently, my brother and I hit the road for a long weekend beach getaway and did all sorts of fun things. I've created this awesome weekend guide to help you get the most out of your Myrtle Beach vacay. I've outlined where to stay, things to do (and believe me, there's plenty), and where to eat.
Where to Stay
I've only stayed on the North end of Myrtle Beach; however this time around we headed South and it opened my eyes to a completely different side of this charming beach town, that I never even knew existed. The North end of Myrtle Beach was everything my 20-something, bar-hopping, party-going, want to be in the center of the action, self needed. However, this now 30-something, who considers hanging out in coffee shops a good time, can do without all of the above. The South end is much quieter, a hundred times less busier, with less traffic, less crowed beaches, and is mostly residential. It may be too "slow" for some; however, it was perfect for me. If you're looking to get away from the hustle and bustle then South Myrtle Beach is your area, and it's only about a 15-20 minute drive to the main strip in North Myrtle Beach.
As far as accommodations, we stayed at the Surfside Beach Oceanfront Hotel. The location was perfect and was literally steps away from the beach. There were also a few restaurants surrounding the hotel, so it made it super easy to walk and grab a bite to eat. Oh, and you even get discounts at many of them when you show your hotel key card! Winning!
What I loved most is that all the rooms have an ocean view, so there really isn't a bad seat in the house, so to speak. The staff was incredibly friendly and always helpful when needed. The rooms were equipped with microwaves and mini fridges, which I feel like all hotels should have, so this definitely won me over. I always have leftovers and hate letting food go to waste because there is nowhere to store it or reheat it.
The beds were a dream! So soft and comfy. Those afternoon naps, after wandering the city all day, were much appreciated.
This hotel was amazing! The only not so great thing I found was that the room tended to be very muggy, even with the AC on; there was always a dampness in the room. Even still, it wasn't so bad that it prevented us from enjoying our stay.
Getting Around
If you're staying in North Myrtle Beach, you may be able to get by without having a vehicle. If you stay in South Myrtle Beach, as we did, I'd definitely suggest having a vehicle. Going from South Myrtle Beach to North Myrtle Beach can start to dig into your pockets if you're taking Uber. It's about a 15-20 drive, one way. We went back and forth A LOT! Luckily, we got to test out the Mazda3 Grand Touring on this trip, and it was absolutely perfect. Since it was only two of us, it was the perfect size, and super efficient on fuel. Here's my full rundown on the Mazda3. Definitely check it out if you're looking for something compact and great on gas.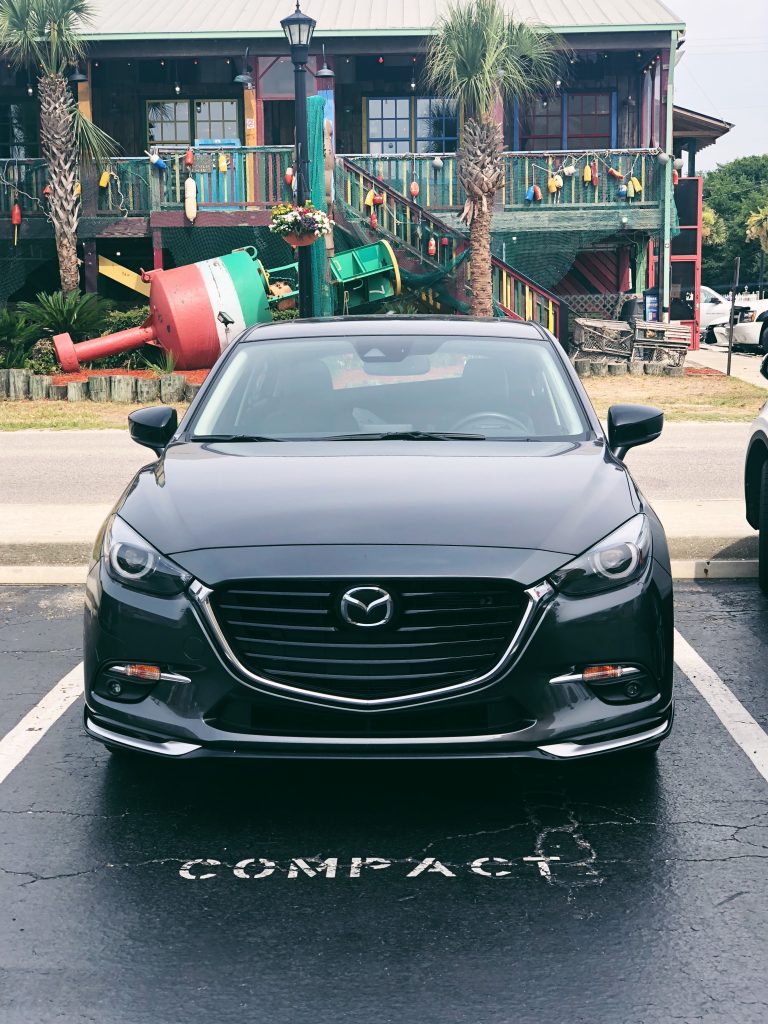 If you're staying in South Myrtle Beach, it is quite a walkable little town, but you can also rent a golf cart and cruise around that way. There were tons of people carting around during our trip. I almost wished we'd rented one, just because, but it really wasn't necessary, honestly.
Things to Do
One thing is for sure, you will NEVER find a shortage of things to do in Myrtle Beach. This place is as family-friendly as it comes. You'll find amusement parks, miniature golf, obstacle courses, arcades, the list could go on forever. Here are a few of the fun things we did in Myrtle Beach:
Do All the Things at Broadway at the Beach
You can't visit Myrtle Beach without visiting Broadway at the Beach. This one-stop-shop hotspot has everything from attractions to shopping, eateries, rides, and everything in between. So, whether you're zipping across the lake on a zipline, playing water bumper bubble or trying trying to crack the code to escape from the Escape Room, you'll never find a shortage of things to do here.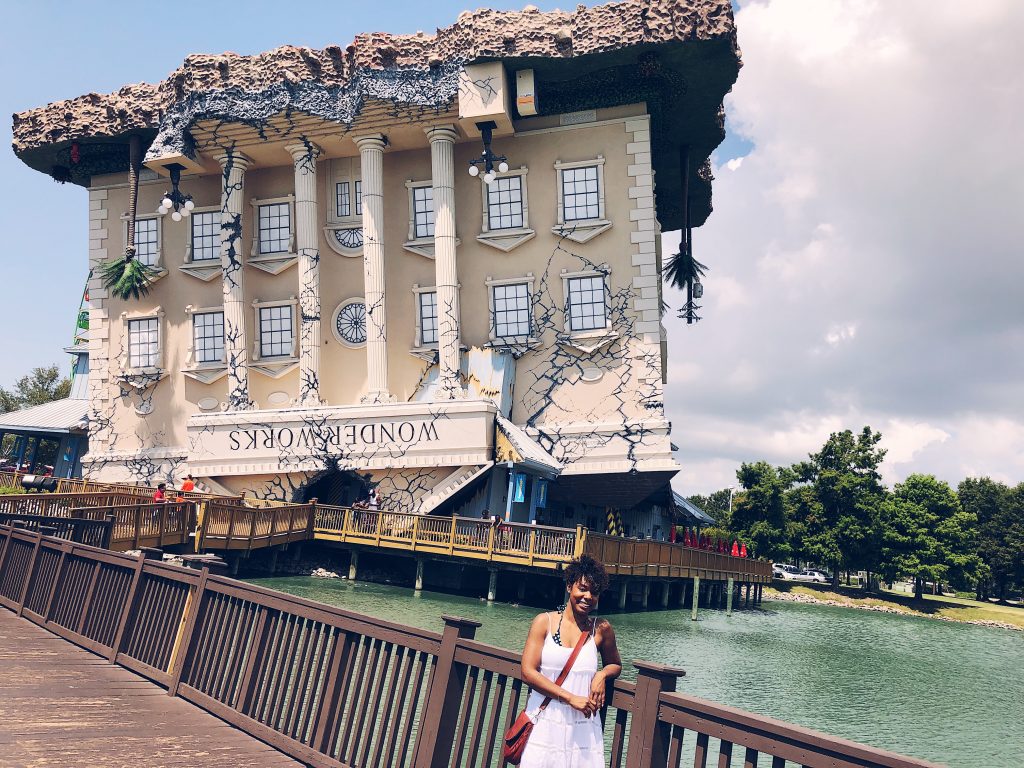 You can even try the spiciest sauce ever in the history of everdom at Broadway at the Beach. No, seriously, it's dangerously hot to the point where you have to sign a waiver before you even try it! I'm not that brave of a soul and I fancy keeping my insides in tact and not with a hole burned through them. My brother, on the other hand, is that brave of a soul. He tried it, didn't bat an eye, and even shelled out the $27 for the tiny bottle of hell in a bottle. After we'd left the store, he admitted it was spicy af. The spiciest thing he'd ever eater, and he LOVES spicy stuff.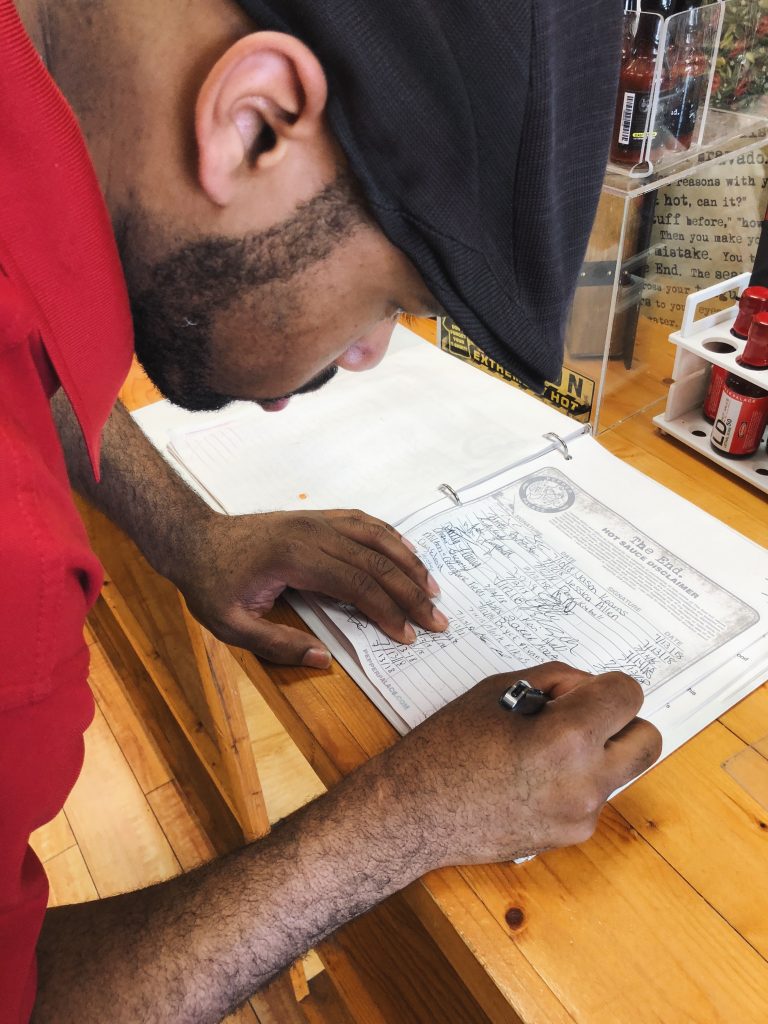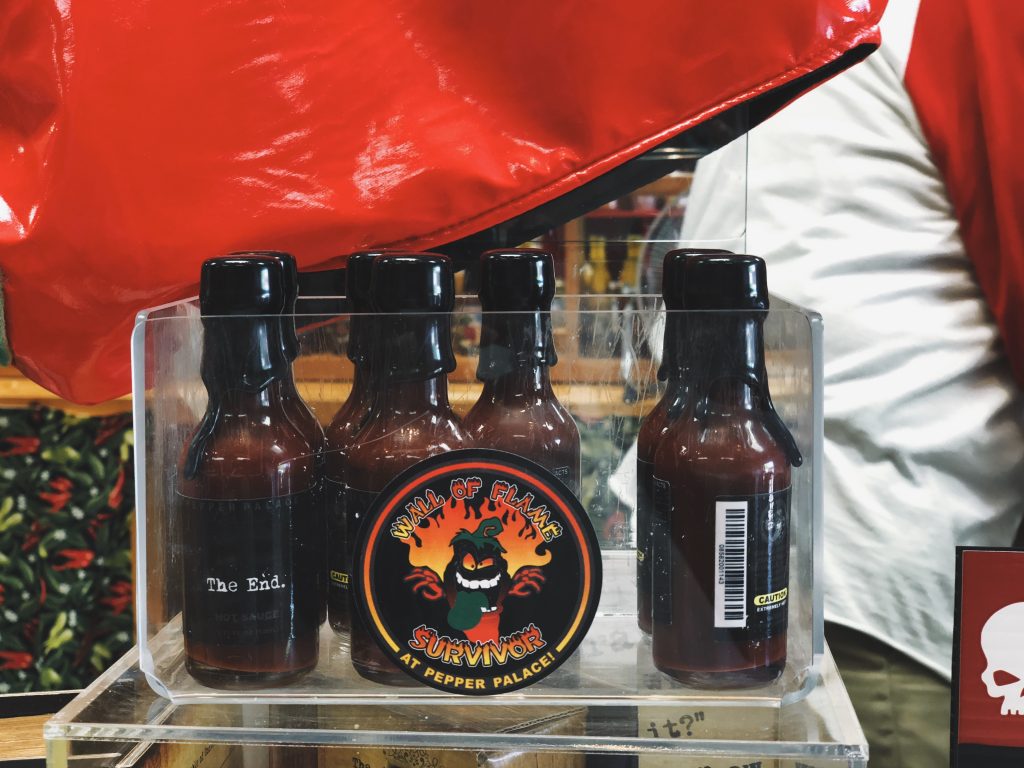 Take Flight on a Helicopter Ride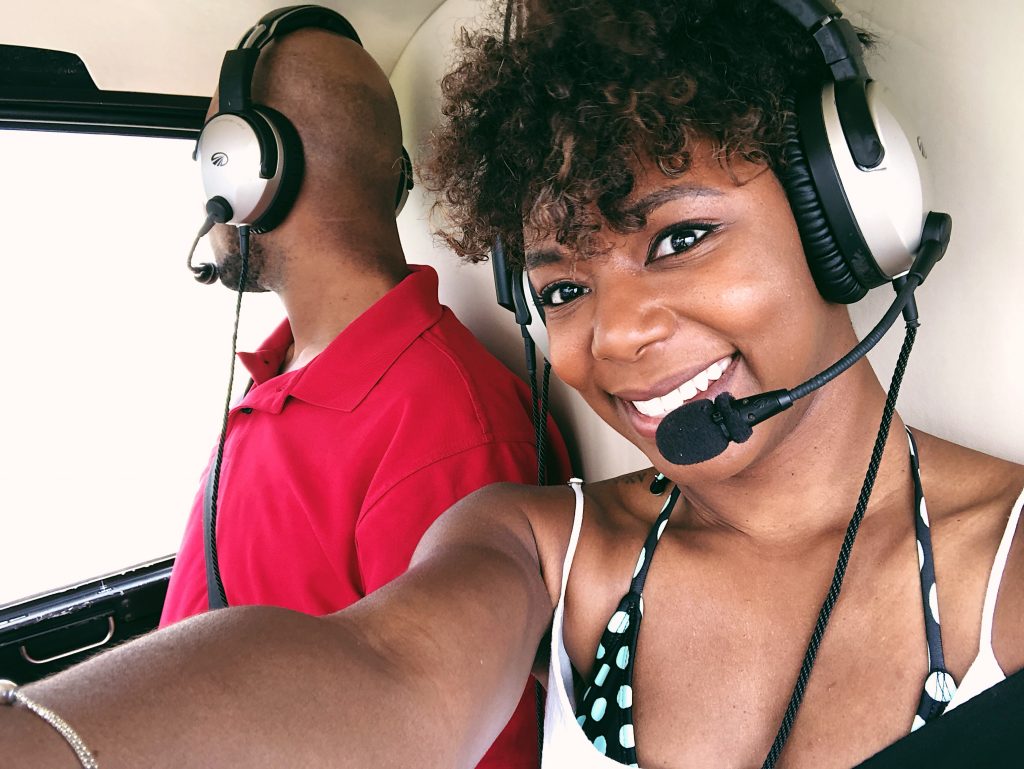 Hop aboard a chopper, soar the skies, and get a bird's eye view of the 60 mile stretch of Myrtle Beach. The views are incredible! My brother and I flew with Helipcopter Adventures and opted for the Broadway Package. At $40 per person, it was fun, but be prepared, it is a super quick trip! 5 minutes to be exact. If you want to spend more time in the air, definitely opt for a higher package.
Put the Pedal to the Medal at Broadway Grand Prix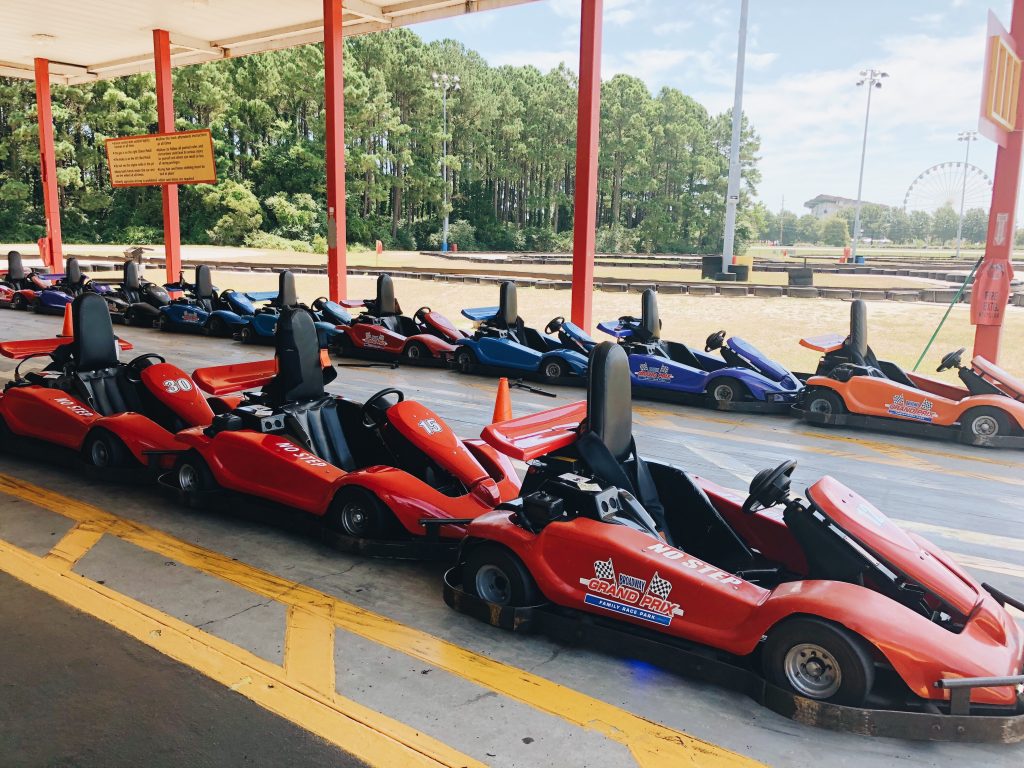 When we were younger my brother and I LOVED riding go karts, and spent countless hours playing Mario Kart. I mean COUNTLESS! Just because we're a lotta little bit older, doesn't mean it still isn't super fun whizzing and whirling around the race tracks at all of 15 mph , pretending to be Yoshi. Broadway Grand Prix doesn't come equipped with banana peels, turtle shells, or super speedy stars, but it was still so much fun!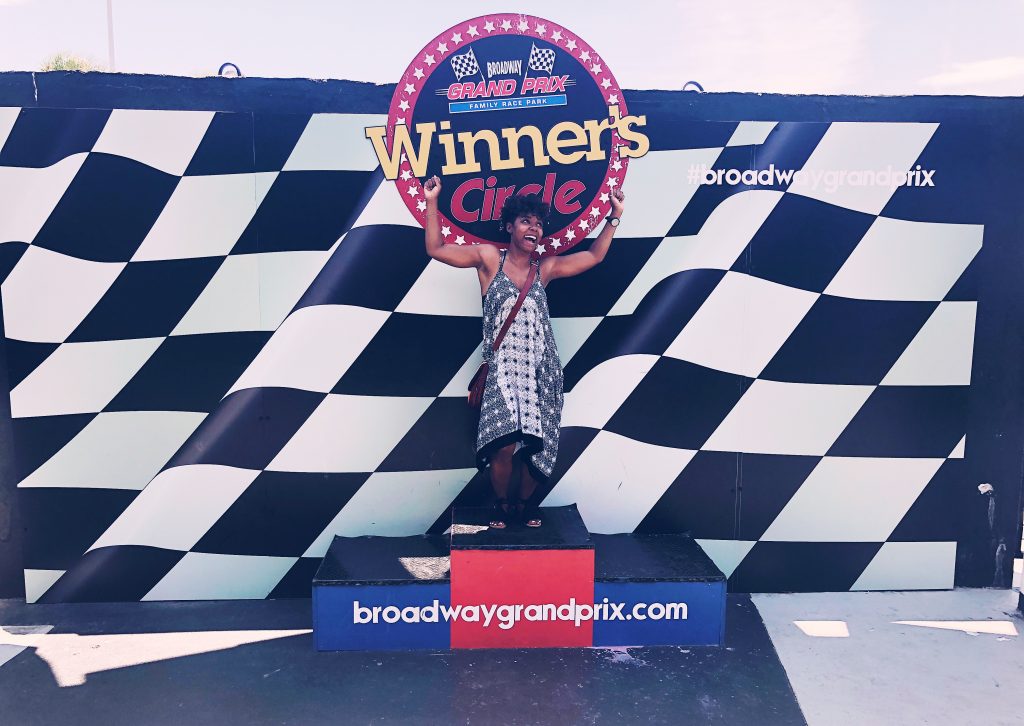 Get Your Adventure on With Some Watersports
If you're a thrill seeker, you'll definitely find your fill of watersports to dive into. There's parasailing for the more relaxed adventure goers. Then, you'll find activities such as banana boat rides, jet skiing, wake boarding, etc for the ultra adventurous. My brother and I hit the water with Downwind Sails for some jet skiing fun in the sun. There's just something about going full throttle ahead, bouncing from wave to wave that is so thrilling and definitely bucketlist worthy. A 30-minute session (which is more than enough in my opinion) will cost you around $85/per person, plus tax.
Hit the Beach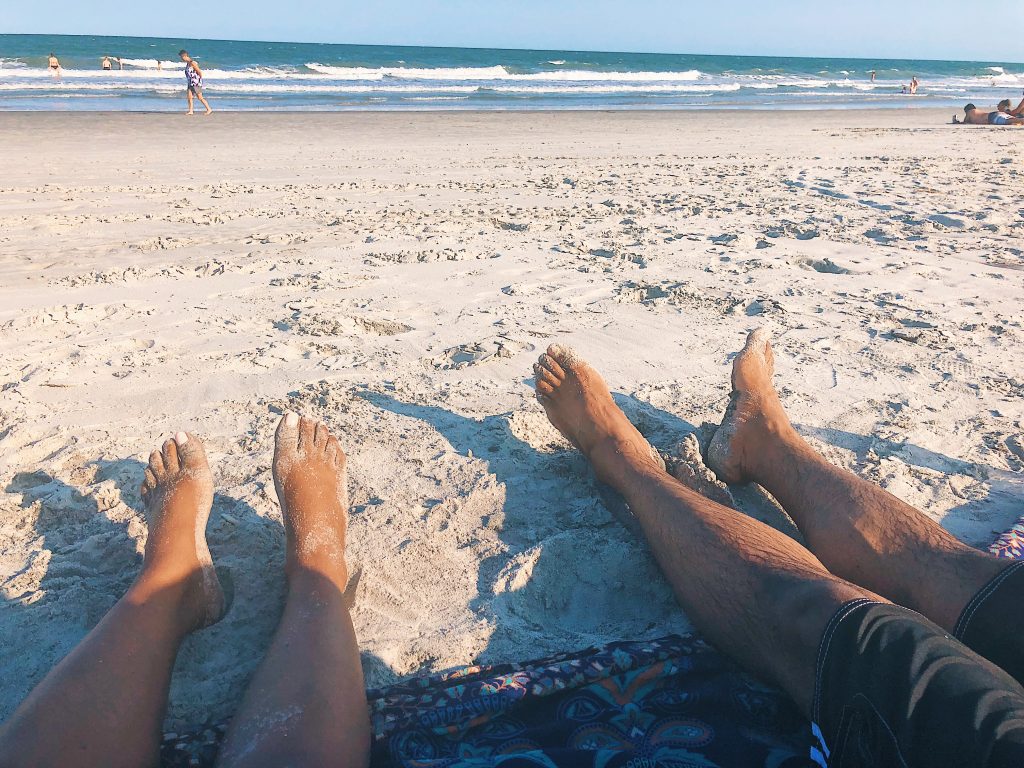 Ok, this is pretty obvious. I mean, it is Myrtle Beach, after all. The weather was perfect during out trip; high 80s and just the right amount of cloudy on some days which helped with the heat. Thankfully, we didn't encounter any rain, so I spent as much time on the beach as possible. Early mornings and sunset are the best, for obvious reasons, watching the sun rise and fall while painting the sky hues of pinks, purples, and blues. But, don't be surprised when you head to the beach at 630/7 a.m. and already find a lot of people out there walking the shores, exercising, and basking. Sunset was my favorite time, as in the evenings there were far less people.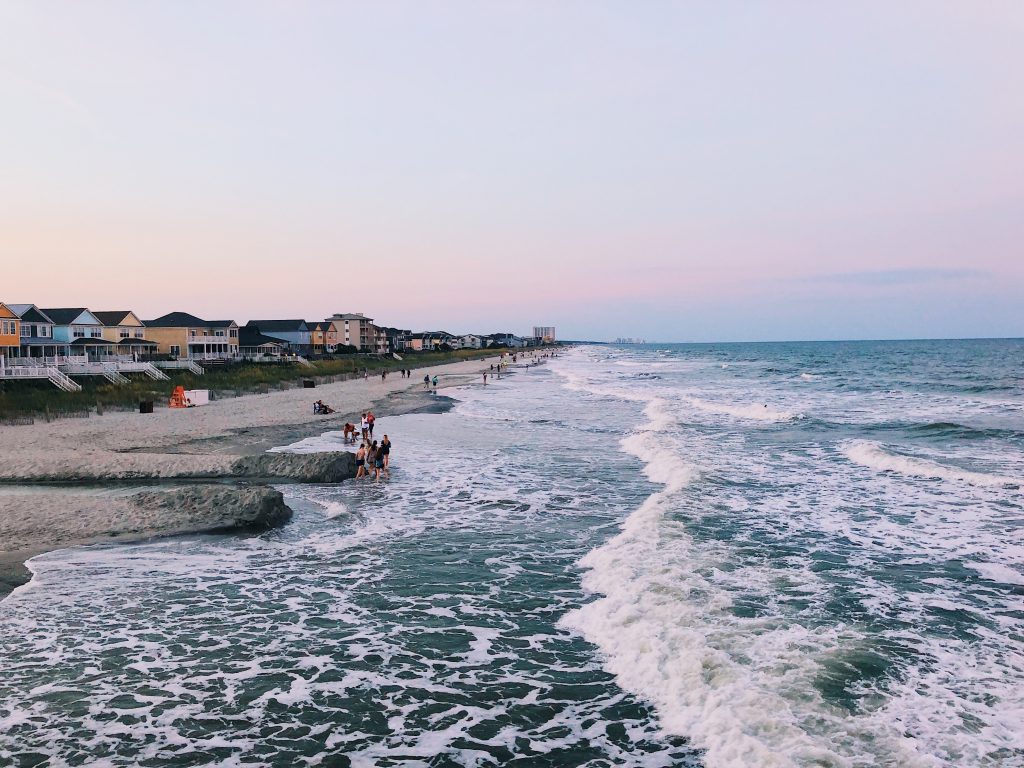 Talk a Stroll on the Boardwalk
The boardwalk and promenade is 1.2 miles of sensory overloadness. Wander from shop to shop, bar to bar, eatery to eatery. Stop in the square and take in some live music in the evenings. View the city from above on the Skywheel, or get flung into the air on the wild and crazy bungee ride. Take your pick. There's tons to see and do.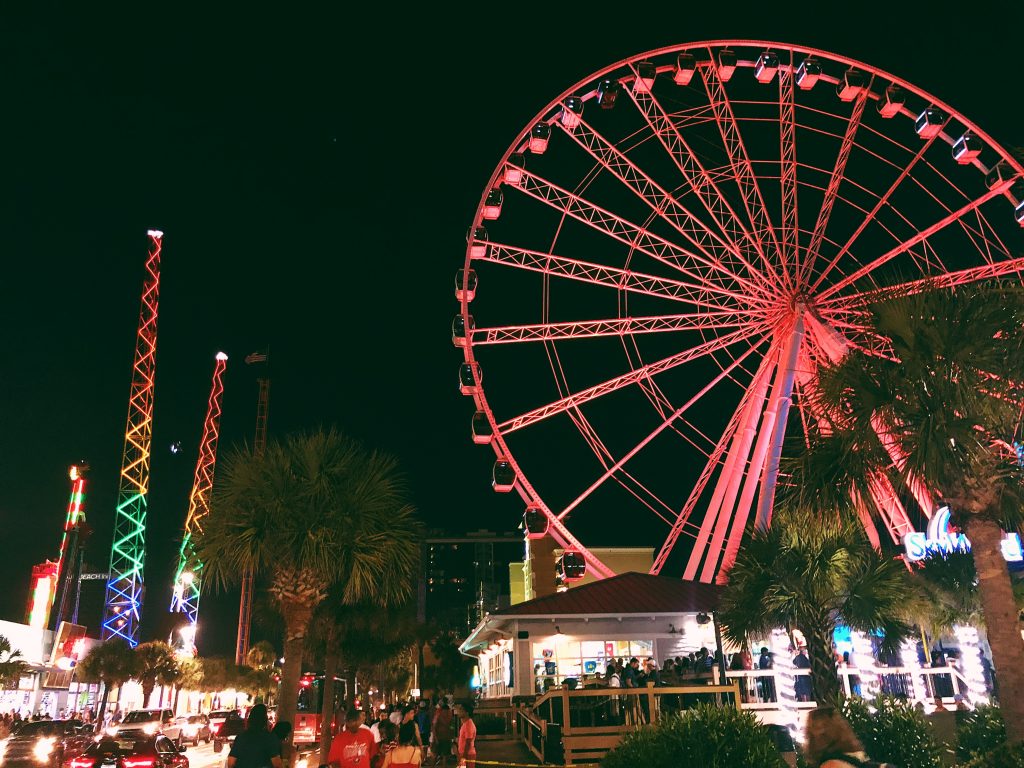 ---
---
Where to Eat
Let me just be frank; do NOT go to Myrtle Beach for the food. You will be disappointed. Myrtle Beach, like most beachy, overly touristy towns, is the land of mediocre food. As I explained to my brother, tourist towns thrive off tourists, the people that come and go; not the long-term repeat customers. Tourists are likely to come, enjoy their little 3-7 day beach vacay, then return back to their normal lives in their respective cities. Given this, restaurants do not focus on quality. They focus on drawing you in with all the kitschy lights, colors, and giant crabs on the roof only to overcharge you for under quality food. So, you've been warned. Here are a the restaurants we tried:
This restaurant is located directly across the street from the Surfside Beach Hotel; so, after canvasing the area on our first night, we decided to have our first meal here. It was colorful and lively, and they had porch swings. Who doesn't love a good porch swing?
My brother ordered fried green tomatoes as an appetizer and a burger for his entree. He loved the fried green tomatoes. I can't speak on them, as I'd rather eat dirt than tomatoes I don't eat tomatoes. His burger was just ok, according to him. I ordered a catfish platter. I typically don't eat catfish (unless my uncle cooks it), but it was either that or flounder, and I knew I didn't want flounder. As a "Fish Shack", Bubba's didn't have too many fish options.
The irony.
My catfish had a weird taste, and I don't mean the bottom-feeder, typical, weird taste. Even my brother, who is like Mikey and eats anything, even thought the same. The hushpuppies were great, though, and we got a souvenir cup. That's something, right?
I will say the prices weren't bad. I only paid about $11 for my meal, and the portion size was pretty decent.
I love all things retro and vintage, so I was sold on this place when I saw it had a 1950s diner theme going. We sat on the patio which was perfect for people watching on Ocean Blvd. I opted for the Chicken and Waffles and my brother went with the Southwest Scramble, which was a crispy tortilla topped with black beans, scrambled eggs, salsa, and guacamole. He said it was ok, but not great. The home fries were pretty good, though. I wasn't impressed with the chicken and waffles, specifically the waffles, and especially the generic brand syrup still in the generic bottle with the label peeled off. I did like the crispiness of the chicken tenders, but still nothing to call home about. Great vibes and location, subpar food.
If you're looking for the most unique restaurant in Myrtle Beach, The Chemist is probably it. Walking through its doors is like stepping into a science lab where you'll find mad Scientists whipping up delectable concoctions behind the bar. Drinks served in beakers, light fixtures replicating molecules, the periodic table on the ground that gives you flashbacks of your 11th grade Chemistry class, this place definitely nailed it with the details.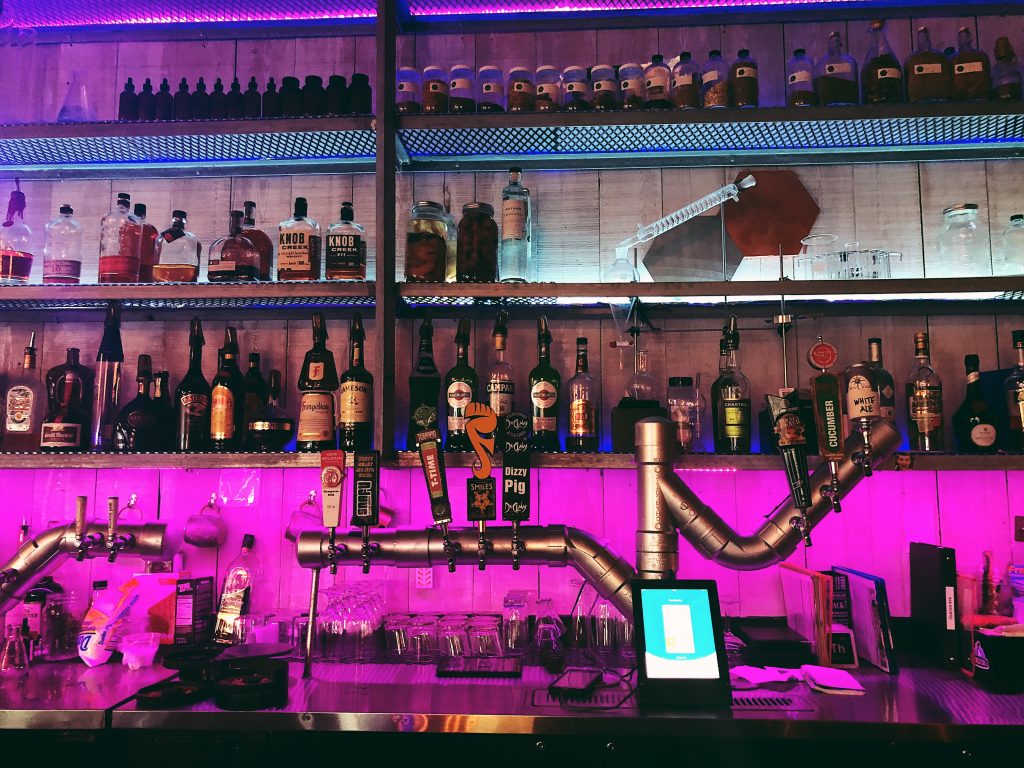 They also nailed it with the drinks. I went with the Flux Capacitor, per the Scientist's (bartender's) suggestion, which was absolutely delicious! I would've had 2, but at $11 a pop, I thought better of it. My brother had the Professor 's Punch, which he also really enjoyed.
The food menu is rather small here, so I wouldn't suggest coming here for the food, but definitely for the drinks. I had the Honey Sriracha Wings which were pretty good, my brother had the Pulled Pork Nachos, which I thought lacked flavor.
This restaurant is right off the pier, right outside Surfside Hotel. I woke up super early one morning and was the first customer of the morning, so I got the best seat in the house, at the corner table overlooking the beach. This place gets pretty packed pretty fast, so get there early for a good seat on the patio. They open at 730 a.m.
Here, I had a stack of pancakes topped with blueberries and strawberries, and a side of bacon. It was pretty tasty; although, I was expecting fresh blueberries, not blueberries soaked in syrup. The portion size was huge and I could only finish half of my pancakes. I'd definitely recommend this place for a nice breakfast on the beach.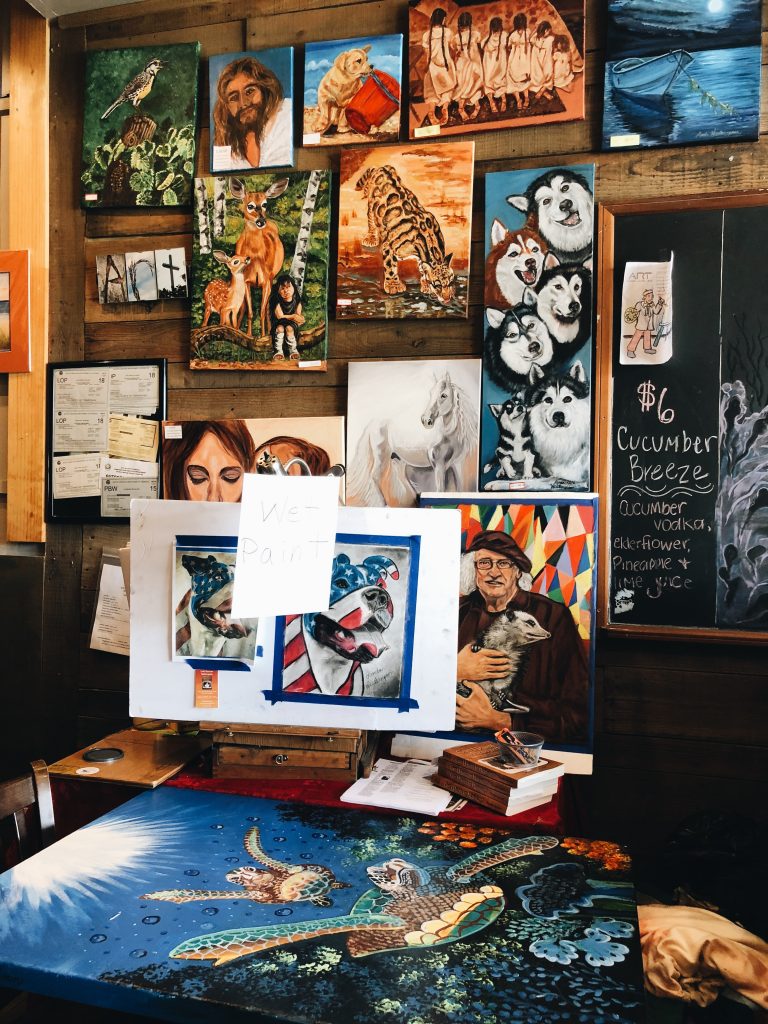 Art Burger is owned by the same folks as The Chemist, so it definitely had a unique flare. I mean, c'mon, a sushi and burger bar? That's pretty awesome. My brother loves sushi and I love a good burger, so this place was the best of both worlds. Not only that, it's like an art gallery/restaurant, all in one. You'll find freshly painted canvases as you enter the restaurant, and the walls are adorned with art work by local artists. Pretty cool, right? I also love that you can walk up to Art Burger from the Beach.
They had an array of burgers to choose from, all, masterful arts of work, with the names to match. For example, the El Greco Burger, made with local beef, chorizo, red peppers, mixed greens and manchego cheese. Or how about the Michelangelo made with grilled chicken breast, fried mozzarella won-tons, tomato jam and crisp bacon. You get my drift.
My brother and I both went with The Scream burger, one of their most popular, made with local beef, applewood, smoked bacon, BBQ sauce and macaroni and cheese, with a side of ART fries. The fries are probably some of the best fries I've had. They were sooo good! The burger was quite good as well; although, the mac and cheese didn't really do it for me. I think it was the runnyness and funny taste of it. It's definitely not your Auntie's mac and cheese. My brother also had a Spicy Tuna Crunch Roll which was pretty good. I'm no sushi connoisseur, so you can't take my word for it. My brother enjoyed it, but also said he's had better. So, there ya go.  I'd definitely recommend this place and would return again myself.
Our last night in Myrtle Beach we were exhausted. So we both were perfectly fine with ordering takeout. My brother wanted steak, I wanted seafood, crab legs specifically, so we stumbled upon Angus Steakhouse that served both. We placed a to go order,  he ordered the Cowboy Steak, and I finally got my crab legs with a side of fried oysters.
He felt his steak was a little too salty in some places, but was still good. I can't say the same for my crablegs. All that work for very little to no meat inside. Quite the disappointment. The fried oysters were pretty good.
Big Mike's is a down home, Southern restaurant with no frills. It's off one of the main roads on a quiet street, away from the hustle and bustle. When you step into the restaurant it will look like it hasn't been updated since its inception, but that's part of the character and charm. Red and white checkered plastic tablecloths drape the tables and wood paneling adorn the walls. The Blue Plate Special, penned on a dry erase board, will be placed in from of your table for you to make your selections. Like I said, nothing fancy.
I was in love with the first sip of sweet tea. This was good ol' fashioned Southern, sweet tea, made to perfection. When it came to ordering there were so many options, I could barely decide. But, luckily, the allow you to mix meat for a dollar upcharge, so that made it a little easier. I went with a porkchop and chicken plate, with a side of collard greens, mac and cheese, fried okra, and of course corn bread. Sooo much food! The meats were good, tasted like it was straight from my grandma's kitchen. The collard greens were under cooked and under flavored, and the mac and cheese left a lot to be desired. I had such high hopes for this place, because with a name like Big Mike, certainly everyone in the kitchen knows how to throw down. I guess not.
I had peach cobbler for dessert, which ended up being more breading than anything and far too sweet.
My brother had the gumbo, chicken bog and chicken gizzards, field peas, rice and gravy, and mashed potatoes. He thought the food was ok.
I would probably go back again, and would recommend it if you're looking for some Southern eats.
Other Restaurants Recommended by Locals
Book & Barrel
Riptide
Murrell's Inlet (lots of restaurants and bars)
Wicked Tuna
I hope you find this guide useful! Bookmark it. Pin it. Come back to it whenever you're planning your Myrtle Beach getaway.
This post contains affiliate links, which is just a fine way of directing you straight to the source without a bunch of searching on your part.