Getaway House Atlanta – Everything You Need to Know
Many of us have seen posts on social media of the black box with a big window, tucked off in the woods with someone sitting, pensively, staring out of said window as though they are in deep thought about the meaning of life. Ahh yes, hello Getaway House – the trendy phenomenon taking over our timelines. Though cute and curated as it may look, let me just tell you, as someone who recently stayed at a Getaway House, I really did find myself sitting and staring aimlessly out of that spectacular window, pondering life's treasures and traumas, what's for dinner (because when is food ever NOT on my mind) and everything else between.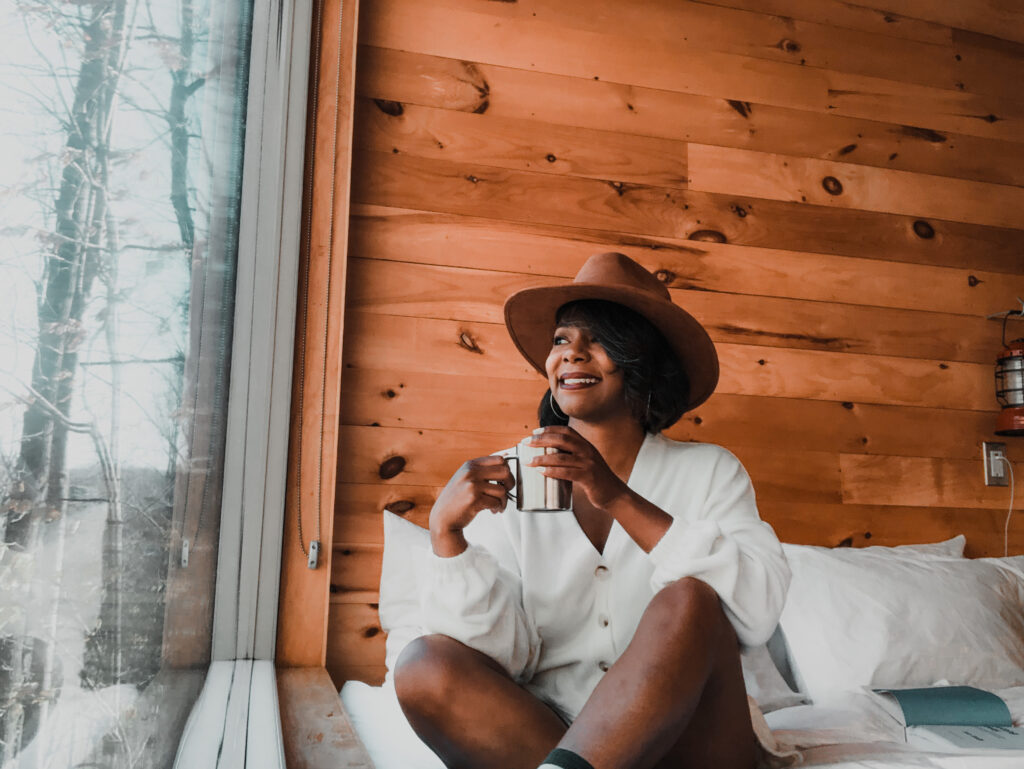 I spent 2 glorious days detached from my phone and computer, where I would otherwise spend 12+ hours a day, I tuned out the world and tuned into the moment. My friend and I set intentions for our stay; my intention was to be present – to not worry about tomorrow or dwell on yesterday. Mission was definitely accomplished.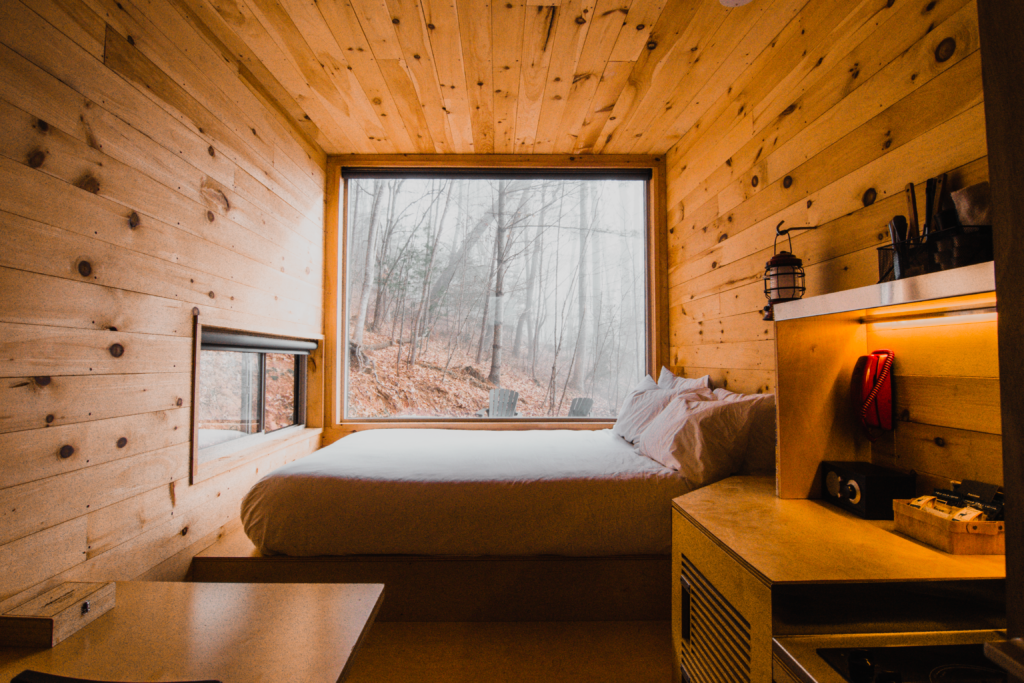 If you are in need of a getaway to disconnect and reconnect or simply want to look at four different walls other than your own (because we are still in a pandemic and all), keep reading! I'll be answering your questions from Instagram and detailing everything you need to know about Getaway House Atlanta. Also, be sure to read to the end because I have a little gift for you!
WHAT IS GETAWAY HOUSE?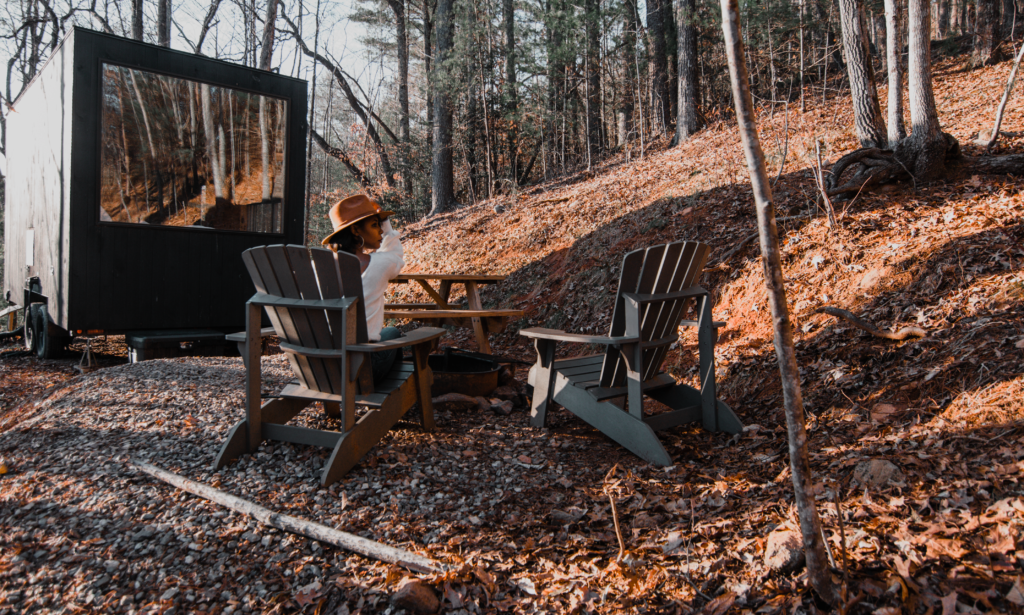 Ok, so despite what I initially thought, Getaway House is NOT just one tiny cabin tucked off in the woods all by itself, like a "WTF were you thinking?" moment in a horror film. Getaway House Atlanta actually sits on about 57 acres of land and houses about 40 or so tiny cabins.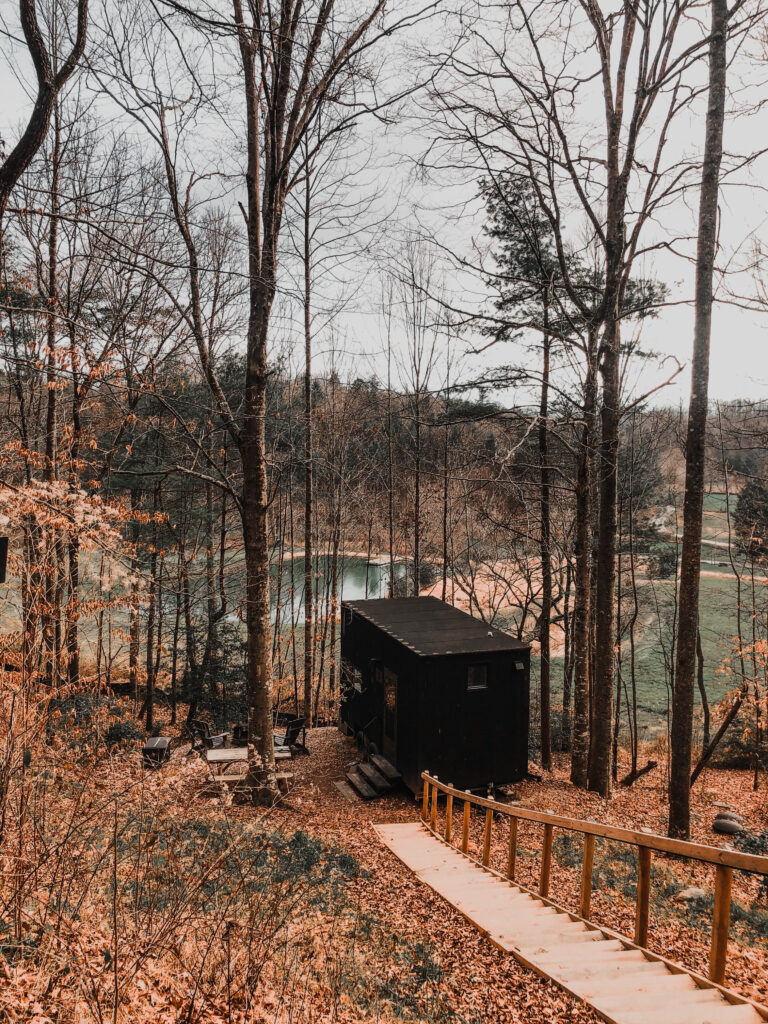 These handcrafted hideaways are around 140-200 square feet and sleeps between 2-4 people. They are TINY! But, provide everything you need and nothing you don't. We'll get into more of that in a bit. The cabins all face out towards the woods, with huge windows that gives you that indoor/outdoor feel without actually having to be outdoors. You get modern comforts like a cozy bed, a kitchenette, running water (hot water at that) and heat/AC, while still being able to be all one with nature. It's like the ultimate glamping experience!
WHAT'S INCLUDED AT GETAWAY HOUSE?
Here is what you can expect to find in your Getaway House:
Queen bed
Hot shower
Private toilet
Shampoo & conditioner
AC & heat
Two-burner stove
Sink
Salt, pepper & olive oil
Cooking utensils & cutlery
Lighter
Wine opener
Provisions (pasta, sauce, noodles, etc) for sale
Chairs & picnic table
Campfire grill grate
Books
Card games
radio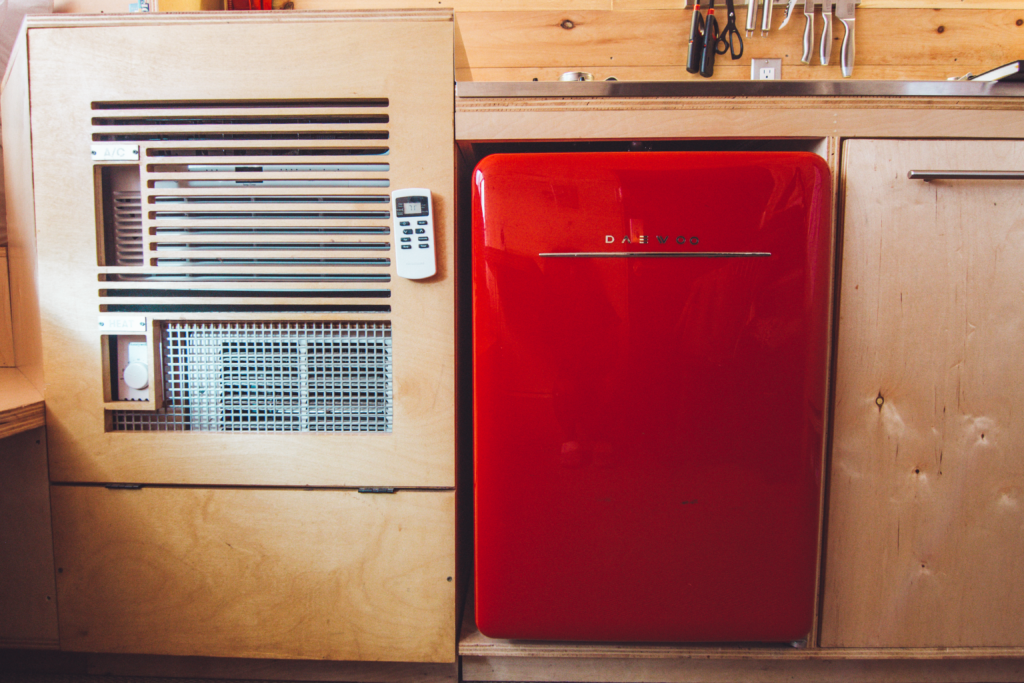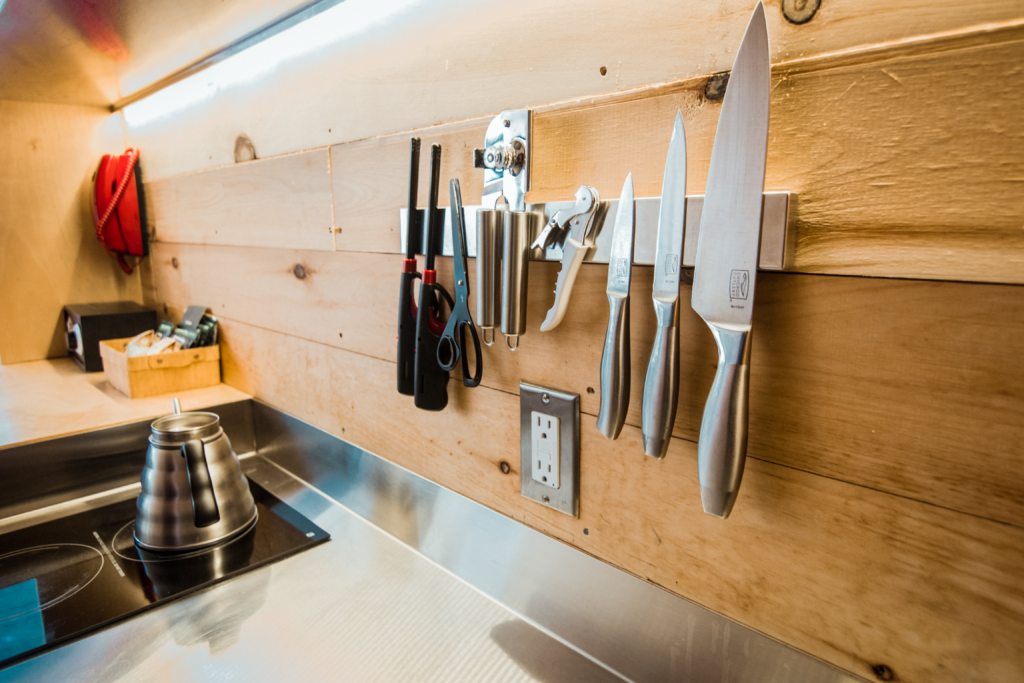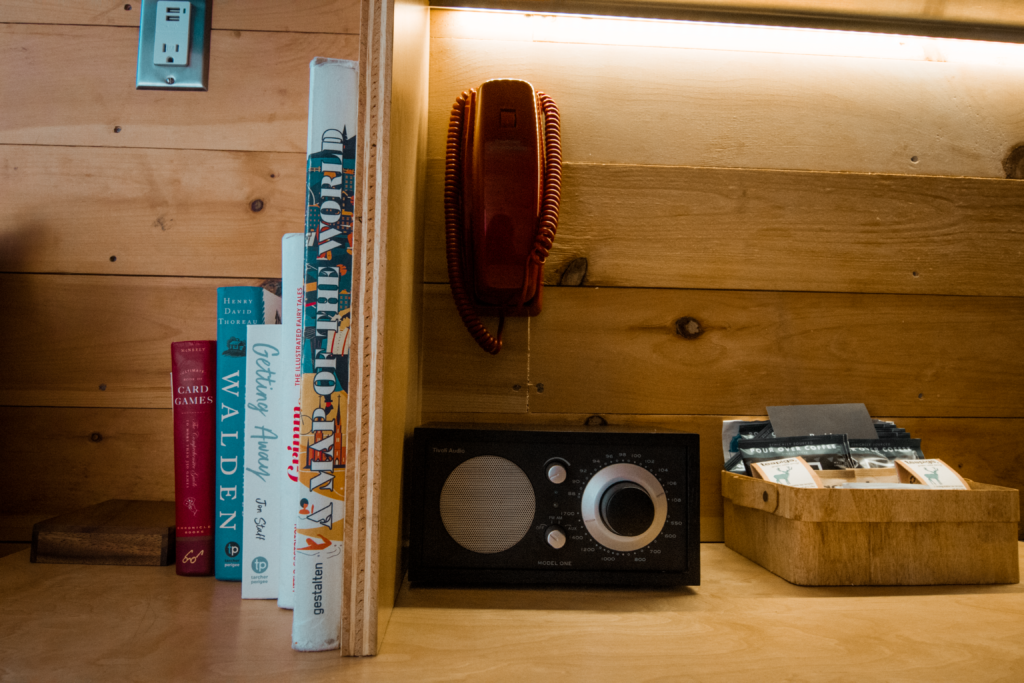 Getaway House provides all the essentials for a comfortable stay. You'll want to bring food, water and your beverages of choice unless you plan to purchase their provisions or drive 30-40 minutes into town for food.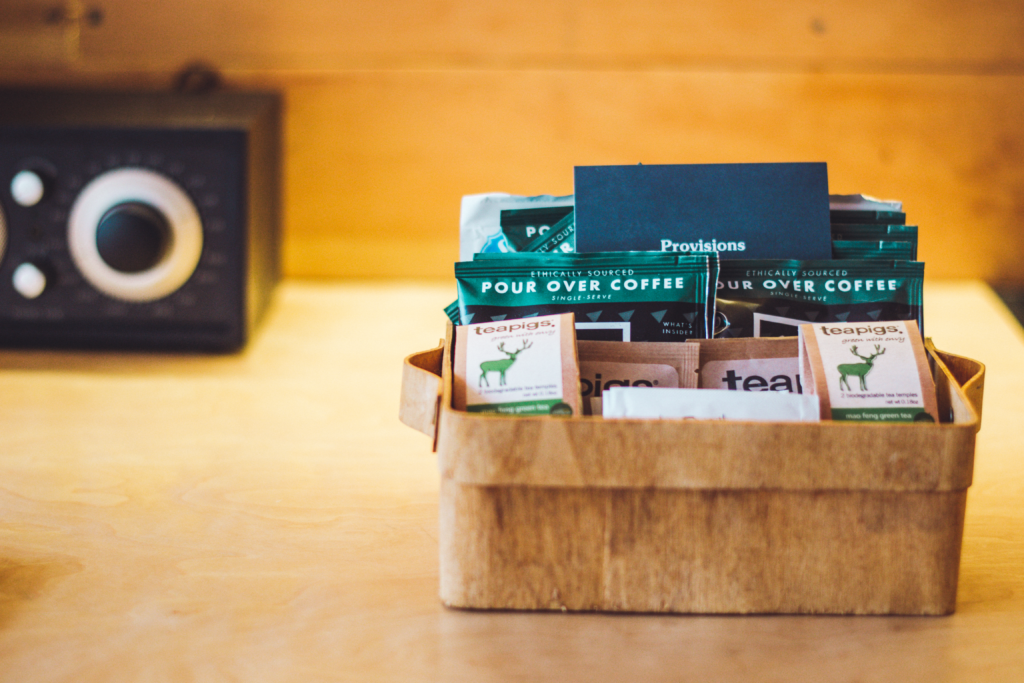 My initial plan was to make all these Pinterest-perfect camping recipes, but as time drew near, I realized I simply wanted to relax and not be bothered with any of it; so, instead, I prepped my favorite dip before we arrived, which served as a late-night snack the first night. I also prepared chicken before we got there for chicken quesadillas for dinner on night two.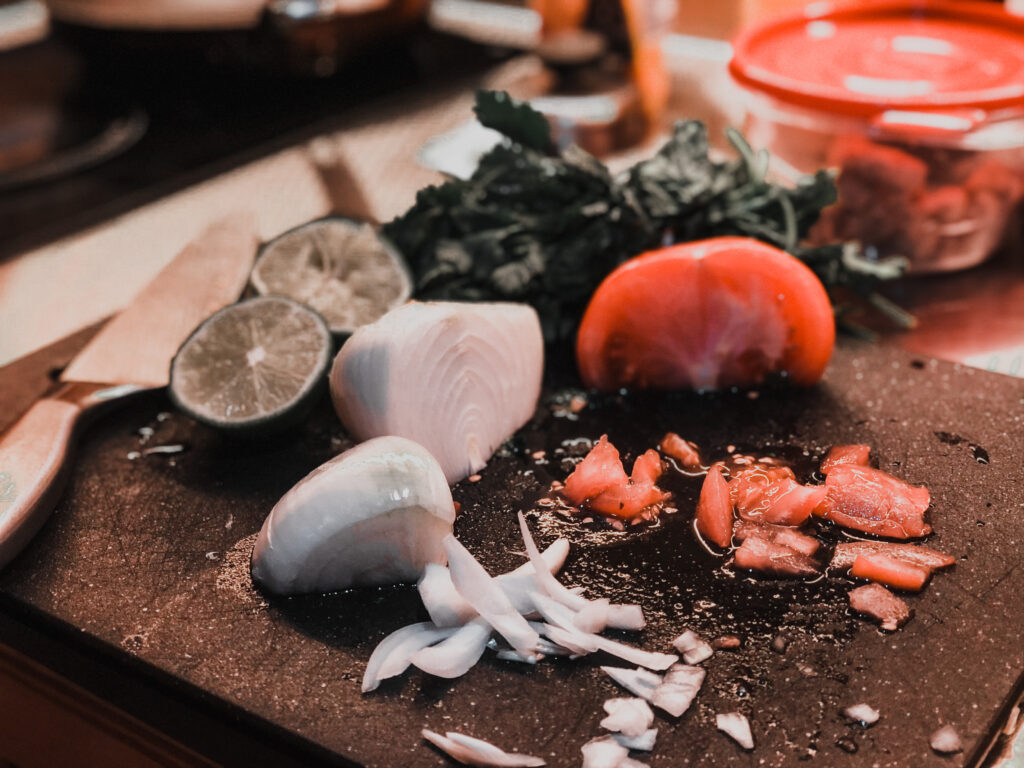 I brought breakfast foods, but didn't end up making it, instead we went into town for lunch. I highly recommend Bourbon Street Grille in Dahlonega! The Dirty Shrimp dish was soooo good! I also brought things for kabobs, but we could never get the fire going good enough to cook them, due to the moisture in the wood, so there went that idea.
WHAT TO PACK FOR YOUR GETAWAY HOUSE STAY
I've said it before, but these tiny cabins are heavy on the tiny. They did an excellent job of carving out little nooks and crannies to house your things, but still, leave the big suitcases at home! At most, you'll need comfy lounge clothes, a cute outfit for photos (if you care enough) and that's about it. If you decide to go hiking, you may want to bring some activewear, but honestly, you don't need a lot, especially for a two-day stay. I would suggest bringing slippers, because you're advised to remove your shoes before entering the cabin.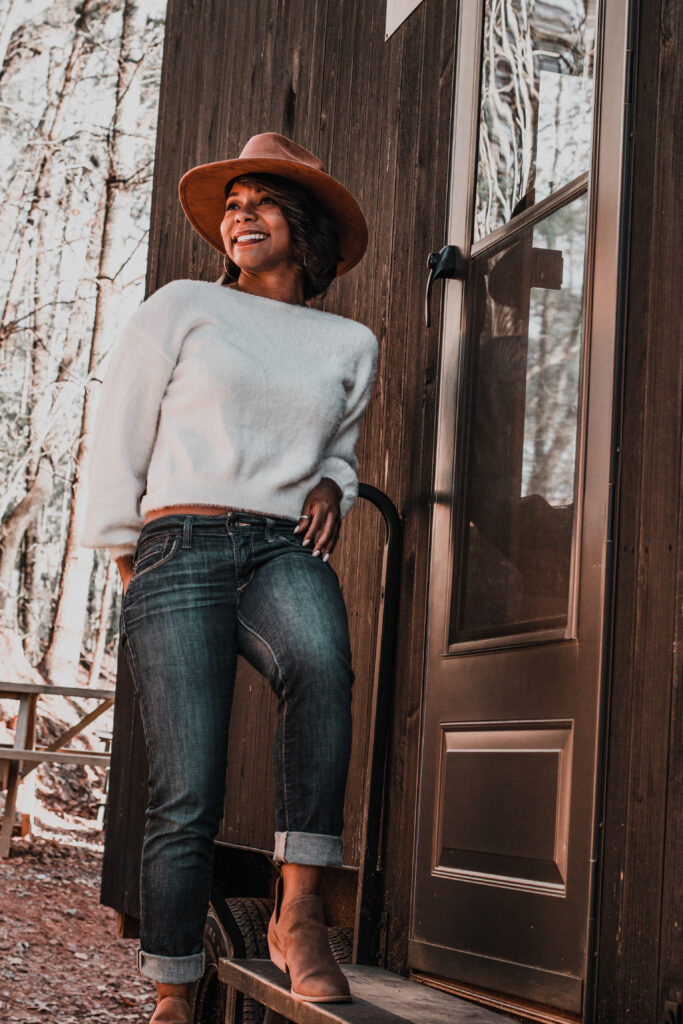 ARE THERE OTHER CABINS AROUND AT GETAWAY HOUSE?
This is one of the most asked questions I got on social media. Are there other cabins around and how close are you to civilization at Getaway House? First things first, there are other cabins around; however, they are spread out far enough that there is still optimal privacy. Since it was winter when I visited Getaway House Atlanta, there were no leaves on the trees, so I could see the other cabins in the distance. But, I would imagine in the spring and summer with the trees in bloom you wouldn't be able to see them as much. It was nice to know that other people were around in case of an emergency, but not so close that it felt like an intrusion.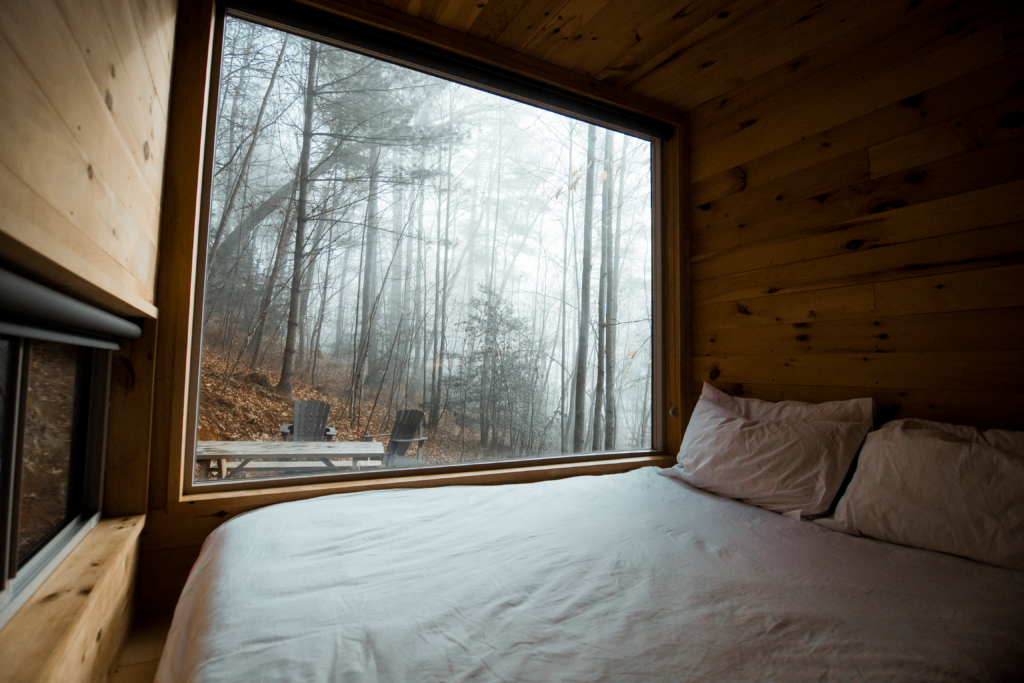 Getting back to civilization at Getaway House Atlanta, was a bit of a journey. It took about 30 minutes of twisty roads to get back down the mountain to stores, shops and restaurants. But, those views on the journey were incredible!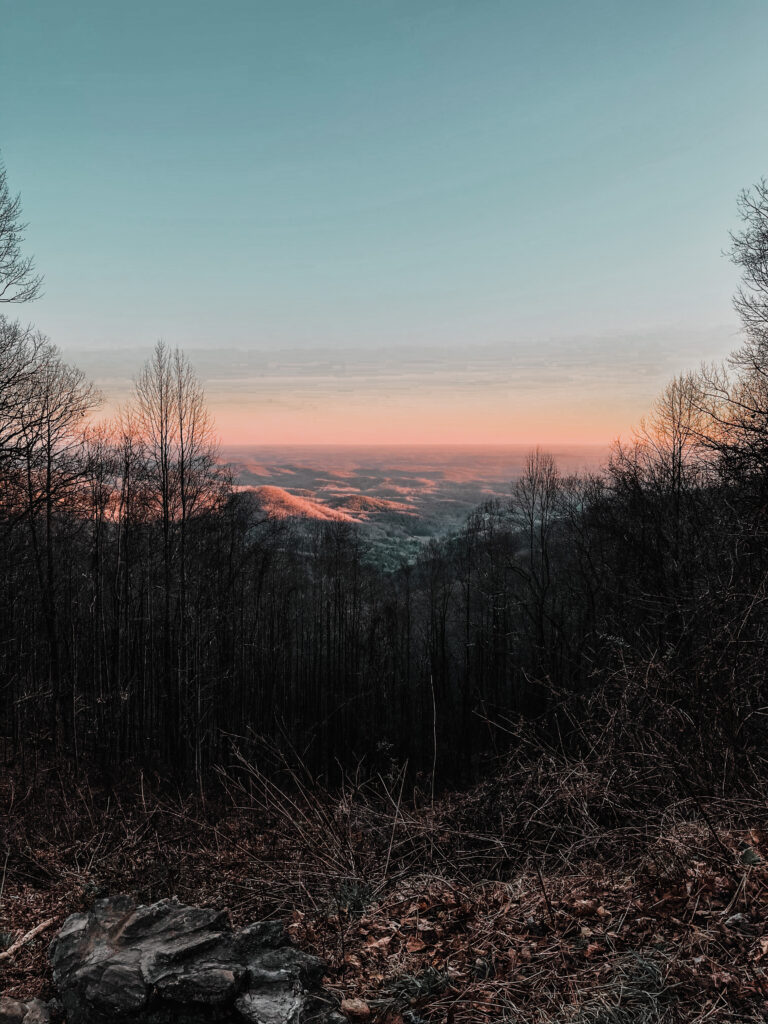 Is there really no service at Getaway House?
This was another commonly asked question. How is the cell service at Getaway House? To answer that, it was non-existent, which is kinda the whole point of getting away at a Getaway House. It's a time to disconnect. However, when we first arrived, we could not get into our cabin. I'm not sure if the wrong code was provided, but it didn't work, and not having cell service to call anyone was tough.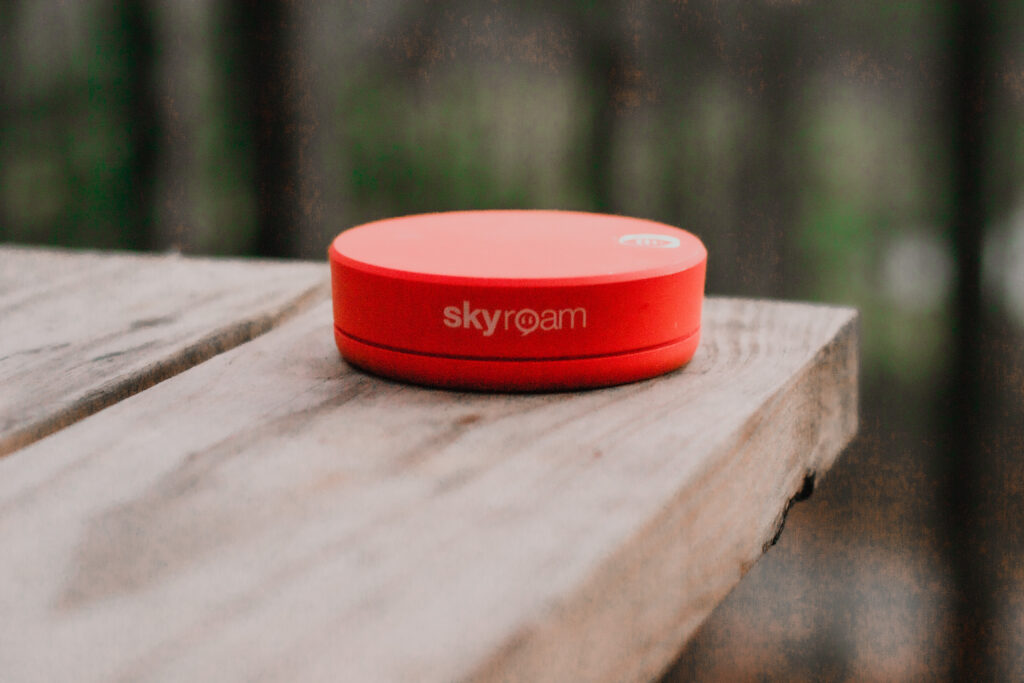 I tried using my Skyroam, a portable wi-fi device, which is literally the one thing I never travel without because it's so amazing (seriously, if you don't have one, get one asap!), but even it failed me because there is no service in the area for it to bounce off of. It did work for a few short minutes, long enough for me to contact Getaway House support (talk about divine intervention of sorts), but even then the service was so bad and the calls kept dropping, and after that it completely stopped working. Luckily, they got enough of my info and sent someone within 10 minutes to let us in the cabin.
Not having cell service or wifi during our stay was so incredibly refreshing. No work, no social media, no news, no nothing. Just a tiny space free from distractions. It was amazing.
Are there a lot of bugs at Getaway House Atlanta?
This was also a question I received on Instagram. I am happy to report that I did not experience a lot of bugs during my stay. During those two days, there was one lady bug and one beetle looking thing that found their way into the cabin. That was honestly two too many for me, but I survived.
I will say, that my stay was during the winter and I feel that made a huge difference! Warmer weather brings out all the creatures and critters, but luckily we did not have that experience.
My friend and her wife, on the other hand, had a completely different experience in California.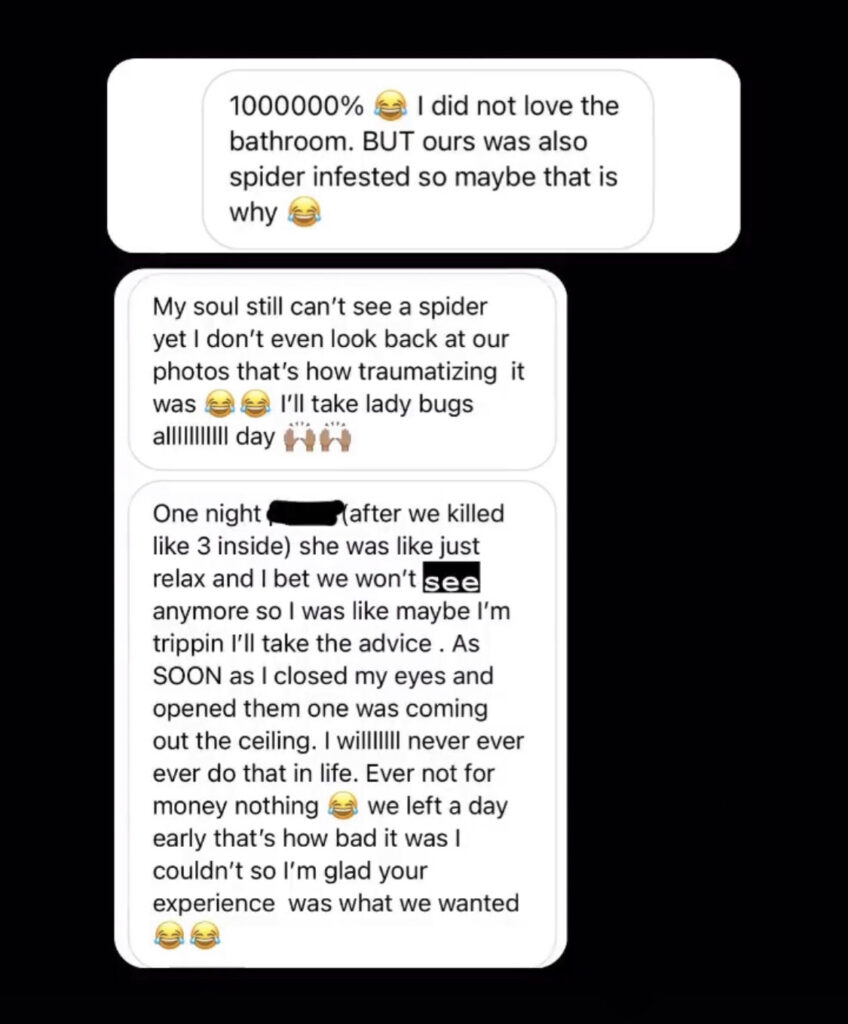 I think I would have left early too. Yikes!
How is the bathroom situation at Getaway House?
You're in luck, you won't have to dig a hole by a tree and use leaves as toilet paper. Nor will you have to use an outhouse to do your doo. Getaway House has a fully functioning bathroom inside the cabin with a flushable toilet and shower. The water pressure was amazing, but on the first night, we did not have hot water in the shower, which sucked majorly! However, the second night we did have hot water and the shower was amazing!
Did you feel safe at Getaway House?
This is a big one. As someone who typically travels solo, safety is always top of mind and of most importance. I did not stay at Getaway House Atlanta alone, however, this is something I would absolutely do again solo. Though I never felt unsafe, I'm not gonna lie, the thought of horror movie scenes did play through my mind a time or two. There was even a moment on the first night where my friend and I were outside; the sun had set and we were standing, hanging out by the fire pit. I was in mid-sentence when we heard rustling in the woods. We froze. The sound slowly started making its way towards us. We looked at each other and, without missing a beat or saying a word, grabbed all our things in 3 seconds flat and ran inside the cabin.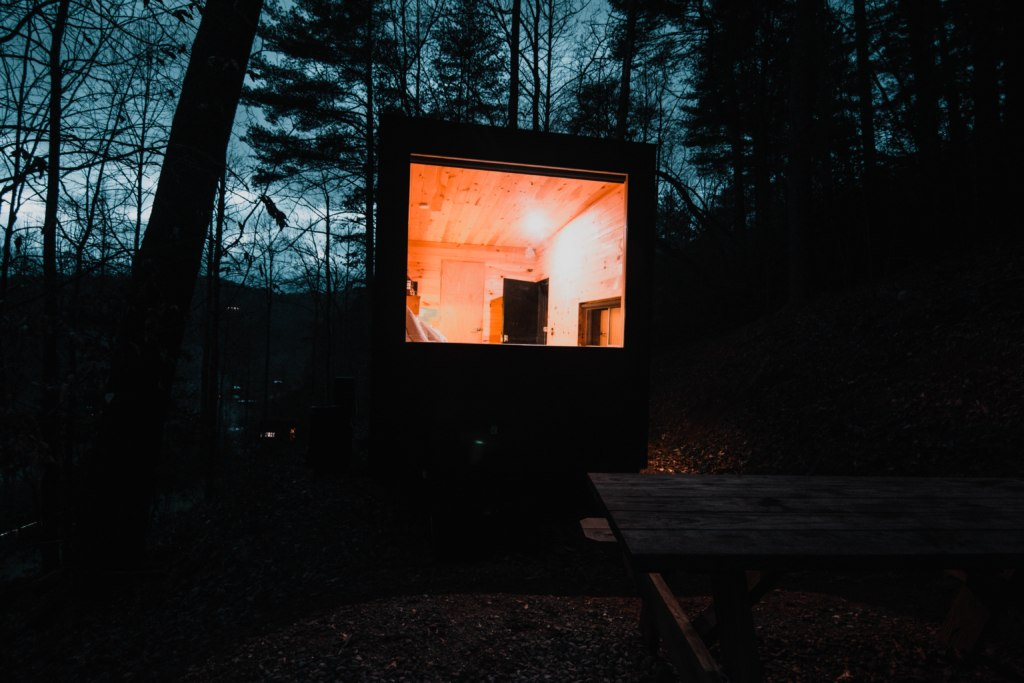 It was HILARIOUS! We don't know if it was a dog, a bear, Big Foot or Michael Meyers himself, but one thing about Black folks, we are not sticking around to find out. We had a hearty laugh about it, because it probably was just an animal, but that was our only brush with "danger" during our stay.
Things to do at Getaway House Atlanta
Your stay at Getaway House Atlanta can be as relaxing or as active as you would like for it to be. For me, I wanted to simply relax; so, spending time at/in the cabin talking, playing card games, talking and flipping through pages of books was perfect for me.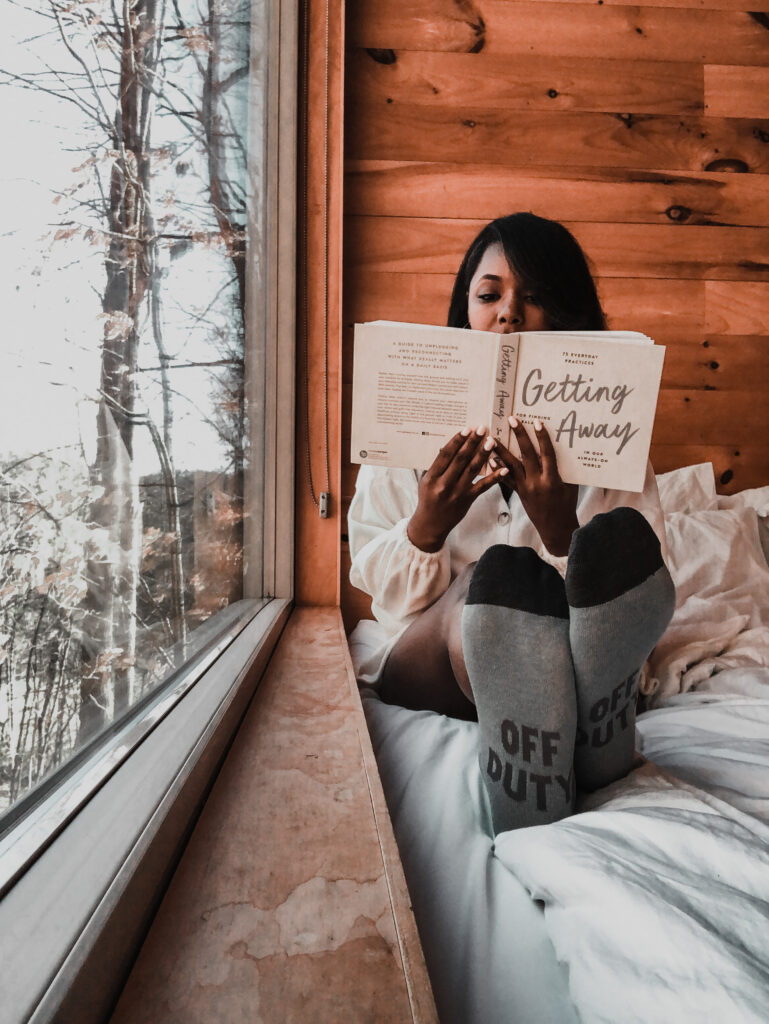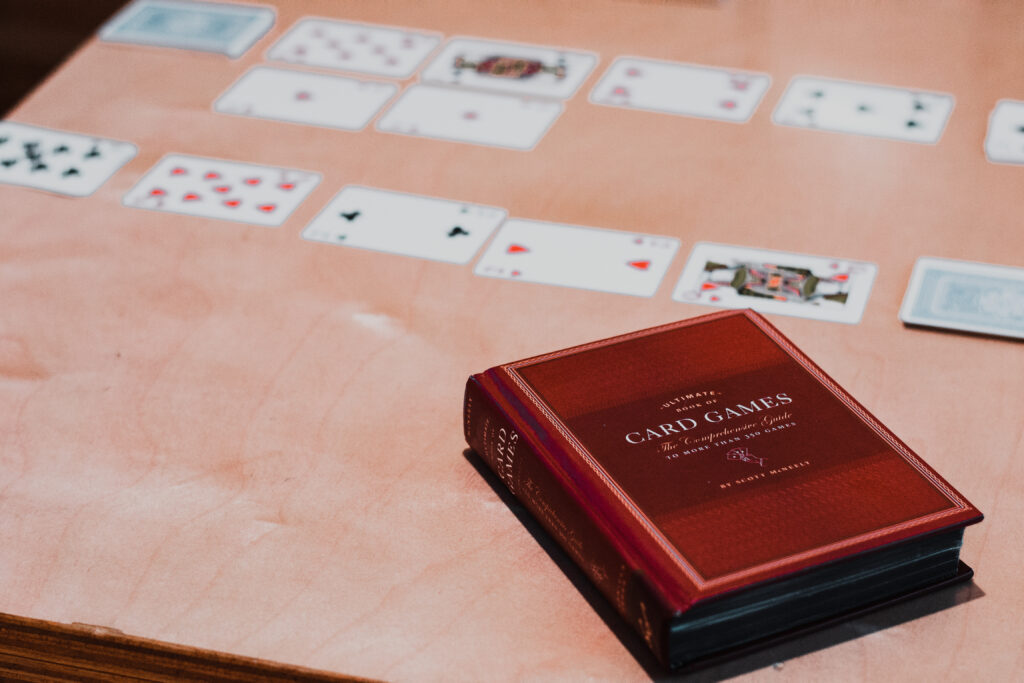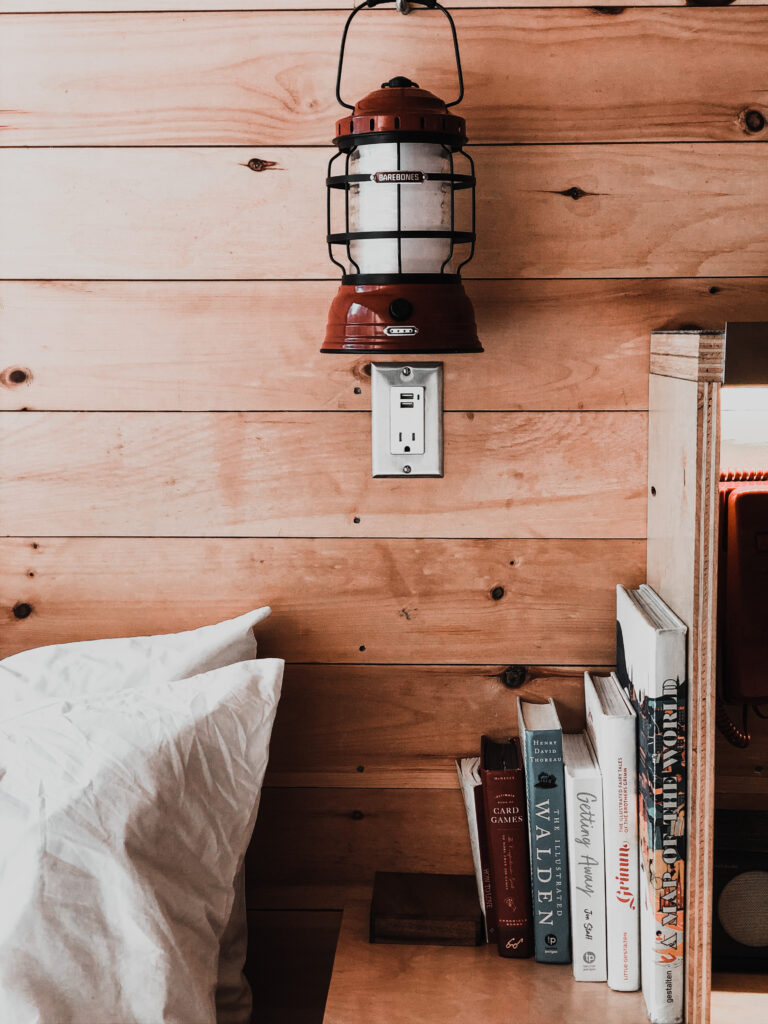 If you're looking for a little more adventure and exploration here are a few ideas:
Peruse Downtown Dahlonega
If you're in to cute towns and boutique shops, you'll love Downtown Dahlonega. It's perfect for spending an afternoon popping into shops and grabbing some good eats.
Take a hike
There are a lot of trails nearby for hiking; such as, Springer Mt., Jarrard Gap Trail and Copper Creek.
Visit Nearby Wineries
Looking for some wineries near Getaway House Atlanta to enjoy some nice sips? You'll find your fill in Dahlonega, the "Wine Tasting Capital of Georgia". Below is a list of wineries in Dahlonega:
Where is the closest Getaway House to me?
Getaway House has outposts all around the United States. They are all designed to be around 2 hours outside major cities. Getaway House Atlanta was located around an hour and a half outside the city in the North Georgia mountains. Here are all the current locations of Getaway House:
Atlanta
Austin + San Antonio
Boston
Charlotte + Raleigh
Dallas
Houston
Los Angeles
New York
Pittsburgh + Cleveland
Portland
Washington, DC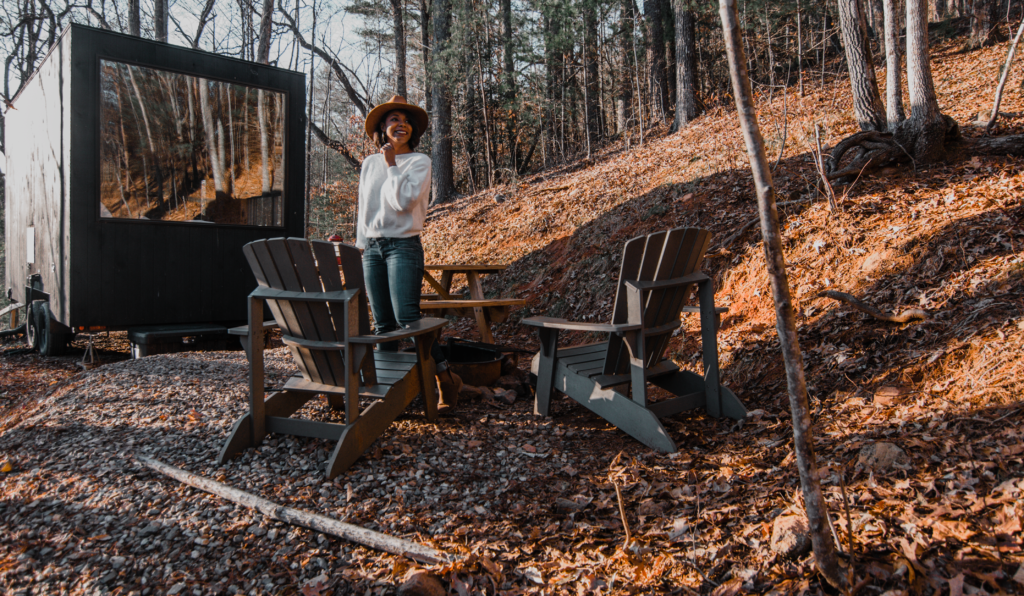 What Else I love about Getaway House
They offer 3, 4 or 6 night packs that allows you to get more nights for less. You can use them consecutively or mix and match nights, depending on the pack AND they can be used at any outpost.
You can gift a loved one a Getaway escape with a gift card (I'm accepting all Getaway giftcards FYI 😉)
Students get a 15% discount off their stay
Getaway House has an Artist Fellowship that offers a free overnight stay to artists looking to getaway and use nature as the ultimate canvas
Know someone in need of a getaway? You can nominate them and each month Getaway House will choose a nominee and gift them with a restorative escape
Healthcare professionals get 15% off their stay
Active duty service members and first responders get 15% off their stay
Stay 7 nights and the next stay is free with the Getaway Often Club loyalty program
All in all, I absolutely loved my stay at Getaway House and definitely plan to make this a reoccurring thing. If you're thinking about taking a little time for yourself, Getaway House Atlanta is definitely the place to do it!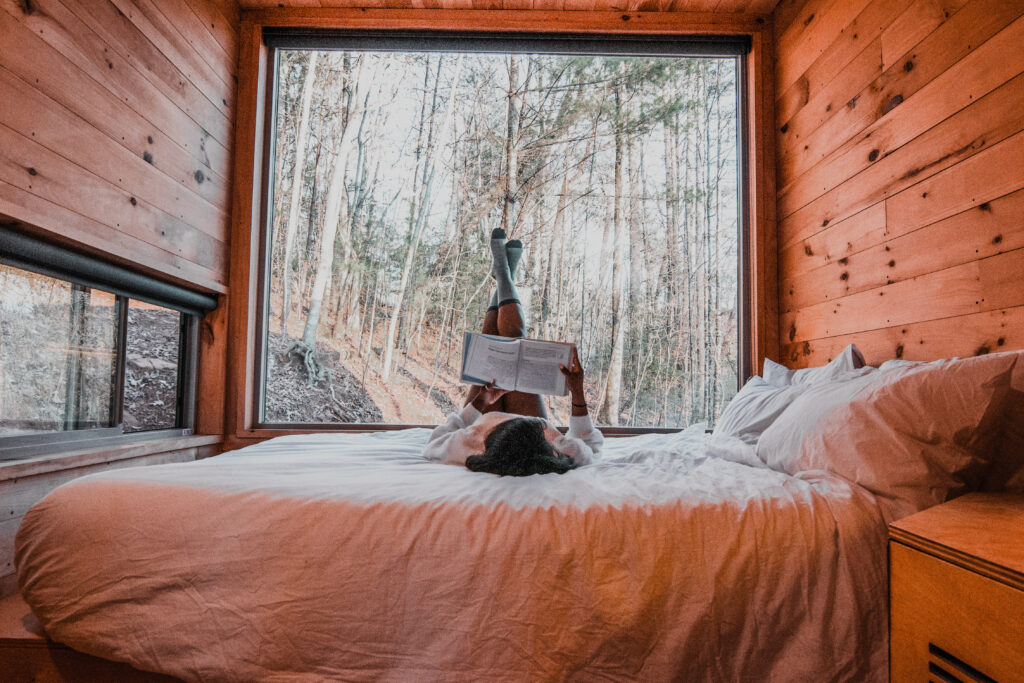 Remember the little gift I was telling you about? Well, when you book your Getaway House stay, use PROMO CODE: WORLDOFAWANDERER and get $25 off your stay!
Would you ever stay in a tiny cabin like Getaway House? Drop your answers in the comment section below!
Planning a trip?
PIN FOR LATER!