Epic Destinations That Make Valentine's Day Suck a Little Less for Singles
Valentine's Day. One of those days that everyone navigates differently.
Perhaps, you're the type of person who LOVES Valentine's Day. You want to be wined and dined and showered with red roses. Or, if you're single, you're the hopeful romantic who loves love and all it's mushy glory. You spend time scrolling through Insta and heart face emoji-ing all the lovey dovey posts that come across your screen. You curl up with your favorite blanket and a pint of Ben and Jerry's Chocolate Fudge Brownie ice cream and binge all your favorite Rom Coms, wistfully waiting for your turn.
Or perhaps you're the anti-valentiner who avoids social media like the plague and curses the capitalistic nature of this superfluous day.
Or maybe you're like me — indifferent about the entire day. I love love. I love seeing it, feeling it, giving it, but for me Valentine's Day has generally been just another day. In fact, for the past 6 years I've found myself traveling on or around Valentine's Day. Initially, it was unintentional; however, in recent years I've made it a little Valentine's tradition. As a single woman, I would show myself love by traveling to some incredible destination and having the time of my life!
Meeting new people, experiencing new cultures and having the most amazing adventures means you won't have time to wallow over the box of Ferrero Rocher chocolates and red roses you didn't receive, because you will be too busy living your best life. For all the travelers looking for the best places for singles to travel for Valentine's Day, I've got you covered. Here are 21 destinations that will make Valentine's Day suck a little less for singles, brought to you by myself and some fellow travel writers.
Dubai, United Arab Emirates (UAE)
Dubai was my very firs solo Valentine's Day trip. I caught an error fare for $187 roundtrip and spent a week between Dubai and Abu Dhabi. The amazing thing about traveling solo for Valentine's Day is that I met so many incredible people during my trip, I never felt alone or lacking love. I partied the night away at Barasti Beach Bar in Dubai, explored the dunes and deserts of Abu Dhabi while riding a 4×4 and dune bashing in a jeep, and wandered through the myriad of souks. I even went skydiving while in Dubai. The Sheikh Zayed Grand Mosque is also a must while visiting Abu Dhabi. There's so much to see and do, you'll never have a shortage of ways to spend your Valentine's Day in Dubai. As much as there was to do in the city, I spent Valentine's evening eating takeout pizza on the balcony of my Airbnb that sat on the marina, and admiring a single red rose the waiter gave me. It was perfection!
Amsterdam, Netherlands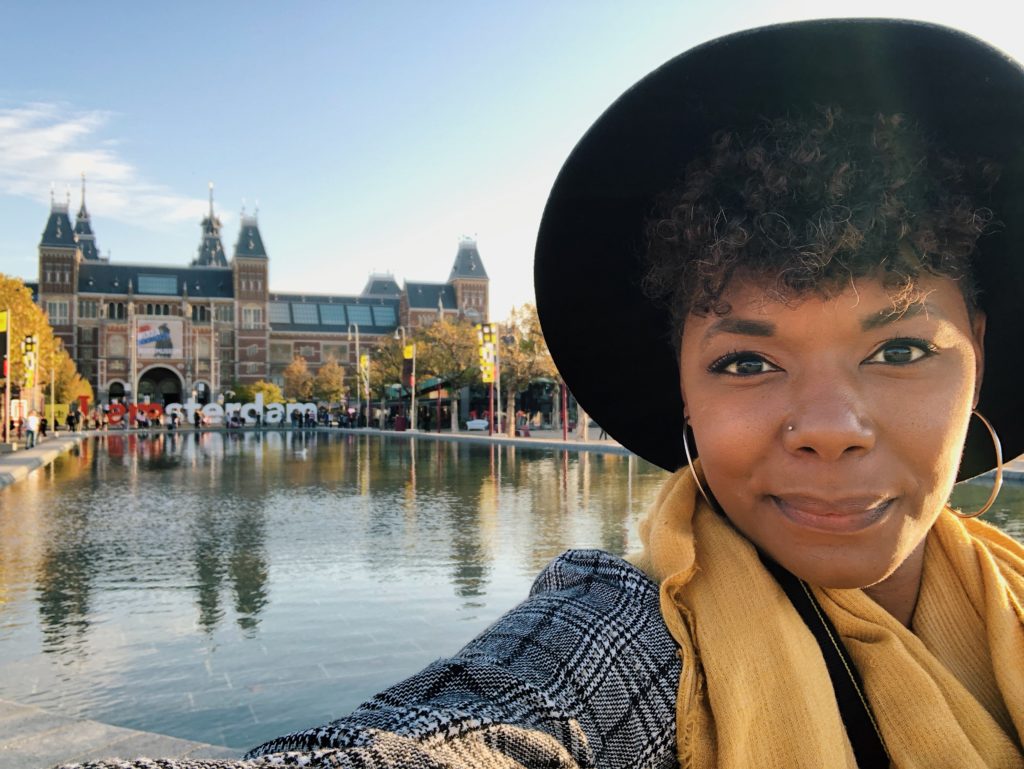 Amsterdam is one of the best travel destinations for singles. It is a city brimming with history, culture, art and fun. There's so much to see, eat and explore in this Dutch city. You can spend days exploring the many museums in the city and still not even scratch the surface. Some of my favorites are the Anne Frank House, Van Gogh, and Rijksmuseum. One of the best ways to explore the Amsterdam as a solo traveler is via the many canals. Hop on a boat tour and discover the history and beauty of Amsterdam. Speaking of history, you can learn all about the Black history and roots that runs deep in Amsterdam on a Black Heritage Tour. Another way to explore the city and get that Insta-worthy content is by taking a photo walking tour. You can book an Airbnb Experience, which is also a great way to meet new people, and get a local's perspective of the city. Feeling adventurous? Pop into one of the many "coffee shops" and try out the cannabis culture in Amsterdam.
Mexico City, Mexico
As the biggest city in North America, you'll never run out of things to do and see in Mexico City. You could spend months there and not see everything, which makes it the perfect place to spend Valentine's Day as a single, solo female traveler — the distractions are endless. Also, there's tacos!
For a truly unique experience, take one of these best Teotihuacan Ruins tours from Mexico City. The coolest of them all are the hot air balloon tours at Teotihuacan, a real bucket list experience.
Back in the city, enjoy some time in the Historic Center, take a boat cruise at Xochimilco on the colorful boats, and a nice meal at Azul Condesa, located in the Condesa neighborhood. This neighborhood is also a great place to stay, as it's very safe and also very beautiful.
-Shelley from Travel Mexico Solo
Everest Base Camp, Nepal
Hiking to Everest Base Camp in Nepal is the perfect travel destination for adventure-seeking solo travelers. This 12-14 day, village-to-village hike in the Himalayas will test your physical strength, mental endurance, and make you forget all about what day of the year it is.
Along the multi-day trek, solo travelers will enjoy incredible views of the snow-capped mountains, including Mt. Everest, reach an altitude of 5,365 meters above sea level, and experience what living in the mountains is like while staying in local teahouses in Nepali villages. The serene landscapes will wipe away any memory of past relationship troubles.
Solo travelers that embark on this trek will feel a massive sense of accomplishment once reaching the Everest Base Camp sign. The atmosphere at Base Camp is celebratory, with high fives and hugs all around, even with people you may have just met. The difficulty in reaching the destination only makes the reward, standing at the base of Mt. Everest, in the heart of the most incredible mountain range in the world, even better.
Erika from Erika's Travelventures
The Great Ocean Road, Australia
The Great Ocean Road is the perfect place to spend a solo Valentine's Day. This scenic stretch runs 240 kilometers from Torquay to Port Fairy in Victoria. It is a famous road trip destination and encompasses attractions like the Twelve Apostles, the Great Otway National Park, and world class waterfalls and beaches like Bells Beach. If you want to brush shoulders with other travelers to regal your stories of your days in the area you can find them in Torquay, Lorne, Apollo Bay, Port Campbell, Warrnambool and Port Fairy — all of which are some of the main places to stop along the Great Ocean Road. I embarked on the Great Ocean Road by myself but never felt lonely. The hostels were great to meet friends and dinner pals while days were filled with koala sightings, hikes and ocean dips.
Alanna from The Great Ocean Road Collective
New Orleans, Louisiana
Oh hey there, good lookin'! Are you searching for a high energy destination to make Valentine's Day suck less? Then grab your shades, dance moves, and morning-after hydration tablets as you are jetting off to New Orleans in Louisiana, aka pick-up city, especially if you have an accent.
Hit Bourbon Street to make new friends while drinking cocktails as I did during my first (single) trip to the states.
"Excuse me, is that an accent?" Sure is, pal! Let's chat over a Tropical Island Hand Grenade!
That melon concoction poured into a theme park cup shaped like a grenade is lethal, by the way, giving you the juice to keep the conversation going.
Now it's time to head to the French Quarter to catch live jazz in a hopping bar like The Spotted Cat or Bamboula's.
What about the New Orleans beads? Even if you're not visiting the US in February for the run-up to Fat Tuesday and Mardi Gras, you will still see beads around the city. Don't believe the party-goers suggesting you need to flash your chest to get some; locals say that's not really a part of the Mardi Gras celebration!
Gemma from Two Scots Abroad Travel Guides
Climbing Volcán San Pedro, Guatemala
Surrounded by volcanoes and steep hills, Guatemala's stunning Lake Atitlán is one of the most beautiful places in the Americas. So, what better place to celebrate against the regular Valentine's Day grain than from high above this spectacular crater lake?
Hiking to the top of iconic Volcán San Pedro is a rite of passage for avid hikers visiting Guatemala. Reaching a breathtaking 3,020 meters (10,000 feet) above sea level at the top, the climb involves a strenuous 1,200-meter (3,900 ft) ascent. If nothing else, you'll be too tired to worry about anything missing out on some romantic dinner.
It costs 100 quetzales ($13 USD) to enter the park but that fee includes a guide. And, although hiking times will vary based on your fitness level, most people take around 3 hours to reach the top and 2 hours to come back down. It is best to go early in the morning when you are most likely to have clear skies at the top.
Dean and Laynni from Routinely Nomadic
Lisbon, Portugal
Lisbon is one of the most beautiful cities in Europe. It's filled with cobblestone streets, colorful buildings, and amazing food. You can explore historic landmarks like St. George's Castle (São Jorge Castle) or enjoy a day at the beach on the Atlantic Ocean.
When it comes to sightseeing, there are so many things to do in Lisbon in 3 days, making it a perfect Valentine's getaway. You can take a tour through Jerónimos Monastery or see Belém Tower which was built by King Manuel I in 1515 as part of a defense system along the Tagus River estuary.
If you want to learn more about Portugal's history, then head over to Belem Cultural Center, or the Maritime Museum (located in Belem).
Walk the historic old town, and admire the city views from any of the Miradouro. And don't forget about all those delicious desserts! We recommend trying Pastel de Nata (Portuguese custard tarts) for breakfast – they're simply divine! There are also many great restaurants that serve traditional Portuguese cuisine. And if you love wine, then you have to try Portugal's famous Port Wine there! Lisbon is safe for solo travel, and it is very affordable too!
Mayuri at ToSomePlaceNew
New York City, New York
If you're looking for the perfect place to celebrate Valentine's Day with yourself, consider a trip to New York City. NYC is the city that never sleeps, and you'll be so busy exploring that you won't have time to worry about missing out on flowers and chocolate!
If you've never been to NYC before, spend a day hitting up all the usual tourist attractions. Spots like Times Square, the Statue of Liberty, and Central Park are touristy, but they're still worth seeing. At night, check out a Broadway Show, or head to the Top of the Rock for the best view of the city.
NYC is one of the top foodie cities in the world! For delicious Chinese food, venture out to Flushing, Queens and grab a table at Nan Xiang Xiao Long Bao for amazing soup dumplings. For more great food, check out Kame, a chic ramen restaurant in Midtown.
Hotels in NYC can be pricey but there are several great spots that won't break the bank. The Courtyard by Marriott Midtown West is affordable and perfectly located near Hudson Yards and Penn Station.
Sydney from A World in Reach
Zion National Park, USA
A visit to Zion National Park will surely make Valentine's Day a non-existent thing for you.  It's an incredible place with two of the most legendary hikes in the country – no partner needed!  The national park can be snowy in February, so slip on your microspikes or crampons and hit the trails. First up is Angel's Landing. The trail goes along a narrow ridge with drop offs on both sides, with just a chain to hold on to.  In summer, the trail is crazy busy – and you even need to win a permit in a lottery to do it – but in winter, you'll have it almost to yourself.  It's a magical place with sensational views.  The other main hike, The Narrows, is a hike actually in a river, through a narrow slot canyon.  So, wear lots of insulation and, again, you'll miss the crowds.
The best place to stay in Springdale, right next to the national park's main entrance.  It's a relaxed place with lots of fellow travelers to meet. A top restaurant pick is Whiptail grill, for Mexican food that's hard to beat. Cable Mountain Lodge has comfortable rooms with stunning views.
James from Parks Collecting
Cape Town, South Africa
One of the best destinations in the world that will make you forget you're single is Cape Town, South Africa. Filled with jaw-dropping scenery and epic things to do, you'll have one of the best Valentine's Days even if you're single.
In the morning, go to the top of Table Mountain via cablecar and enjoy the beautiful view. Then, head to the V&A Waterfront and buy yourself something nice from one of the shops. To add some color to your day, wander around Bo Kaap. Be sure to go to Camps Bay, grab a coffee, and sit on the beach. For sunset, walk along Sea Point Promenade. The view is gorgeous and you might even see some dolphins or seals.
End the day by treating yourself to a lovely steak dinner at Hussar Grill. For dessert, try the traditional Malva pudding and wash it down with a chocolate vodka martini.
For a luxurious experience, stay at the Westin and pamper yourself at the spa.
Disha from Disha Discovers
Banff, Canada
If you're looking to escape the Valentine's Day masses, a visit to Banff National Park might just be in order. During early-mid February, you'll find that the Rockies are still blanketed in their signature winter wonderland snow cover, and without nearly the amount of crowds you'd otherwise see during peak season.
It's in this outdoor lover's paradise that you'll find no shortage of opportunities to explore Banff's enchanting wilderness, be it via a dog sled tour (which is an ethical method of learning more about this Indigenous custom that originated in Canada), trekking along one of the best hikes in Banff, hitting the slopes alongside the locals – or if you're feeling particularly adventurous – partaking in an ice climb up a frozen waterfall.
Speaking from experience here, you won't have time to concern yourself with the holiday whatsoever; since you'll be so busy treating yourself to the adventure of a lifetime.
Natasha Karcz from Planes, Trains and Karcz
Queenstown, New Zealand
One of the most beautiful towns in New Zealand is Queenstown. It is a perfect destination for single and adventurous travelers. Queenstown is a resort town in the South Island. Known for its glaciers, lakes and mountains, the town is a gorgeous town and an adventure hub. The best time to visit Queenstown is during summer season (between December and February) as the weather is perfect and pleasant.
Known as the adventure capital of the world, Queenstown is very popular for adventurous activities such as bunjee jumping, zip lining, sky diving, swings, and jet boating. The first commercial bunjee jump bridge was built in Queenstown and bunjee jumping at this bridge is surely a remarkable experience to do even today. During the winter season (between June and August), the town is famous for skiing as there are many ski slopes that cater for beginners to experienced skiers.
Queenstown is also a very picturesque town that has stunning landscapes. The town surrounds Lake Wakatipu and has views of the snow-capped mountains. One needs at least 3 to 4 days to see and explore Queenstown.
Raksha Nagaraj from Solopassport
Ladakh, India
Ask any true traveler and Ladakh will be on the top of their list. Ladakh is love, adventure, intense, joyful and picturesque. With the breathtaking landscape, unadulterated nature, colorful prayer flags, praying wheels and  bells. It's pure ecstasy, something you feel when in love. I visited it in 2016 and fell in love, in love with Ladakh, with me and life, all over again. You don't need a partner to visit Ladakh because you have you. You are in Ladakh as a true explorer, it opens your eyes and presents you with things you have never experienced before. Ladakh is indeed love of my life.
Stuti Shrimali from Me and My Suitcase
Marianske Lazne, Czech Republic
If Valentine's Day is not your cup of tea, how about spending the day pampering yourself at one of the fantastic spas in Marianske Lazne, in the Czech Republic? The town of Marianske Lazne is one of the three famous Czech spa towns, included last year on the Unesco Heritage list. The hotels in the resort are offering medical treatments as well as wellness procedures using natural elements such as thermal spring water, natural gas, and mud.
Marianske Lazne is an idyllic resort in the middle of nature, surrounded by thick pine woods, green hills and castles. Yes, castles! There are plenty of things to do in the town, from admiring the Art Nuveau architecture on daily walks, to relaxing on one of the trails nearby. One of the main attractions in town is the Colonnade, with its singing fountain in front. Each evening all tourists gather around it to see the show, after which they enjoy a glass of hot Medovina wine or a local chocolate spa wafer.
Joanna from The World in My Pocket
Barranco, Lima
When on the lookout for destinations to visit that can make your single Valentine's Day better why not consider Barranco in Lima? Barranco which was once one of the best places in Peru for the rich and famous is now just a fond memory for the past for Lima's elite class. Today, anyone can stroll through the streets and make all their wishes come true. Whether that be from a walk along the bridge of sighs, or a walk along the seafront. The golden rule for this neighborhood is that you must not leave without sampling some of Lima's finest ceviche. Check out La Cantarana for some freshest food. Aside from the long line of restaurants, you'll find coffee shops and some amazing street art. This is the place to come if you want to revisit your romantic side and connect yourself with the bohemian corner of South America.
Daniel James from Layer Culture
Rome, Italy
If you're single this Valentine's Day and looking for a fun getaway, look no further than Rome, Italy. Even just spending 2 days in Rome is enough to make you forget that you're single.
Take a walk in the historic center and admire world-famous sites like the Colosseum and the Trevi Fountain. Their beauty and splendor will take your breath away. Go on a shopping spree on Via del Corso, and then enjoy some (lots of) delicious gelato near Piazza Navona.
For something even more fun and immersive, take one of the many pasta/pizza/tiramisu classes around town. In these courses, you'll get to learn techniques from expert chefs before sitting down to taste the delicious fruits of your labor.
Enjoy the exquisite local dish of cacio e pepe in Il Gabriello, an amazing restaurant in the city center. Treat yourself to a scenic rooftop view at the Otivm Hotel, an amazing place to stay in Rome.
Jiayi Wang from The Diary of a Nomad
London, England
A great destination for singles during Valentine's Day is London. That's because there are lots of great things to do alone in London. For example, you can visit the British Museum on your own, or you can explore the iconic sights of London. When you visit several sights, such as Big Ben, Tower Bridge, the London Eye, in one day, you'll be very busy, and you'll forget about Valentine's Day. What's great is that you can also do lots of classes, such as cooking classes, in the city. Because of the huge size of the city, there is a cooking class for every type of food you like. Also, you can go to a supper club and have dinner. There, you sit at a long table while sharing food, meeting new people, and making new friends at the same time. One example of a supper club is Fork & Knife.
Dymphe from Dymabroad
Egypt, Africa
Egypt, the land of mystery, has a rich culture with history and traditions dating back thousands of years. A trip to the richest country in Africa is bound to include a good mix of ancient monuments, unique landscapes, good food, and unexpected adventure. As one of the earliest civilizations, it is packed with sights, monuments, temples, and things to do. Highlights of a visit include the Great Pyramids of Giza, Luxor Temple, Siwa Oasis, Abu Simbel, and the Valley of Kings. If that's not enough the pristine coral reef and crystal waters of the Red Sea offers an unmatched getaway in a natural setting. Egypt is the definition of epic and is well worth taking the time and effort to discover.
Rai from A Rai of Light
Bruges, Belgium
If you're looking for an awesome getaway – solo for Valentine's Day, consider visiting Bruges in Belgium. Bruges is a super-compact city where you can walk almost everywhere. Climb its most iconic landmark – the Belfry. There are over 300 steps to conquer, but I promise the effort will be worth it when you see the stunning view! After visiting the tower, have a proper Belgian waffle with toppings and a chocolate sauce, and if you want to try authentic Belgian-style hot chocolate, head to the Old Chocolate House. Another must-do activity in Bruges is taking a short canal tour. But, if boat trips are not your thing, sit in one of the cafes overlooking Bruges most beautiful spot – The Quay of the Rosary, and enjoy the moment sipping one of the excellent Belgian beers.
For a tasty dinner, head to De Gastro, and for a drink, I recommend a hidden cellar bar – T'Poatersgat. Stay in St Christopher's Inn Hostel, located just a few minutes walk to the main square and all the city nightlife.
Mal Hellyer from Raw Mal Roams 
Weh Island, Indonesia
Most travelers who venture off the northernmost tip of the Indonesian province of Sumatra do so for scuba diving. In fact, Pulau Weh, also known as Weh Island and Sabang by locals, is surrounded by dive spots that are among the most beautiful in the world. While the island's waters offer opportunities for introspection and solitary admiration of the ocean's inhabitants, its beaches entice sociability, endless chats with locals and other travelers. It is impossible to travel to Pulau Weh and suffer from loneliness.
As soon as you arrive, head to the northwestern part, where there are the most beautiful beaches and resorts of all kinds, especially cheap ones. The locals will welcome you by speaking excellent English. The Sabangese are Muslim and grew up in a crossroads of cultures: Indian, Malaysian, Indonesian…There is an atmosphere of shared experience and friendliness.
As soon as you feel like having a chat, drop by the Ola-la Cafe or join the delicious "buffet social dinner" at Norma Ong's Buongalows every evening at 7. Many foreigners have decided to make a new life here. Meet with the French woman who opened a café and creperie on Iboih Beach, with the Malaysian man who has a hostel and diving center with bistro on Long Beach, or with the team of young Spanish men who run Monster Diving on Gapang Beach. To move from one beach to another, if you have not rented a scooter, you can just hitchhike. And maybe you'll even meet someone with whom you can take a swim under the enchanting waterfall.
Lisa from Travel Connect Experience
Have you taken a solo travel trip on or around Valentine's Day? What destination would you add to this list?
SAVE FOR LATER!