5 RV Road Trips to Add to Your Bucket List
The one thing that has been at the top of my bucket list for years is to take a cross-country road trip across the United States. So, when I discovered RVshare, the world's first and largest peer-to-peer RV rental marketplace, it made me want to start planning out my adventure; especially as I'm in the midst of writing down my goals for the upcoming year. Not only did I take this as a chance to look into planning my cross-country trip, but also to create an RV road trip bucket list for different destinations.
But, why an RV?
As a little girl, taking road trips with my family, we would all pile up in my Granddad's Lincoln Towncar. Three kids in the back, two adults in the front. Because I was the smallest, I was always stuck in the middle seat. 10 hours plus, stuck in the middle seat is no fun, let me be the one to tell you. I used to try to convince my grandparents to buy an RV. "Think about all the space we'd have!" "We wouldn't even need a hotel, we could sleep in the RV" "We can even cook in it".
I thought I sounded pretty convincing but obviously, as a kid I had no concept of maintenance, expenses or the responsibilities of owning an RV. As an adult I am very much aware and am so glad to have discovered a service like RVshare where you can rent an RV from RV owners. It's win-win for everybody, renters get to take an amazing RV road trip without actually having to purchase an RV and owners get to make a little side income while their RV is not being put to use. It's like the Airbnb of RVs. Whether you are considering taking a road trip, going camping or utilizing an RV for a special event, RVshare has the largest selection of RV rentals to choose from. You can rent anything from a travel trailer to a full motorhome.
So, let's get into some of the epic routes you should add to your RV road trip bucket list.
Grand Circle
Can you really even mention the best RV destinations in the U.S. without mentioning the Grand Canyon? Embark on the 1,200 mile loop around the U.S. Southwestern desert where you'll not only get to experience one of the world's most iconic natural spectacles, but also experience 9 other National Parks spanning across five different states. Hit the scenic byways as you cruise through Arizona, New Mexico, Colorado, Utah and Nevada taking in jaw-dropping golden canyons, monolithic geological formations, mesmerizing emerald pools and waterfalls. The iconic Antelope Canyon? Yep, that's on this route. Horseshoe Bend? Yep, you'll find that along this journey as well. Monument Valley? Check! Talk about most Instagrammable road trip. Is there anything that can top this? Me thinks not.
Route 66
Another American classic RV road trip is the famous Route 66, one of America's first highways. Although the original highway has been decommissioned and technically no longer show up on maps, you can still travel some of the original route that consists of 2,278 miles stretching across Chicago, Illinois, through Missouri, Kansas, Oklahoma, Texas, New Mexico, and Arizona and ending in Santa Monica, Los Angeles. This makes the perfect spring road trip and an easy way to knock off 9 states if one of your lifes' mission, like me, is to travel to all 50 states.
Yes, Route 66 is known for its kitschy, tourist trap, roadside attractions but c'mon who doesn't want to see the World's Largest Rocking Chair (on Route 66)? Not wowing you? How about the Barringer Meteor Crater that crashed into the Earth nearly 50,000 years ago or the very first McDonalds? There are tons of things to see and do along this journey. Check out Cadillac Ranch, where you'll find 10 cars jutting out of the ground as a display of art. You can even get your fizzy fill at Pops Soda Ranch in Arcadia, Oklahoma, where they're serving up sodas you won't find at your local 711; like the Bacon & Maple Soda, Peanut Butter & Jelly Soda and Buffalo Wing Soda. And while on this epic RV journey, a stop at the Jack Sisemore RV Museum just seems fitting.
Pacific Coast Highway
Another one of my bucket list routes is the Pacific Coast Highway (PCH). Cali cruisin' along legendary route 101, taking in the idyllic scenery from California up to Washington State (the place where only the greatest show ever was filmed aka Grey's Anatomy), what a dream! This route pales in comparison to some of the others, coming in at only 659 miles. However, there's so much to see and do, this trip can surely be spread out over a week or more to truly enjoy the experience. Catch some waves in Santa Cruz, snap some pics at the Golden Gate Bridge, check out the Painted Ladies houses from the show Full House in San Diego and that's not even the half of it. You can watch surreal sunsets or majestic whales in the charming seaside towns Monterey and Carmel by the Sea and be in awe of the towering redwoods in Sequoia National Park. My must-see destination is Big Sur! I have so many pins on Pinterest of this dreamy coastal town with its postcard perfect scenery! I live for the day that I am able to experience all of its splendor in real life.
Blue Ridge Parkway
As a kid, every year around Thanksgiving my family would spend time in the Blue Ridge Mountains in North Georgia. This breathtaking mountain chain extends 550 miles through 5 different states and it is one super scenic drive to take. Hop on the Blue Ridge Parkway also known as America's Favorite Drive and enjoy 459 miles of sweeping vistas of rugged mountains and craggy peaks. This is a drive you that is meant to be taken slowly, after all, you are winding and weaving through the peaks and troughs of stunning mountains. This is undoubtedly one of the best RV trips to take on the east coast.
Some of the best places to stop on the Blue Ridge Parkway are Shenandoah National Park for some fun mountain hiking with jaw-dropping views. They have trails for every experience level. Head over to the famous Skyline Drive where you'll find 75 breathtaking outlooks. Can you imagine those views in the fall with all the colorful fall foliage?! Want to see the highest point east of the Mississippi? Stop by Mountain Mitchell State Park. Also want to see the biggest home in America? Then Biltmore Estates is a must! I've been here and words cannot describe how incredible this palatial place it. End your trip at the Great Smoky Mountains National Park where you can relish in even more stunning views and take in a sunset from the observation tower at Clingmans Dome.
Alaska Highway
It's something about Alaska that just seems like this mythical land where an adventure of a lifetime awaits. Imagine traversing the rugged terrain and passing by caribou, bears and other wildlife that you typically wouldn't see just strolling along the open road. That's just what's in store on the world-famous Alaska Highway, also known as the Alcan. You can start this magnificent journey in Dawson Creek, British Colombia and travel 1,390 miles through the Yukon Territory and ending in Fairbanks Alaska. From fun roadside attractions to various National Parks and idyllic scenery, there is tons of things worth stopping for on this journey. Also, if you're lucky and traveling during September, you may even get a glimpse of the Northern Lights.
I don't know about you, but I can't wait to load up in an RV and check every last one of these destinations off my bucket list.
What are some places you'd love to take an RV road trip to or through? I'd love to hear your suggestions and maybe add them to my list as well 🙂
PIN ME!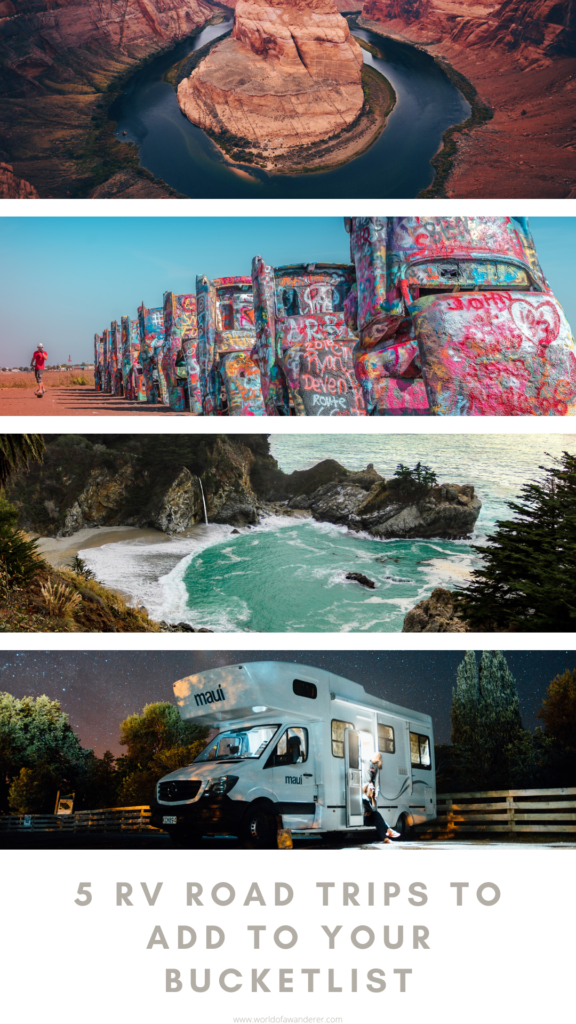 This post was sponsored by RVshare; however, all opinions and bucket list dreams are my own.