Small Woman Big Truck: Home for the Holidays with GMC Sierra Denali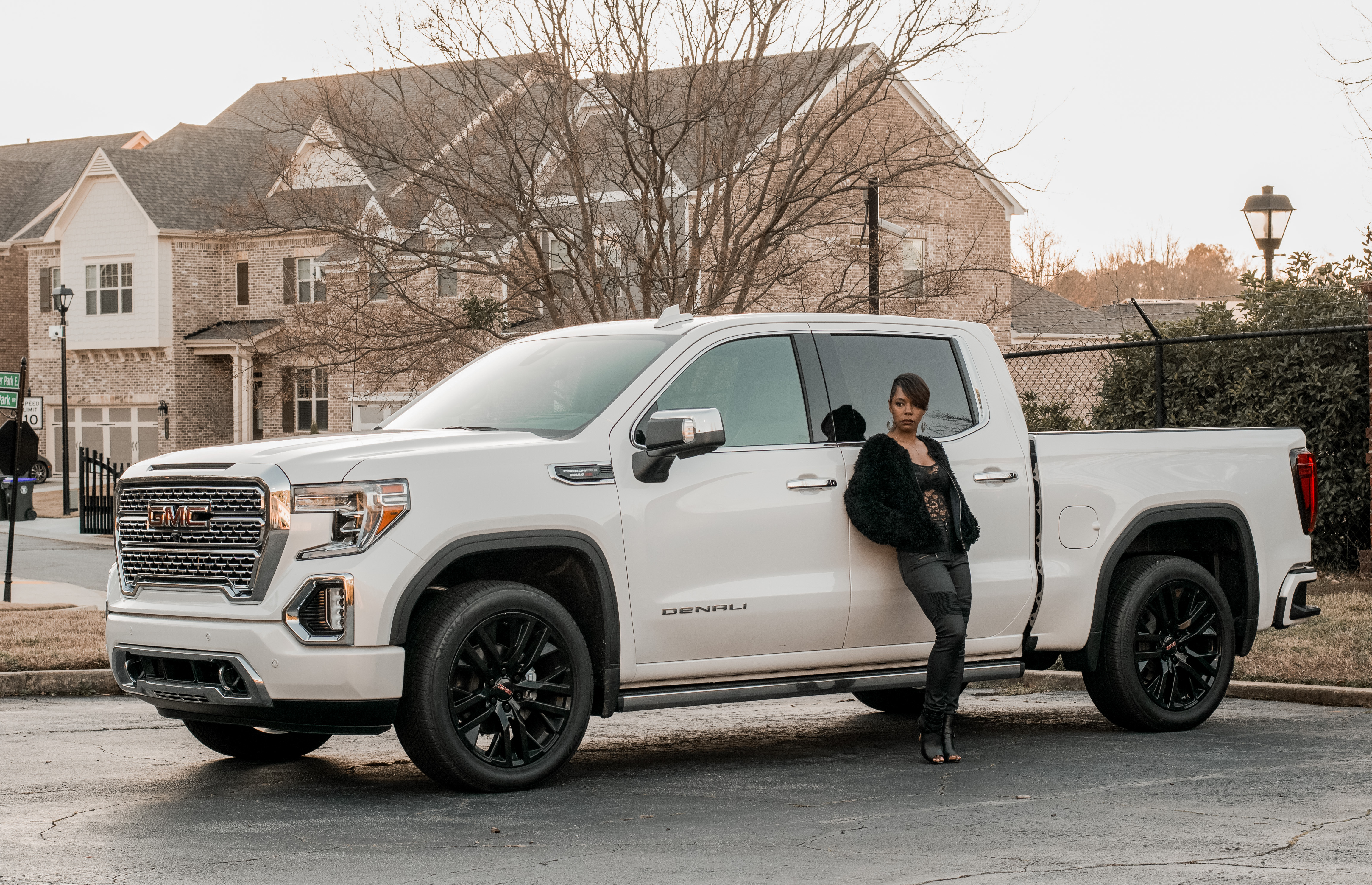 Nothing kicks nostalgia into high gear like the holidays. Spending time with family, friends and bonding over food and fun festivities. Ahhh yes, it is, indeed, the most wonderful time of year. Santa came early, by way of GMC, and delivered me the 2020 Sierra Denali to test out for a week. Talk about oh what fun it is to ride! I had so much fun testing out this beast of a beauty and hitting the streets in the Denali to relive some of my favorite childhood memories and traditions. Here are some of my favorite moments and traditions:
Make Sweet Memories
Whether we were making Gingerbread house, which always turned out to be more of a mess than a masterpiece, or baking cookies, holiday baking is something my family does every year. My mom is the queen of cookies and my grandmother is the cake connoisseur. Me? My specialty is cheesecake tarts. There's just something about sharing those sweet moments together in the kitchen, pouring your love into each batch of yummy goodness. And that sweet heavenly smell permeating throughout the house, I mean is there anything better than that?
The less than fun part of baking is having to grocery shop during the holiday chaos. So, usually, we make our grocery store haul early when the stores are a little less chaotic and people aren't fighting over the last can of sweetened condensed milk. This year, I loved having tons of space in the GMC Denali Sierra to load up all our groceries. When I visit home, I'm always the designated driver. I drive a hatchback, so let's just say, this big body truck and all its space was a definite plus!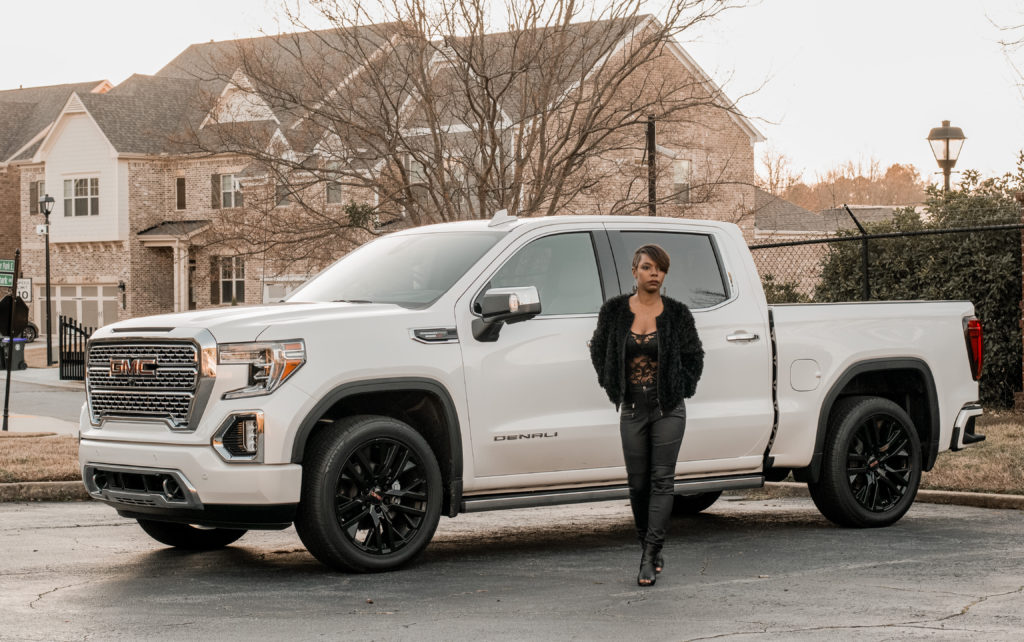 Cozy up with a Cup of Hot Cocoa
Is it even Christmas without a cup of hot chocolate being somewhere in the mix? This is easily one of my favorite things to do during the holidays. I'm not talking ripping open a pack of Swiss Miss and adding milk. No no no, I'm talking about rich, velvety, chocolately hot chocolate made from scratch topped with pillowy marshmallows. I'm talking about pure, decadent, happiness in a cup. My sister and I first made this hot chocolate recipe a few years back and its been a favorite ever since.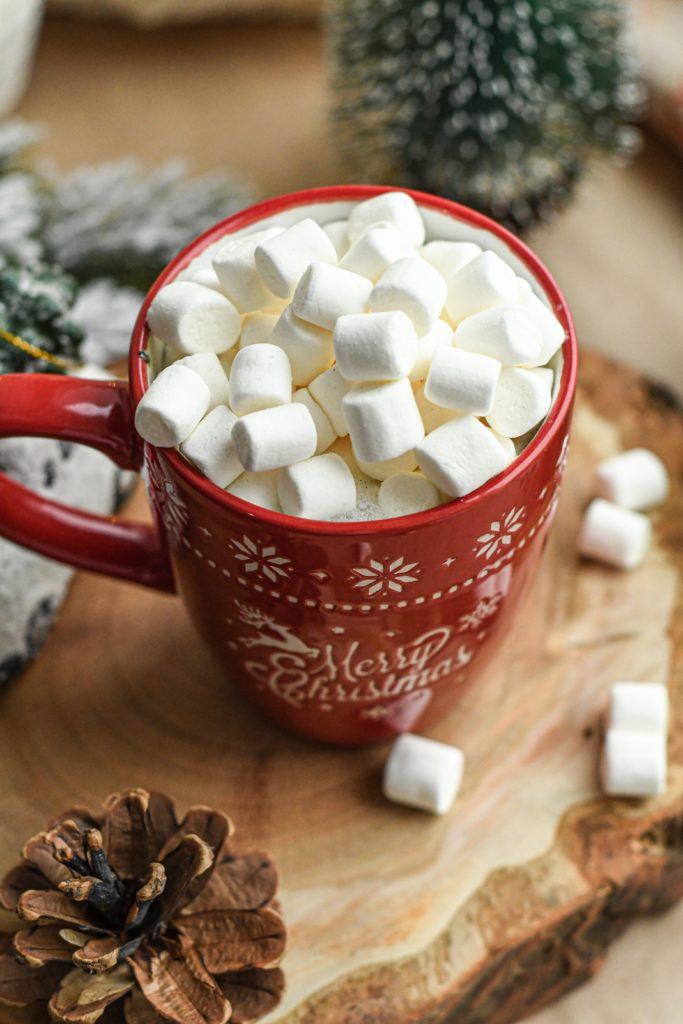 Jingle Jammin'
From the Temptations to Jackson 5 and Boyz II Men, even a little Michael Bublé, one surefire way to get you in the holiday spirit is to turn on a playlist of all your favorite Christmas jams. Even battling Atlanta traffic is a little more tolerable when you have a good holiday playlist going. It just puts you in a feel-good mood and makes everything just a little bit merrier. The Denali's ApplePlay feature makes it super simple to sync up my iPhone as jam out as I cruise around the city.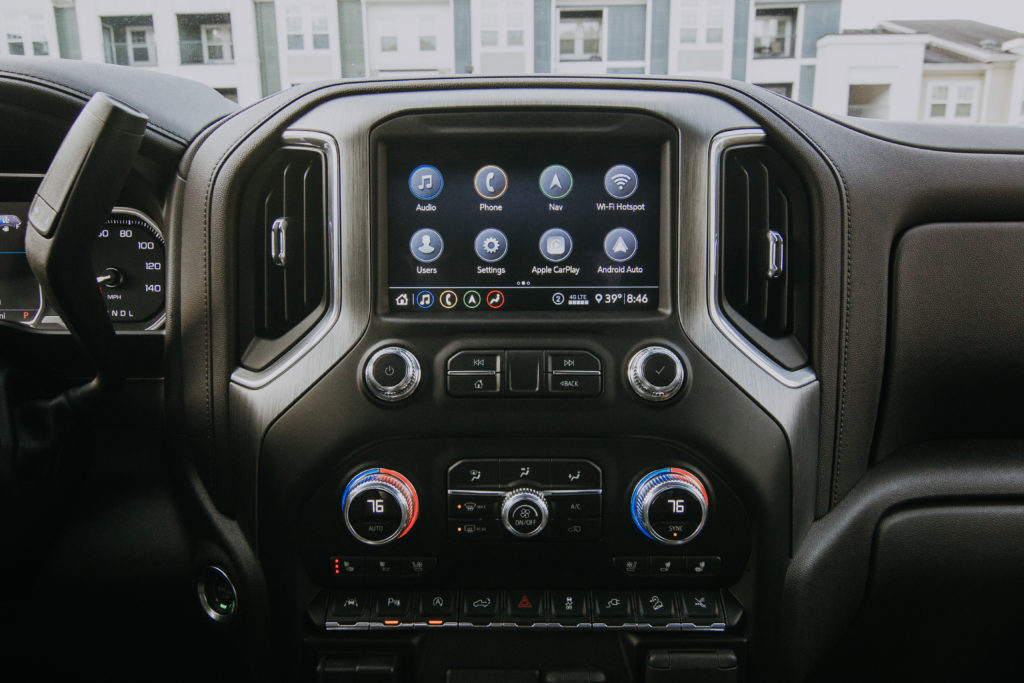 Cruising for Christmas Lights
This is hands down my favorite thing to do during the holidays. When I was younger, my grandparents used to take us kids around to look at all the beautiful Christmas lights. We'd go to the "fancy" neighborhoods, because they always had the best and the most lights. We haven't done this in years, but this year, I made it my mission to re-visit this favorite Christmas pastime. We loaded up in the Sierra Denali and drove through all the best neighborhoods to see lawns lit up with lights and decor. One thing I can tell you, there are some things that, no matter how old you get, will never get old. I was just excited about seeing Christmas lights at 34 years old, as I was as a youngster. Even my 73 year-old grandmother could hardly contain her excitement.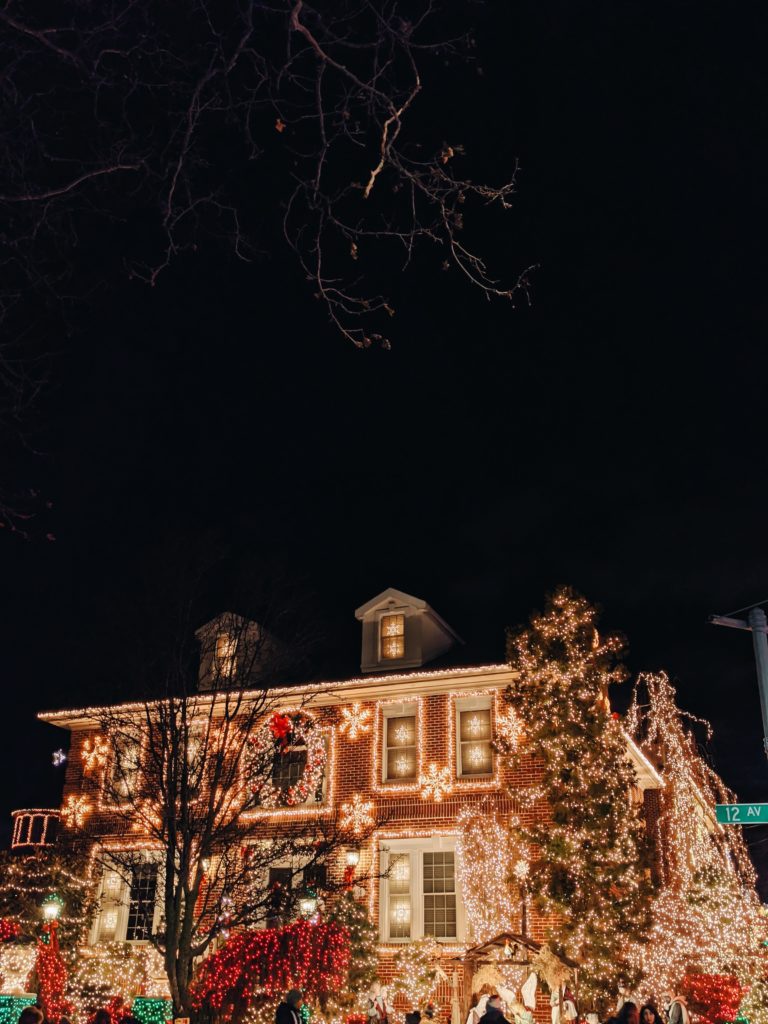 With chilly temps at night, the seat warmers were also perfect for heating us up as we hit the town.
Oh, Christmas Tree!
Growing up, another holiday favorite was decorating the Christmas tree. When we were younger we always had a live tree. I guess the maintenance and hassle of them became a nuisance so an artificial tree it was. These days, we're doing good to have a wreath hung up on the door, but I digress. We always went to pick out our tree from places like Home Depot or the random place that set up shop in an abandoned parking lot. When I start my own family, I definitely plan to have a live Christmas tree. I envision my tree looking something like the below. Extravagant much? 🙂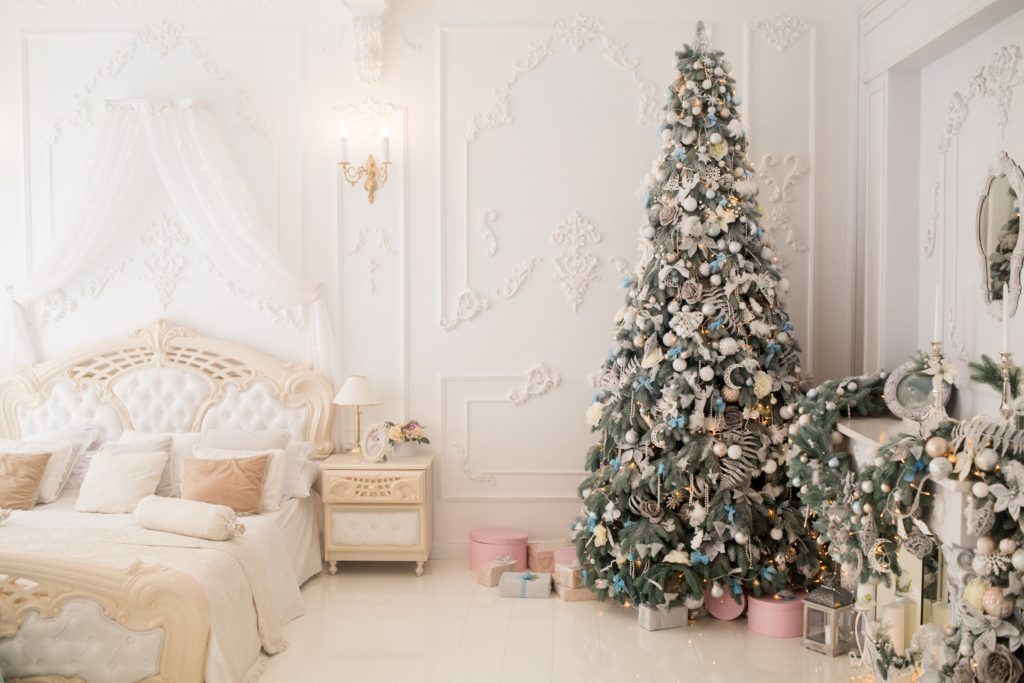 Wanna know what else is extravagant? The Sierra Denali's exclusive MultiPro ® Tailgate. This is the first of its kind where an electrically operated tailgate opens in 6 positions, depending on your needs. This is one of my absolute favorite features on this truck. There were literally steps up to the truck bed which is perfect for vertically challenged people, such as myself. AND did I mention it has speakers and a USB port on the tailgate?! Invite me to ALL the tailgate parties, I'll bring the entertainment!

What Do the Lonely Do at Christmas?
I absolutely love the traditions that I share with my family. However, I look forward to the day that I am able to start my own traditions with my own little family unit. Since I'm not there yet, and since my family lives in a different city than me, a lot of my time leading up to Christmas is spent alone or with friends. So, what do the lonely do at Christmas? We have FUN that's what!
Oh What Fun it is to Glide
If you're like me and the closest thing you've experienced to ice skating is Skate Night at the roller rink in undergrad, then this should be a fun and interesting experience. In Atlanta, the city is teeming with things to do during the holidays and ice skating is one of them. You can find rinks at The Battery, Atlantic Station and Centennial Park. Gather up your friends or your significant other and hit the ice for what's sure to be a good time and full of laughs…and possibly falls.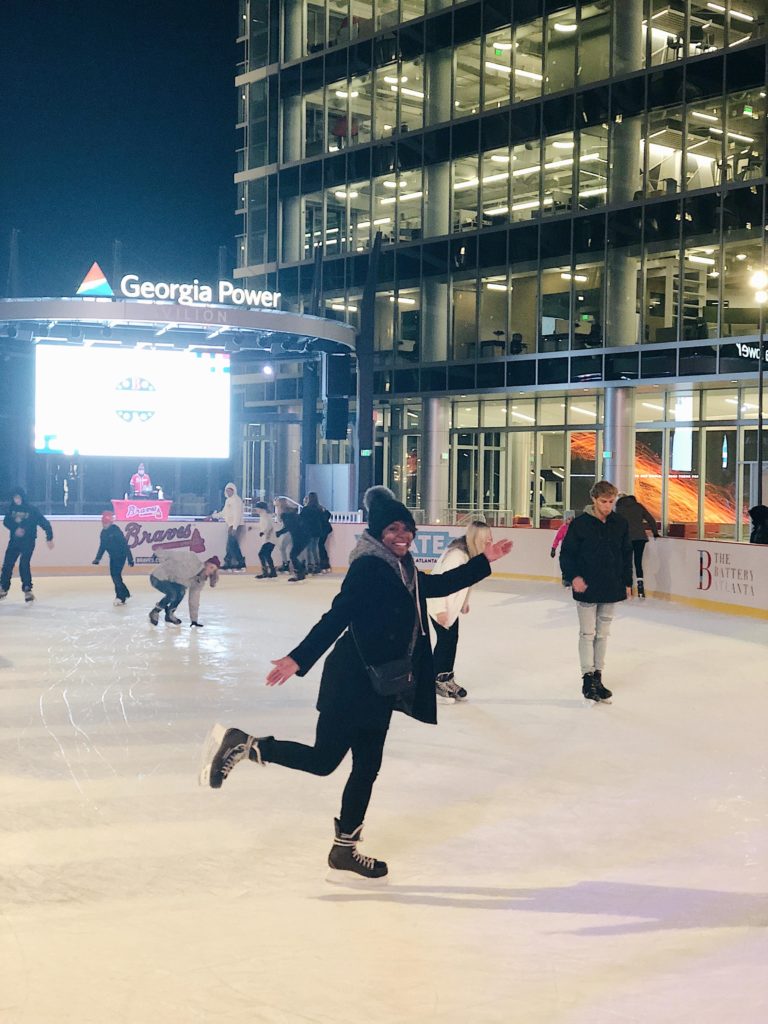 Miracle on Monroe
Feeling a little Grinchy? Check out the ultimate holiday happy hour at Miracle pop-up Christmas bar. This place will make even the Scroogiest of Scrooges just a little more cheerful. Enjoy Christmas cocktails and sumptuous sips in a cozy bar where it looks like Christmas literally threw up in there. It's decked out in decor from floor to ceiling and will give you all the Christmas feels.
View this post on Instagram
P.S. Don't drink and drive people. Cheers! 
Spread Some Holiday Cheer
There's more to the holidays than just gift-giving in the tangible manner. You can also give your time by doing acts of service. Whether it's donating your time at a food bank sorting food, volunteering at your local Children's Hospital, spending time at the animal shelter, or one of my favorites, delivering food to the sick and shut in. There are tons of opportunities to give back this holiday season. If you're in the Atlanta area, Open Hands is an excellent organization. I've volunteered with them several times over the years.
Another thing I loved about the Sierra Denali was the cabin space. The big coolers that I'm given when I deliver meals can fit perfectly on the back seat with space to spare.
What Else I Loved
I could go on for days about the GMC Sierra Denali 2020. I loved driving this truck. Even with my 5'2 frame it was easy to handle. I loved the surprised looks when my tiny frame would emerge from this behemoth  truck. It is sexy and sophisticated, polished and powerful…everything that I am as a woman and I LOVE it! Here are a few other things I loved: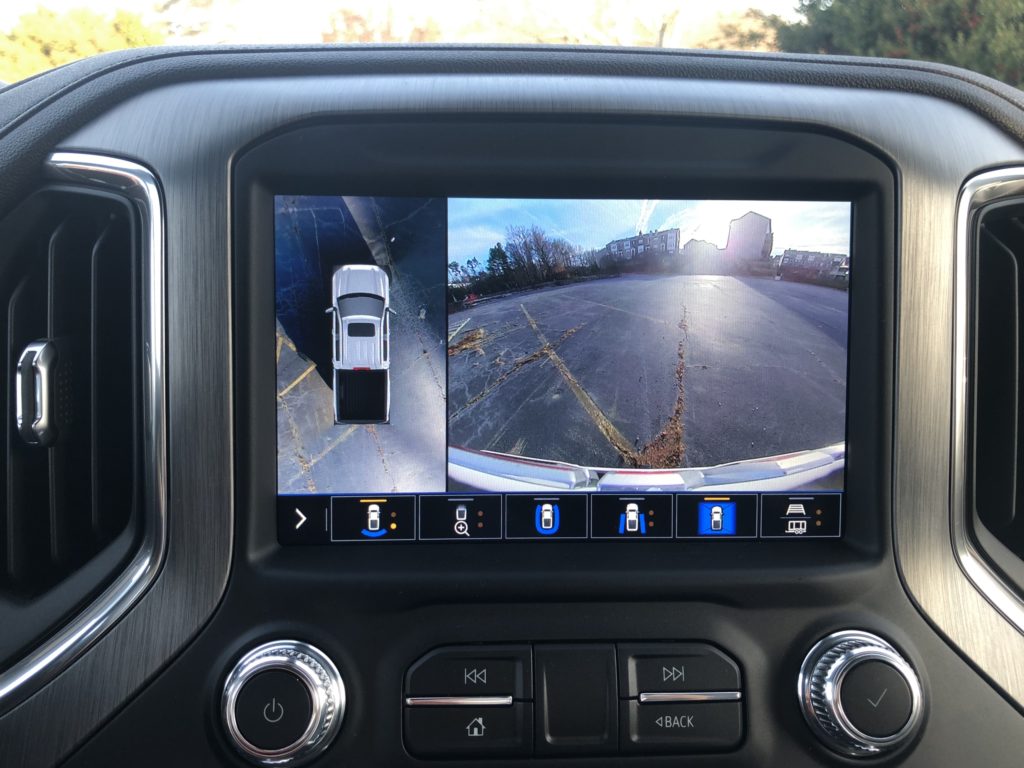 360º HD camera: Ok, back up cameras are nothing new. But, this 360º HD camera is the business! It displays an HD panoramic view and from different points of view of the scene around the vehicle
Seats with vibration alert: I've driven vehicles that gives you audible alerts, but never have I driven a vehicle where the actual seat vibrates when there is a possible risk; whether coming up on a car too quickly, veering into another lane etc. This was an incredible feature
Full mirror display: this projects HD image of the reverse camera with zoom and tilt option, improving visibility up to 300%
Blind spot sensor: Many vehicles are equipped with this feature these days, but I found it especially helpful driving such a big truck
Adaptive Ride Control: The GMC Sierra Denali adjusts to the type of terrain you are driving on to ensure a smooth ride. Driving around Atlanta's pothole-ridden roads, this is definitely an added bonus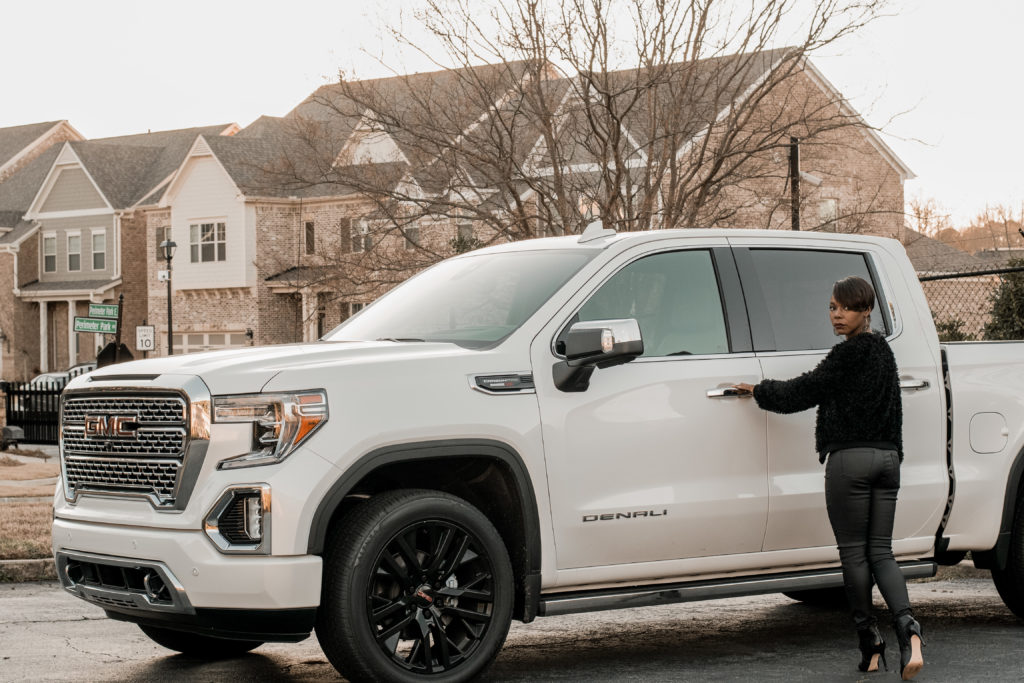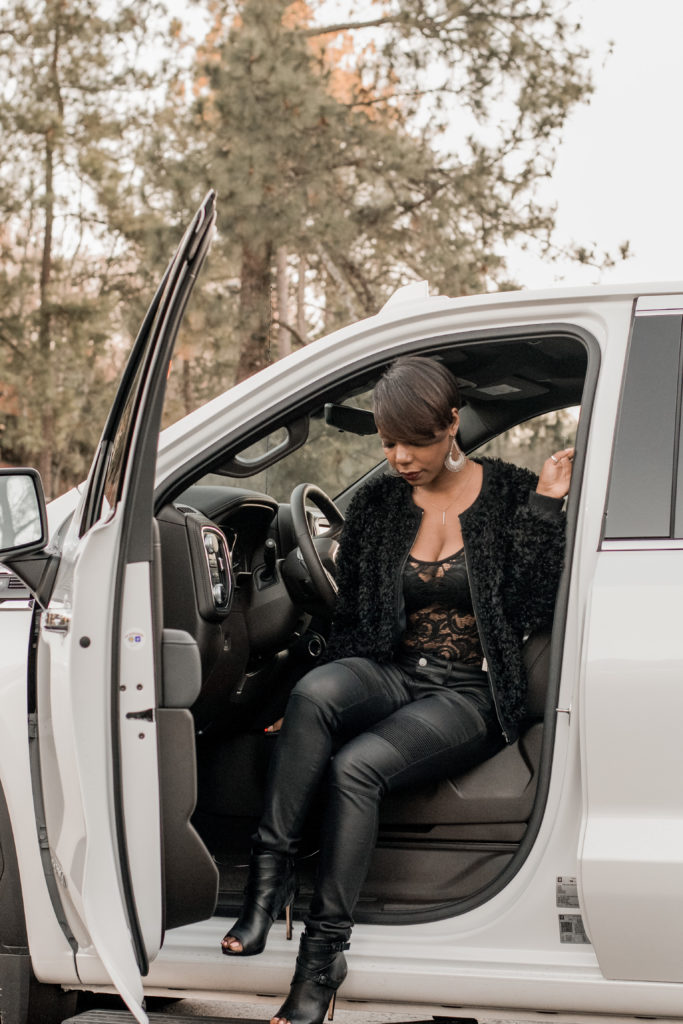 What are some of your favorite holiday traditions? I'd love to hear them in the comments below!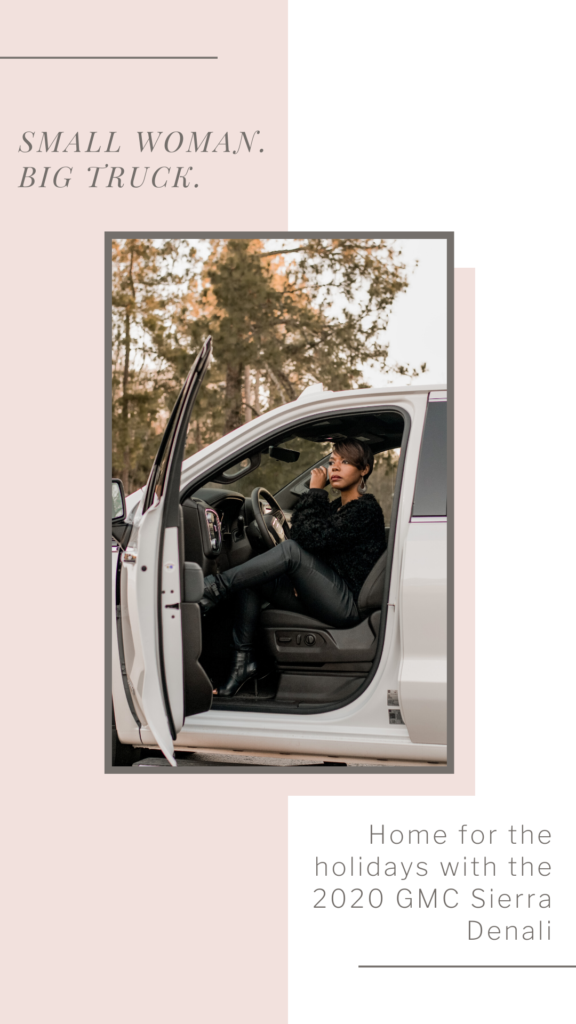 Special thanks to GMC for letting me test out the 2020 Sierra Denali to relive some of my favorite childhood traditions this holiday season. All opinions are my own.