I Spent the Day at a Nudist Resort in Mexico – Here's What I Discovered
After being greeted by the security guard, I sauntered into the unassuming building – a building I wouldn't look twice at in passing. I went through the check-in process at the front desk, then followed my friend, a guest at the resort who donned nothing but a towel, to the pool area. We walked out the door into what felt like an oasis, where…OH! They're really out here just naked AF! Ok.
These were my first thoughts. Not exactly sure what else I expected, but there we were – in the heart of Intima Resort, surrounded by couples soaking up the sun in all the places where the sun usually doesn't shine. Though this was my first time at a nudist resort, I didn't feel uncomfortable. I was more intrigued, if anything. People are out here just living their best nude lives and no one is batting an eye! This was my kinda place. After a quick lunch, we headed to the beach for a little basking and then came back to the resort to spend the rest of the day. Here are a few things I discovered being at a nudist resort and what to expect at a nudist resort:
Nudity does not equate to sex
People hear "nudist" resort and may automatically assume that it is one big orgy fest, with everybody sexing each other seven ways to Sunday. There are absolutely "lifestyle" resorts that exist with this type of vibe, but this wasn't that. Intima was more of a laid back vibe where people just happen to be in the buff. Sadly, some cultures tend to over sexualize everything, especially when it comes to a woman's body *cough cough United States*. Newsflash! We are not the sum of our body parts, nudity does not equate to sex, nor is it intrinsically sexual. Of course it can be (duh); however, a mother breastfeeding her kid in public is not. Me sitting naked in a hot tub and holding a casual conversation with strangers – also not. Neither is basking on a beach topless, or walking around my apartment naked, or showering or getting an annual check up or….get where I'm going? It's not sexual. It's natural. And unless it is two consenting adults, nudity is not an invitation for sex.
It's a whole mood
Ok, this is going to sound somewhat contradictory to my last point; however, being at a nudist or clothing-optional resort is a whole mood – one that will have you drunk texting a throwback and wanting to hop on the next flight out for a cross-country booty call. While I had zero desire to jump the bones of any of the other guests, the ambiance of Intima, in addition to whatever that delicious concoc(k)tion was that the bartender whipped up for me, definitely made for an intoxicating mix that made me wish I had a travel bae with me. Is a nudist resort suitable for singles or a solo traveler? Absolutely! There were a few of us solo wanderers there. However, for me, in a setting like that, I'd definitely want to go with a significant other the next time I opt for a nakation.
It's f*cking amazing!
I love to get dolled up and cute. But, just as much as I love it, I also can't wait to get out of my clothes just as fast. The very first thing I do when I walk through my door (besides take off my shoes and wash my hands (a fervent habit before the Coronavirus pandemic)) is peel off my clothes. I like to be comfortable and anything hugging my body besides a man just isn't comfortable, so it has to go! My old roommate and bestie used to tease me because I don't care if I'm coming home just for 30 minutes and heading right back out, the clothes are coming off. So, to be in a place where I could literally walk around uninhibited and free was the most amazing feeling. Also, it's something about shedding the proverbial and literal layers and allowing yourself to be seen fully in a space full of strangers that feels liberating AF.
Modesty is a thing…but not really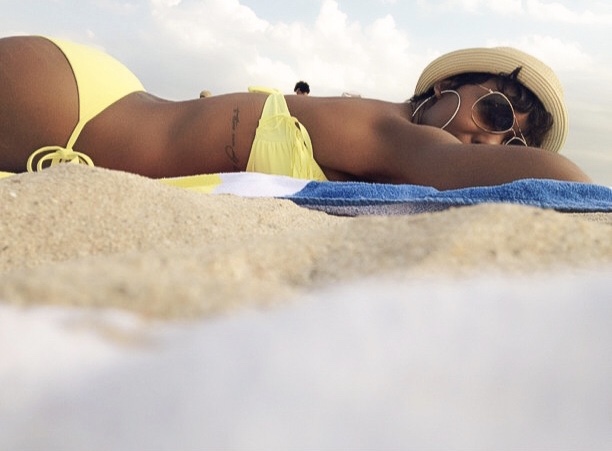 Everybody does not share the same sentiment of loving to walk around in their birthday suit. I think about some of my friends and visiting a nudist resort would be a HUGE step out of their comfort zone, because modesty does not exist here. Well, it does and it doesn't. Here's why I say that – as soon as you walk in you are greeted with tatas and tallywackers. They're everywhere. Literally. Everywhere. However, this is a clothing-optional resort; therefore, you can very well not ditch the digs and frolic around in your swimsuit or clothes. However, you WILL be the minority and likely the only one. When I first arrived, I knew my friend and I were going to have lunch at the resort and then head to the beach, so I didn't bother taking off my clothes. Oddly enough, I almost felt uncomfortable being in my clothes, like I was the out of place spectacle that everybody was staring at, instead of the other way around.
Nude is the new norm
Piggybacking off my last point, it may be a little uncomfortable at first for some folks to go au naturale, but the naked truth is after 15 minutes or so you forget that you're even in the nude. Once you get over those first few moments of "oh my gosh, I feel like everybody is staring at my lopsided boobs", you quickly realize people may be looking at you, but they are not looking at you. No one cares what you look like, after all, everybody there is booty butt naked and are subjecting themselves to the same judgement. After you get out of your own head, being naked starts to feel…normal. At the end of the day, nobody has nothing you've never seen before in person or on Porn Hub . Just sayin'.
You Own it!
Every roll, lump and bump, dimple and dent; being at a nudist resorts forces you to own it! To own your body and all its imperfect glory and flaunt it without any f*cks being given. I don't care what anybody says, whether big, little, tall, short, skinny or stumpy, we all have our insecurities when it comes to our bodies. We all could probably stand to be a little kinder with ourselves and rid ourselves of the expectation to look a certain way. Spending time at a nudist resort allows you to purge those self-conscious thoughts and live fully in the skin you're in.
It's a safe space
One thing I loved about being at this nudist resort is that it felt like a safe space – free of judgement, free of gawking eyes, and creepsters. Granted, I was only there for a day, so my time and interactions were limited but, let's be honest, there are creeps everywhere, and I'm sure Intima has seen their fair share. However, in that short amount of time I felt completely at ease. I didn't worry that some perv was going to try to sneak a pic and post it on social media or wack his wanker while watching me. In fact, Intima has expectations that if a man does get an erection that he covers himself. They also have a no PDS (public display of sex) policy, so things are kept pretty at bay. Some other nudist resorts definitely cater more towards swingers and "lifestylers" where anything goes, but even at those types of places they have a "no means no" policy.
More About Intima Resort
The Property & Location
Intima Resort is a clothing-optional resort near the center of Tulum. This walled fortress ensures the utmost privacy and security – there is always a guard at the door. Once you walk in, it's like walking into a jungle oasis. A palm-fringed pool breaks off into smaller swim up canals that lead to the hotel rooms. You can literally step out your patio door and step right into the pool, but still maintain privacy if you simply want to hang out on your patio, due to all the surrounding trees.
If you're able to pull yourself away from the resort and hit the town, it's only about a 10 minute taxi ride to the beach and about a 5 minute ride to the center of town. Taxis to the beach will cost you around 200 pesos ($10.00 USD) one way.
The Rooms
My friend was actually a guest at the resort so I was able to hang out in their room for a bit after we returned from the beach. It's modern and spacious with high ceilings and an open rain shower that is sexy AF! Oh my gosh and the water pressure…ORGASMIC! As someone who actually lives in Mexico, I can attest that the water pressure here is generally not the best. But, this shower…I could have stayed in all day.
Some rooms also includes its own private plunge pool, so that's definitely an added bonus for a super sexy stay.
The Food
The food was so good! I had shrimp tacos for lunch and carne asada for dinner, and the thought of it has me salivating as I type. Neri (I think that's how you spell his name) was in the kitchen whipping it up and did not disappoint. Nestor held down the bar that night and crafted hands down the best cocktail I've had in Mexico, I'd even go as far as to say ever. I don't know what the drink is called, but I told him I wanted something sweet with Malibu and pineapple. He crafted some sort of green concoction with Malibu Rum, Captain Morgan (I wanna say), orange juice, pineapple juice and blue curacao. It was tall, stiff and delicious just like how I like my men 😏.
I only had two meals here, but my friend and newfound friend from the resort attested that everything they'd tried on the menu was delicious.
Other Info 
If you're not ready to commit to a full stay at this nudist resort, you can purchase a day pass for $30 USD. This allows you access to the pool, bar, restaurant and hot tub. This, however, does not include any meals or drinks, those will have to be purchased separately.
Also, apparently you can book Intima on Airbnb; however, these units are individually owned by the host and may not live up to the same quality amenities, service and experience that Intima provides with booking directly through them. This came directly from one of the co-owners who was hanging out in the hot tub with us, as one of the other guests complained about some of the nuances were experiencing. So, if you want the full-on experience, do not book on Airbnb.
How to prepare yourself for a stay at a nudist resort
I say, get comfortable with being naked before you arrive. Some people are literally never naked unless bathing or doing "the grown folks". Get comfortable with your body in your personal safe space first. Start with simply walking around and being in your home naked. Have sex with the lights on. Spend some time in front of your full-length mirror admiring your body and instead of beating yourself up about all its imperfections, channel your inner Issa Rae and be your own body-positive hype (wo)man.
A lot of times, if people are given the option, they will take the safe route. So, book a stay where clothing is not an option, that way you don't have a choice but to jump in head first.
More Nudist Resorts in Mexico
After having my nakation cherry popped, I've been intrigued to find more of the best nudist resorts in Mexico and try a few of them out. Here are some that I've come across in my research:
If you're looking for a couples-only getaway where you can bare it all and not be judged, Desire is your place. With nightly entertainment, X-Rated whirlpool parties and a Sin Room to live out all your kinks and fantasies, you will spoilt for choice with things to get into pun absolutely intended.
Prices starting at $760/night
Known as the Playground for Adults, Temptation is a one-of-a-kind experience catered to the vibrant and free-spirited traveler. This adult-only escape serves up spicy and adventurous activities with their signature adult shows, themed nights and topless-optional areas. If party vibes are your cup of tea, this is your place.
Prices starting at $313.00/night
Head an hour south of Cancun and you'll stumble upon the all-inclusive, adult-only Hidden Beach Resort. You'll find people in the buff in the pool, on the beach and even in the nightclub; however, this clothing-optional resort typically attracts the older crowd, think 50 and older.
Prices starting at $549.56/night
Leave the cell phones and clothes at home, because this eco-friendly clothing-optional resort is the place to turn off and take off all the things. If you're looking for a quiet place to unplug, disconnect and be wild and free in nature, Azulik fits the bill.
Prices starting at $390/night
Puerto Vallarta is known as Mexico's most gay-friendly destination, so it's no surprise that there's an upscale LGBT-friendly nudist nestled in the cliffside. Casa Cupula isn't necessarily a clothing-optional resort; however, they do have a clothing-optional pool that guests can enjoy.
Prices starting at $257.90/night
The name says it all. With only 8 spacious, Taverna-style, apartments boasting breathtaking views, it's no wonder people are are losing it (by it, I mean their clothes) over this divine property. Heven is a gay-owned clothing-optional resort with access to Playa Zipolite, Mexico's only legal nudist beach.
Prices starting at $94.00/night 
Planning a trip?
Have you ever stayed at a nudist resort? What was your experience? Or would you ever consider visiting a nudist resort? Leave me a comment below.